1.
"Oh, look! It's Hulk Hogan. And Macho Man. And John Cena. And Goldust. And the Undertaker. And Rowdy Roddy Piper." 2.
"Are you here for the wrestling thing, sir?" 3.
"Honey, I came all the way from Dallas to watch wrestling." 4.
"Why does everybody keep screaming 'YES'?"
5.
"Did you make the kimono yourself?" 6.
"22-0!"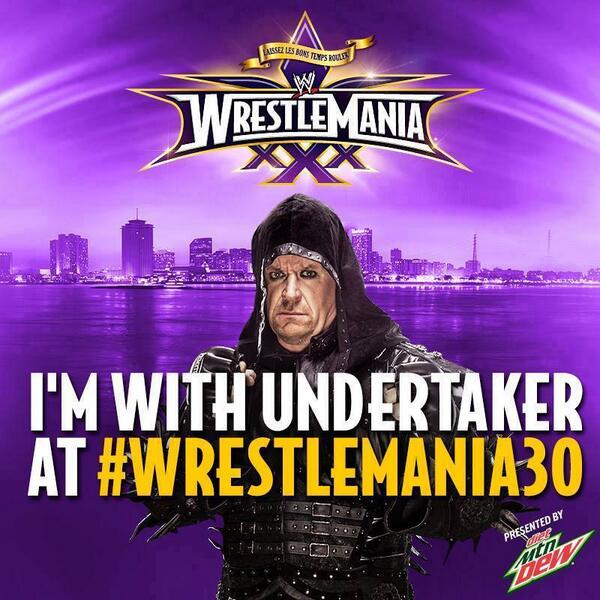 An Undertaker fan shouted "22-0" at a group of five hardcore Brock Lesnar fans eating beignets at the famous Cafe Du Monde. Undertaker has never lost at WrestleMania, resulting in a legendary 21-0 undefeated streak. Any wrestling fan would tell you The Undertaker could not possibly lose on Sunday, especially to someone like Brock Lesnar. The 22-0 streak was already set in the minds of most wrestling fans, even before the event started.
7.
"They're not mine. They're my boyfriend's." 8.
"If Daniel Bryan loses, we're burning down the Superdome."
9.
"Holy crap, it's huge!" 10.
"There's a lot of people here." 11.
"THIS IS AWESOME!" *clap clap clapclapclap * "THIS IS AWESOME!" 12.
"LET'S GO CENA!" and "CENA SUCKS!"
The never-ending conflict between Cena fans and haters was evident throughout the night. During John Cena's match against Bray Wyatt, this chant filled the stadium quite frequently. Per usual, kids and women cheered for Cena, while men cheered for Bray Wyatt. Cena would go on to win the match.
13.
"OH MY GOD!!! Wait... No... Was that a three count? WHAT!? ARE YOU SERIOUS!? THIS CAN'T BE HAPPENING!!!"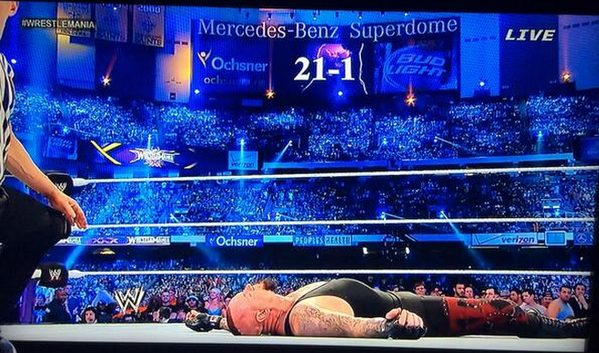 The shock was felt not only throughout the Superdome, but around the world. Everyone was expecting Undertaker to kick out of Brock Lesnar's finishing maneuver. But he didn't. It pained everyone to see that dreaded "21-1" up on the giant screen.
14.
*Silence
You could hear a pin drop in the stadium. Some people were quietly sobbing. Even Lesnar fans were shocked. The last remaining storyline from our wrestling childhoods had officially come to an end.
15.
"HOLY SHIT! HOLY SHIT! HOLY SHIT!" 16.
"YES! YES! YES! YES! YES! YES! YES! YES! YES! YES! YES!"
17.
"It's moments like these that make me proud of being a fan of this sport!"