Real talk: Mexico's road to the World Cup has been an extremely bumpy one. Actually, bumpy isn't the right word. Mexico's performance as of late has been awful, horrible, terrible, no good, trash, painful, excruciating, frustrating, harsh, and just plain bad. There are many reasons for the sad state of Mexico's National Team. But one thing is for sure: WE WILL BE THERE TO SUPPORT UNCONDITIONALLY. Here are some reasons for why you should support the Mexican National Team at the World Cup:
1.
Miguel Herrera is the most entertaining head coach in Mexican soccer history. 2.
He loves to take selfies and that's awesome.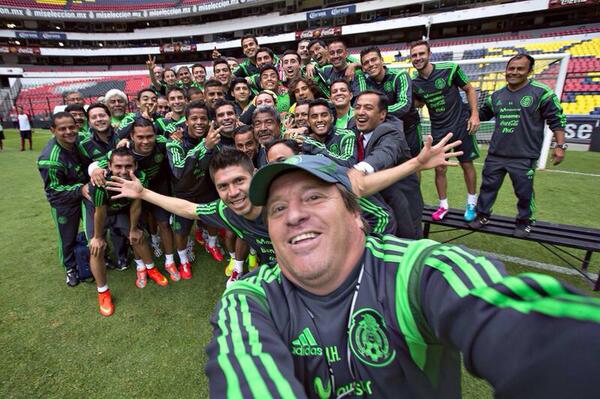 He takes them with everyone.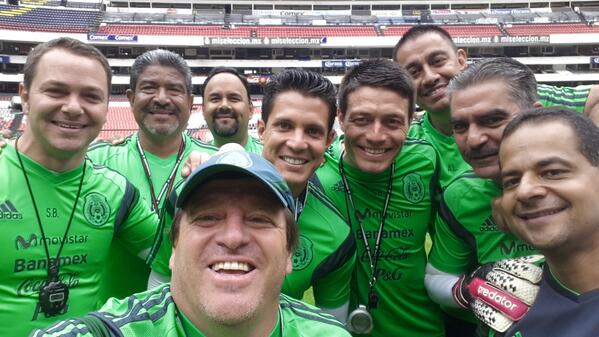 Seriously.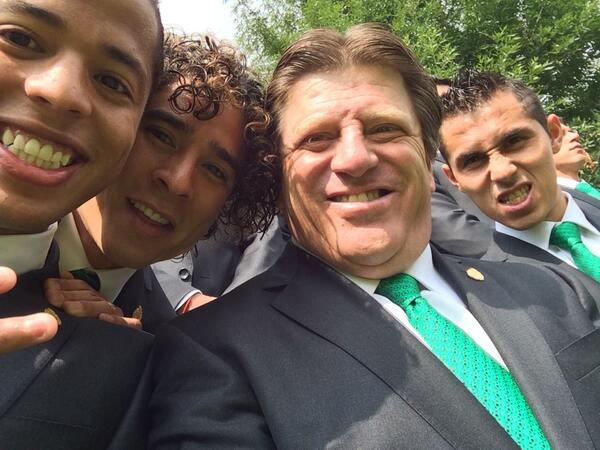 Even with the President of Mexico.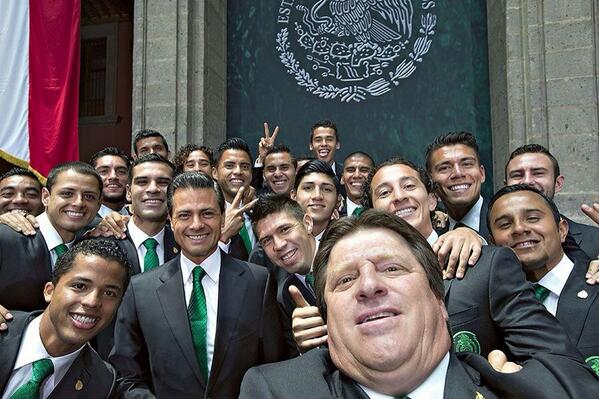 3.
Herrera's 5-3-2 formation might keep us on the defensive side, but like they say in soccer, "Strikers wins games. Defenders win championships." 4.
Rafael Marquez will guide the team to victory. He might be past his prime, but his experience and leadership are essential in maintaining a stable defense. As long as he doesn't get hotheaded like in the 2002 World Cup. 5.
Javier "Chicharito" Hernandez aka the poster boy for El Tricolor. He's in charge of scoring goals. He needs your support. Like, for real. 6.
Now that he's playing for Spain's Villareal F.C., Giovani dos Santos will finally show up to Brazil ready to shine. 7.
Oribe Peralta will bring back the glory days of 2012, where he helped Mexico win the Gold Medal at the London Olympics, with a 2-1 win over Brazil in the finals. 8.
José de Jesús Corona will be our savior when he blocks every one of Brazil's shots to goal. 9.
But there's always the legendary prowess of Guillermo "Memo" Ochoa. 10.
Yes, the traditional green shirt is awesome, but that red jersey is pretty much everything.
Doesn't matter what people say, that red shirt is dope.
11.
Mexico has made spectacular comebacks before, like France '98 when Luis Hernandez scored that qualifying goal against Holland.
12.
Miguel Herrera is so focused on winning, that he's prohibited his players from eating red meat and having sex. 13.
Soccer is in our blood. The Aztecs used to play a more hardcore version of the game called Ullamaliztli, where they would try to score the ball through a stone hoop using only their knees, hips, elbows and head. 14.
Skipping work to go watch El Tricolor is a perfectly acceptable. 15.
When Mexico scores a goal, an adrenaline rush pulses through your body and it's the greatest feeling ever. 16.
Mexico is way more than a soccer team.