This 16-Year-Old Figure Skater Shut Down Anti-Gay Commenters In The Best Damn Way
Figure skating to a Juan Gabriel song? Yes, please.
by
,
This is Donovan Carrillo, a 16-year-old figure skater from Zapopan, Jalisco, Mexico. He competed Saturday in the Junior Grand Prix of Figure Skating in Yokohama, Japan.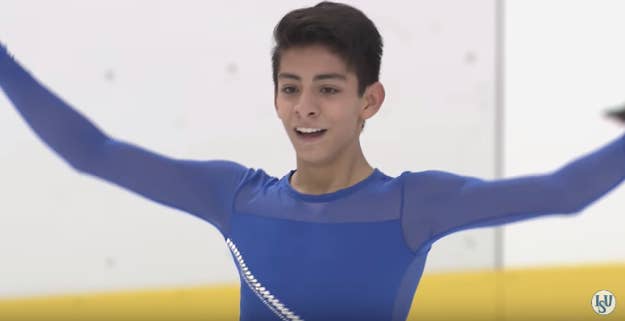 The idea of using the song came from his mom, who was a big fan of JuanGa.
Many people took to social media to congratulate Donovan on his performance, and his beautiful use of the Juan Gabriel song:
"I just finished watching your 'Hasta Que te Conocí' performance and it's brilliant!"

"Hi Donovan! I want to congratulate you and give you my thanks for putting Mexico on the map. You're amazing!"

But there were those who chose to write anti-gay comments instead:
"I read a comment that said, 'Damn, you made the kid gay.' Made? He was already gay! Lol."
And with so many anti-gay comments being directed at him, Donovan chose to respond accordingly:
"I'm not bothered being called gay because I'm not. It infuriates me that people see the word 'gay' as a joke or an insult towards my hard work."
"I admire and respect the LGBT community because I'm friends with a lot of their members, but I am not part of that community."
"The fact that I'm an ice skater does not mean that I'm gay. Just like a soccer player isn't automatically heterosexual."
"I thank everyone for your congratulations and words of encouragement. I hope to not disappoint you. I will continue to train!"
In a time where anti-gay sentiment becomes more and more prevalent in the US and around the world...