🚨 There are MASSIVE spoilers ahead for the week of April 8–14, 2022.🚨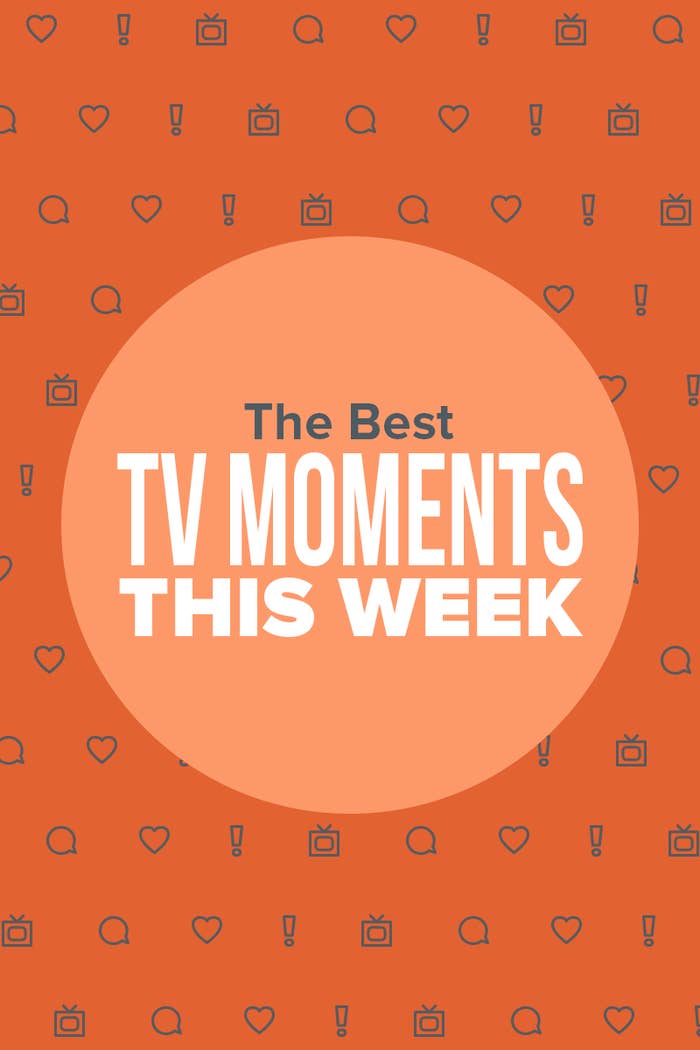 1.
First, Severance Season 1 ended with so many cliffhangers, I'll be thinking about them for a long time. Irving's "innie" found out that Burt is happily living with another man. Then, if that wasn't enough, Mark's wife, Gemma — you know, the wife whose death led him to take the job with Lumon — is alive and working as the wellness counselor "Ms. Casey." Then, just when I thought the episode would continue...everyone is forced back into their "outie" lives. I'm stressed. I'm excited about Season 2. I'm excitedly stressed.

2.
On the Killing Eve series finale, Eve and Villanelle went on an adorable road trip together as they tried to hunt down the Twelve and end the organization once and for all. The road trip led to a long-awaited kiss between Villanelle and Eve, and I'll simply be thinking about it for the foreseeable future. Look how happy Villanelle is. I cannot.

3.
And also on Killing Eve, just when I thought maybe, just maybe, I'd get a happy ending, the show really ruined it. After Villanelle took down the Twelve by herself, she began to celebrate with Eve before she was shot and killed. Not only was it bad that Villanelle died mere seconds after happy moments with Eve — yes, we're getting into "Bury Your Gays" territory — but we then found out that Carolyn was behind the hit on Villanelle.

You can read all about why people are angry over this Killing Eve ending here. And then you can read our interview with Killing Eve showrunner Laura Neal about the series finale here.
4.
On the Abbott Elementary Season 1 finale, the teachers took their students on a field trip to the zoo to celebrate the end of the school year. While there, Gregory adorably told Janine that he's now a full-time teacher. This revelation even led to Janine breaking up with her boyfriend after she realized she didn't want to follow him to New York City.

5.
On Legacies, Rebekah, Freya, Kol, and Marcel gathered Hope in New Orleans for Klaus's funeral as they tried to get her to switch her humanity back on, while asking her where she wants to keep her father's ashes. In the end, Hope got her humanity back, but no-humanity Hope is still very much trying to break free again. This episode was filled with so many nostalgic moments for every The Originals fan, and I loved seeing the Mikaelson family together again.

6.
On The Wonder Years, Bruce returned home after being injured in the Vietnam War, where he was ambushed and forced to leave behind a man named Brian. Eventually, Bruce worked up the courage to contact Brian's family, and we found out he was the older brother of Winnie Cooper from the original Wonder Years. In the OG series, we never found out how Brian died.

7.
On 9-1-1, after a session with his therapist, Eddie tried to get in contact with some of the men he served in the Army with, only to learn that they've all died. Eventually, Eddie broke down to Buck, who went to check on him, and it was just an emotionally raw performance by Ryan Guzman.

8.
This Is Us celebrated its 100th episode with an episode that focused on the end of Kate and Toby's marriage. We watched as Kate finally decided it was best that the two split up, and then saw what happened afterward. Kate, of course, found happiness with Philip, while Toby eventually moved on and married someone else. Also, Toby finally realized Kate was right: They were better apart but could still be a family.

9.
And on This Is Us, we FINALLY got to see older Kate in a flash-forward where Jack plays a show in a bar while Kate, Philip, Toby, Toby's new wife, and Lucy watch. This was a huge reveal for the future timeline, considering that up until this point, we hadn't seen Kate past the close future, so I'm very relieved Kate lives to see Jack pursue his music dreams.

10.
Elite returned with Season 5 on Netflix, and while this season was kind of all over the place and missing the spark that made the first three seasons so perfect, it did end with a pretty big moment. In the final episode, Benjamín and Samuel ended up fighting, causing Samuel to fall and hit his head. While Patrick tried to save Samu, it appears this original character died at the end of the season while he was surrounded by Rebe and Omar, who were crying over his body.

11.
On Ghosts, Sam learned that Stephanie, a teenage ghost, has been living in the attic this whole time and awakens only once a year. While Sam thought she was getting a new friend, she was actually getting a high school–age bully, who brought up a lot of trauma from Sam's own childhood. In the end, everything worked out, though, and Sam had a perfect She's All That moment at a prom all the ghosts were throwing.

12.
On Outlander, Claire nearly died after contracting an illness, which was separate from the dysentery outbreak sweeping through the Ridge. Claire eventually recovered after being severely sick for weeks. Although, once she woke up, she learned that Malva and Mrs. Bug had cut all her hair off in an attempt to help her heal, but the stress of this sudden new appearance was eased when Brianna told her she is pregnant.

13.
And also on Outlander, as if Claire's near-death experience wasn't enough, Malva revealed that she, too, is pregnant, and she accused Jamie of being the father. This led to stellar performances from Caitríona Balfe and Sam Heughan as Claire made certain Jamie didn't cheat.

And, while this was all wild enough, the episode ended with Claire finding Malva's dead body...and Claire seemingly unsure whether she may have murdered her while hallucinating. I've read the books and know what happens, but even I'm stressed.
14.
And finally, on Moon Knight, Layla and Marc/Steven traveled to Cairo in order to try to stop Arthur Harrow from finding Ammit's tomb. The adventure led to Marc meeting with several Egyptian gods and Layla starting to question whether Marc may have been involved in her father's murder.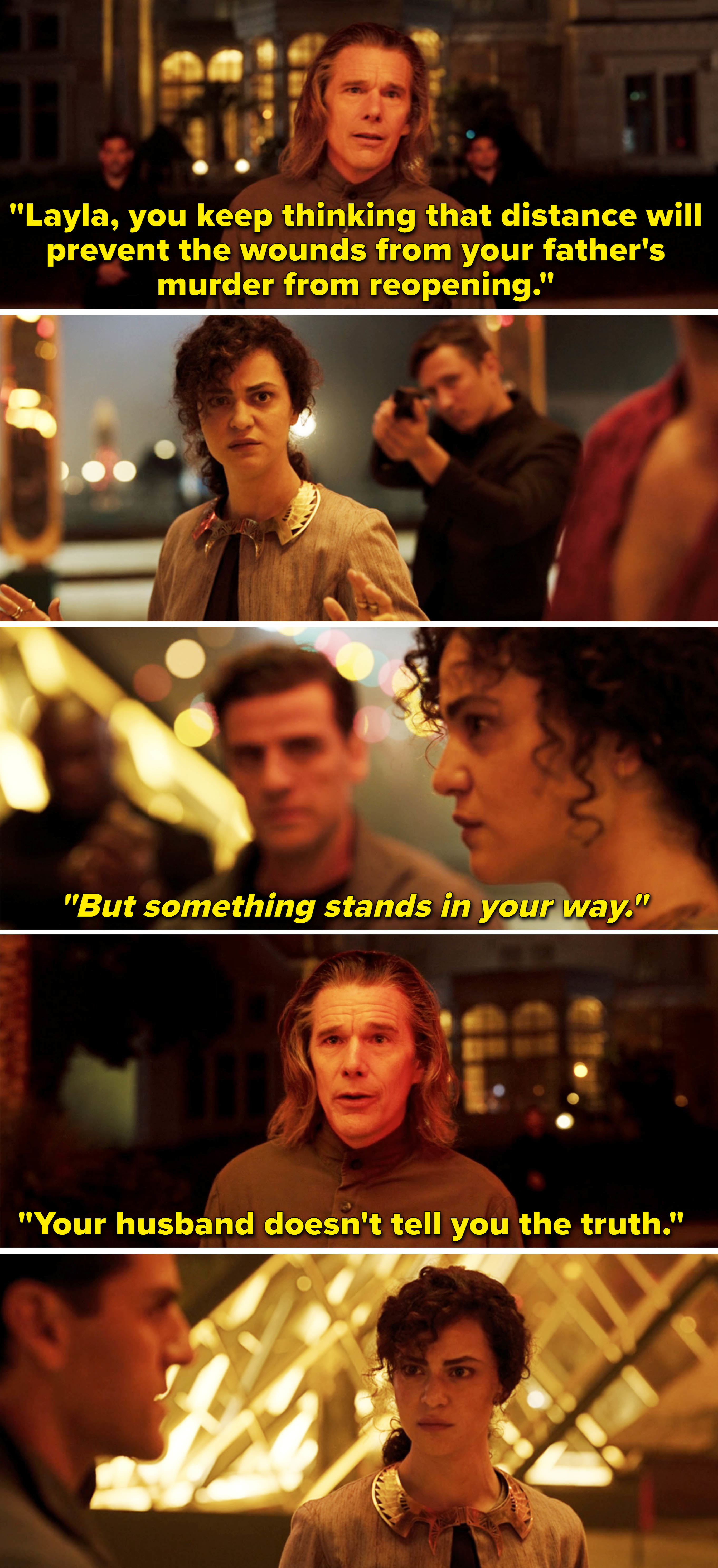 You can read up on all the details/Easter eggs from Moon Knight Episode 3, which include a connection to The Falcon and the Winter Soldier, here.
We can't fit everything into one post, so what were your favorite TV moments this week? Tell us in the comments below!