2.
When Jake adorably told Amy that he wasn't scared of having kids anymore on Brooklyn Nine-Nine.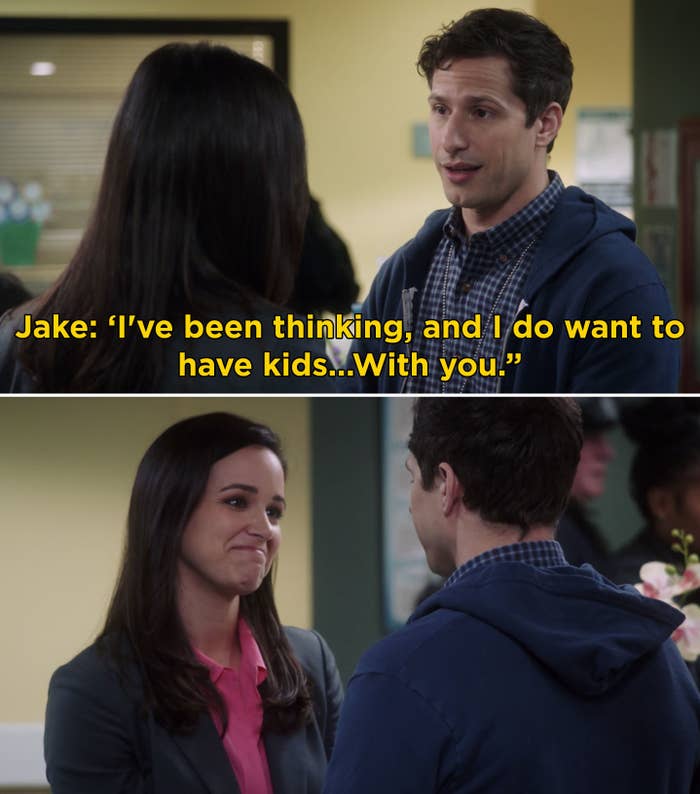 3.
Also on Brooklyn Nine-Nine, when Rosa officially introduced her girlfriend Jocelyn to the Nine-Nine and Captain Holt.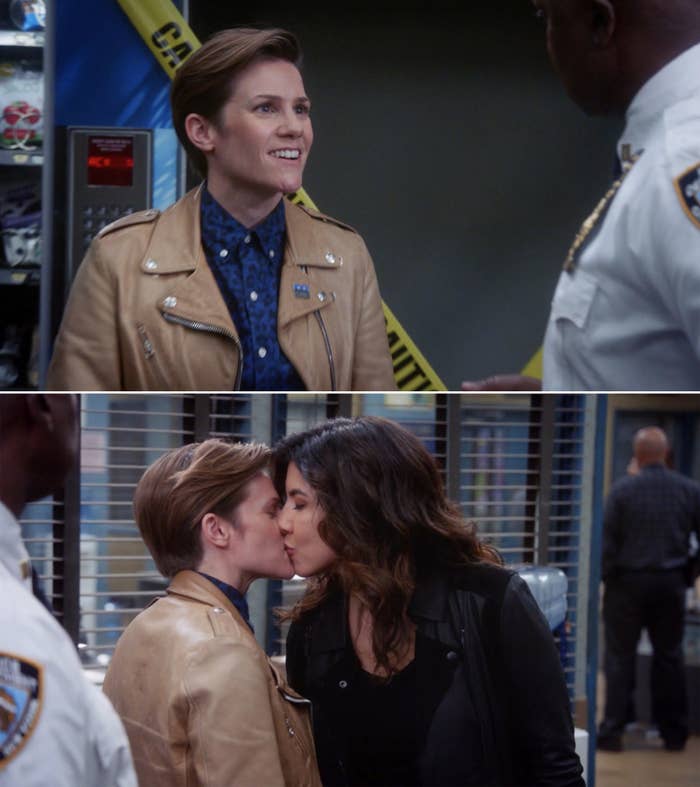 4.
When Fleabag and the Hot Priest said "I love you" for the first time right before he left on Fleabag.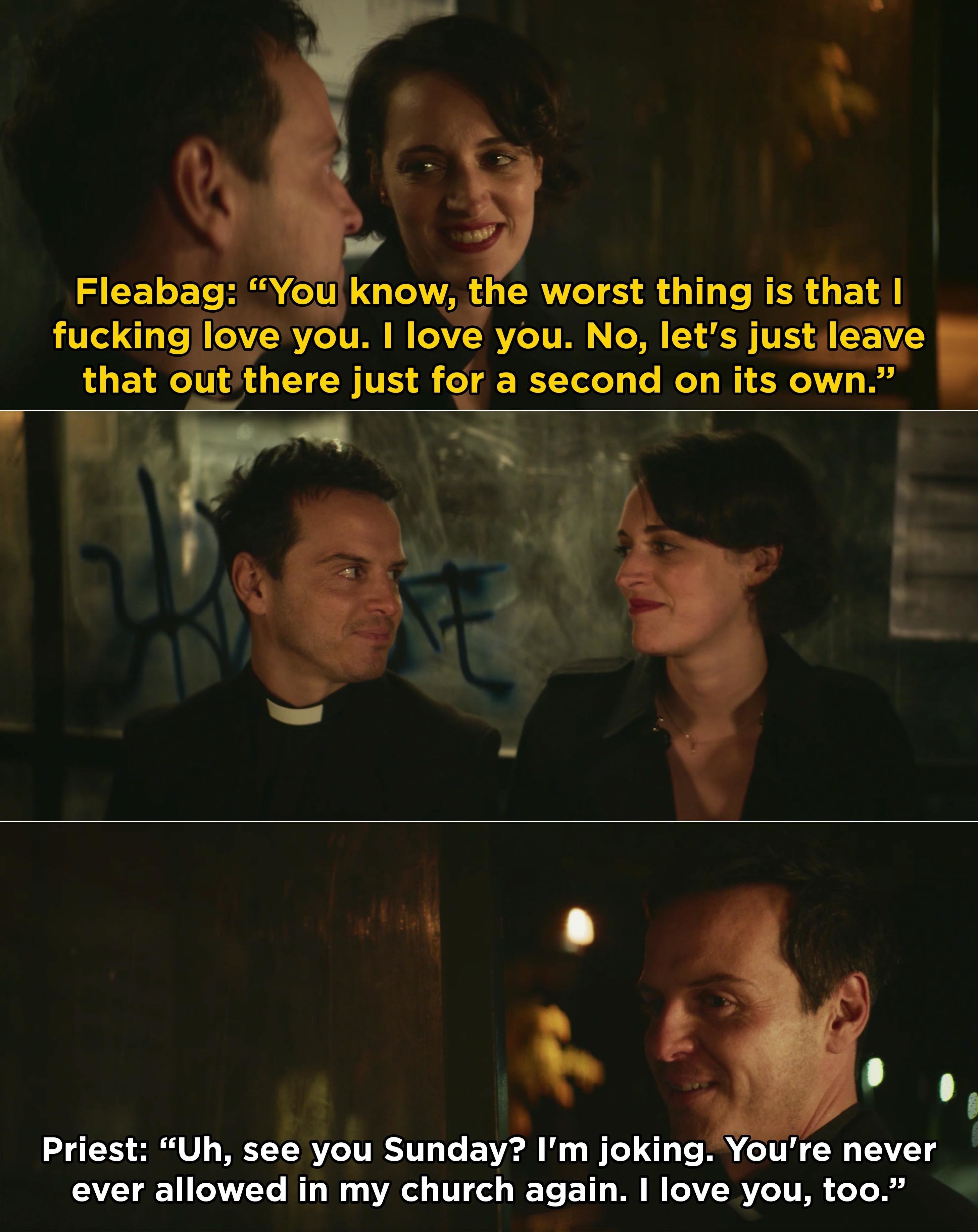 5.
On Atypical, when Izzie revealed her feelings for Casey and then they finally kissed.
6.
When Chidi and Eleanor relived all of their best moments together before Chidi's memories were erased on The Good Place.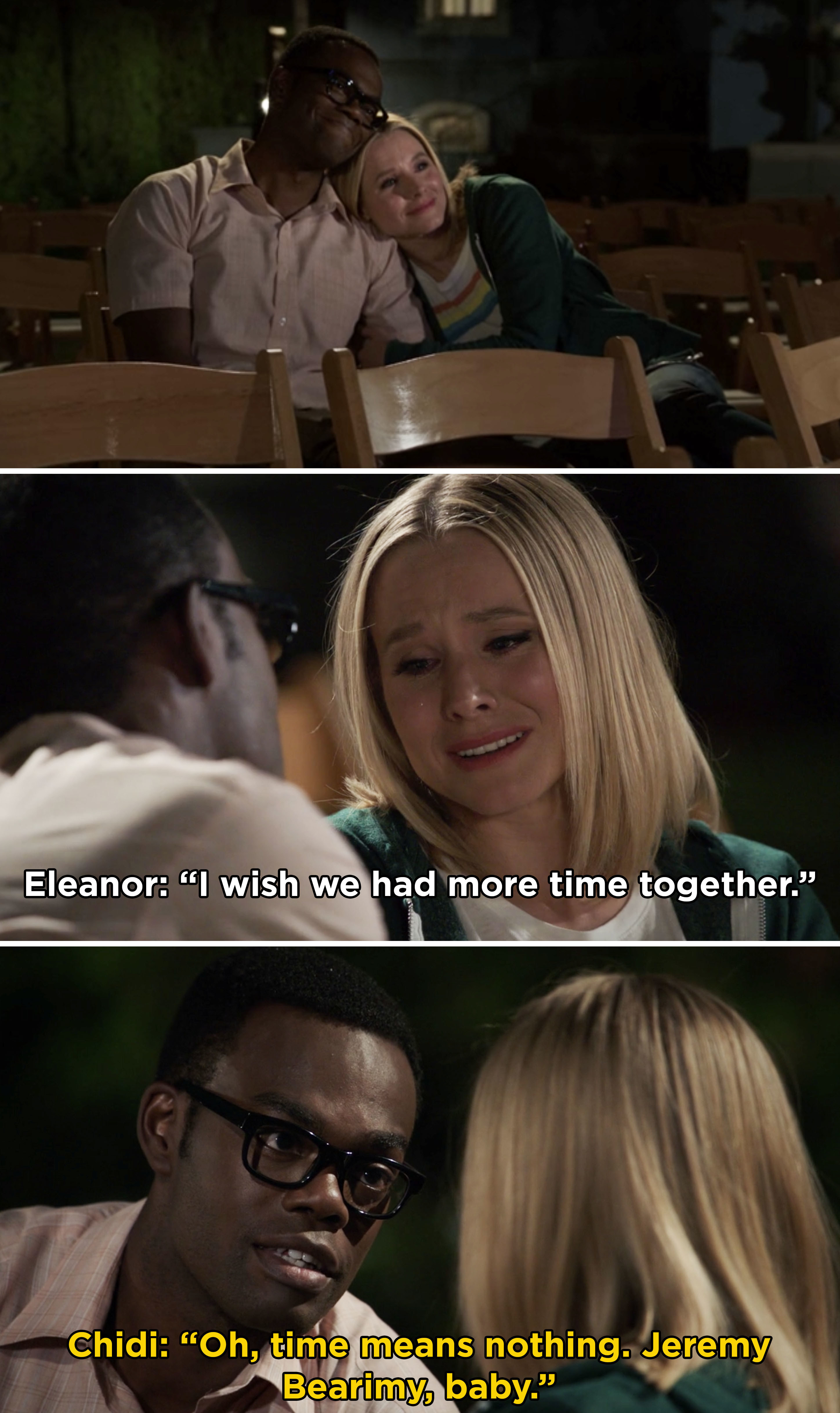 7.
Also on The Good Place, when Chidi finally got his memories back and remembered that Eleanor is the answer to everything.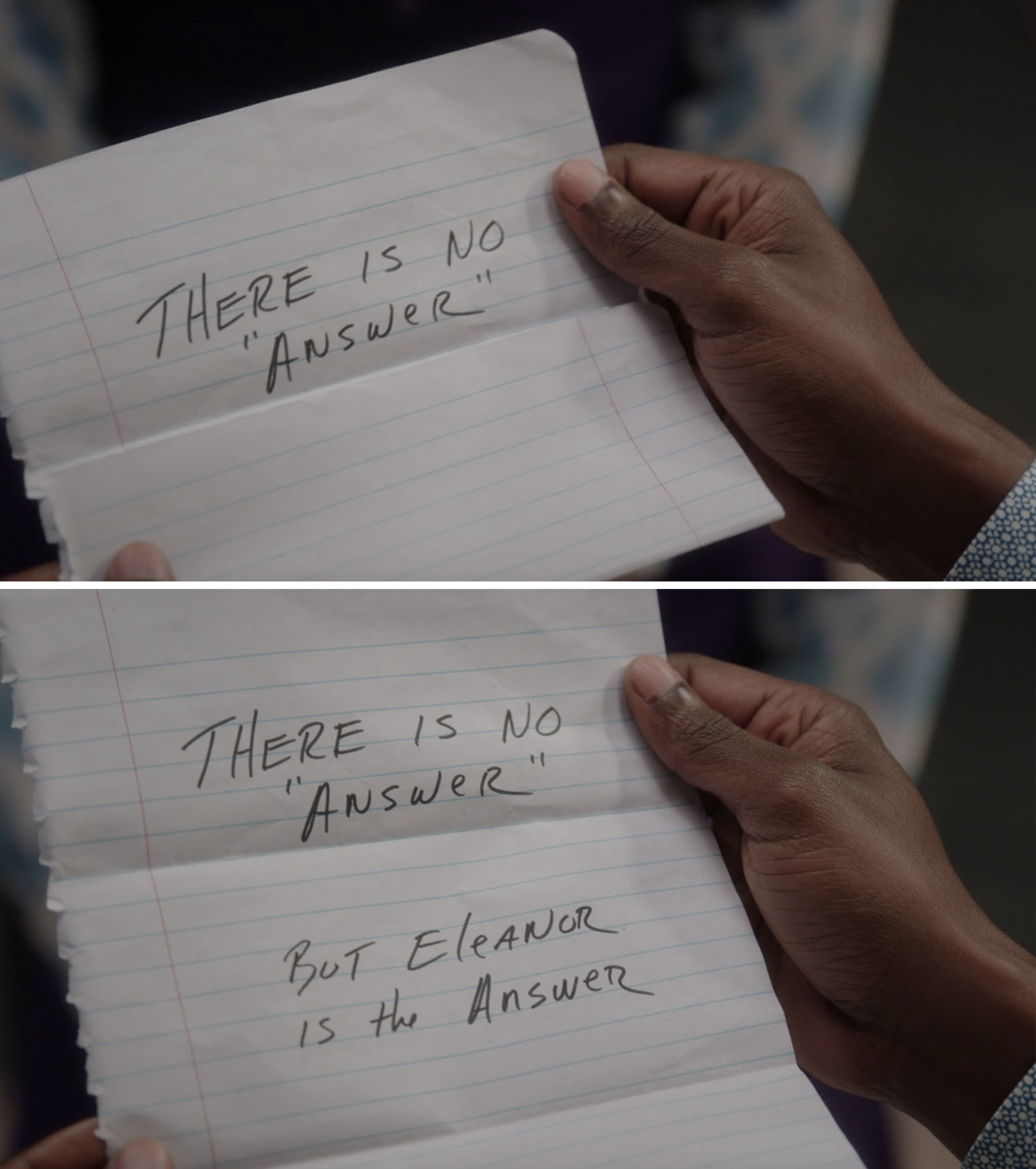 8.
When Meredith and DeLuca kissed for the first time on the roof of Grey Sloan on Grey's Anatomy.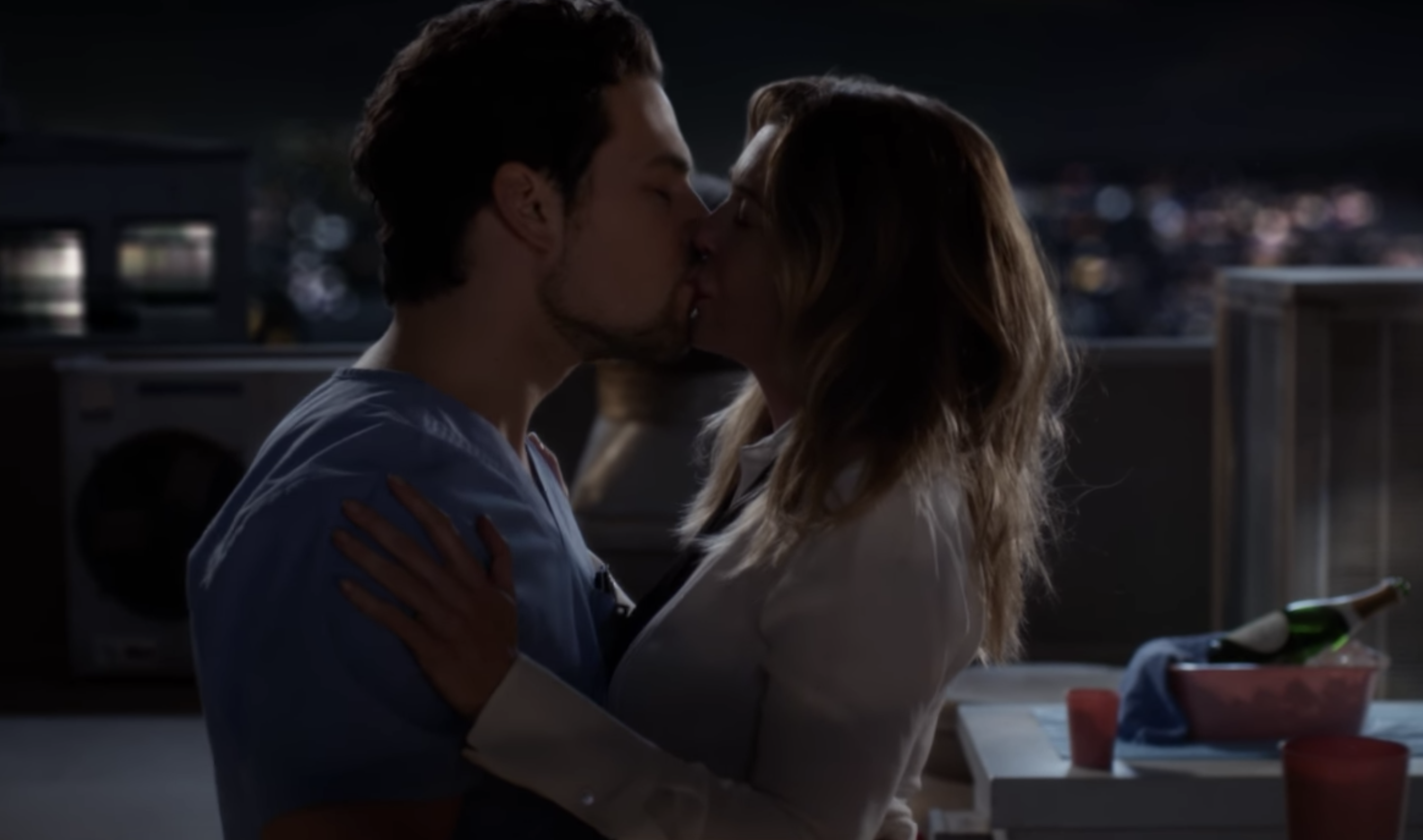 9.
When Eleven told Mike that she loved him after overhearing him say it on Stranger Things.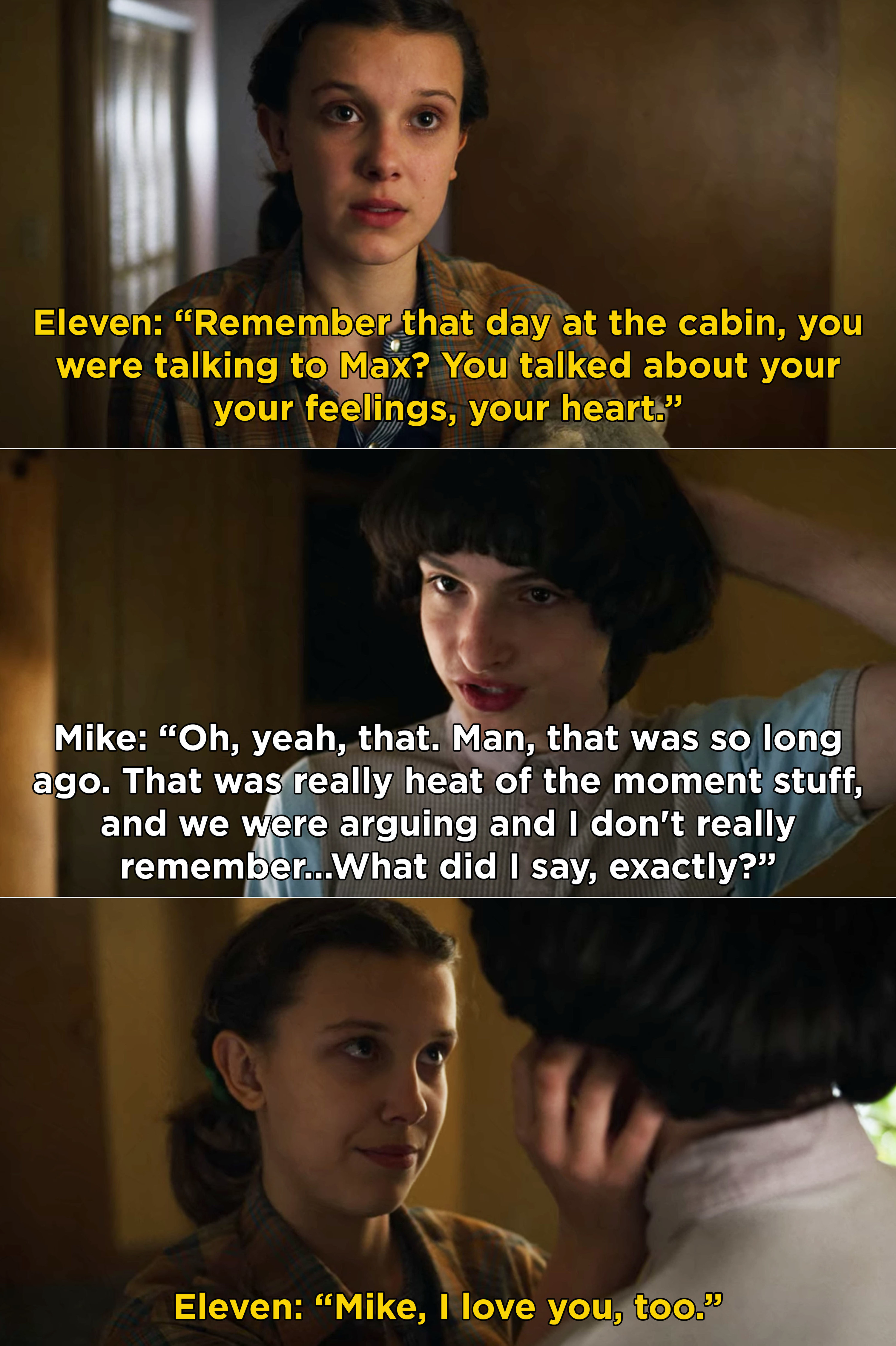 10.
Also on Stranger Things, when Hopper and Joyce exchanged this look that said it all before Hopper (possibly) died.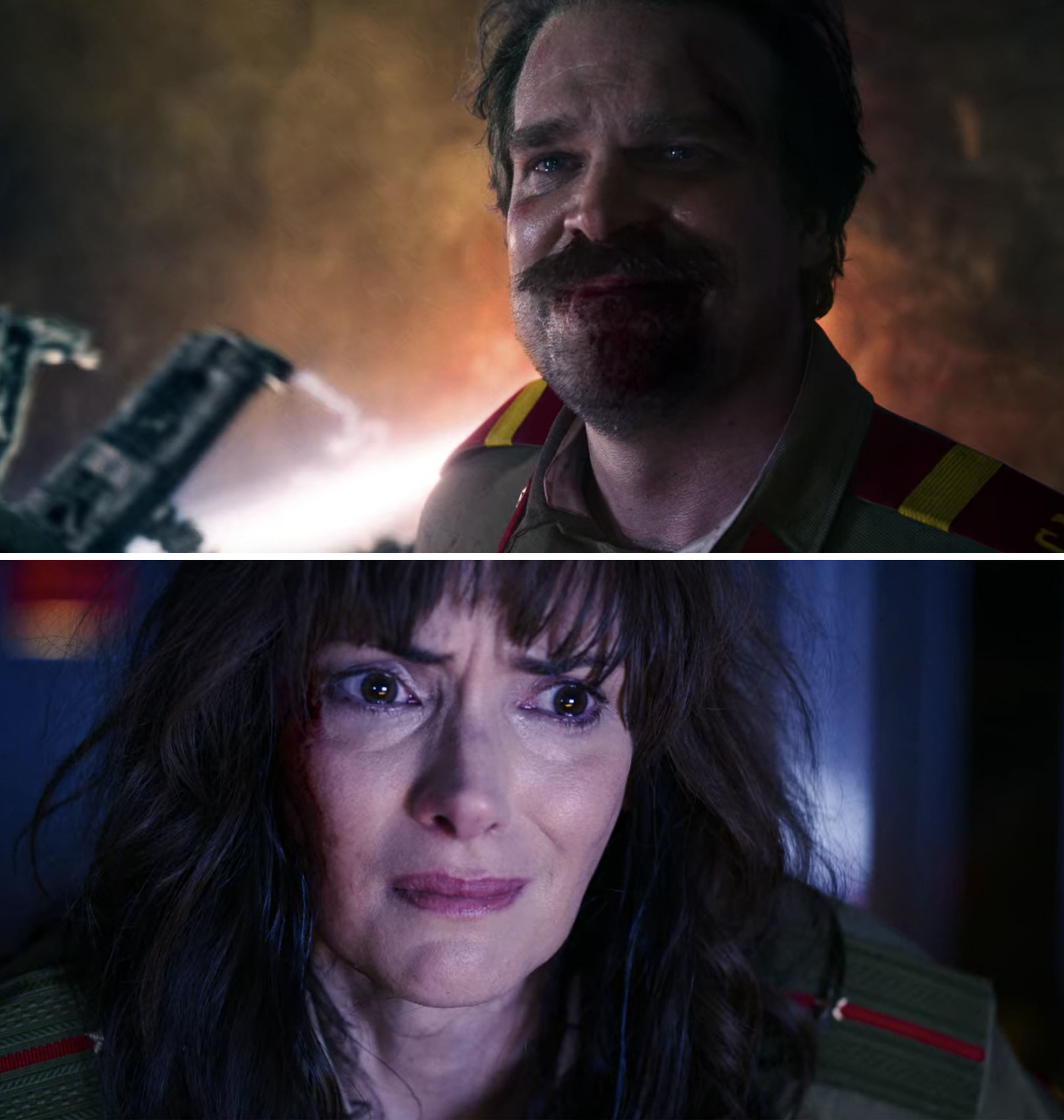 11.
When Rue and Jules kissed underwater at a party on Euphoria.
12.
On Veronica Mars, when Veronica and Logan finally got married.
13.
When Oliver and Felicity heartbreakingly said goodbye after The Monitor came to collect Oliver on Arrow.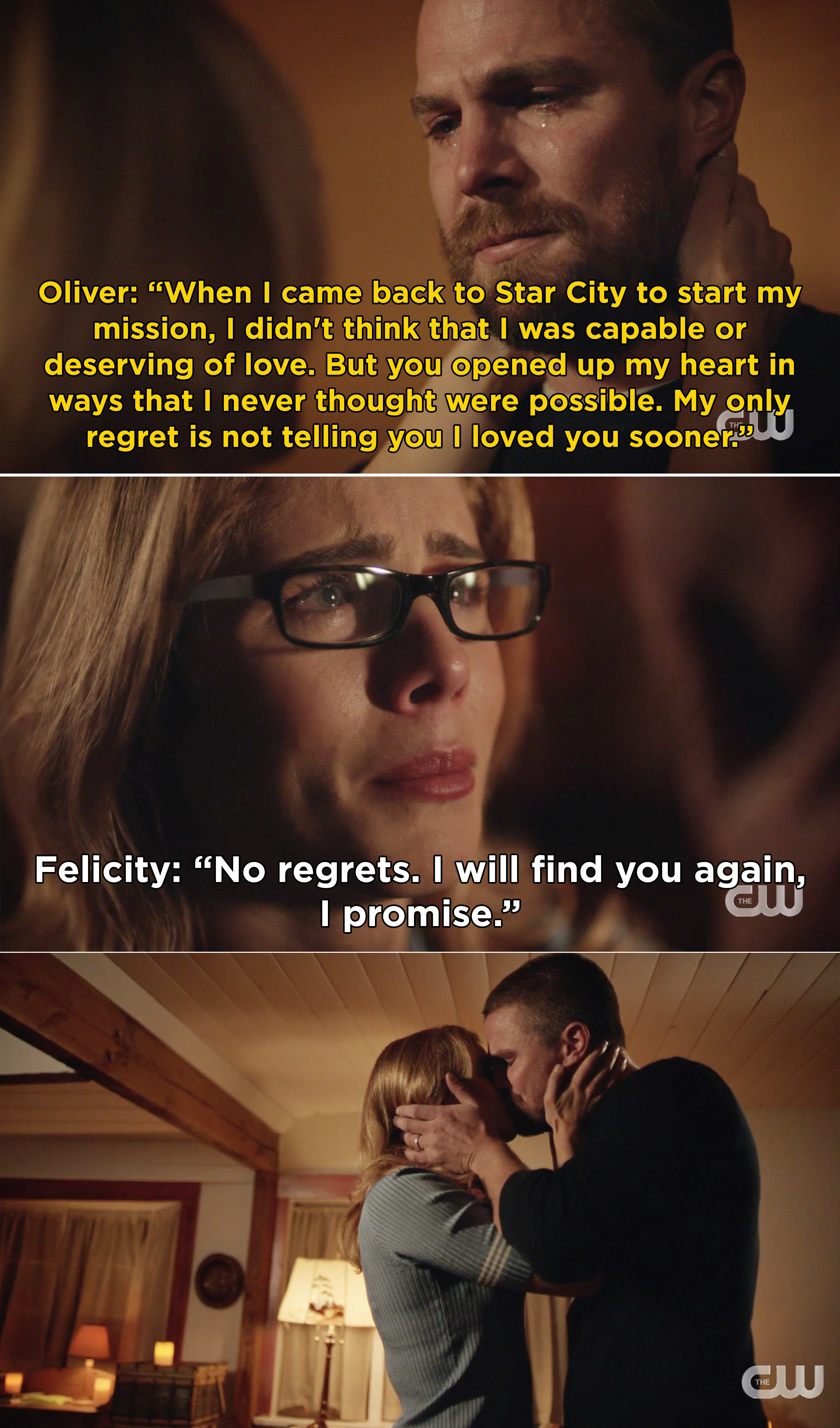 16.
On One Day at a Time, when Elena gave Syd a non-binary Valentine's Day card, and Syd told Elena that they loved her.
17.
On Jane the Virgin, when Jane and Rafael got married and Jane revealed that she wanted to turn her novel into a telenovela.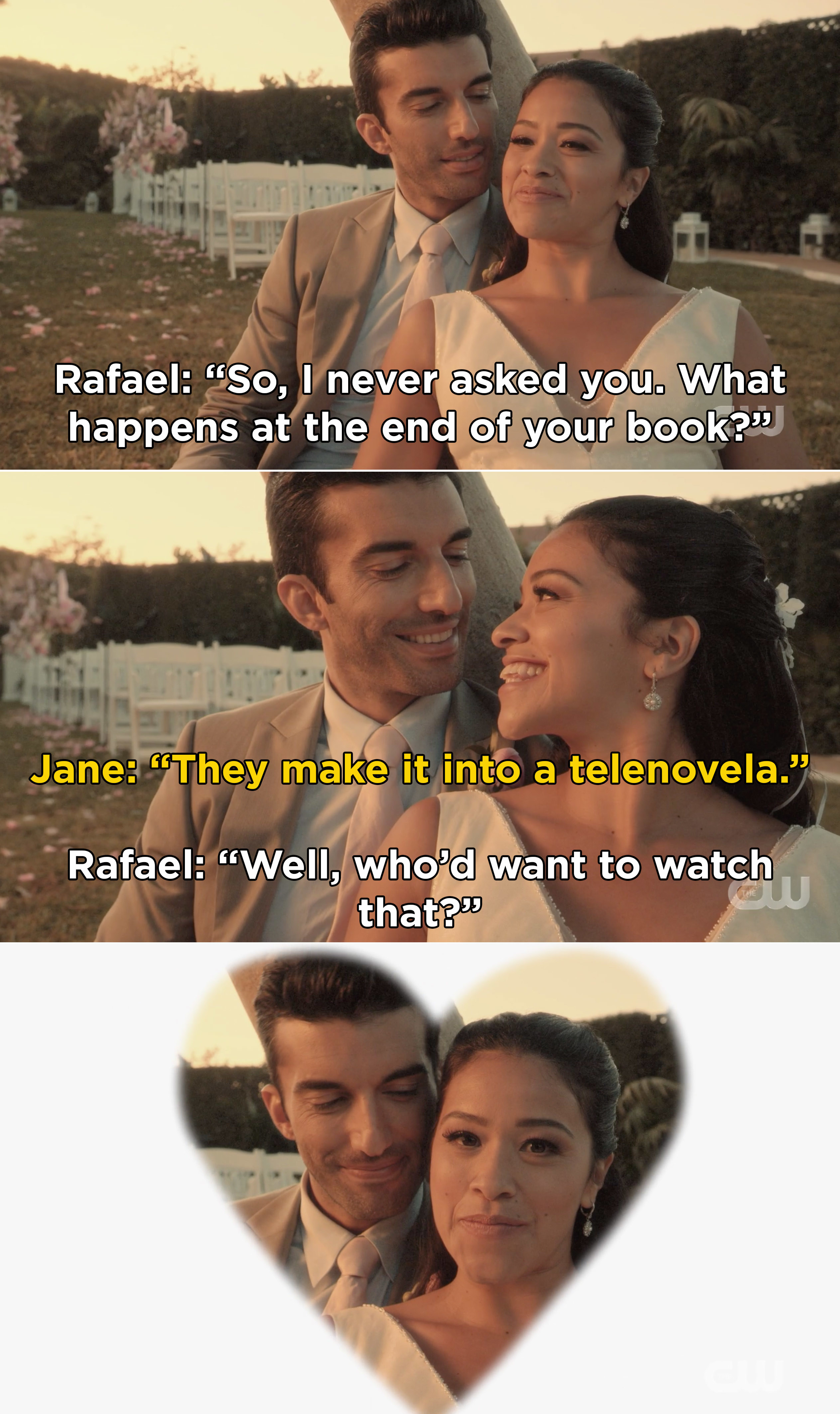 18.
Also on Jane the Virgin, when J.R. and Petra reunited at Jane and Rafael's wedding.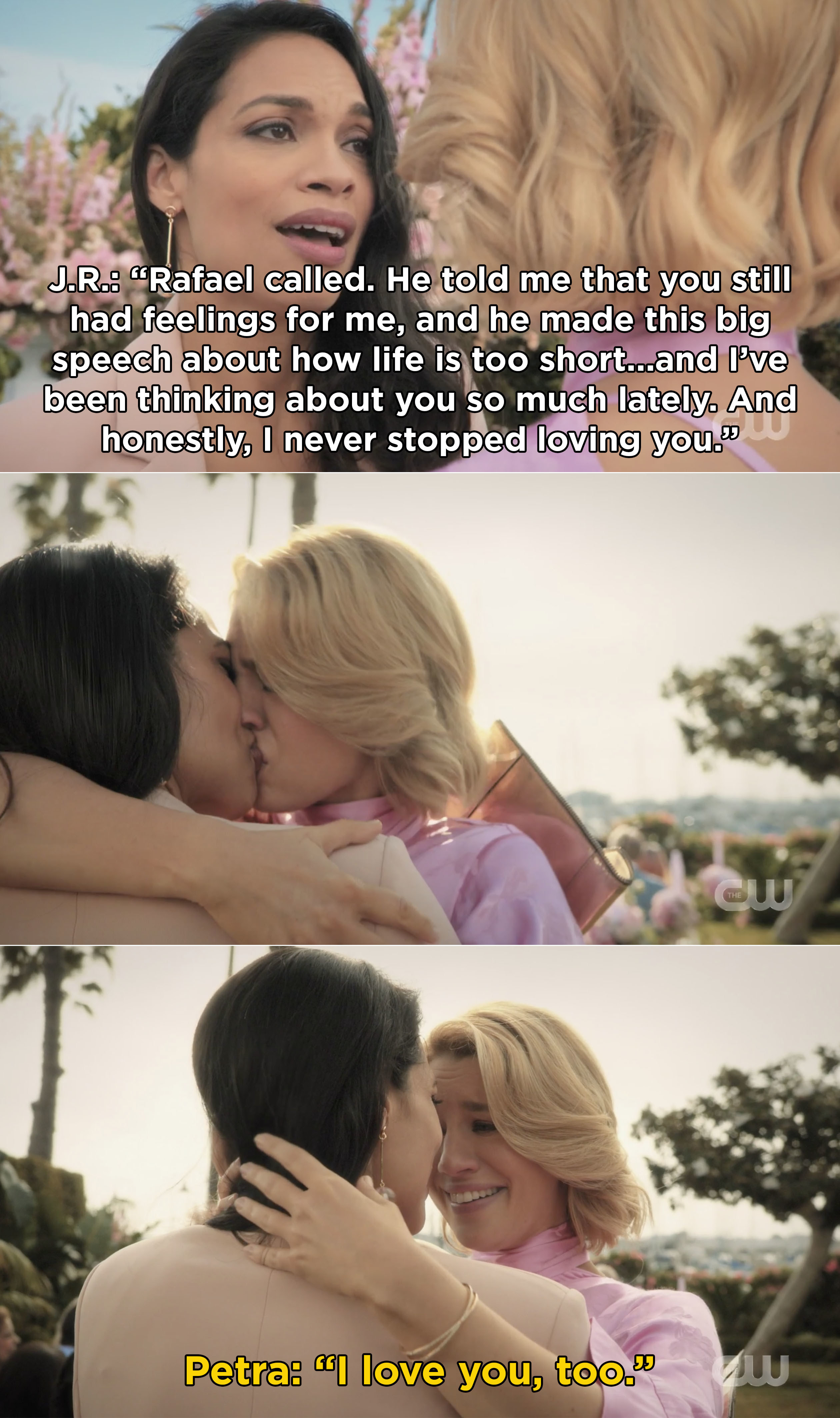 19.
On Shameless, when Mickey told Ian to do whatever it took to get out of jail, and he would wait for him.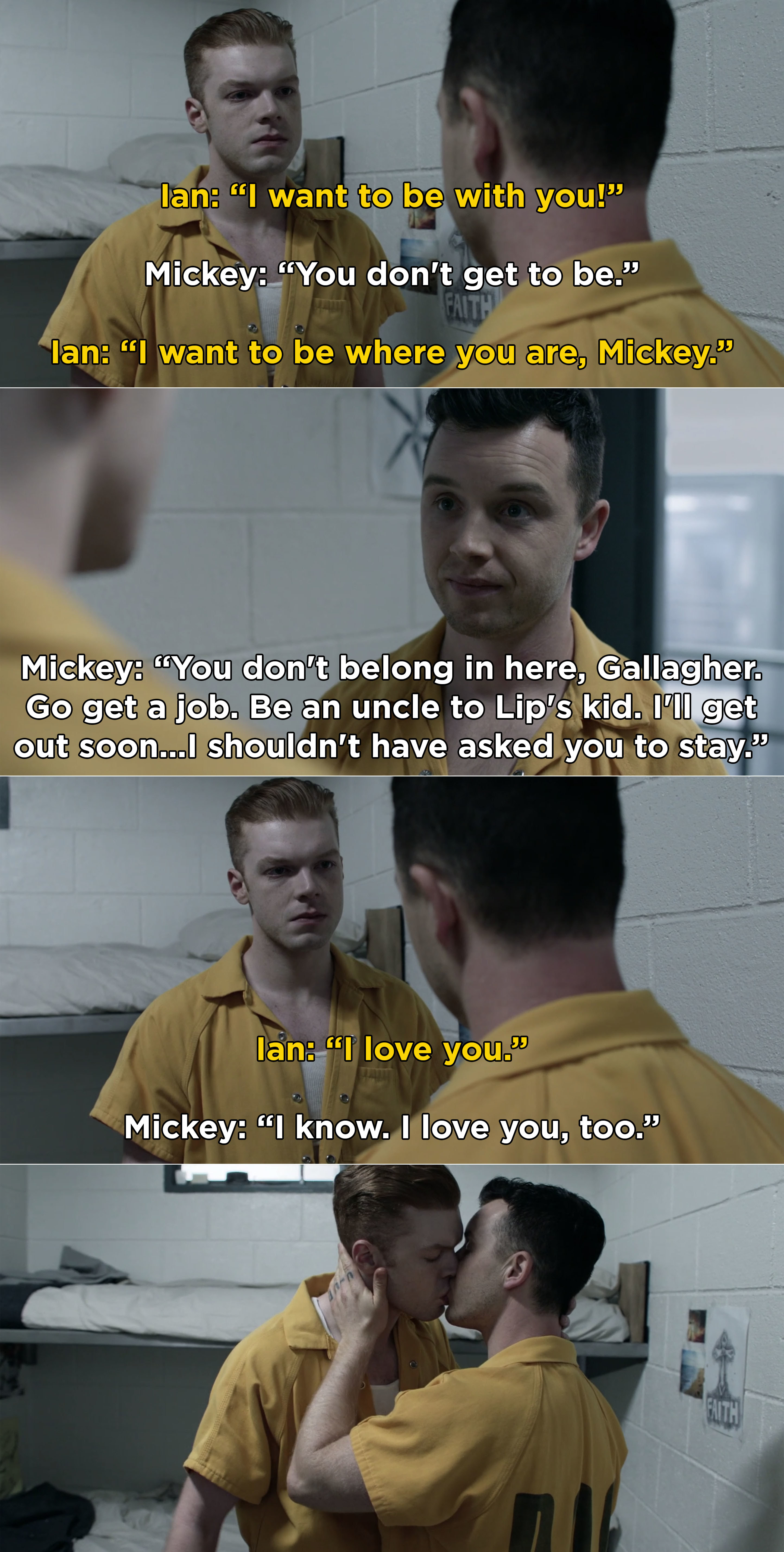 20.
When Magnus and Alec officially got married on Shadowhunters.
21.
Also on Shadowhunters, when Clary and Jace found each other again after Clary lost her memories.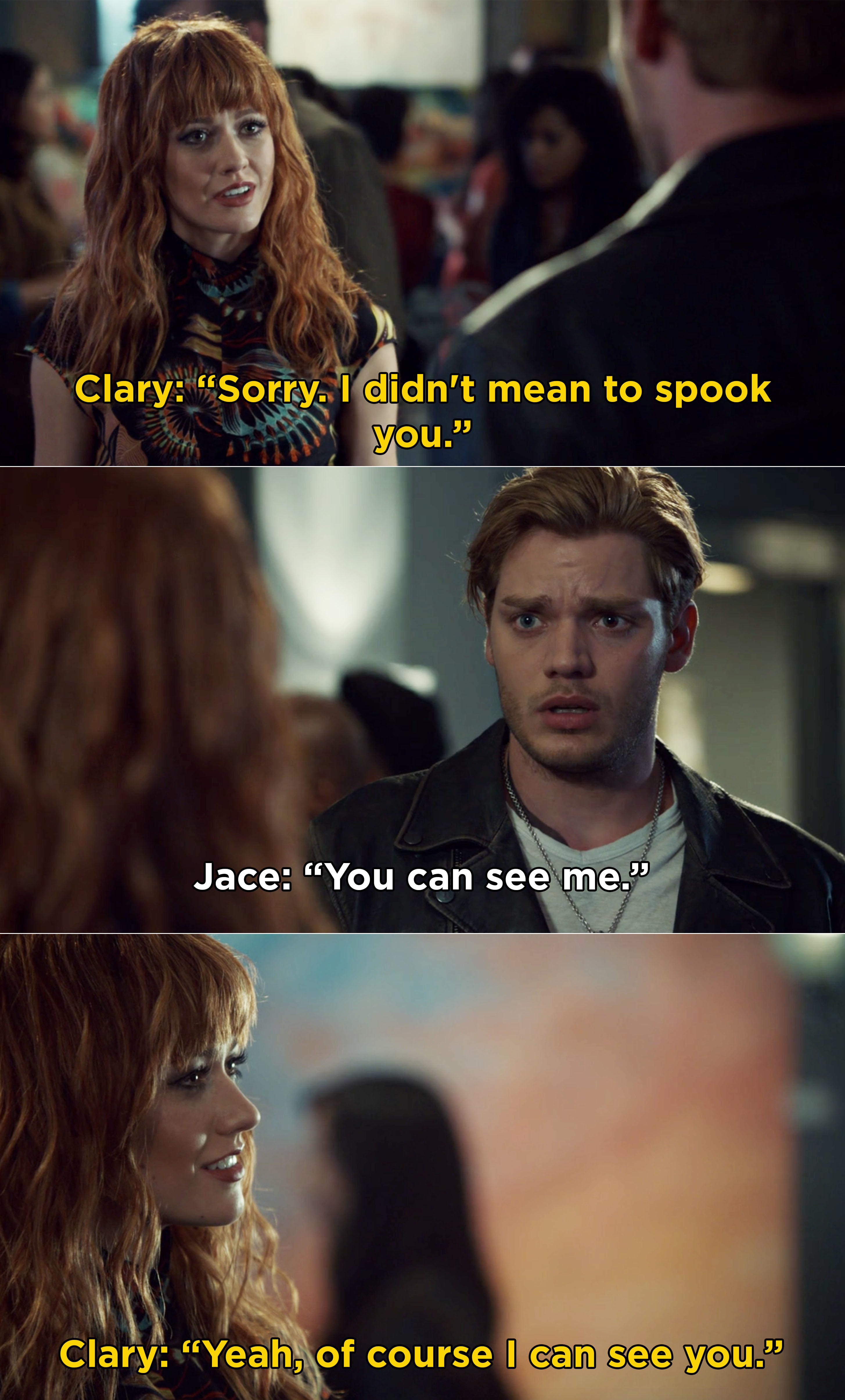 22.
When Randall told Beth that she was his favorite sound in the entire world on This Is Us.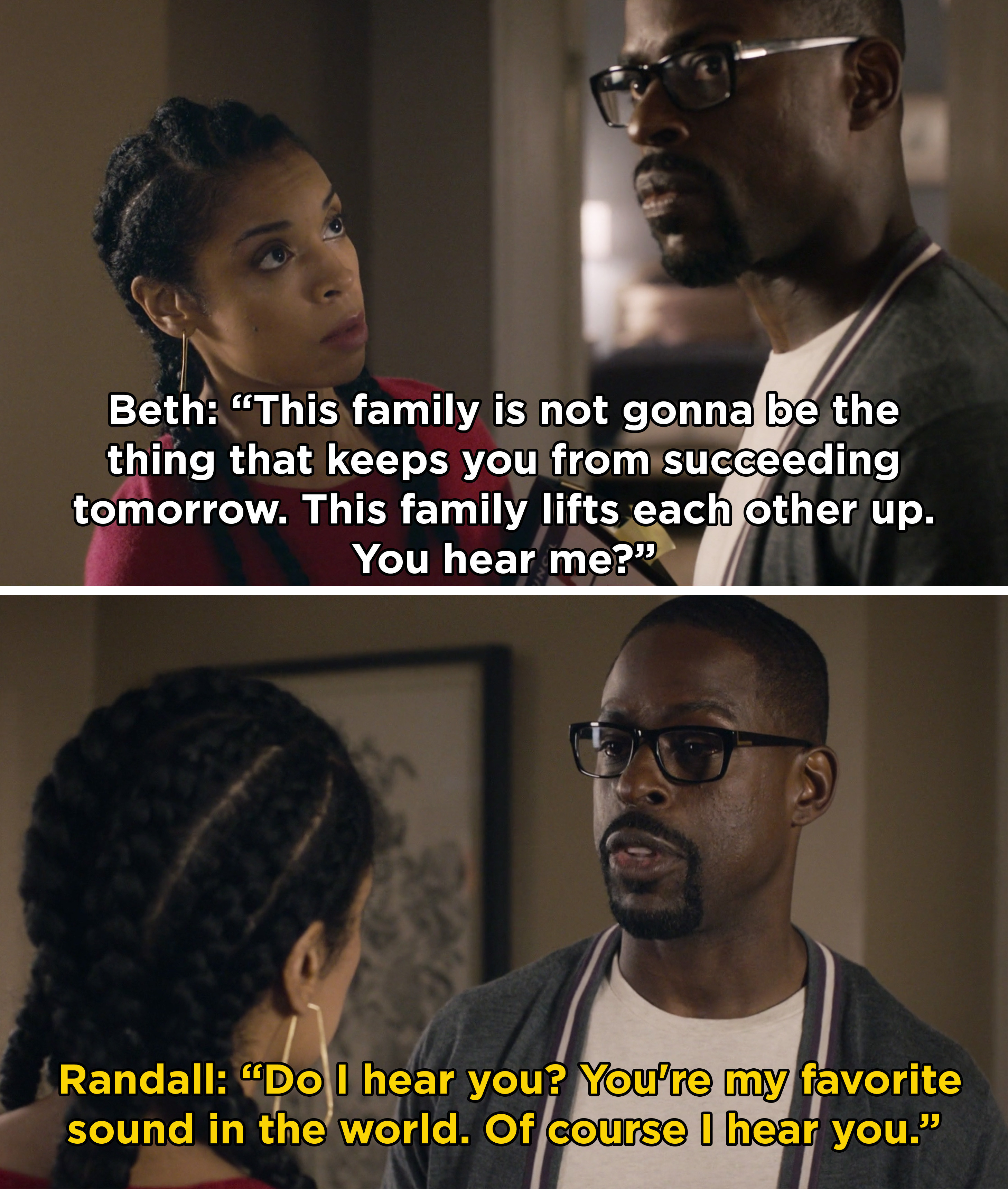 23.
Also on This Is Us, when Deja and Malik started dating and Malik revealed how much he liked her.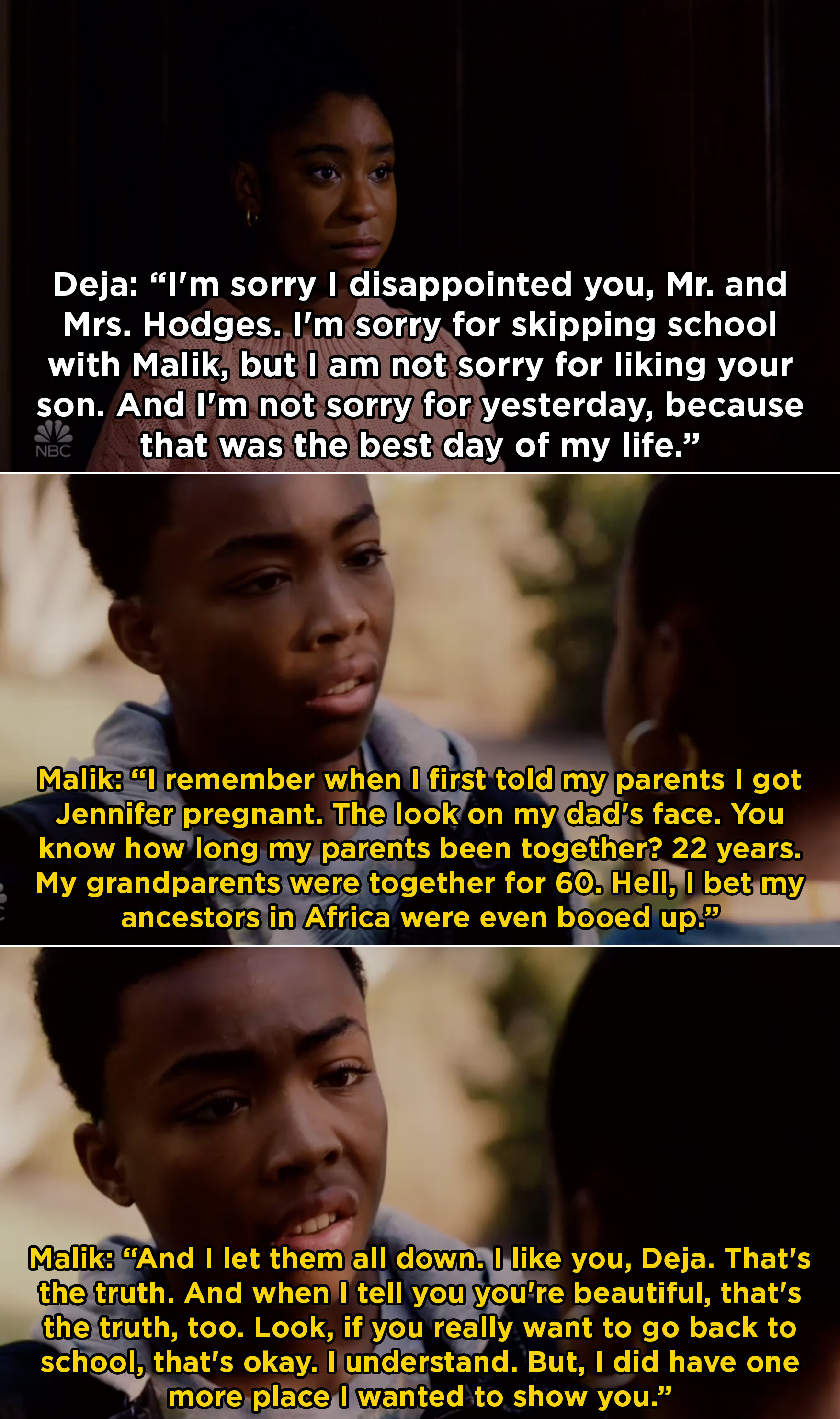 24.
And on This Is Us, when Jack Jr. proposed to Lucy in the future.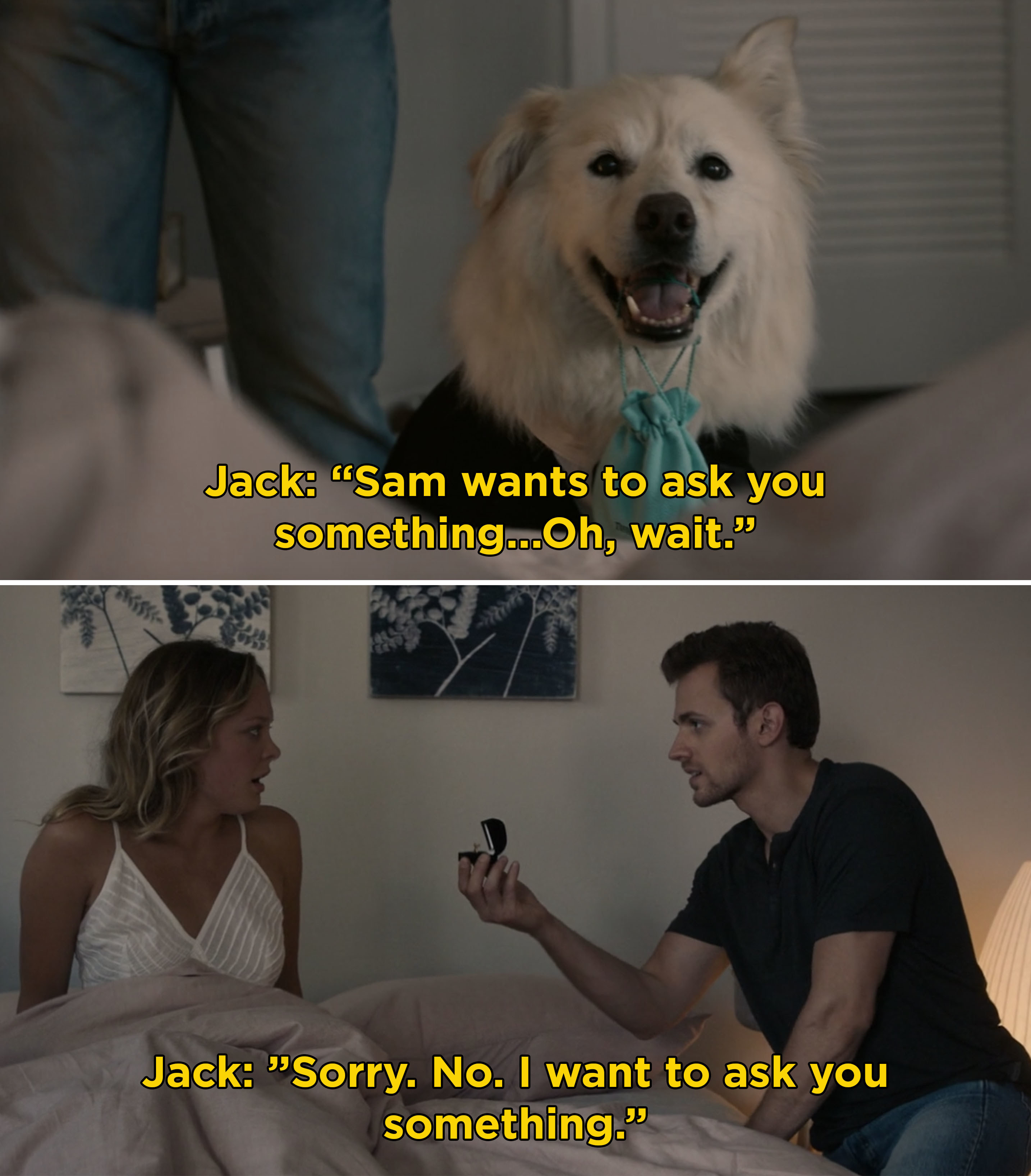 25.
When Tokio and Río reunited after everyone helped rescue Río on Money Heist/La Casa de Papel.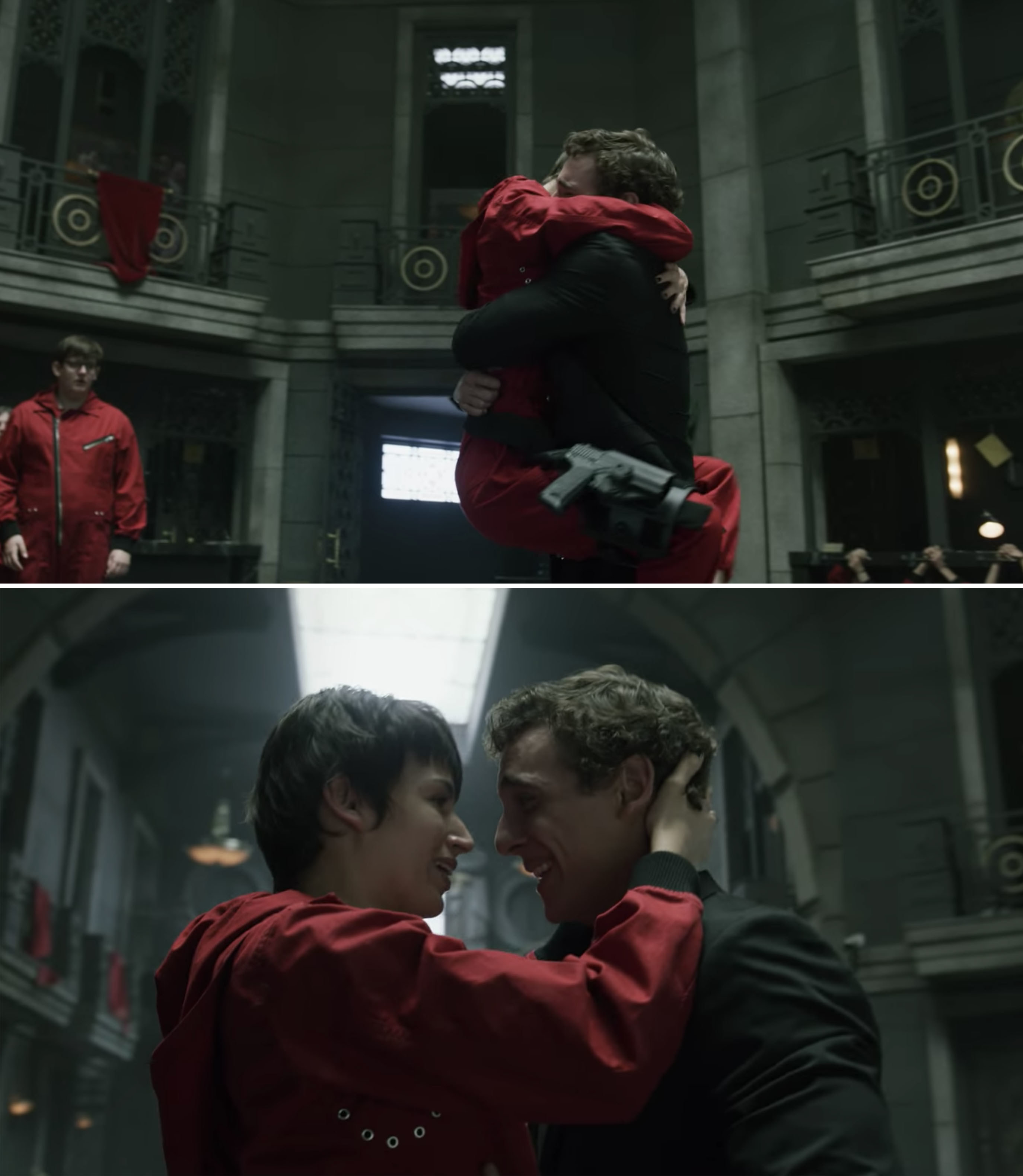 26.
On Roswell, New Mexico, when Michael tried to push Alex away, but Alex assured him that they were family.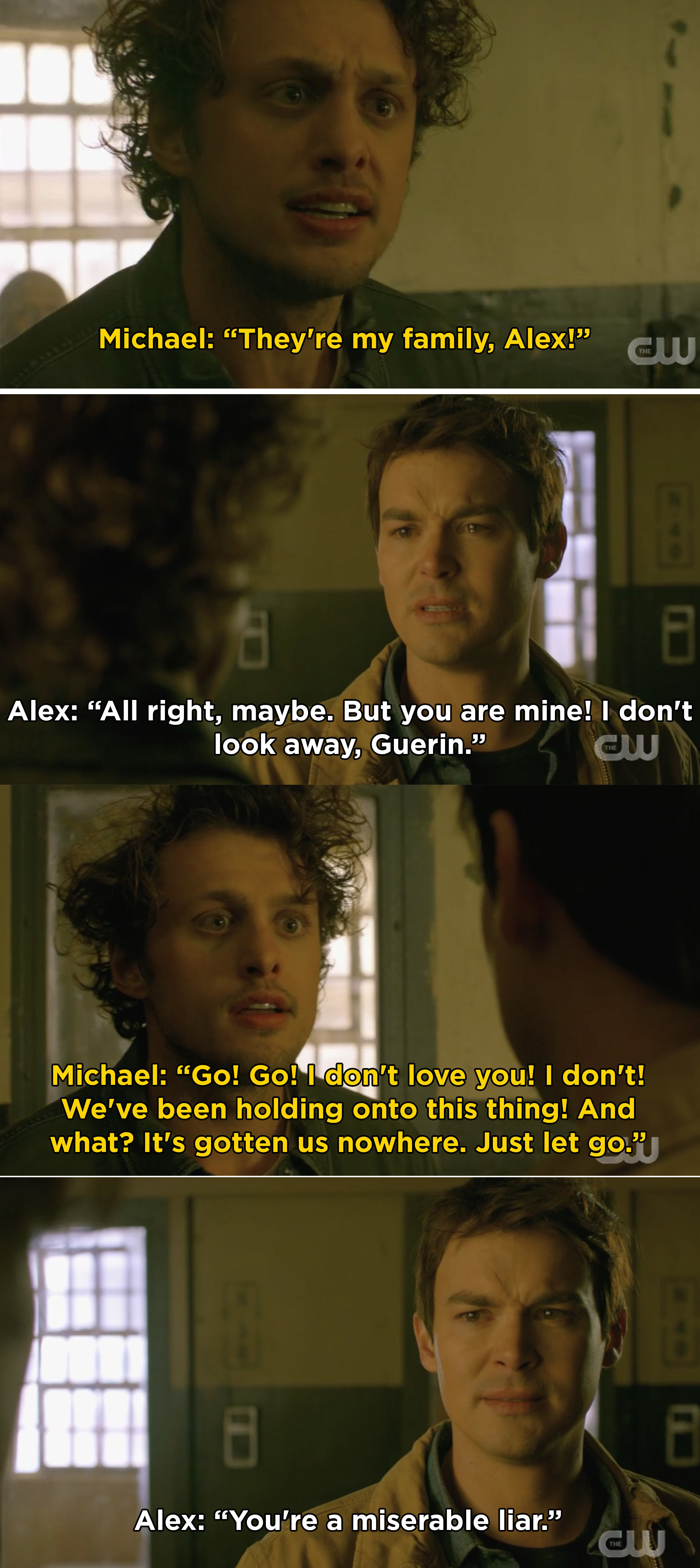 27.
When Chloe finally told Lucifer she loved him right before he was sent back to hell on Lucifer.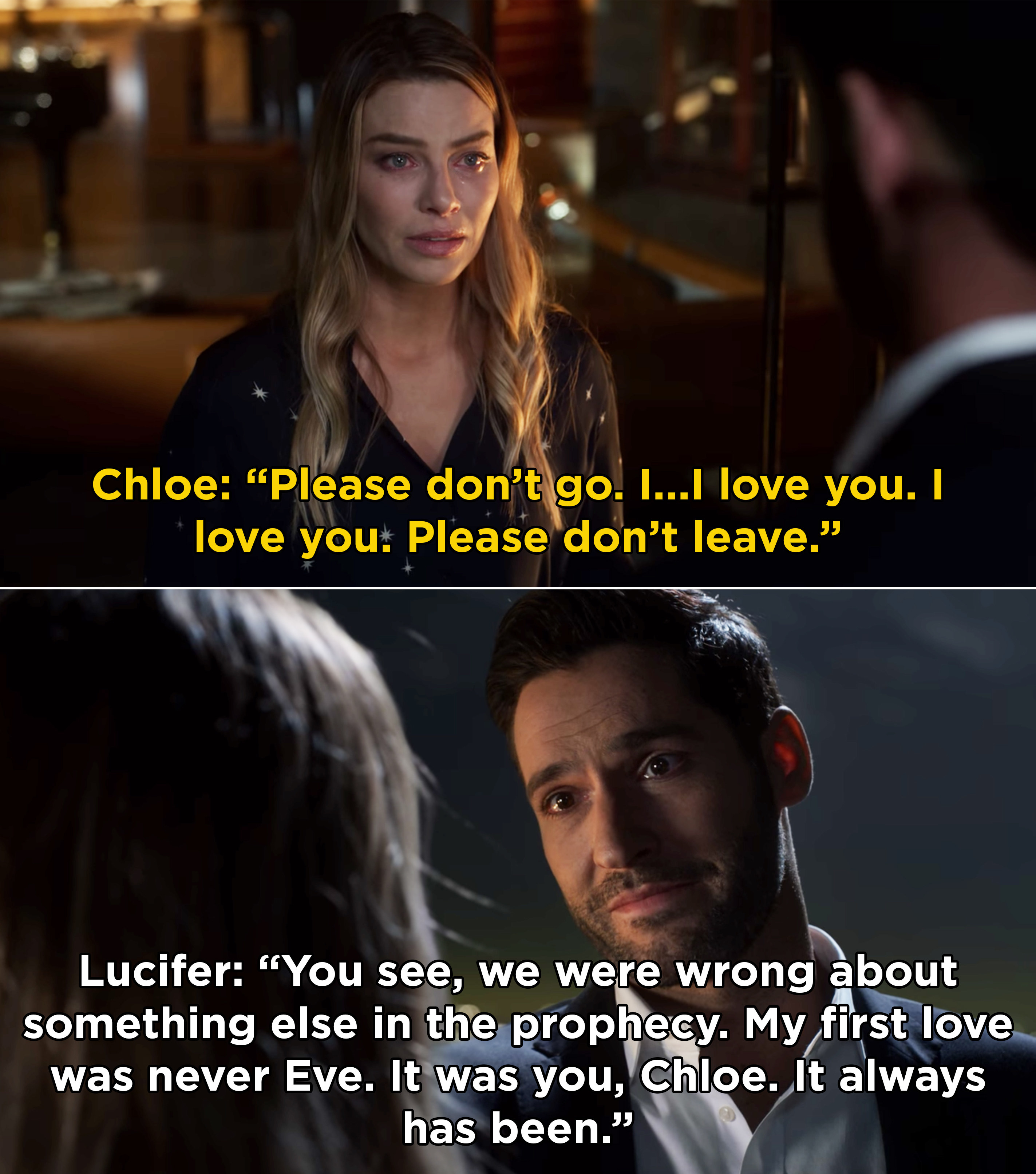 28.
Also on Lucifer, when Maze sang "Wonderwall" for Eve at Lux.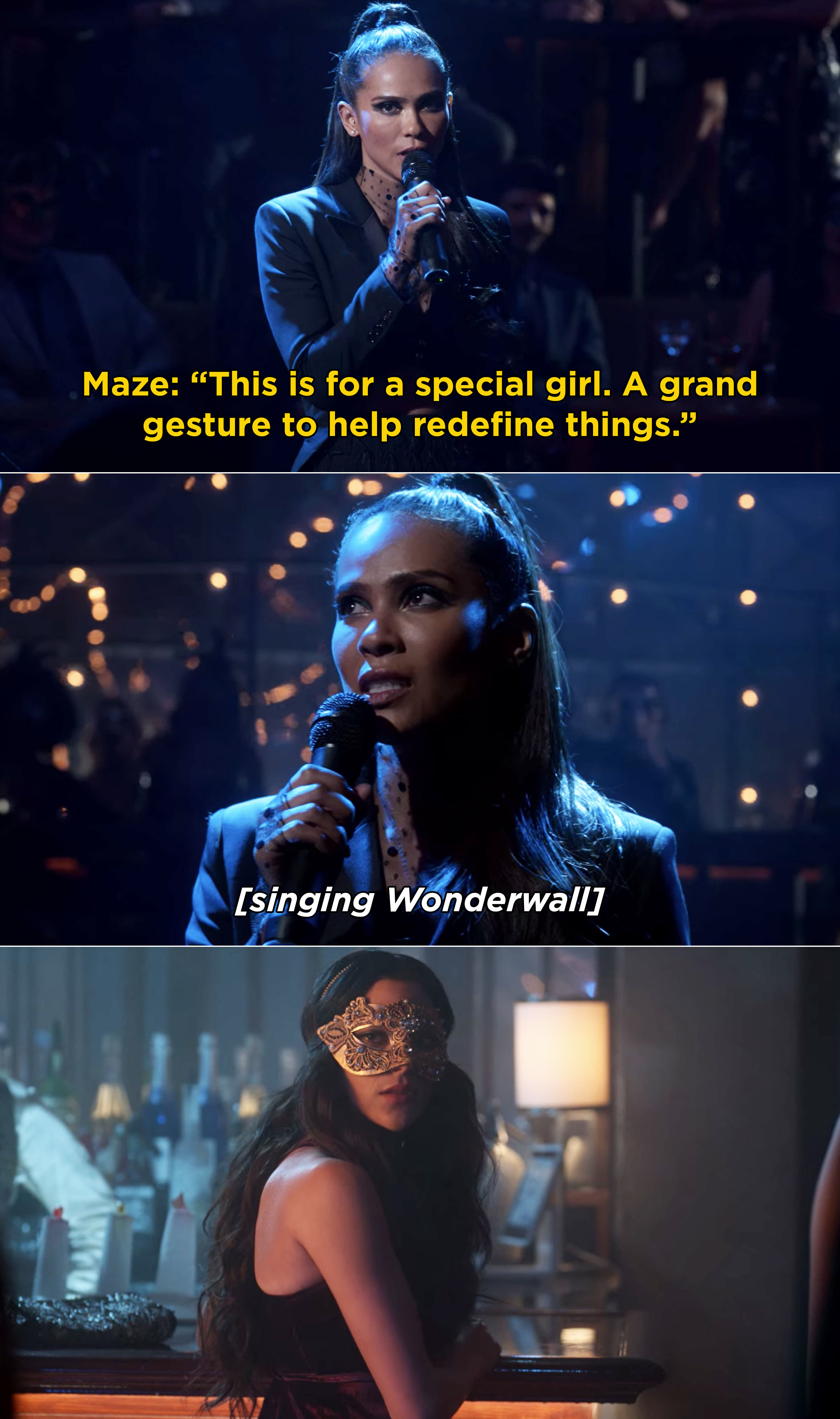 29.
On Grown-ish, when Zoey and Aaron kissed before she left for the entire summer.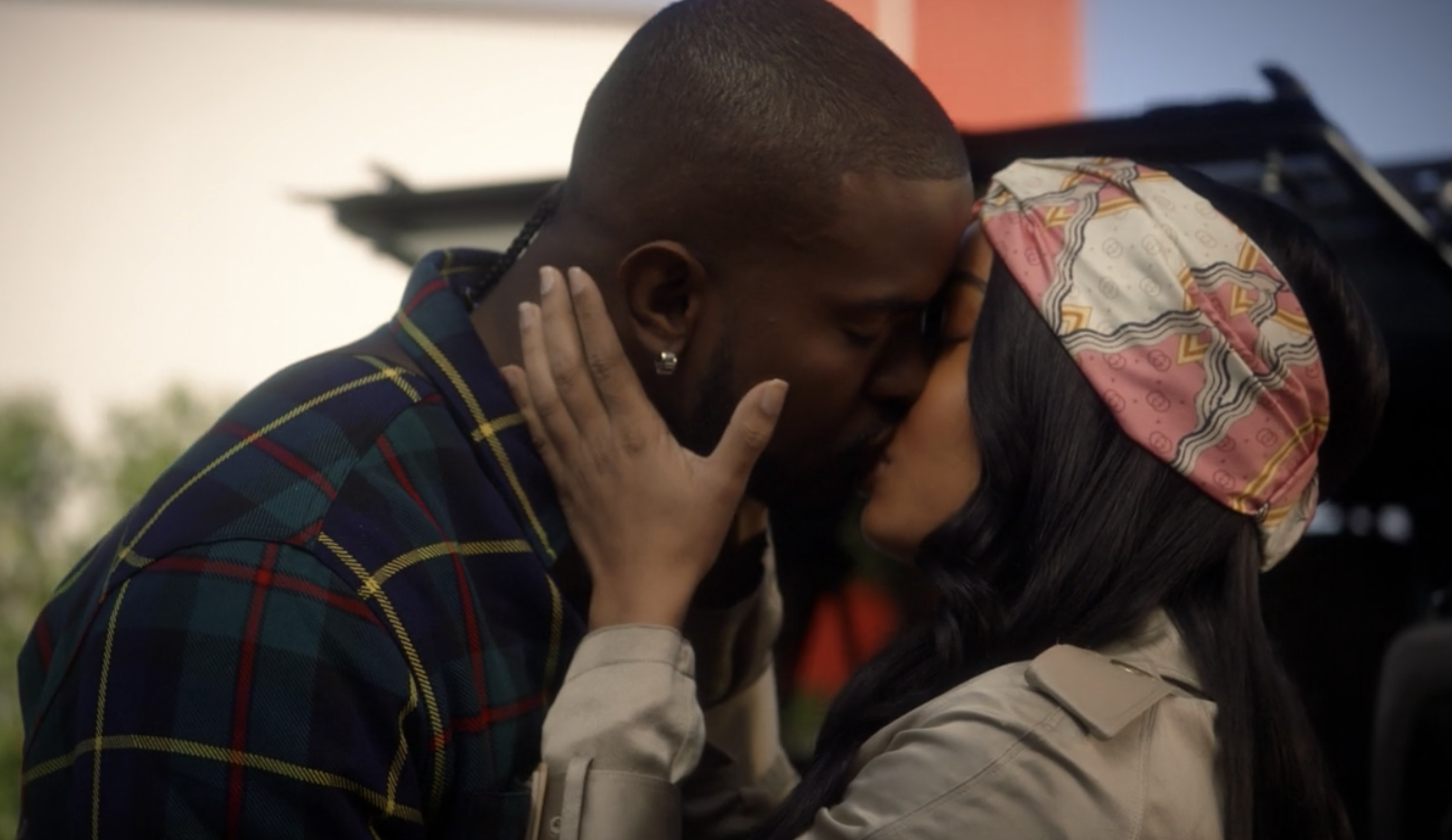 31.
On High School Musical: The Musical: The Series, when Carlos and Seb attended homecoming together and started dating, thereby becoming the first Disney LGBTQ couple to do so.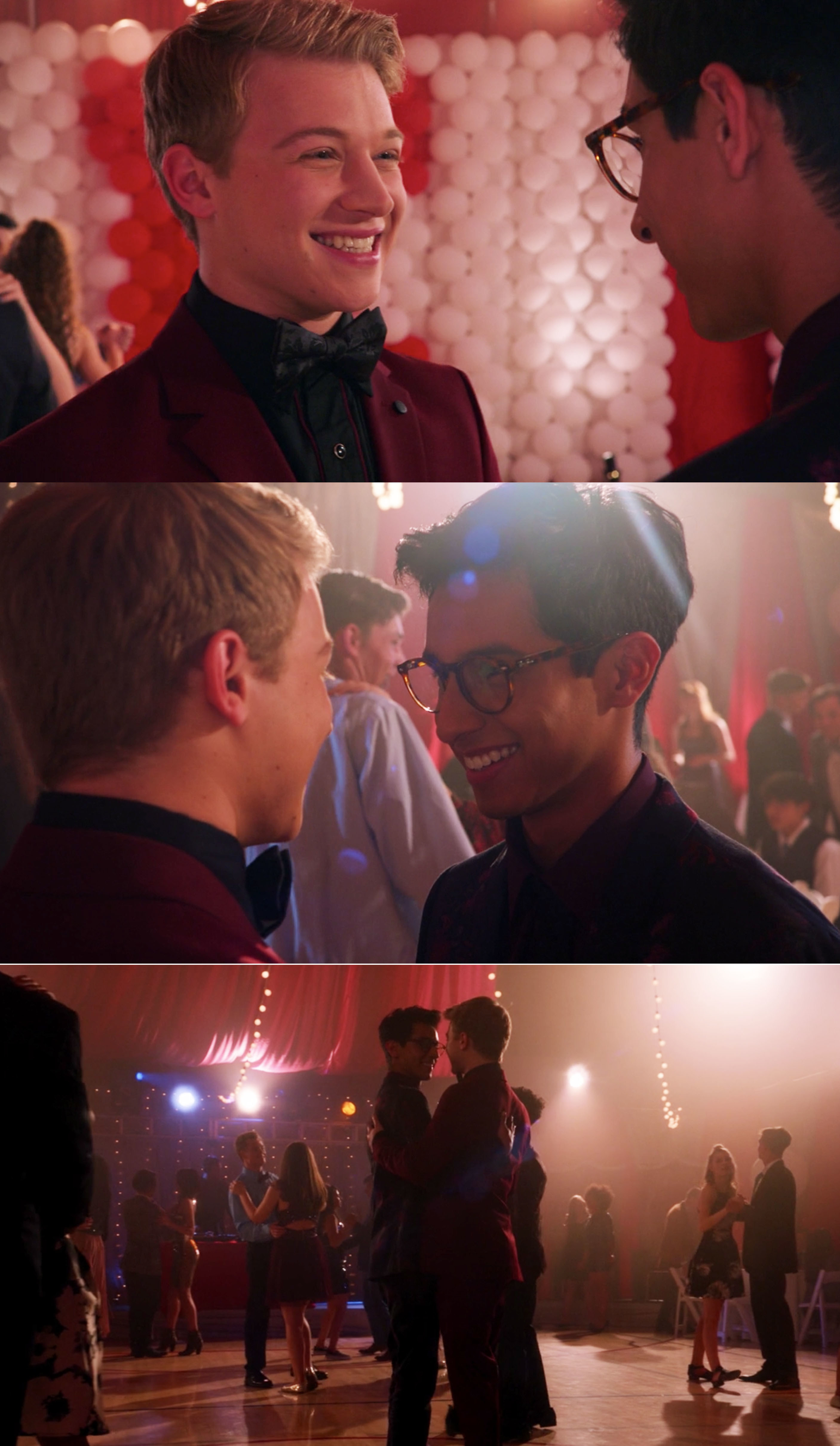 32.
When Alyssa and James said "I love you" on The End of the F***ing World.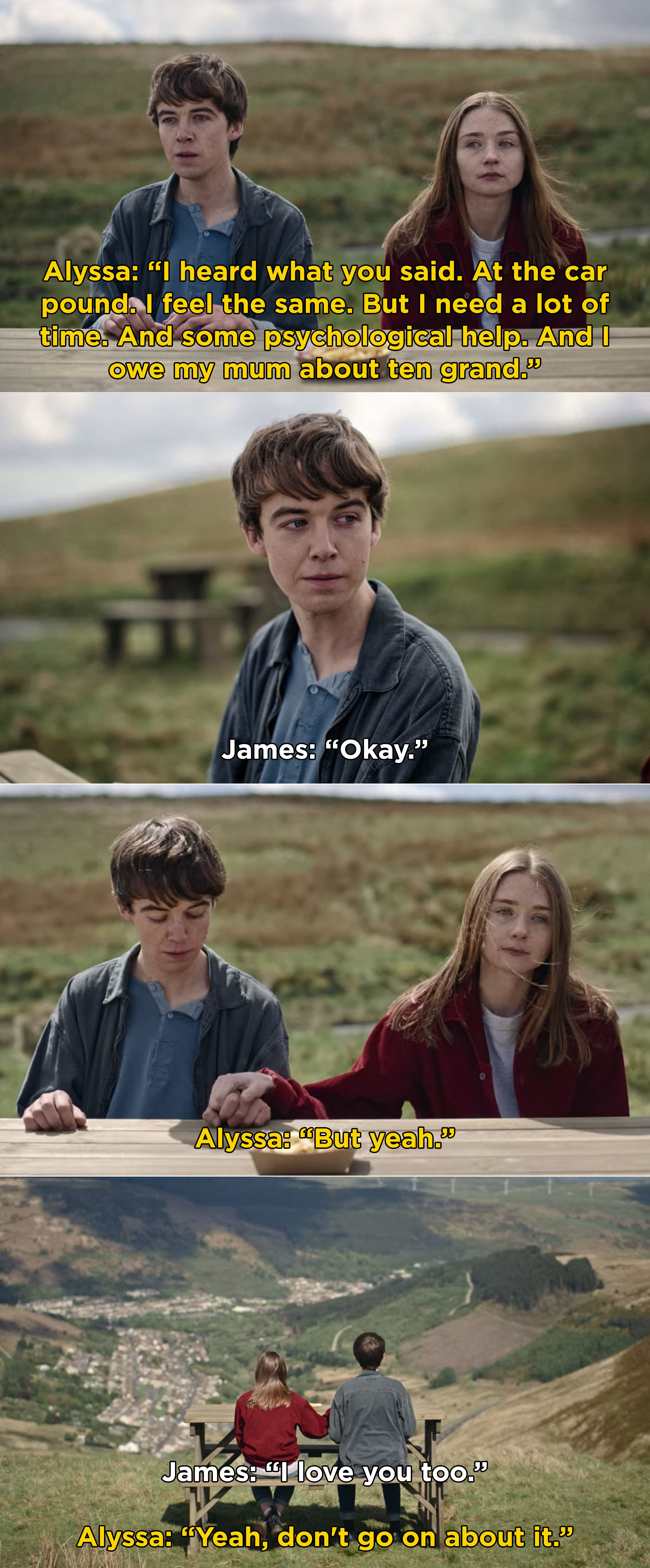 33.
When Fitz and Simmons were finally reunited and Fitz proposed again on Agents of S.H.I.E.L.D.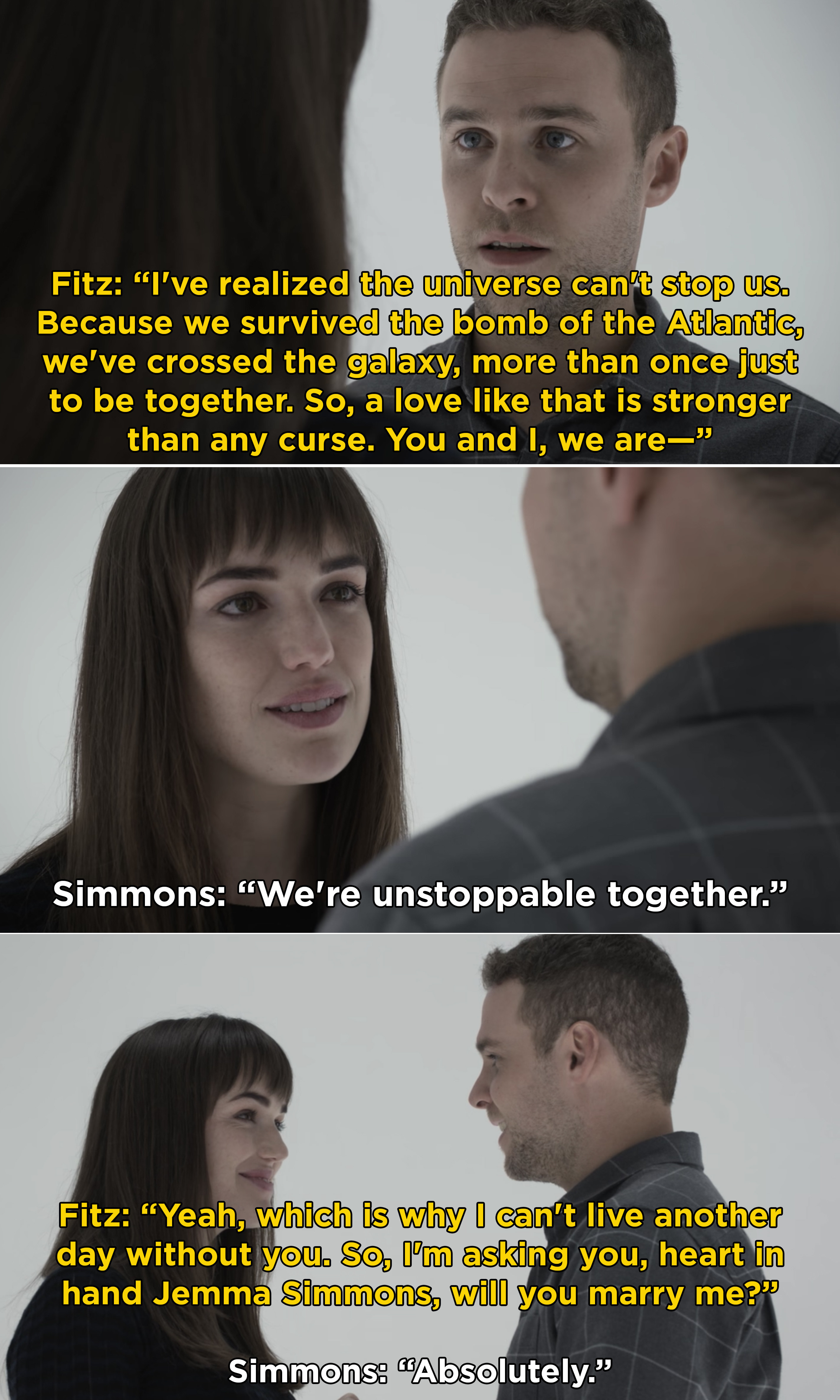 34.
On Gentleman Jack, when Ann returned to Halifax and told Anne that she would marry her.
35.
On Elite, when Carla adorably surprised Samuel at his apartment.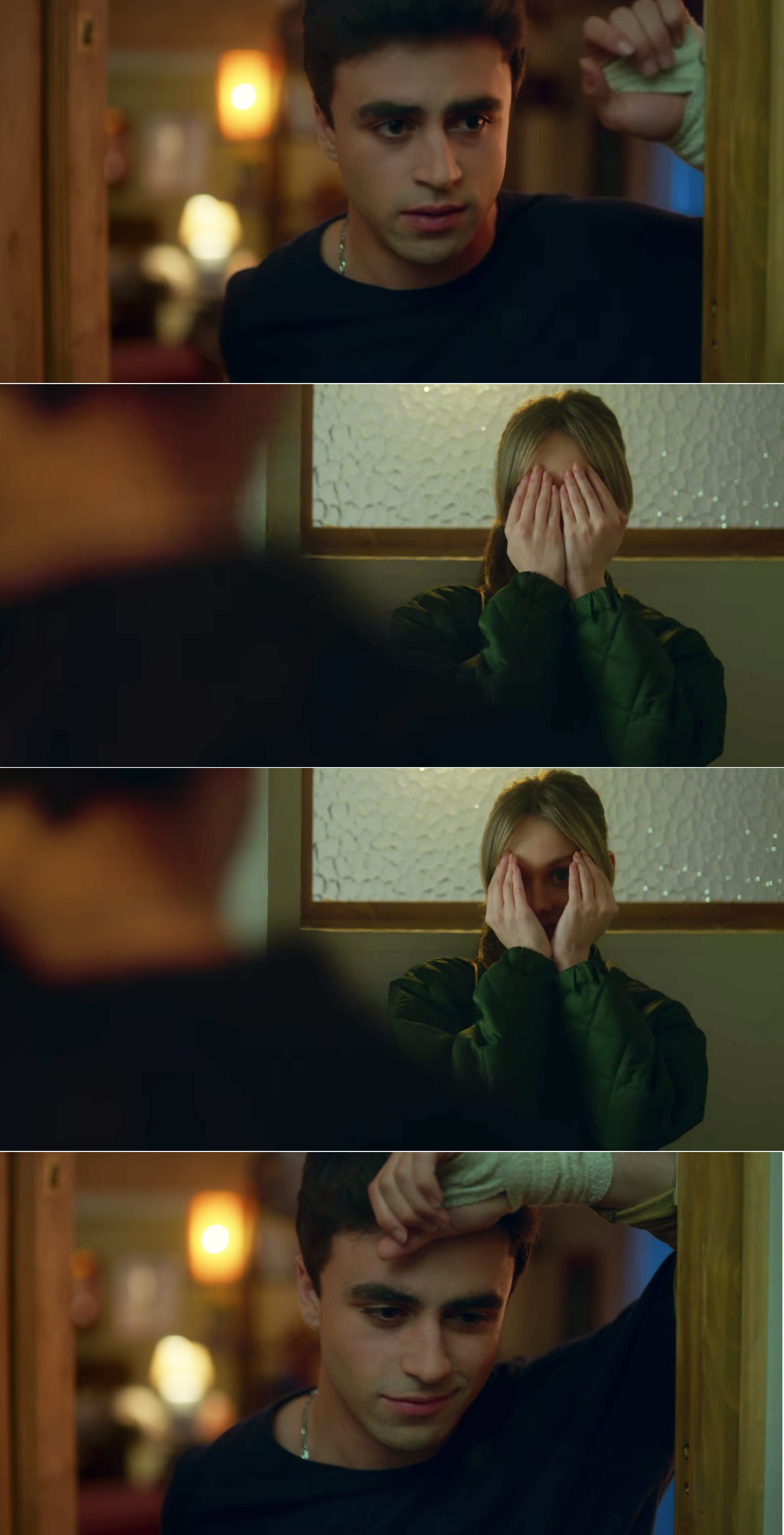 36.
Also on Elite, when Guzmán spotted Nadia across a crowded bar and time literally stopped.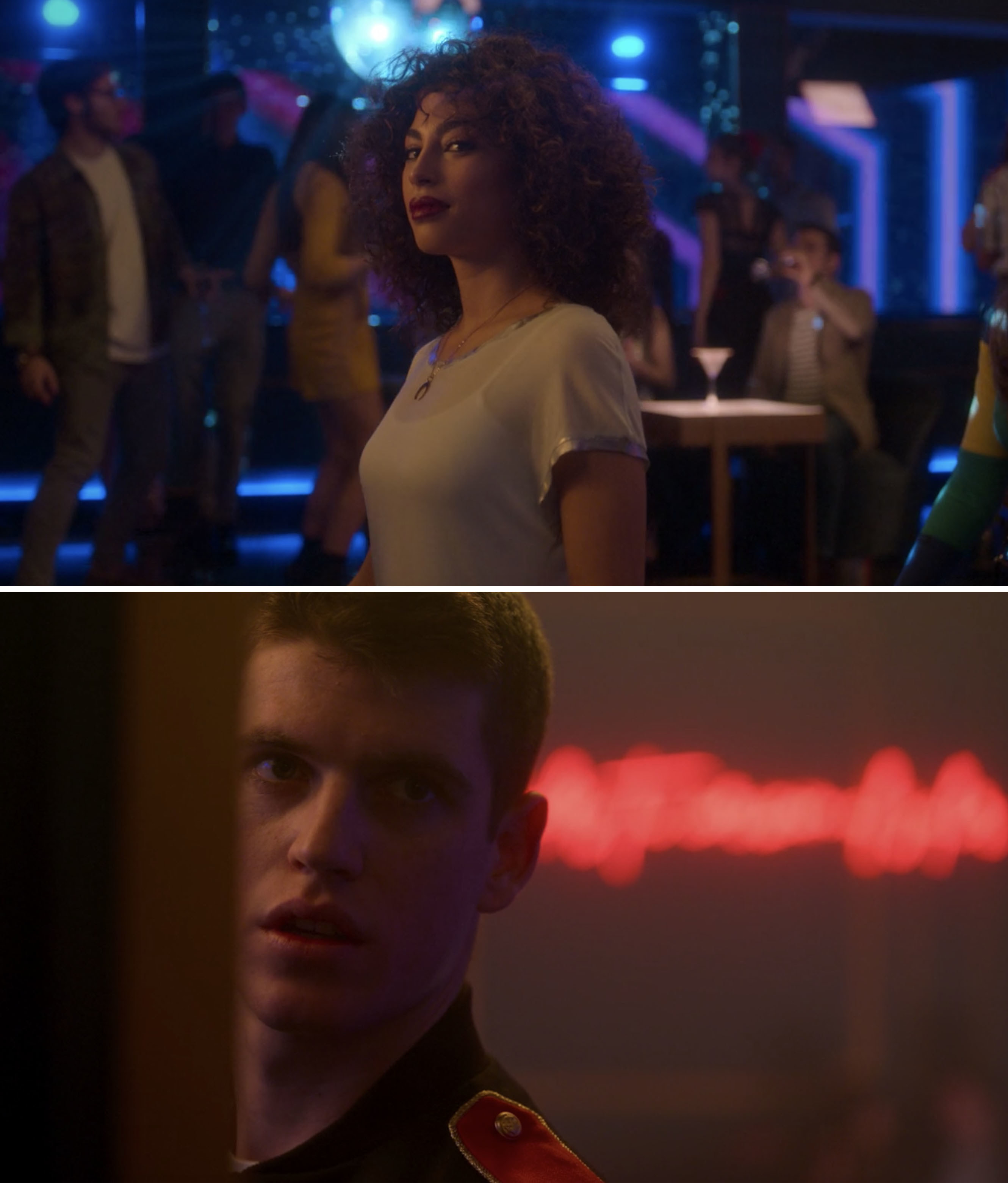 37.
On Dickinson, when Sue told Emily that she would always love her and they kissed in the rain.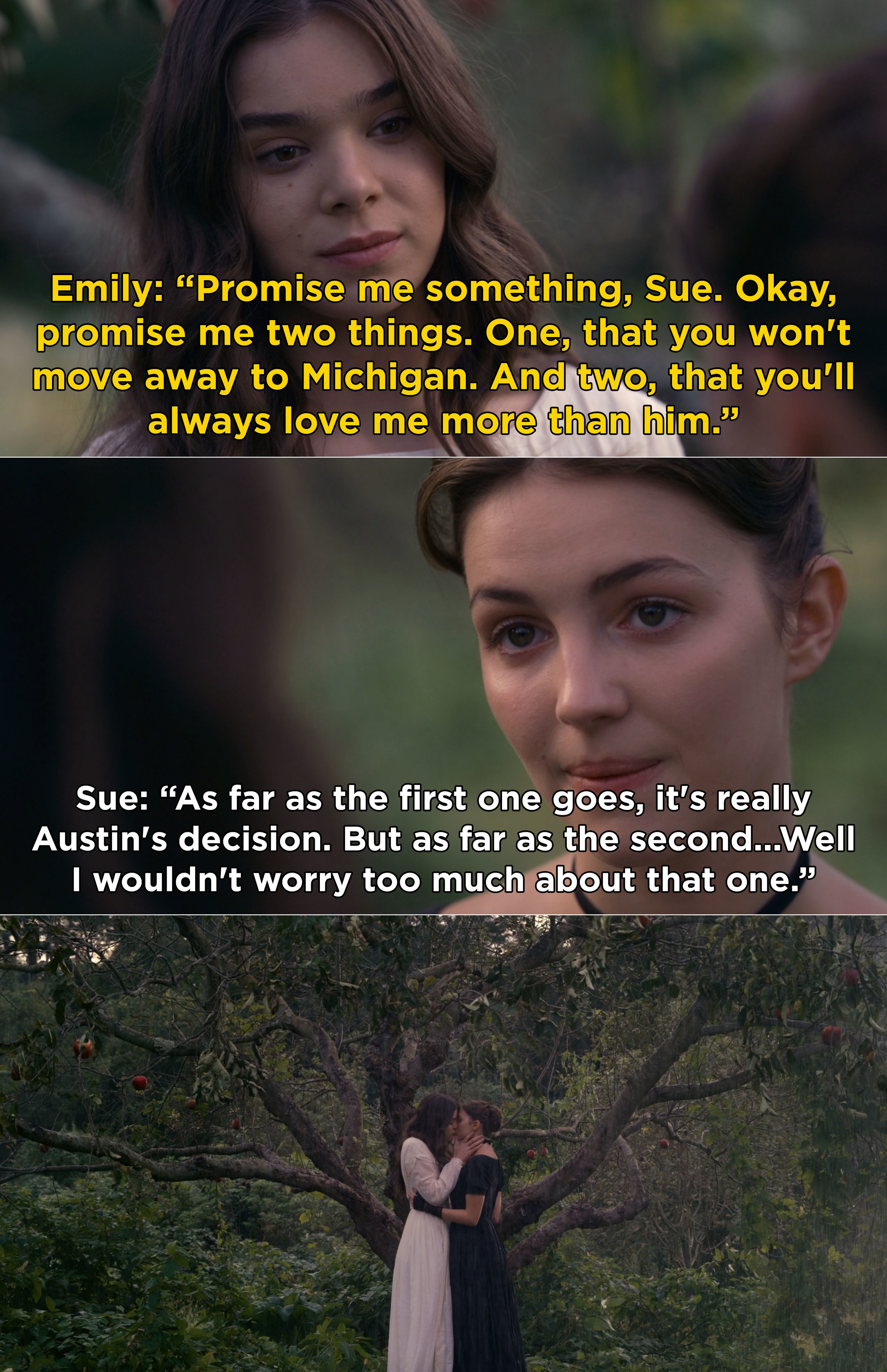 38.
When Barry and Iris reunited after Barry thought he was going to die during "Crisis on Infinite Earths" on The Flash.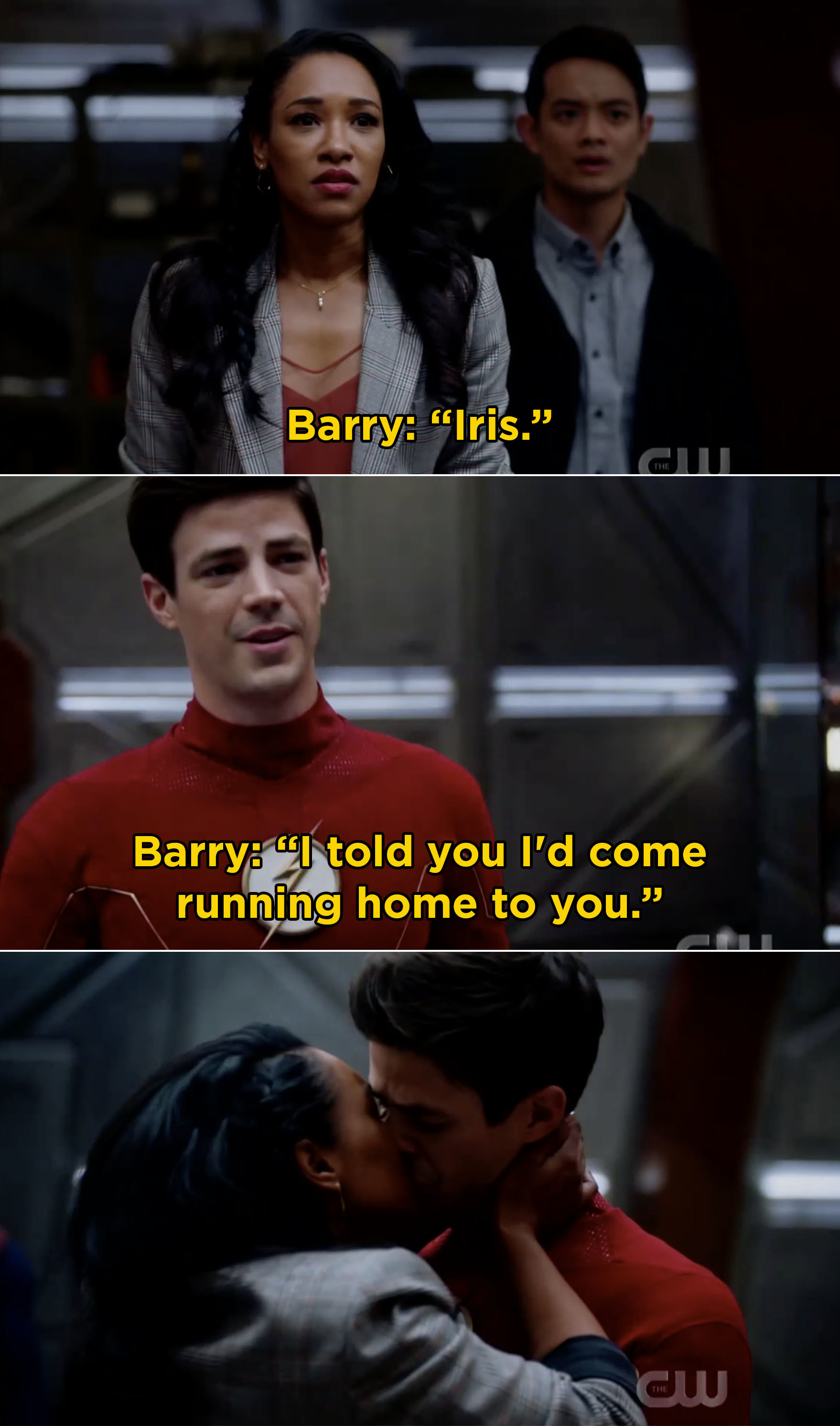 39.
On Outlander, when Brianna and Roger reunited after being separated for months.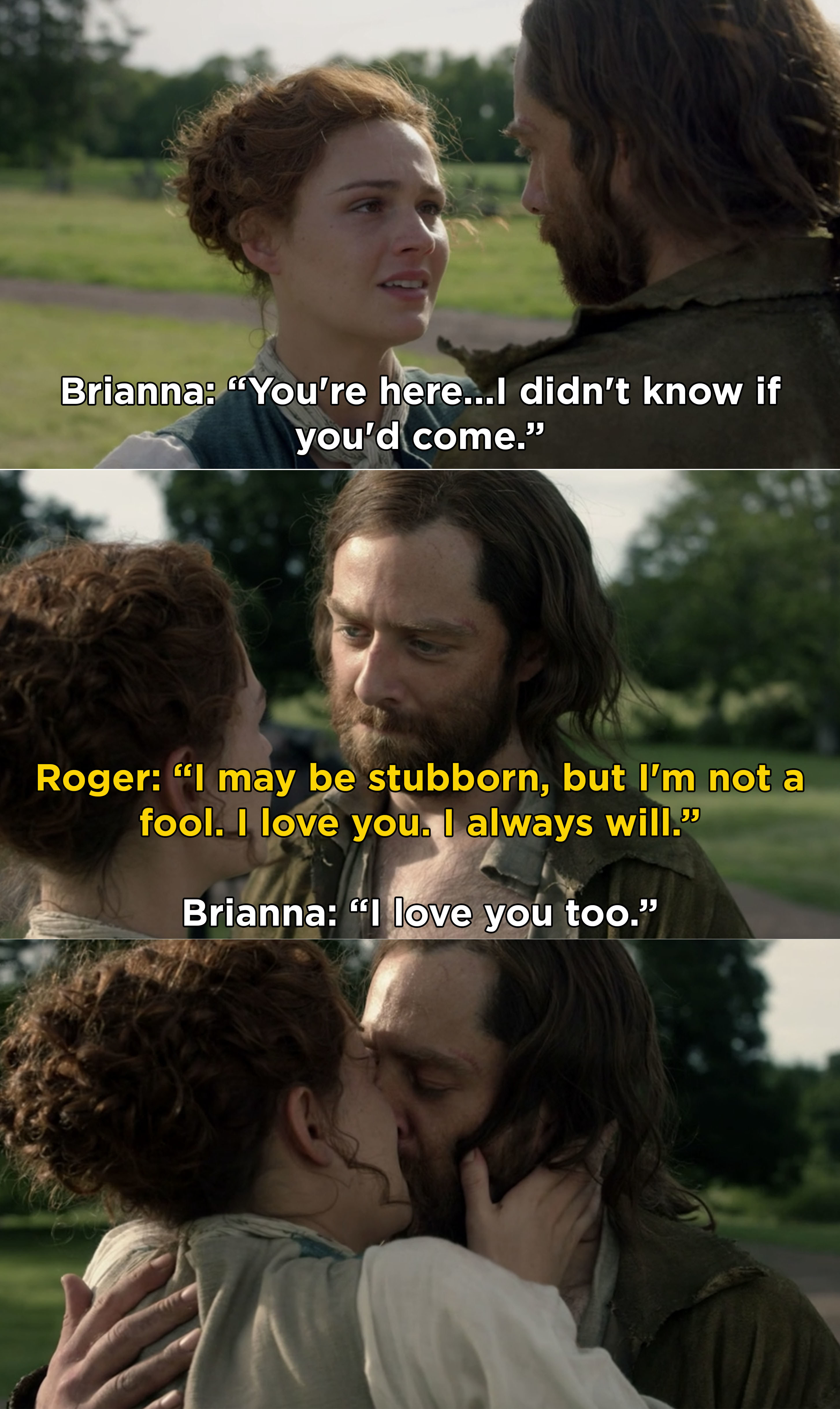 40.
When Lil Papi told Angel that she could chase her dreams because he would always be there on Pose.
42.
Also on Riverdale, when Cheryl was heartbreakingly captured by the Farm after helping Toni escape.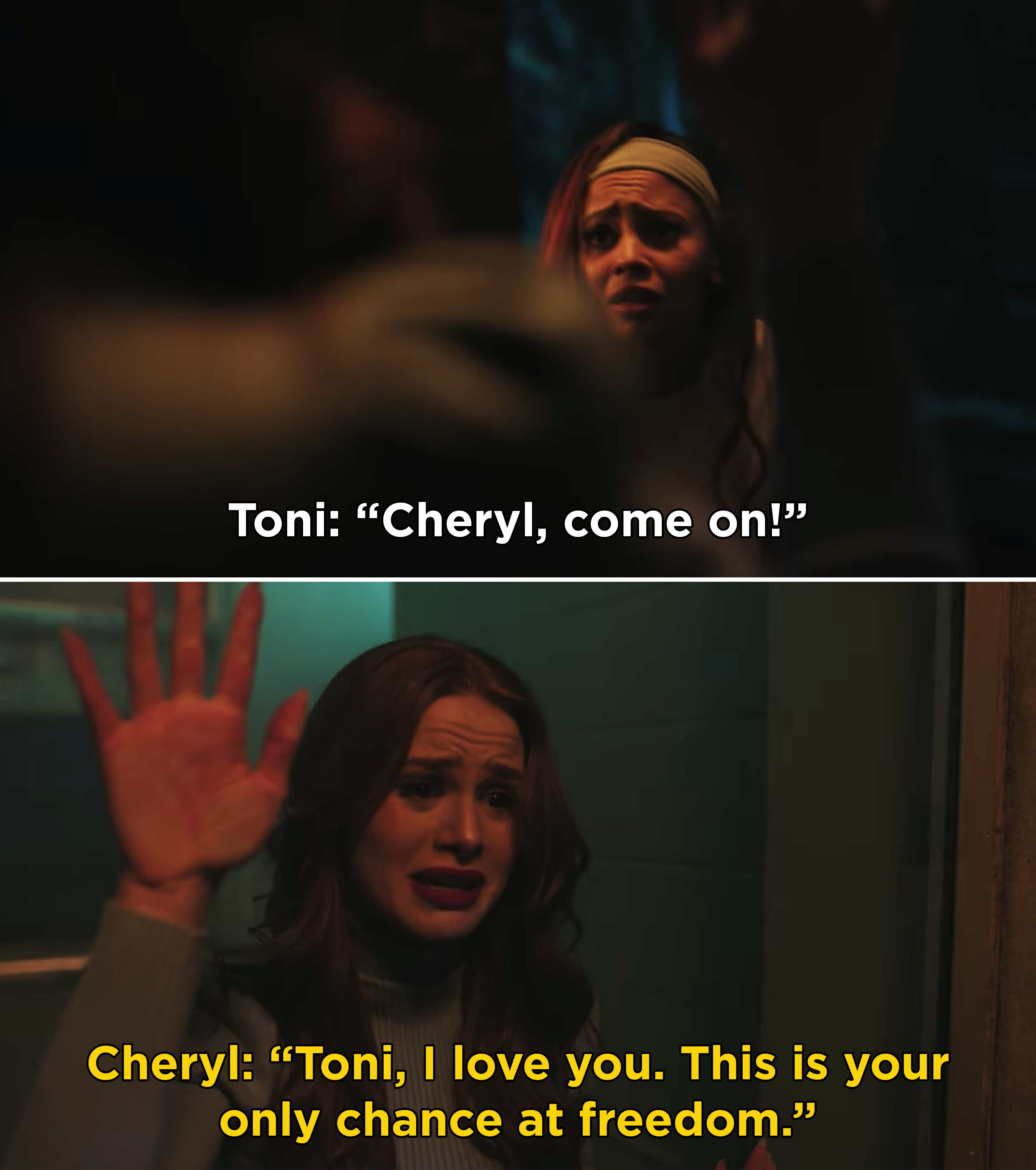 43.
On Legends of Tomorrow, when Sara could've chosen between other clones, but always picked Ava.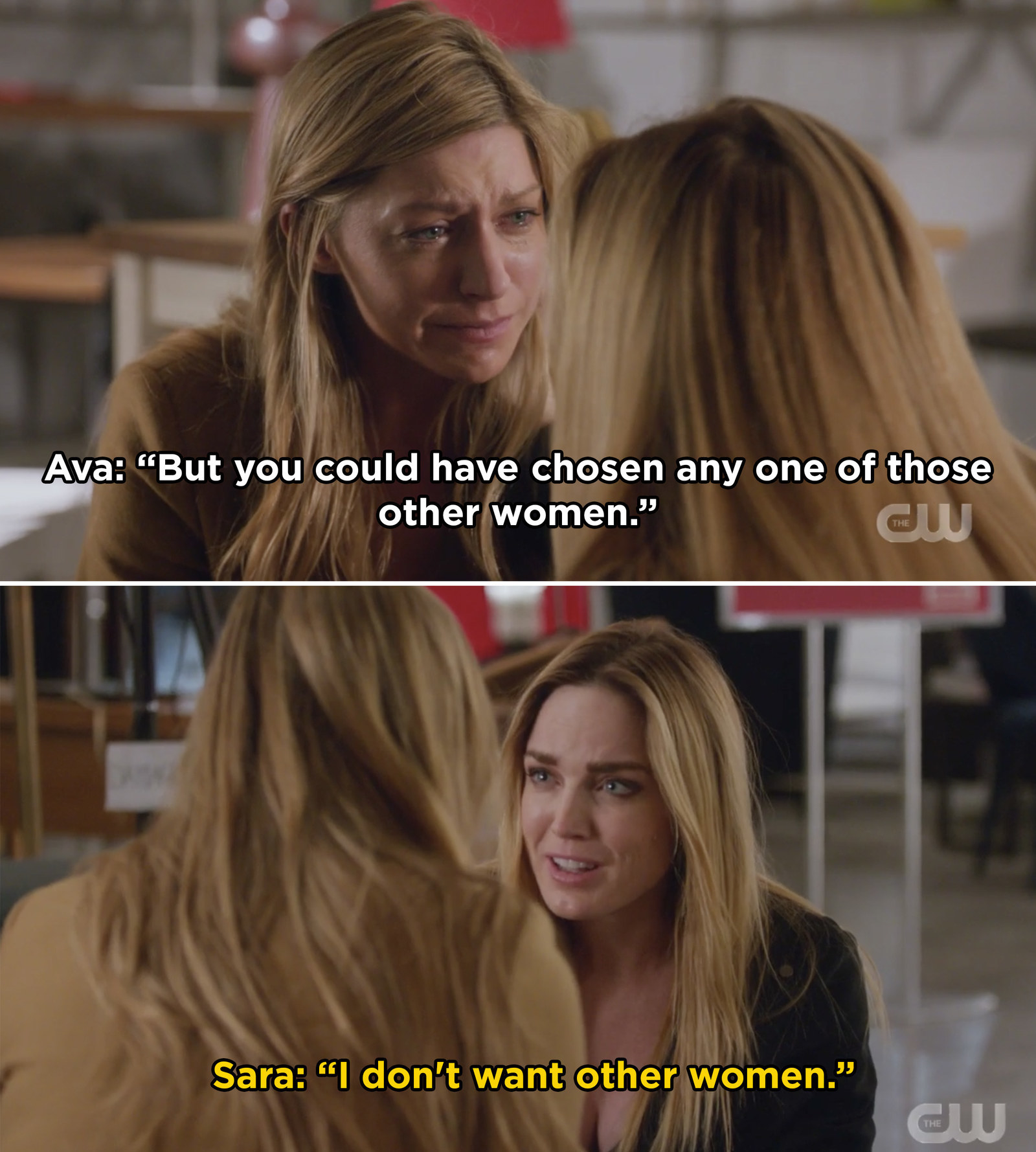 44.
On Suits, when Donna and Harvey spontaneously decided to get married after Louis's wedding.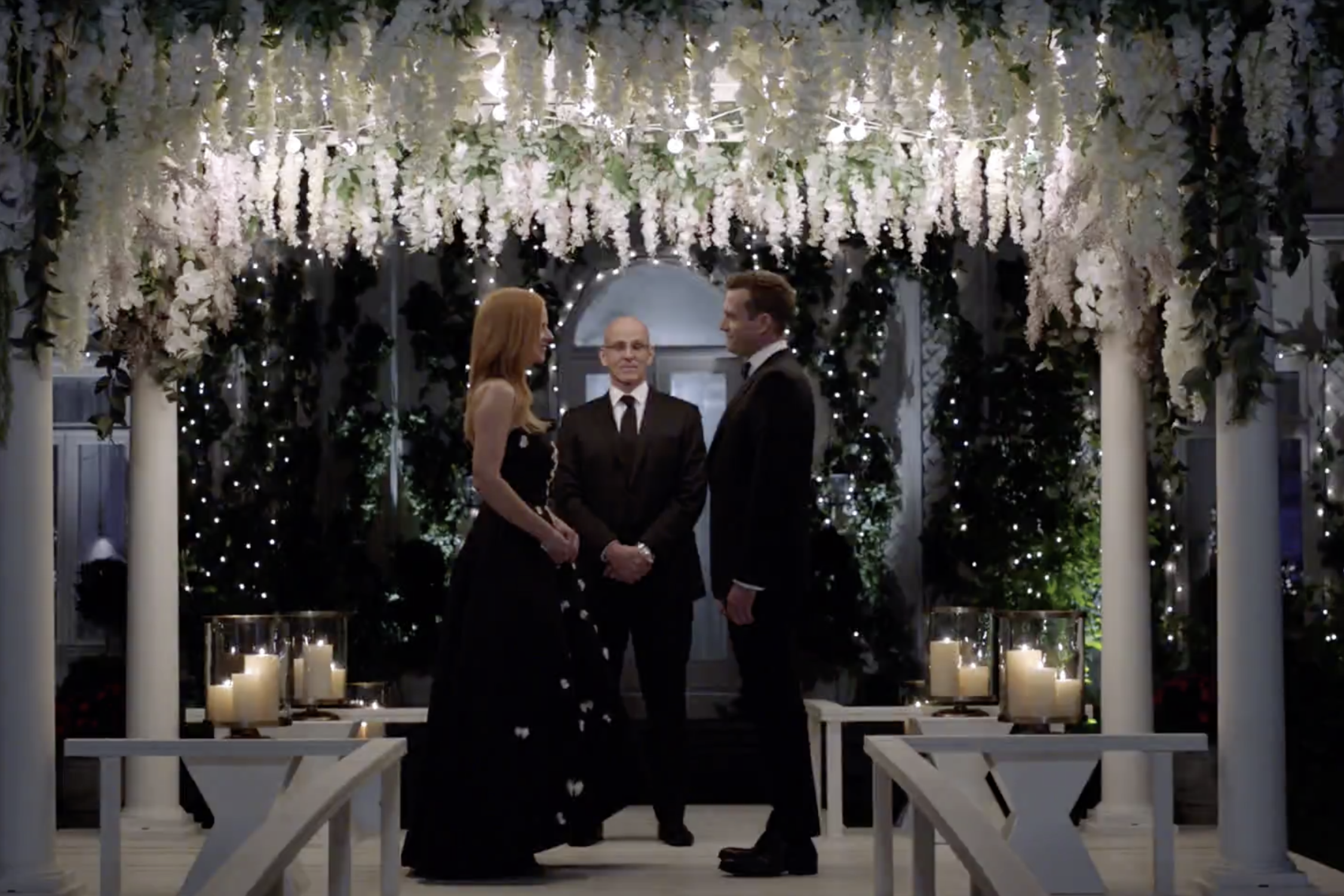 45.
On The Magicians, when Margo revealed her feelings for Josh and they slept together.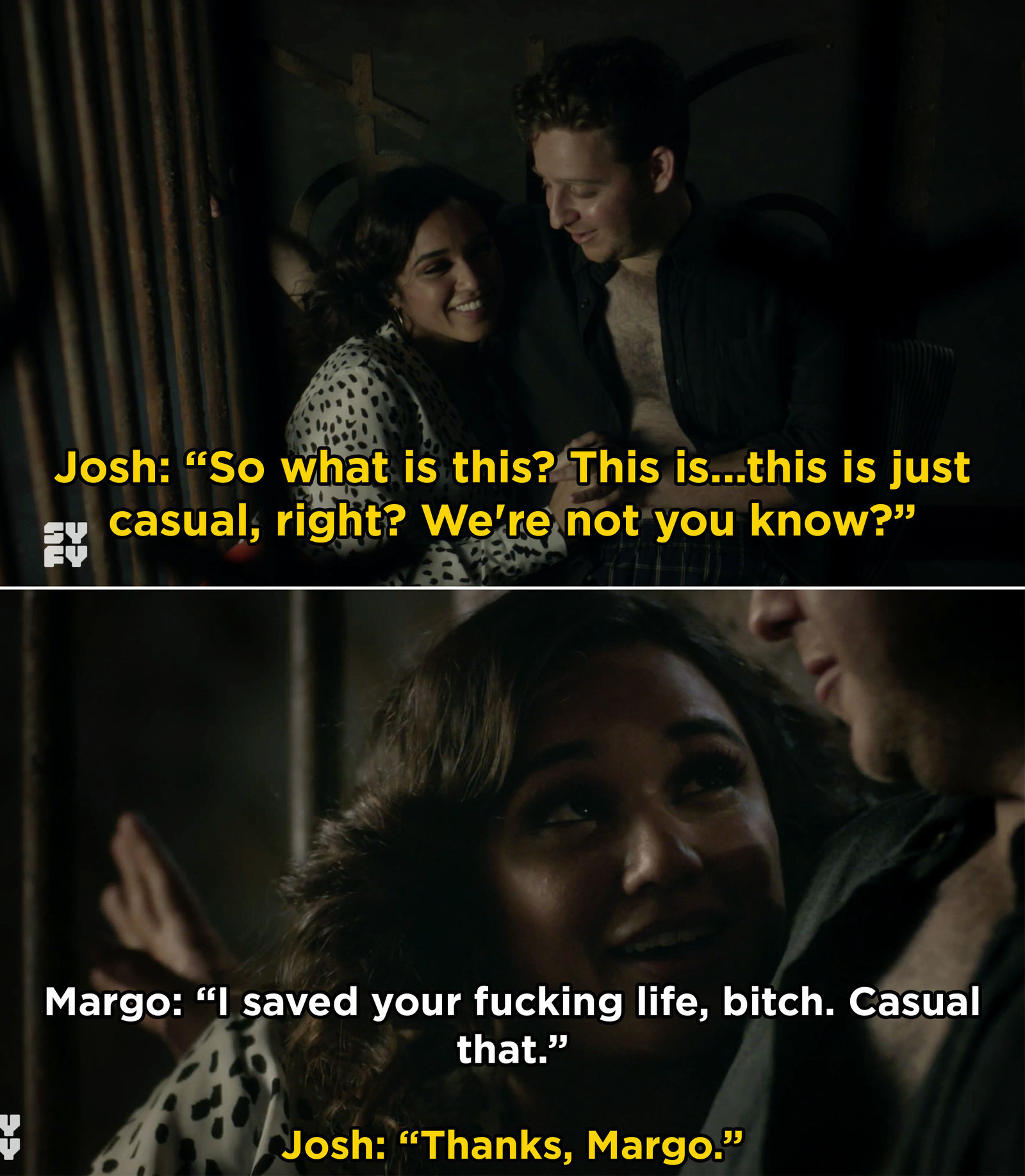 46.
When Alex finally made her move and kissed Kelly on Supergirl.
47.
On American Horror Story: 1984, when Ray saved Brooke from dying at Camp Redwood.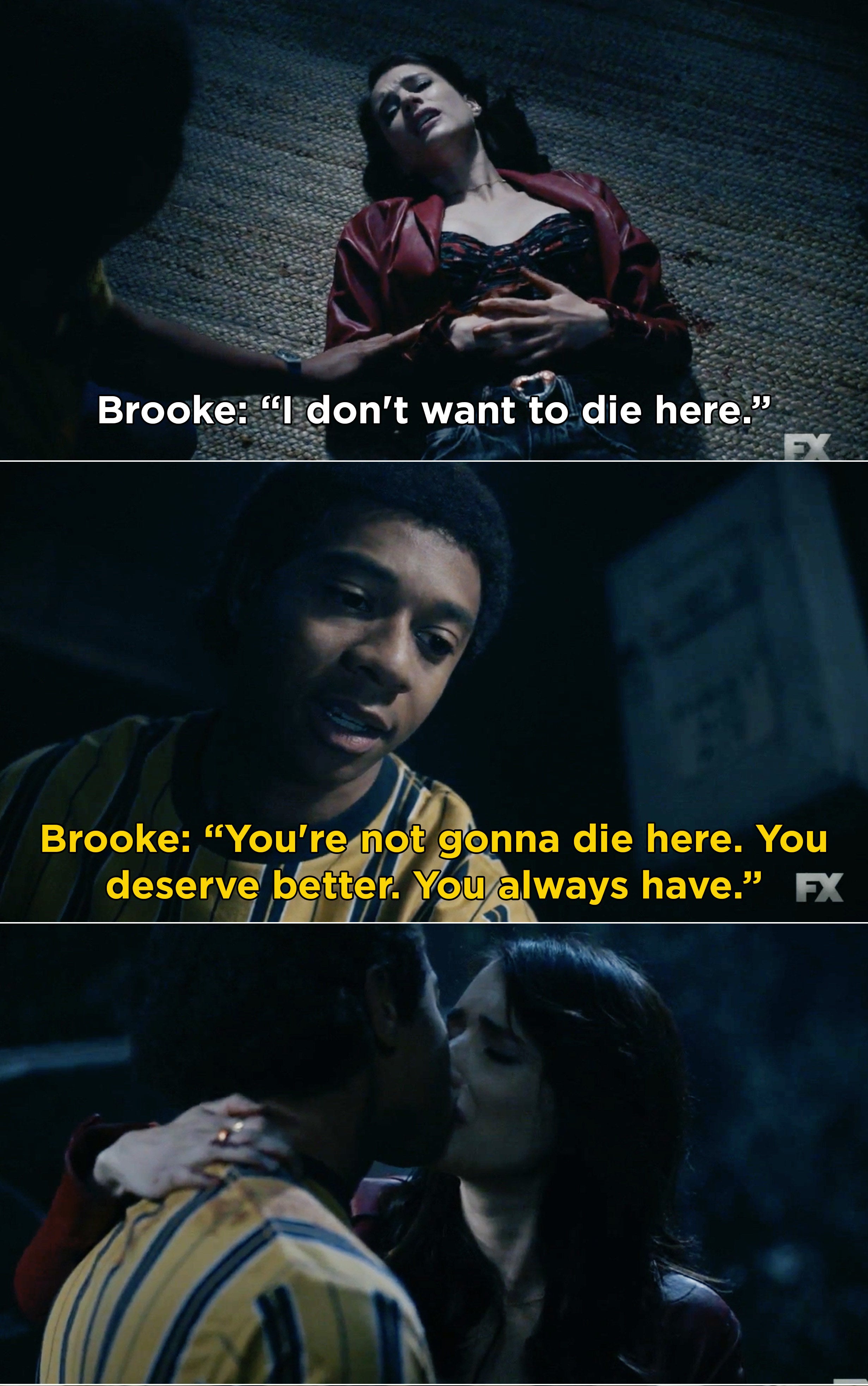 48.
When Carlota and Óscar reunited after the girls helped Óscar escape from prison on Cable Girls/Las Chicas del Cable.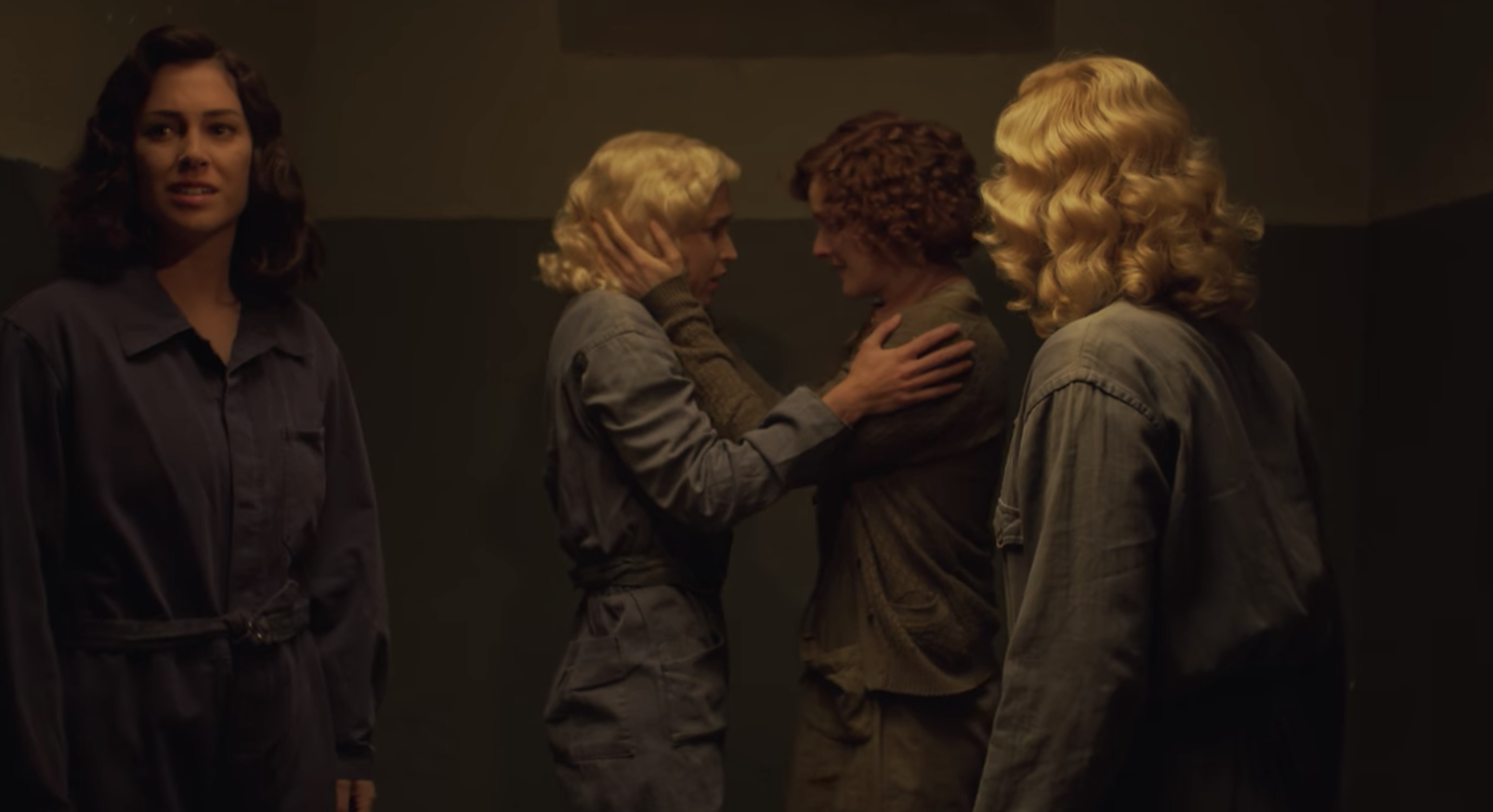 49.
When Davia and Dennis performed "Falling Slowly" at the Coterie on Good Trouble.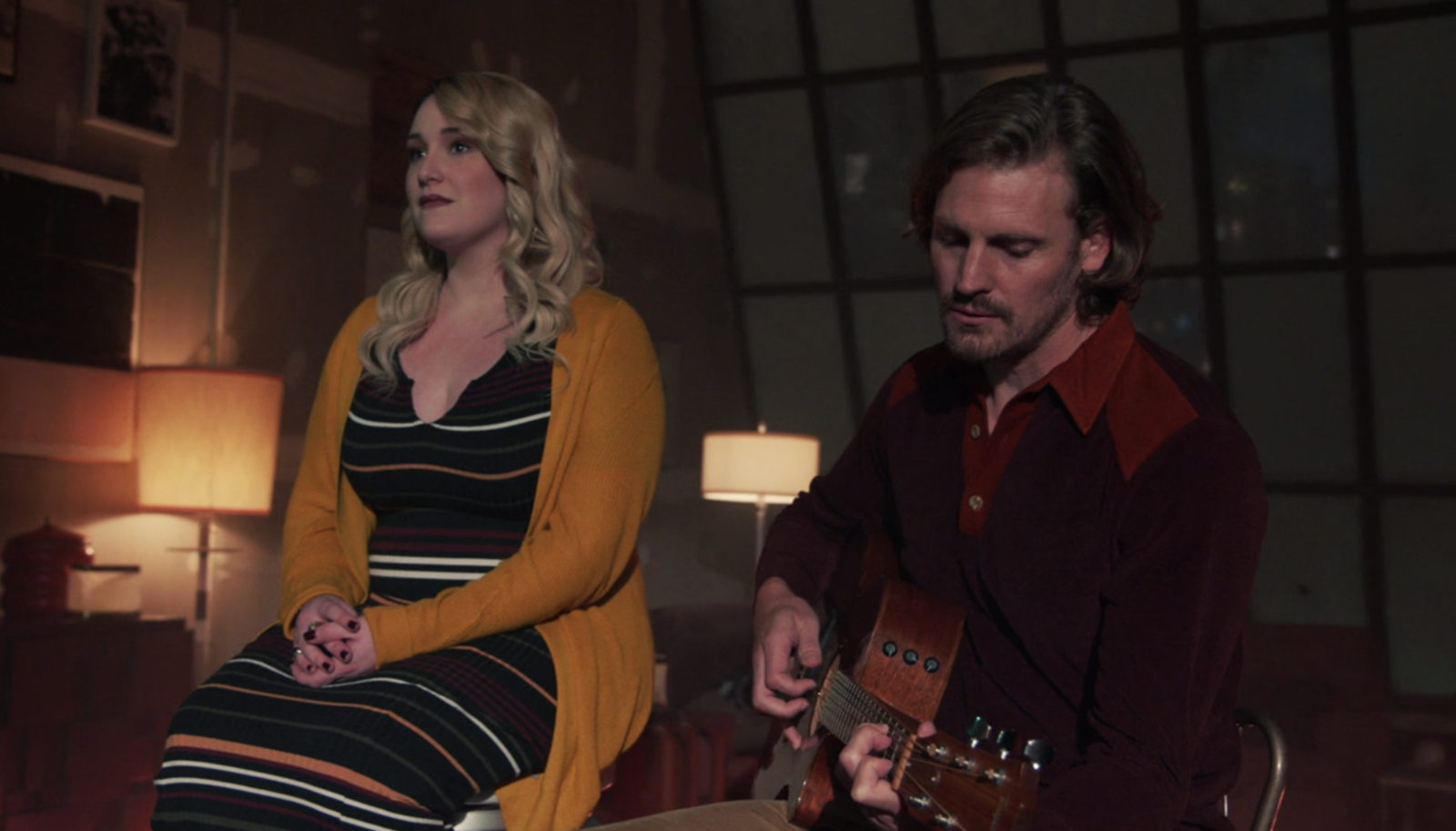 50.
On Legacies, when Landon and Hope officially reunited after everyone got their memories of Hope back.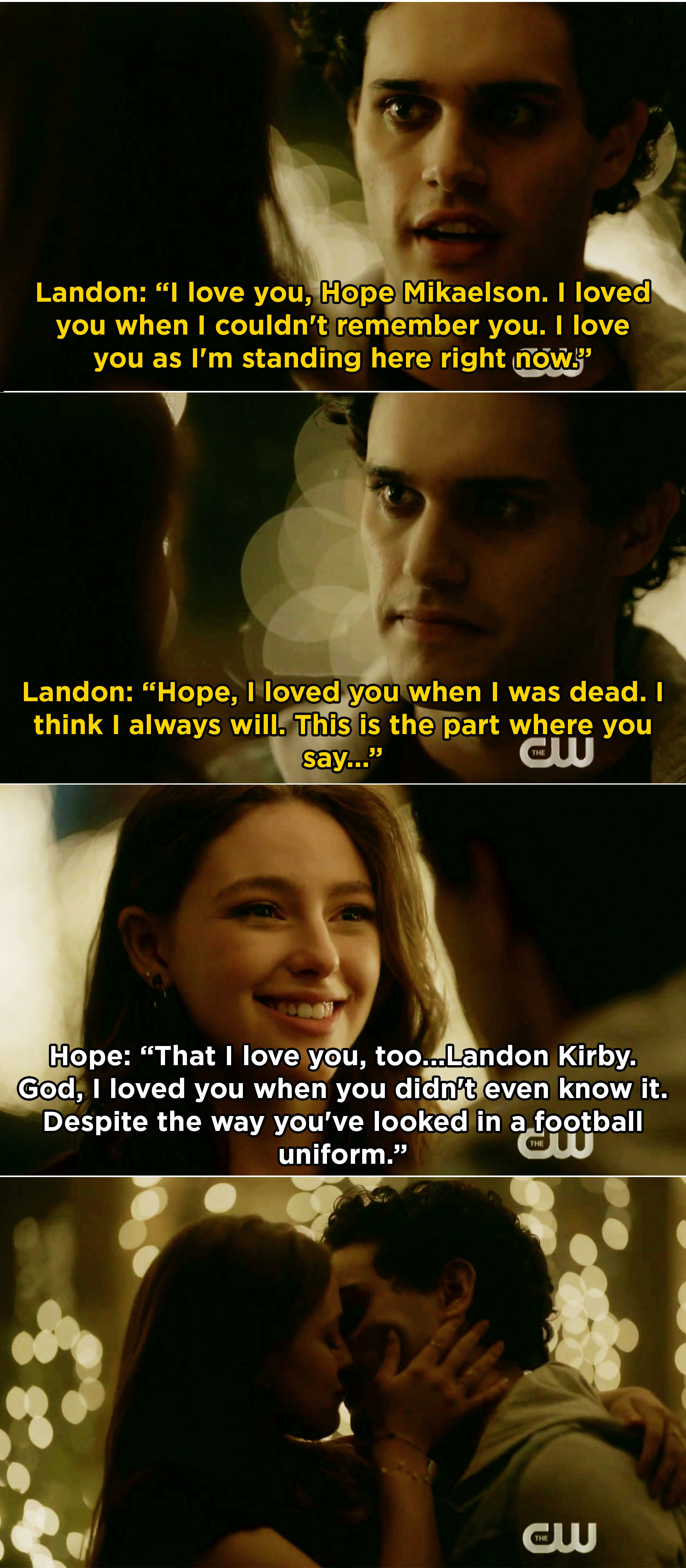 51.
Also on Legacies, when Penelope decided to leave the Salvatore School, but not before she told Josie how she felt.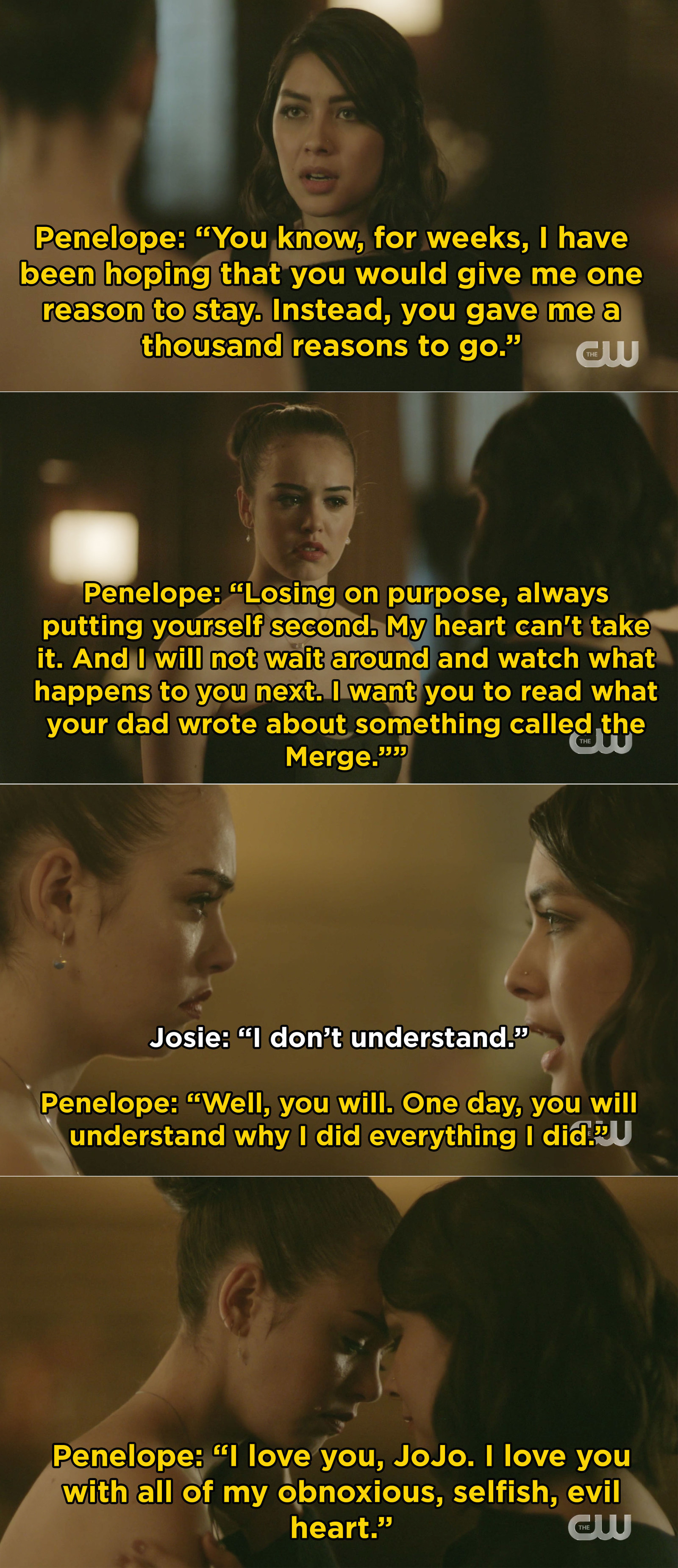 52.
When Charles proposed to Liza on Younger.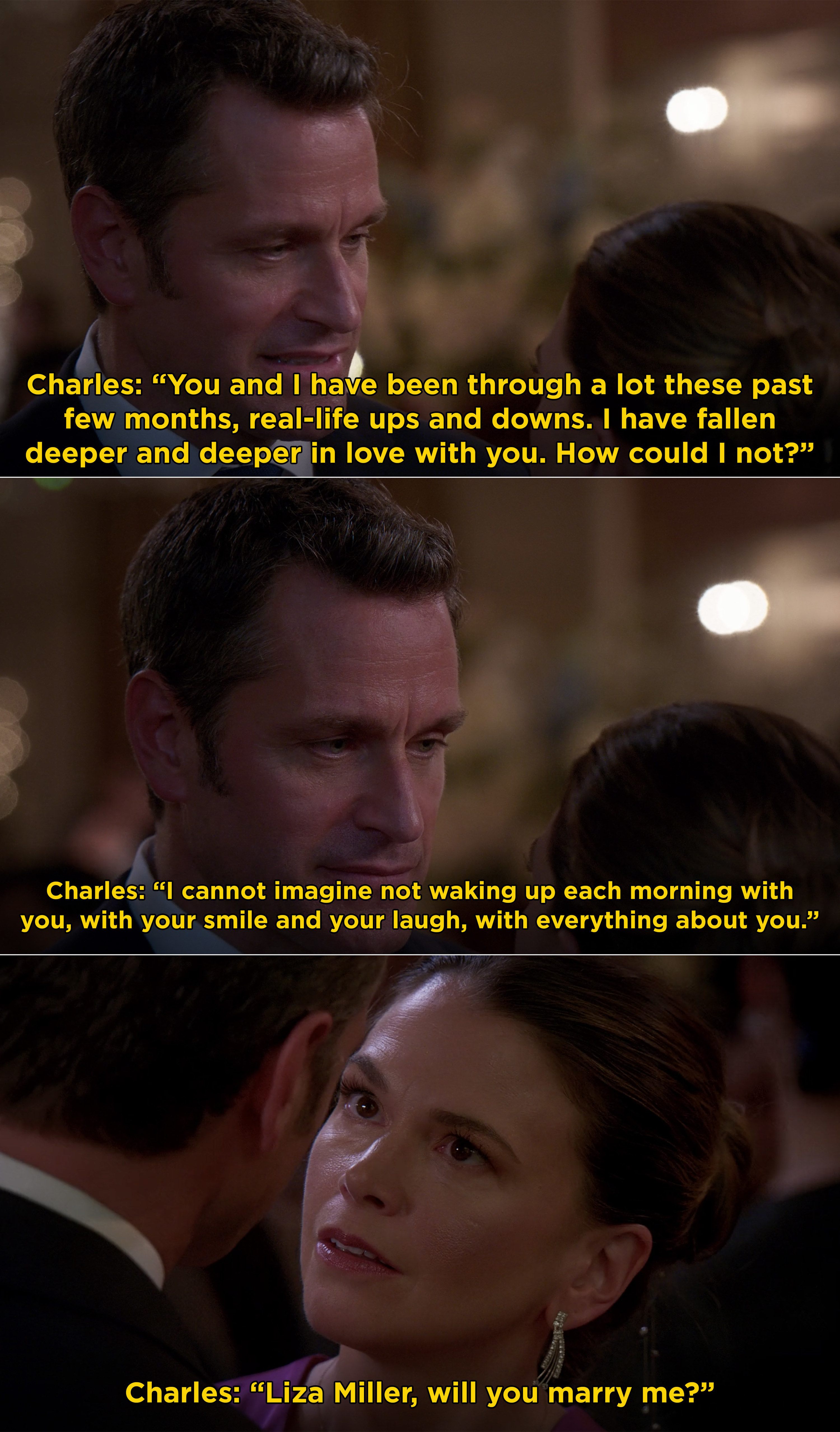 53.
On Good Girls, when Beth and Rio finally had sex.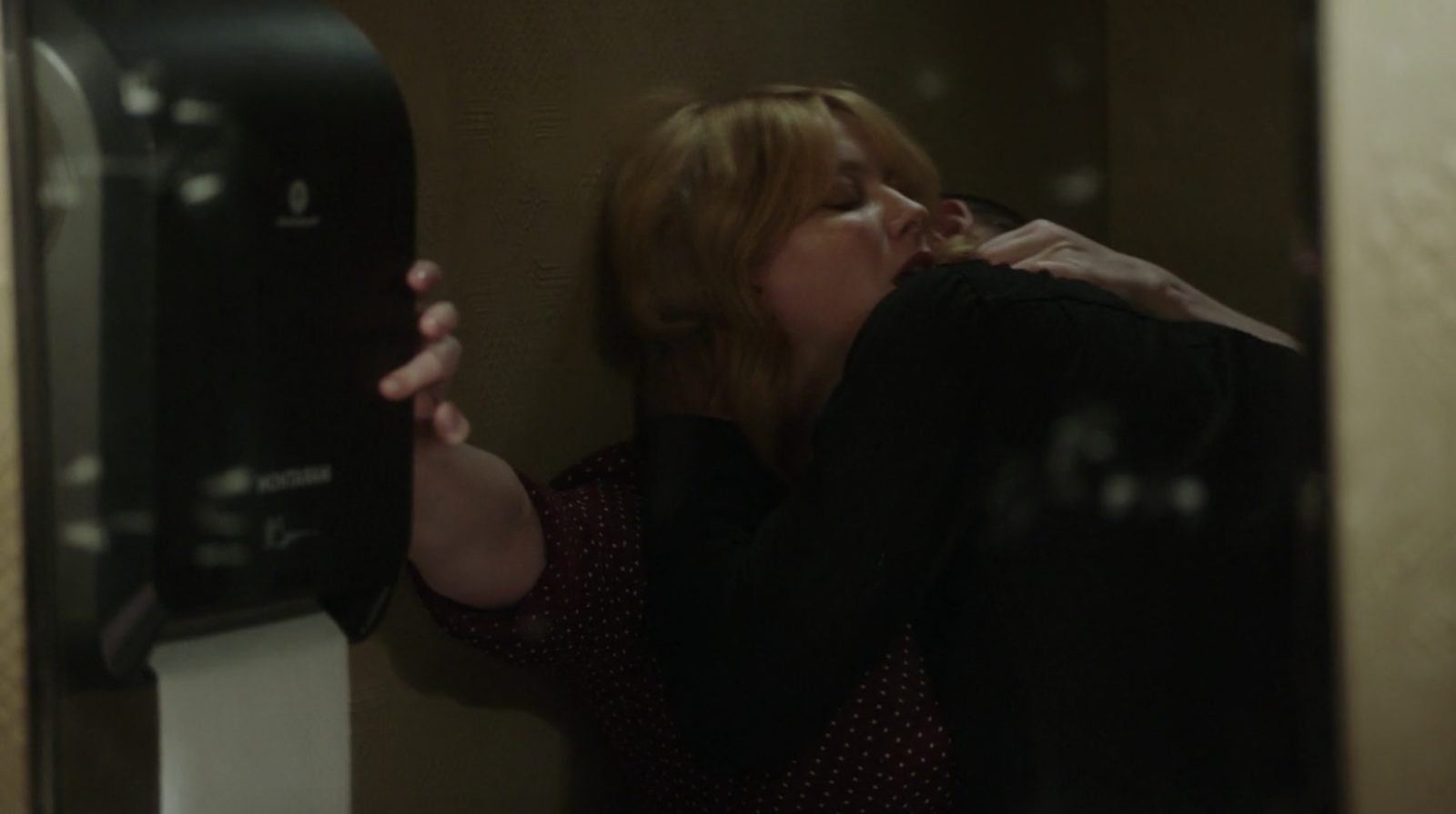 54.
On Sex Education, when Maeve caught Otis and Ola kissing after she decided to go see Otis after he gave her the trophy.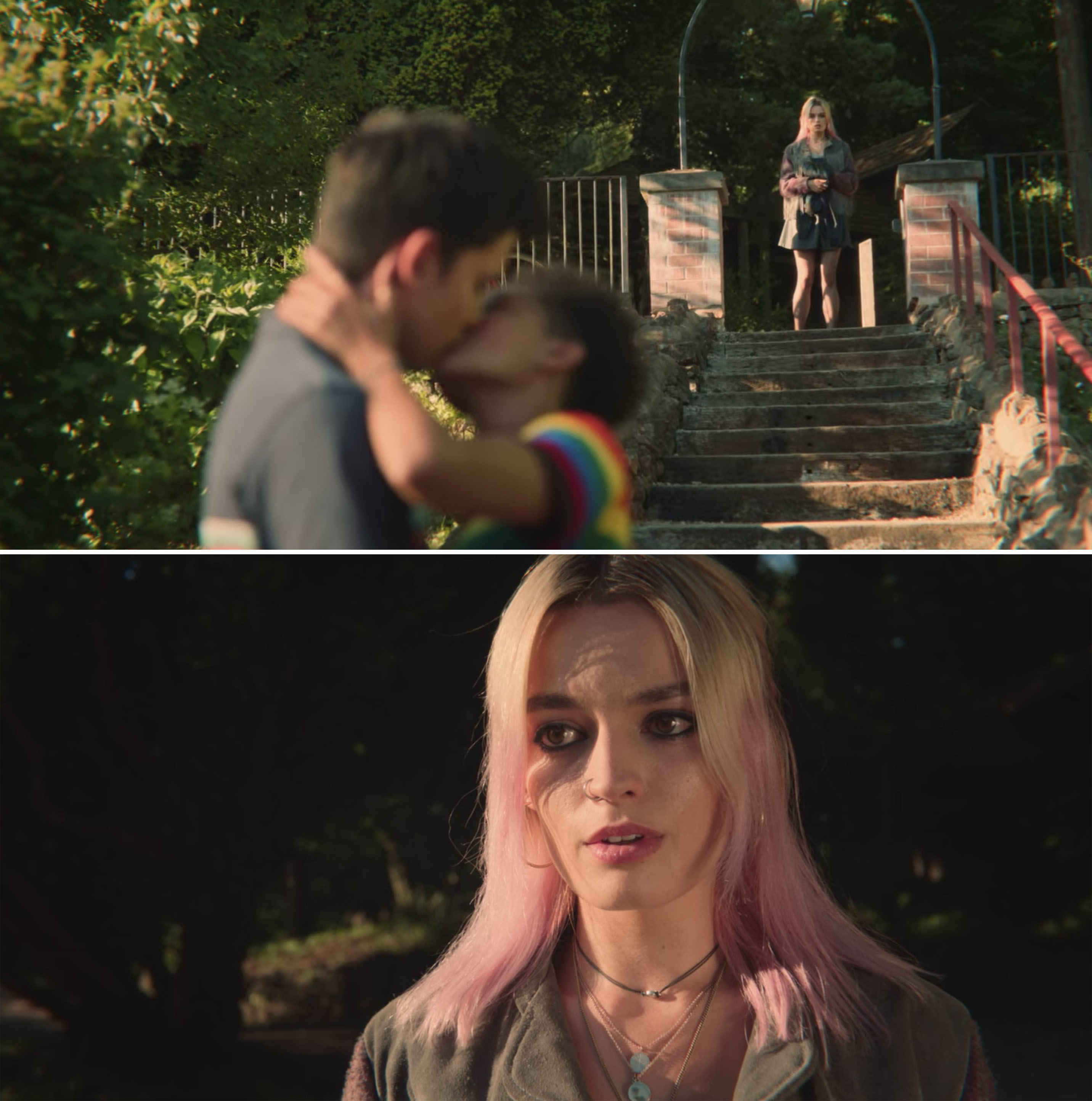 55.
When Miles and Alaska played truth or dare and finally kissed on Looking for Alaska.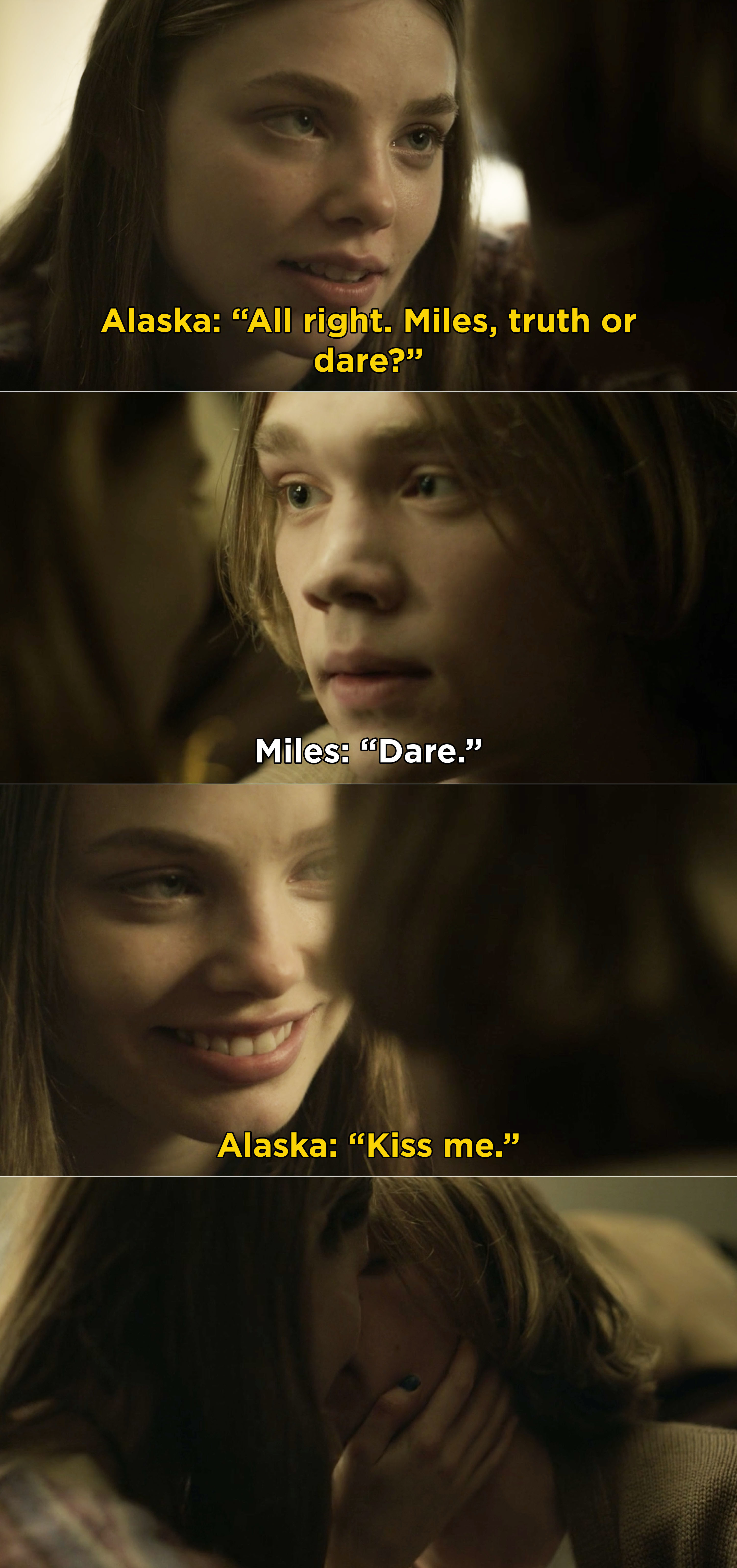 56.
On iZombie, when Major and Liv reunited after she miraculously survived an explosion at the morgue.
57.
On Runaways, when Karolina dreamt of her ideal wedding to Nico while she was trapped in the Algorithm.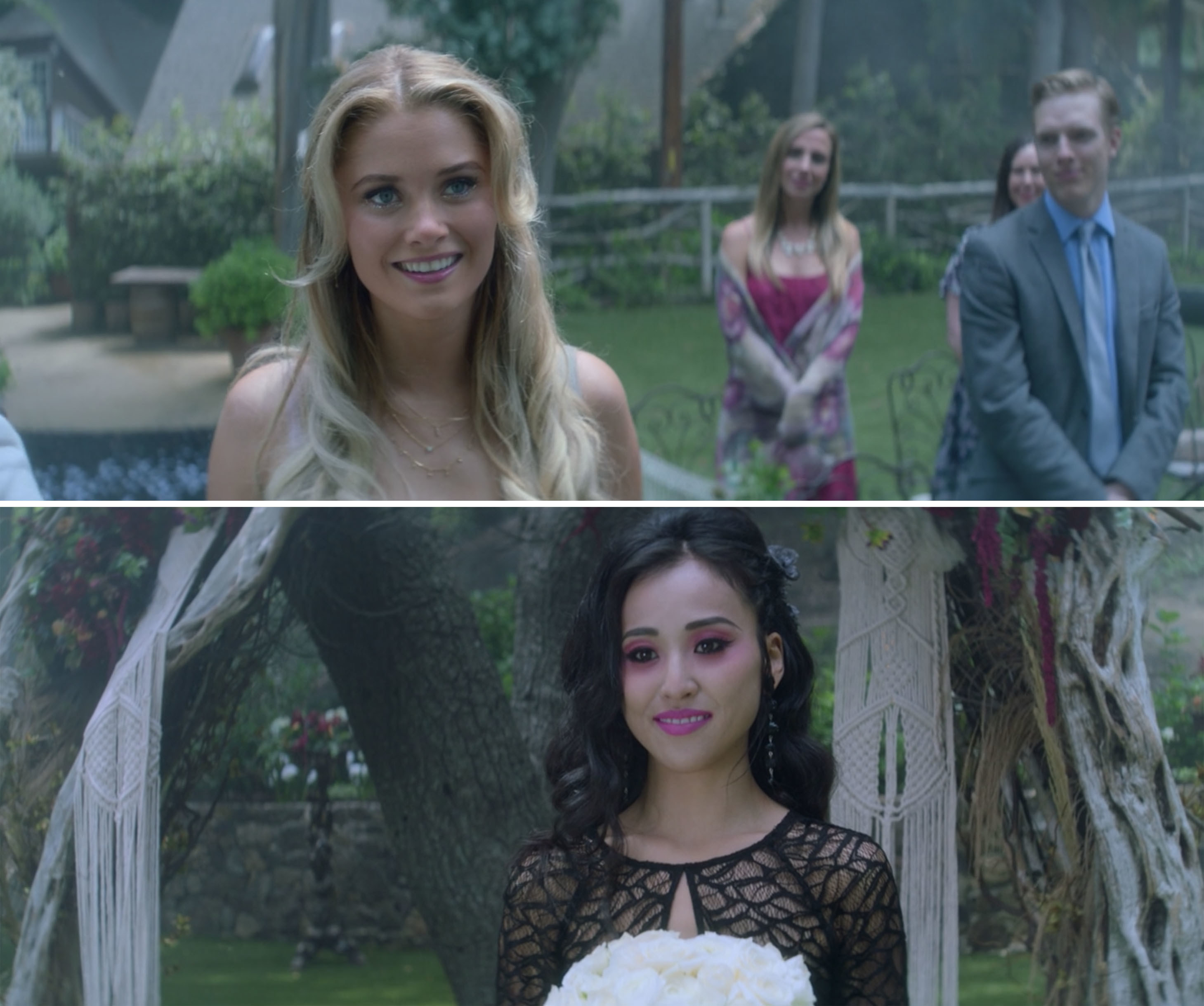 58.
When Haley and Dylan got married on Modern Family.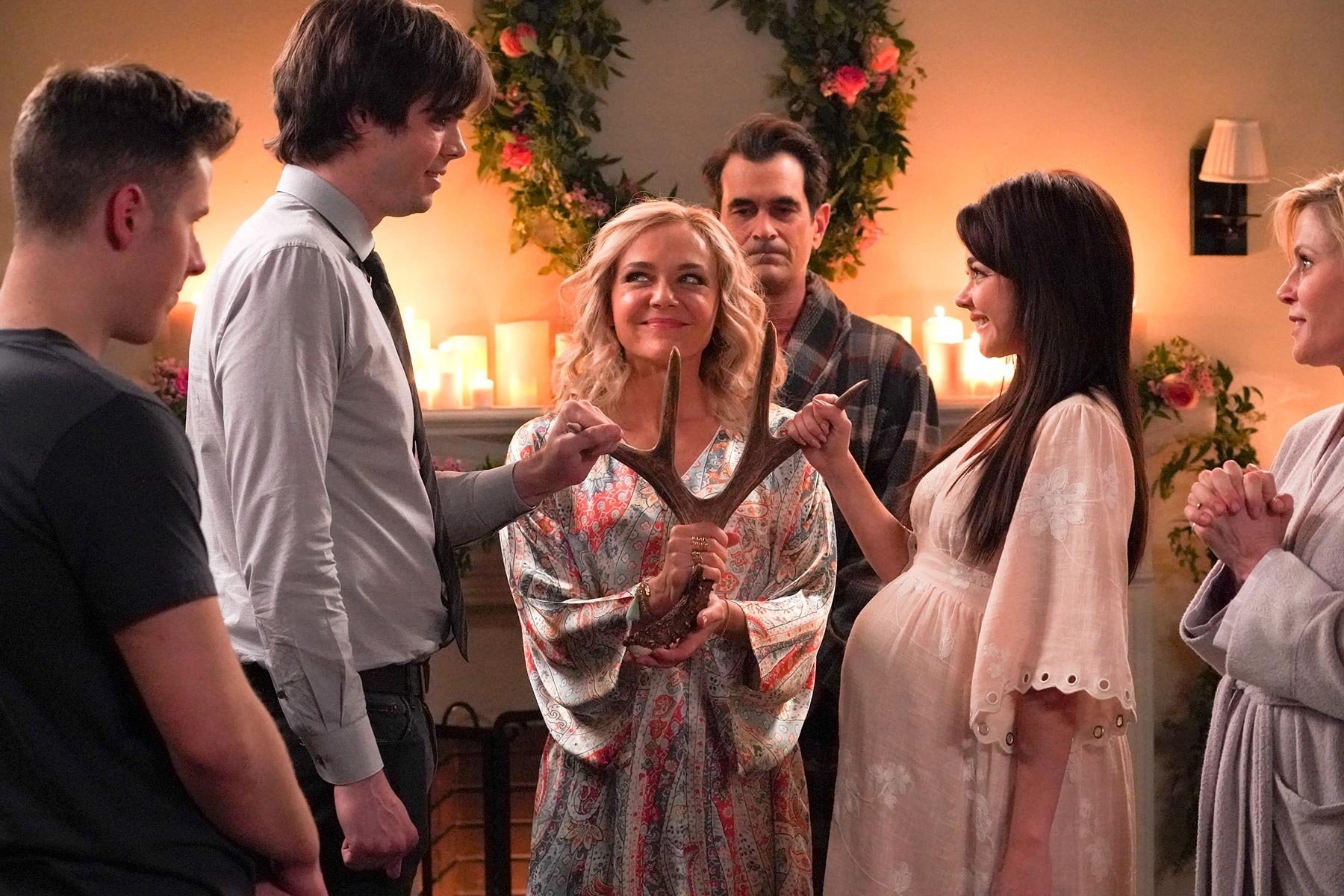 59.
On Batwoman, when we learned that Lois and Clark from Smallville were married and had daughters.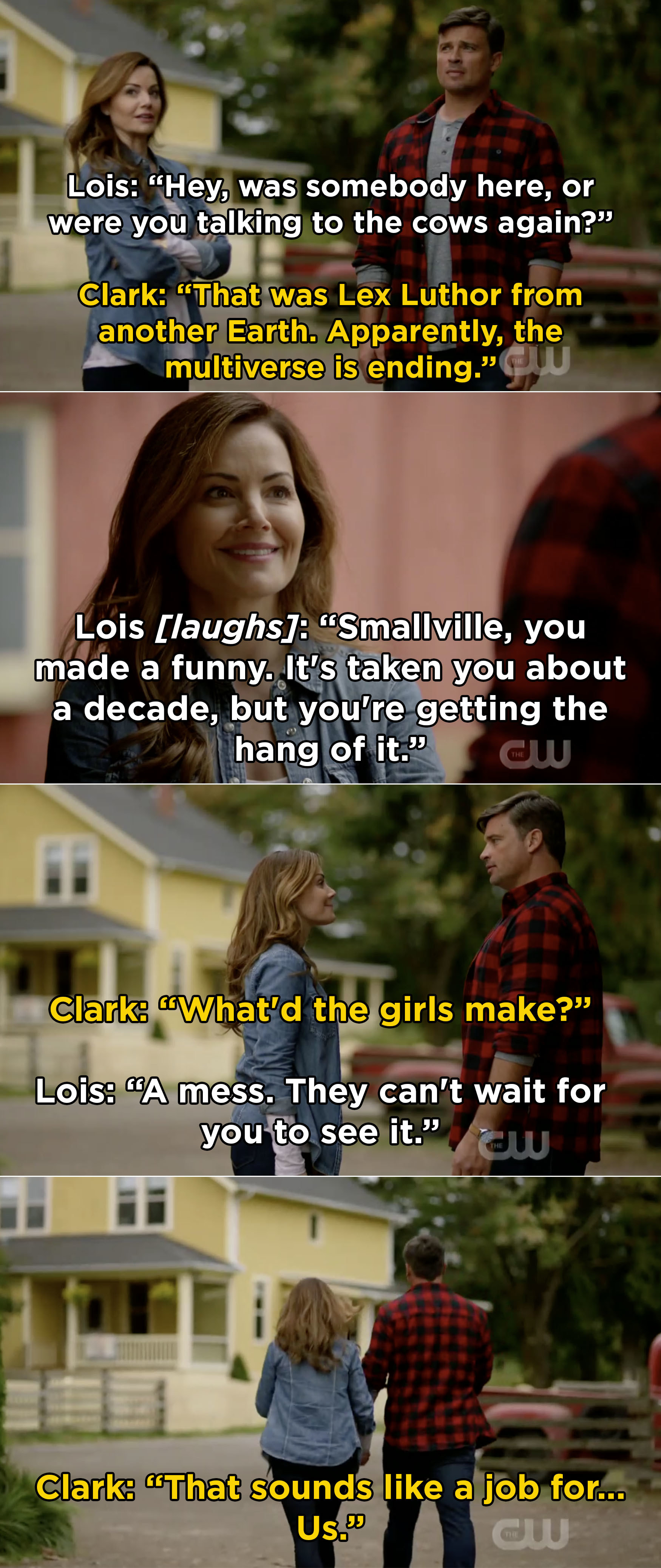 What were your favorite TV couple moments of 2019? Tell us in the comments below!
It's the end of 2019, and we're looking back on the year. Check out even more Best of 2019 content here!