There are some BIG spoilers ahead for Netflix's Tick, Tick...Boom!
1.
In the first scene at the Moondance Diner, you can spot actor Roger Bart, who was good friends with Jonathan Larson, sitting at the Moondance Diner alongside James C. Nicola, who led the New York Theater Workshop when Jonathan attended it.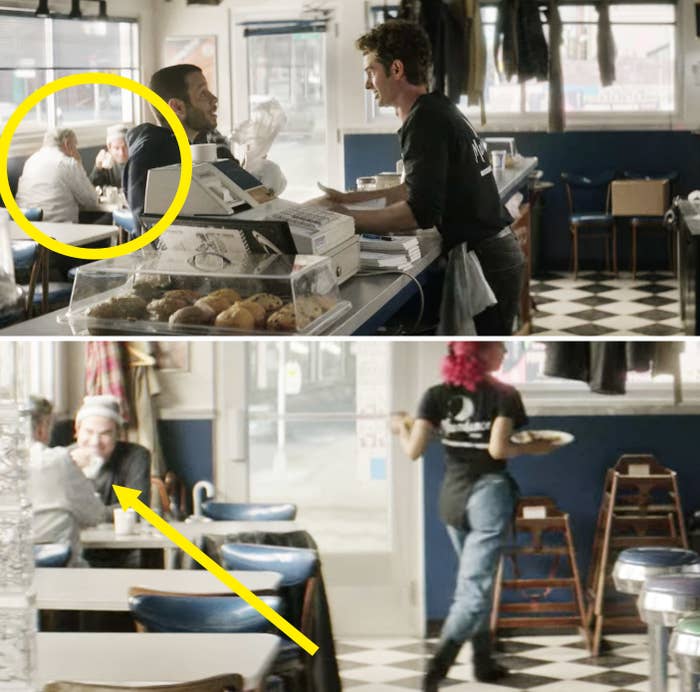 2.
In fact, Joshua Henry's Roger is named after Roger Bart, who sang backup at Jonathan Larson's performances of Tick, Tick...Boom! in real life. Also, Jonathan named Roger in Rent after Roger Bart too.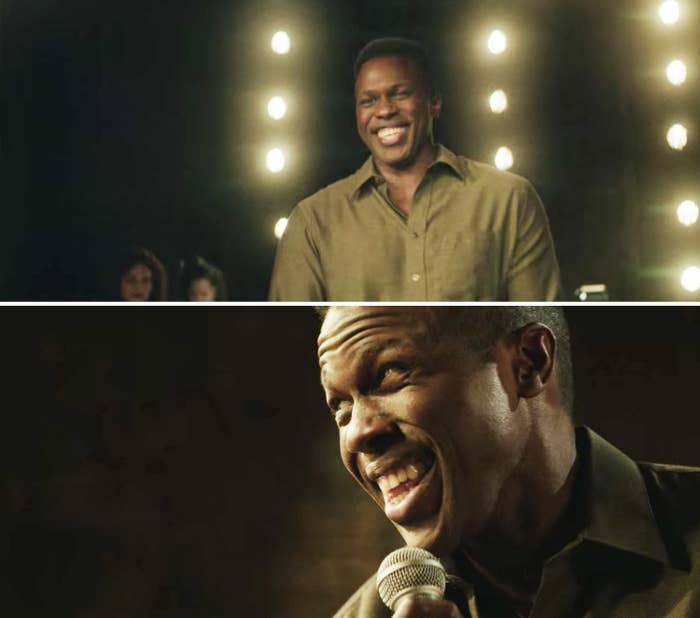 3.
Robin de Jesús, Mj Rodriguez, and Vanessa Hudgens, who star as Michael, Carolyn, and Karessa, have all starred in productions of Rent during their careers.
4.
When Jon enters his apartment, he calls Michael by his nickname, "Pookie." This nickname is mentioned in Rent during "Tango: Maureen."
5.
Lin-Manuel Miranda's elementary school music teacher, Barbara Ames, can be spotted handing a little Michael flowers during a production of West Side Story.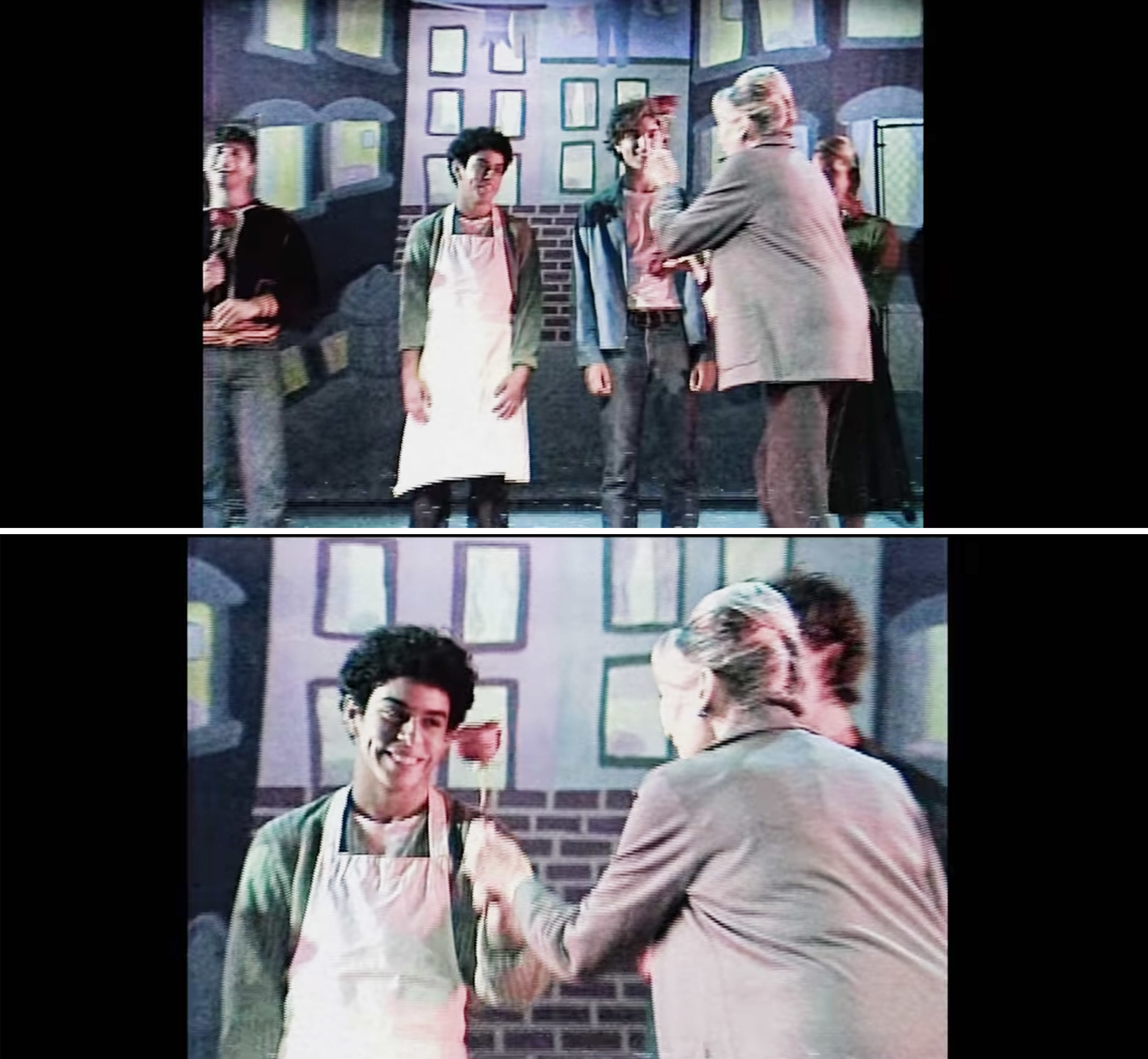 6.
When Jon and Michael are singing "No More," you can spot Luis Miranda Jr., Lin-Manuel Miranda's dad, working as a concierge in Michael's new apartment building.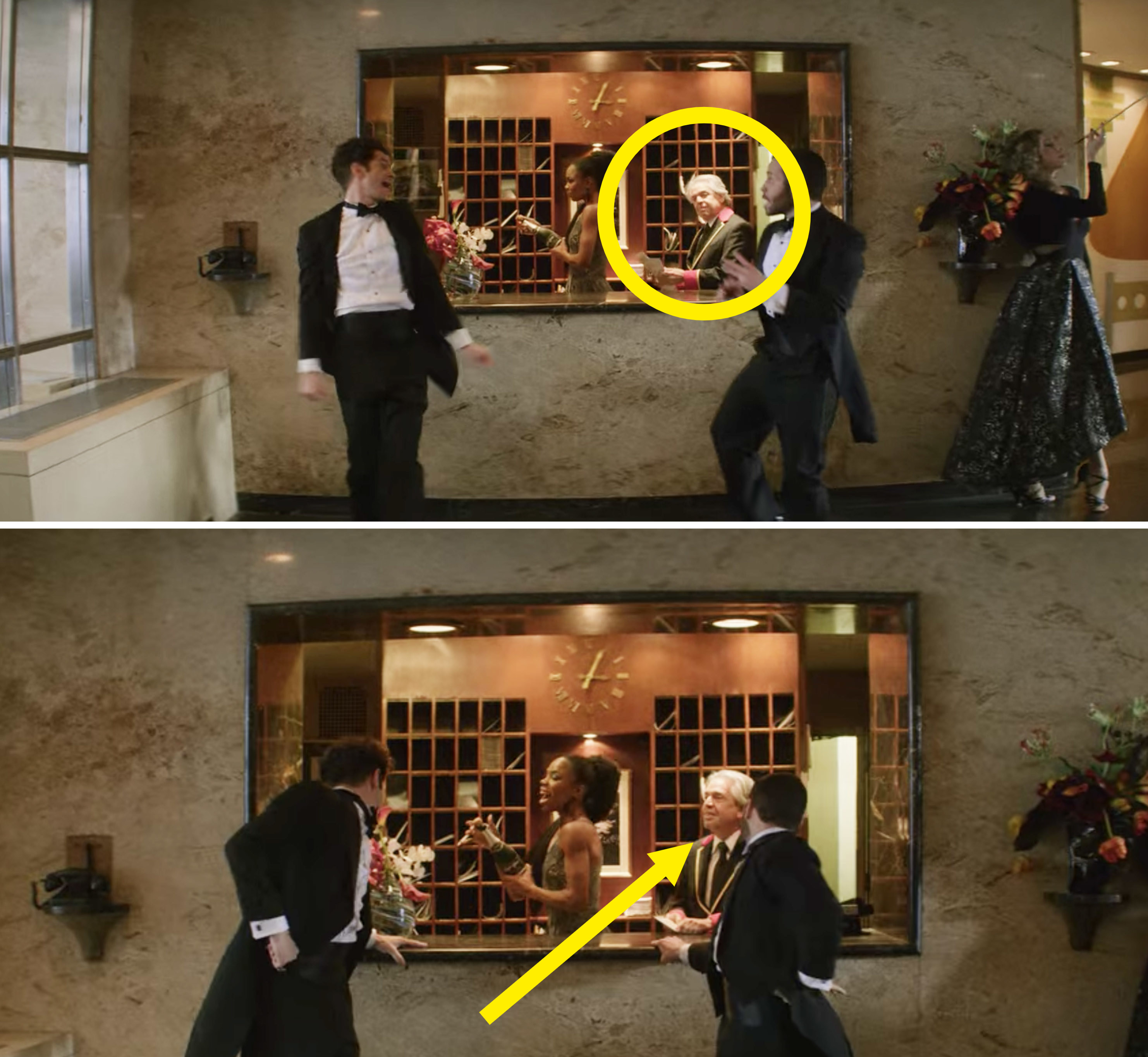 7.
When Jonathan sings one of his songs from Superbia at a writing workshop, the audience is filled with Broadway composers, lyricists, and actors. First, you can see Marc Shaiman, Grace McLean, and Eli Bolin.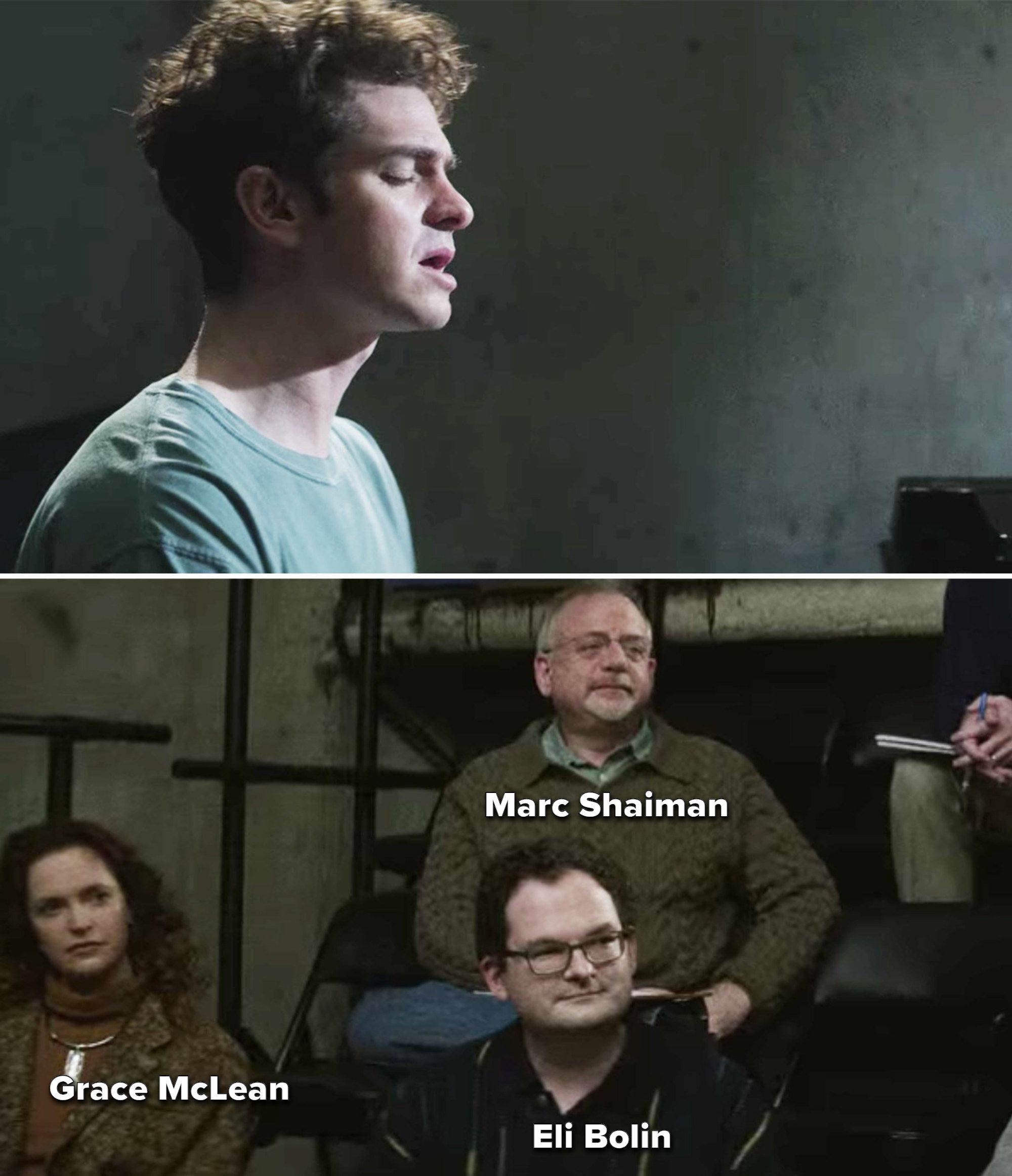 8.
Then, you'll see Chad Beguelin, Matthew Sklar, Alex Lacamoire, Georgia Stitt, and Jeanine Tesori.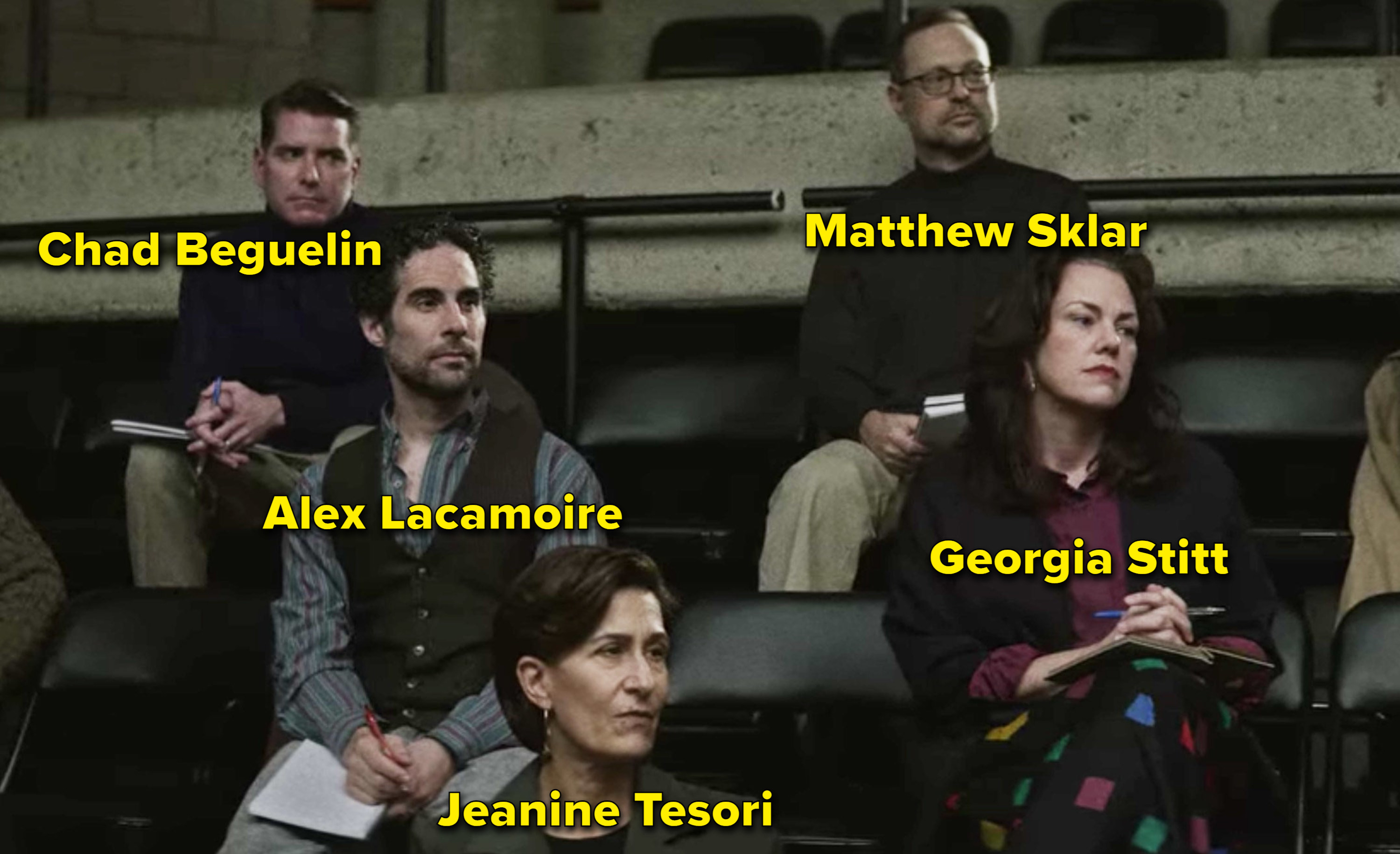 9.
You can spot Stephen Schwartz, Jason Robert Brown, and Shaina Taub next when the camera pans the audience.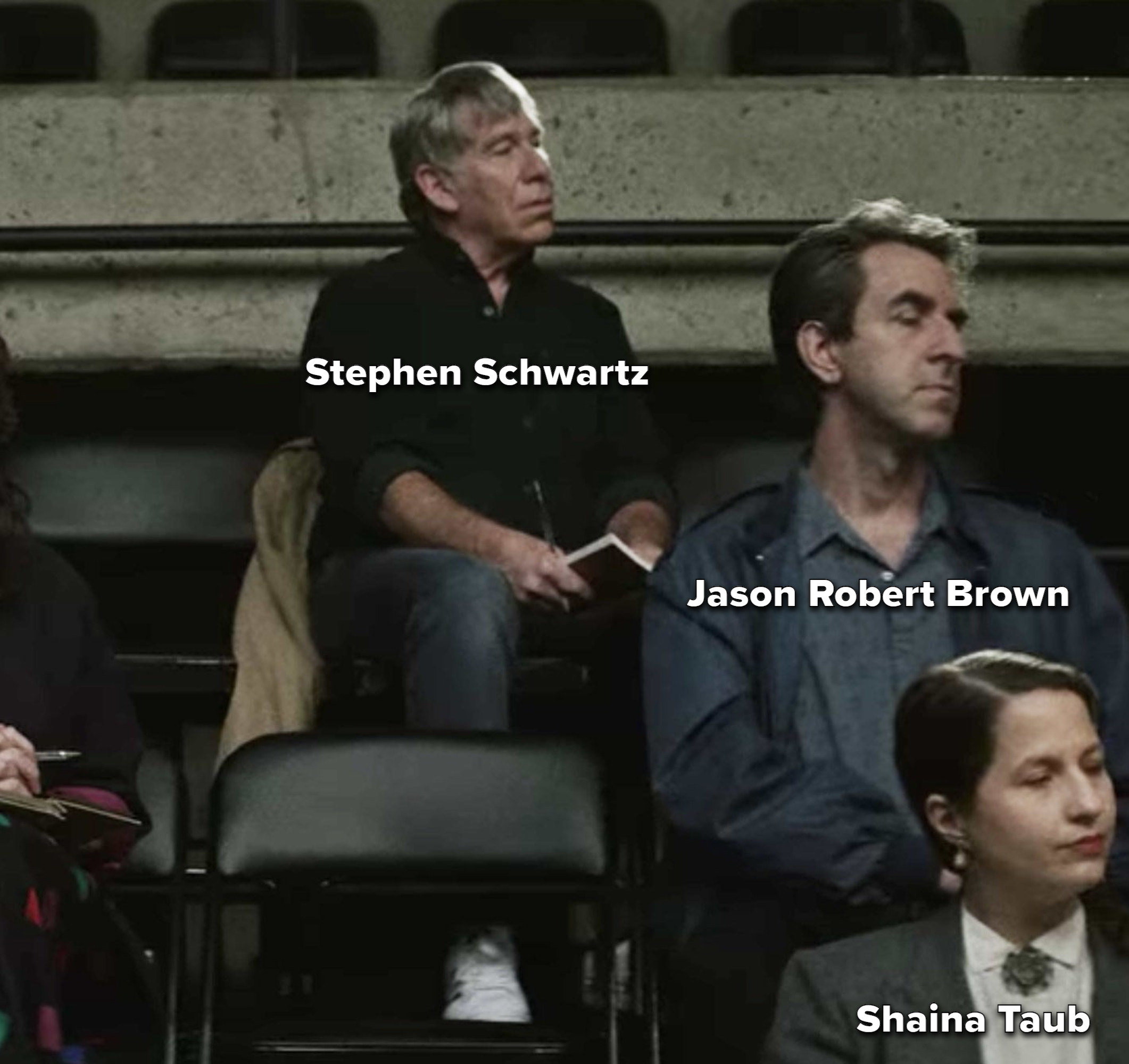 10.
Next up are Tom Kitt, Amanda Green, Jaime Lozano, Dave Malloy, Helen Park, Stephen Trask, and Joe Iconis.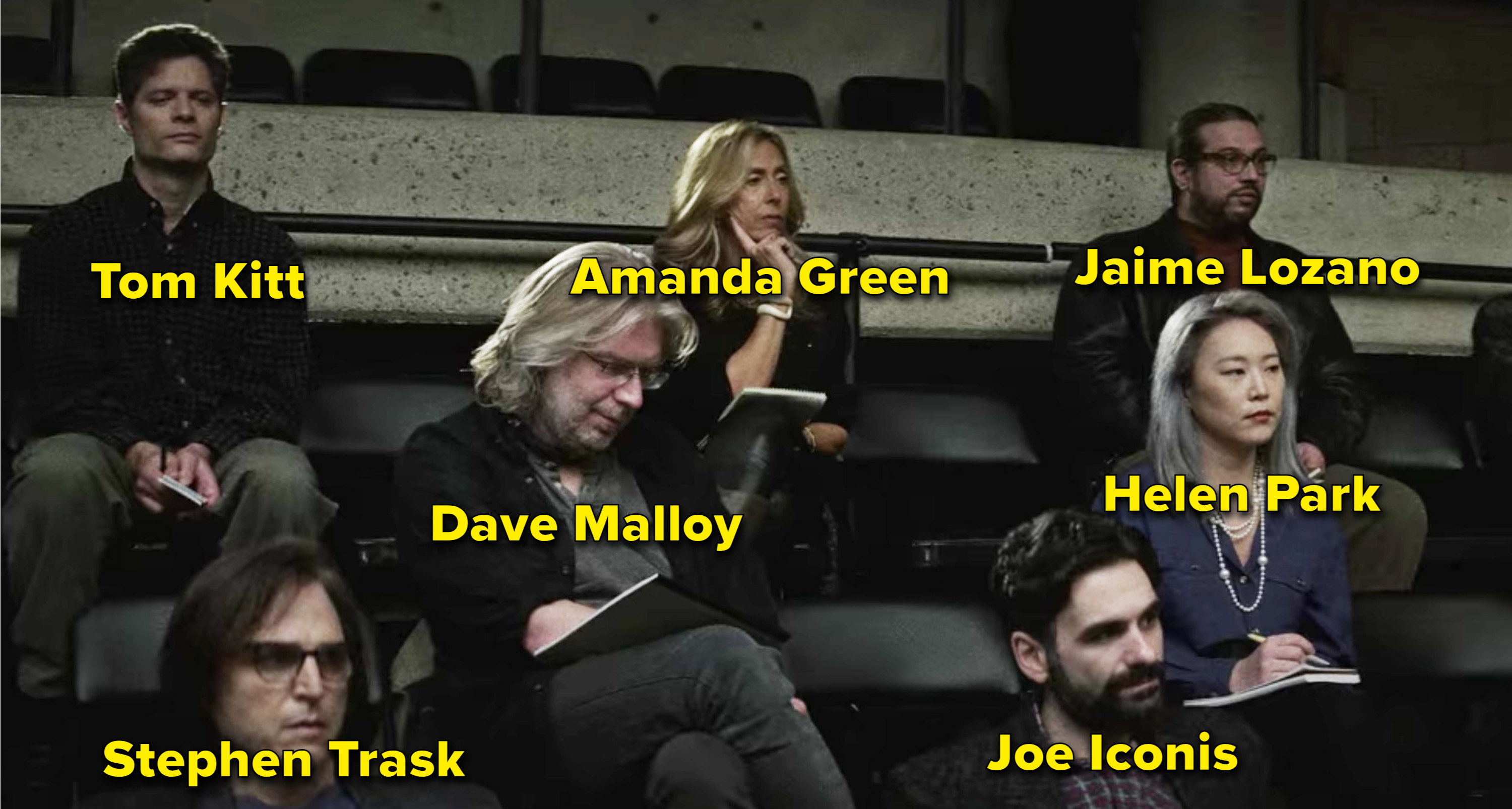 11.
And you can see Steven Levenson, Quiara Alegría Hudes, Matthew McCollum, Eisa Davis, and Nick Blaemire.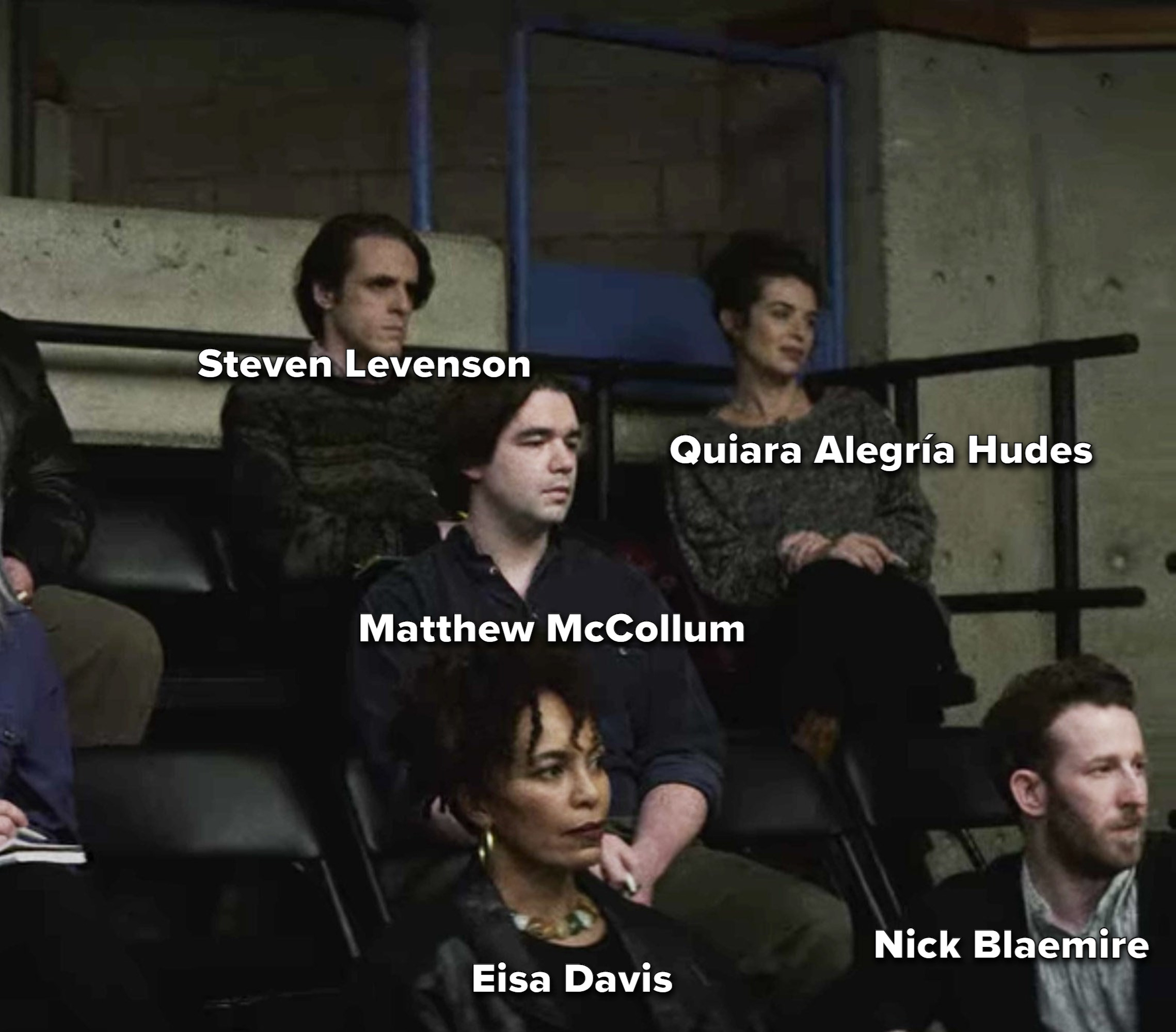 12.
Amanda Green, Chad Beguelin, Dave Malloy, Joe Iconis, Matthew Sklar, and Shaina Taub, who are featured in the workshop scene, have all received the Jonathan Larson Grant in real life.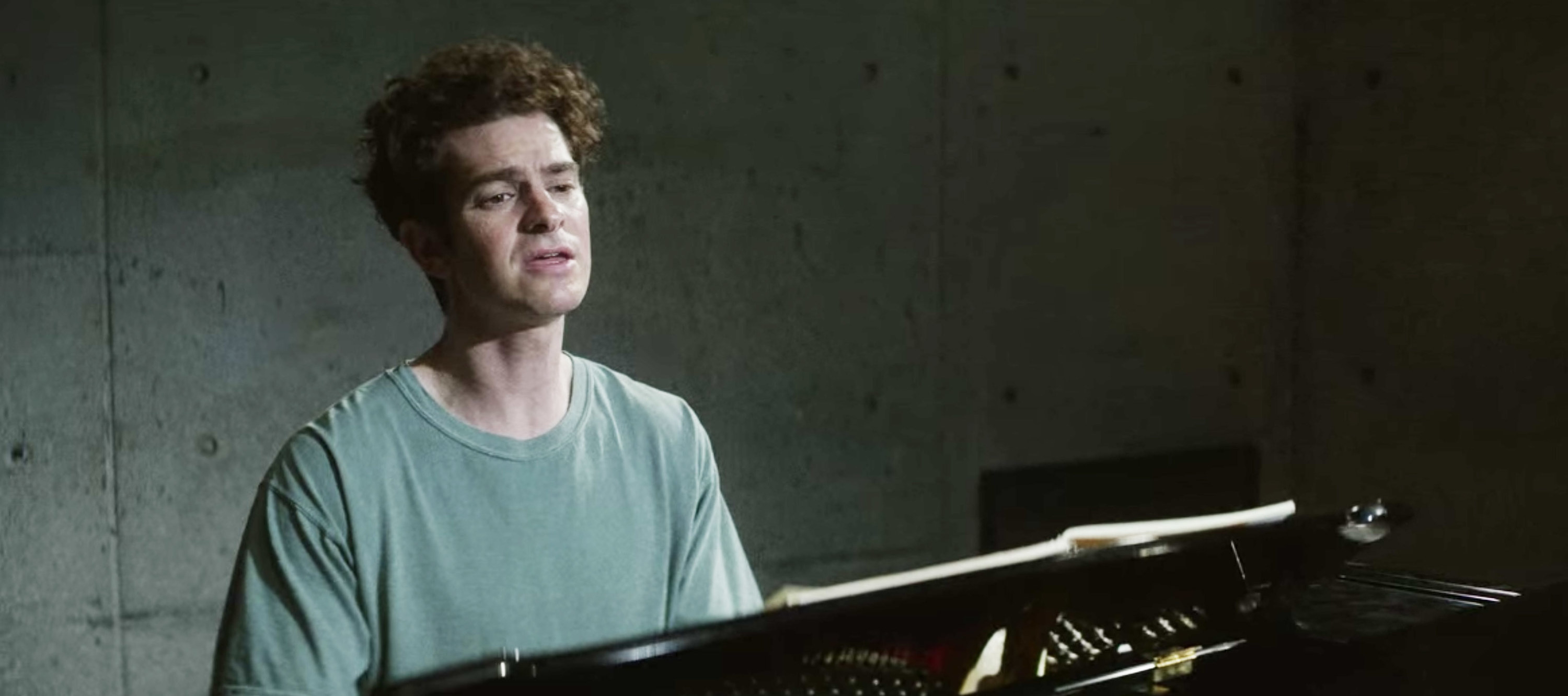 13.
When Jon is trying to write the new song, you can hear him listening to "Day by Day" from Godspell, "Aquarius/Let the Sunshine In" from Hair, and "It's the End of the World as We Know It (And I Feel Fine)" by R.E.M.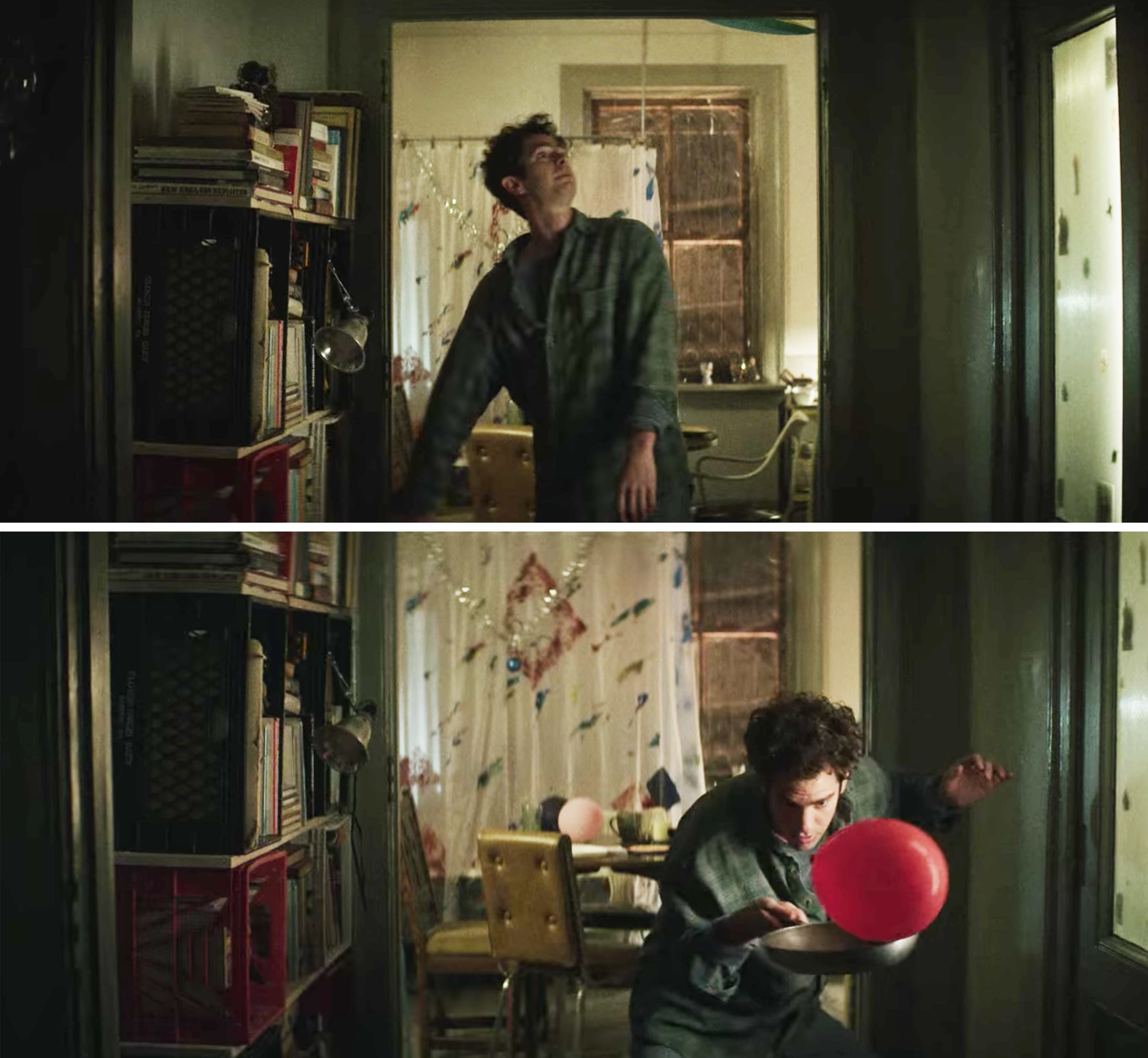 14.
The note Jon writes down after listening to the Senate hearing is later used in the song "Louder Than Words."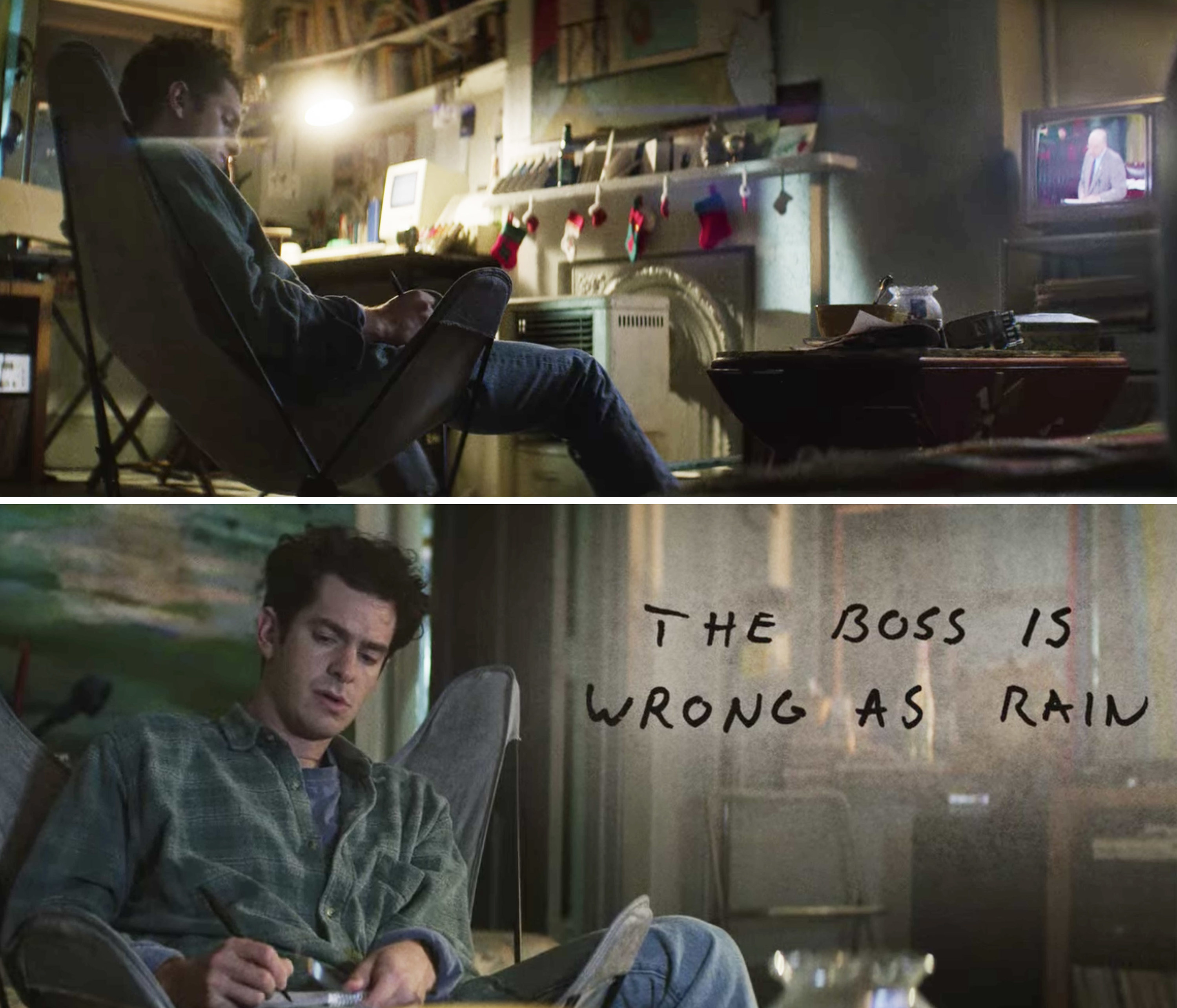 15.
Okay, "Sunday" is literally filled to the brim with Broadway cameos, so here we go. First, you can spot Howard McGillin, who is known for being the longest running Phantom in The Phantom of the Opera on Broadway.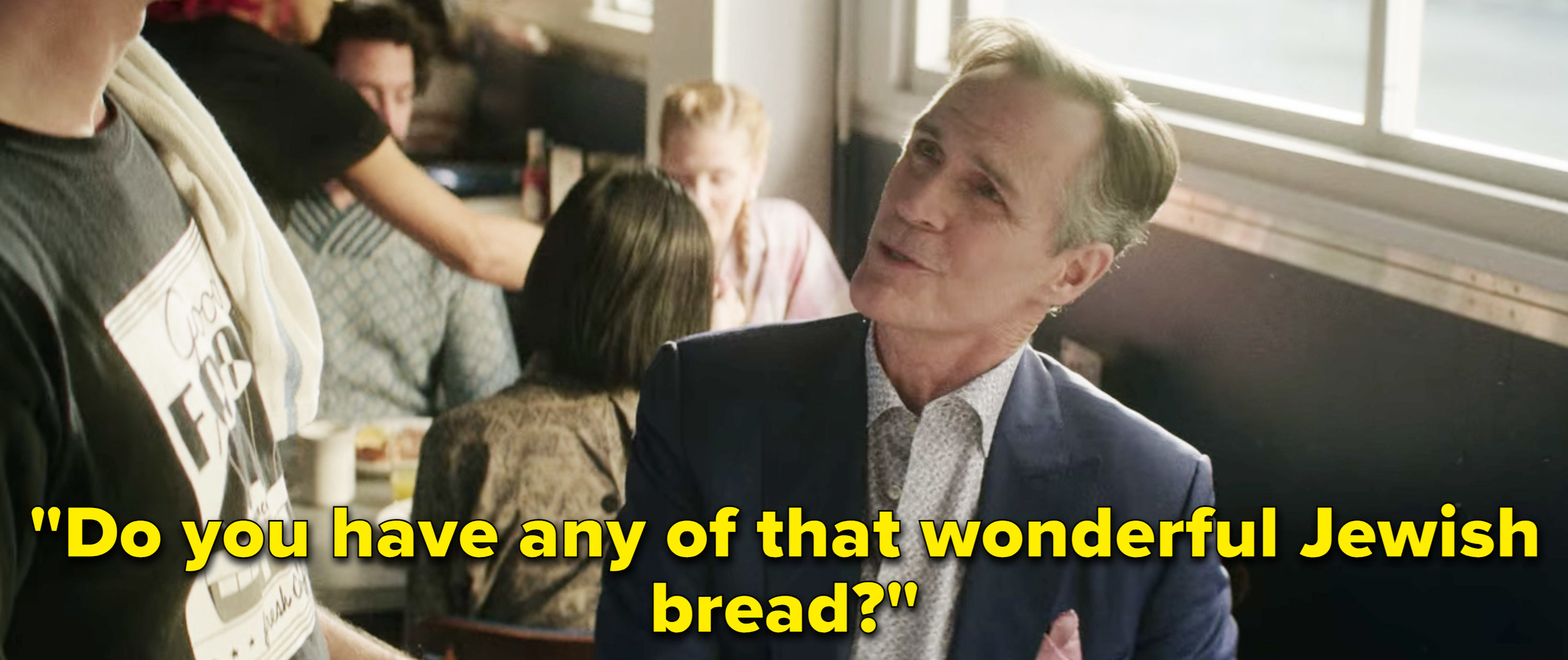 16.
Chuck Cooper, who appears as a diner patron, is best known for his Tony Award-winning performance in The Life in 1997.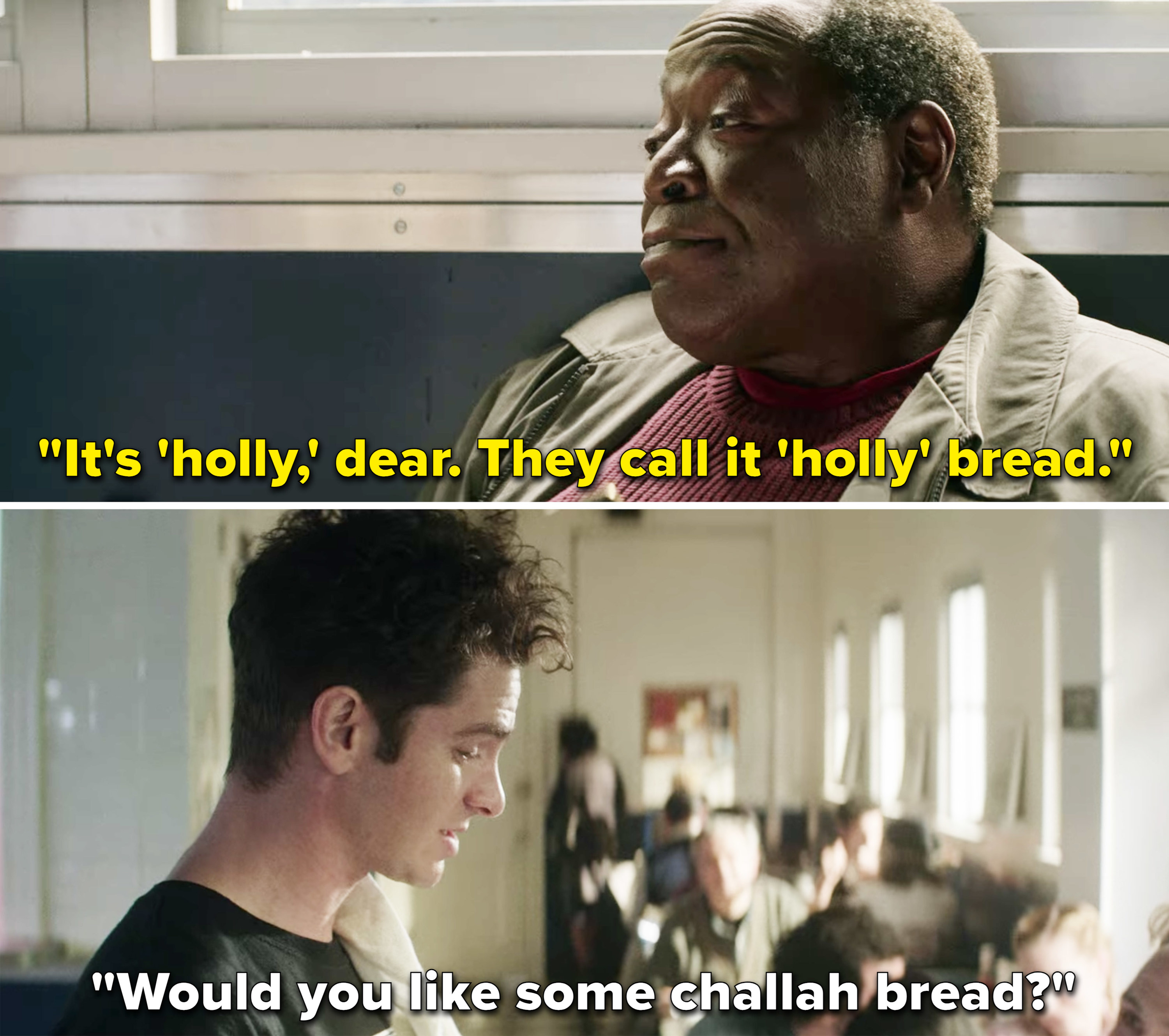 17.
Lin-Manuel Miranda, who directed Tick, Tick...Boom!, appears as one of the cooks at the Moondance.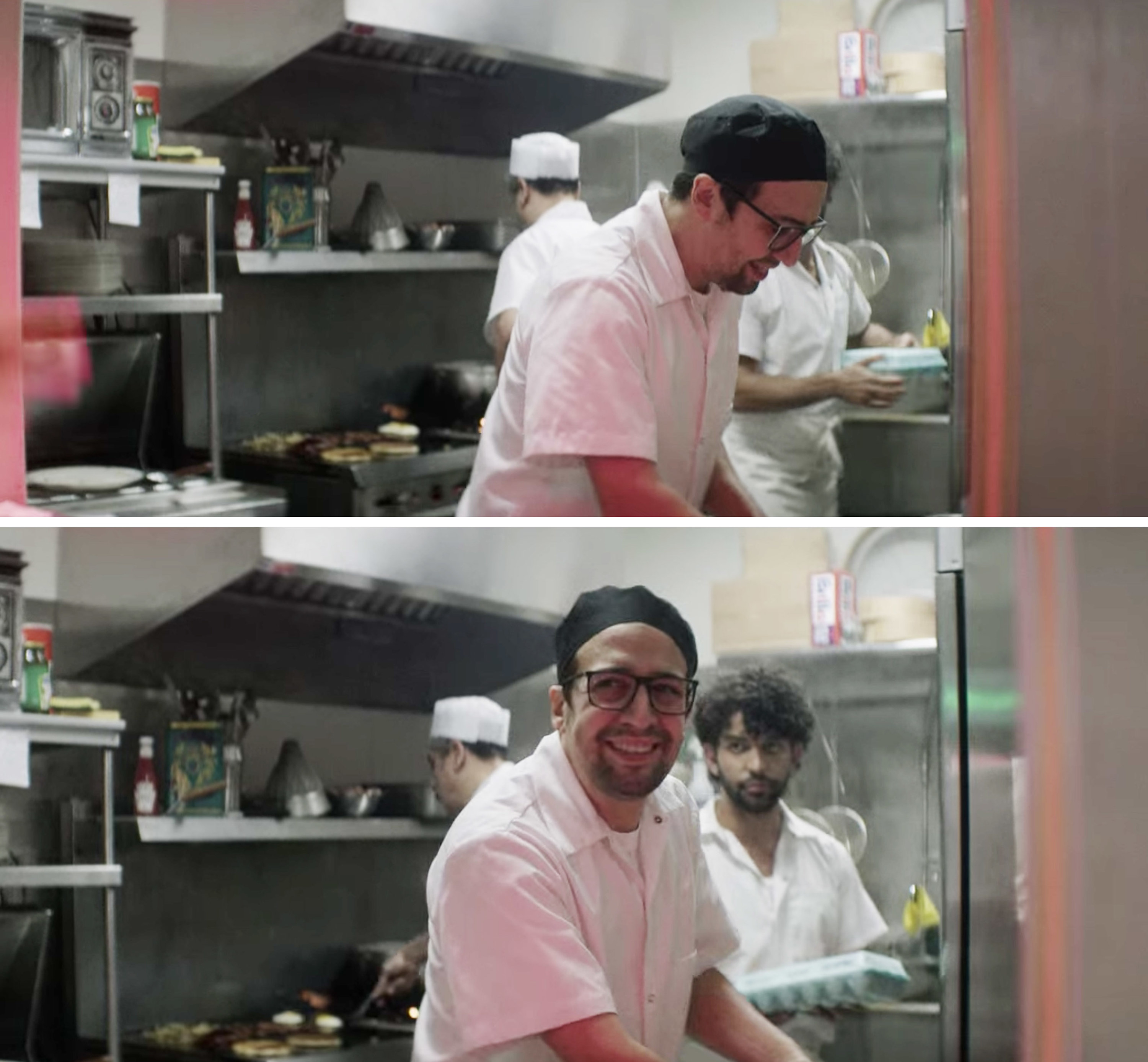 18.
Joel Grey, who originated the role of the Emcee in Cabaret, was the original Wizard in Wicked, and more, is a diner patron who keeps trying to get his check.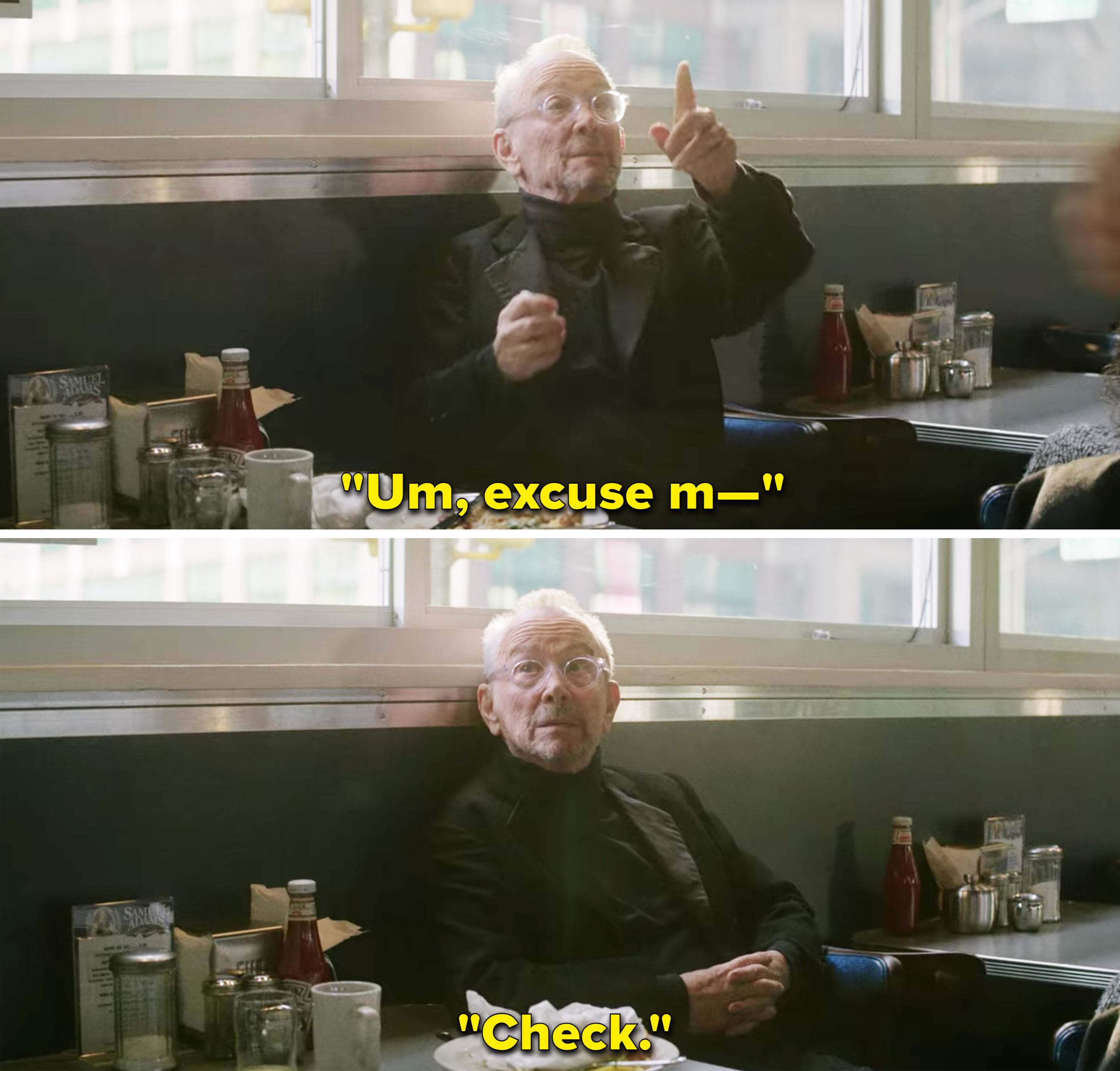 19.
André De Shields shows up at the Moondance and — very slowly — asks for a table. André won a Tony Award in 2019 for playing Hermes in Hadestown.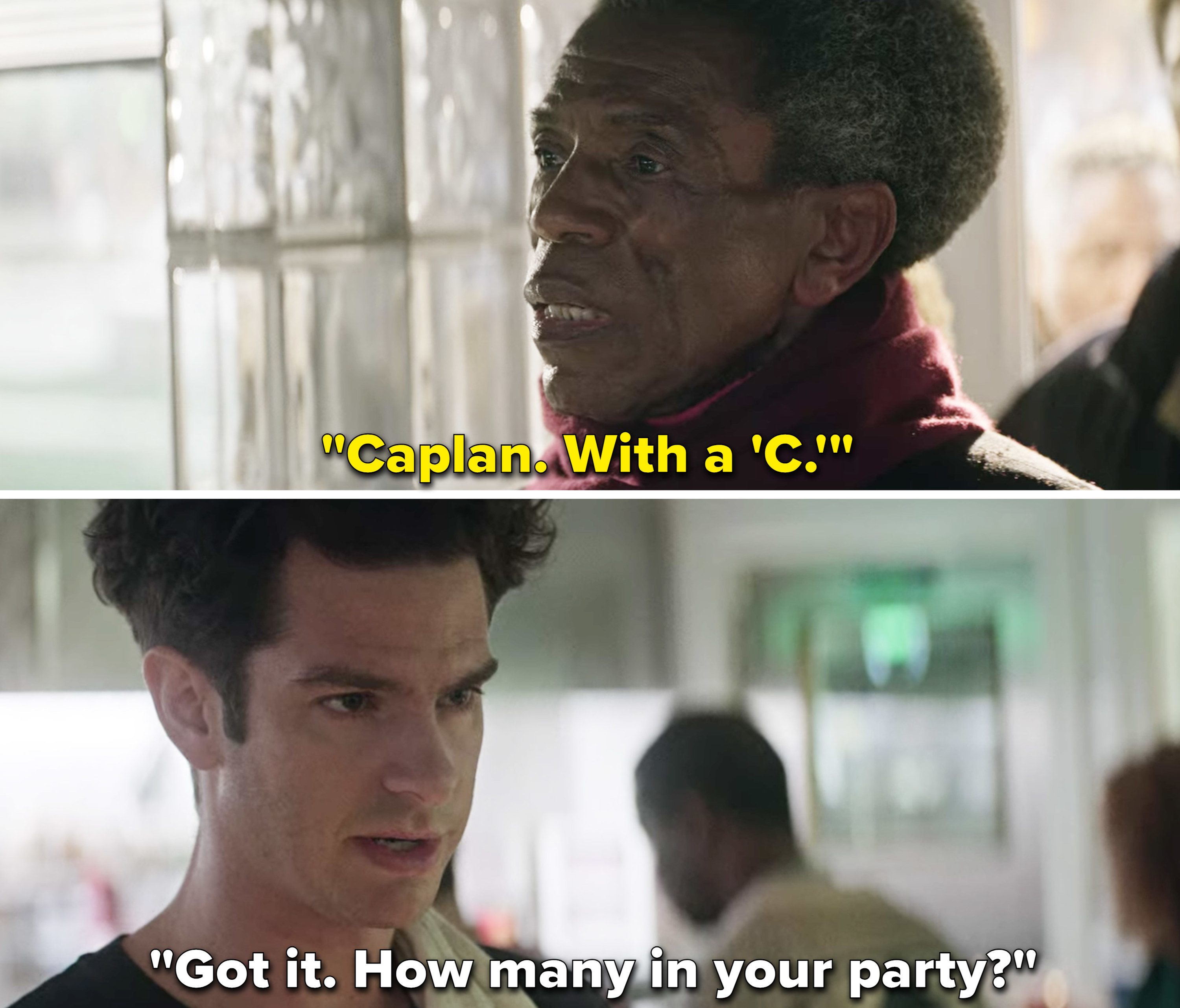 20.
Brian Stokes Mitchell, who has starred in shows like Kiss Me, Kate, Shuffle Along, Ragtime, and more, is sitting at the counter and gets the wrong food.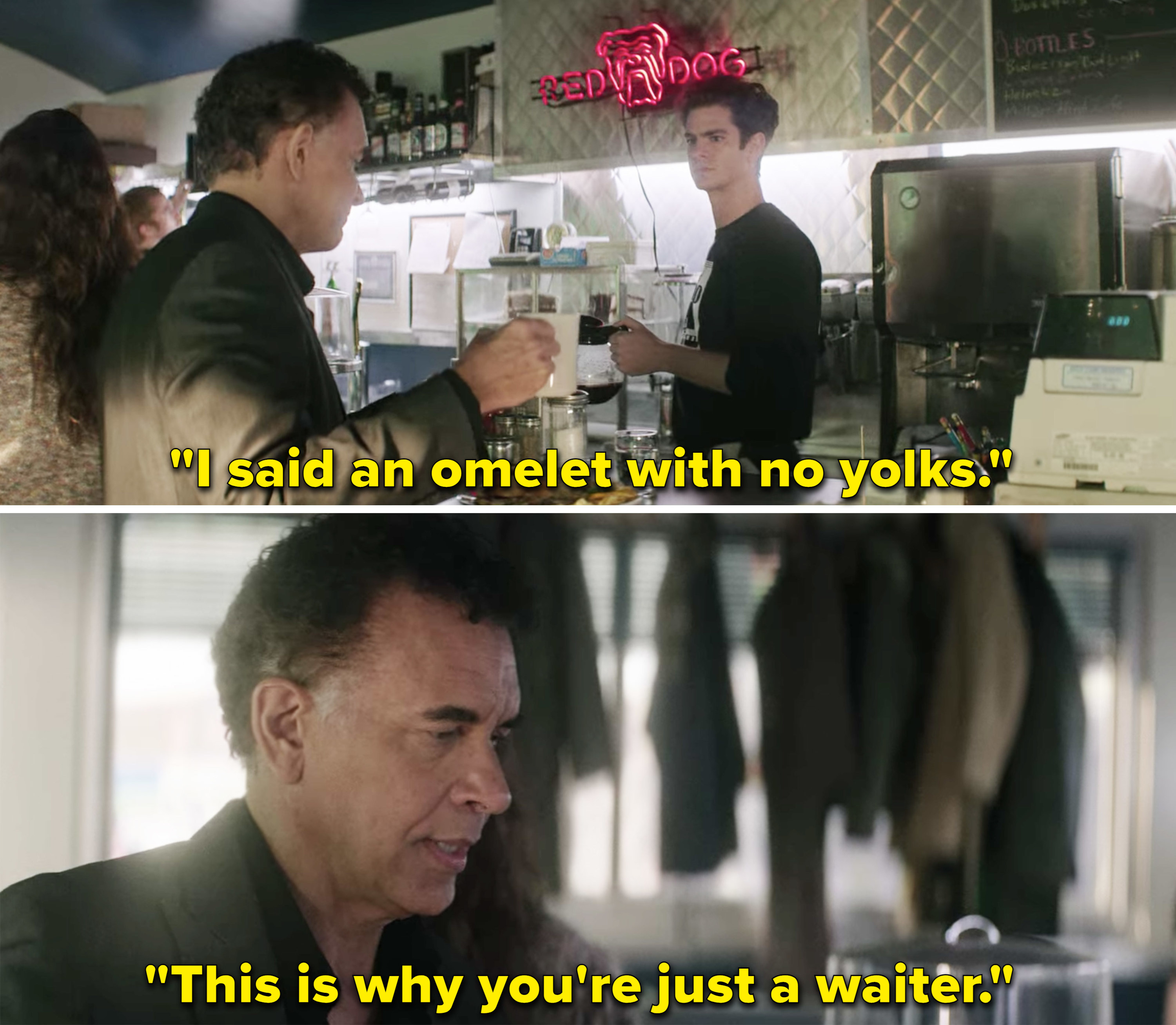 21.
Phillipa Soo and Renée Elise Goldsberry, who originated the roles of Eliza and Angelica in Hamilton, are sitting at the counter celebrating a job promotion.
22.
Phillipa and Renée are even wearing outfits and headbands that match the colors of Eliza and Angelica's dresses from Hamilton.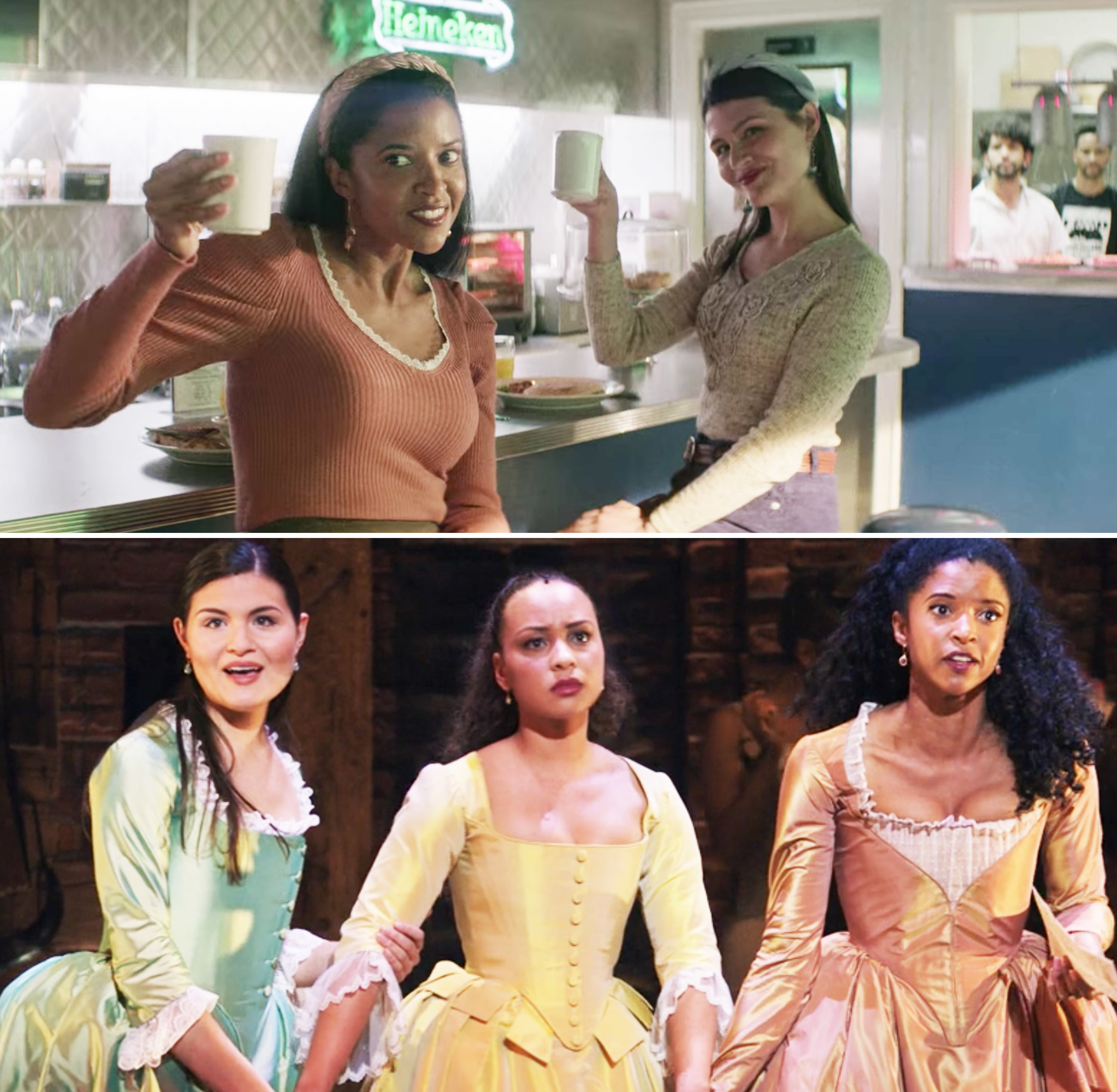 23.
Also, later on in the musical number, Phillipa and Renée recreate the iconic Schuyler sisters hand hold that can be seen on one of the Hamilton logos.
24.
Beth Malone, who was in the original cast of Fun Home, can be spotted at the Moondance counter.
25.
Phylicia Rashad, who is known for starring on The Cosby Show and for her Tony Award-winning performance in A Raisin in the Sun, sits against a window.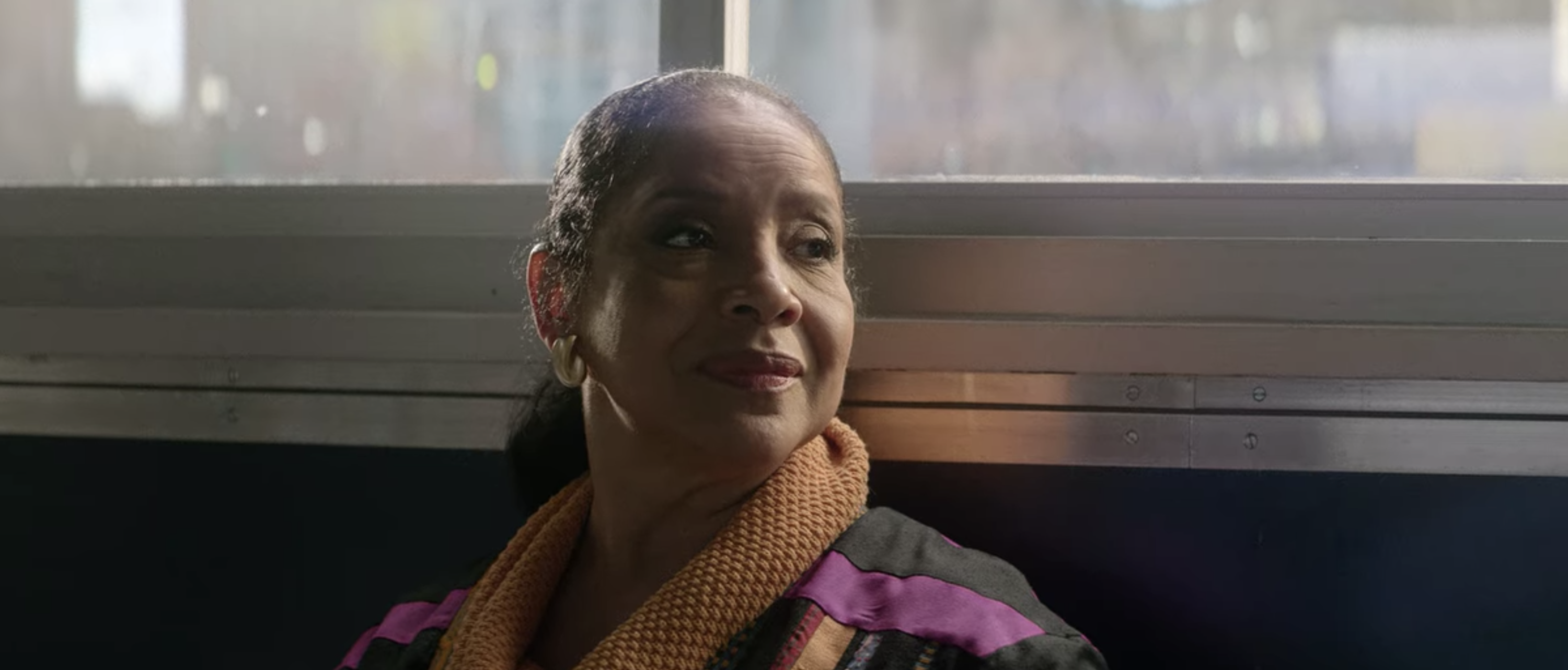 26.
Bebe Neuwirth, who is best known for her work on Cheers and for starring in Sweet Charity and Chicago on Broadway, sings inside the diner.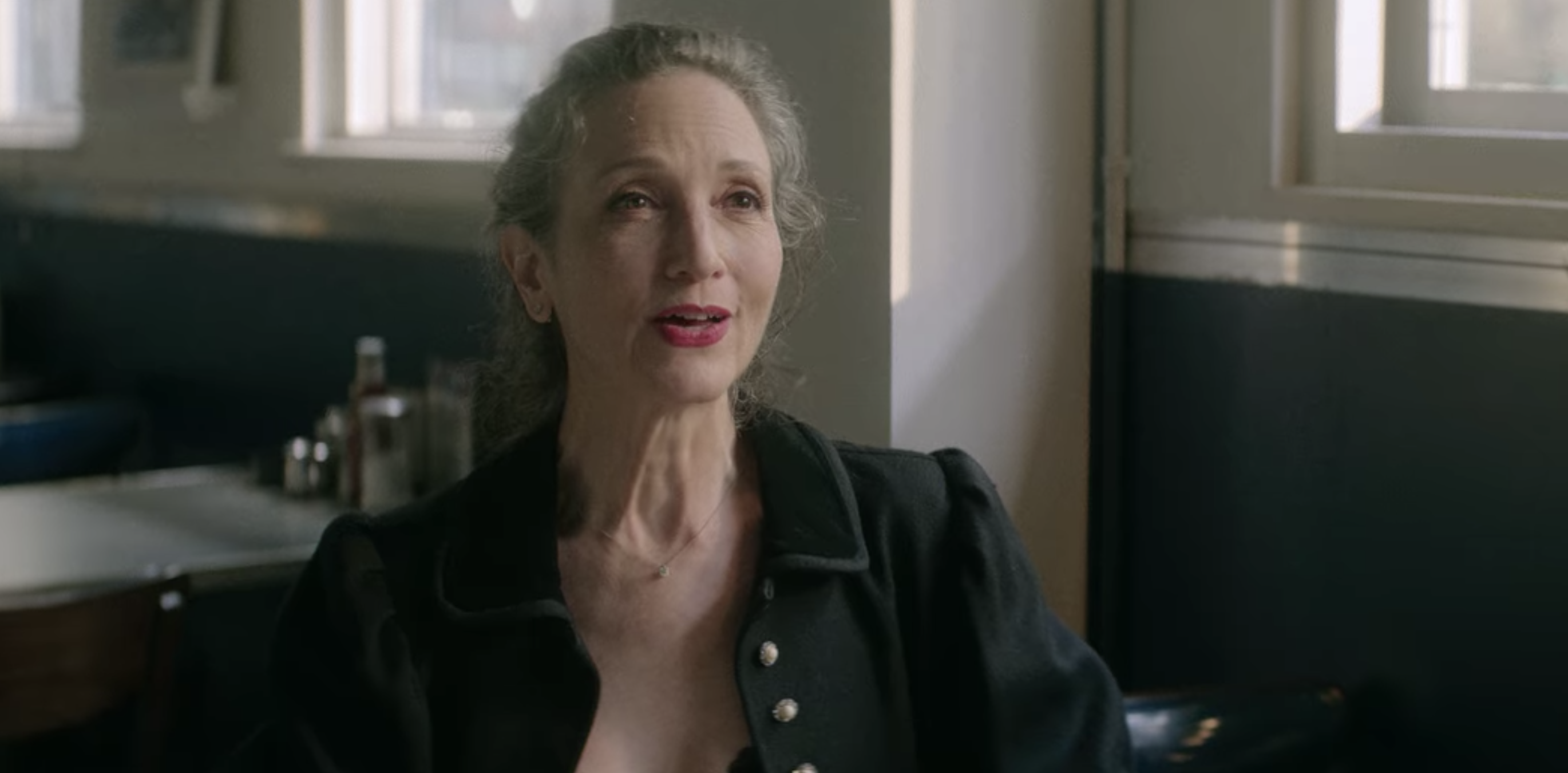 27.
Chita Rivera, a literal Broadway legend who originated the roles of Anita in West Side Story and Velma in Chicago, drinks a classy martini while singing "Sunday."
28.
Bernadette Peters, another legend who notably starred in Stephen Sondheim's Sunday in the Park with George, is helped out of her chair by Jon.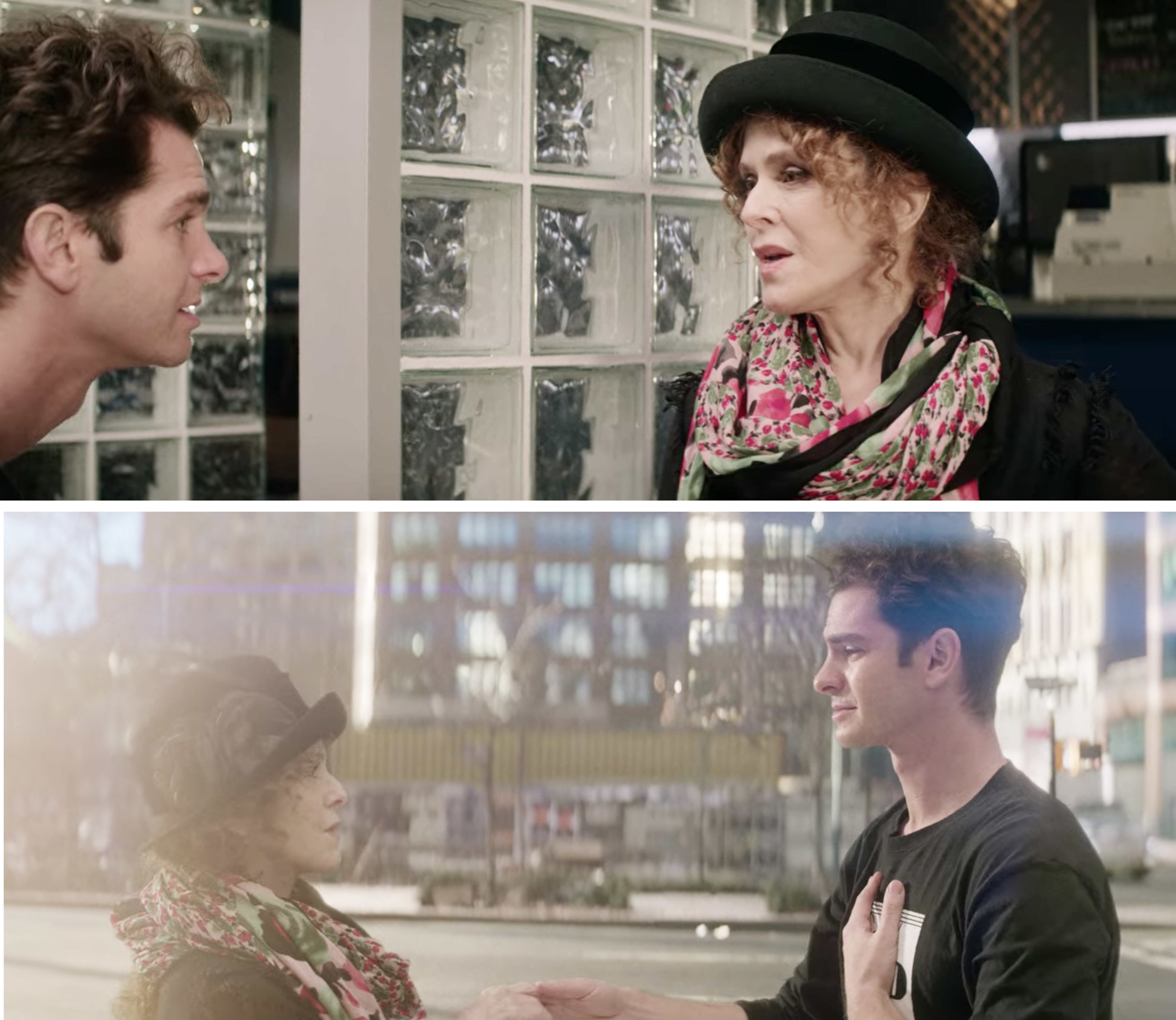 29.
Adam Pascal, Daphne Rubin-Vega, and Wilson Jermaine Heredia, who starred as Roger, Mimi, and Angel in the original production of Rent, play three homeless people outside the Moondance.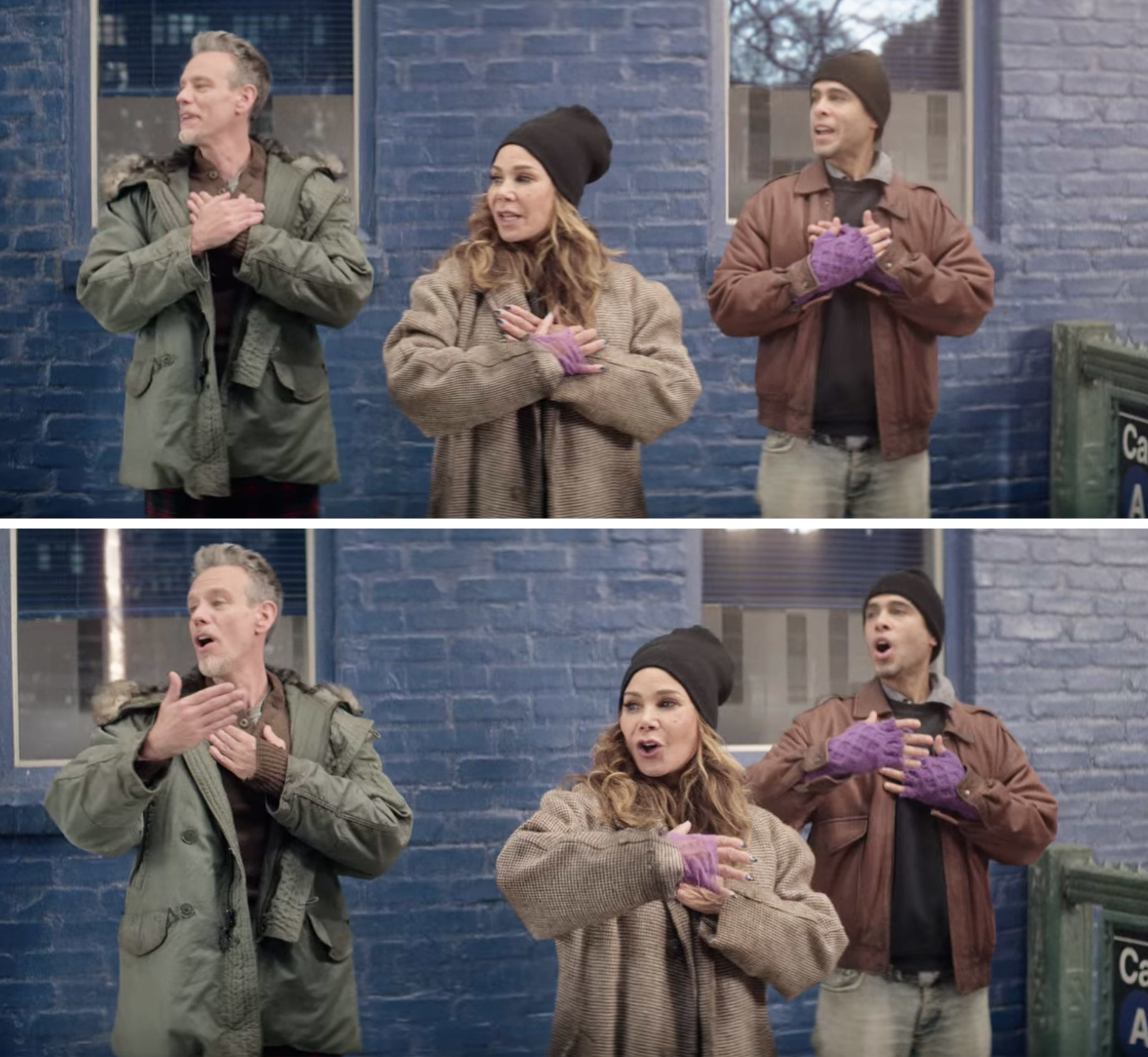 30.
When the camera pans down the street of the theater district, you can see "The Cat Scratch Club," which is a nod to Rent. Mimi works at the club and it's first mentioned in the song "Light My Candle."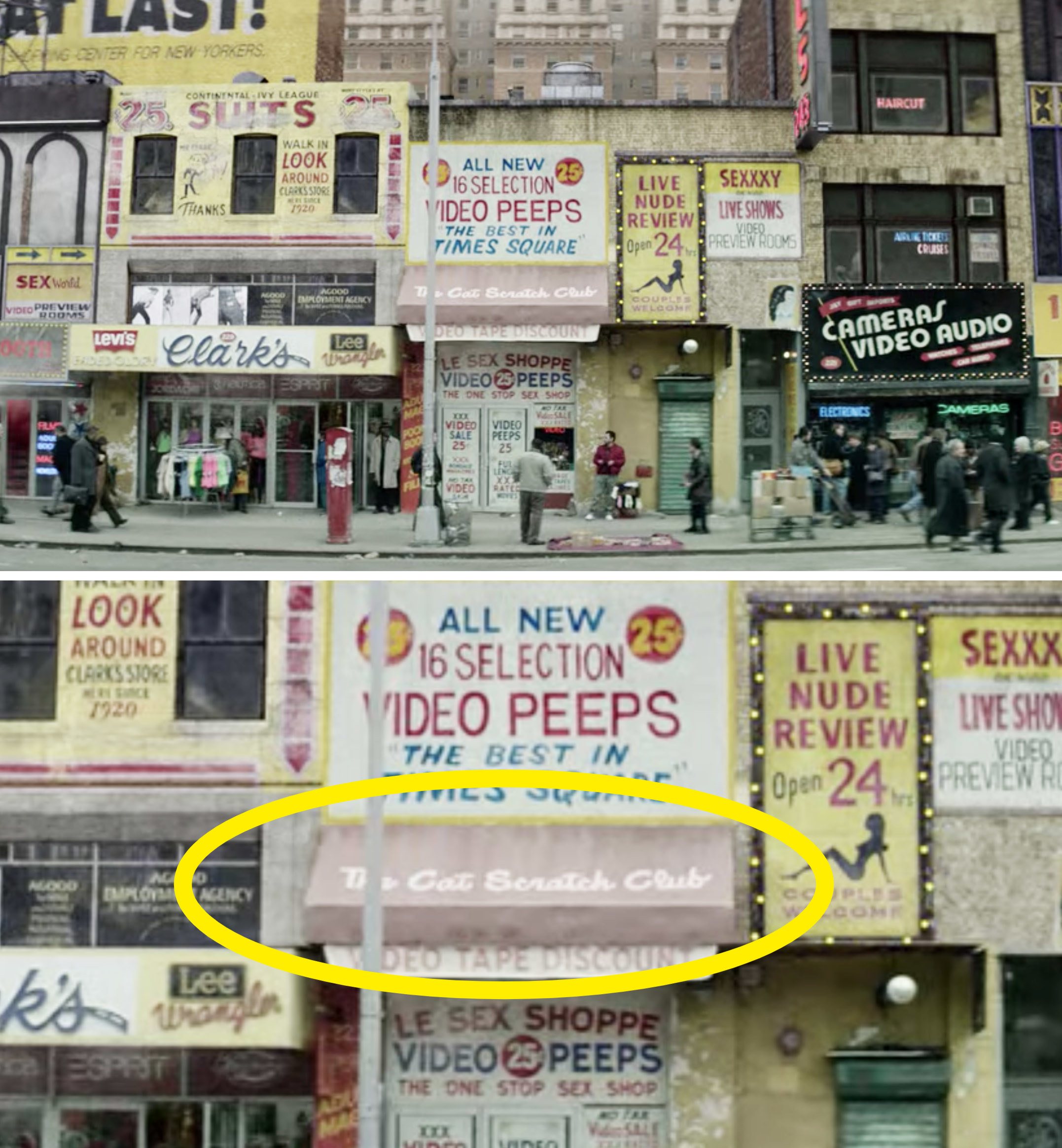 31.
During "Play Game," you can spot posters that playful poke fun at Broadway. They include Gypsy (Again), A New Play But It Has That Guy From That Television Show So You'll Like It, Old Songs You Already Like, and more.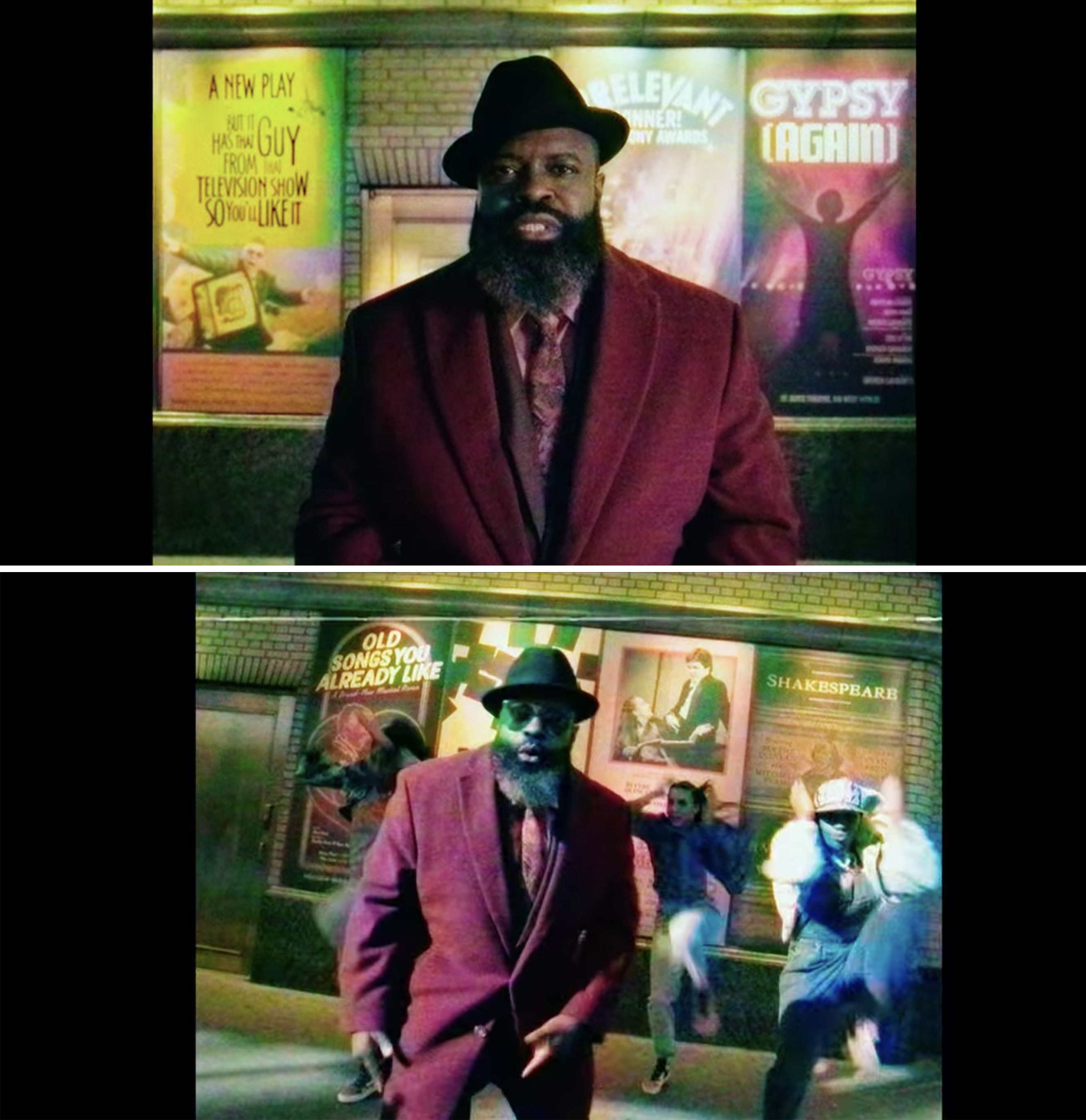 32.
The focus group Jon attends at Michael's office features Laura Benanti, Danielle Ferland, Micaela Diamond, and Utkarsh Ambudkar, who have all been on Broadway.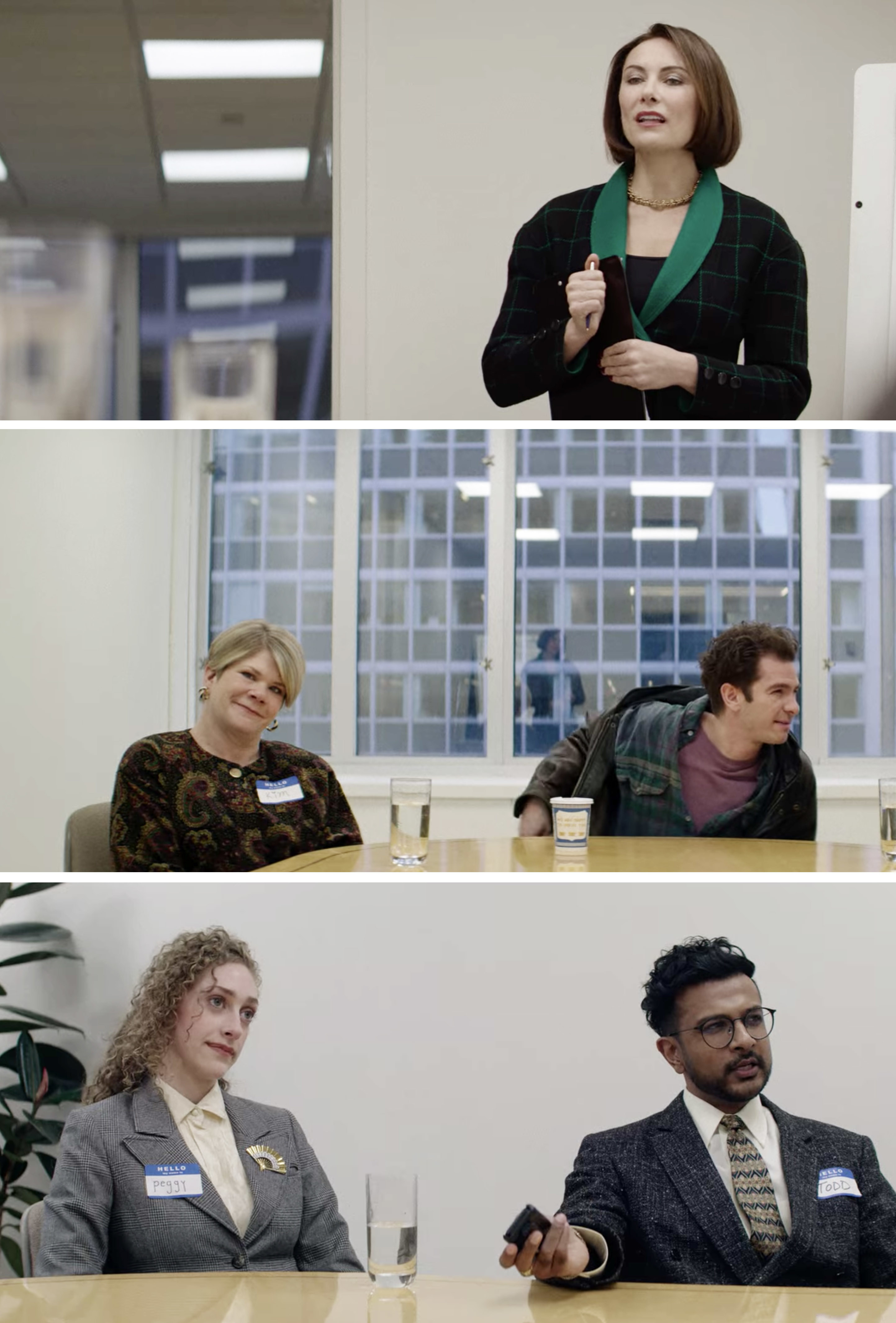 33.
Also in the focus group, you'll notice that one of Jon's ideas on the whiteboard reads "Santa Fe," which ends up being the name of a song in Rent.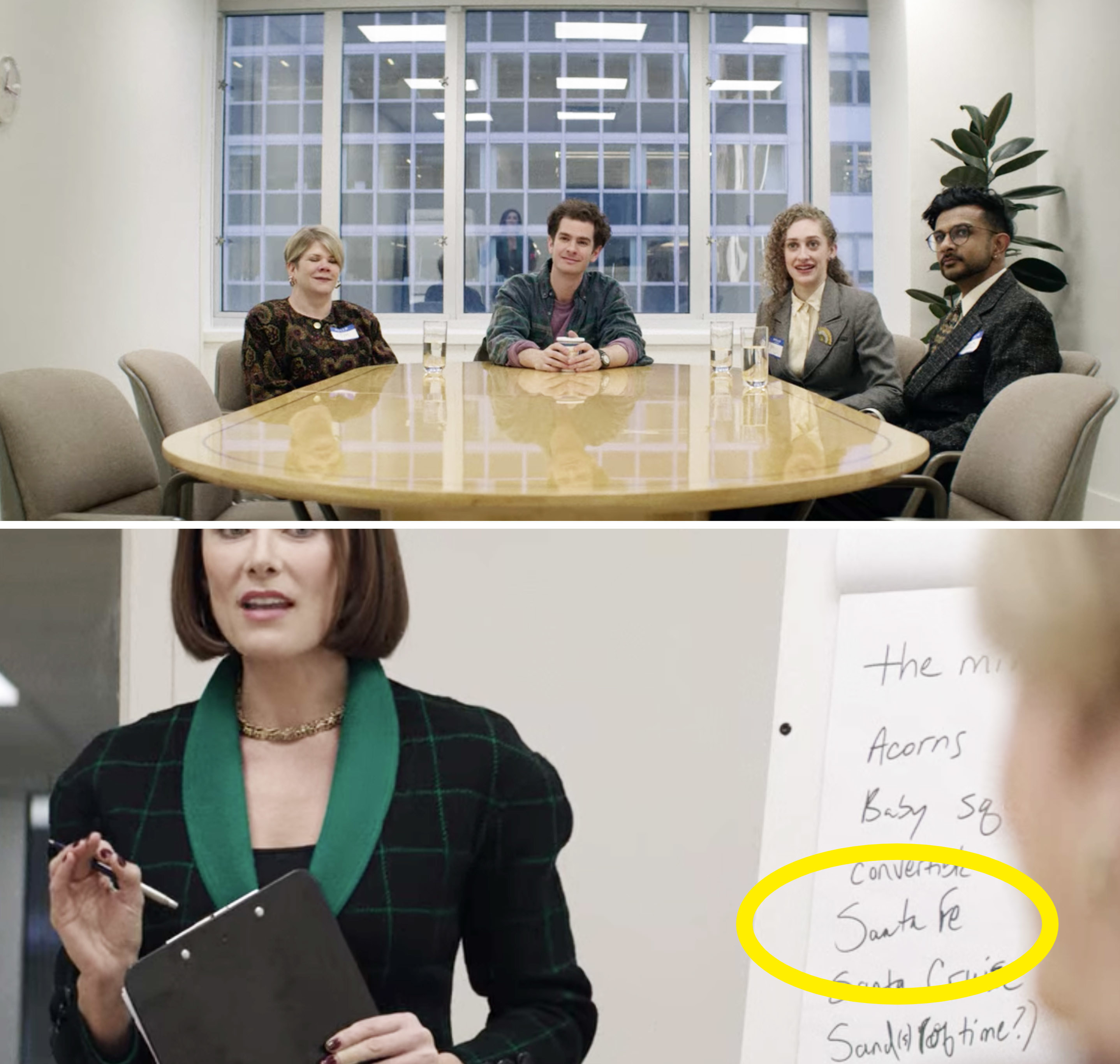 34.
When getting ready to do the reading of Superbia, Judy Kuhn and Danny Burstein appear as Jon's parents.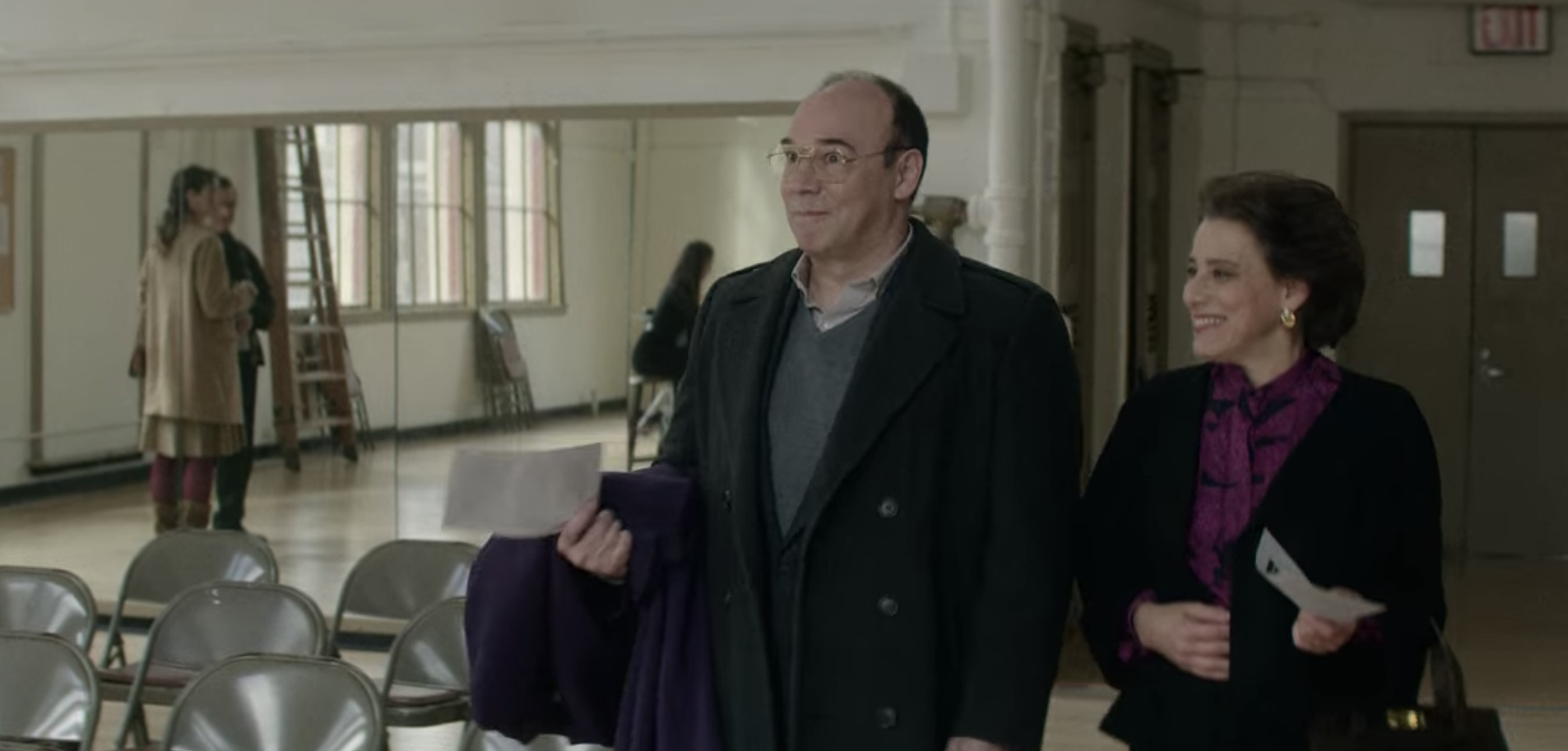 35.
When Jon's answering machine picks up, you can hear that the message just says, "Speak." This is the same message Roger and Mark have on their answering machine in Rent.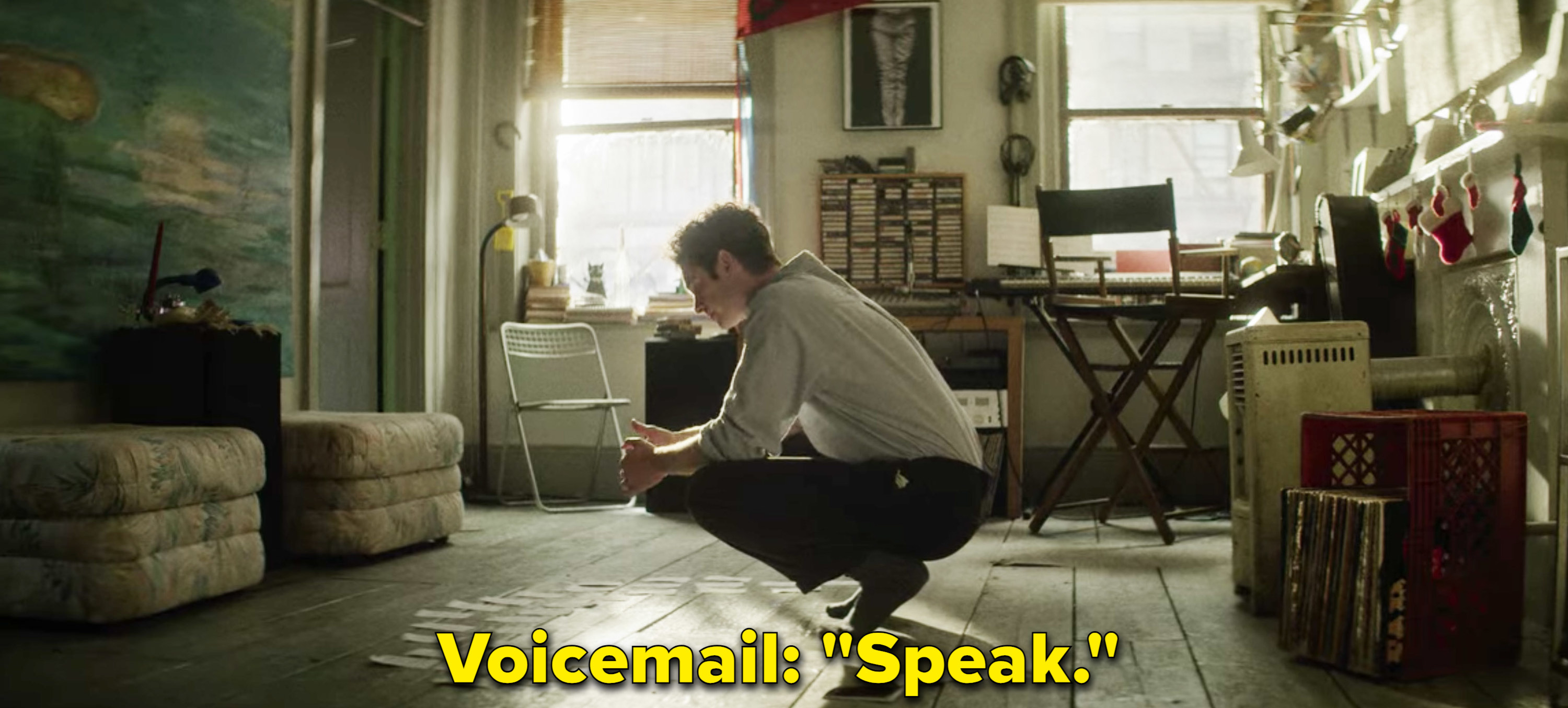 36.
While Bradley Whitford plays Stephen Sondheim throughout the movie, it's the real Sondheim's voice you hear on Jon's answering machine.
37.
And finally, you can spot Hamilton and In the Heights star Christopher Jackson in the audience when Jon performs Tick, Tick...Boom! for an audience for the first time.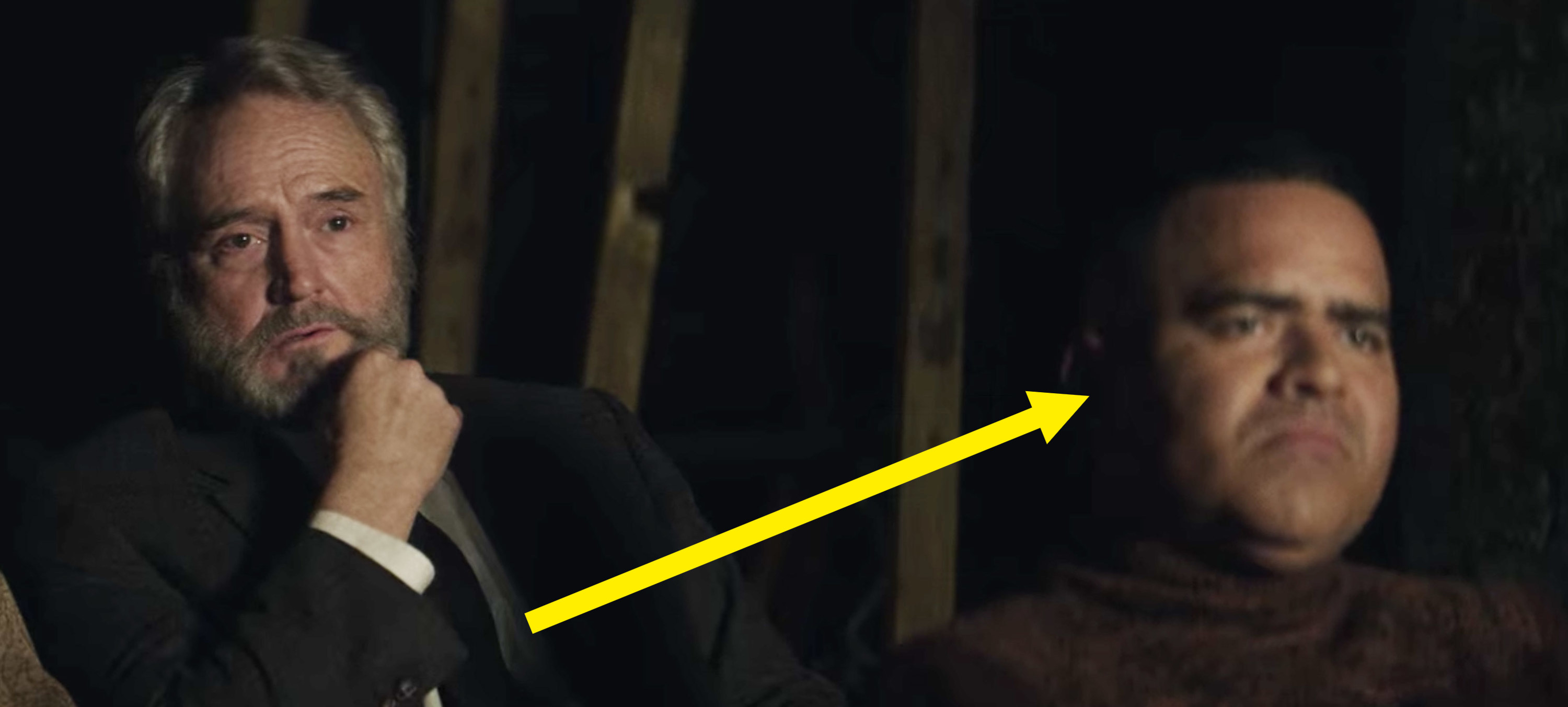 Did you spot any other great Easter eggs or cameos? Tell us everything in the comments below!