🚨 There are MASSIVE — and I really mean massive — SPOILERS ahead for Stranger Things 4, Vol. 2. So, if you have NOT watched yet, do not keep reading and save this for later! 🚨

Hi, yes, hello. Stranger Things Season 4 has officially come to an end and this season was honestly one of my favorites. There was so much action, iconic new characters, and everything is now coming together as we head into the final season of the show.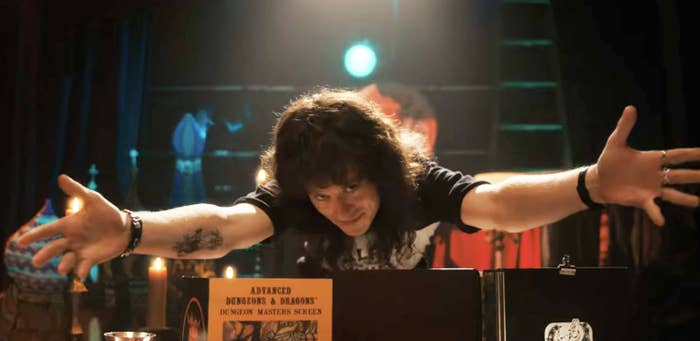 Now, going into Season 4, Vol. 2, aka the massive final two episodes that spanned close to four hours, I had a feeling there were moments that would make me weep. I mean, the Duffer brothers were warning us that tissues would be necessary.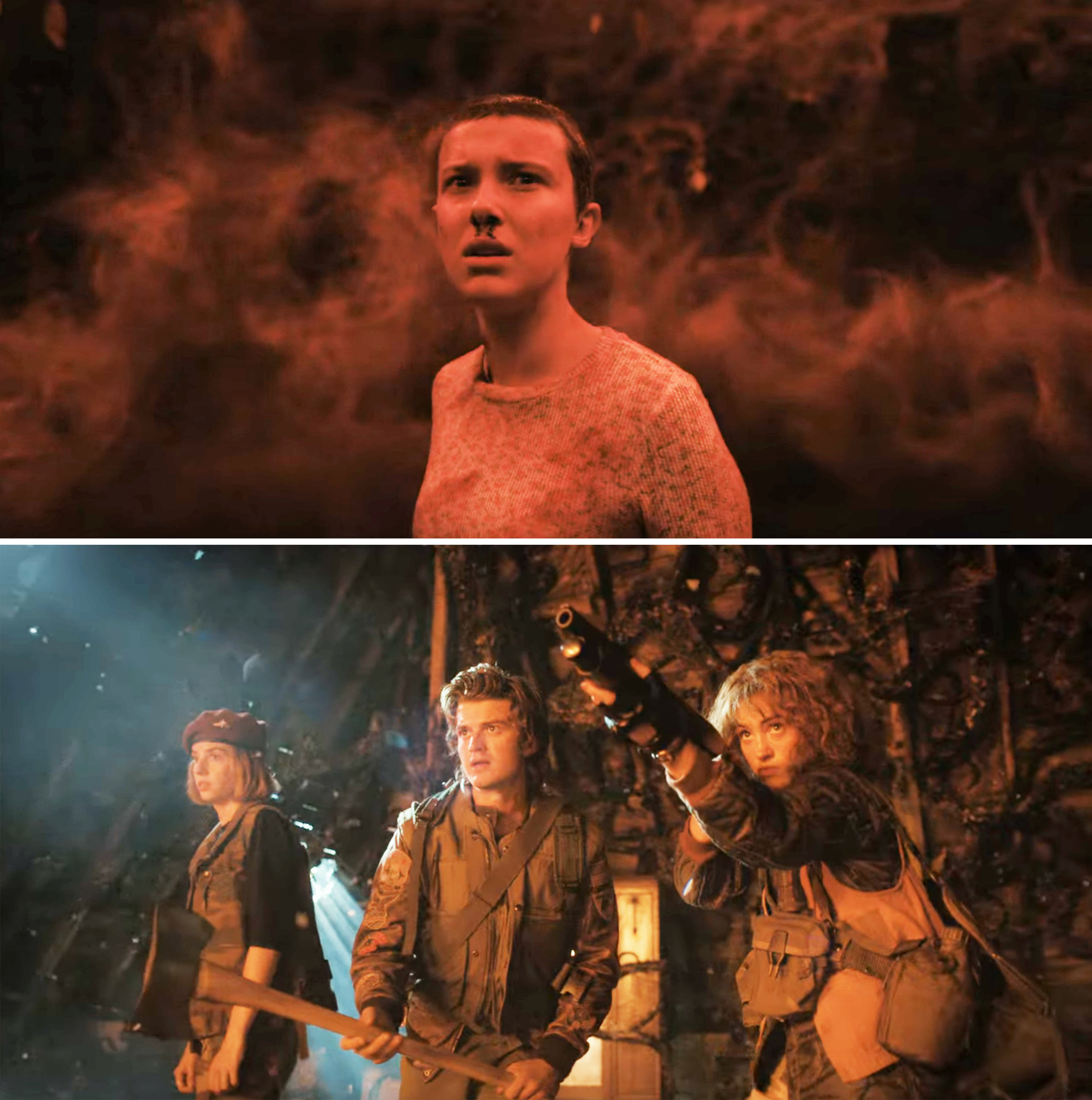 With every major character's life seemingly hanging in the balance before the start of Episode 8, it's no surprise that the final two episodes delivered some of the most gut-wrenching scenes in Stranger Things history, with a few happier moments that also made me cry.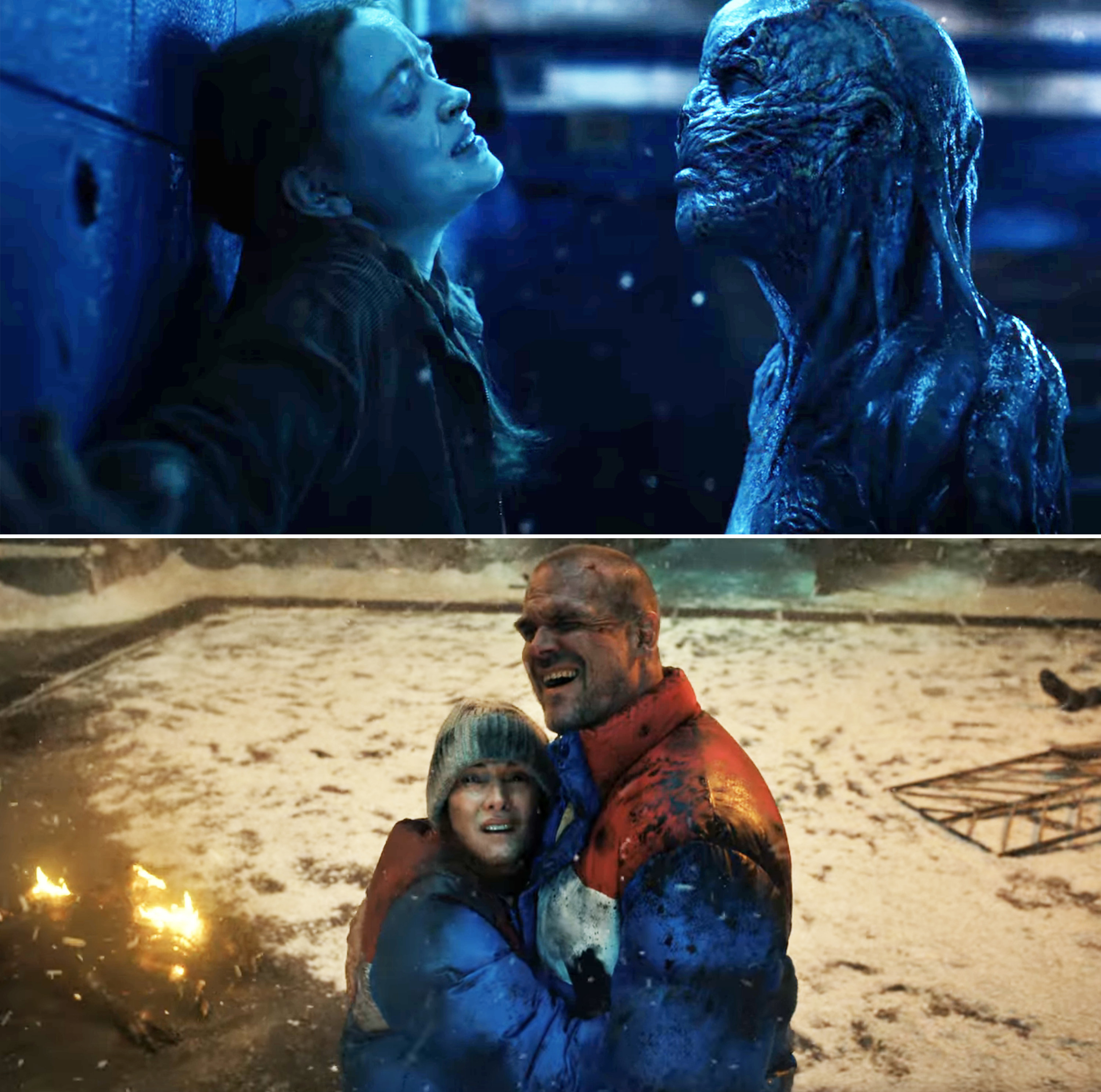 And now that the final two episodes are here, the Stranger Things writers are sharing some of the magic that went into creating the epic season finale. This includes three key moments that weren't in the original scripts, but were actually improvised by the actors on set.
First, in Episode 9, aka "The Piggyback," there's a lot of heartbreak. I won't deny it. But, there's also some very happy moments, like Joyce (Winona Ryder) and Hopper (David Harbour) finally sharing a long-awaited kiss after reuniting in Russia.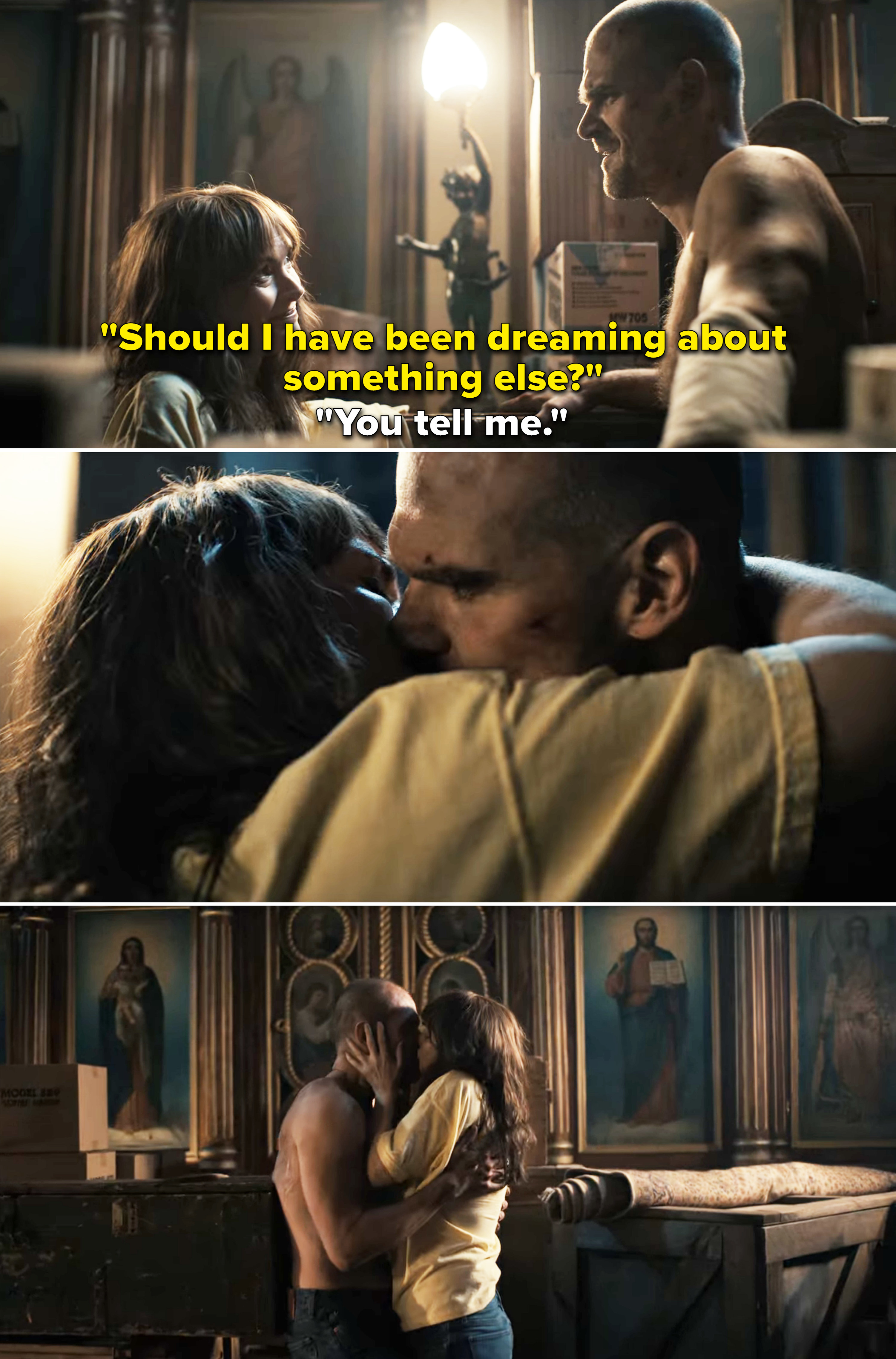 I'm not exaggerating when I tell you I was so caught off guard that this was happening in the first five minutes of the finale that I missed some very important dialogue afterward.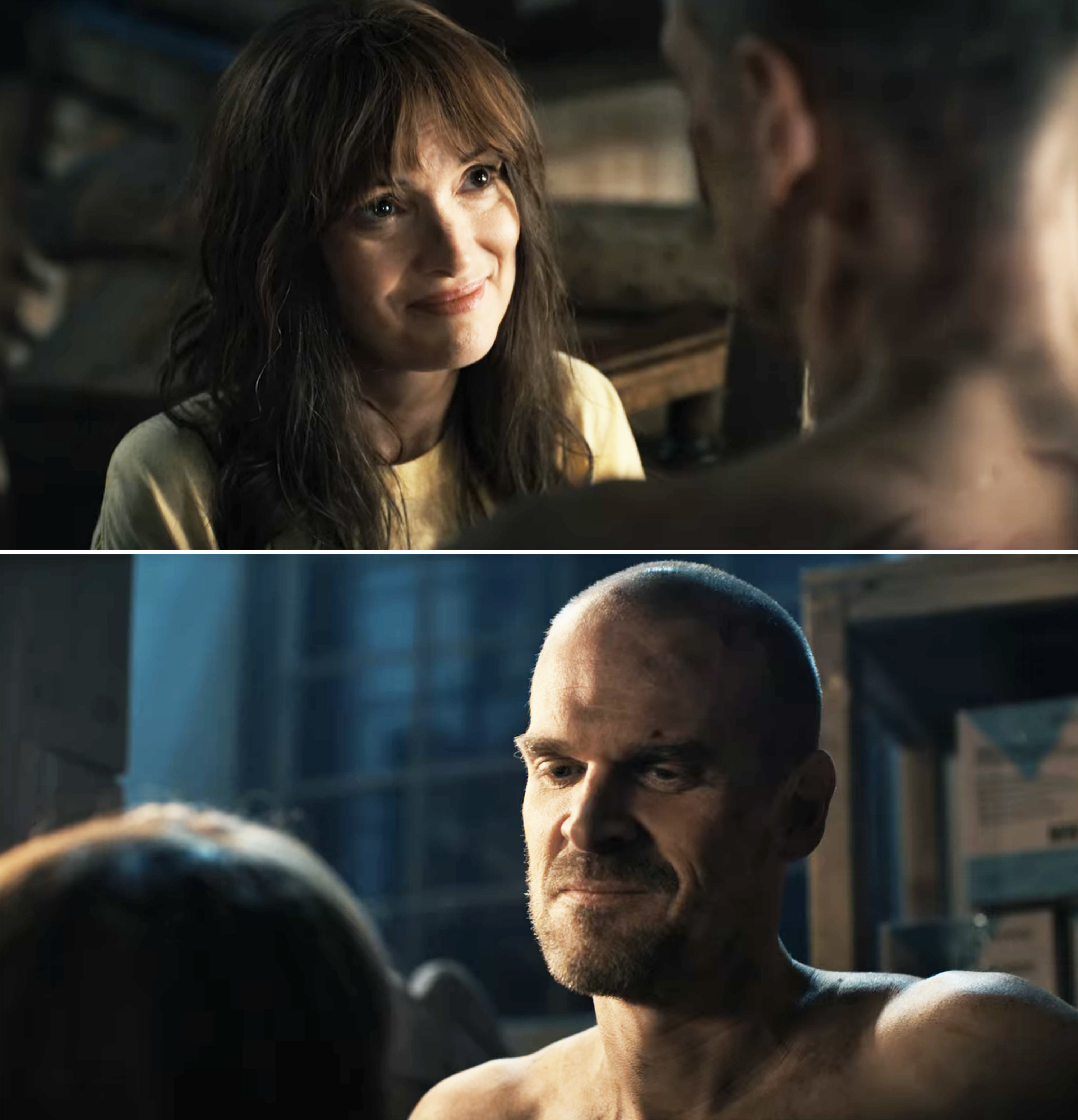 Not only do Joyce and Hopper share their first kiss in this episode, but they kiss once again before Hopper leaves Joyce to go lure a Demogorgon into the fighting pit at the Russian prison.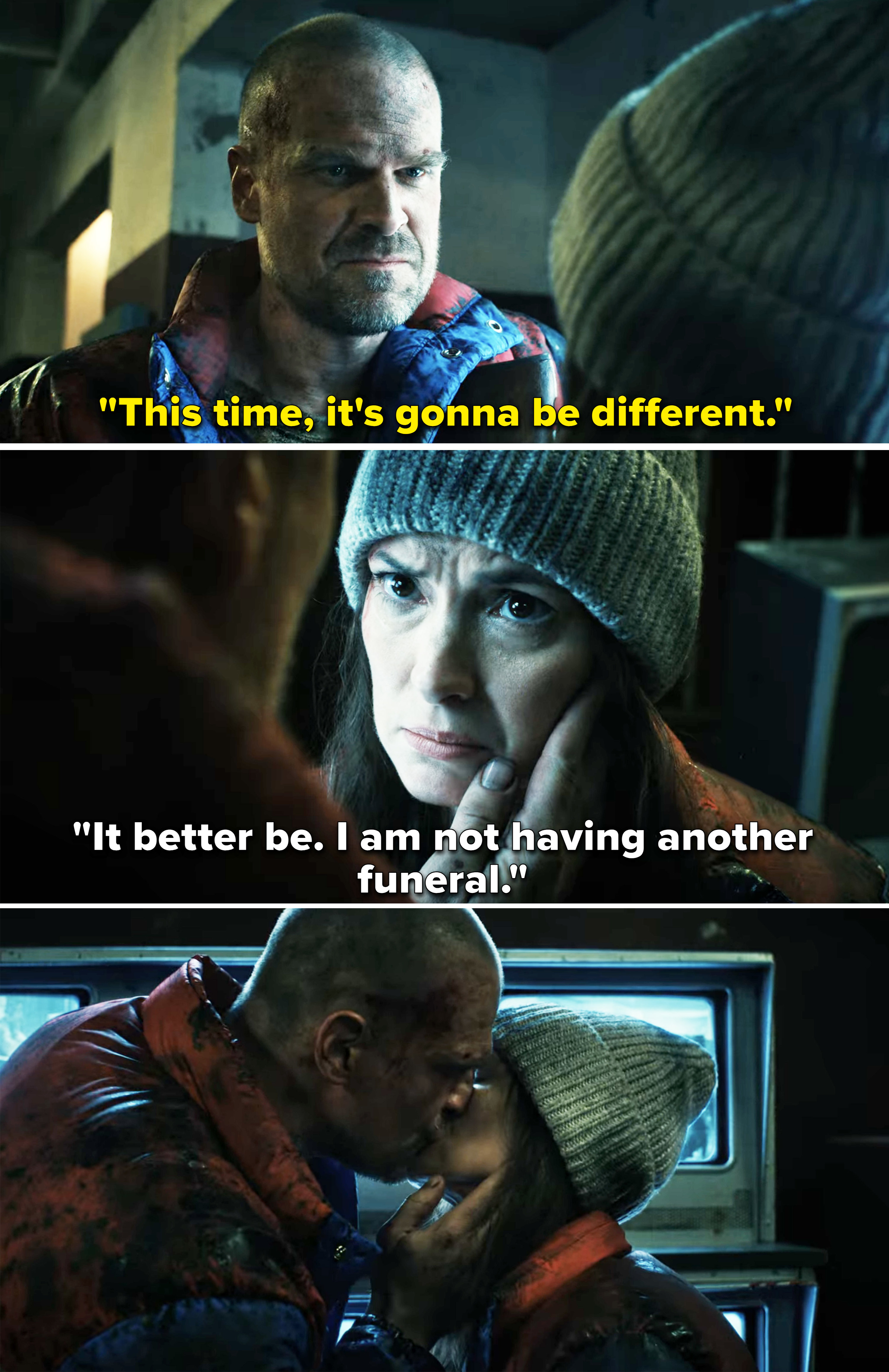 This second kiss wasn't in the original script according to the writers, but was added in by Winona and David while filming the scene. For years, Winona and David have talked about how much they love Joyce and Hopper's relationship on Stranger Things, and I'm so happy they are finally getting to explore the romantic side of it. I mean, they do have some of the best onscreen chemistry of all time.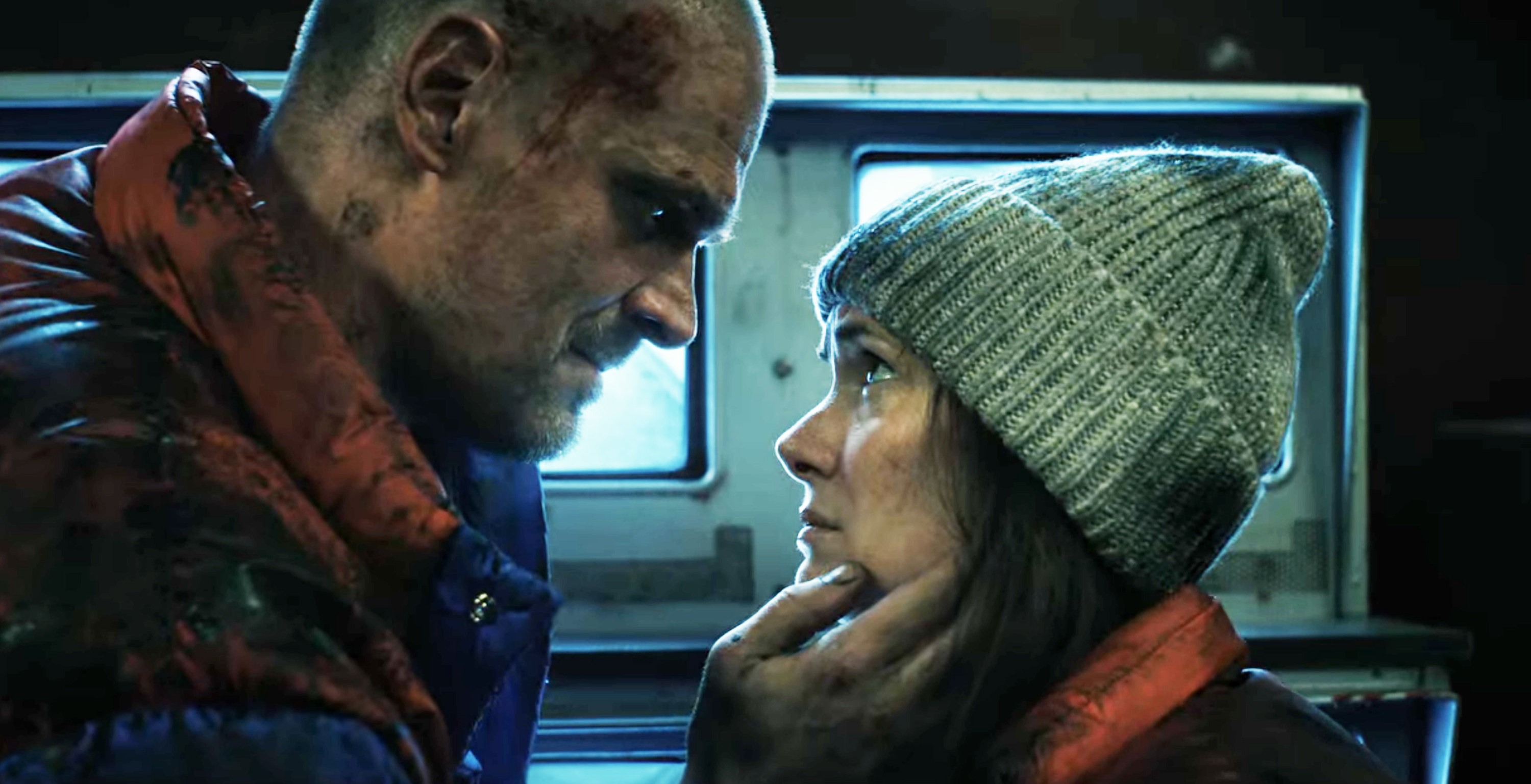 Next, in Episode 9, Steve (Joe Keery), Nancy (Natalia Dyer), Robin (Maya Hawke), Dustin (Gaten Mattarazzo), and Eddie (Joseph Quinn) enter the Upside Down in hopes of putting an end to Vecna. While Steve, Nancy, and Robin venture to the old Creel house to literally set fire to Vecna's body, Dustin and Eddie are left to distract the demobats.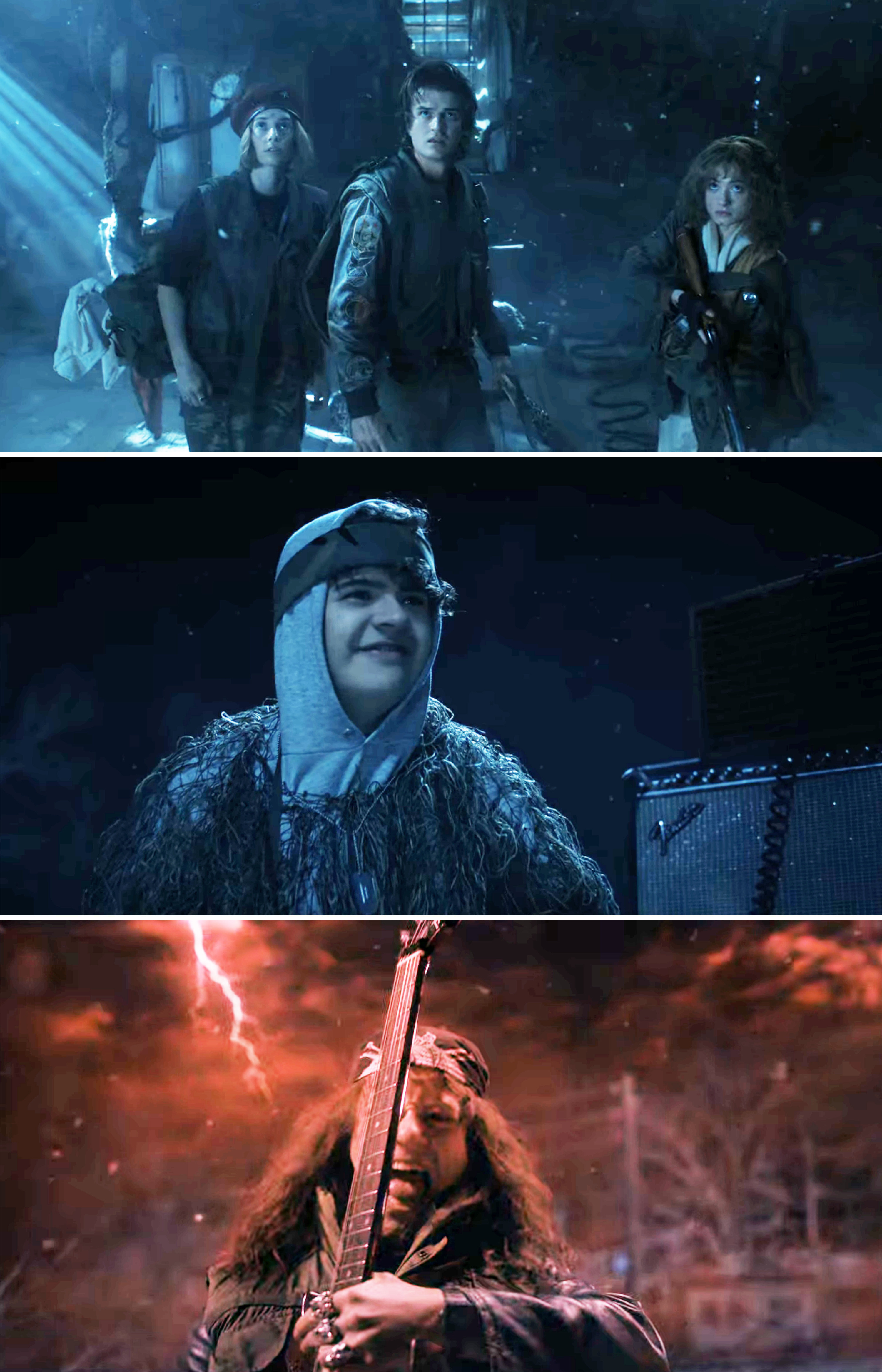 As soon as Eddie decided not to leave the Upside Down with Dustin, I knew he probably wasn't going to make it out of this episode alive, but it still hurt to watch the demobats swarm Eddie and then for Dustin to finally catch up to him.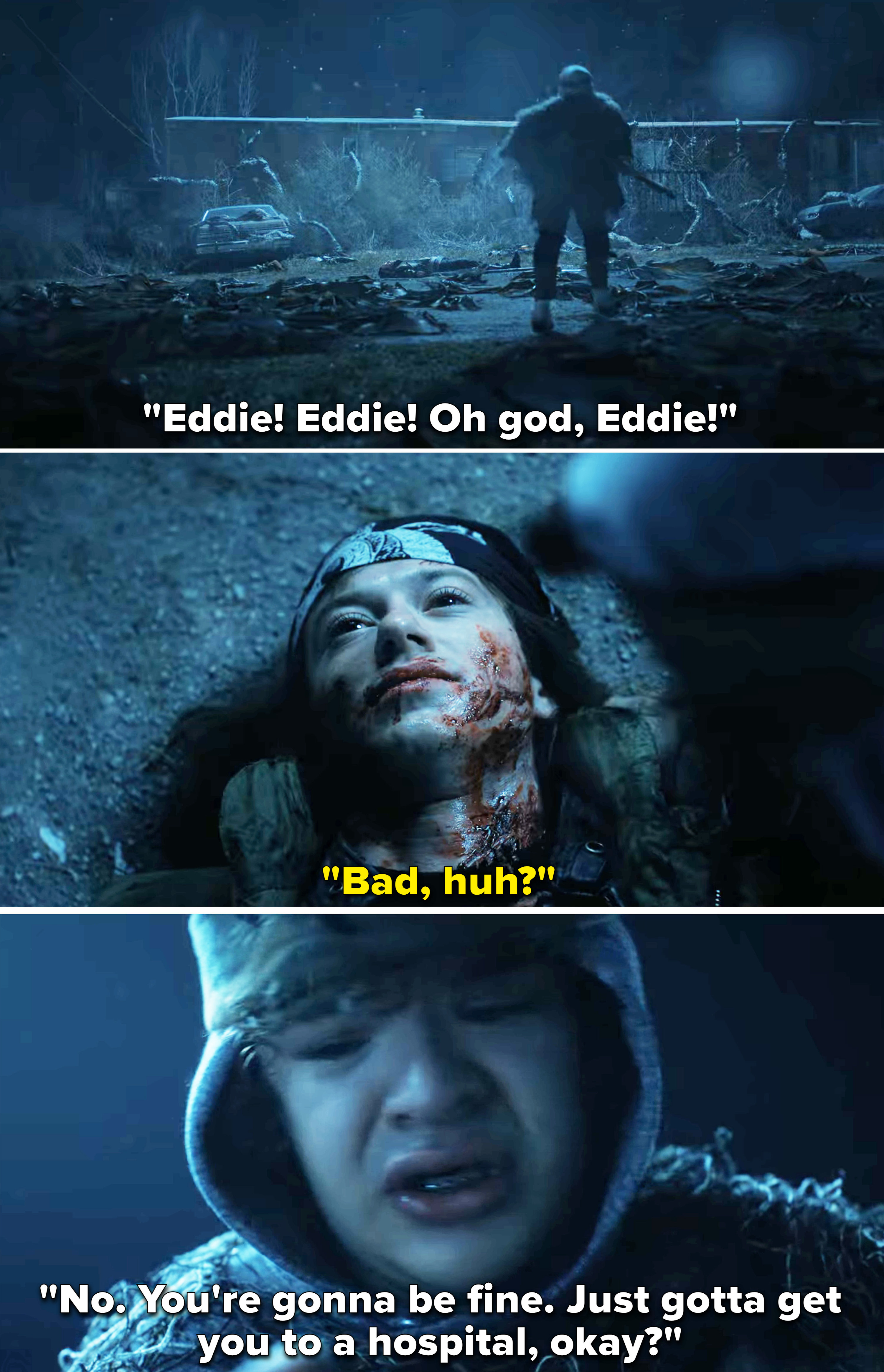 As if Eddie's death scene couldn't be any more heartbreaking, the Stranger Things writers said that Joseph improvised Eddie's final line where he tells Dustin "I love you" while filming. BRB, I'm gonna go sob again.

I mean, at least the writers gave us this wholesome behind-the-scenes photo of Joseph and Dustin to help with the pain, right?!
And finally, I think it's safe to say that Max Mayfield (Sadie Sink) deals with the most trauma, and is involved in arguably the most heartbreaking moment the show has ever given us.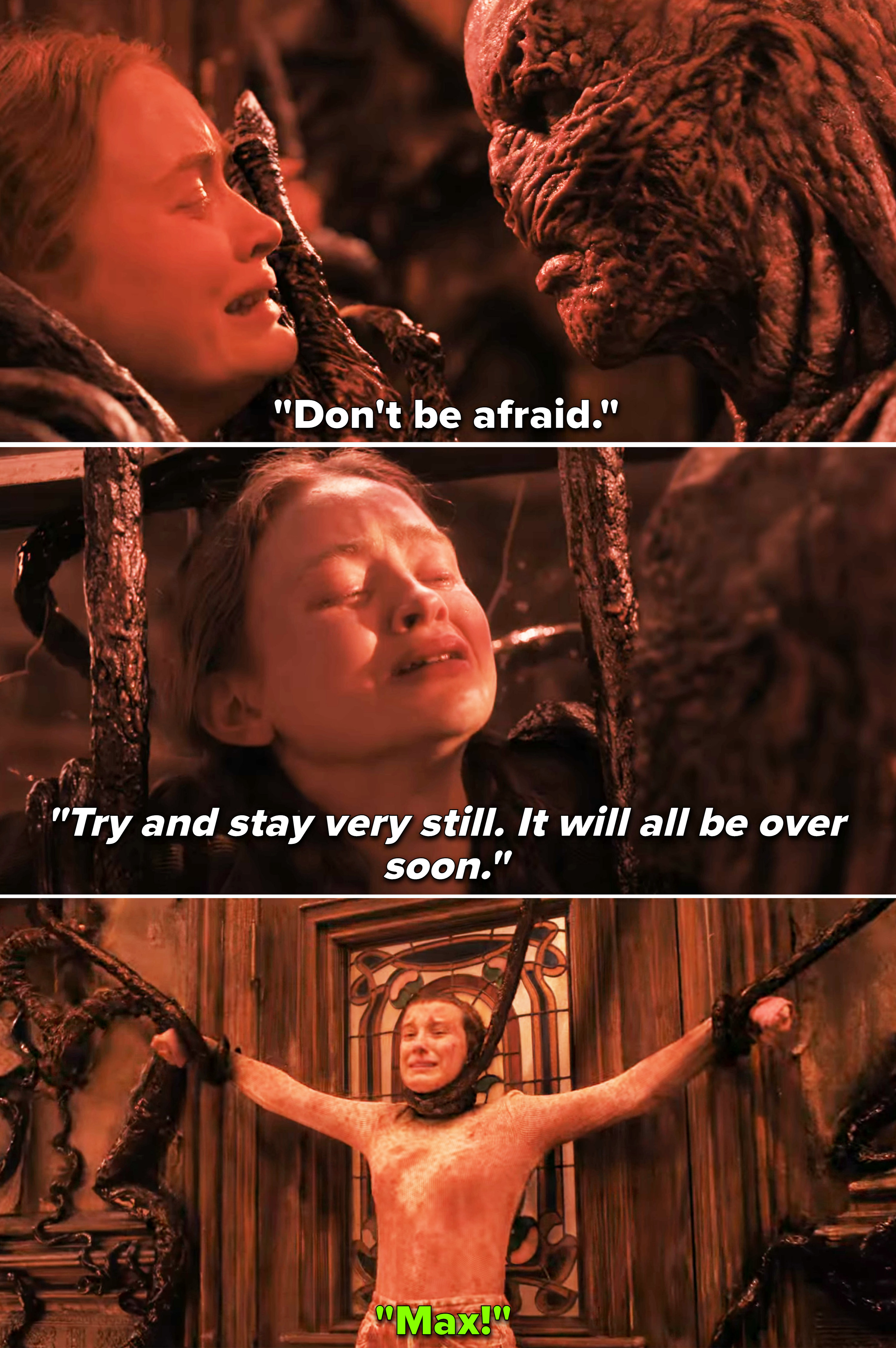 Once again, Max finds herself in the Upside Down and trapped by Vecna, and even with Eleven (Millie Bobby Brown) coming to her rescue, things do not end well for her. As we've seen in his style in earlier episodes, Max is not in a good place after Vecna gets her, and I really thought she was dead.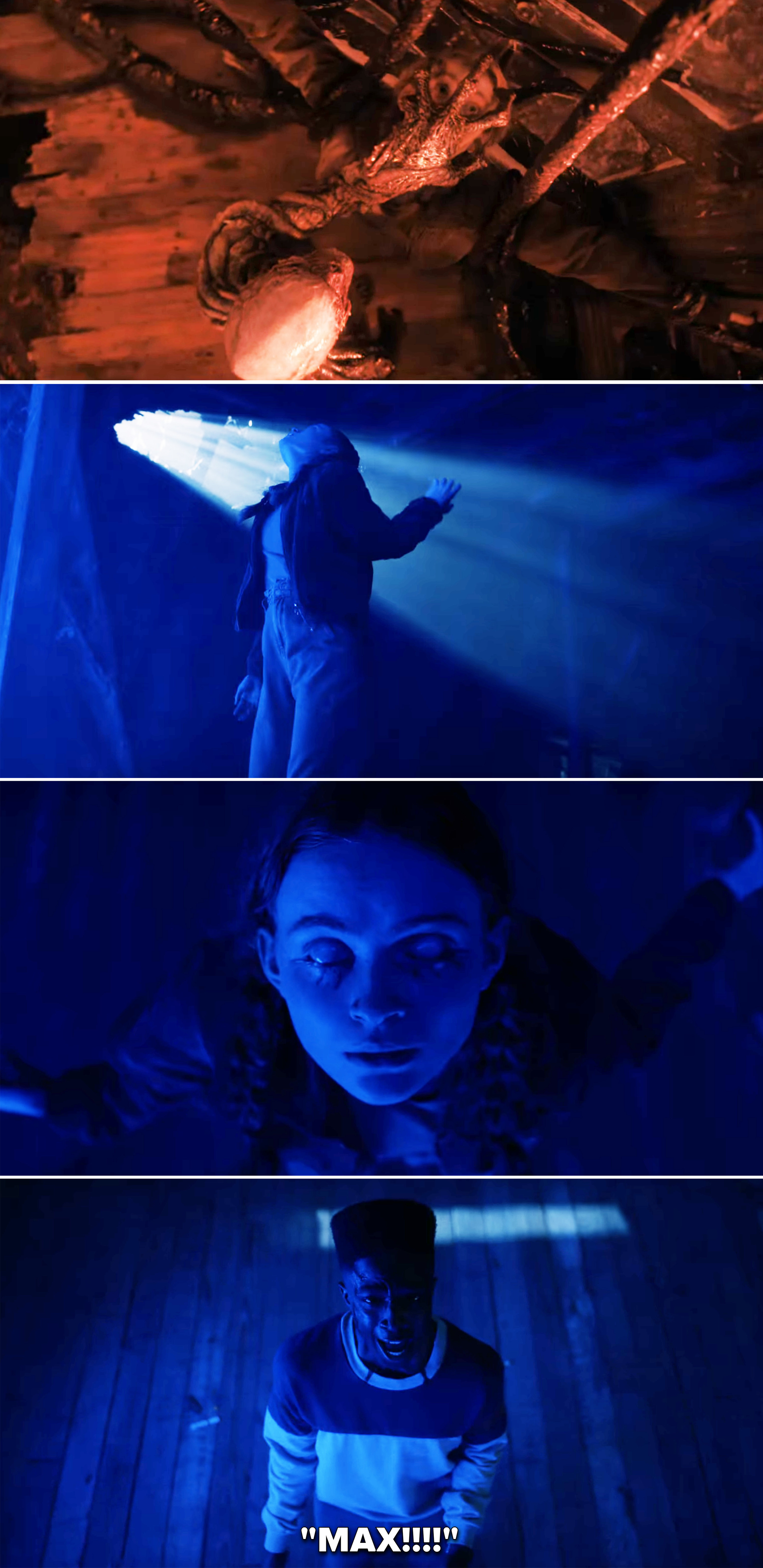 Eventually, Vecna is defeated, for now, and Max lands back on the ground in the real world, with Lucas (Caleb McLaughlin) clutching her body. It's the saddest scene, and Sadie and Caleb deserve every award EVER for their work in this moment.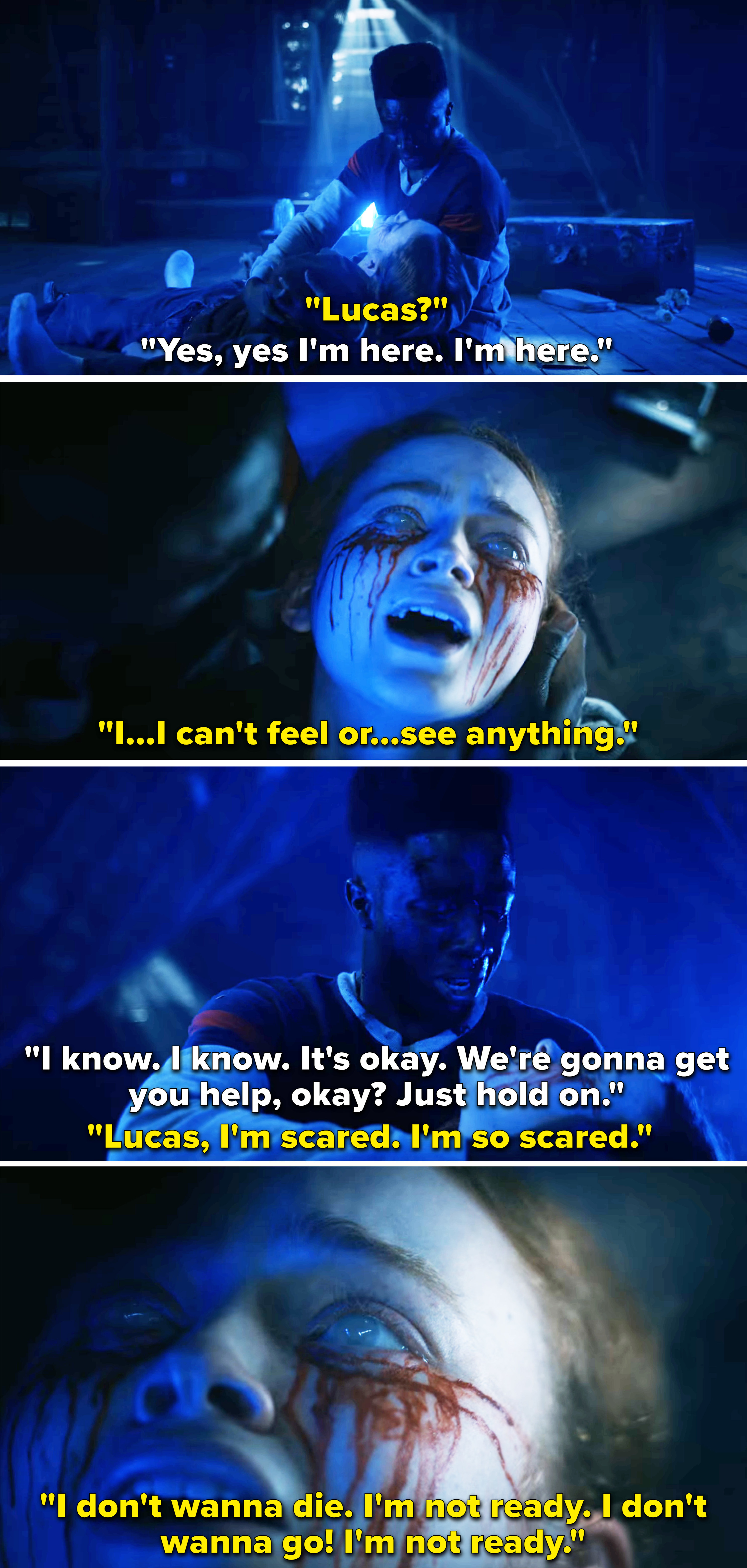 And now the scene just got all the more heartbreaking because the final improvised line the Stranger Things writers revealed was that Caleb came up with Lucas saying, "Erica, help," during filming. I simply cannot handle this, thank you very much.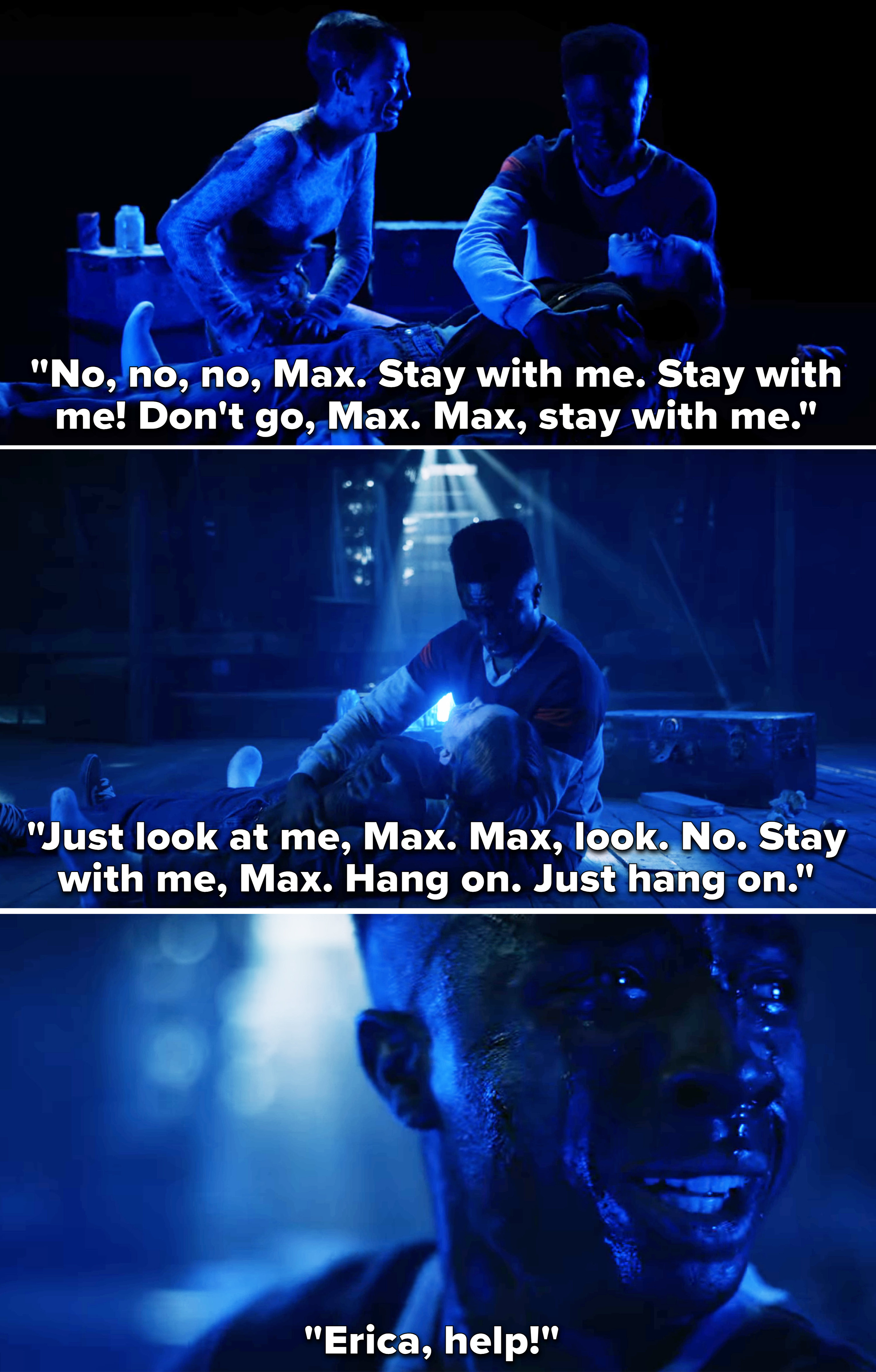 Basically, I love that the Stranger Things writers shared these small moments being improvised because it just goes to show how well these actors know their characters.
What did you think of Stranger Things 4, Vol. 2? Tell us everything in the comments below!