🚨 Warning: There are MASSIVE spoilers ahead for Stranger Things Season 4! 🚨

2.
Vecna's Upside Down lair was made up of a combination of practical set design and digital effects.
3.
This is Sadie Sink stepping into the Upside Down version of the Creel house, which actually included a staircase that the crew built.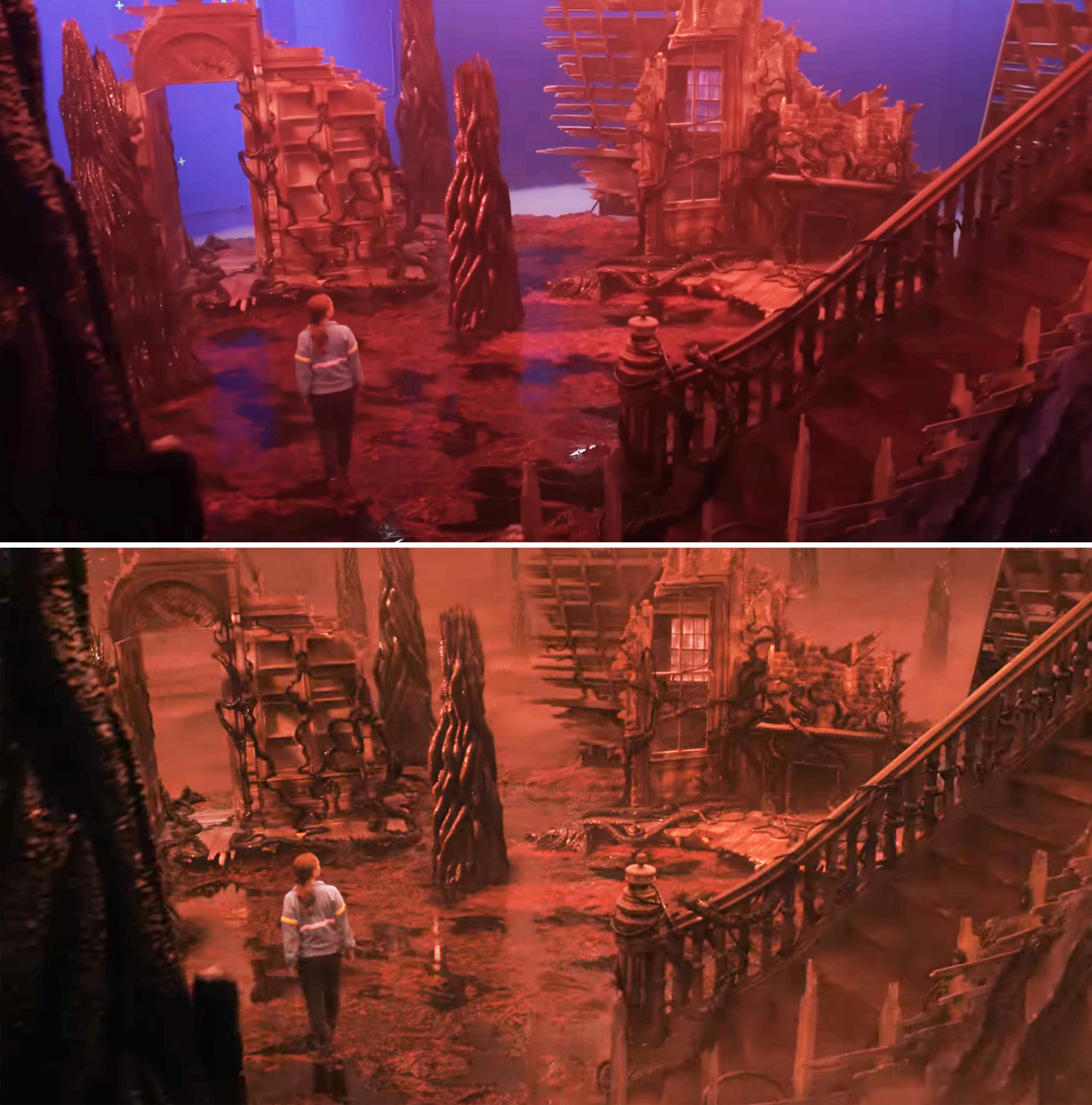 4.
Chrissy's dead body in Vecna's Upside Down lair was a dummy, which they then added more effects onto during post-production.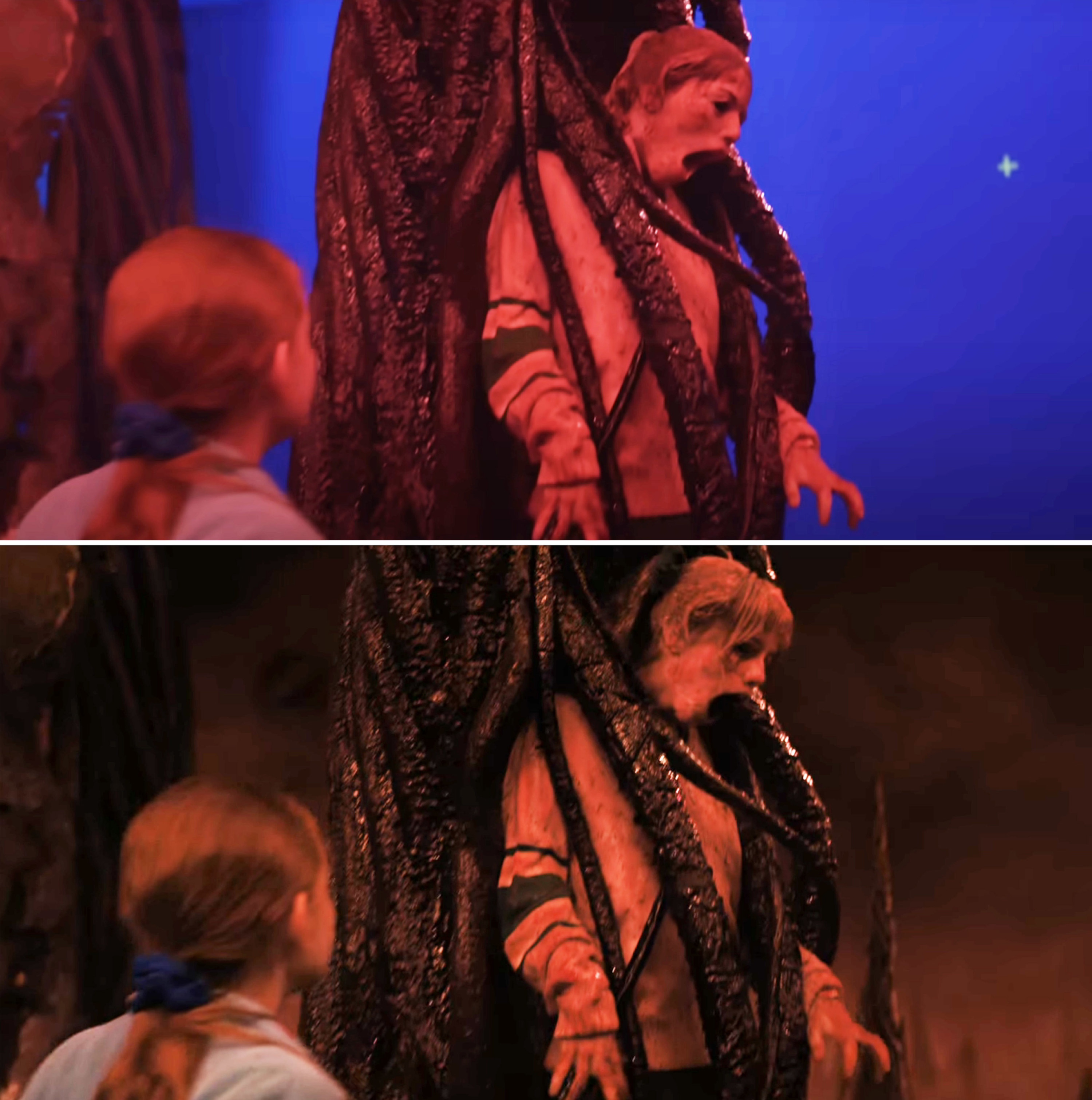 5.
Sadie Sink and her stunt double were dragged by a rope in order to get the shot where the Upside Down vines pull Max.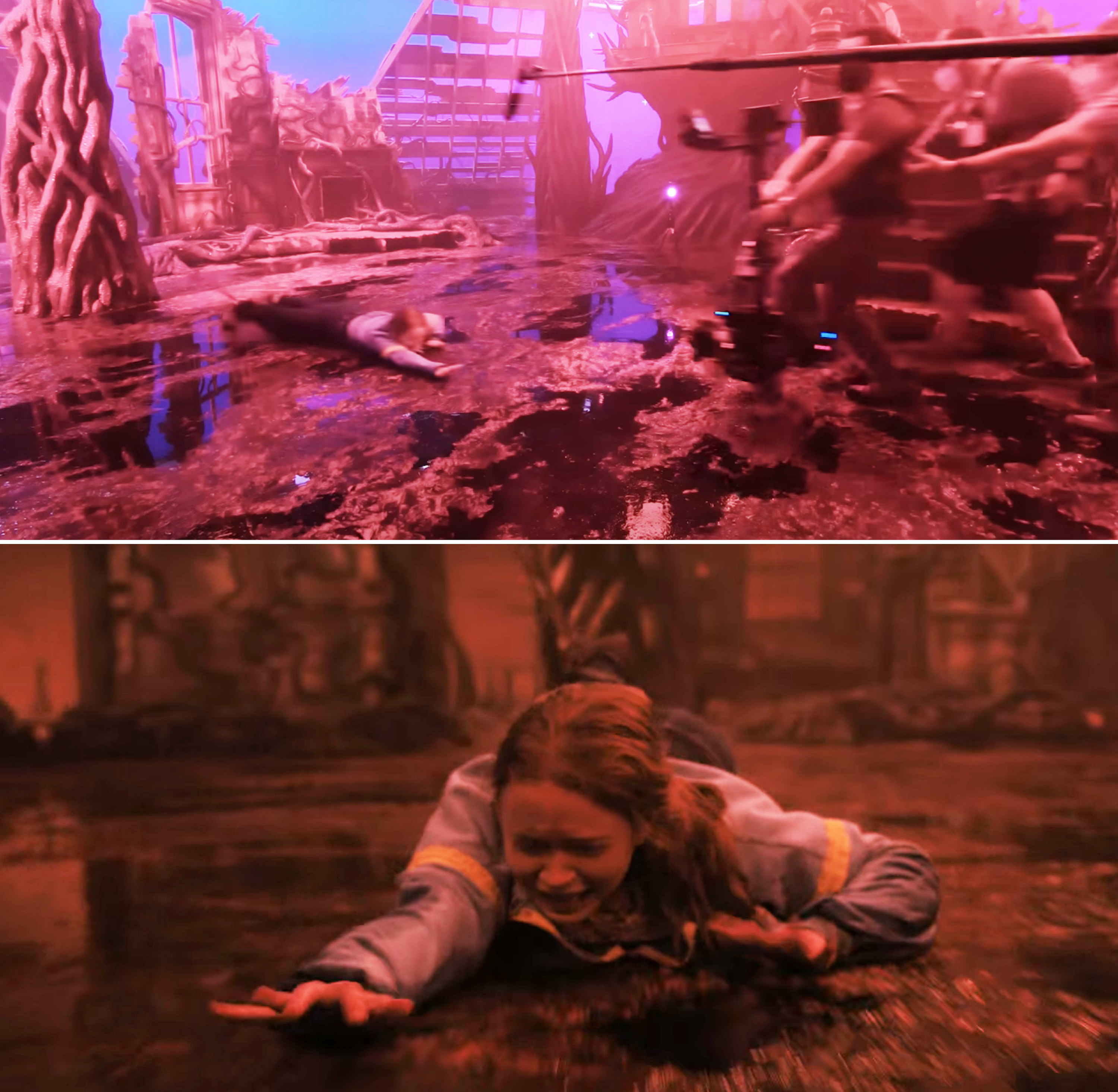 6.
Here's Sadie Sink and Jamie Campbell Bower filming the moment when Vecna and Max come face-to-face for the first time.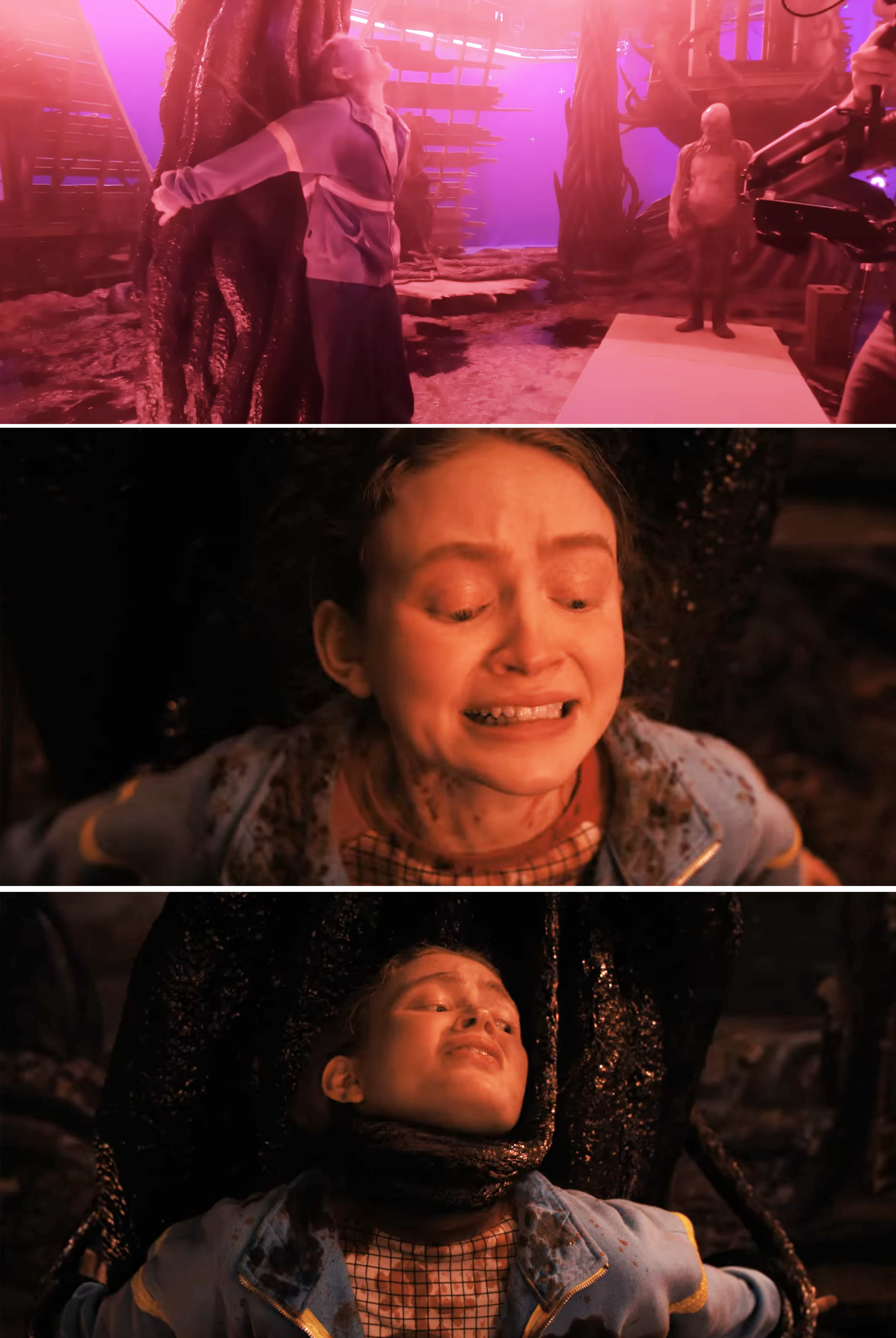 7.
And here's another angle that shows how absolutely incredible and terrifying Vecna's makeup is in real life.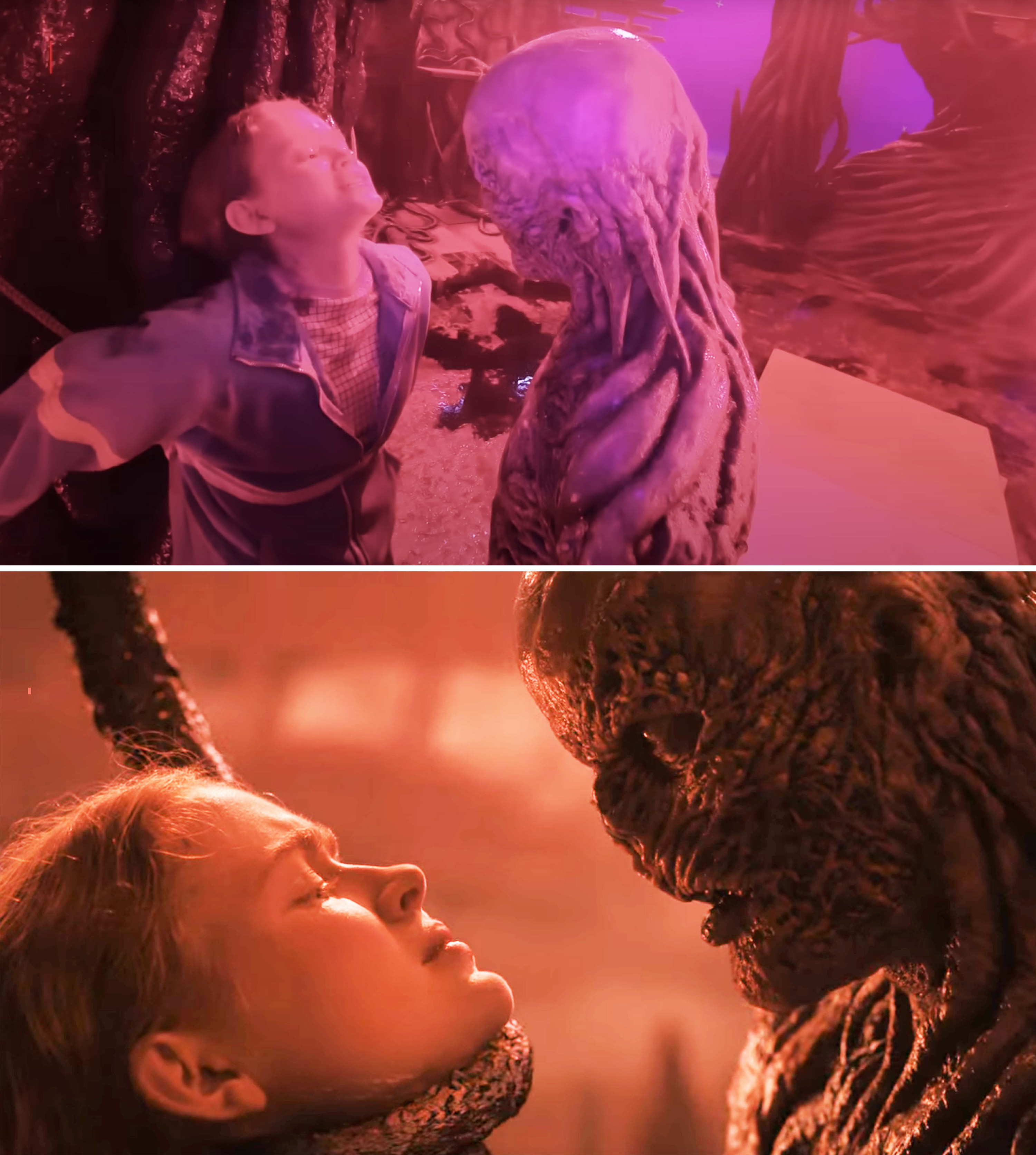 8.
Here's Sadie Sink and Jamie Campbell Bower giving amazing performances when Max is held hostage by vines and Vecna hears her friends trying to save her.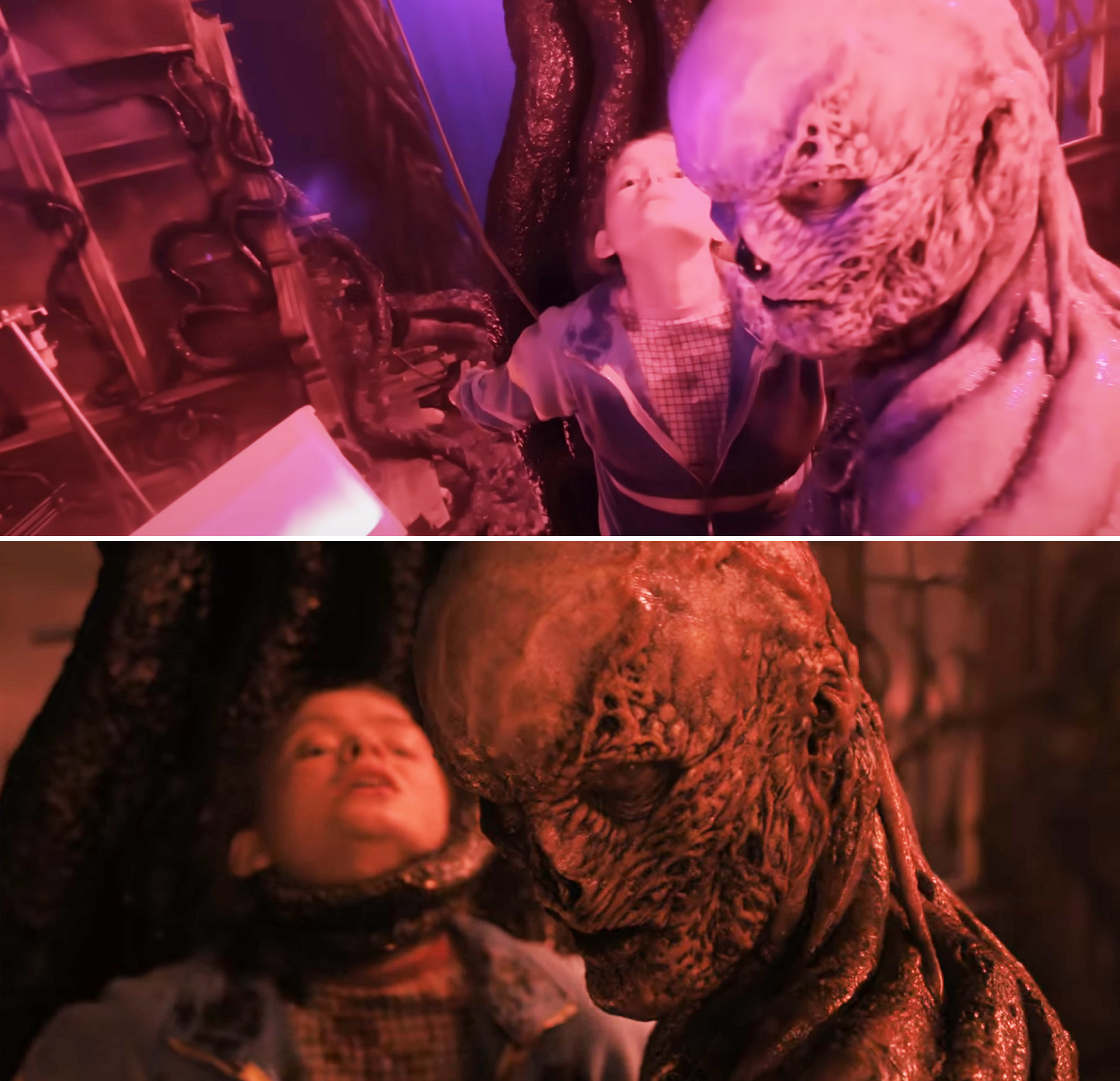 9.
Sadie Sink's stunt double did a lot of the falling moments during the "Running Up That Hill" montage, like the one below where Max slides in a pool of blood.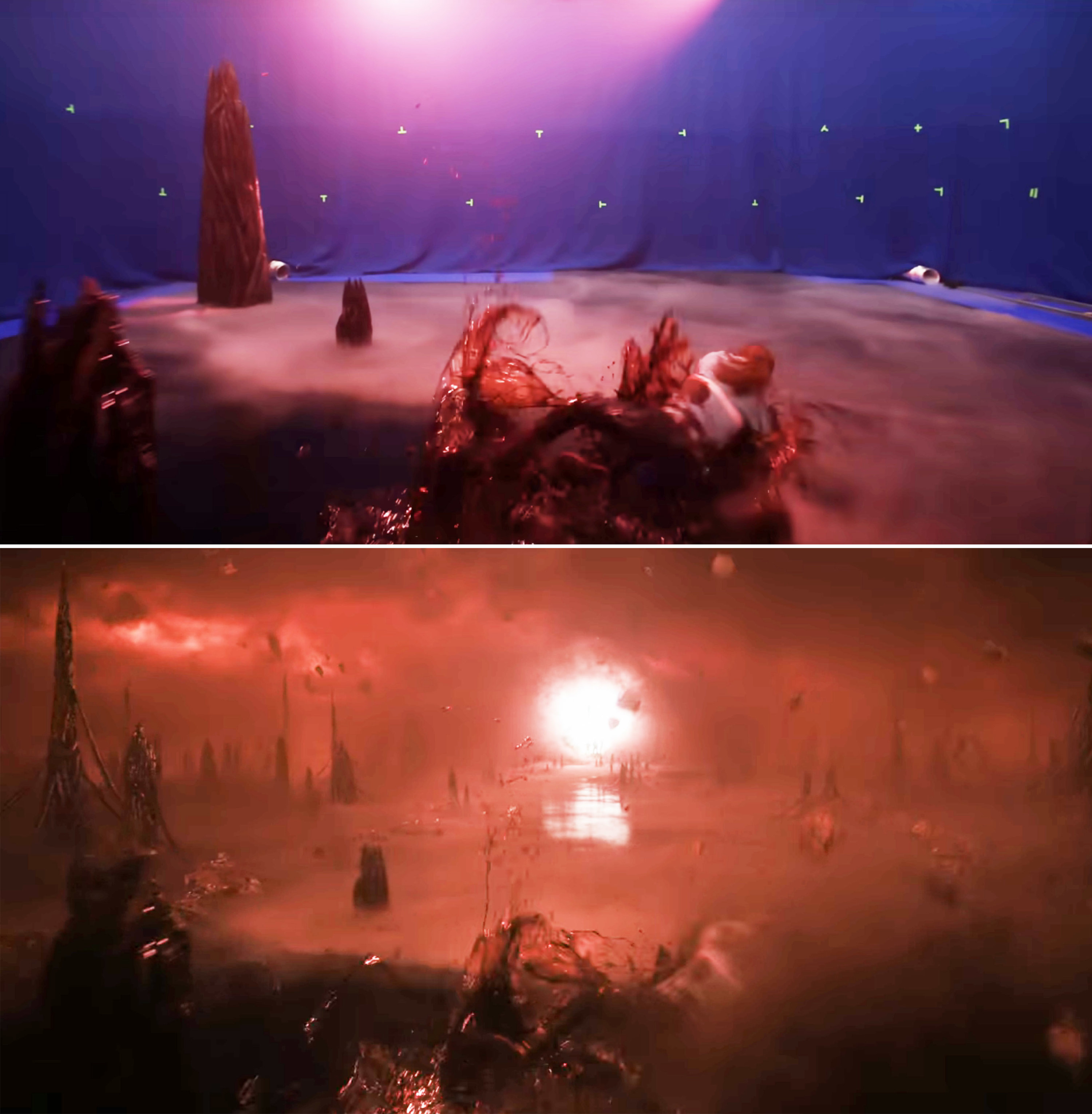 10.
Here's Sadie Sink running for her life as Max tries to reach her friends and escape.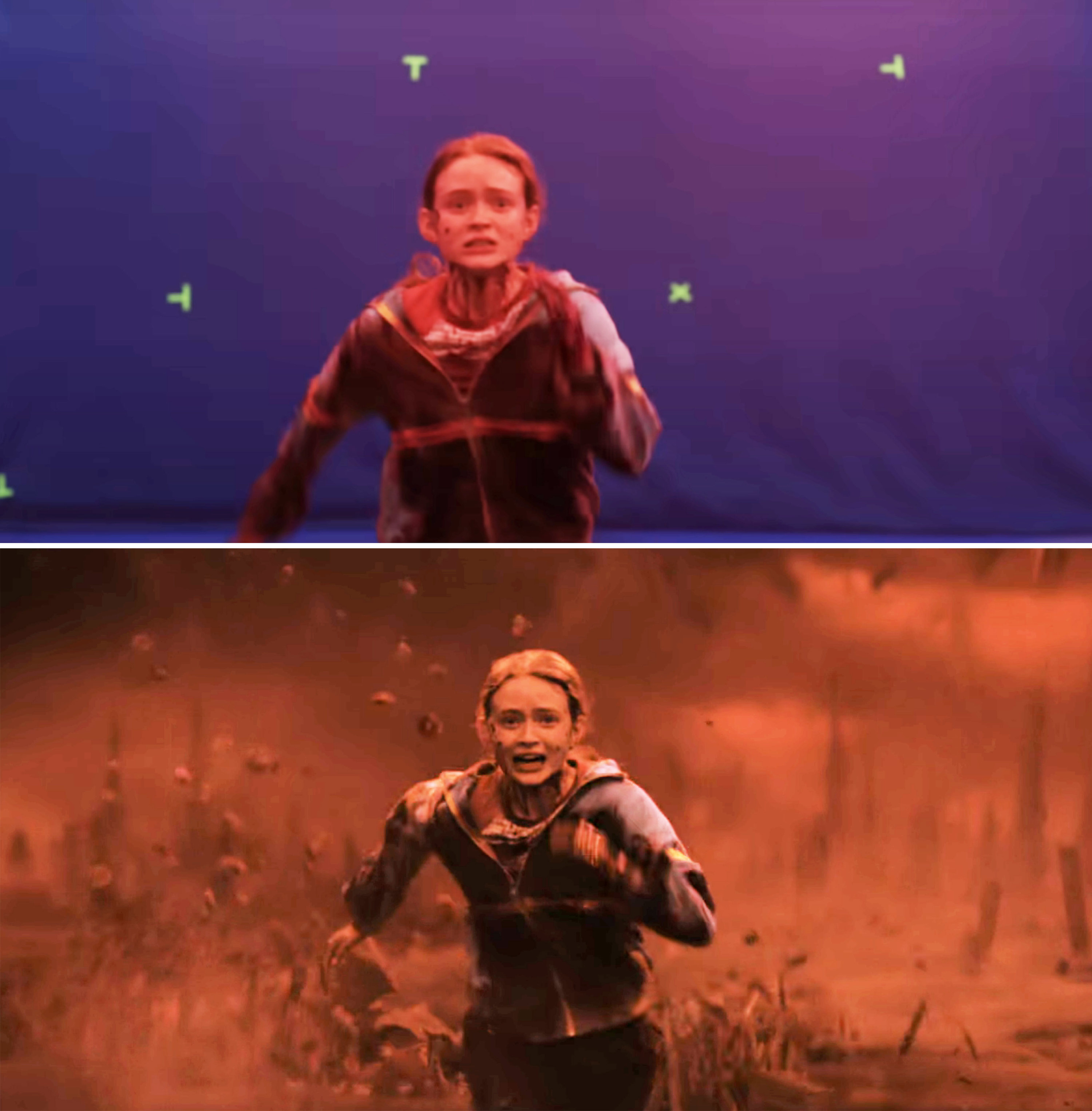 11.
This is Sadie Sink getting hoisted up on wires after Dustin, Lucas, and Steve start playing "Running Up That Hill" for Max.
12.
And, here's another cool angle of how they filmed the moment when Max lifts off the ground while in Vecna's trance.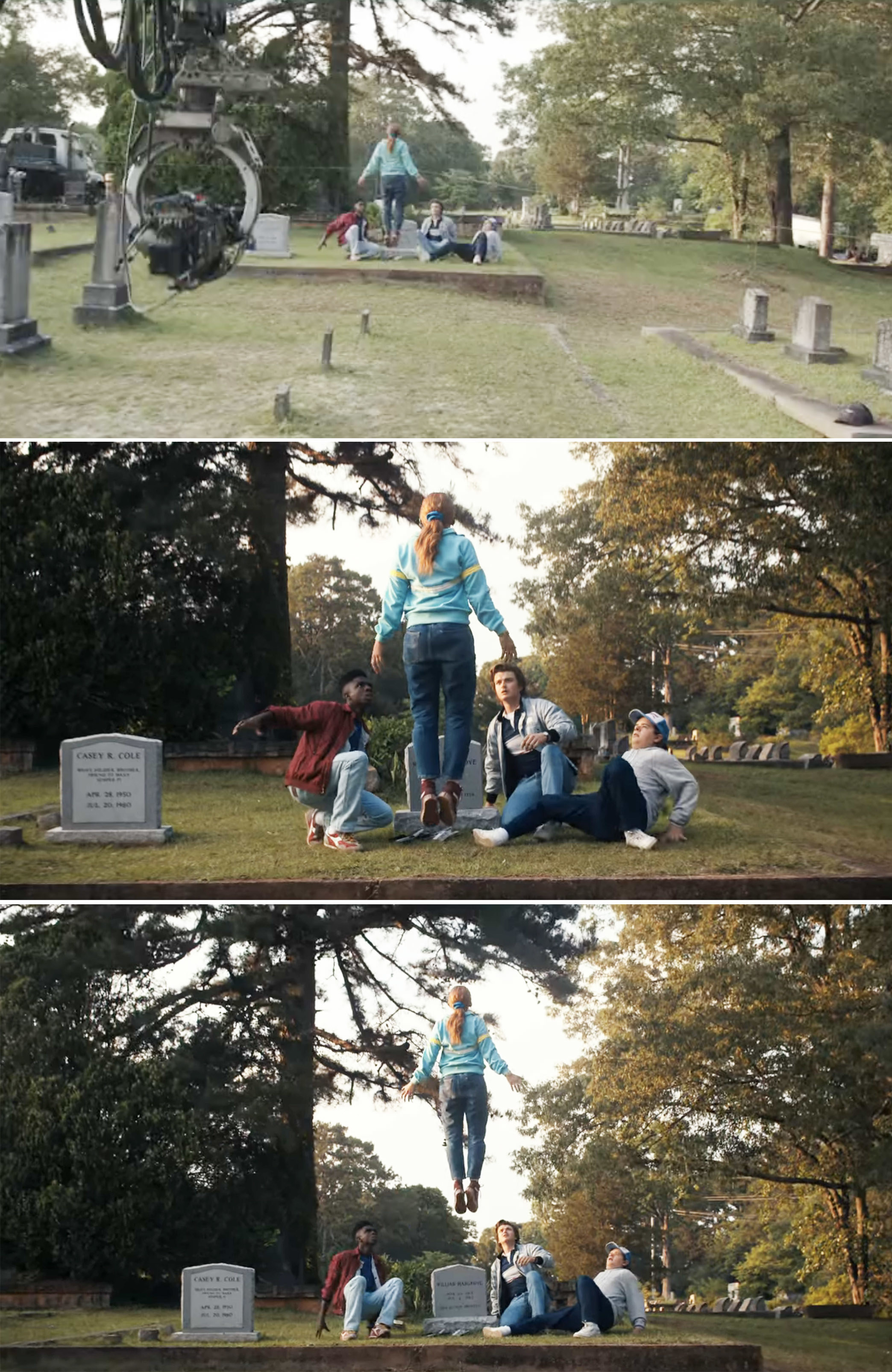 13.
This is Jamie Campbell Bower filming the spinning moment at the end of Episode 7, when One is thrust into the Upside Down by Eleven.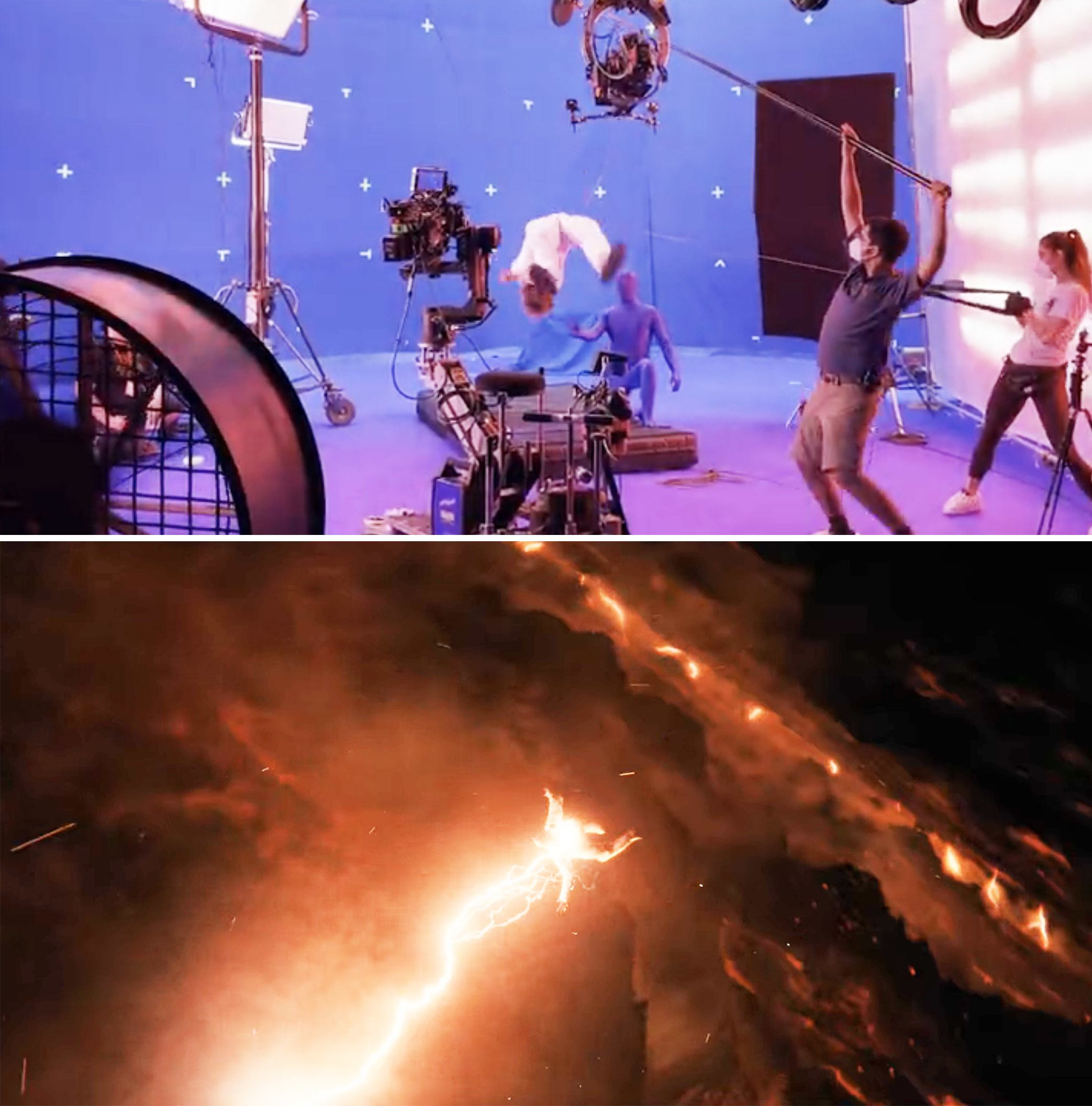 14.
And, here's Jamie Campbell Bower screaming his lungs out while shooting the scene when One transforms into Vecna.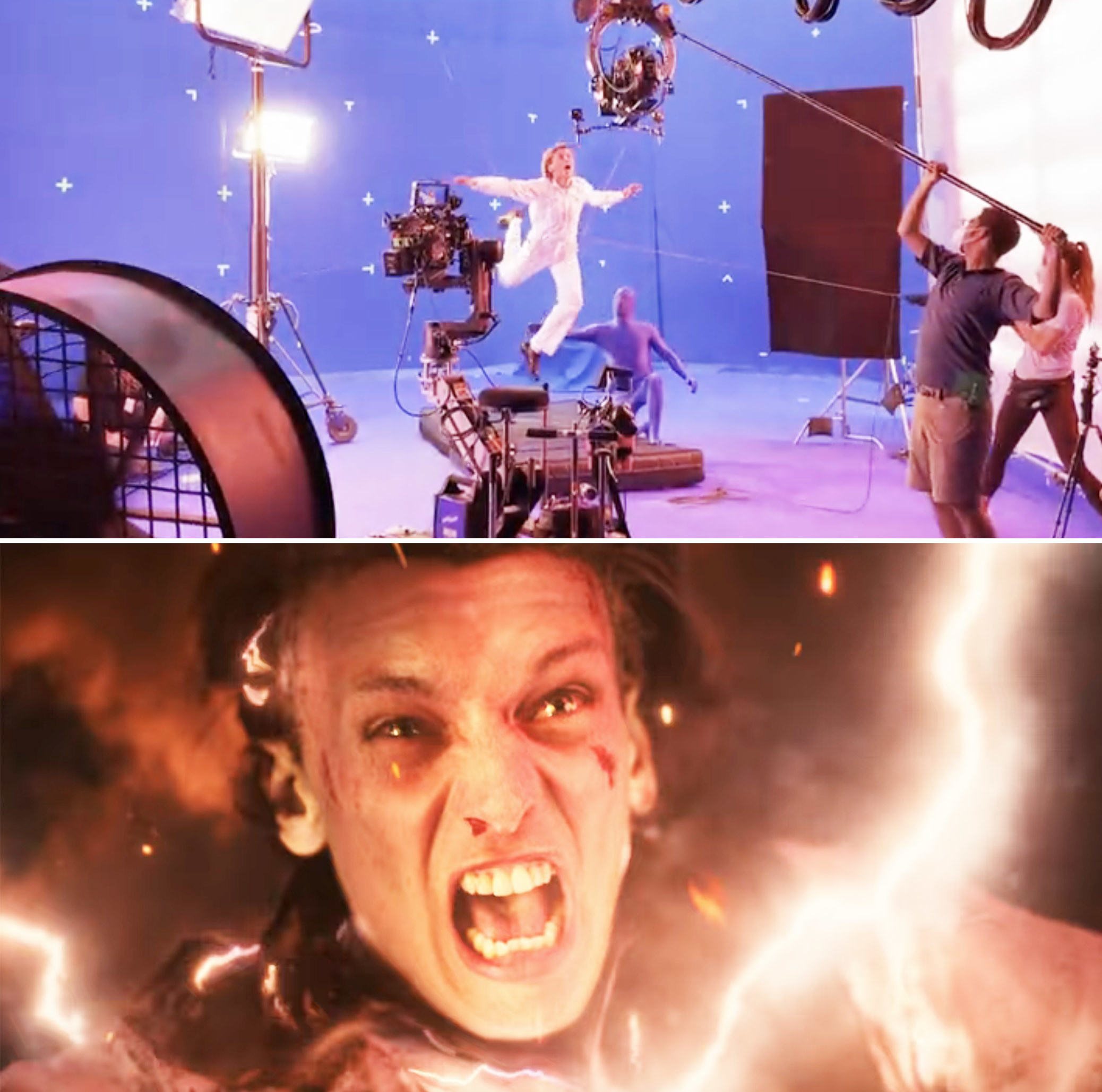 You can watch the video side-by-side below:
15.
Here's Millie Bobby Brown and the crew shooting the moment at the roller rink when Angela and her friends tease Eleven.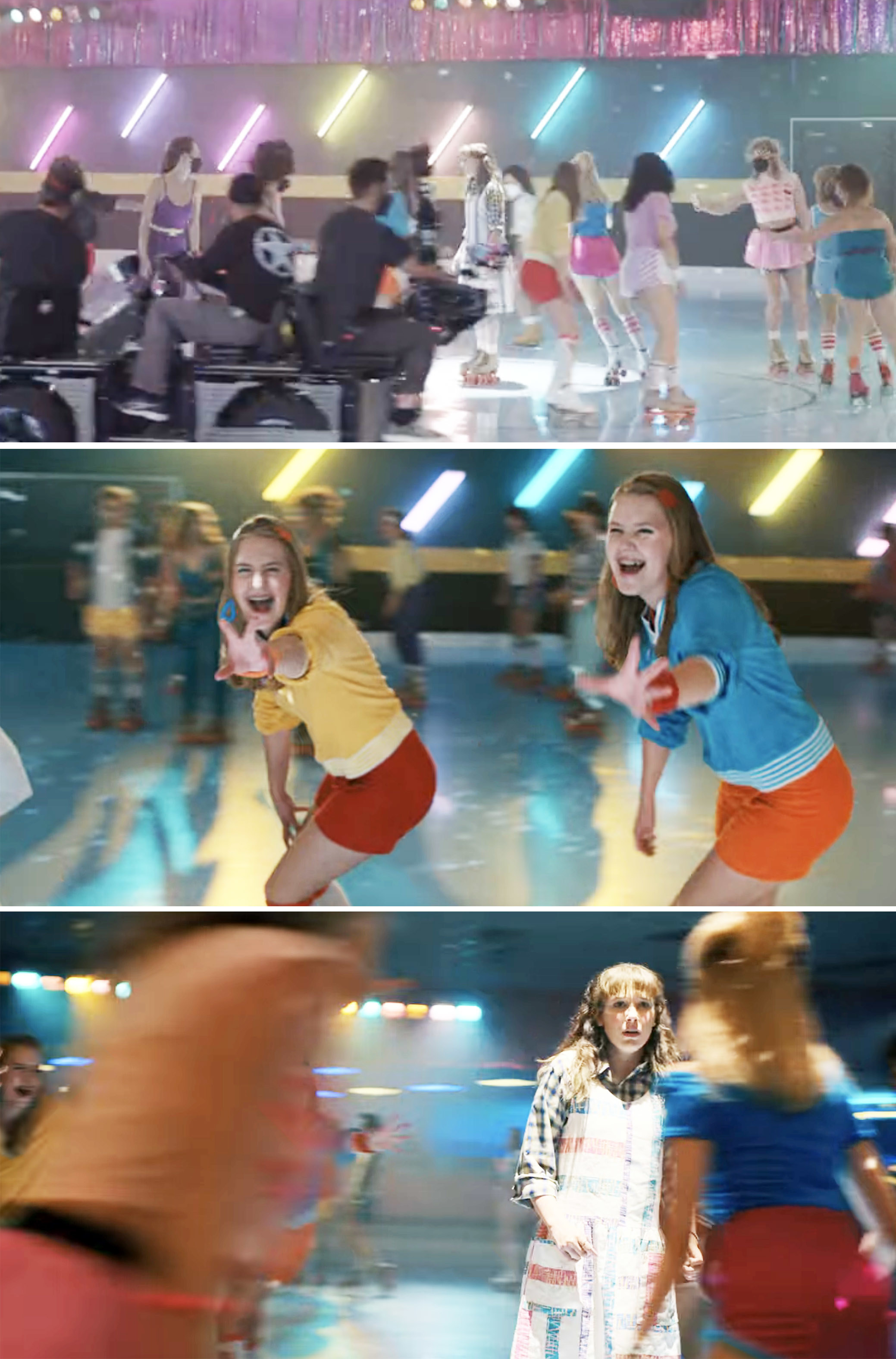 16.
Millie Bobby Brown filming the moment when Eleven begins to cry while getting bullied by Angela and her friends.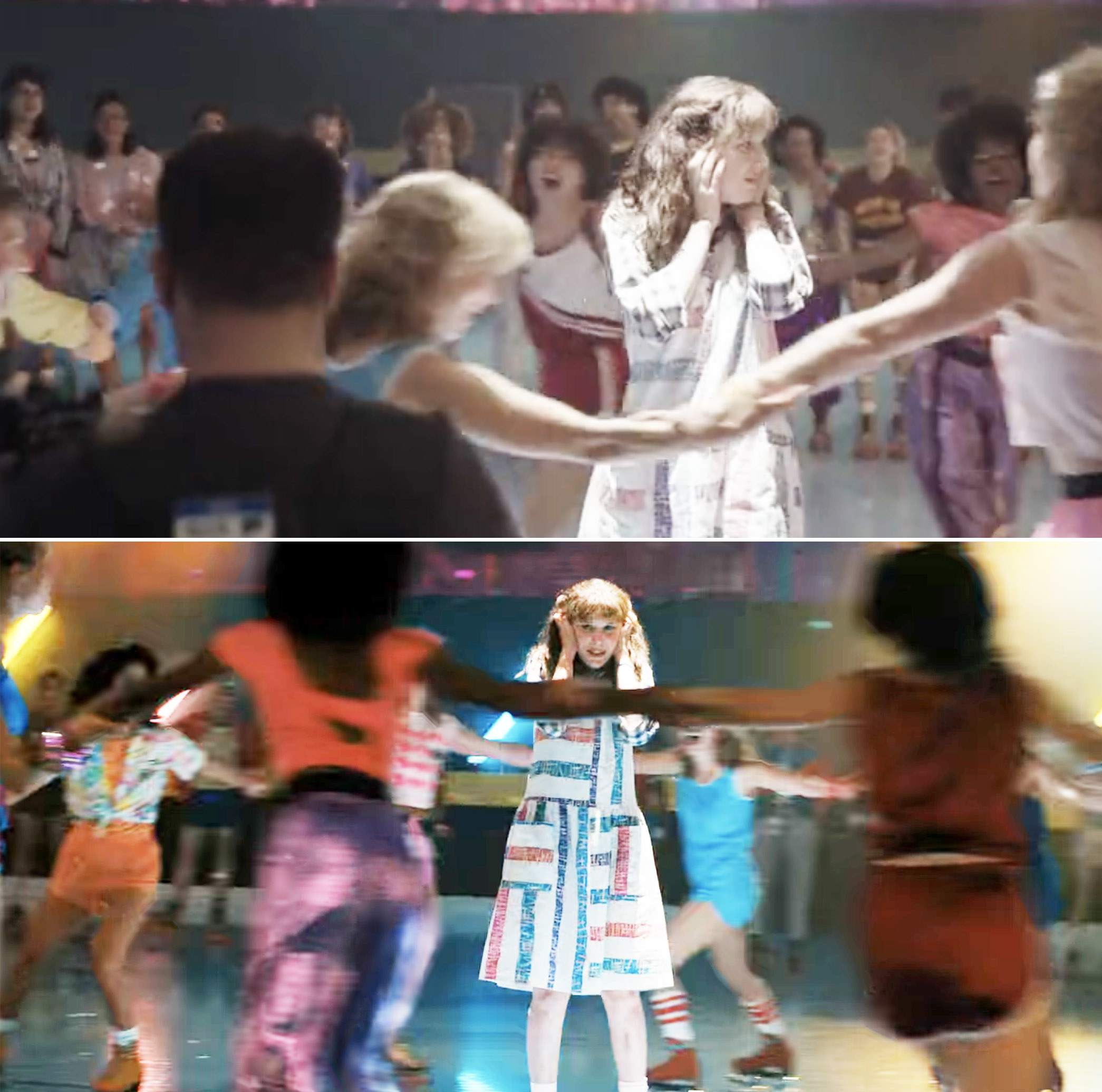 17.
A crew member behind the camera actually tossed a milkshake at Millie Bobby Brown during this scene.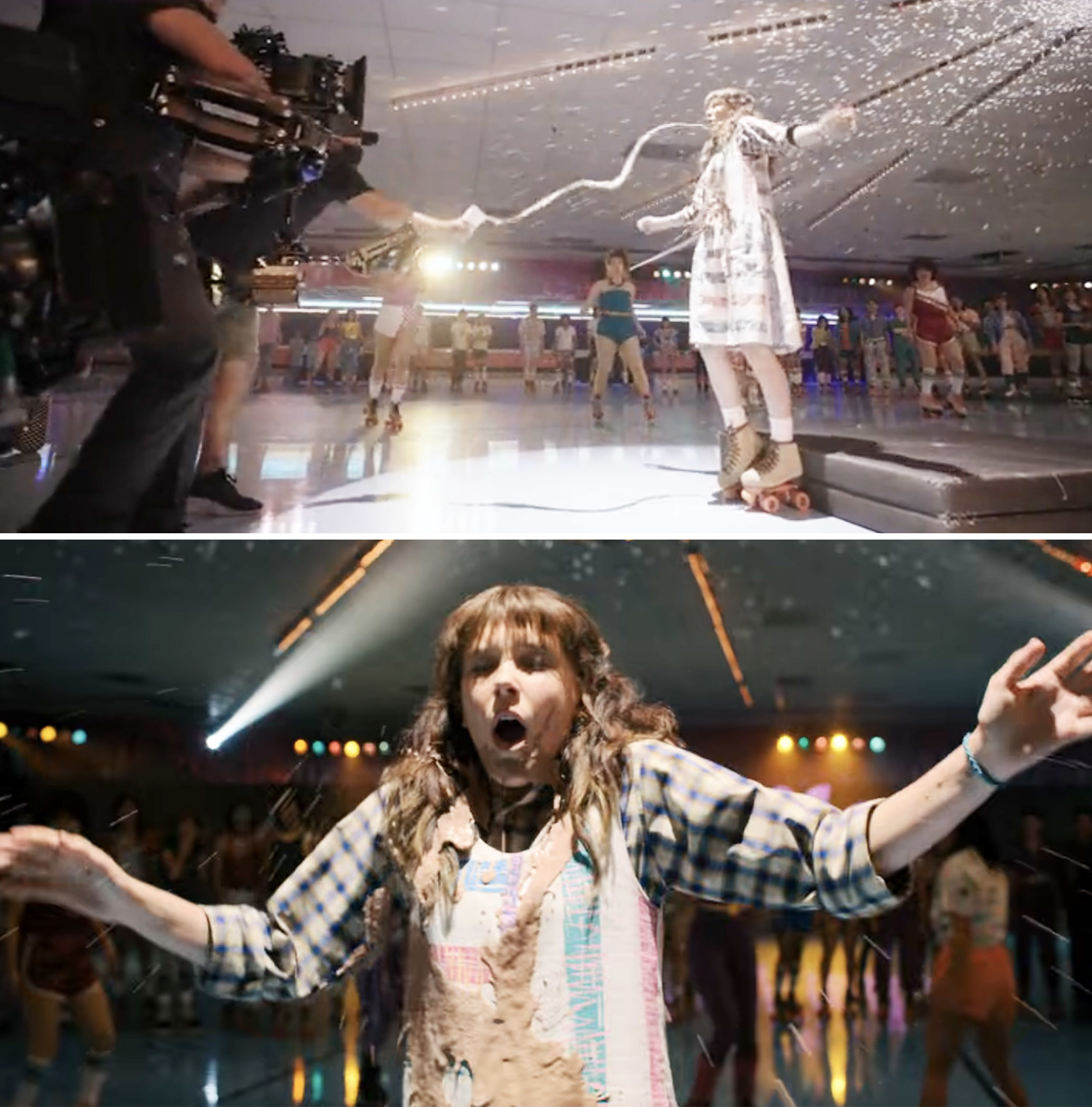 18.
And here's how they safely filmed the moment when Eleven slips and falls in the middle of the rollerskating rink.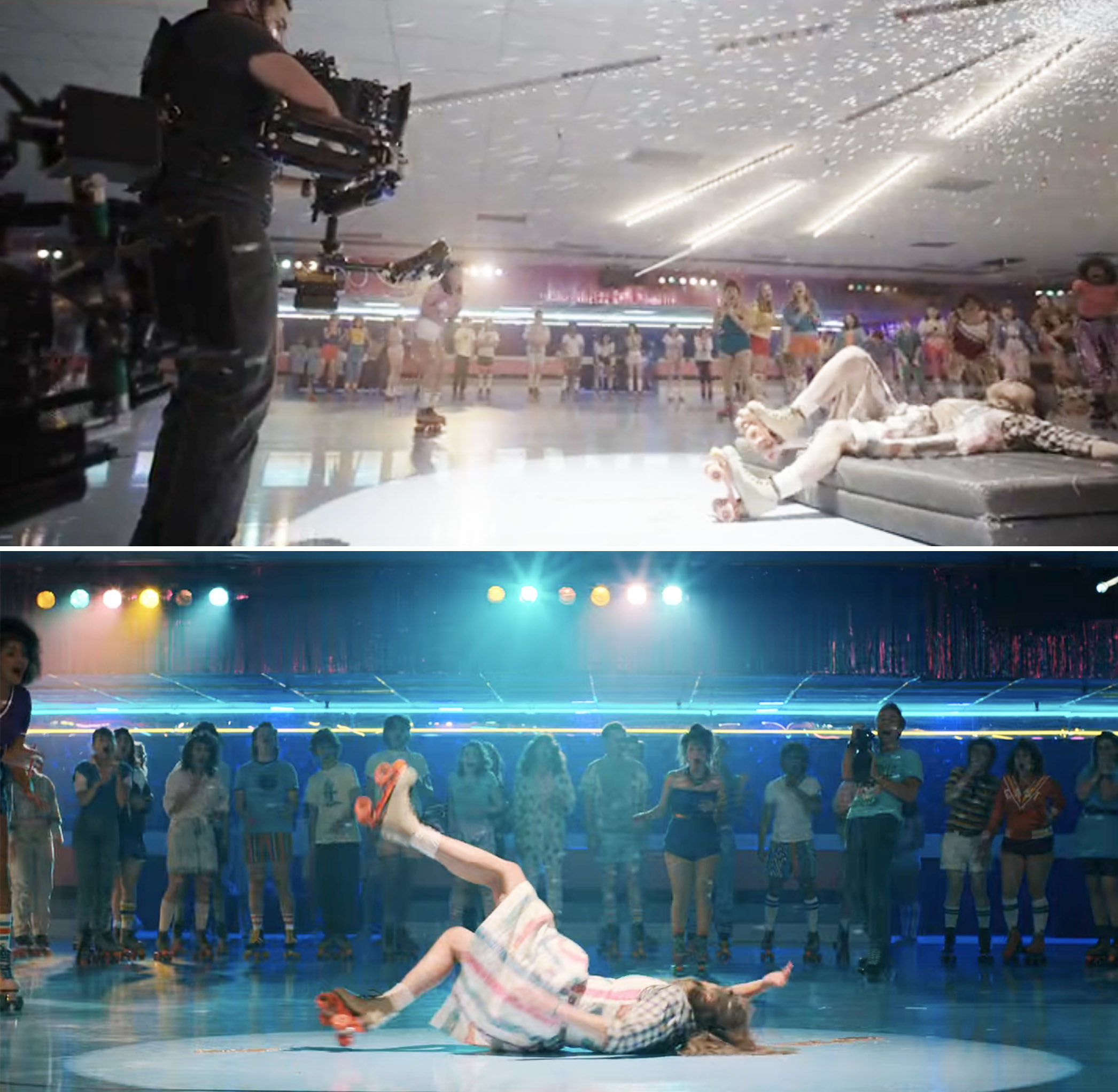 You can watch the video side-by-side below:
19.
Here's Logan Riley Bruner, who plays Fred, getting hoisted into the air during Fred's Vecna moment in Episode 2.
20.
All of the scenes filmed on the lake were shot in a huge convention center in Atlanta, where they built an enormous water tank.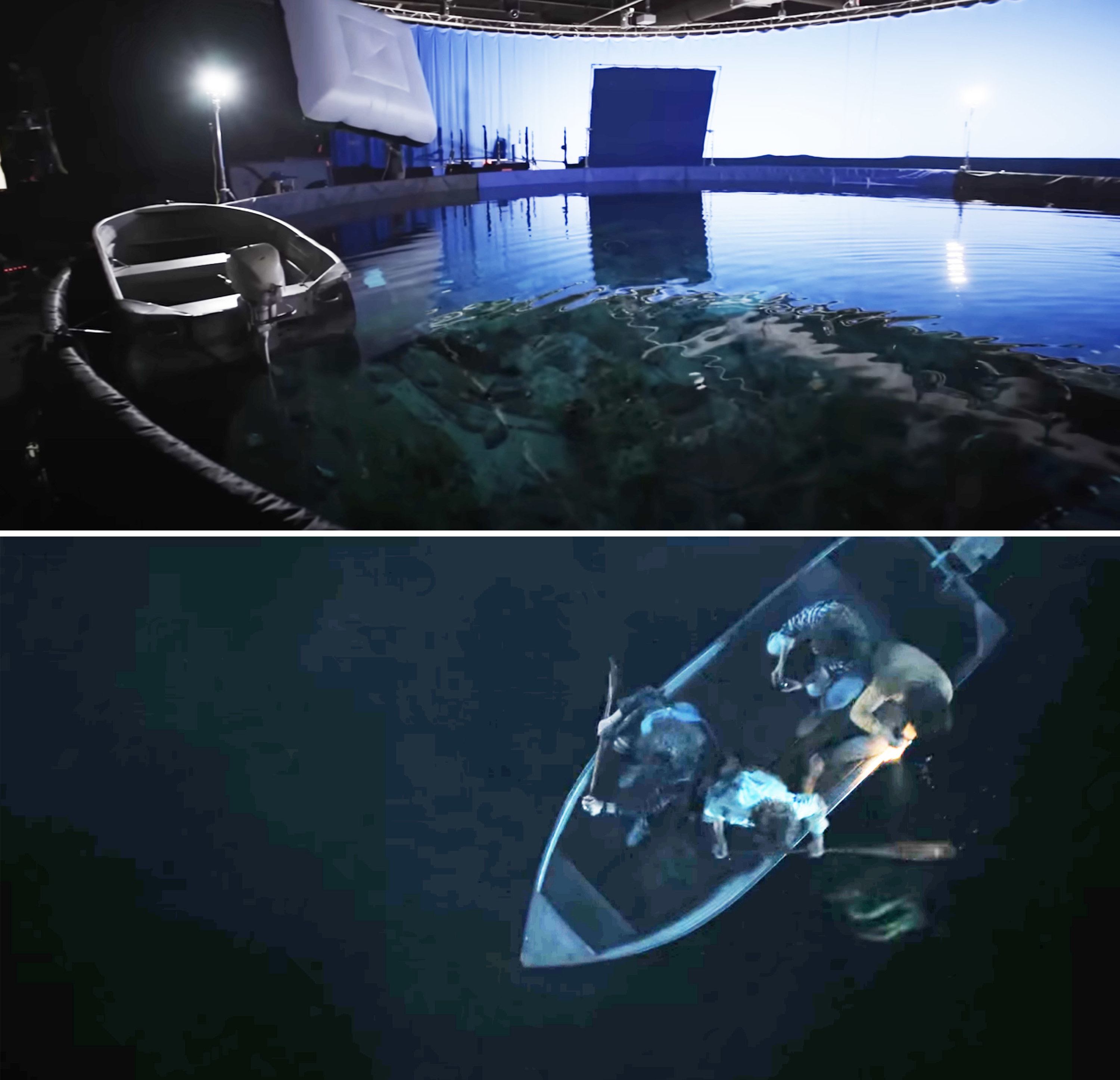 21.
Here's Joseph Quinn, Maya Hawke, Natalia Dyer, and Joe Keery shooting a moment in the boat from Episode 6.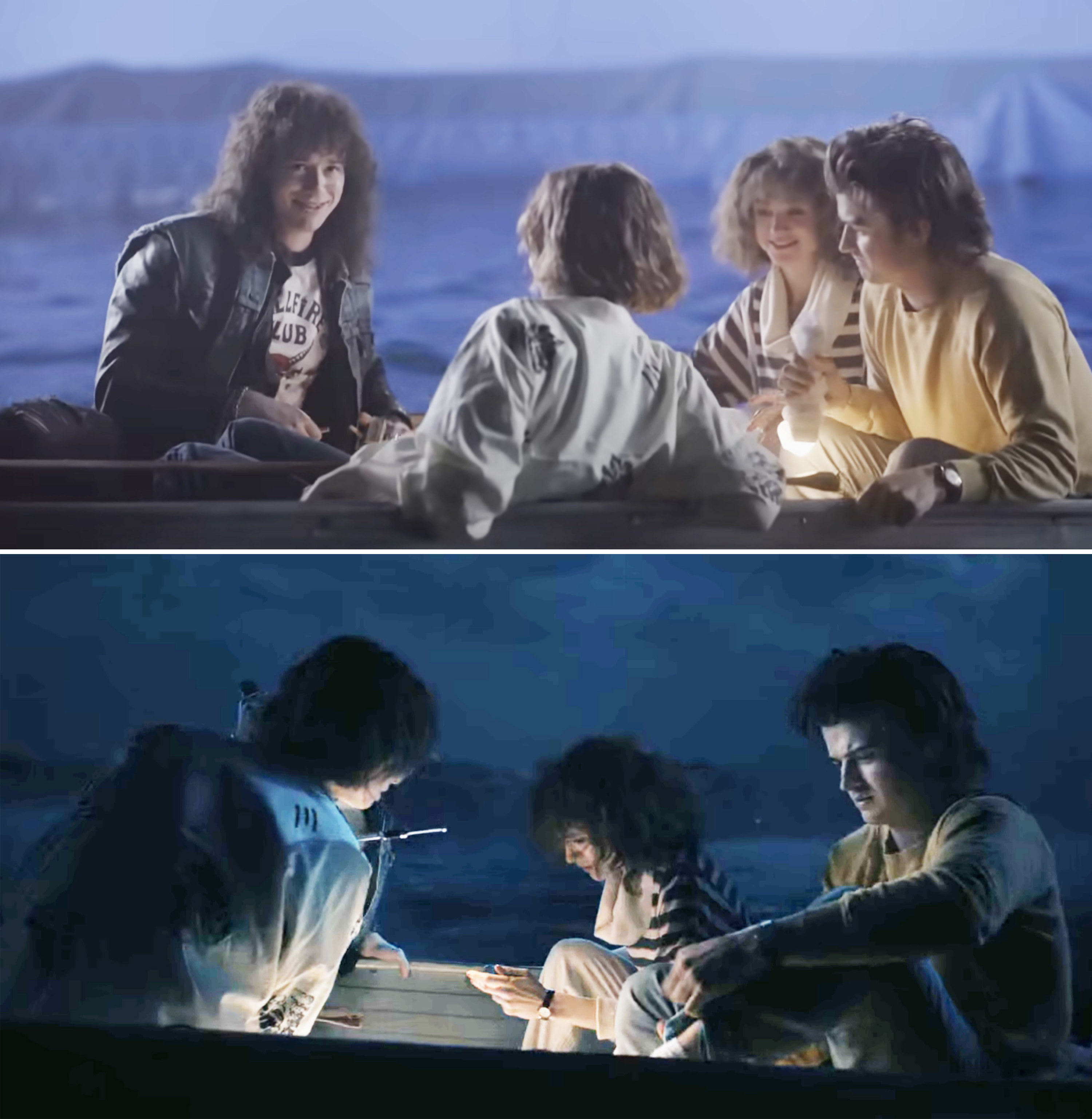 22.
And this is Joe Keery getting ready to dive in the — probably freezing — water.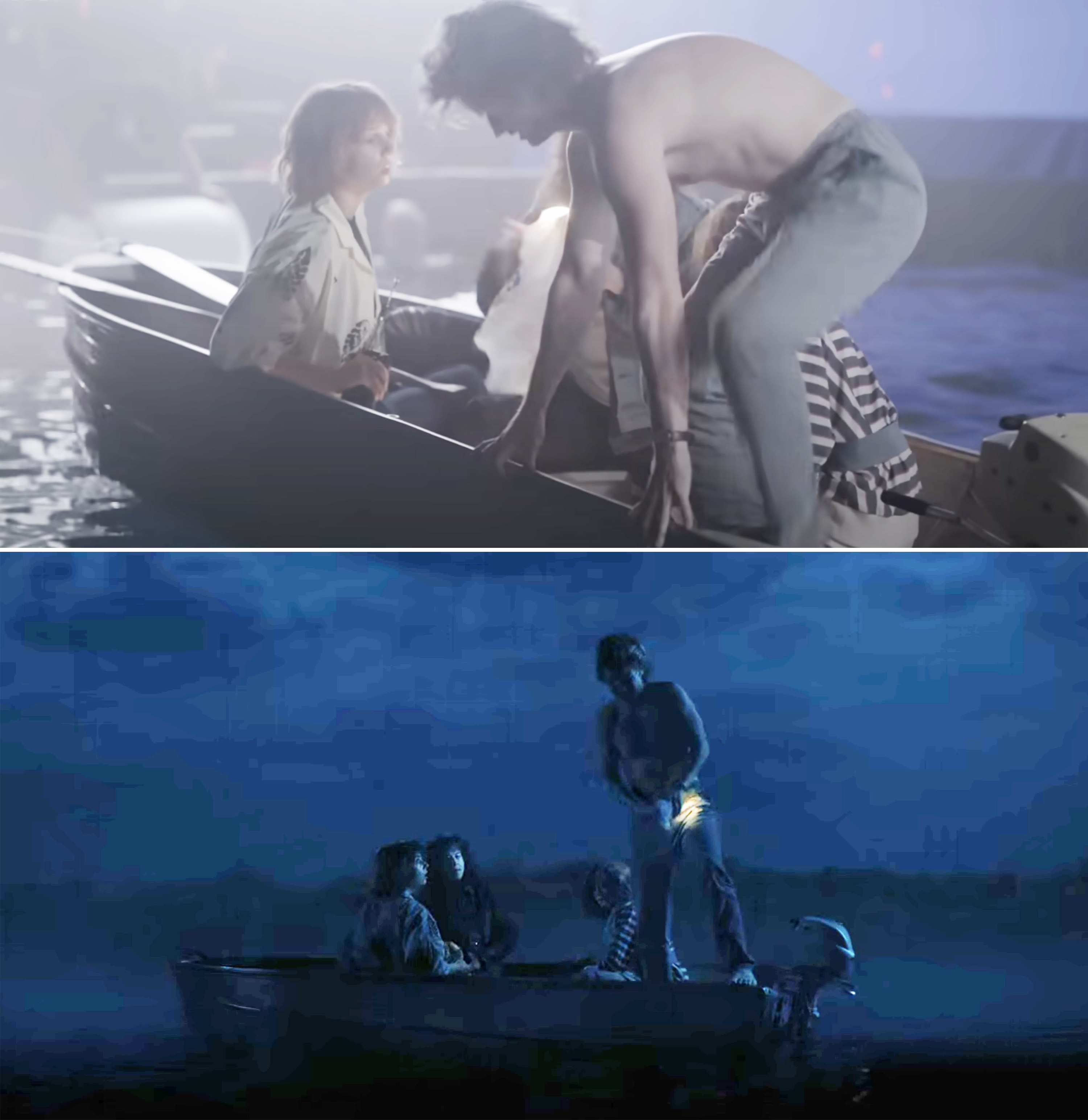 23.
The crew built a set underwater for when Steve dives down to find The Gate. Here's Joe Keery filming the moment when Steve finds it for the first time.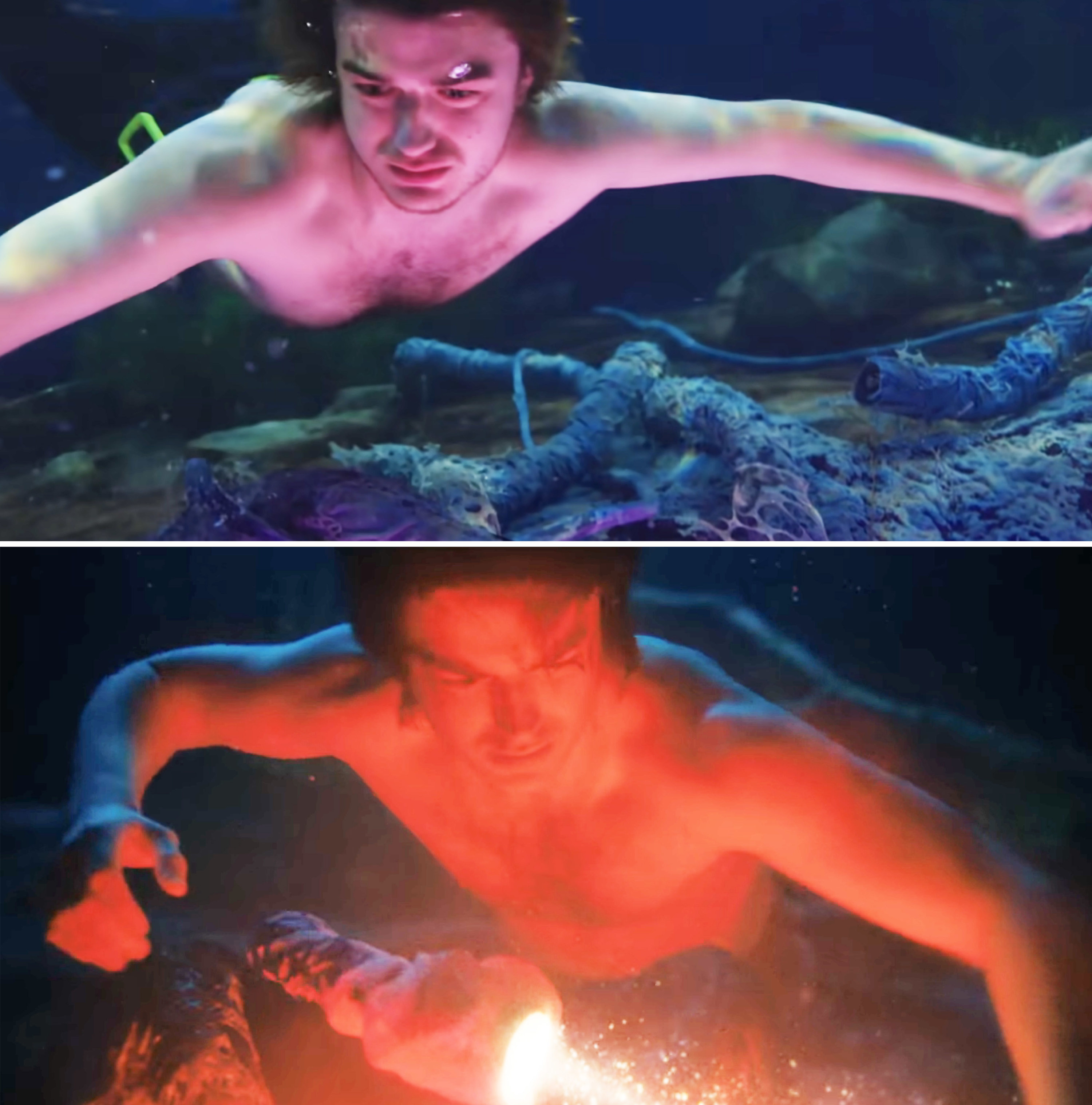 24.
This is Joe Keery shooting the scene when Steve is dragged back underwater and into the Upside Down.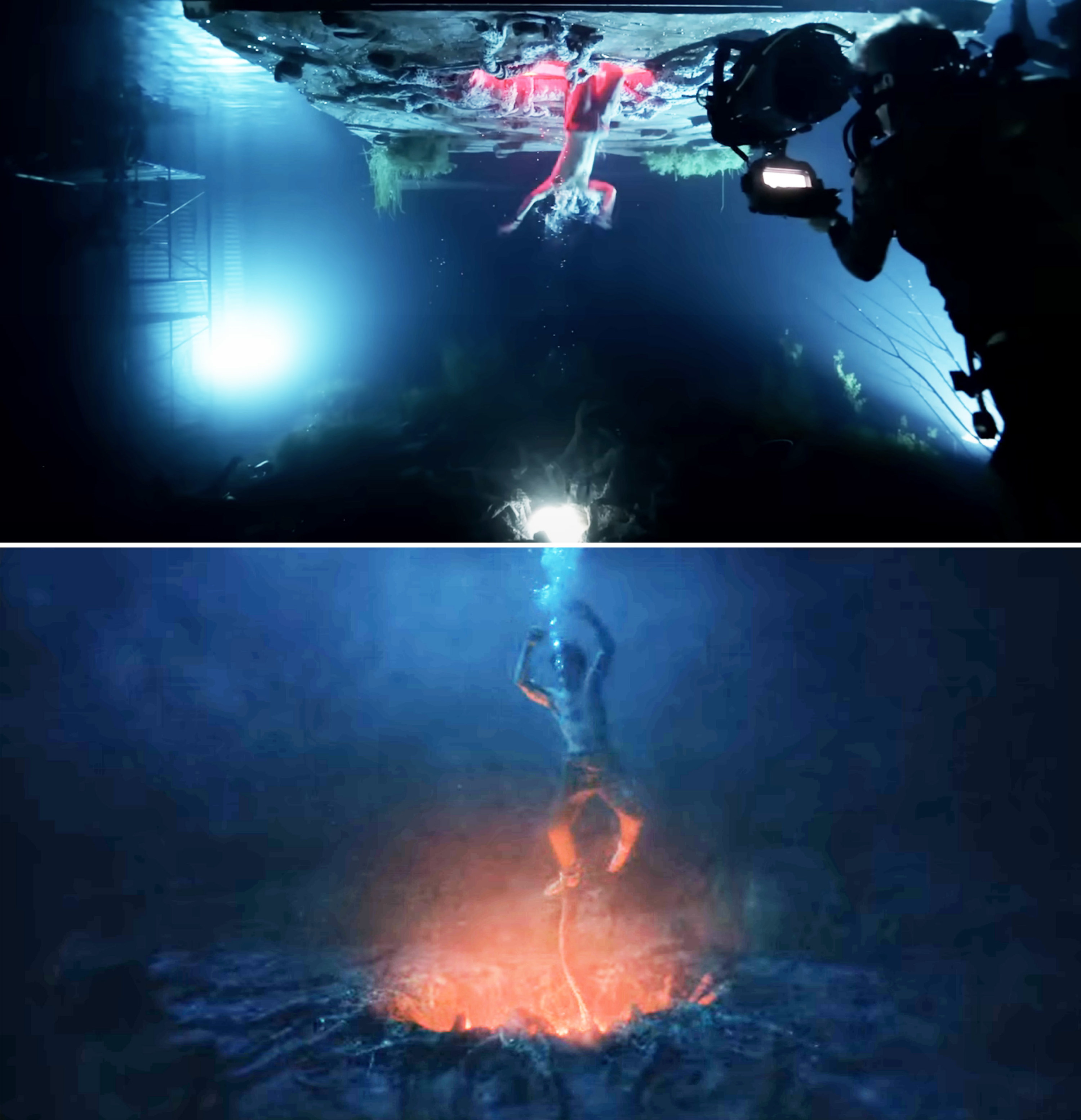 25.
And, here's another angle of Joe Keery preparing to film Steve's big underwater scene in Episode 6.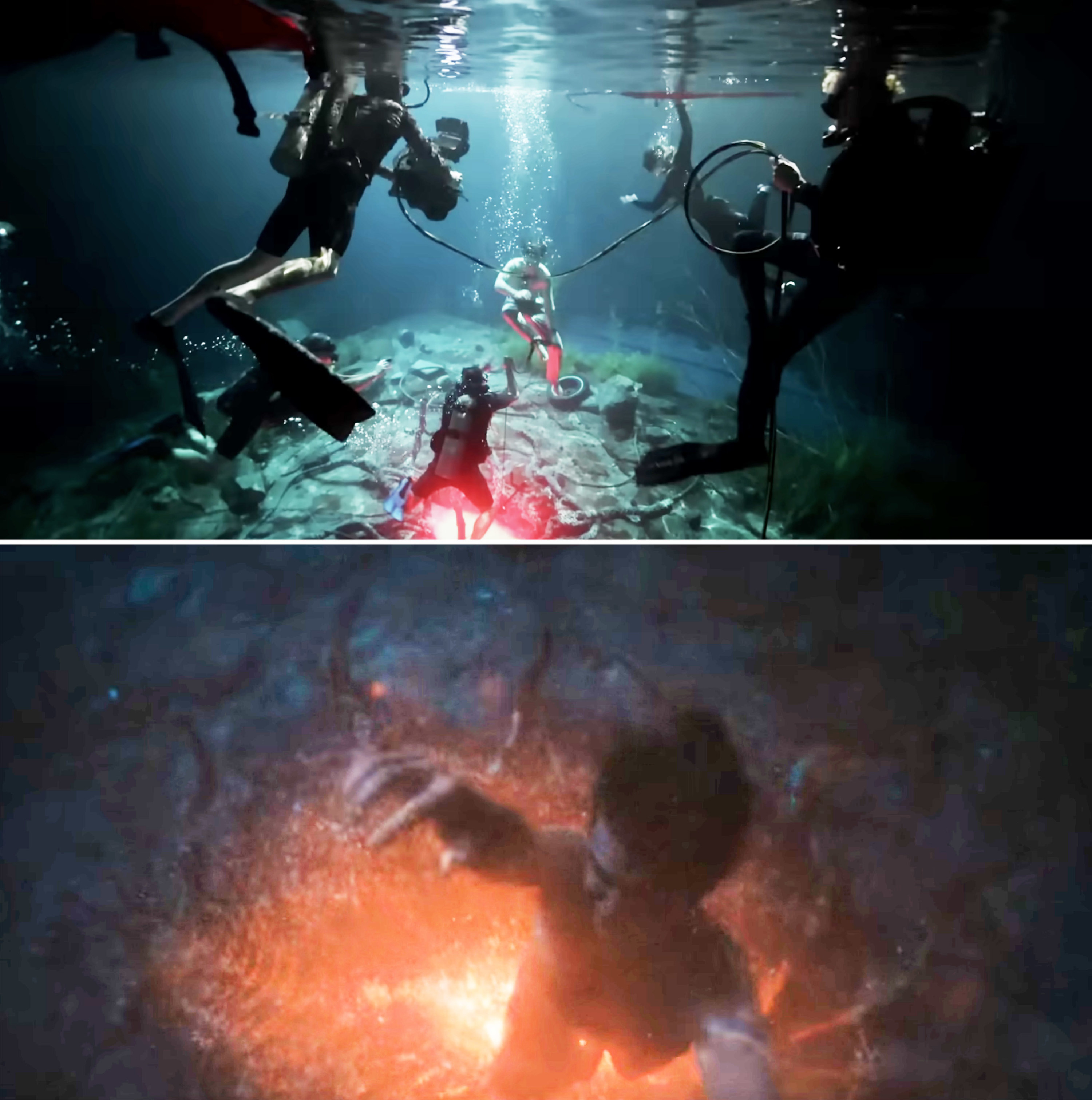 26.
Natalia Dyer preparing to get slimed while filming a moment from Episode 7 where Nancy, Robin, Steve, and Eddie are trapped in the Upside Down.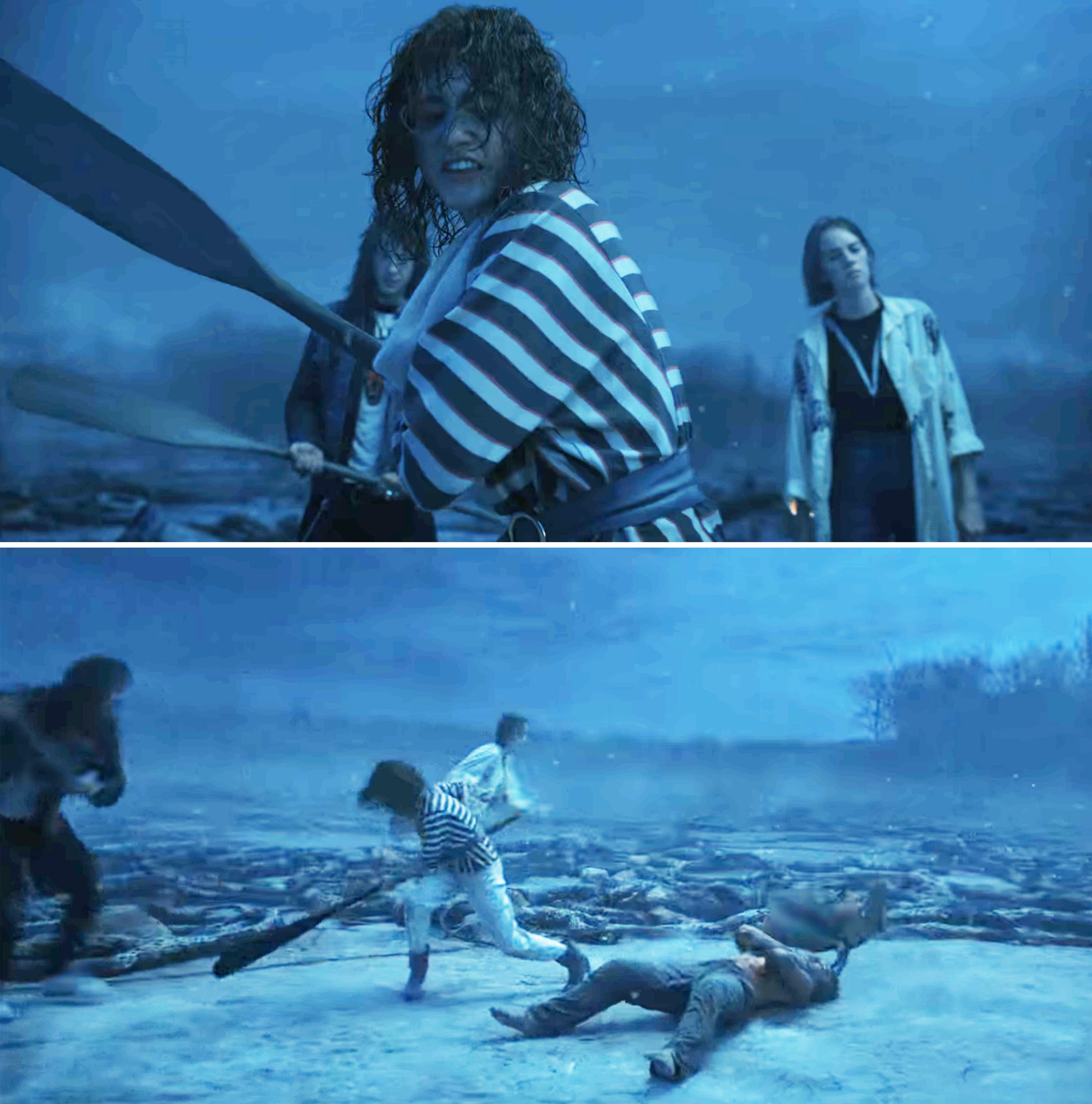 27.
Millie Bobby Brown just hanging in between takes while filming Eleven's big showdown with One.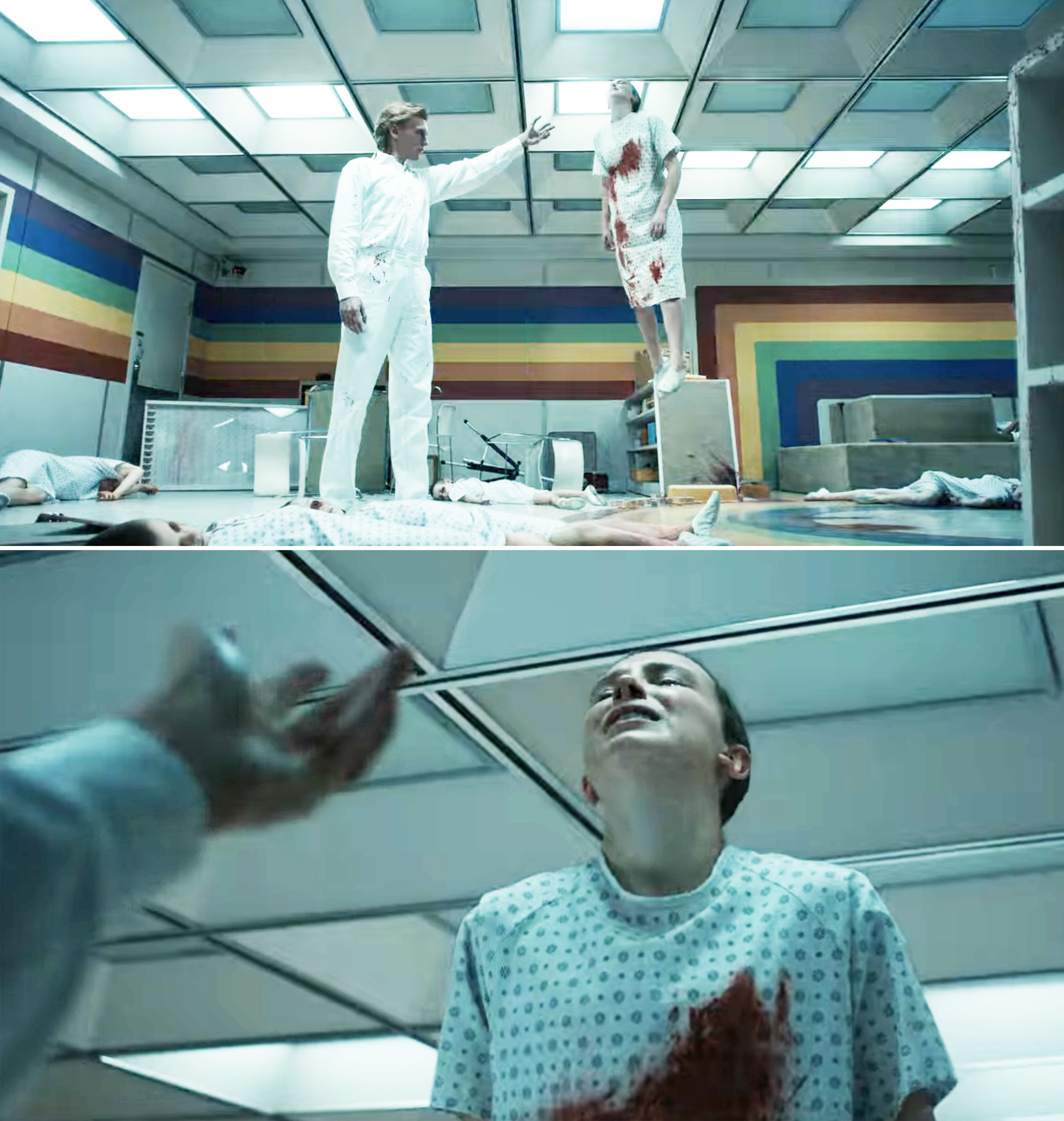 28.
Here's Millie Bobby Brown pumping up Matthew Modine and Martie Blair, who played young Eleven in Season 4.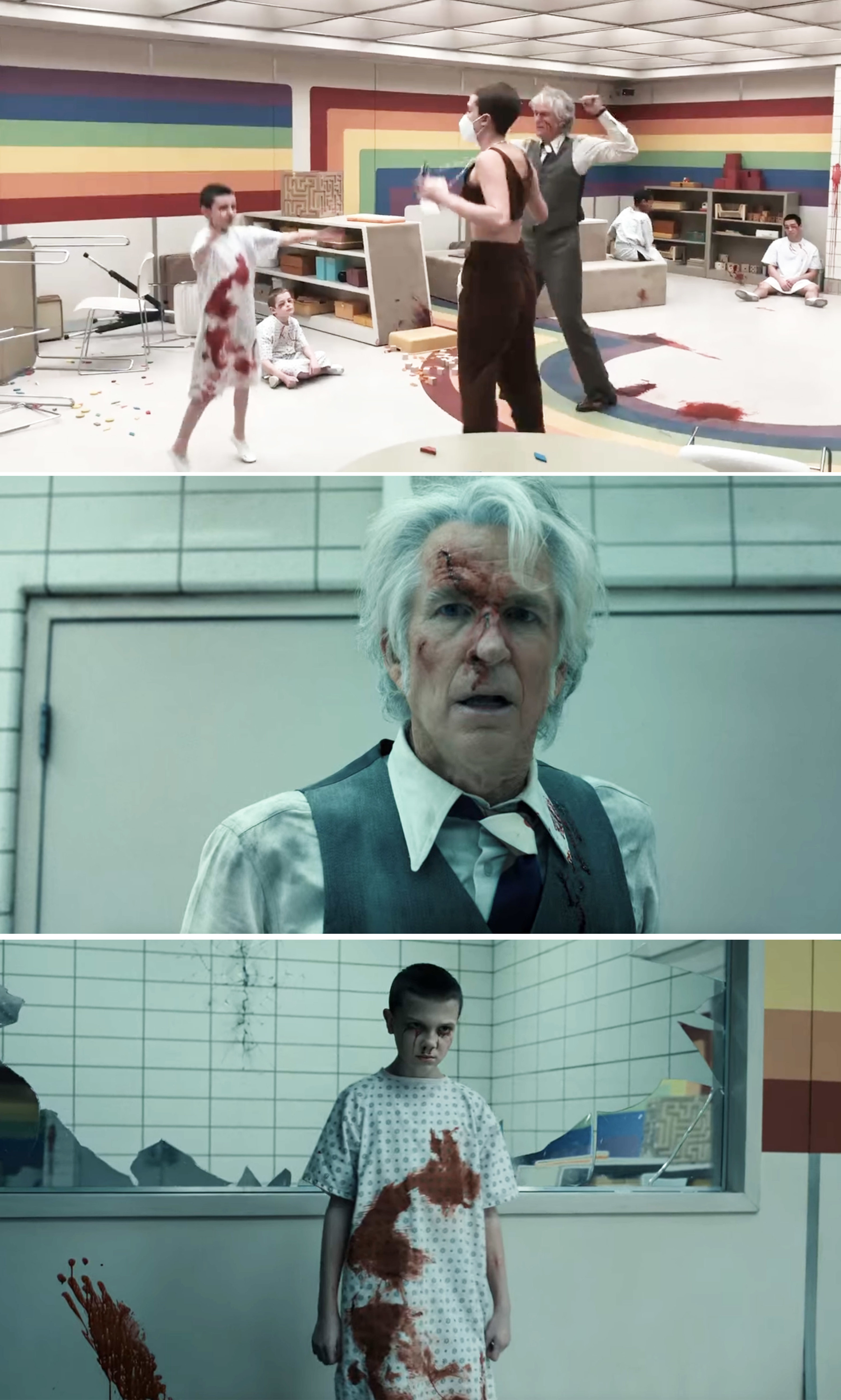 You can watch the behind-the-scenes video below:
29.
This is what the Demogorgon fighting pit that Hopper finds himself in while trapped in Russia looks like.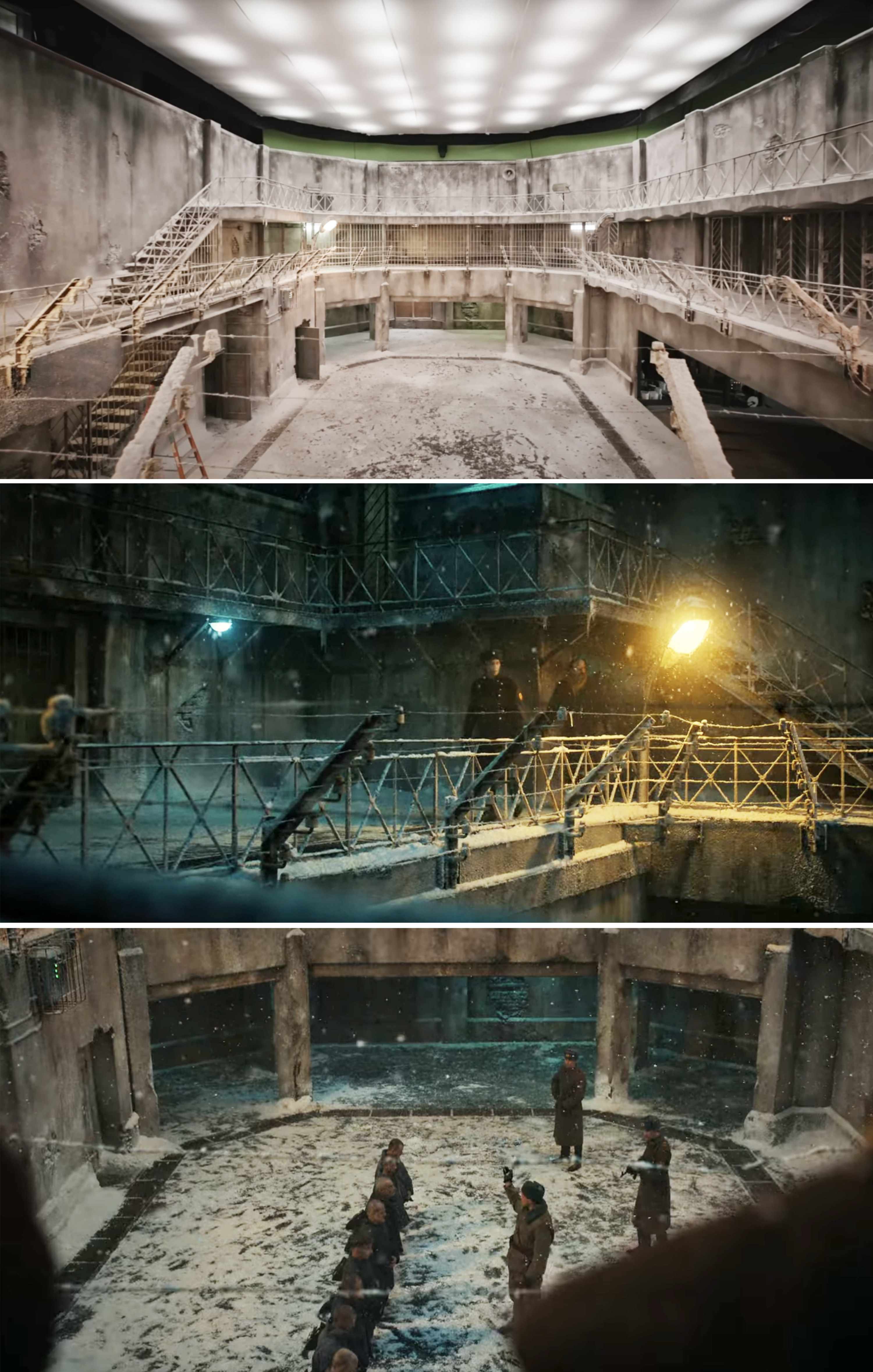 30.
Here's the Stranger Things crew getting ready to film Hopper's railroad moments.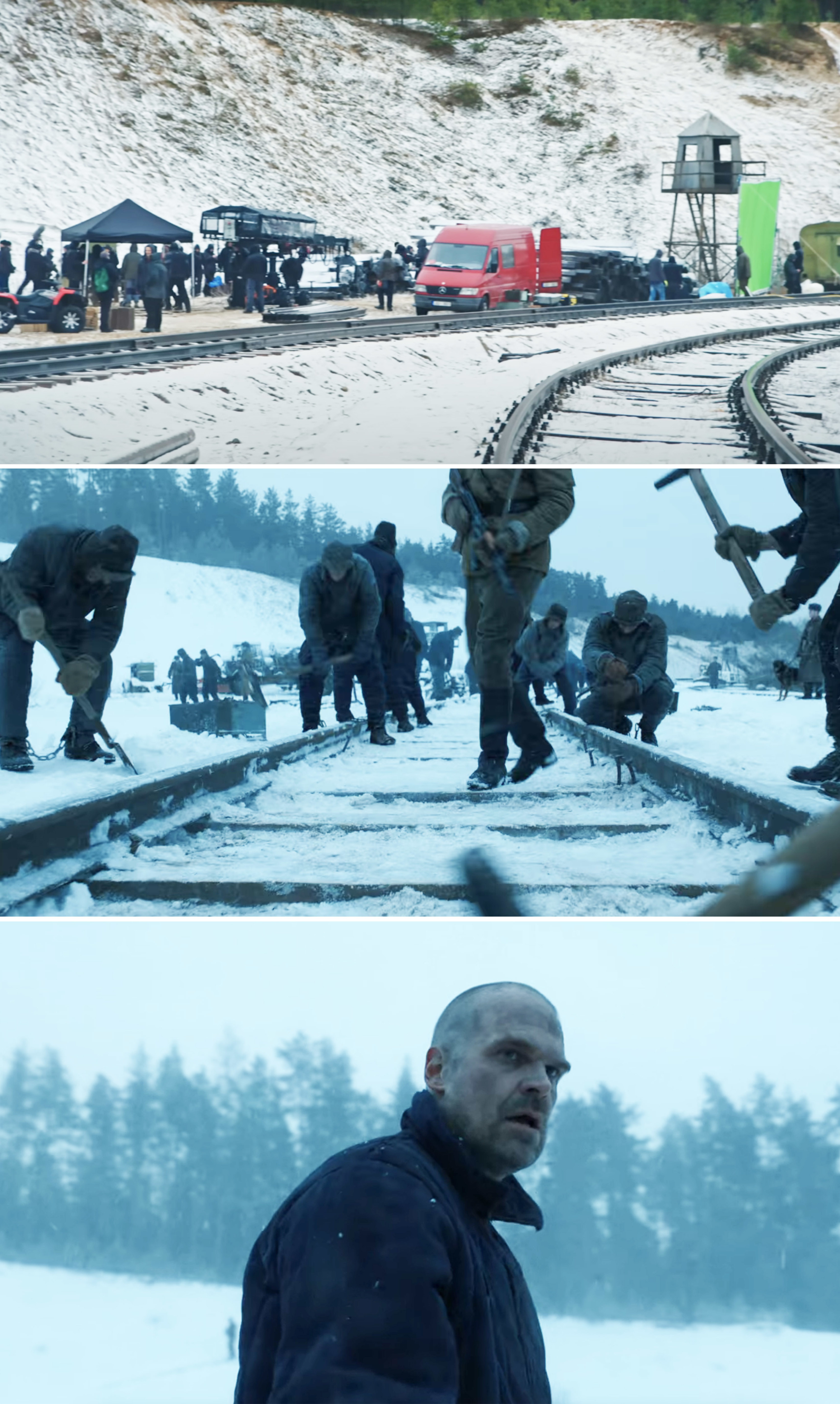 31.
Finn Wolfhard, Gabriella Pizzolo, Noah Schnapp, and Charlie Heaton film the moment when Suzie gives Mike the coordinates to The Nina Project.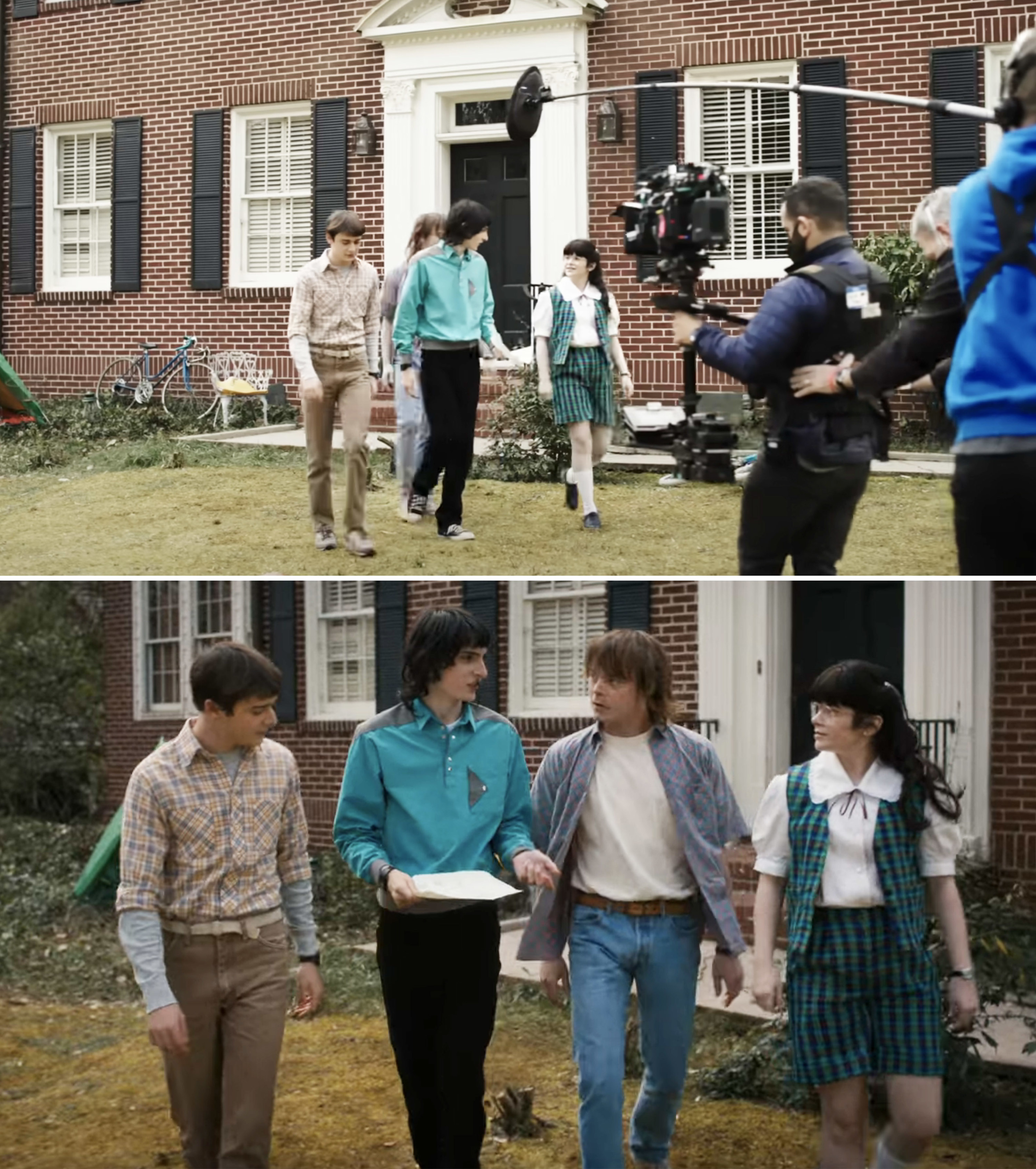 32.
Here's Finn Wolfhard shooting the moment when Suzie's sibling shoots him in the head with a toy arrow.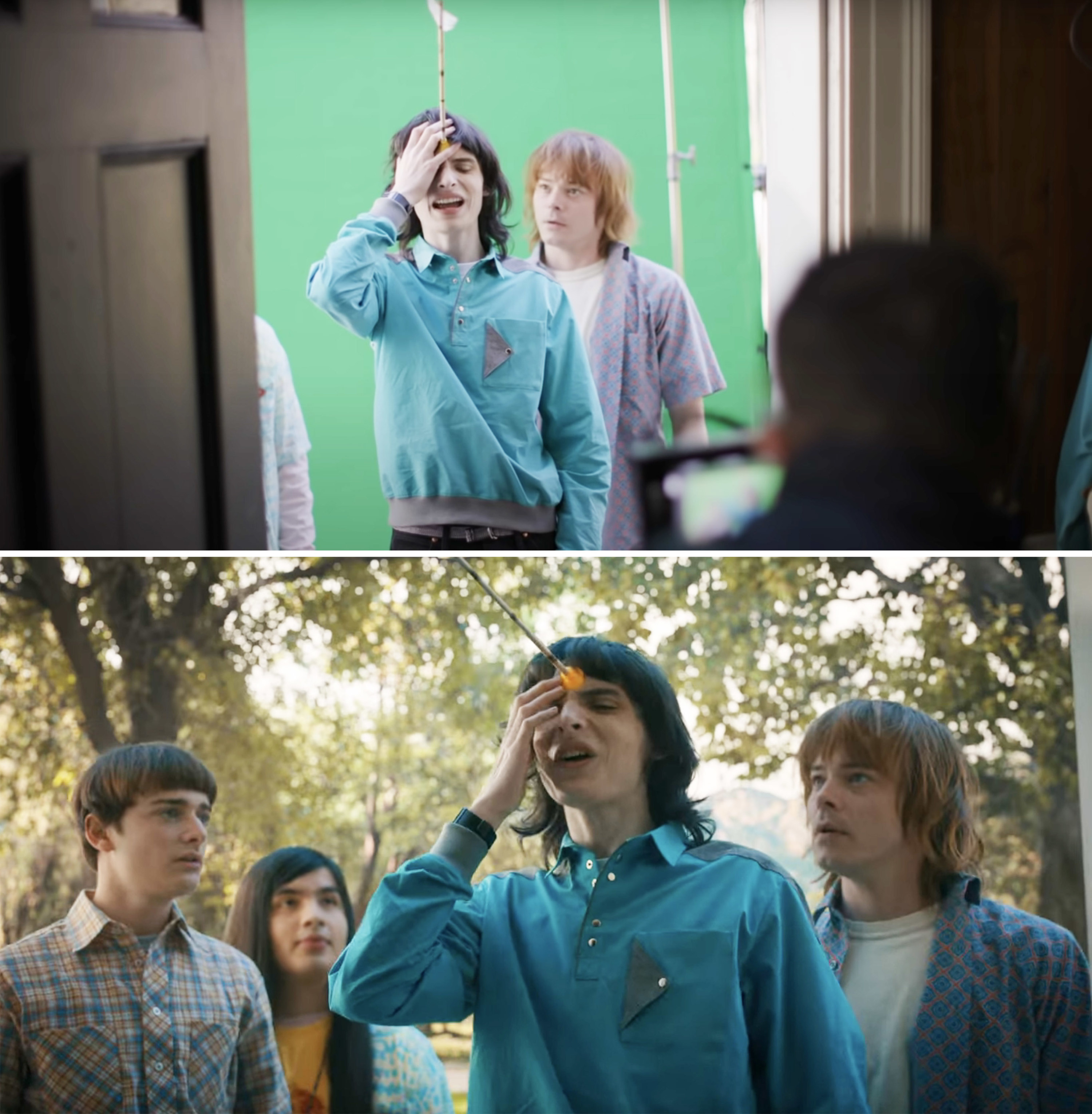 33.
Here's what it looked like for Caleb McLaughlin, Gaten Matarazzo, and Joe Keery to shoot the moment where they wait for Max to visit Billy's grave.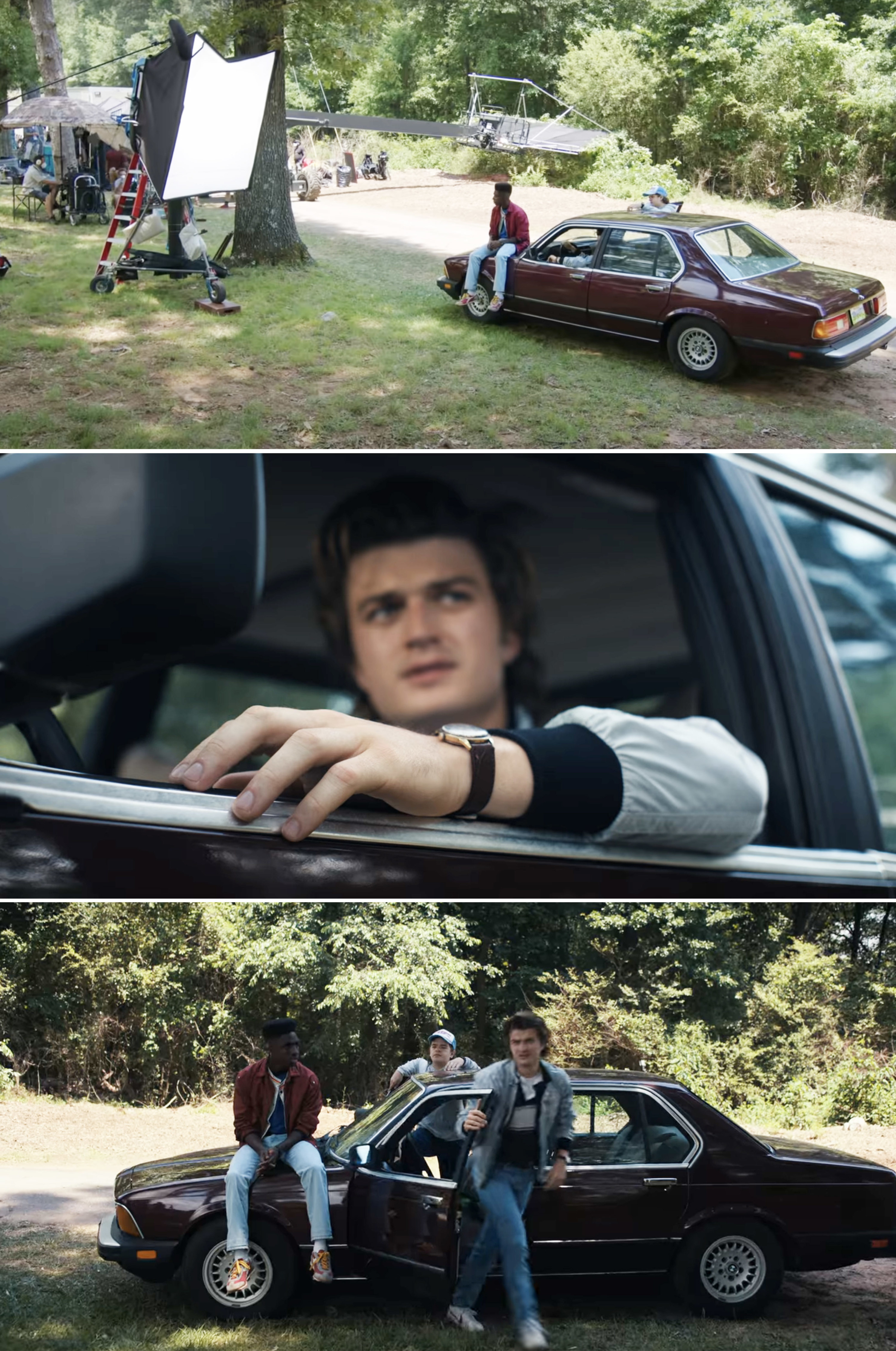 34.
The massive shootout in the Byers's California home in "Dear Billy" was filmed in one take. So, here's a side-by-side of the cast walking through the scene vs. the finished product.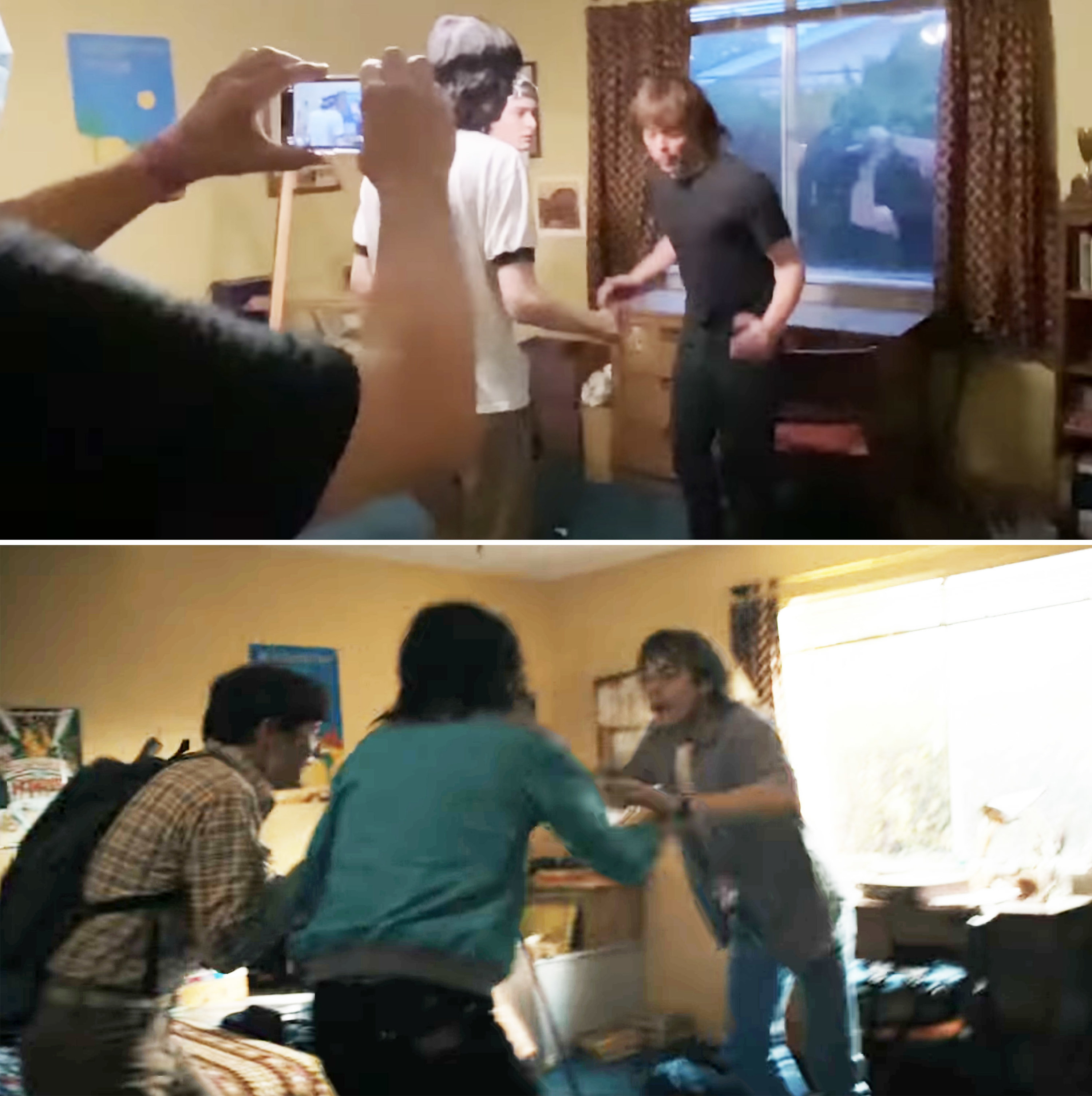 35.
And here's another look at filming this amazing one-shot moment where Jonathan, Mike, and Will are running for their lives.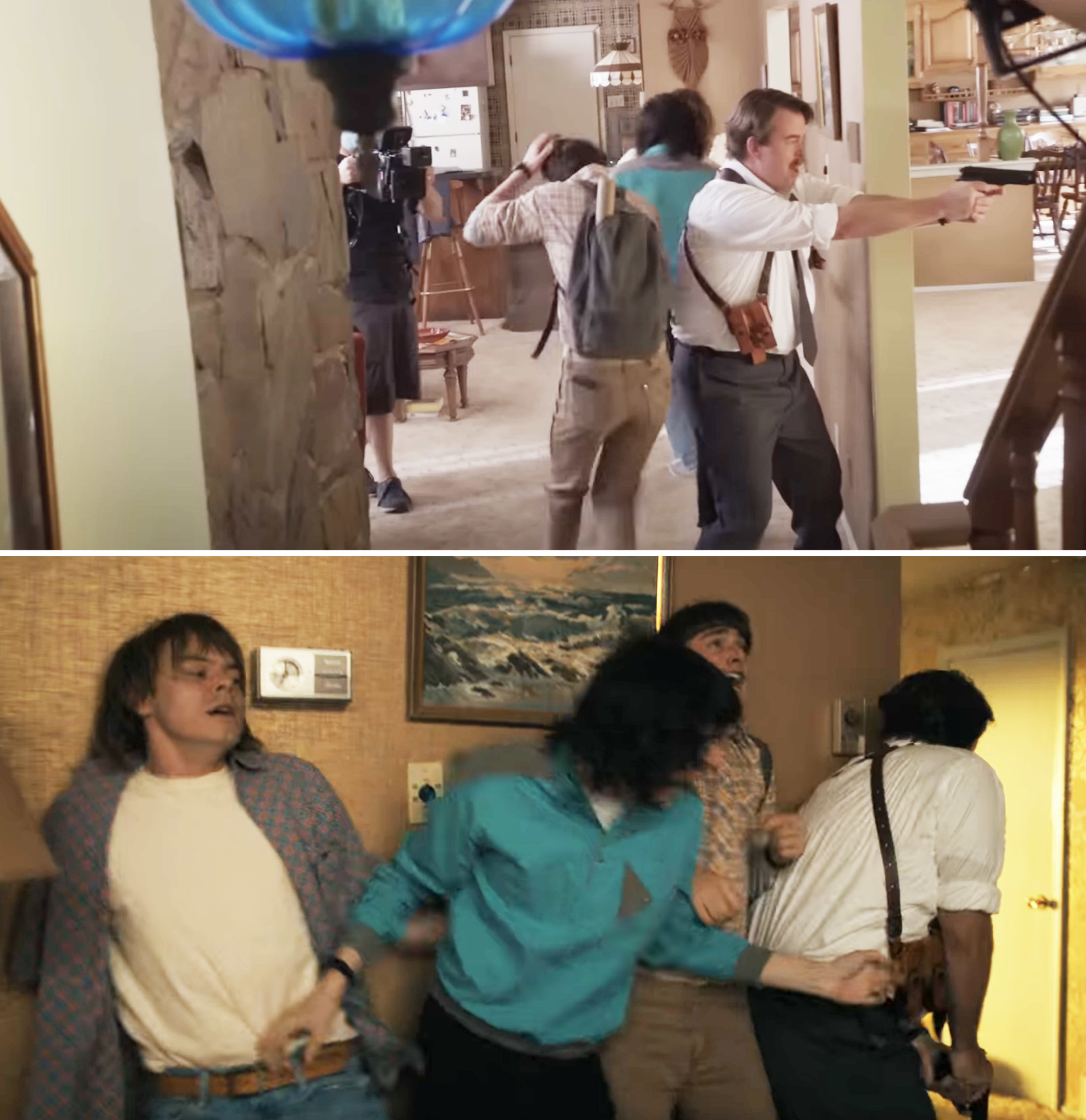 36.
Natalia Dyer prepares to shoot a moment at Pennhurst Mental Hospital, where Nancy and Robin go to speak to Victor Creel.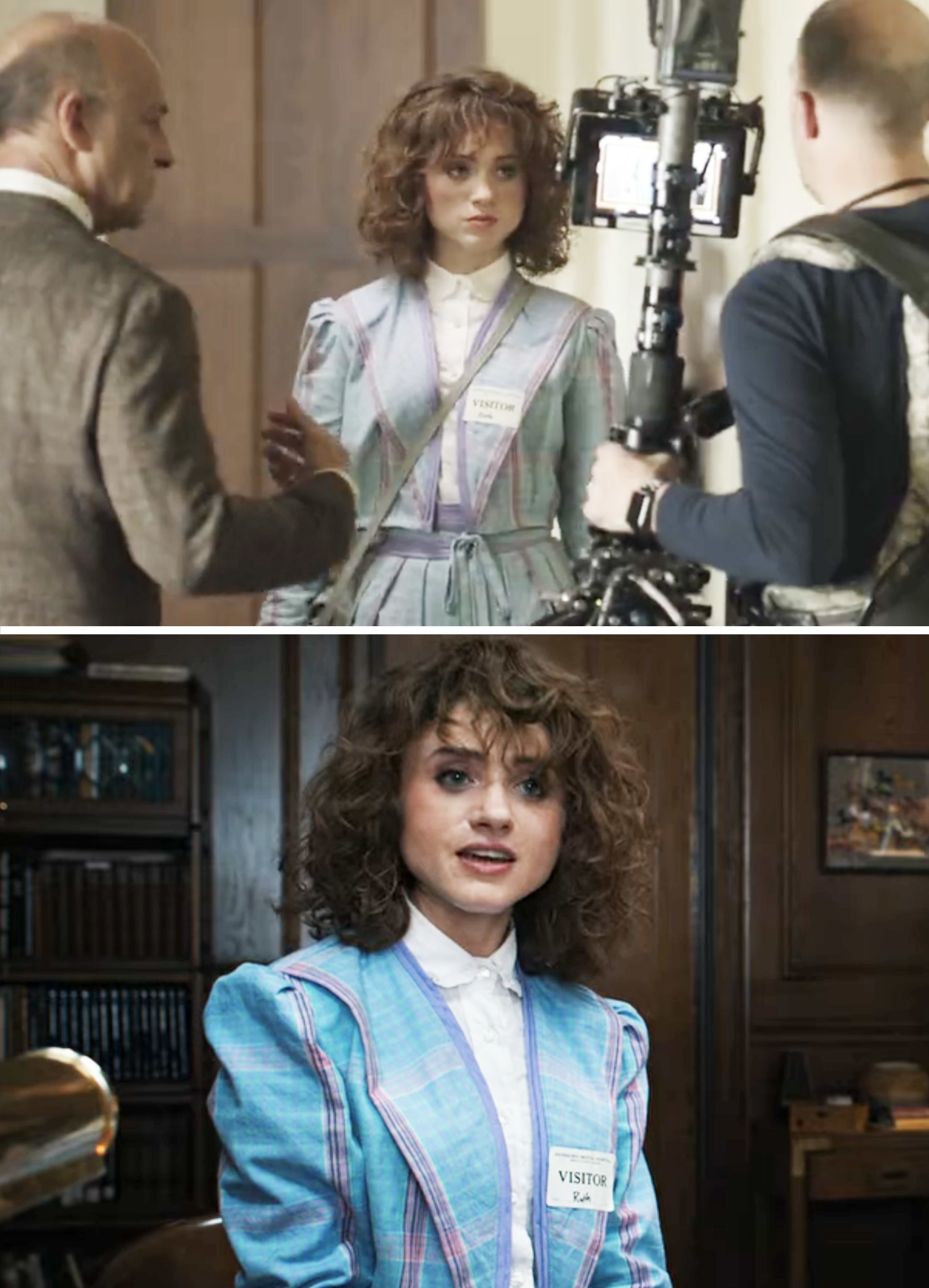 37.
And finally, here's what it looked like behind the scenes while filming the moment when Dustin, Erica, and Lucas realize they can talk to Steve, Nancy, Robin, and Eddie through the lights.