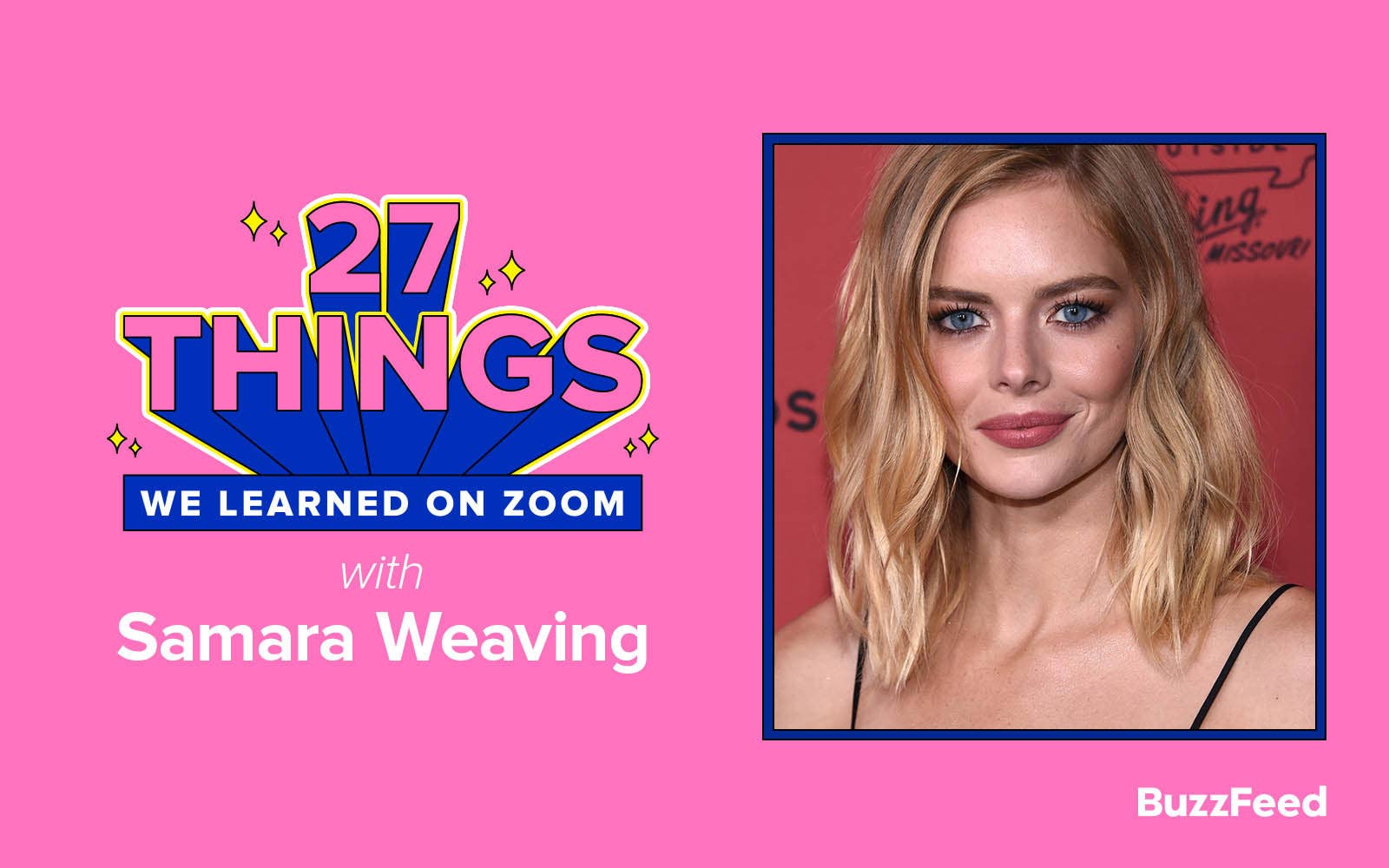 Over the last few years, Samara Weaving has been involved in some pretty special TV and movie projects. From her turn as Grace in Ready or Not to playing Claire on Netflix's Hollywood, you've probably crossed paths with her undeniable charm and strong female characters.

To celebrate Samara's new movie, Snake Eyes, Samara sat down with us to chat about everything — like what it was like doing stunts in Snake Eyes, being starstruck by Steve Carrel, which roles she's auditioned for (but didn't get), and more. Here's everything we learned:
1. First, is there a movie or TV show that made you want to become an actor?
[laughing] There was a small film...don't know if you've heard of it...it was called...Pirates of the Caribbean. It blew my socks off. I think I was 11 or 12 years old and I just wanted to be a part of whatever just happened to me in that theater. I was transported to another world and I wanted to be part of it so bad.
BuzzFeed: The first Pirates of the Caribbean film is easily one of my favorite movies of all time.
YES! YES! The first one is the BEST. I love Pirates of Caribbean.
2. What's a role people would be surprised to find out you auditioned for but didn't get?
I've probably auditioned for every film that exists where there's a woman my age. You could just pick a movie and I've probably auditioned for it. Like, The Crown and, I think, Black Widow.
3. Who was your favorite complex female character — from either a movie, TV show, or book — growing up?
I think Hermione Granger was my favorite character growing up. She wasn't necessarily popular, but she was smart and cool. She didn't adhere to social rules and norms. Also, reading Little Women, that kind of blew my mind in terms of strong women. I loved that I could relate to all the March women. Like there was something so sweet and intense about Beth, but I had my Amy moments, and I wanted to be Jo, obviously.
4. Who have you been the most starstruck by?
Steve Carell. We were at the Golden Globes and I saw him. I don't know what happened to me. I let out an audible...something, like a scream. I was acting like I knew him and my brain malfunctioned. He was so gracious and so nice. I don't even know what else happened. I blacked out and melted into myself. I love The Office, both the British and the American version. I was a little anti the American version for so long. Then I watched it and was like, "What have I been missing this whole time?" It's amazing.
5. Do you ever listen to music to get into character?
I do. I have quick little playlists for my characters.
BuzzFeed: What was on your playlist for Scarlett from Snake Eyes?
I put a lot of rock on there. Just really cool badass music that would get me pumped.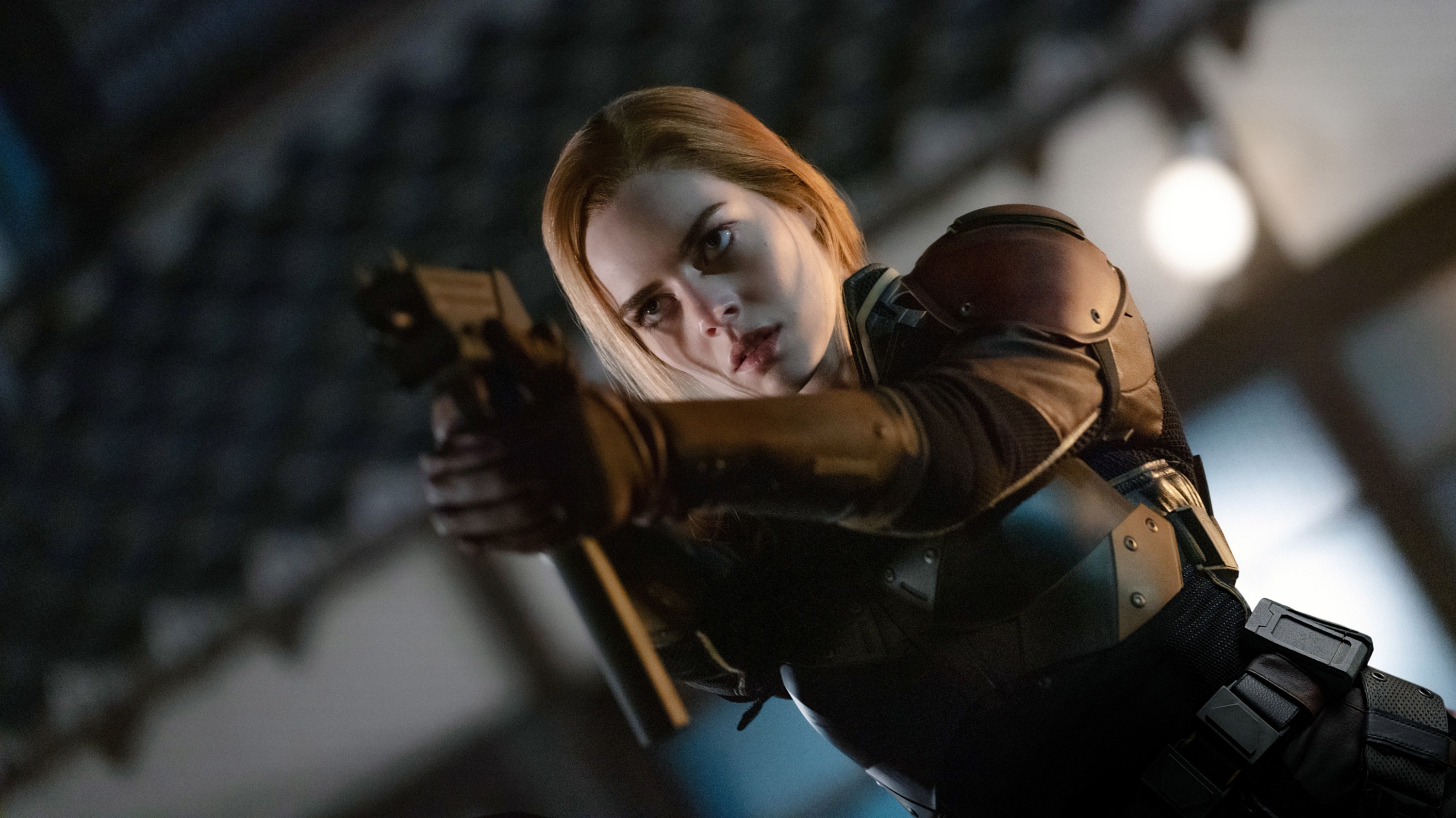 6. How did you get involved with Snake Eyes?
I auditioned two years ago now. We filmed it all before the pandemic, so it's a really long time ago now. I auditioned for it, and pretty soon after that they called me. It was very exciting because who doesn't want to play a comic book character?
BuzzFeed: Did you know much about the G.I. Joe world beforehand?
I mean, I knew of G.I Joe because, like, when you think of America I feel like it's G.I. Joe and apple pie [laughing]. But I didn't really have a deep knowledge of it besides the basic understanding. I didn't grow up with the comic books or the toys or anything. So it was a learning experience for me, and learning about Scarlett was really fun.
7. What's your favorite behind-the-scenes memory from filming Snake Eyes?
Most of my scenes are with Úrsula [Corberó] and we just would not stop laughing. We'd laugh at the most inappropriate times as well. It would be a very serious scene and she would do something off camera or I would try and get her back. We kind of had this back and forth of making each other laugh. It was really funny.
Also, we were the only two that really had these superhero suits. They are quite impractical, even though they look awesome. Louise [Mingenbach, the costume designer] did an incredible job building them, but you kind of can't really move in them very well. So Úrsula and I would just be walking around set looking like statues and toppling each other over. I've got some good videos of us just trying to sit down in chairs. It was a good time.
8. What was the stunt training process like for Snake Eyes?
The training was awesome. I did a lot of my own training before. So, they were filming in Vancouver for a while and then went to Japan. I went for two months kind of at the tail end of the shoot. So before that, I wanted to try and get as tough as possible. So I worked with a personal trainer, Dan Adair, who got me into really good shape. I've never been that buff before.
Then, when I got to set, it was pretty intense stunt training and choreographing the fight sequences. I had a terrific stunt double, Jackie Geurts, who made me look very, very cool. It was such a blast. It was so fun.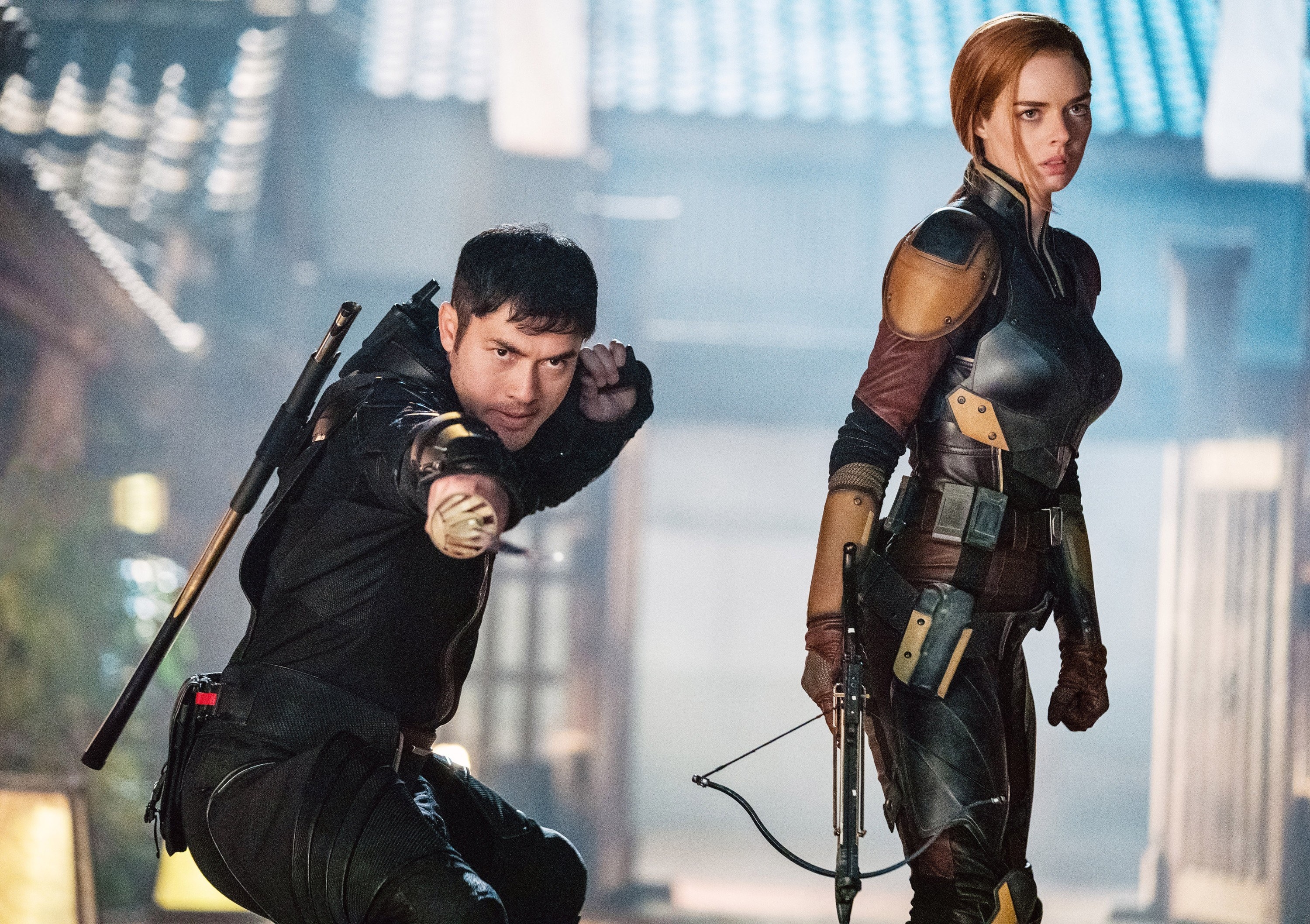 9. Do you have a Scarlett moment from Snake Eyes that you're most proud of, whether it's a stunt or anything like that?
The stunts that I did were always something I was proud of. We actually did some extra shots in LA during the pandemic. They changed a couple things around and there was a really cool fight scene in the bathroom that they whipped up really fast. We spent the whole day, like 10 hours, filming it. That was really cool.
BuzzFeed: Did it take a while to get the hang of the fight choreography for some of those big action sequences?
Yeah! Luckily I had a lot of time because I was [in Japan] for two months, but I really only shot for like...I think it was two or three weeks on and off. So I had a long time to prepare for the fights and work on them. It was very rare for me that I'd have to do the entire fight from start to finish in one go. I'm sure others did it and it was very impressive, but with coverage, it was a lot of stopping and starting. For a lot of the other cast members, I don't know how they did it because they would be fighting every day for 14 hours, and then having to do it over again. They must have been so sore. I would do one or two days in a row and I was dying. I can't imagine doing more.
10. Snake Eyes is one of your first massive action movies. What was it like being in that world?
It was wild. It was back-to-back right after I did Hollywood where I was playing a very 1940s actress. I had bleached blonde hair and then to go from that straight into putting a red wig on and playing this badass superhero was surreal and the mental gymnastics of it all was interesting. But it was awesome! It was so much fun.
BuzzFeed: Did you go right from filming Snake Eyes into Nine Perfect Strangers too?
Yes! That was a massive jump too. I had a little bit more time with this one though. With Hollywood to Snake Eyes it was like the next day I was on a flight. I wrapped Hollywood and went straight to the next set. On the plane I was kind of like, "Okay, who am I now?" But after Snake Eyes, I think I had three or four months before Nine Perfect Strangers.
11. What's your favorite fan story?
Oh man, it's been so long. It's felt like three years since I've been able to interact with anyone. What was so awesome was seeing everyone dress up as Grace for Halloween after Ready or Not came out. When people dress up as you, it's VERY cool. I love being tagged in people's photos. I love seeing them dress up as Grace or Thea from Bill & Ted or my character from The Babysitter. It's so cool.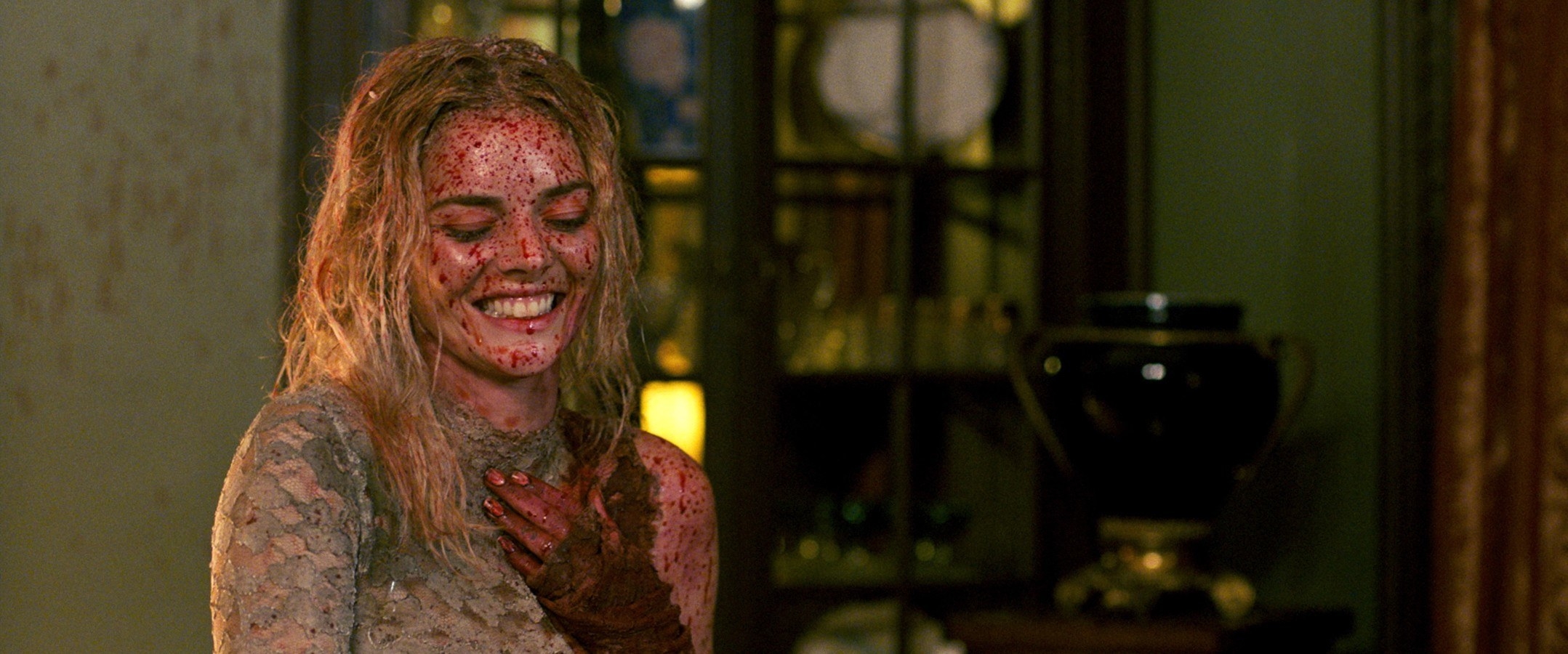 12. Looking back at Ready or Not, what was it like watching this small film become beloved by so many people?
I loved making that movie so much. It was one of my favorite projects I've ever done. It was a dream. Now it feels even more dreamy looking back. I mean, it started with such an incredible script. I think we all knew that we had something really good on our hands. But to see everyone else enjoy it as much as we did was a blessing. I loved playing Grace, and seeing audiences resonate with her was incredible.
13. Do you ever catch other people watching your movies, like on flights?
Yes! On planes a lot of the time, and I'll try to, like, walk by. They're not even paying attention, they're usually also on their phone. They usually just put it on to fall asleep to. For a while it was always Ready or Not and I would be on the edge of my seat seeing if they get scared.
14. Who's your dream actor to work with?
Oh man! I don't know. All of them. I want to work with all of you. Honestly, there are a lot of actors I've already worked with that I'd love to work with again. I really liked working with Sam Rockwell and Frances McDormand. Also, Michael Shannon, Melissa McCarthy, and Andie MacDowell.
15. What's the last TV show you binge-watched?
Literally yesterday, I watched Heist. It's really good.
16. Which emoji do you use the most?
The little strong arm (💪). I'm always like, "Got it. I'm on it 💪."
17. What's your favorite book-to-movie or book-to-TV adaptation?
Oh my god. Harry Potter was big for me. Lord of the Rings also might be a close second. I mean, Babylon is going to be good. That book is nuts. I'm excited to see this movie.
18. What's your favorite thing to do between takes on set?
I'm usually at craft services or I've drank so much tea that I've got to go to the bathroom all the time.
19. What's your go-to snack on set?
Cheesy popcorn. Although, it's really bad for makeup because it's all over.
20. What's your favorite home-cooked meal?
My grandma makes the best trifle. It's so good. I need to get the recipe.
21. Who was your childhood celebrity crush?
Any of the boys from NSYNC or the Backstreet Boys. Give me a good boy band. Also, Ricky Martin.
22. Do you ever go back and watch your previous work?
I watch it once, maybe twice if we're going to a premiere. Once I know that I wasn't horrible, then I'll leave it and won't watch it again. If I watch it more than once, I'll nitpick at myself and it's not good for my mental health.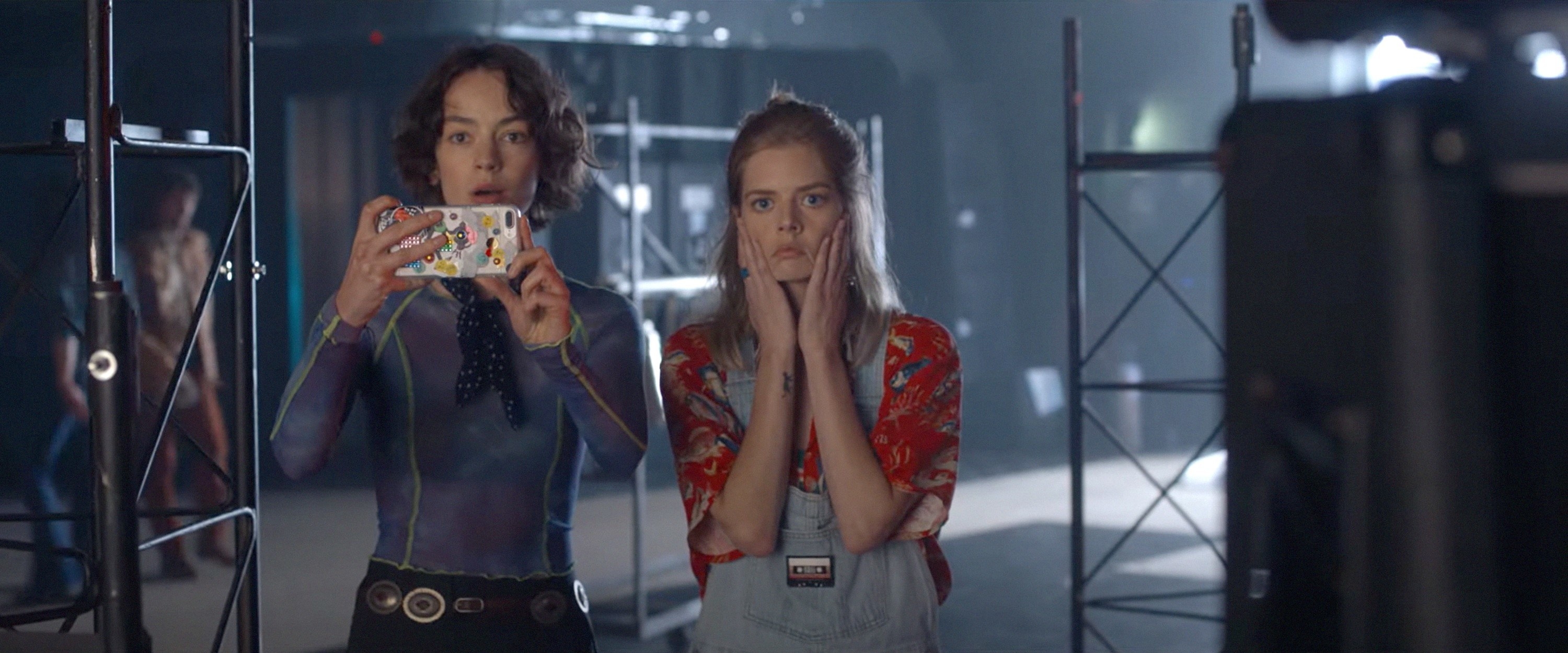 23. What's an aspect of Scarlett's personality from Snake Eyes that you love or relate to the most?
She's such an out-of-this-world character, like how can one person accomplish everything she's accomplished? She's a lawyer, she was military, she's all these things. I think she has a really fun sense of humor, which I related to and I thought she should have that sense of humor if she'd accomplished all of these things. I think we're quite different, though. I can't do what Scarlett does. There's no way.
24. What's the first thing you do on your phone in the morning?
I actually — ugh, this is so lame — I listen to a meditation, like, podcast thing. Every time I wake up, my brain is like, "AAHHH panic! I'm drowning!" So, I'll mediate for at least 10 minutes before I get out of bed.
25. What was one of your favorite things to do growing up?
My parents used to take me and my sister to Nepal and we'd trek up Nepal every year. I don't know why that was so normal to us growing up, but I haven't been in 10-plus years. I think that would be cool to do again.

26. Where would you like to travel to next?
I'd love to go to the Dominican Republic.
27. And finally, what does your perfect day look like?
My perfect day would be after a long shoot, so I'm allowed to be lazy, and just watching movie after movie after movie in a big-screen theater. Maybe have popcorn and Maltesers. I could do that for 10 hours.
Be sure to catch Samara in Snake Eyes, which is in theaters now.