🚨 There are spoilers for Do Revenge ahead! 🚨

1.
First, the Rosehill school uniforms seen throughout Do Revenge were inspired by the outfits worn in Clueless (1995), namely Cher Horowitz and Dionne's memorable plaid ensembles.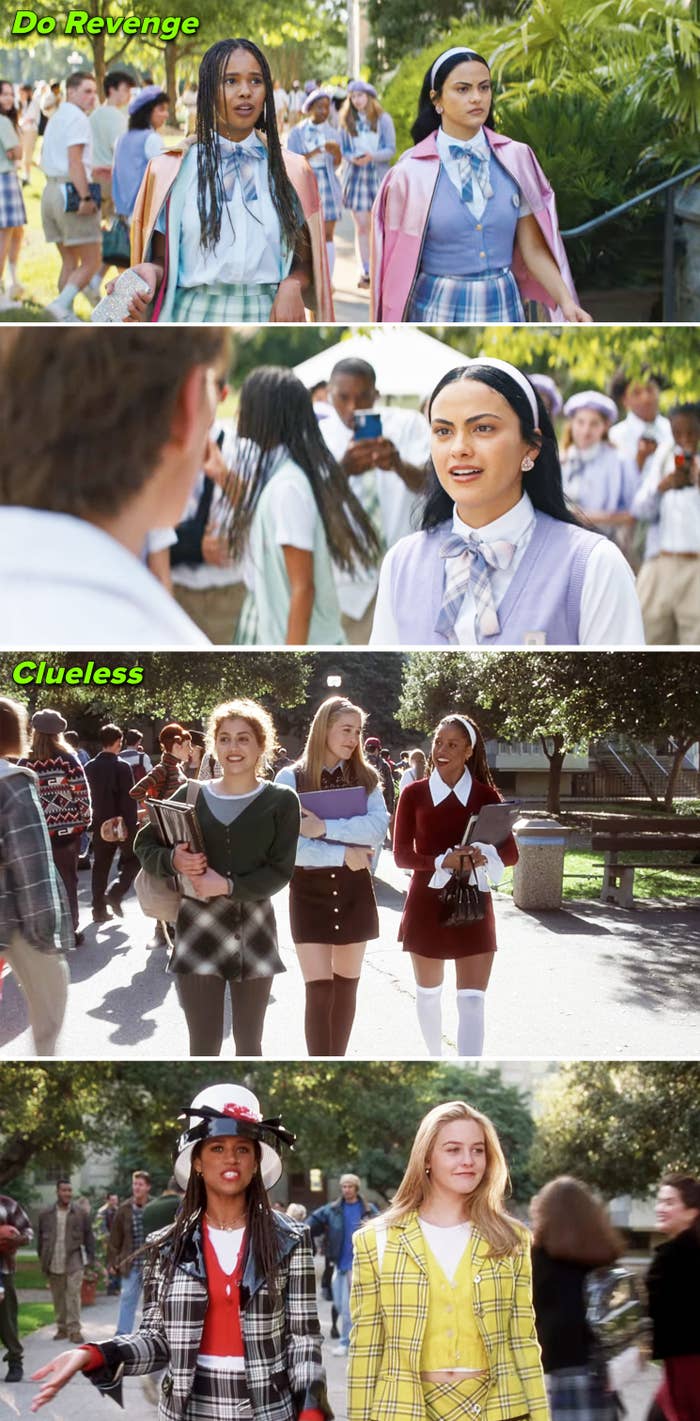 2.
When Gabbi meets Eleanor and takes her on a tour of the various high school cliques at Rosehill, the scene is similar to when Cher meets Tai in Clueless (1995) and gives her the rundown of the cliques too.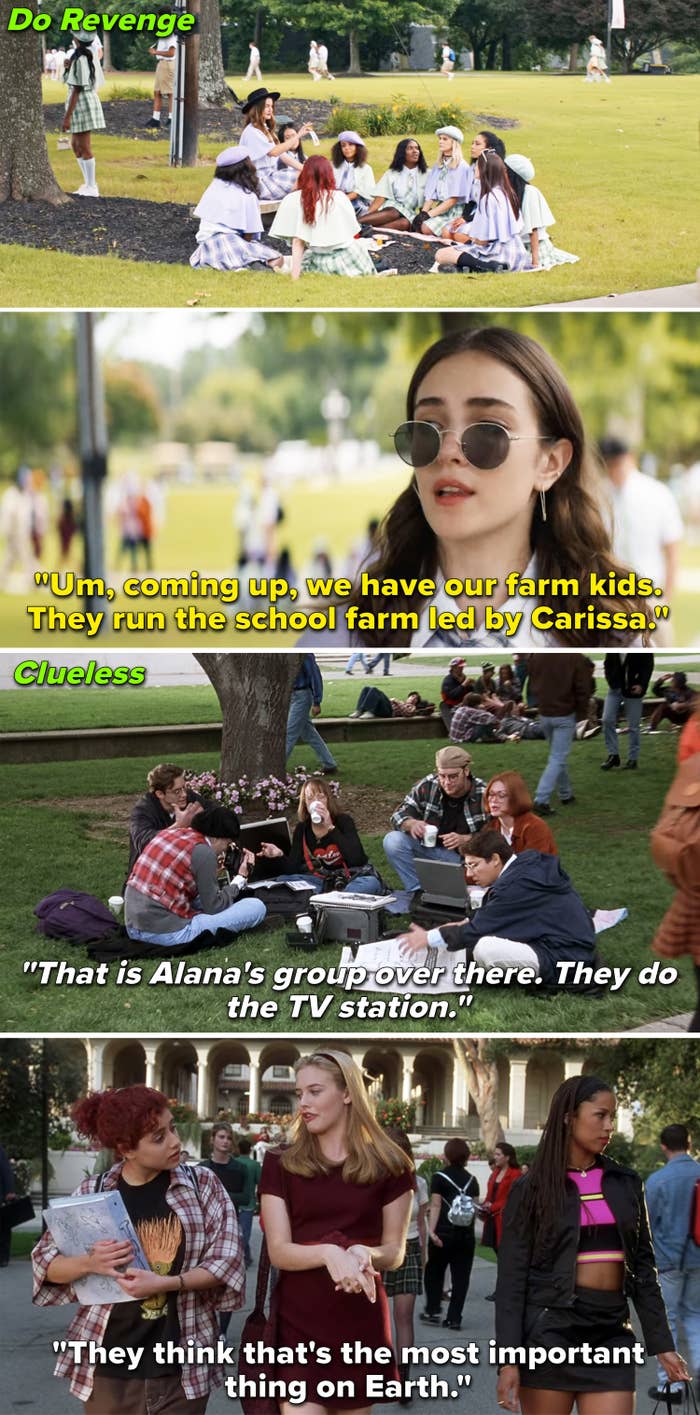 3.
And the scene between Gabbi and Eleanor is also similar to when Damian and Janis tell Cady about all the various lunch tables in Mean Girls (2004) AND when Michael shows Cameron around in 10 Things I Hate About You (1999).
4.
When Eleanor spots the popular kids — aka Tara, Meghan, Montana, and Elliot — hanging out by the fountain, it's a nod to Scream (1996) when we see Sidney, Billy, Stu, Tatum, and Randy sitting by a fountain too.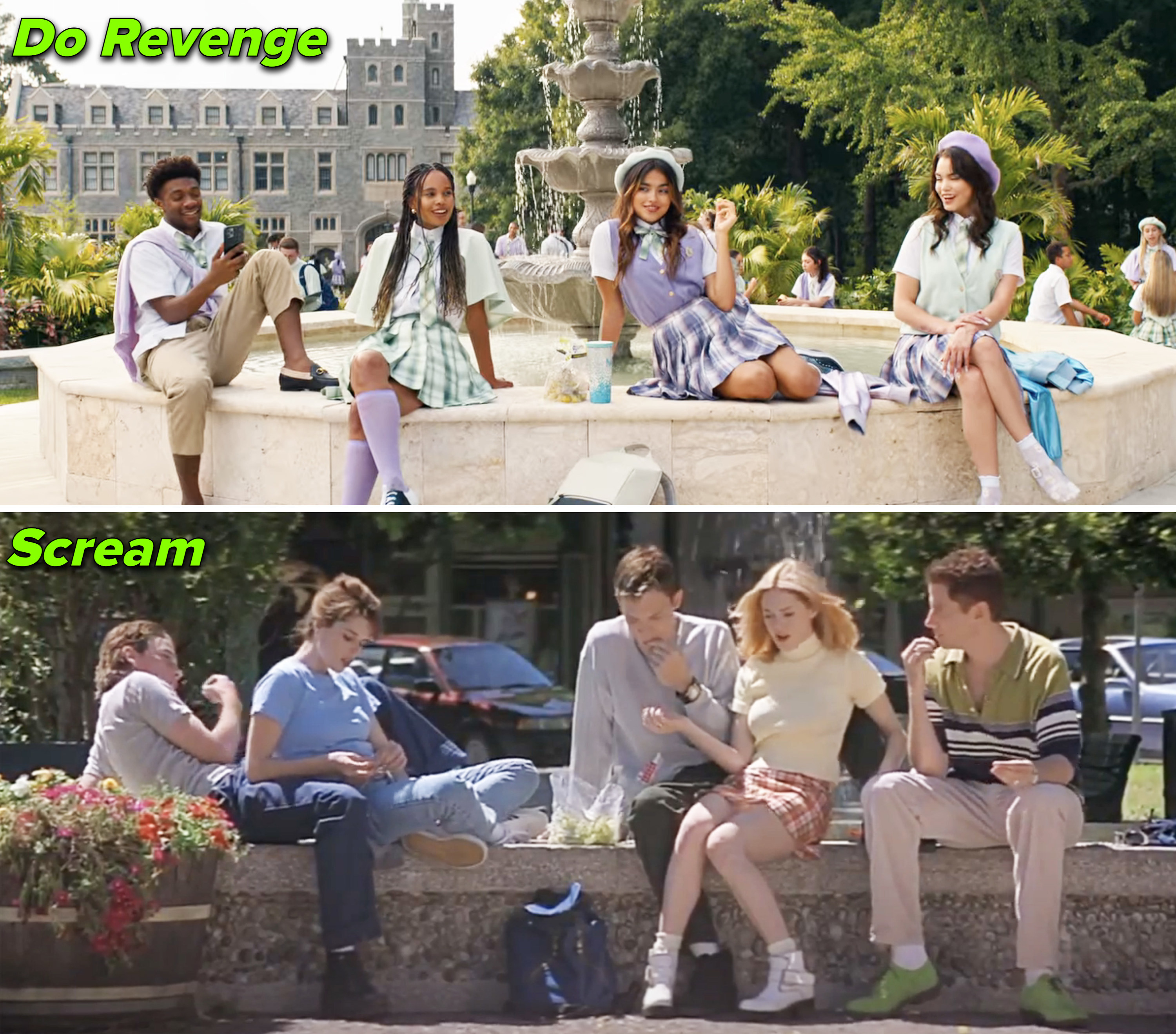 5.
When Drea and Russ have their paintball fight, it's a reference to Kat and Patrick's paintball moment from 10 Things I Hate About You (1999).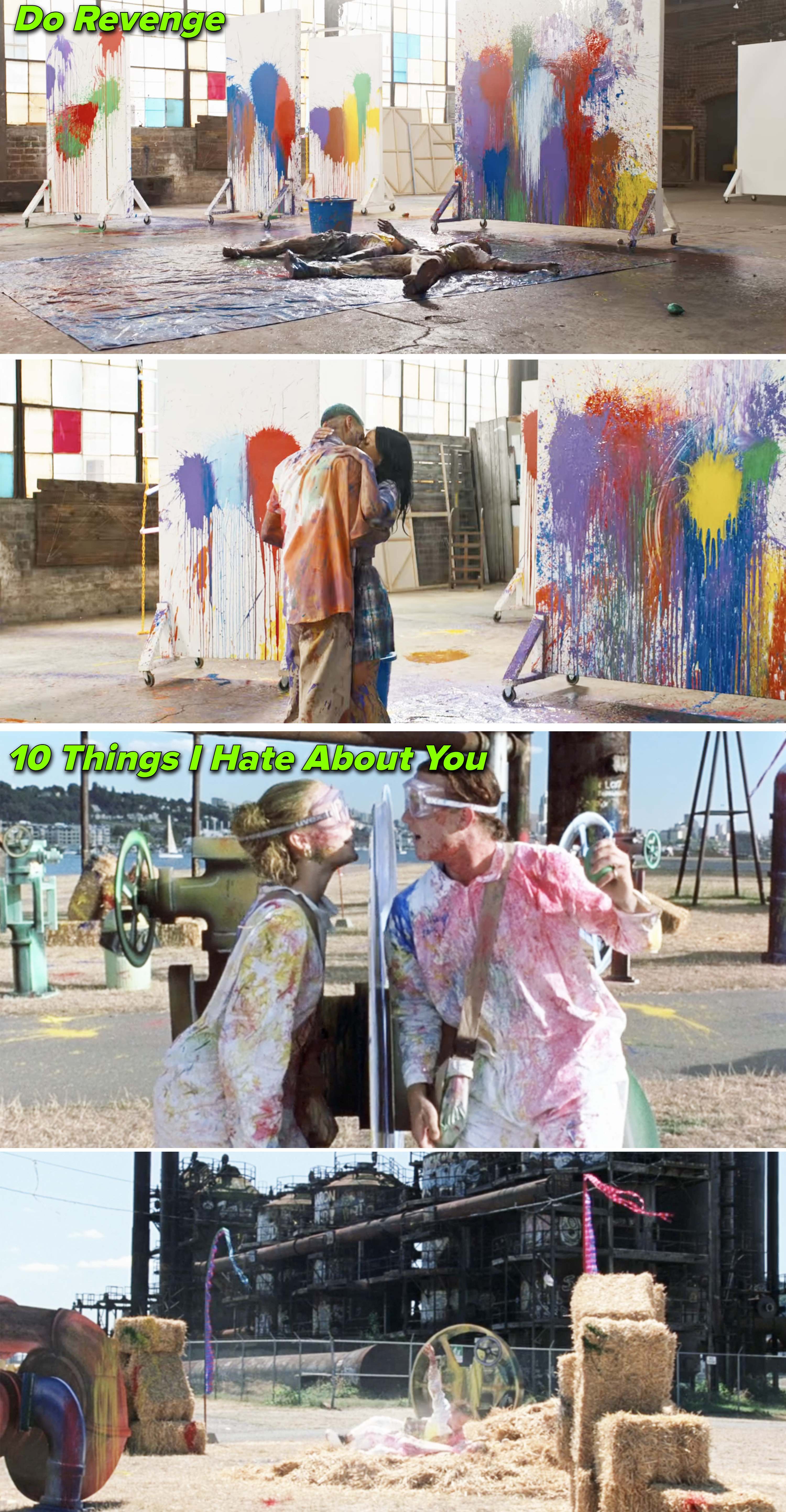 6.
Sarah Michelle Gellar's casting as the headmaster of Rosehill was intentional, and it was meant to be a nod to her role as Kathryn in Cruel Intentions. In fact, writer and director Jennifer Kaytin Robinson said she purposely wanted Sarah's character in Do Revenge to feel like Kathryn.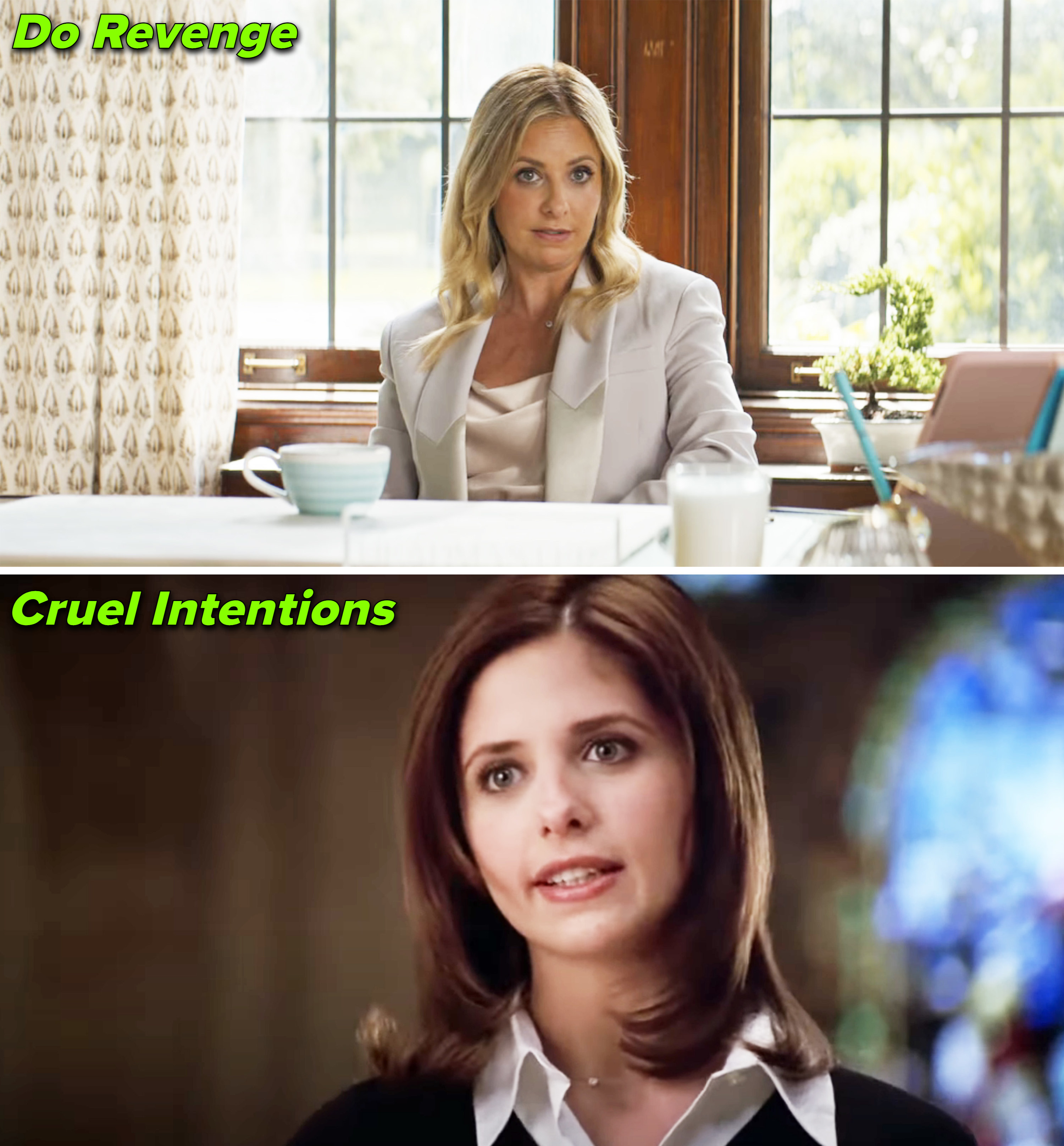 7.
When Drea meets Russ outside class, right before they ditch for the day, you can see that one of the buildings at Rosehill is named "Horowitz Hall," a nod to Cher Horowitz from Clueless (1995).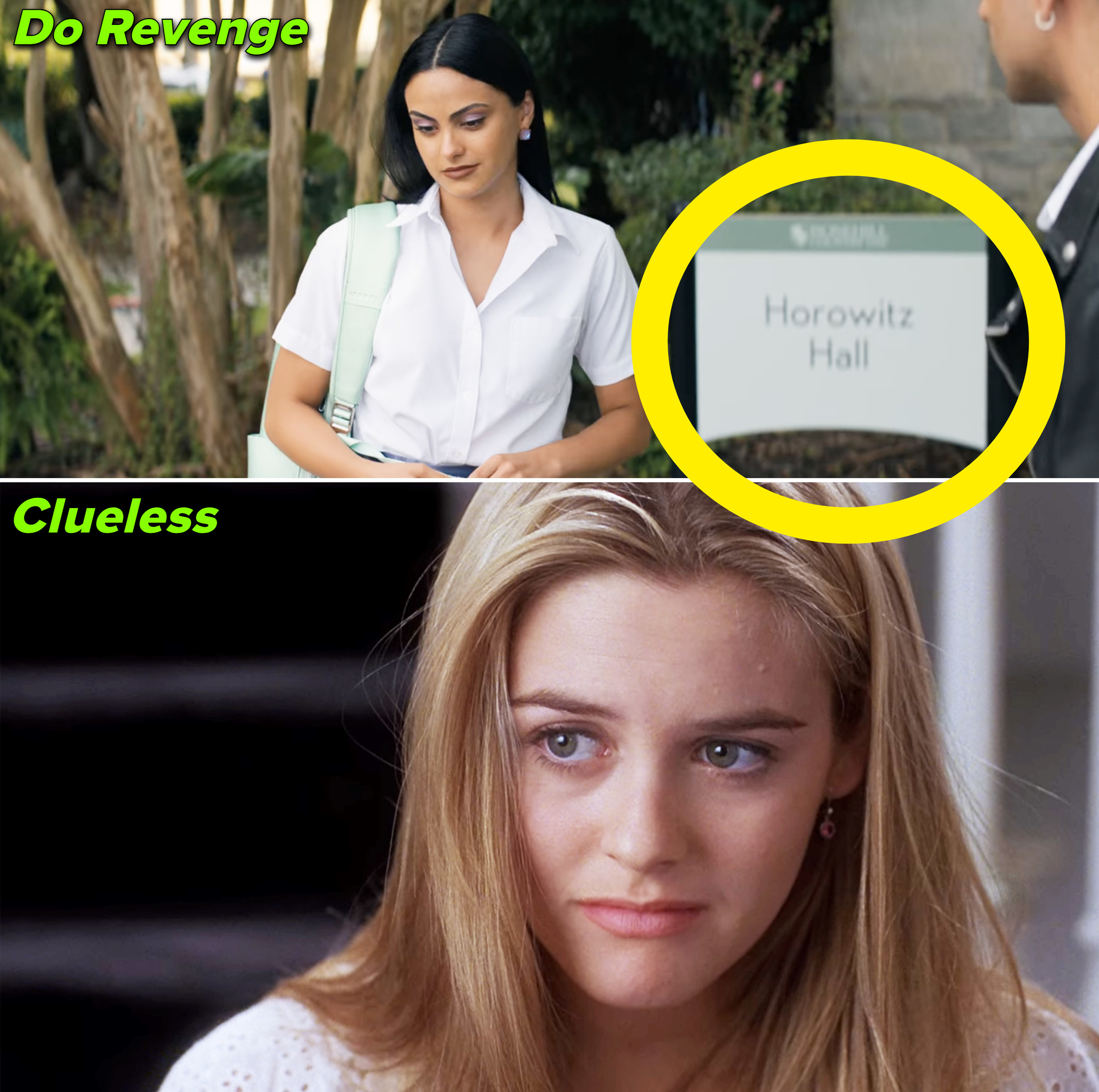 8.
During the first school assembly of the year, you can see that Gabbi is reading Les Liaisons Dangereuses, which is the 1782 novel that the film Cruel Intentions (1999) is based on.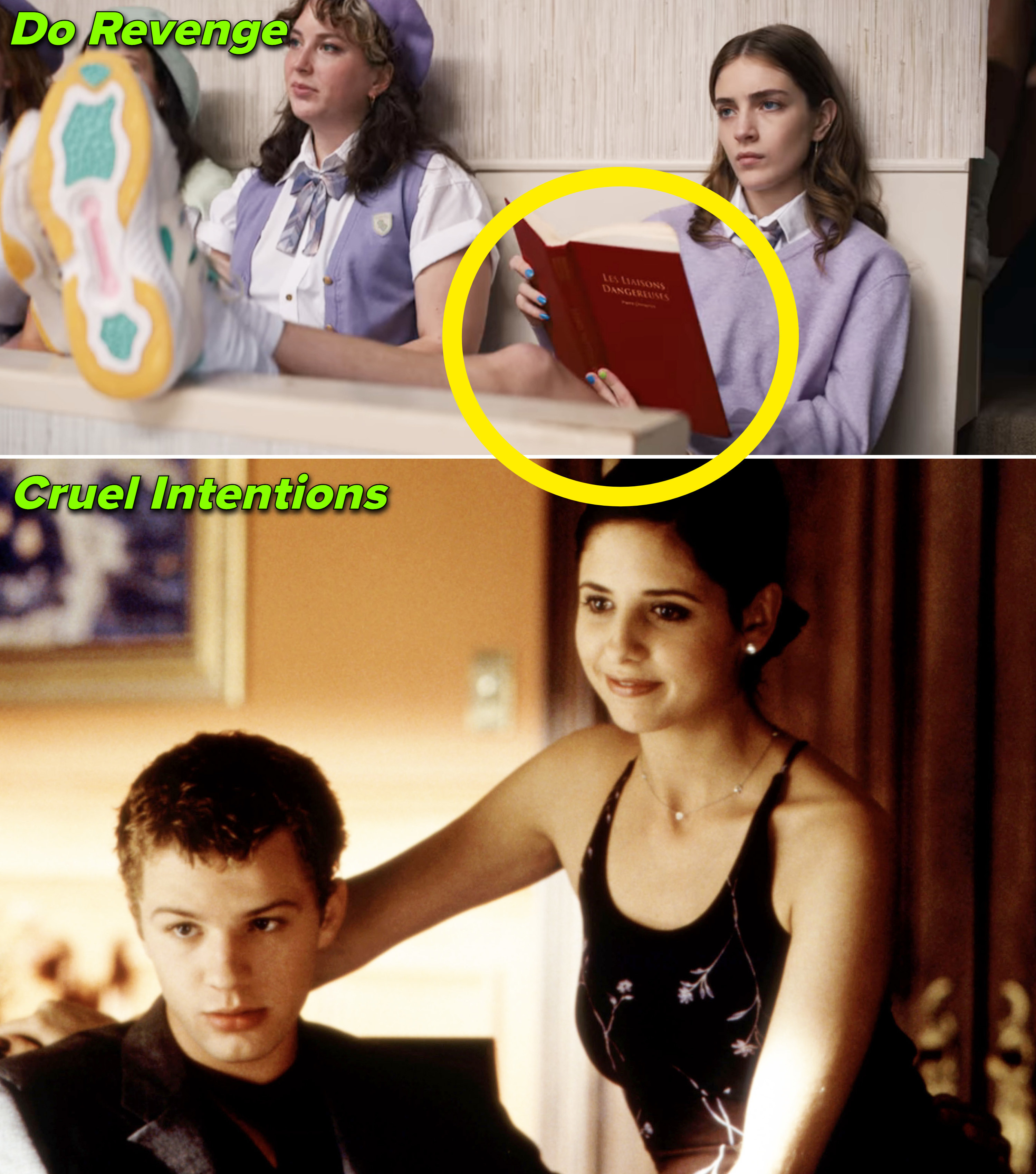 9.
While the use of Drea and Eleanor's voiceovers in Do Revenge is similar to Cher in Clueless (1995), writer and director Jennifer Kaytin Robinson revealed that it's actually a nod to Election (1999), which also uses multiple points of view to tell a story.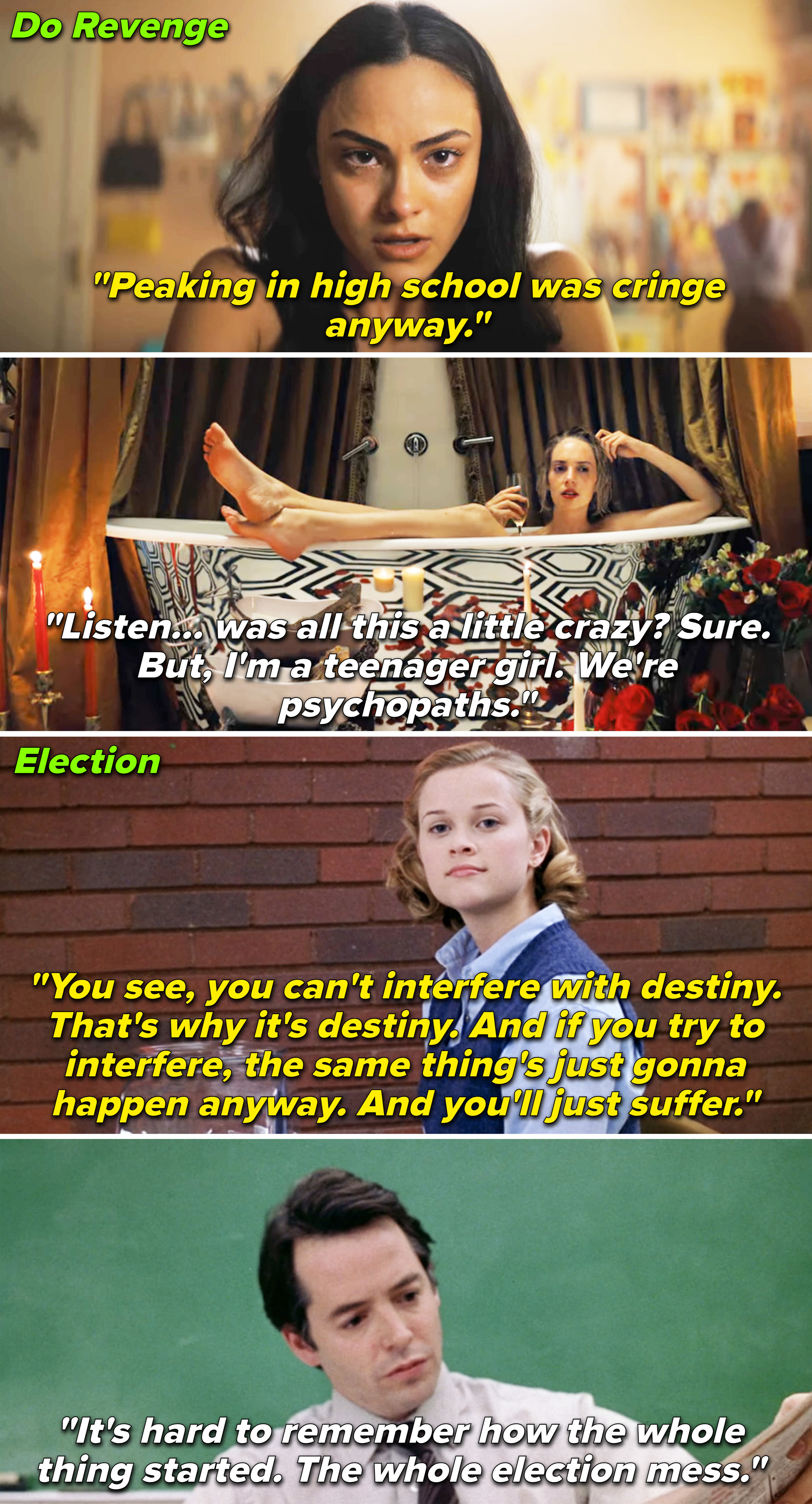 10.
The makeover that Drea gives Eleanor is a nod to Jawbreaker (1999), where Fern Mayo, played by Judy Greer, goes from a nerdy girl to a popular girl named Vylette. In fact, Eleanor's blonde hair is a direct nod to Fern's platinum blonde hair from the film. Of course, makeover montages are a staple in rom-coms, like Clueless (1995), She's All That (1999), and more.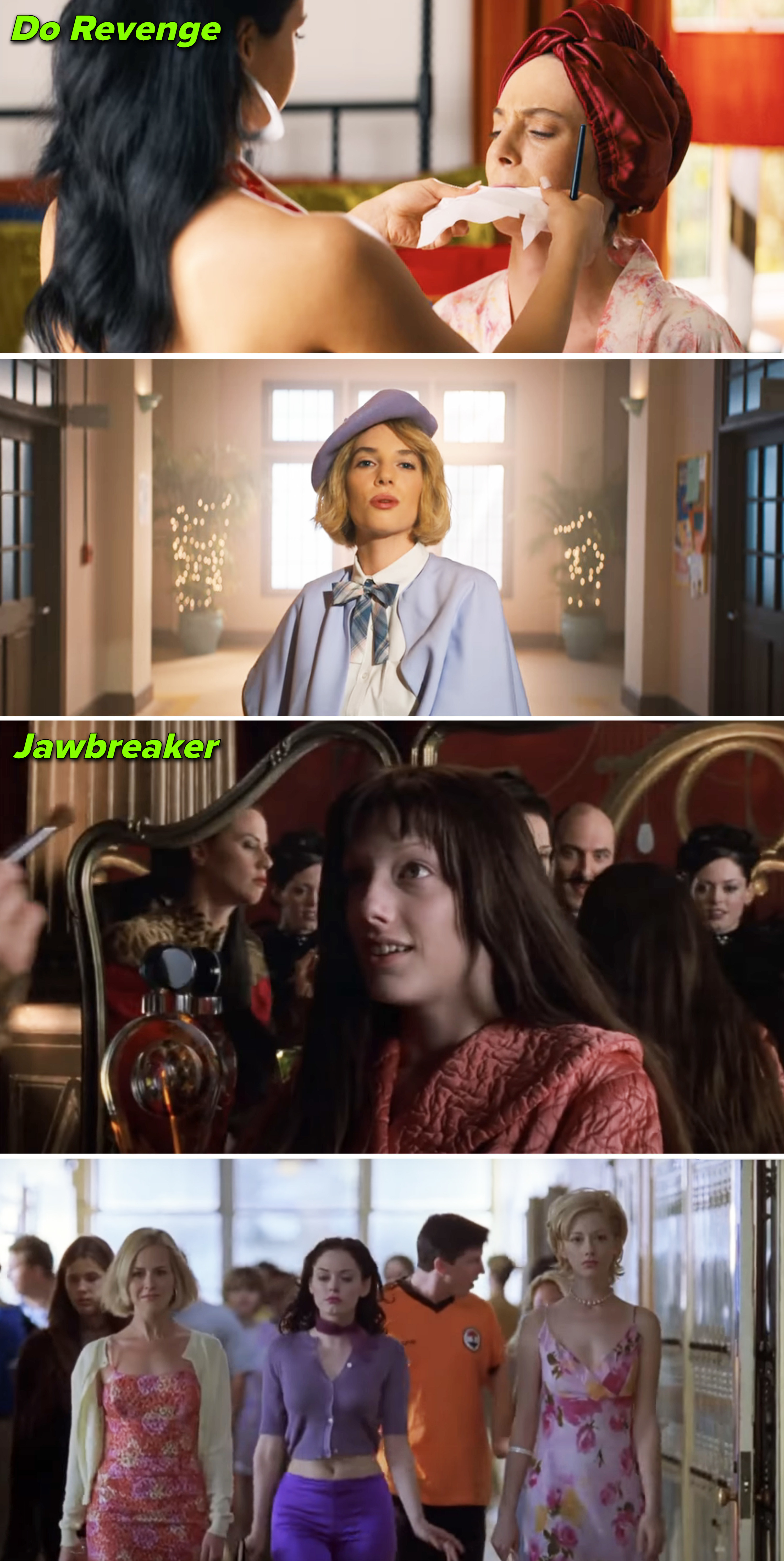 11.
In fact, Drea even mentions that Eleanor is like Frankenstein's monster, and the makeover scene in Jawbreaker (1999) is portrayed as if Fern's new persona is being created like Frankenstein's monster.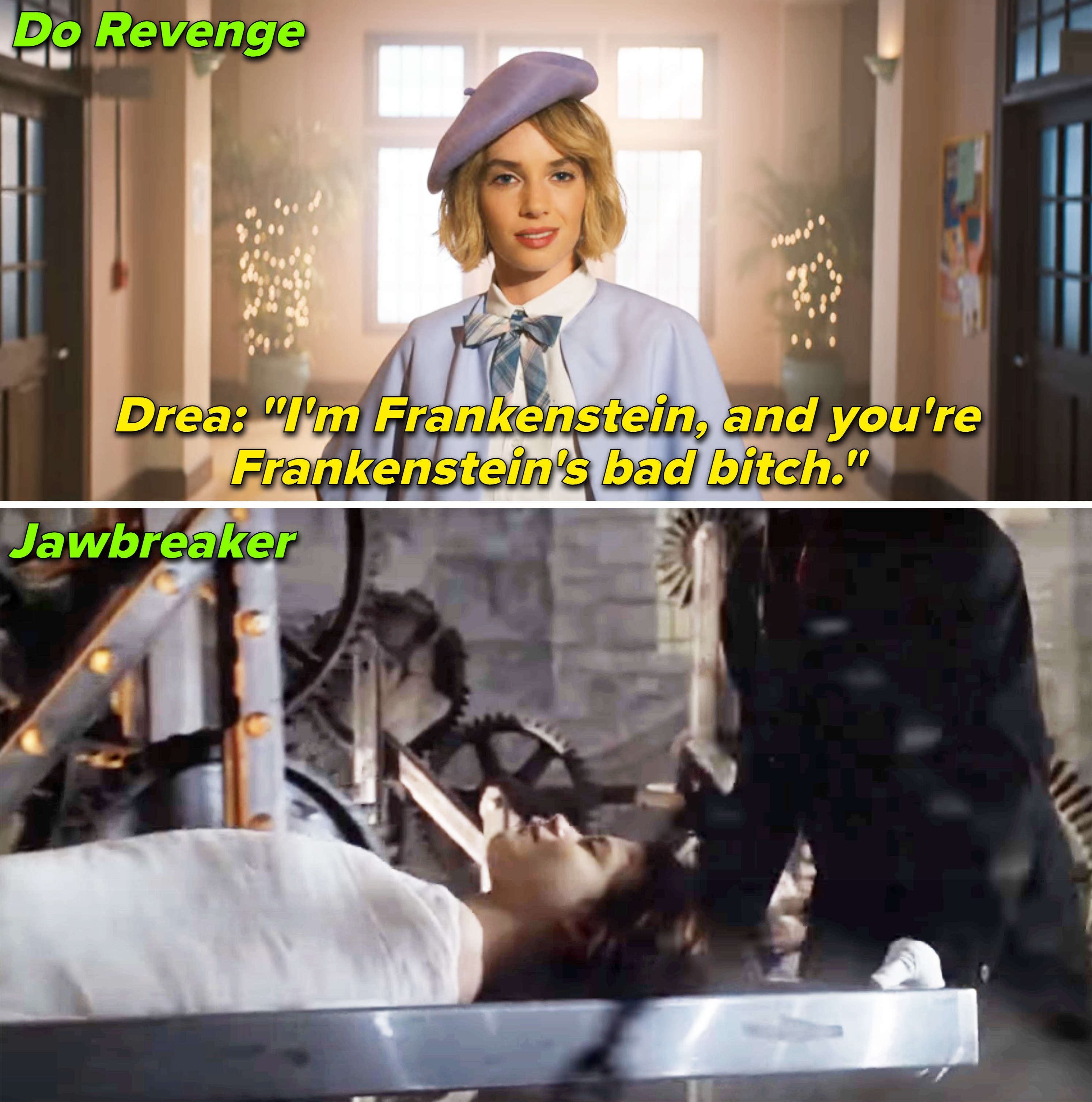 12.
Drea's outfit from her party in the beginning of the film is a subtle nod to Romy and Michele's outfits in Romy and Michele's High School Reunion (1997). The movie was an inspiration for Do Revenge writer and director Jennifer Kaytin Robinson.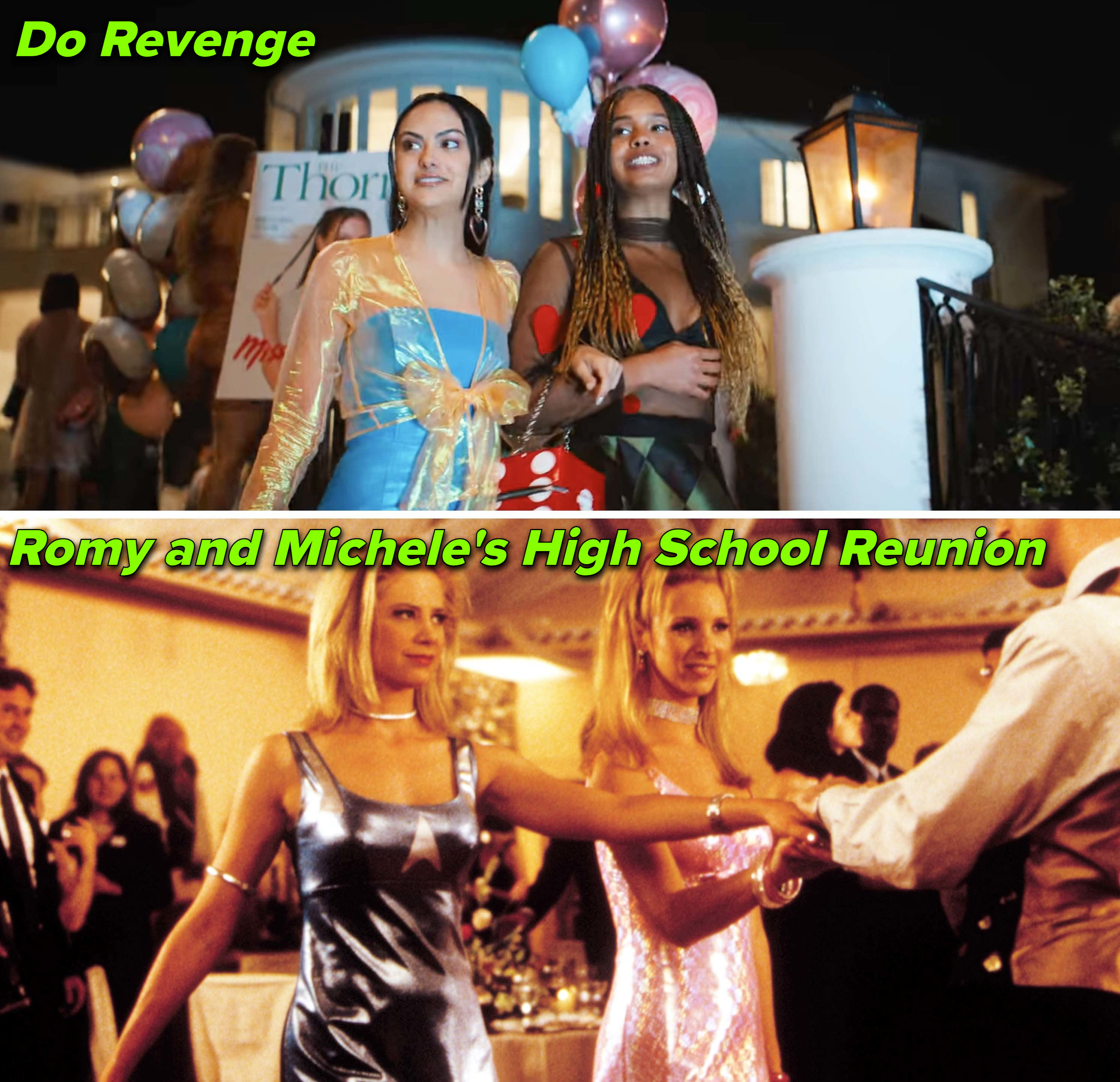 13.
When we first meet Eleanor and she's sitting at tennis camp, you can see that she's reading Strangers on a Train (1951). Do Revenge is actually based on the book and the film adaptation by Alfred Hitchcock.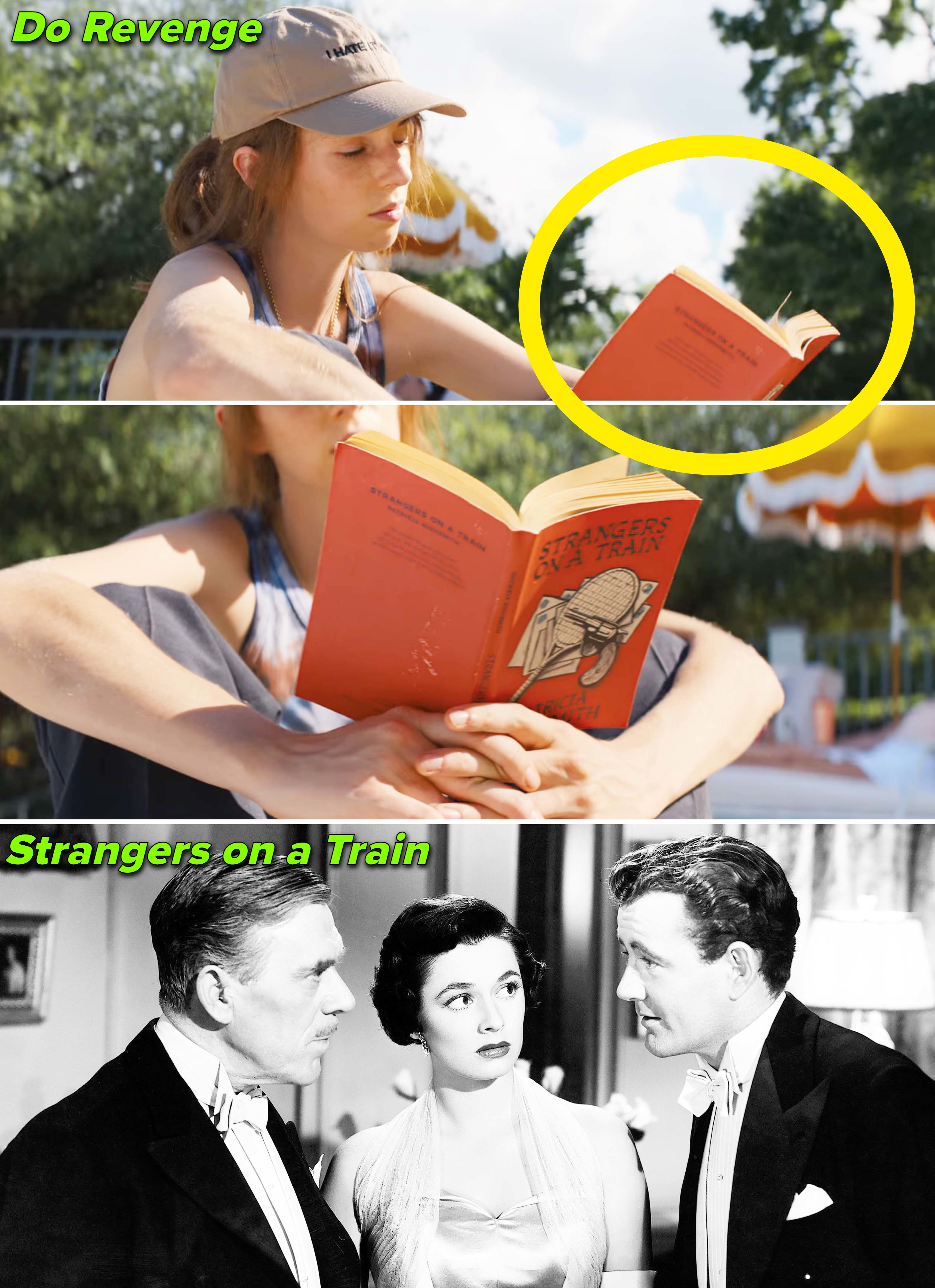 14.
After Drea and Eleanor leak Max's texts, the havoc in the hallway is a direct reference to Mean Girls (2004), when Regina George publishes the pages of the Burn Book. First, you can see students ripping down posters on lockers, which happens in Mean Girls.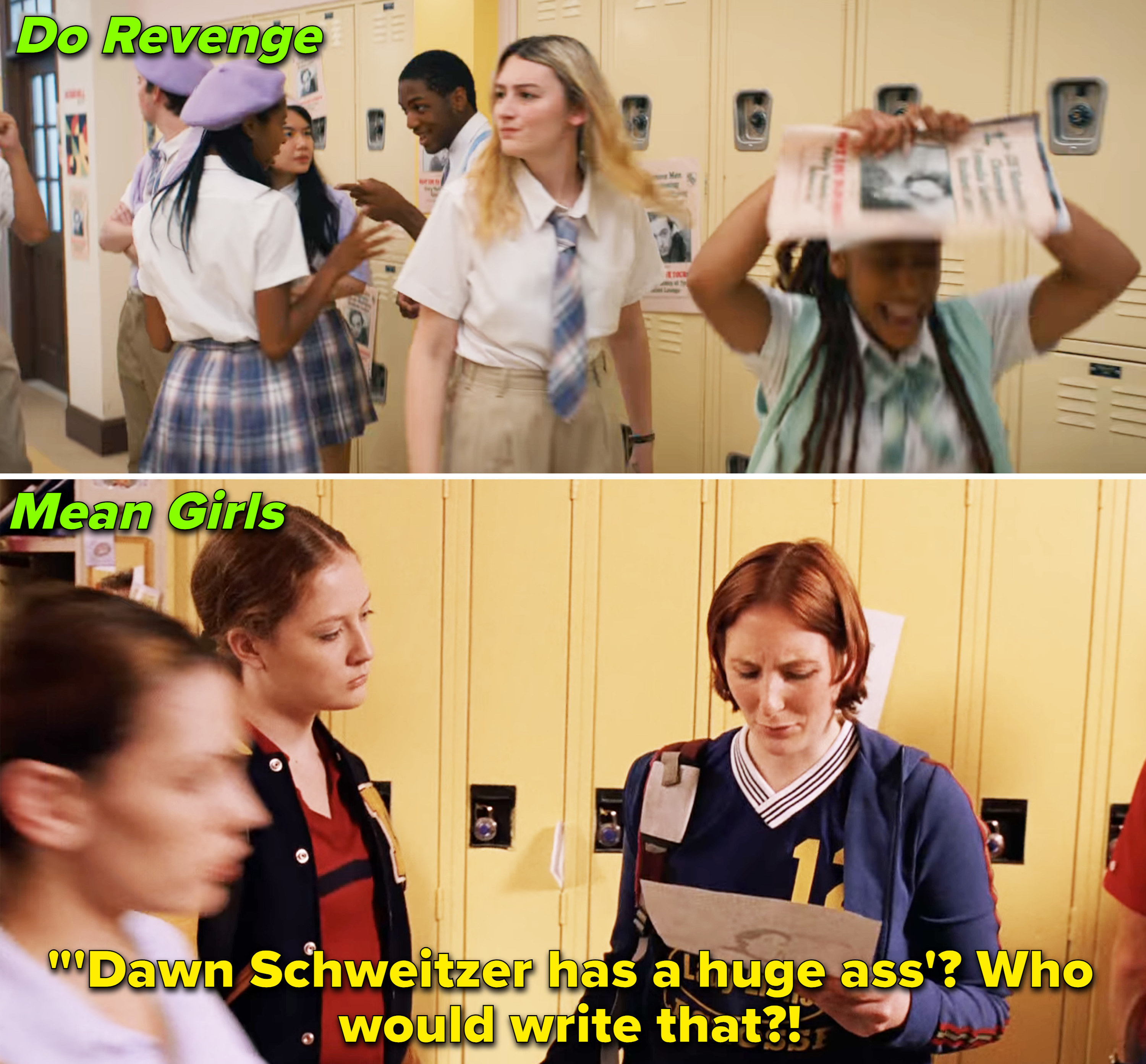 15.
During the chaos, you can spot a teacher putting out a fire in a trash can, which is similar to Mean Girls (2004) when Principal Duvall, Ms. Norbury, and more try to contain the chaos in the hallways of North Shore High School.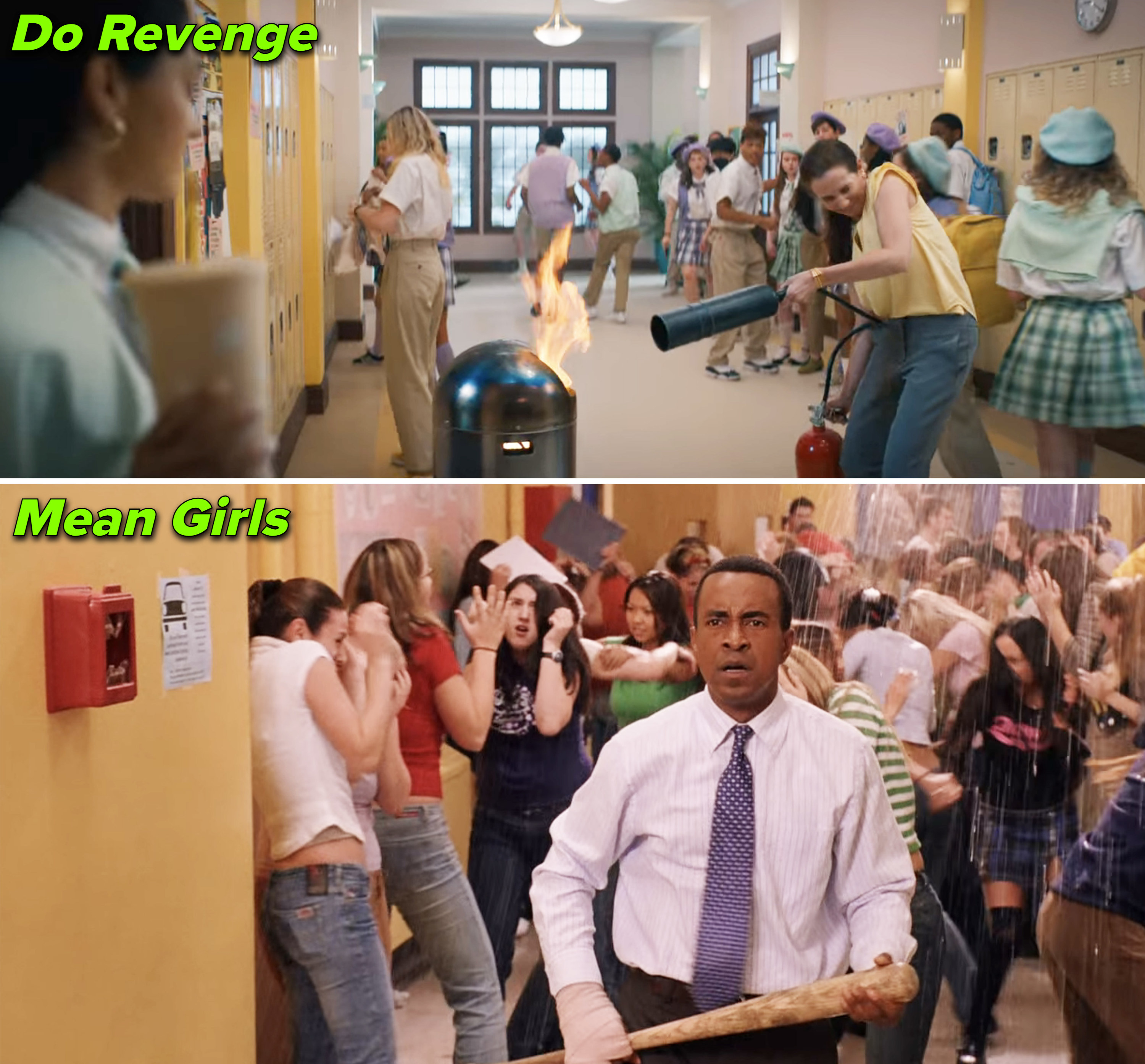 16.
And then, after Max and his friends tell everyone that Max never cheated but he and Tara are in a polyamorous relationship, Drea can be seen standing in the hallway while everyone runs around her. This is similar to when Regina George in Mean Girls (2004) surveys the chaos she has caused by publishing the Burn Book.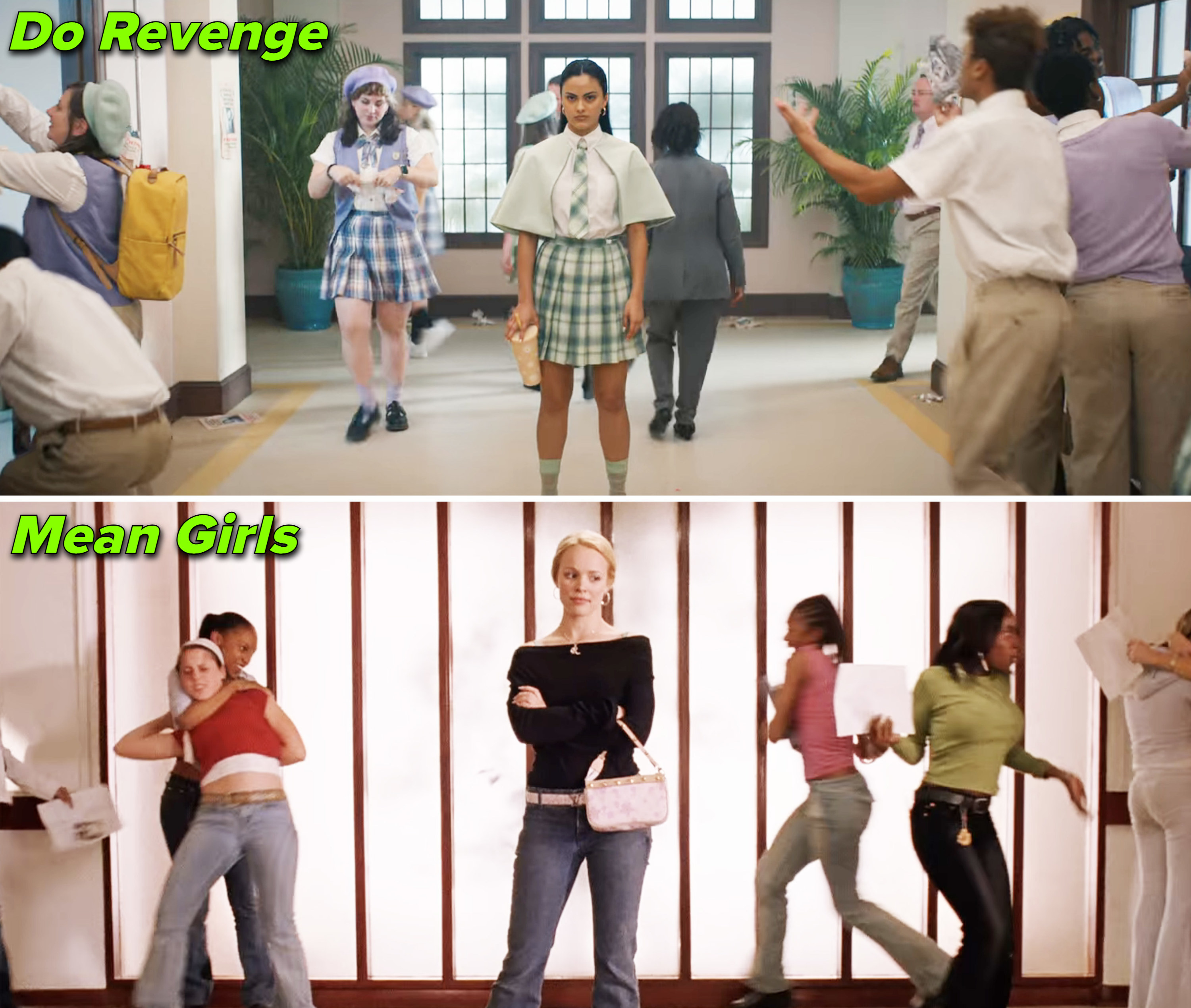 17.
While in class, you can see that Drea's writing with a similar pen as the one Cher uses in Clueless (1995).
18.
When Drea visits Carissa at rehab, you can see that Carissa is playing croquet, which is a nod to the iconic croquet mallets and moment from Heathers (1988).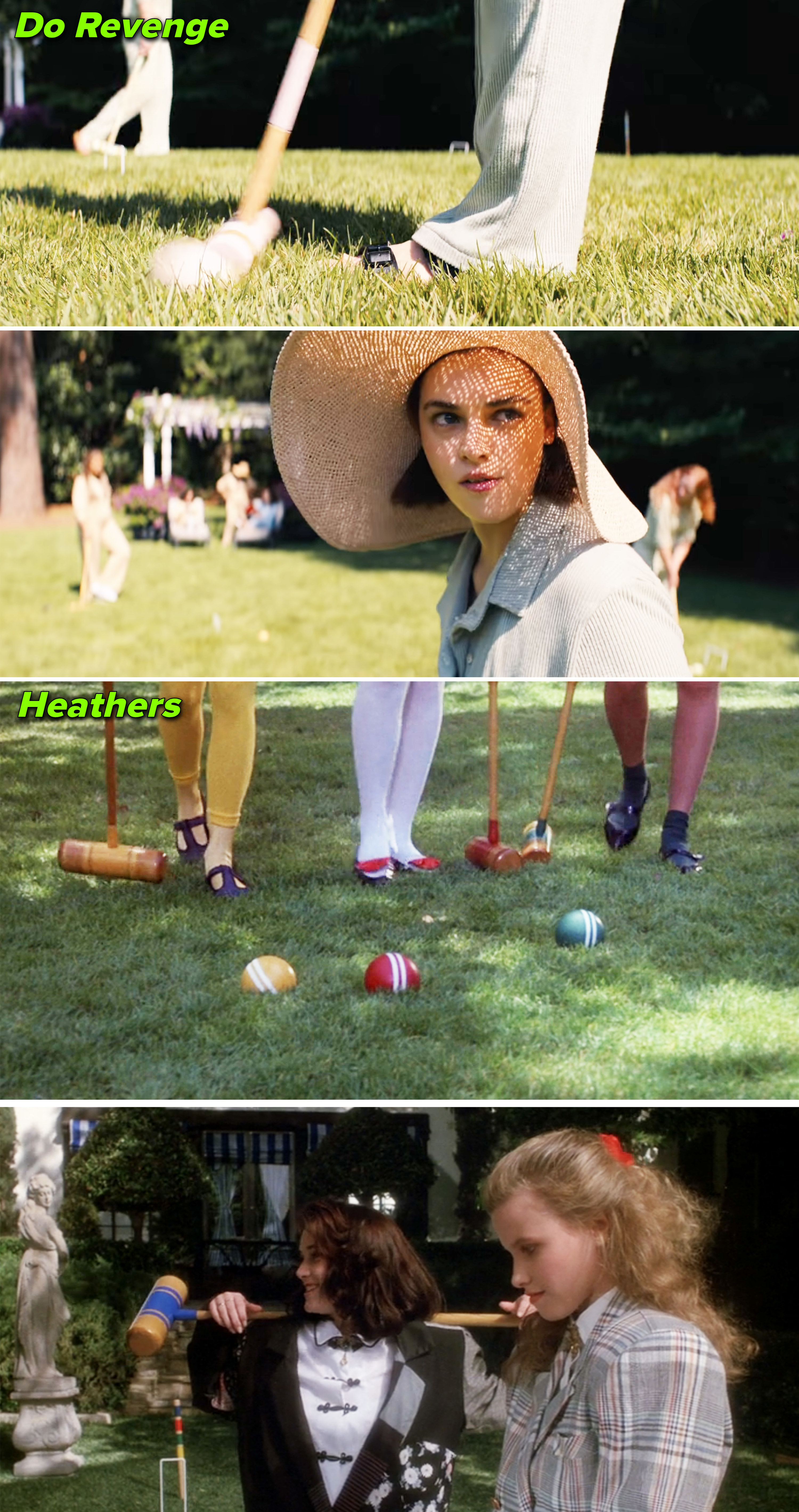 19.
After being drugged at the senior dinner, Allegra uses her shoe to try and call her mom to pick her up, which is similar to this memorable moment from Mean Girls (2004) after the Burn Book pages are released and everyone goes wild.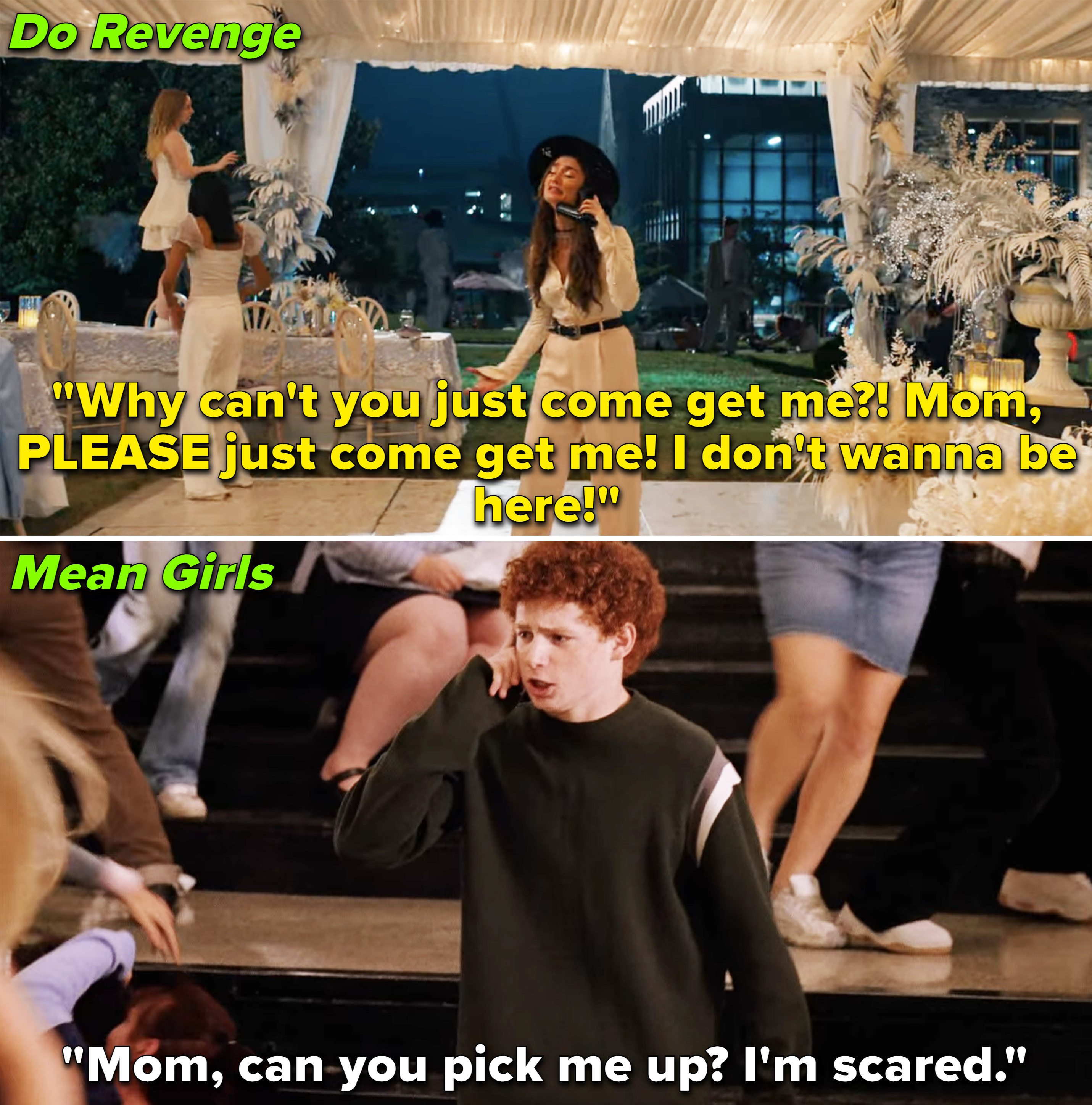 20.
The license plate on the car that pulls up to Drea's birthday party in the first minutes of Do Revenge is a reference to Fern/Vylette's license plate in the film Jawbreaker (1999).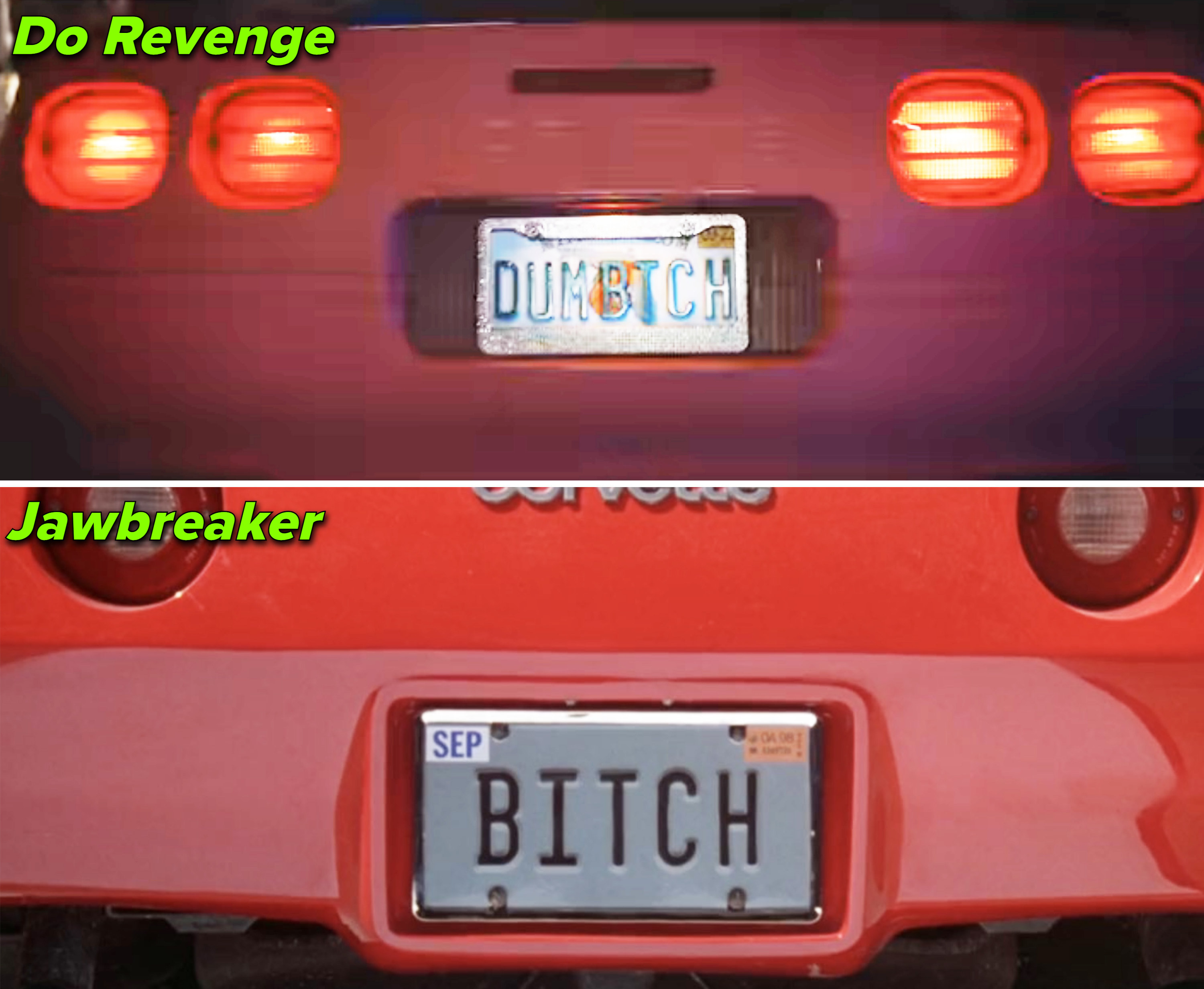 21.
When Drea and Eleanor finally take down Max at the admissions party at the end of the movie, FatBoy Slim's "Praise You" plays in the background. This is a reference to Cruel Intentions and Sebastian's character in that film. In Cruel Intentions, the song plays when Sebastian and Annette drive down the highway together and make funny faces.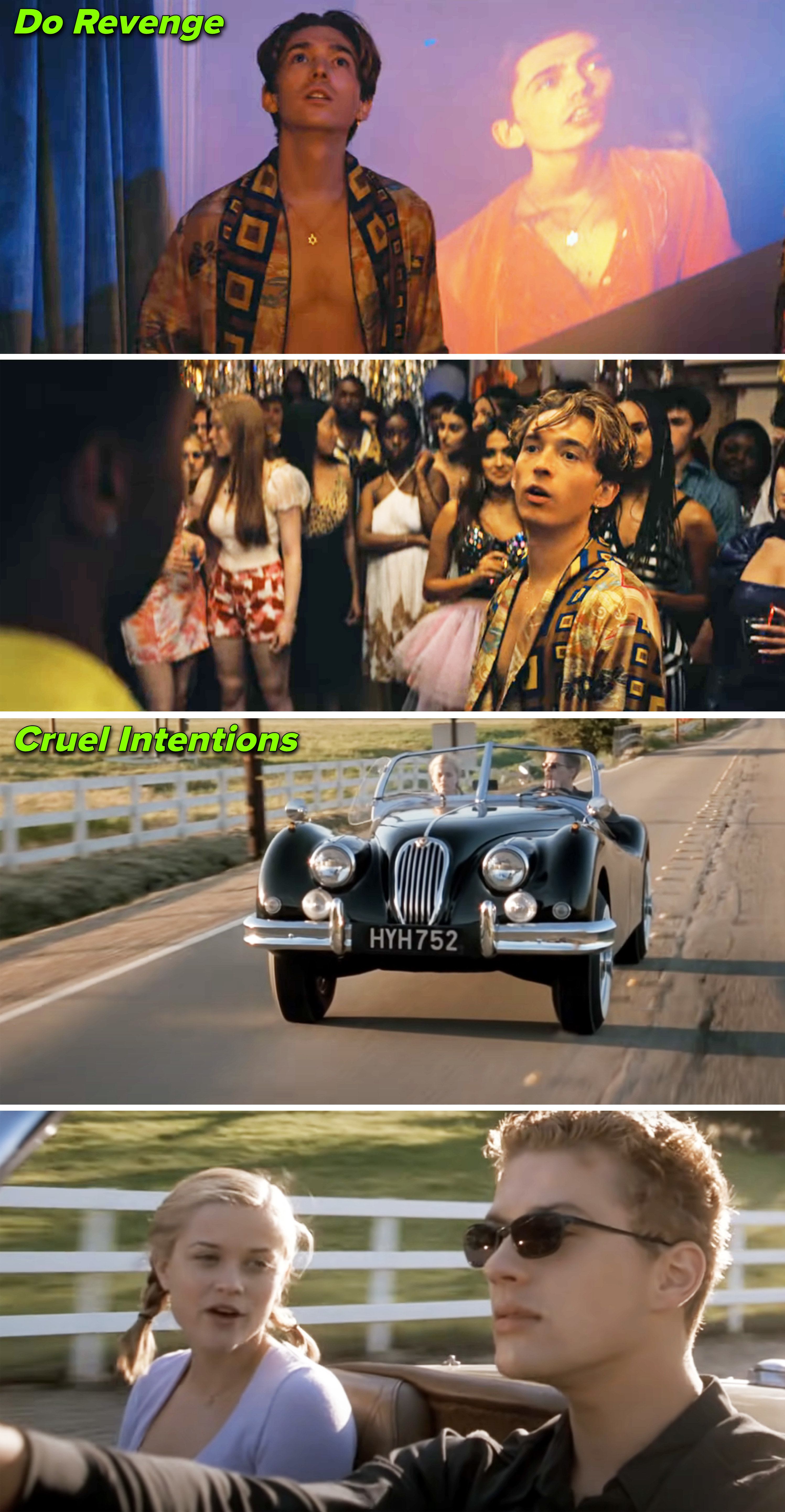 22.
When Drea and Eleanor drive off and sing "Bitch" by Meredith Brooks, the moment is a nod to the end of Cruel Intentions when Annette drives off alone.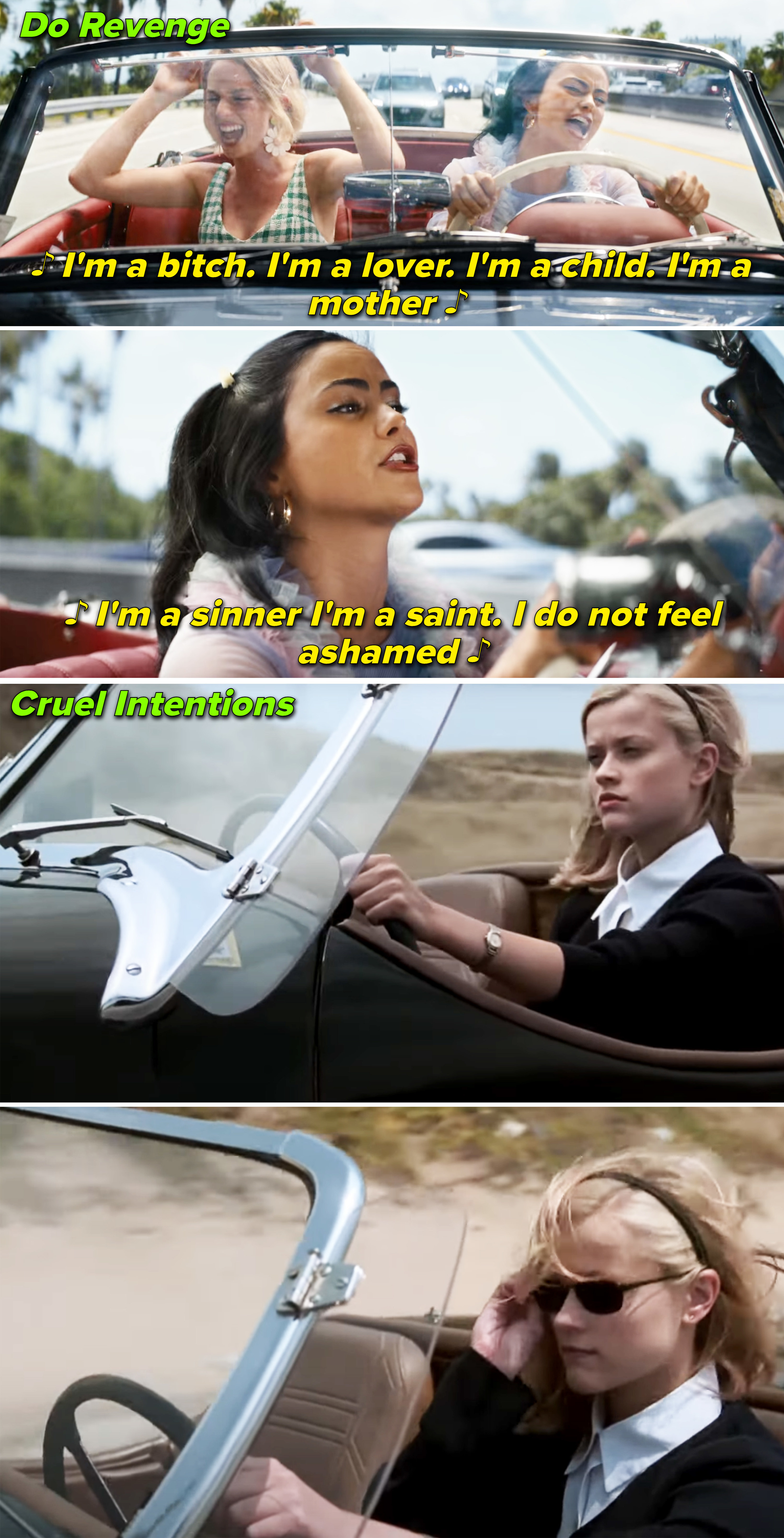 23.
When Drea and Eleanor drug the senior class, you can hear "Kids in America" playing, which is a nod to the opening song from Clueless (1995).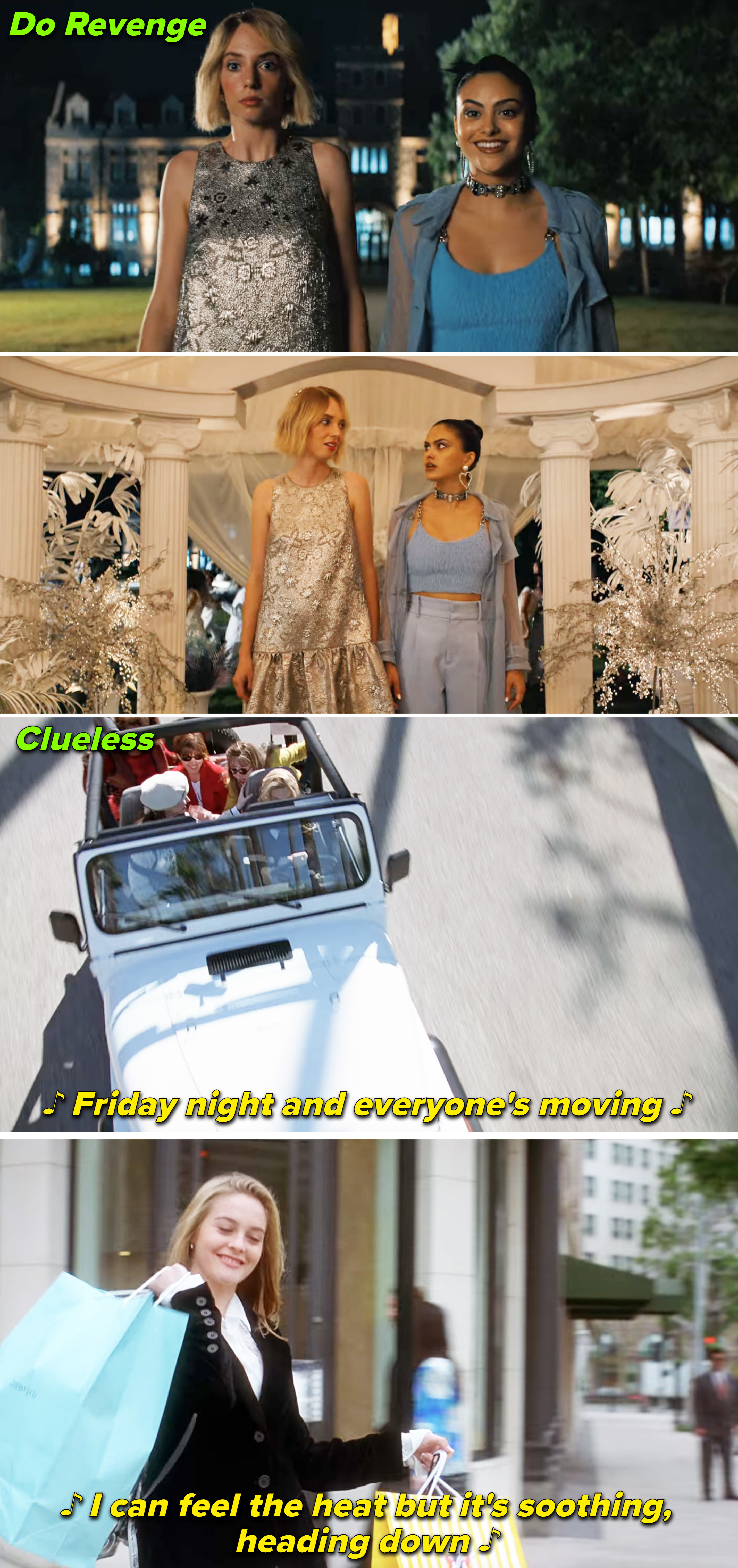 24.
When Drea mentions how narcissists never know they're being played, it's another nod to Election (1999) and how Jim McAllister doesn't realize he's being played.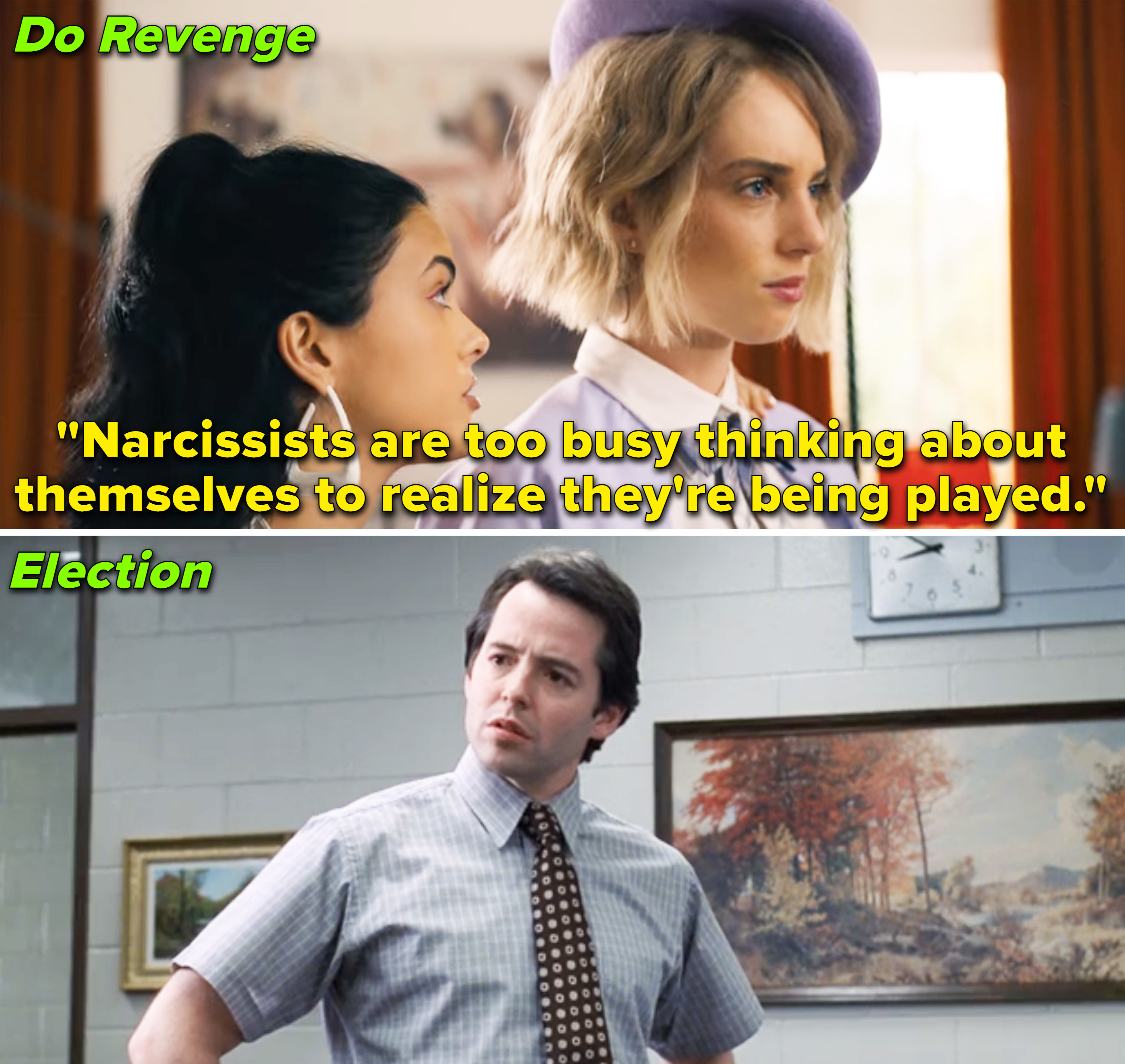 25.
And finally, while this might not have been an intentional nod, the similarities are too amazing to not point out: When Eleanor is driving Drea away from tennis camp, Maya Hawke really, REALLY resembles her mom, Uma Thurman, in Kill Bill: Vol. 2 (2004).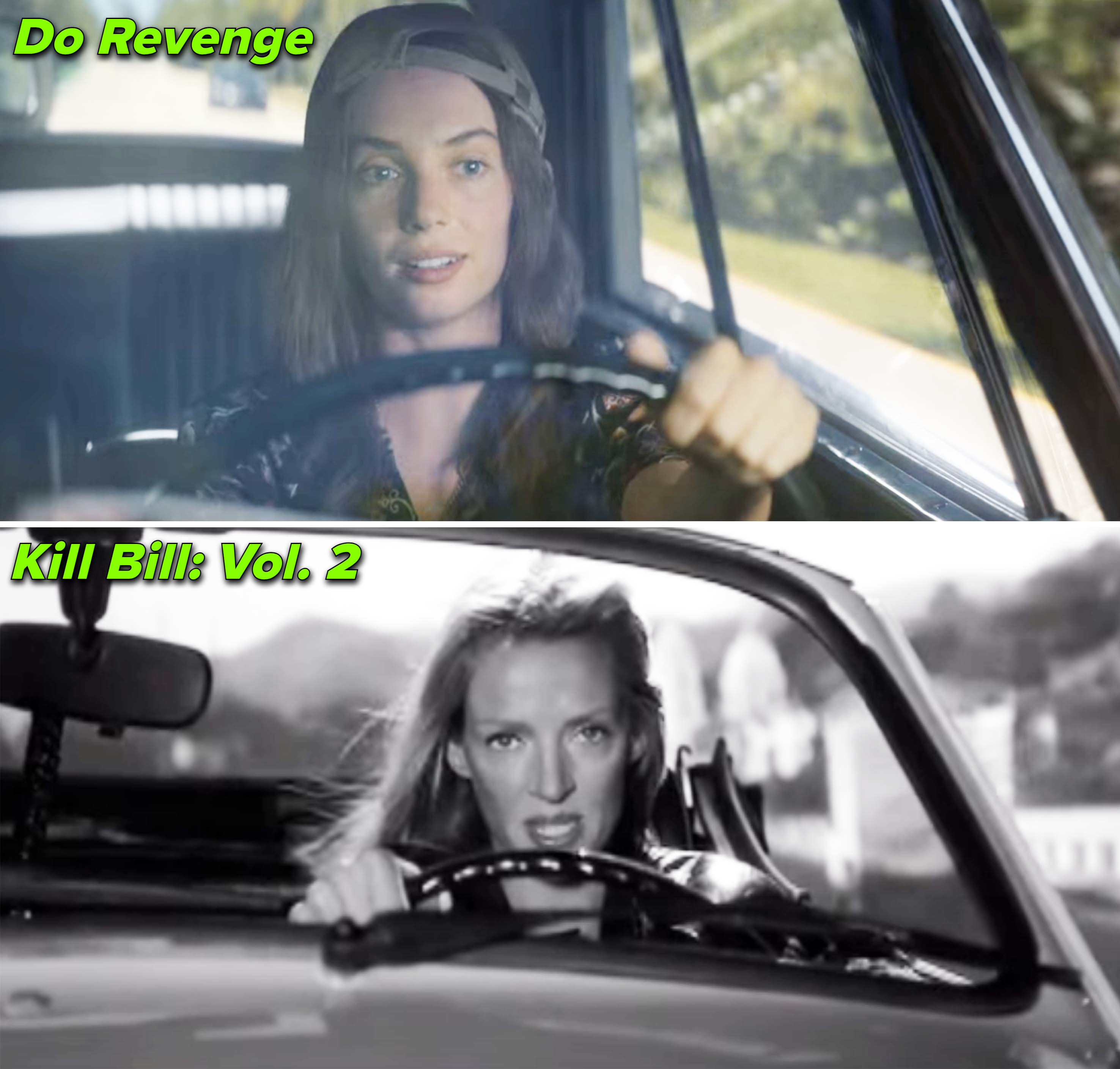 Did you catch any other great movie references/Easter eggs in Do Revenge? Tell us in the comments below!