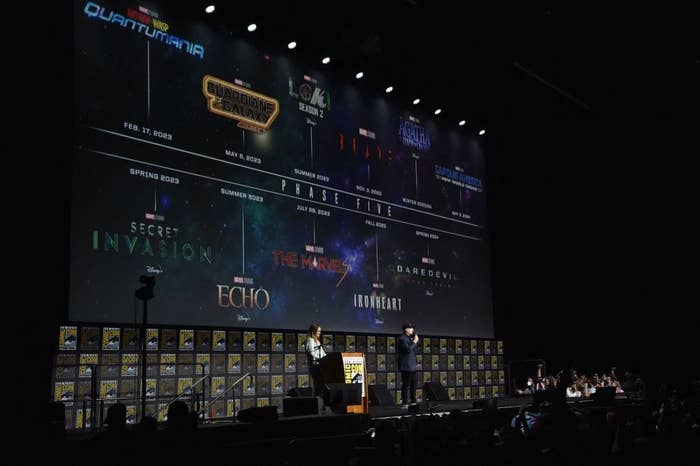 Between an epic panel in the iconic Hall H with Kevin Feige and a smaller panel dedicated only to the upcoming animated projects on Disney+, there was no shortage of new content that sets up the future of the MCU.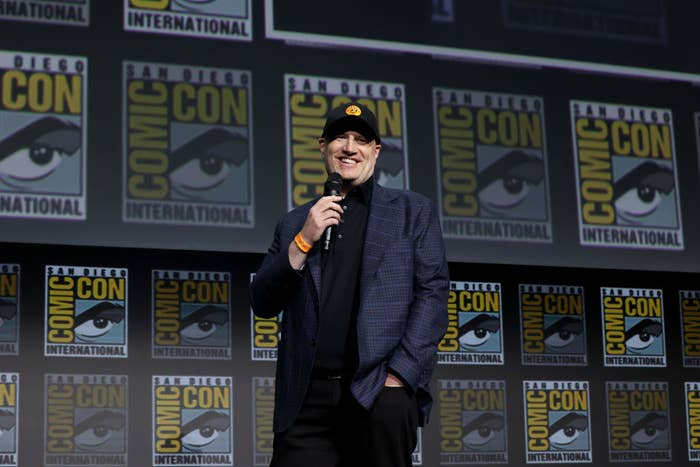 So, being BuzzFeed's resident Marvel nerd, I'm happy to bring you ALL of the info Marvel Studios revealed at San Diego Comic-Con 2022, from someone who was sitting inside those panels screaming (and crying) with joy. As you can see, I'm exhausted but THRILLED.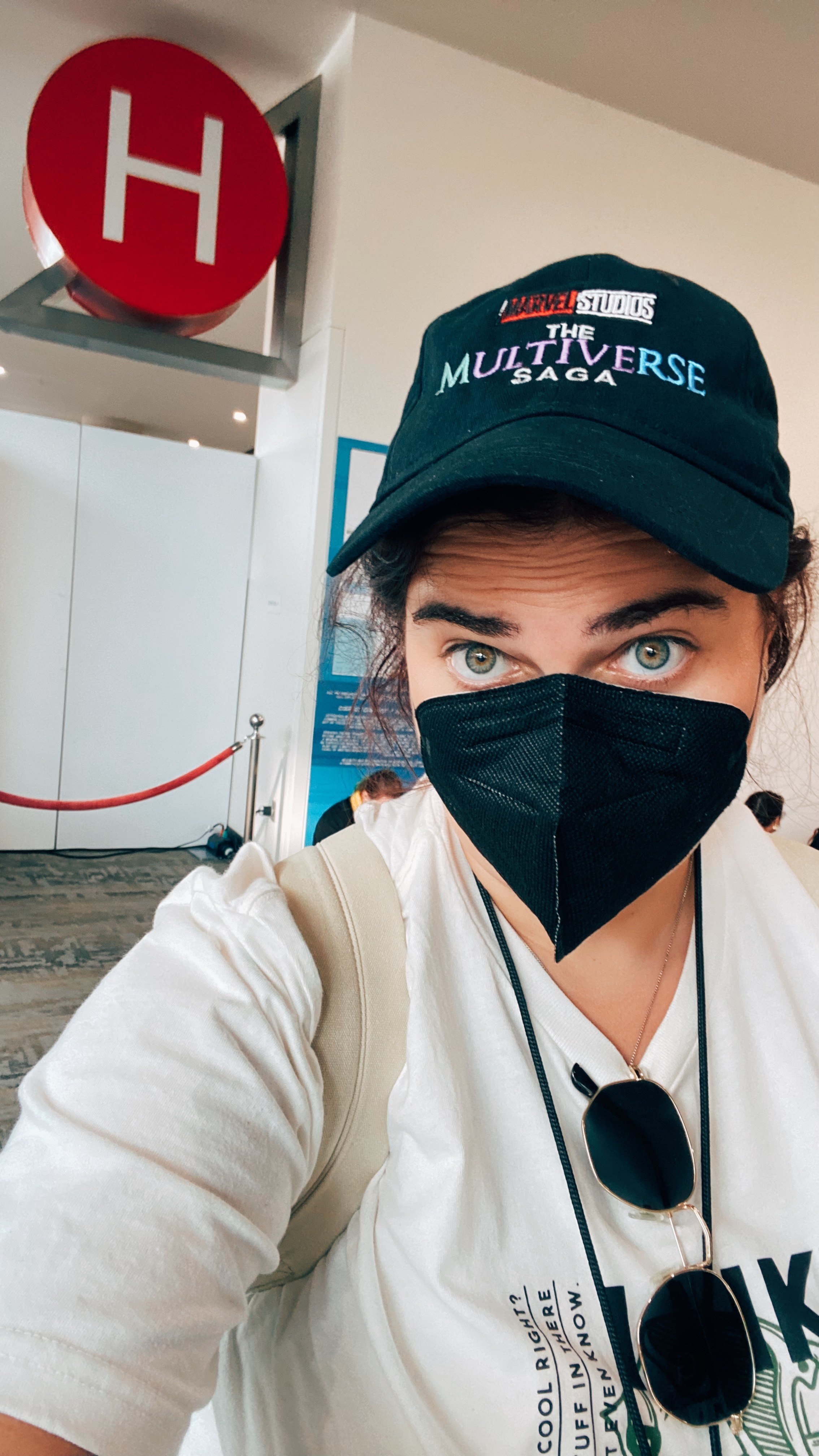 Anyway, here's absolutely everything we learned at the Marvel Studios panels at Comic-Con 2022:
1.
First, She-Hulk: Attorney at Law will be the penultimate project in Phase 4 of the MCU, and Tatiana Maslany is thrilled to finally share Jennifer Walters with the world. She described the show as "very different" and having "irreverent humor." She also loves that Jennifer isn't "trying to be a superhero, which is a fun take."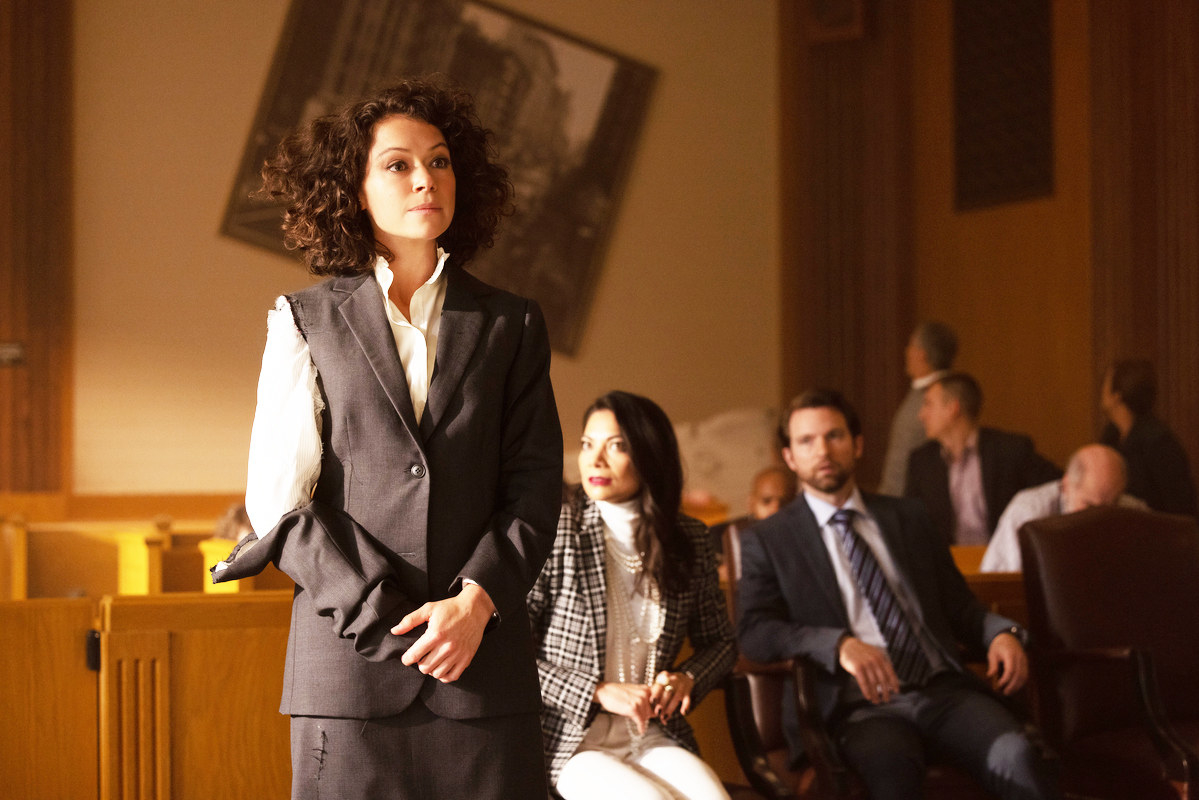 2.
Ginger Gonzaga, who plays Nikki Ramos, aka Jennifer's best friend, teased her character in She-Hulk, saying, "I love her especially because she's the kind of ride-or-die friend for Jen. I love seeing female friends who really, really love each other. That's kind of their love language."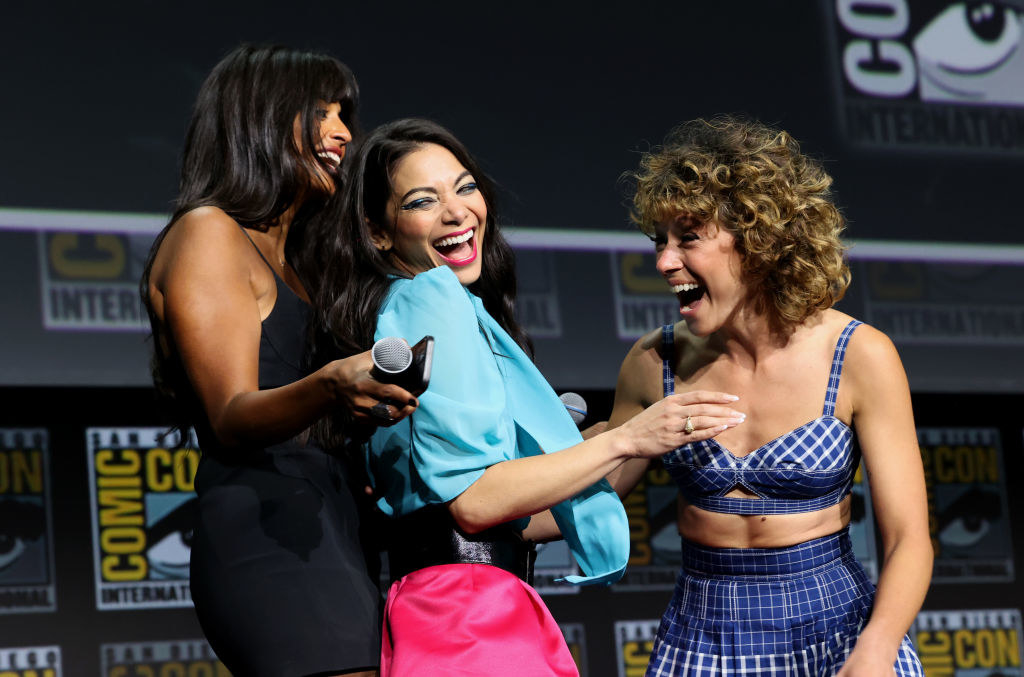 3.
Jameela Jamil, who will take on the role of Titania in She-Hulk, joked that "jealousy and a desperate need for attention" are the things that make Titania tick.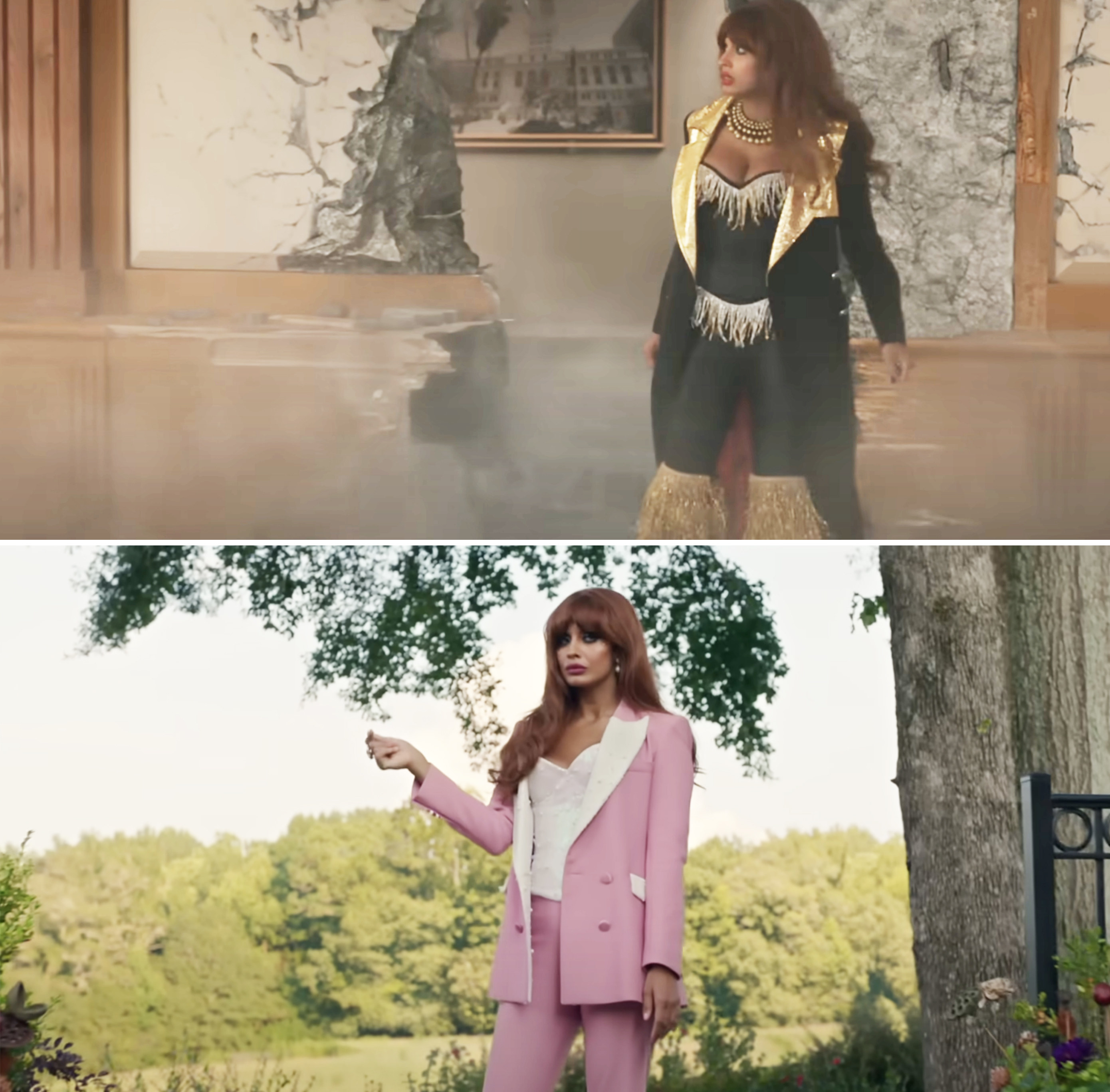 4.
The She-Hulk cast teased that there will be cameos throughout the nine episodes. While Mark Ruffalo, Tim Roth, and Benedict Wong appearing as Smart Hulk, The Abomination, and Wong is awesome, the team also said there are others — we caught a glimpse of Daredevil in the most recent trailer.
5.
Creator Jessica Gao teased that She-Hulk is Marvel's "first true half hour TV comedy," and Kevin Feige agreed. She also said it was fun to let "existing special guest characters," who they can't talk about, "explore different aspects of their characters, especially characters that we've seen in very dramatic roles."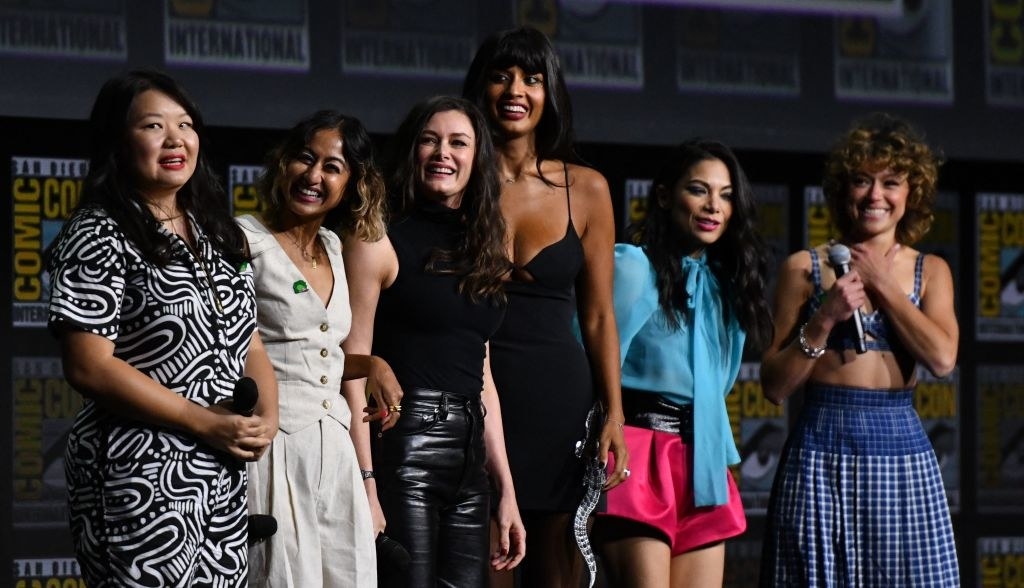 6.
Black Panther: Wakanda Forever director and writer Ryan Coogler talked about how Chadwick Boseman's legacy lives on in this film. He recalled watching the footage for Black Panther at Comic-Con and how Chadwick was squeezing his shoulder in excitement. "I promise you, I can feel his hand on me right now," Ryan emotionally said. "Chad is no longer with us physically, but his spirit, his passion, his genius, his pride in his culture, and the impact that he made on this industry will be felt forever. We put our love for Chadwick into this film."
7.
Ryan Coogler teased that Black Panther: Wakanda Forever is a "roller coaster of a movie" and will explore "new places in Wakanda that we haven't seen before, but it also goes to new corners of the MCU." And Lupita Nyong'o added, "The universe of Wakanda is expanding."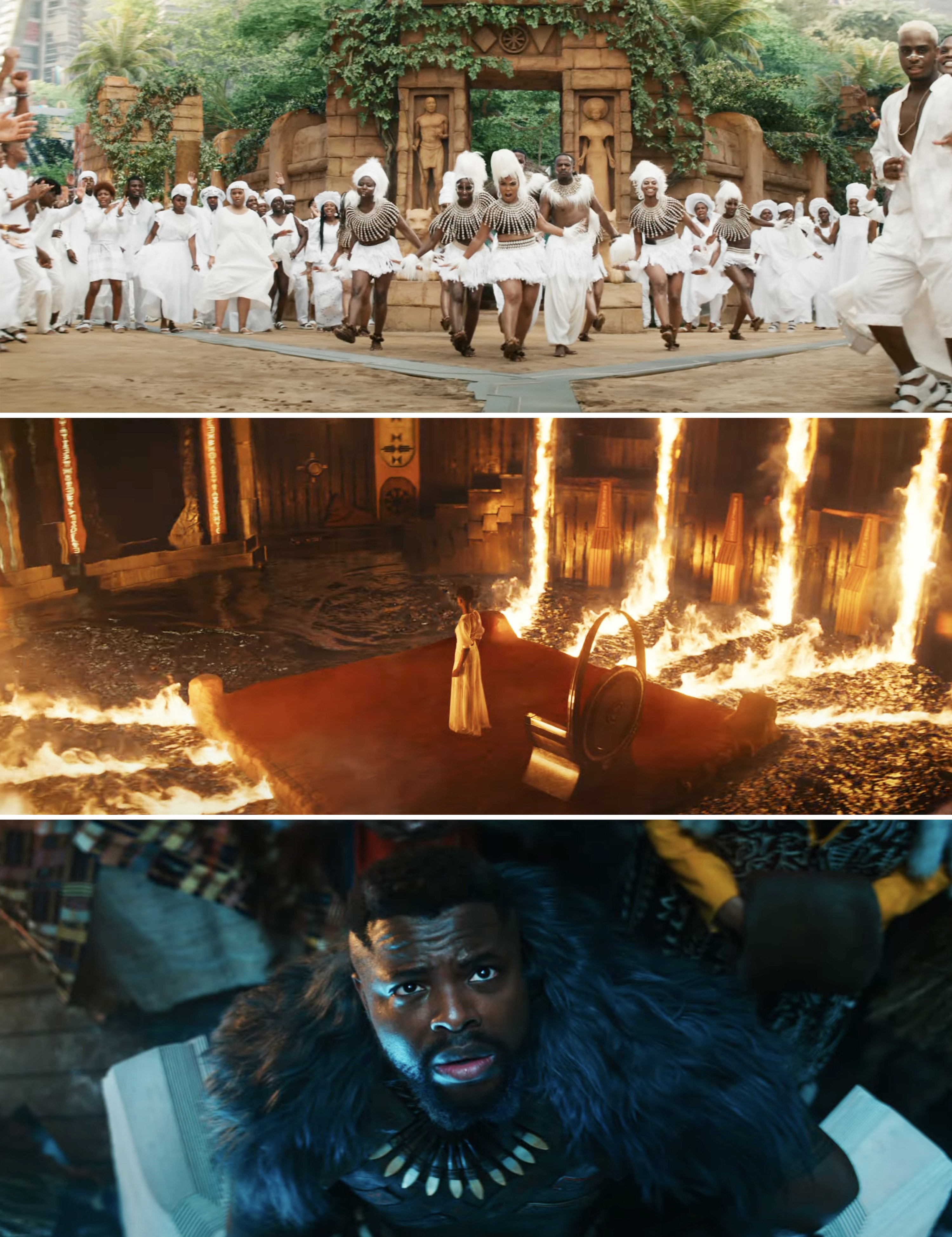 8.
Letitia Wright said it was a "blessing" to return for Black Panther: Wakanda Forever and that they've all "grown so much as a family" since Black Panther in 2018. "We're just so honored to bring this movie to you guys and honor big bro at the same time."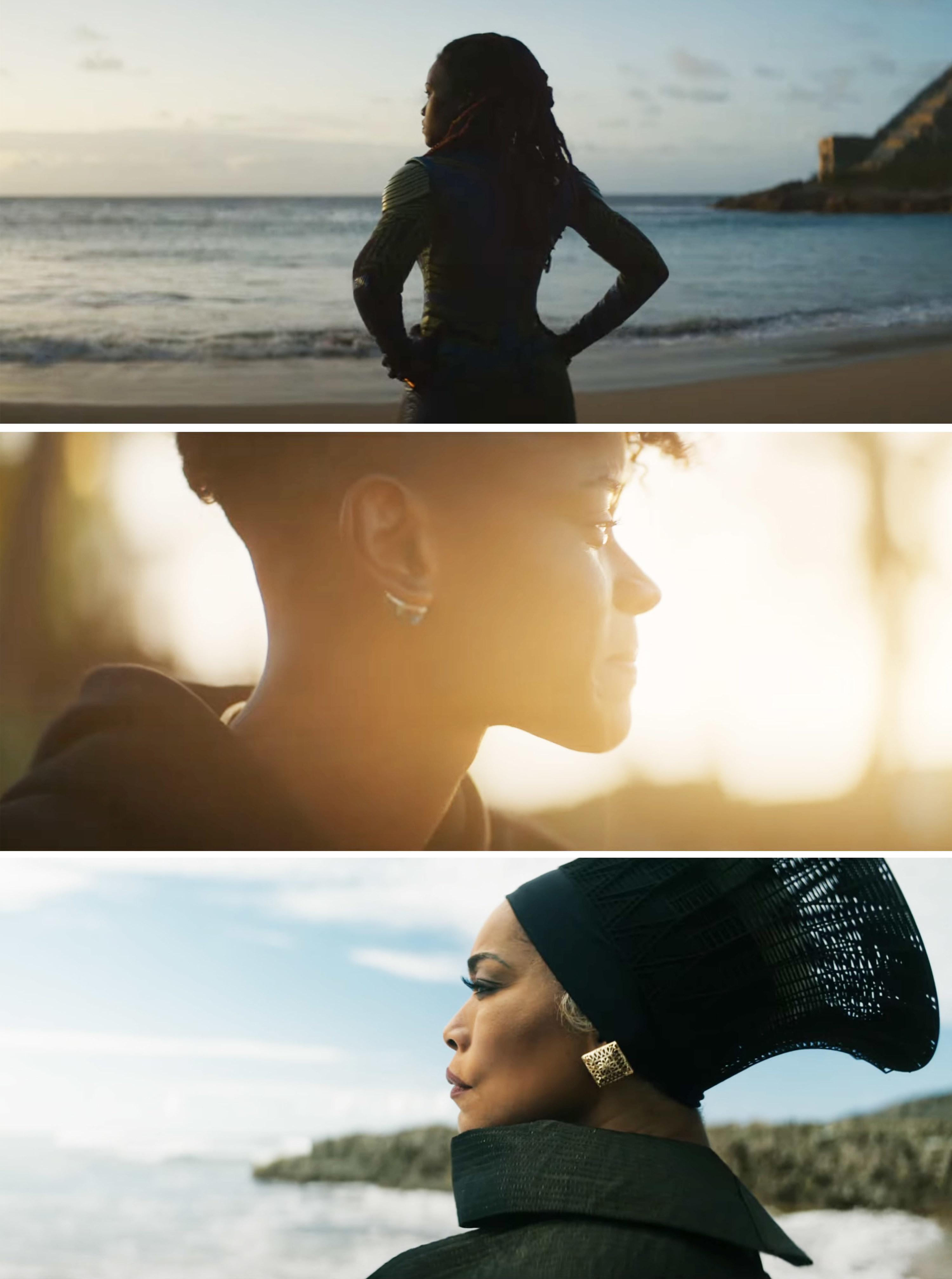 9.
Black Panther: Wakanda Forever will also introduce a lot of brand-new characters, like Tenoch Huerta as Namor, Mabel Cadena as Namora, Alex Livinalli as Attuma, Michaela Coel as Aneka, and Dominique Thorne as Riri Williams/Ironheart.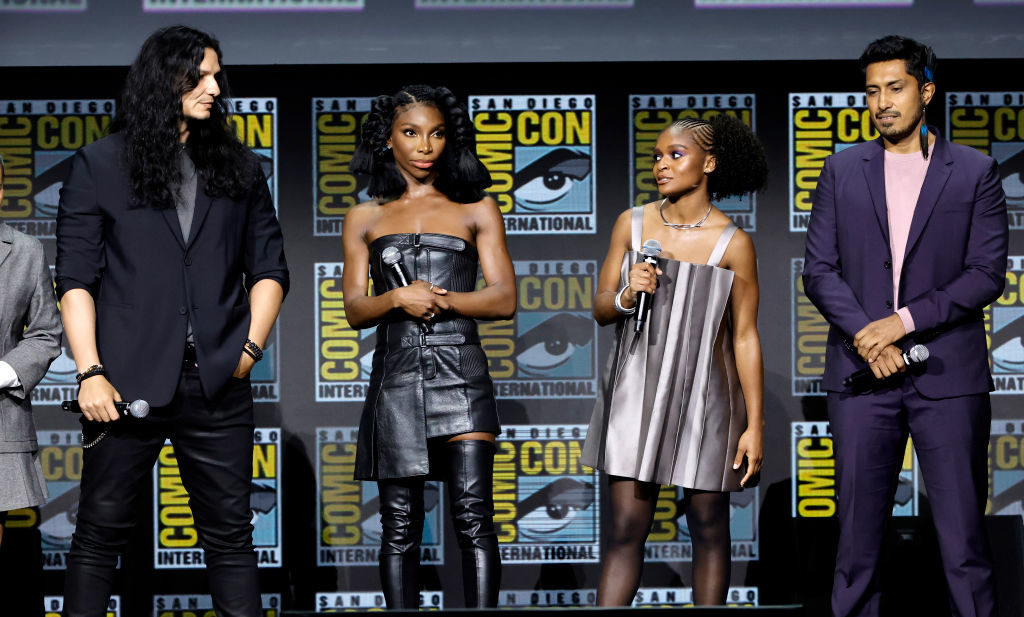 10.
Tenoch Huerta joining the Black Panther: Wakanda Forever cast as the beloved comic book character Namor is huge. Addressing the crowd at Comic-Con 2022, he talked about inclusion and how it's because of inclusion that he's able to play this huge MCU character. "I wouldn't be here without inclusion," he said. "A lot of kids out there in their hoods are looking at us, dreaming to be here, and they're gonna make it! They're gonna make it!"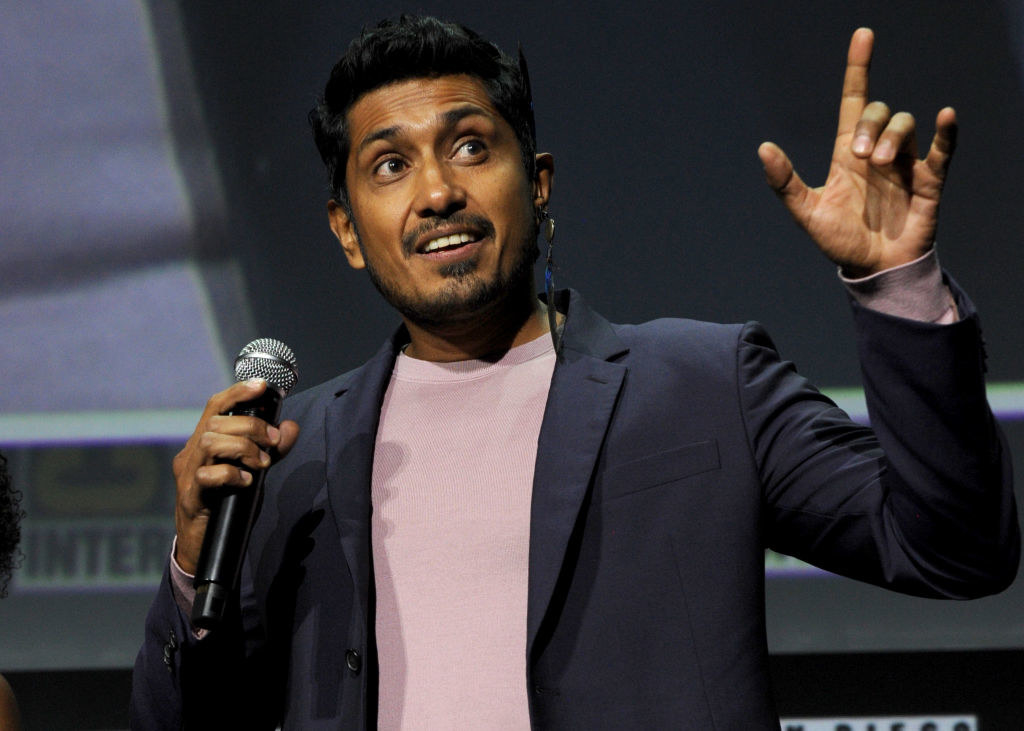 11.
After the Black Panther: Wakanda Forever trailer screened for the first time in Hall H, the entire cast, Ryan Coogler, and Kevin Feige embraced on stage and took in thunderous applause from fans.
12.
Cobie Smulders took Hall H by storm when she teased the upcoming Disney+ series Secret Invasion, which will follow Nick Fury (Samuel L. Jackson) and Maria Hill reuniting, as well as some brand-new characters. And Talos and the Skrulls are back too. Cobie said Secret Invasion is a "darker show" and she's excited to showcase these characters in "new ways" and dive "deeper" into their stories.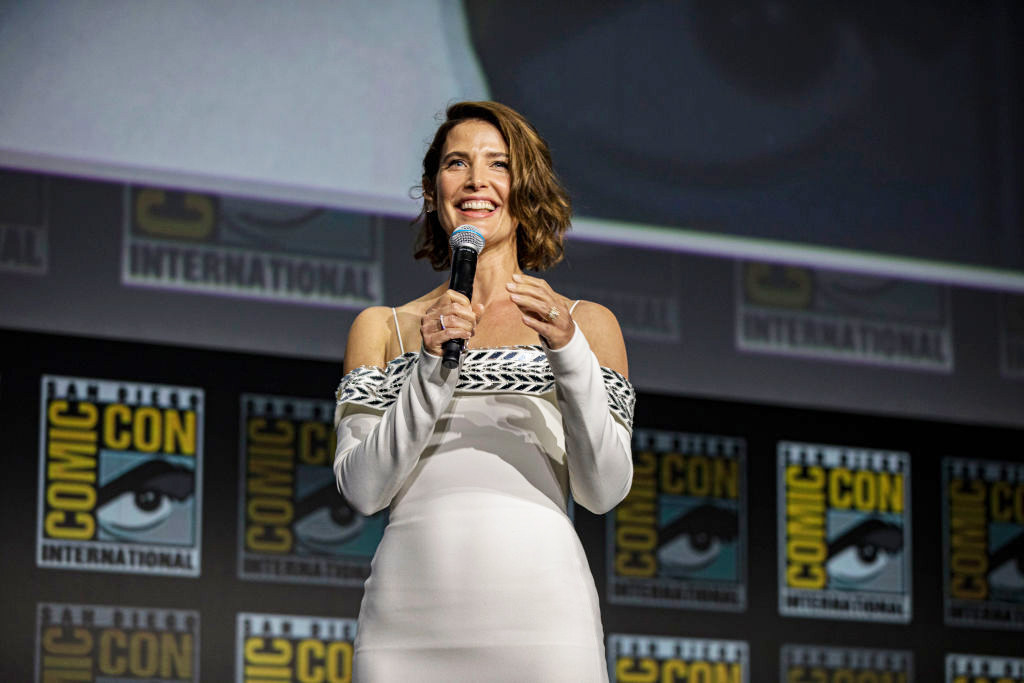 13.
Speaking about the epic Secret Invasion cast, which includes Samuel L. Jackson, Ben Mendelsohn, Emilia Clarke, Kingsley Ben-Adir, Olivia Colman, and more, Cobie Smulders said she's "living the dream." The footage for Secret Invasion shown exclusively at Comic-Con showed that Don Cheadle will be in the series as well.
14.
Ant-Man and the Wasp: Quantumania director Peyton Reed discussed working on the third solo Ant-Man project, saying that this movie allows them to "finally spend some time in the Quantum Realm" and there's "a lot in store" for the characters in this film.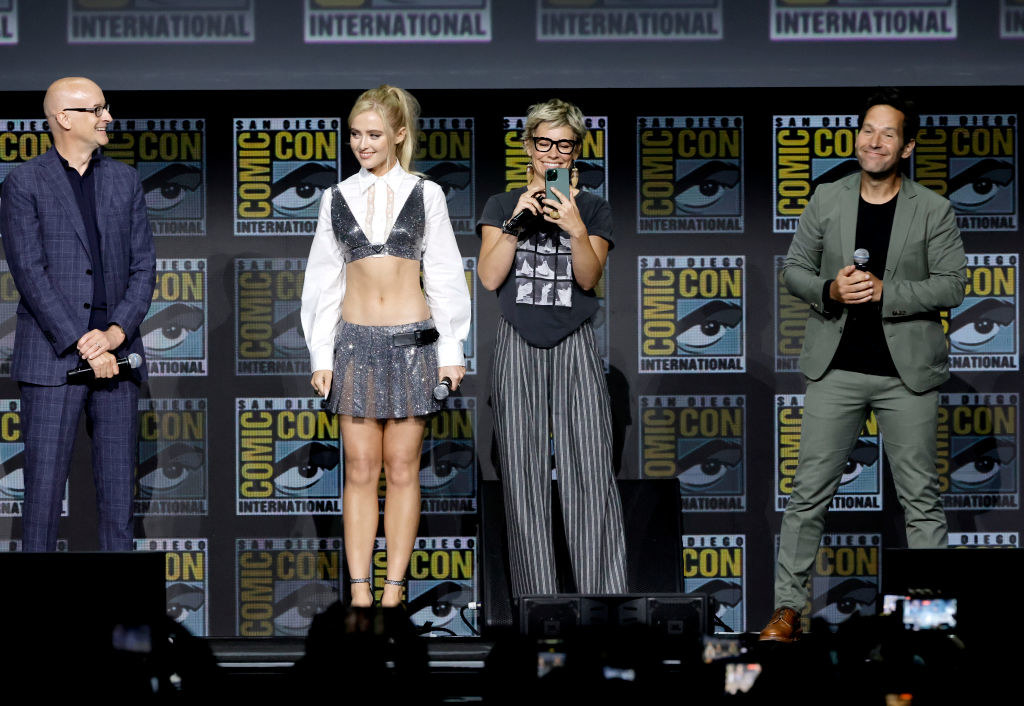 15.
Meanwhile, Paul Rudd teased that at the beginning of Quantumania, we find Scott Lang "pretty pleased with himself and his role in saving the universe." Footage shown exclusively at Comic-Con even showed that Scott has written a book.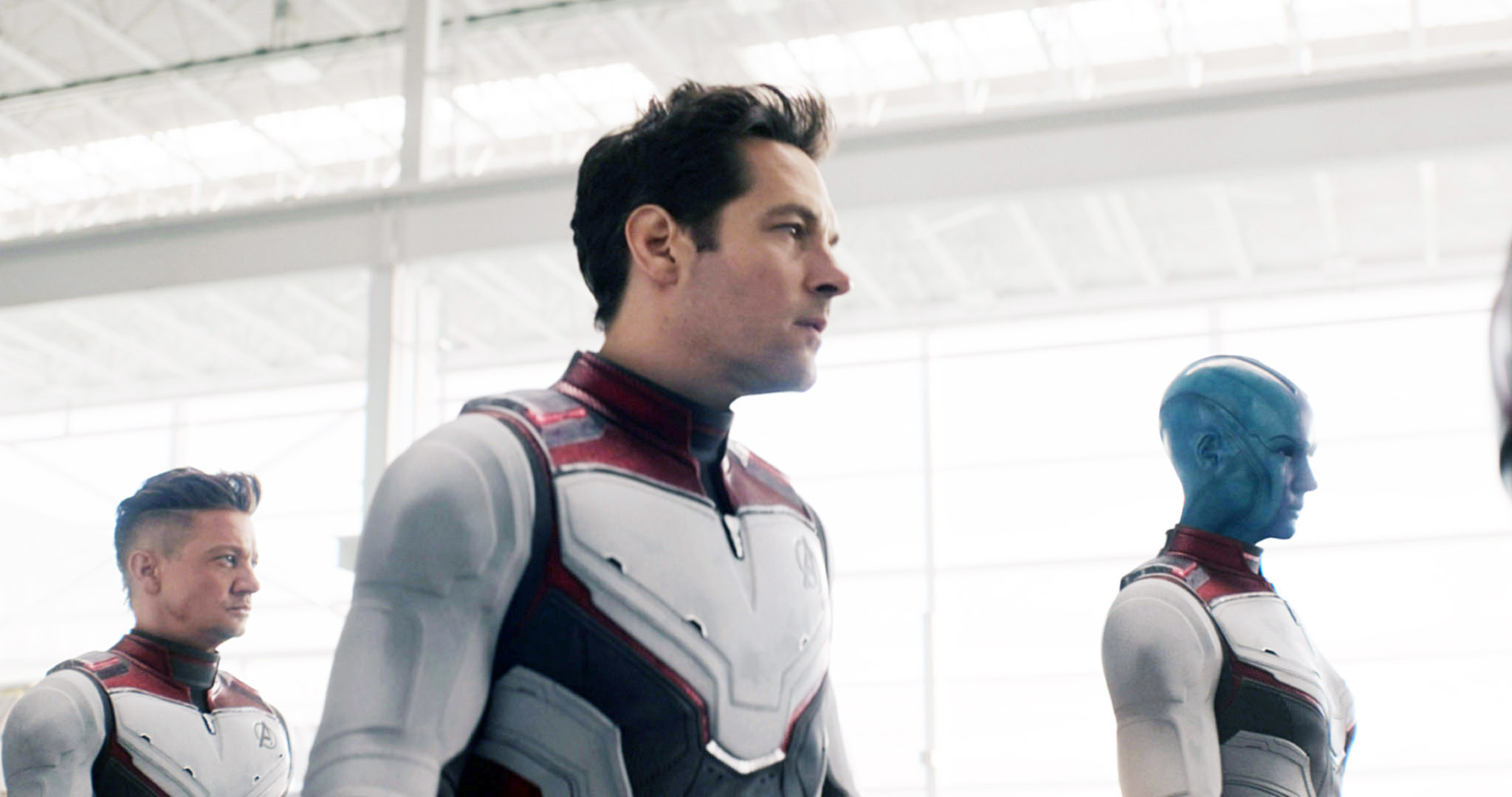 16.
Evangeline Lilly said what has been awesome about bringing Hope van Dyne back for a third movie is that this time around, she was able to explore "her vulnerabilities and her fragilities, and the ways that she has to face those things and how she deals with those things." She continued, saying, "I think being a powerful woman is only impressive if you do it against very difficult odds."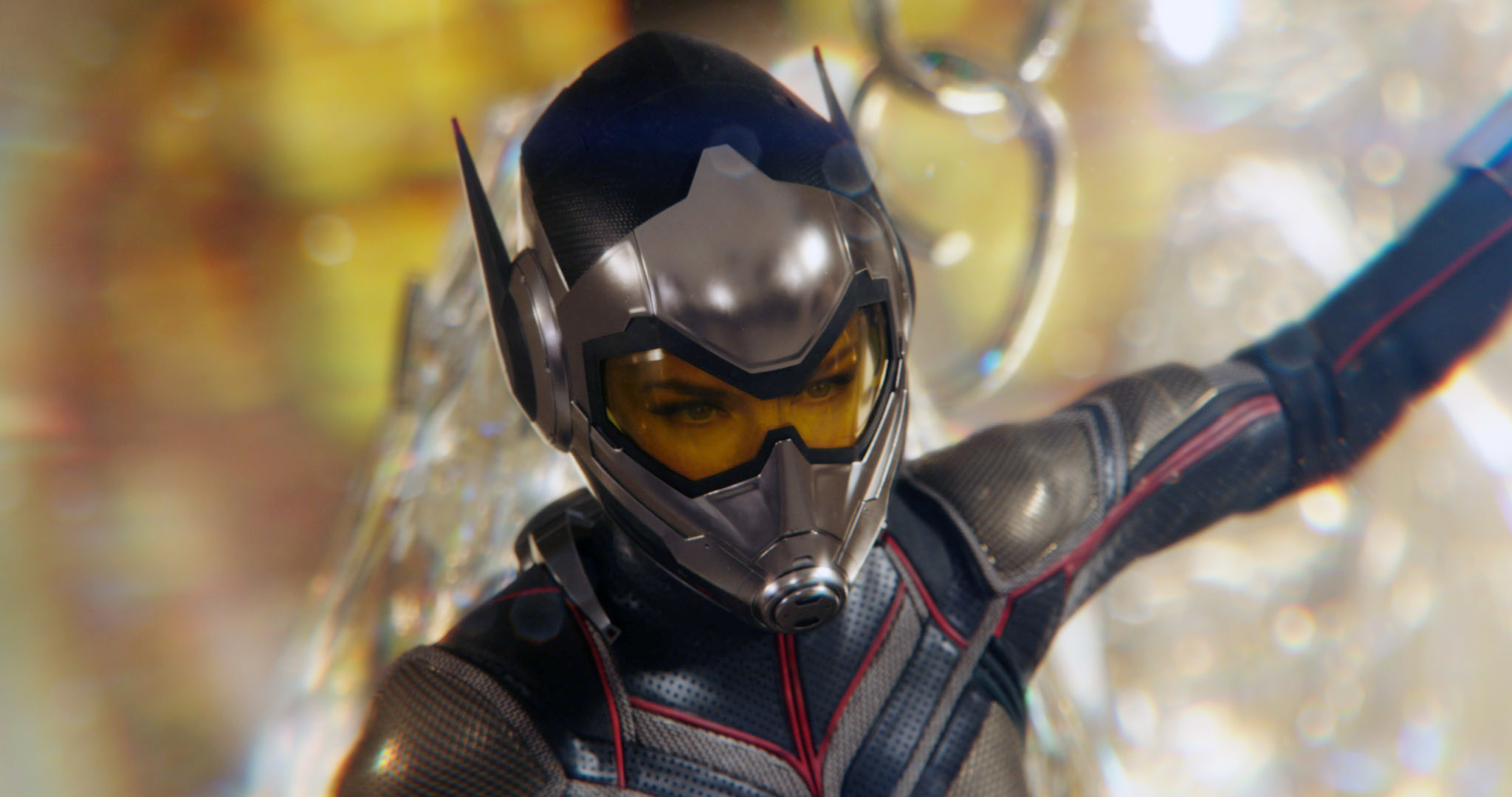 17.
Kathryn Newton, who joins the Ant-Man family as a grown up Cassie Lang, couldn't give too much away about Cassie's arc in this third movie, but she teased, "I think that Cassie is just becoming who she is supposed to be."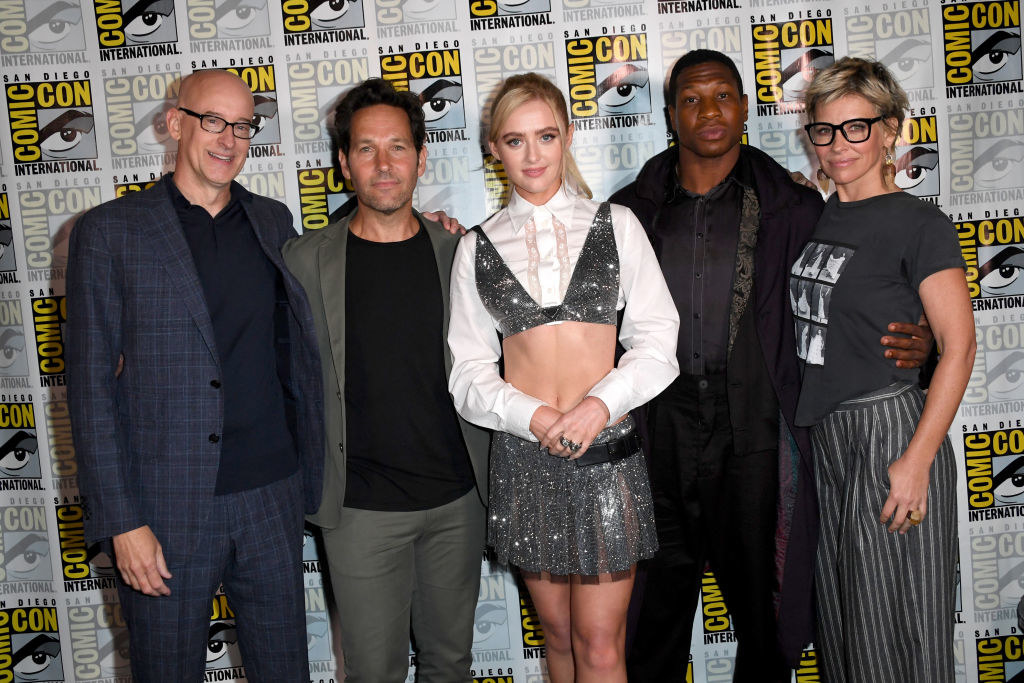 18.
And Jonathan Majors, who will portray Kang the Conqueror, aka a variant of "He Who Remains" from Loki, legit couldn't say anything about his character except "there will be conquering."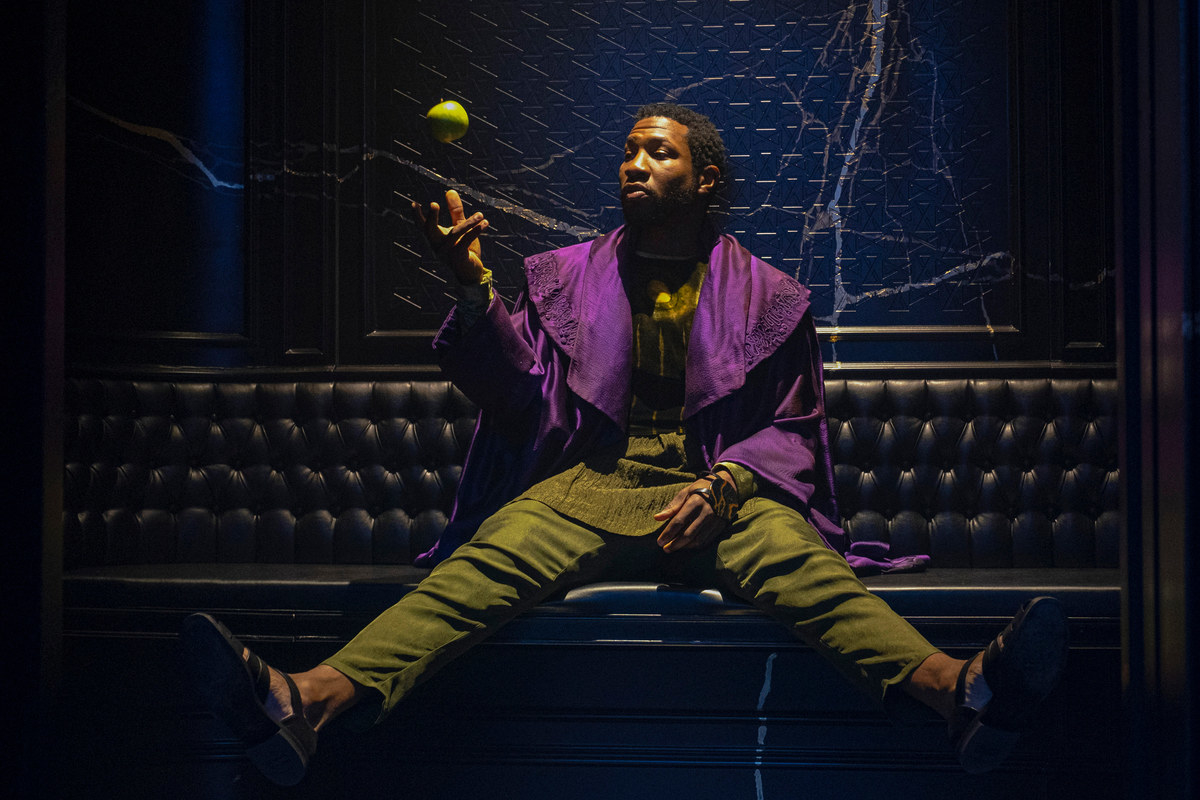 19.
Ant-Man and the Wasp: Quantumania footage that was shown exclusively in Hall H at Comic-Con 2022 also revealed that MODOK will make an appearance in the film. In the comics, MODOK is the technologically enhanced leader of the A.I.M. enterprise. His iconic look consists of a brain that is so big, he now has a giant head.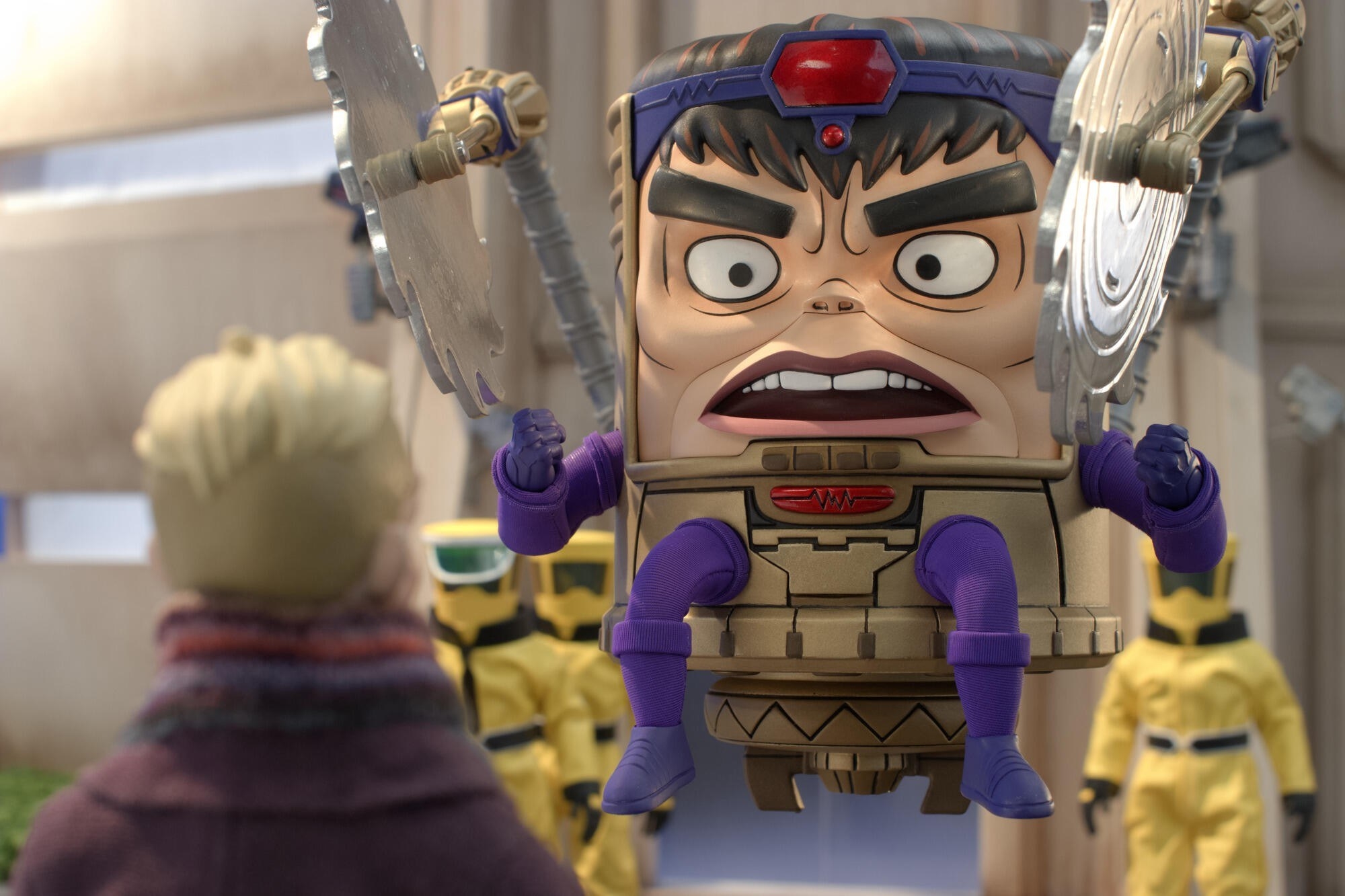 20.
Director and writer James Gunn emotionally teased what fans can expect from Guardians of the Galaxy Vol. 3, saying that "this is the end of [the] story" he originally envisioned for the Guardians of the Galaxy when he pitched the very first film 10 years ago to Marvel Studios. "I'm sorry," James said. "Some stories have an ending. Doesn't mean everybody dies."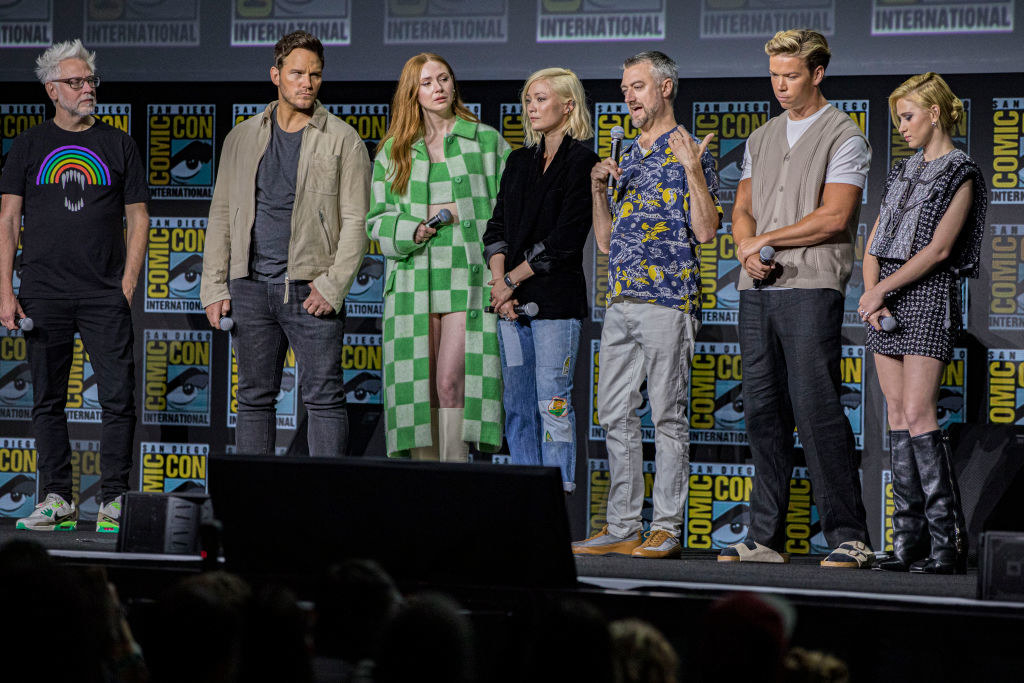 21.
James Gunn said his entire process of working on the Guardians of the Galaxy films has been about "telling one story between the three films with a couple of sideways adventures into some of the other universes. But I think it really is about the one story. This is about the final arc that we began at the very beginning of Guardians of the Galaxy."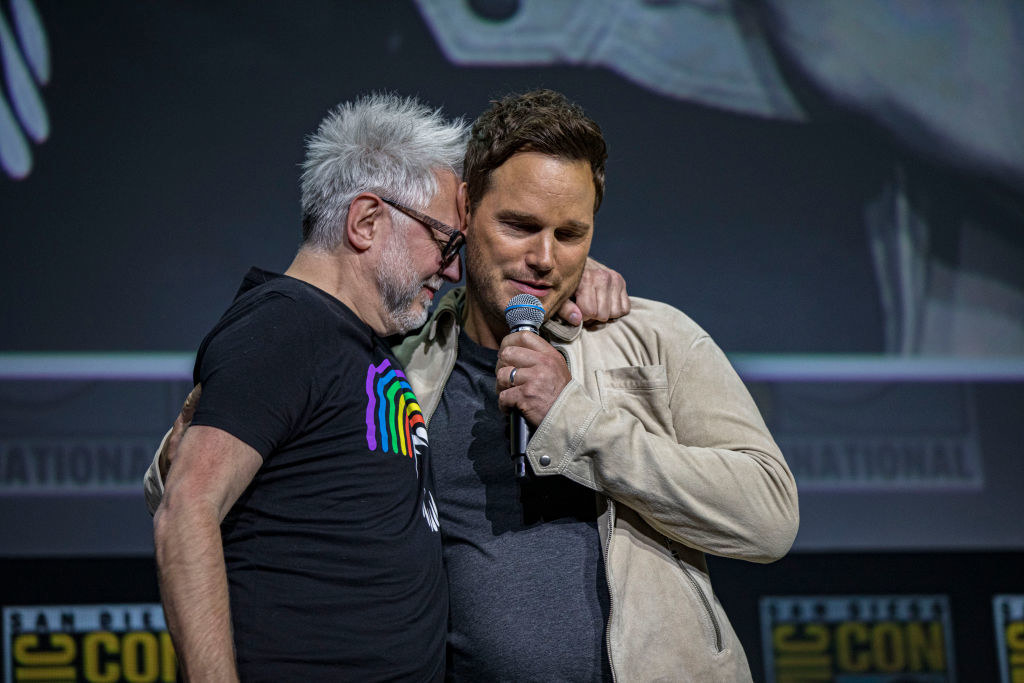 22.
Chris Pratt and the rest of the cast got emotional over seeing the first footage for Guardians of the Galaxy Vol. 3. Chris teased Peter Quill's upcoming journey, saying that he's still "reeling from the events of Endgame and from having lost Gamora, the love of his life." Having a new, and different, Gamora now and dealing with that pain will be a "big part of his journey," according to Chris.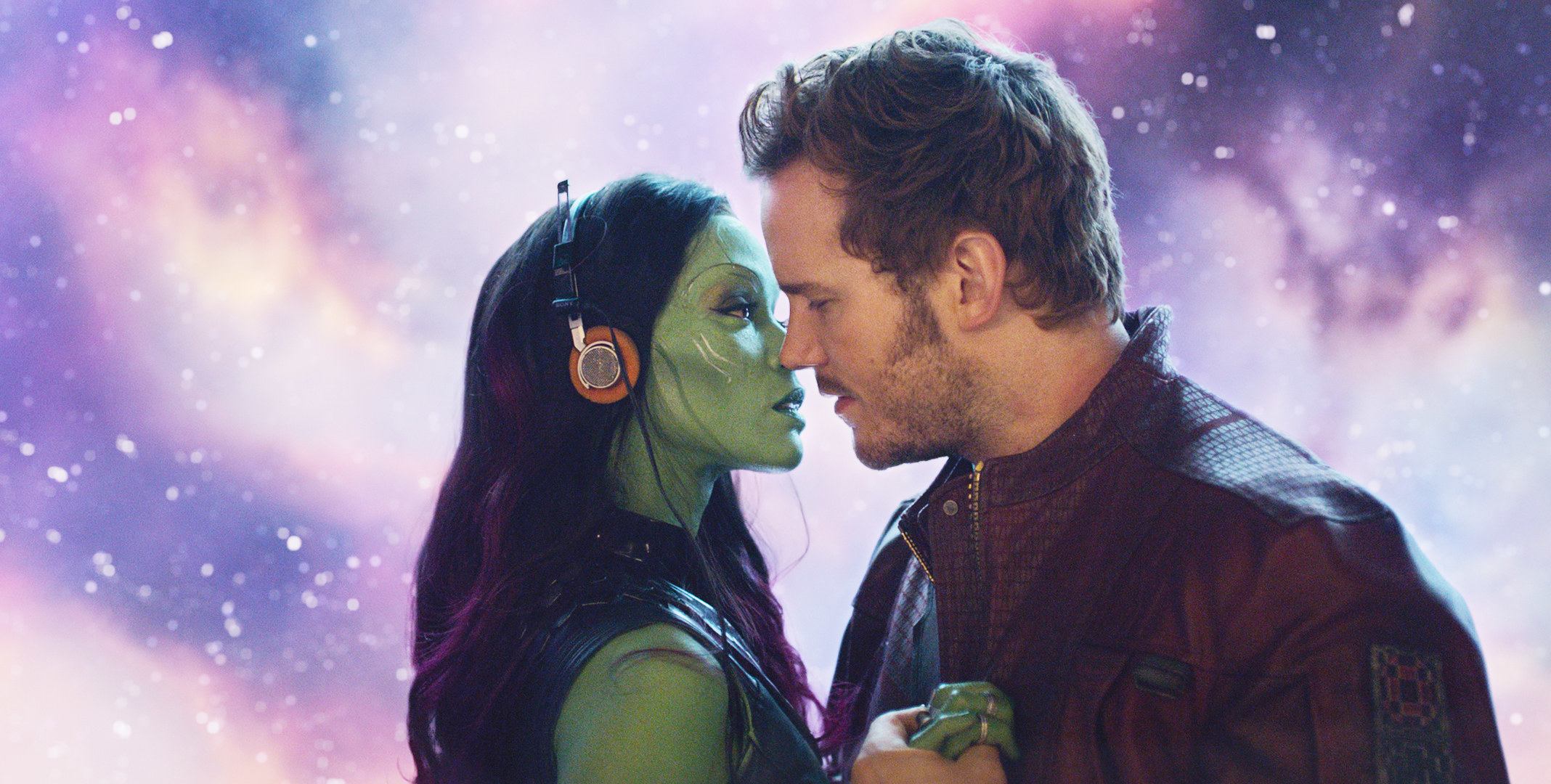 23.
Karen Gillan explained that she's excited for fans to see a lighter side to Nebula in Guardians of the Galaxy Vol. 3. "I think we're gonna see a little bit of levity from Nebula this time around. Like, maybe, she's going to be...a little funnier?!" Karen said Thanos being eliminated from Nebula's life was a "cathartic" experience that impacts her character arc in this third film.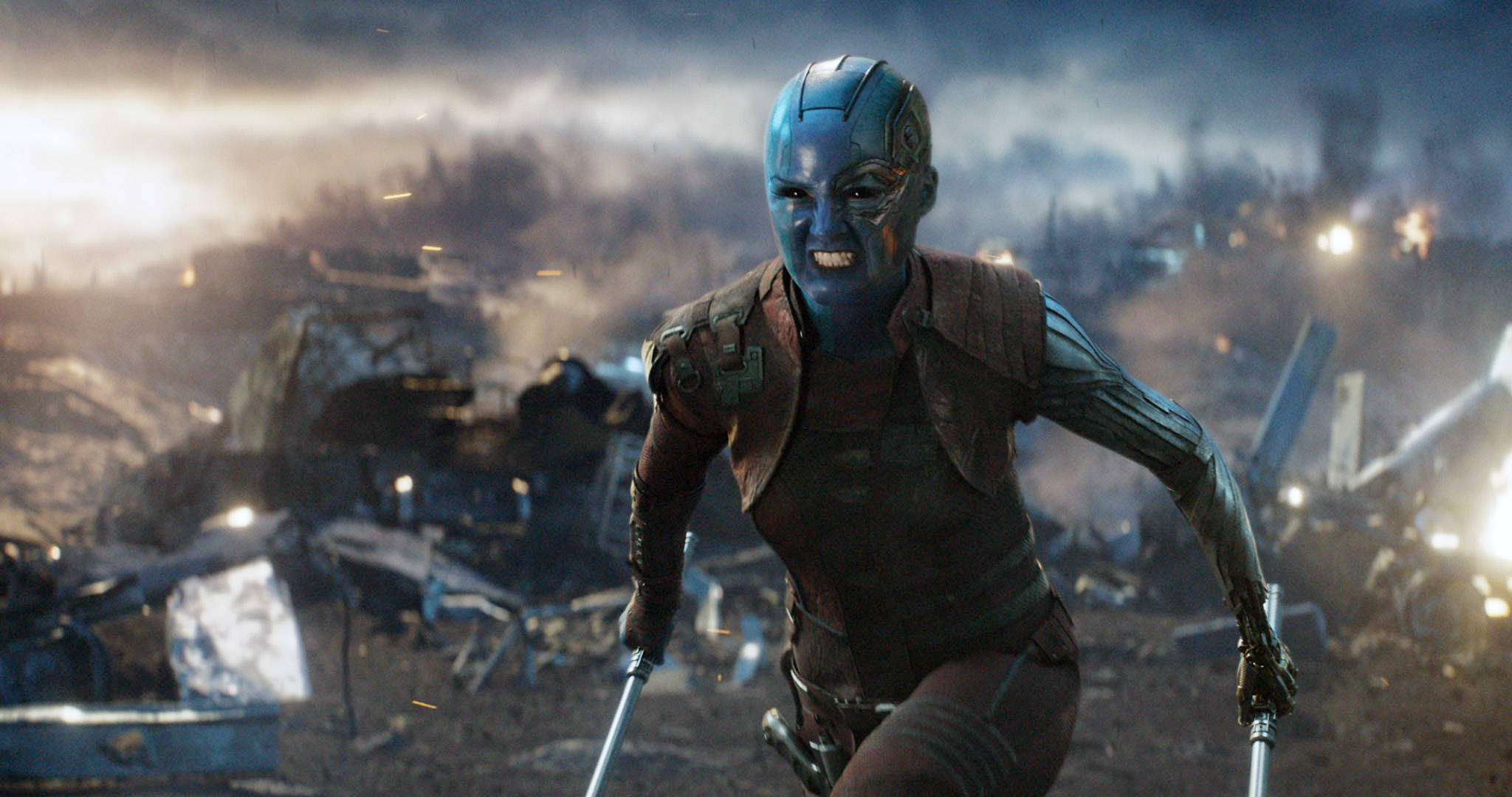 24.
Sean Gunn began to cry on stage at Hall H after he was asked what the most rewarding part about working on the Guardians films has been. "It has been working with my brother," he said. "Over the course of three movies, it's come to a point where it's not just about the joy of working with him. It's about the joy of working with these other people." Sean went on to say that it has been the "most beautiful thing" to work with such creative people and it's the highlight of his career.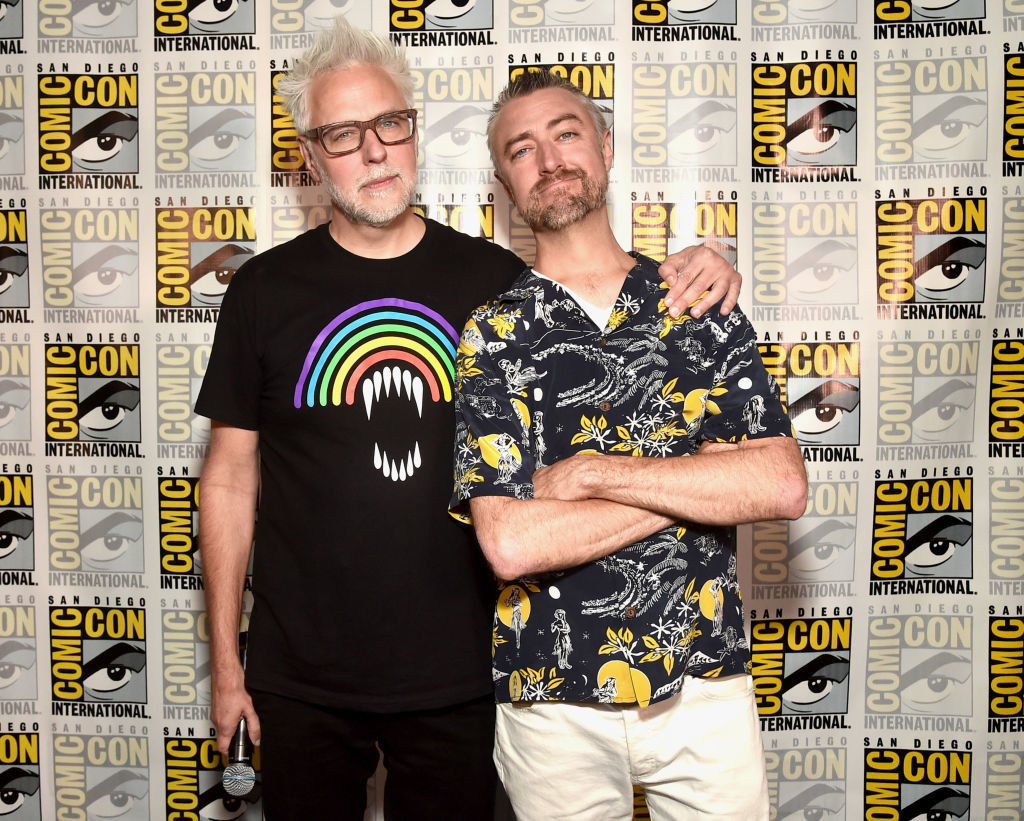 25.
Marvel fans in Hall H were treated to the first look at Will Poulter as Adam Warlock — y'all, I freaked out — and Will was on hand to tease his highly anticipated introduction to the MCU. "I was kind of welcomed into the family and couldn't have been treated better by these folks. They are such wonderful people that [are] every bit as nice as they are talented. I'm also really grateful that there was an appetite for Adam from the fans."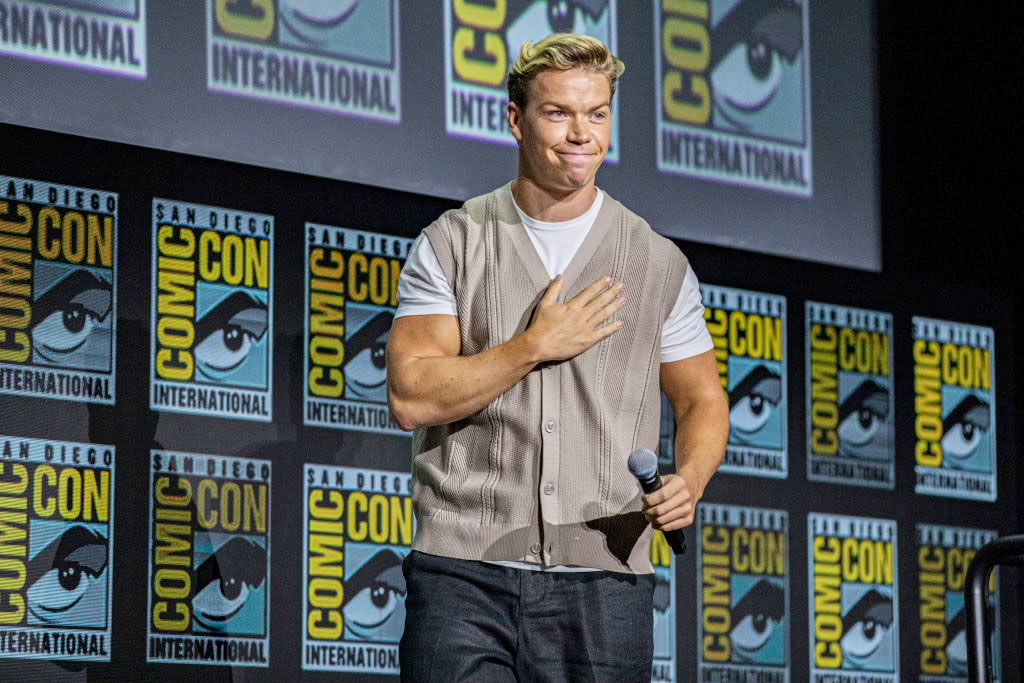 26.
It was officially announced that Maria Bakalova will be playing Cosmo the Spacedog. In the comics, Cosmo is a dog that is part of the Collector's museum. "I hope you love Cosmo," Maria began. "She's gonna bring lots of laughs and love, and a bit of a strength, I think. I hope." James Gunn also revealed that while filming, Maria hung out by the camera during the entire shoot and just watched everyone film.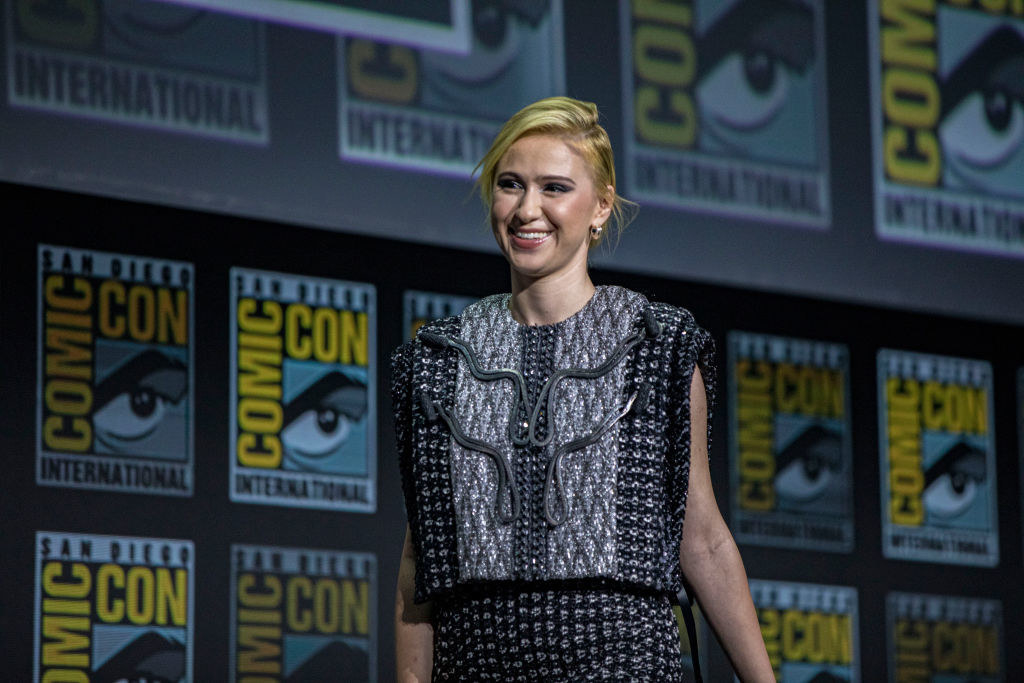 27.
It wouldn't be Marvel Studios in Hall H without a wild entrance from a cast member — I mean, Tom Hiddleston started the trend and it's been going on ever since — so, Chukwudi Iwuji entered through the crowd and was dressed as the High Evolutionary. He will make his grand first MCU appearance in Guardians of the Galaxy Vol. 3.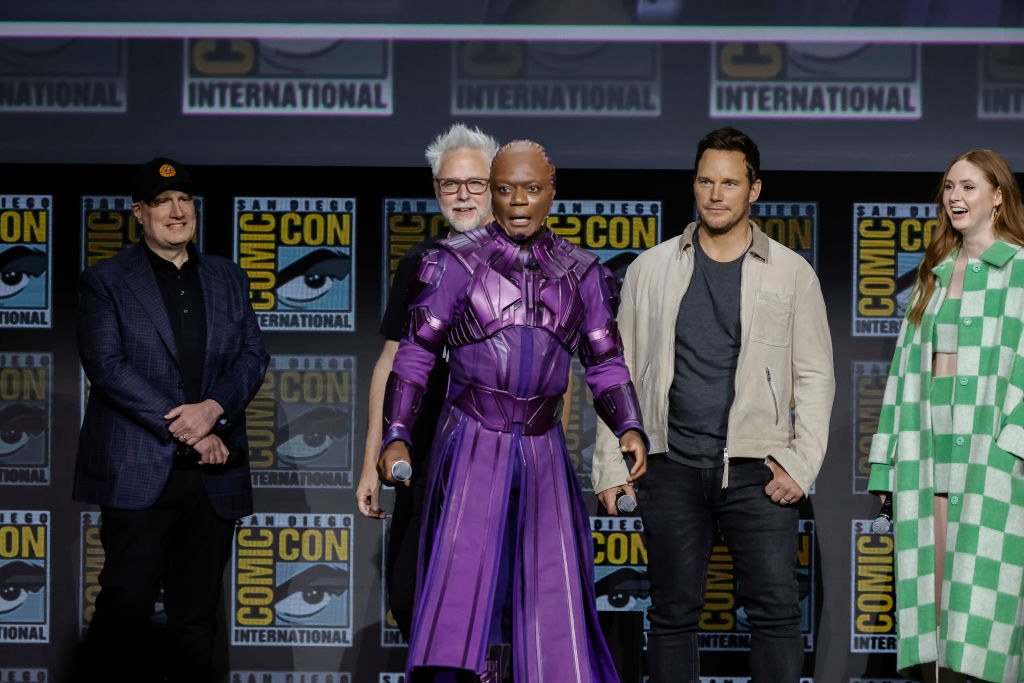 28.
Kevin Feige announced a lot of brand-new projects that will end Phase 5, including the title for the next Captain America movie, which will be called Captain America: New World Order. It was also OFFICIALLY confirmed that Sam Wilson (Anthony Mackie) will be returning for that film, marking his first solo film since taking on the Captain America mantle.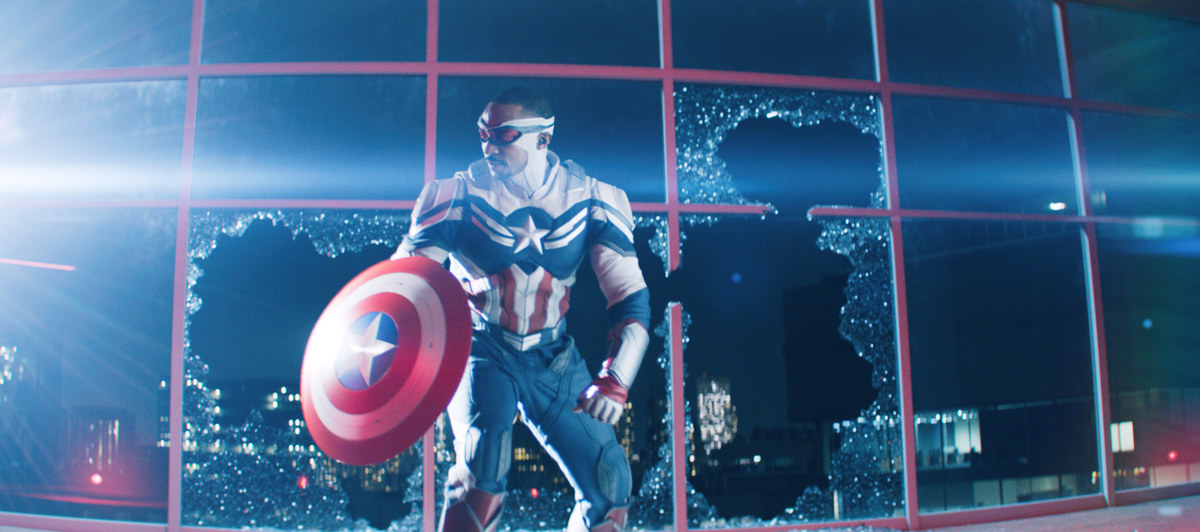 29.
Kathryn Hahn's upcoming WandaVision spinoff series about her character, Agatha Harkness, got a title change and will now be called Agatha: Coven of Chaos. Like, absolutely sign me up.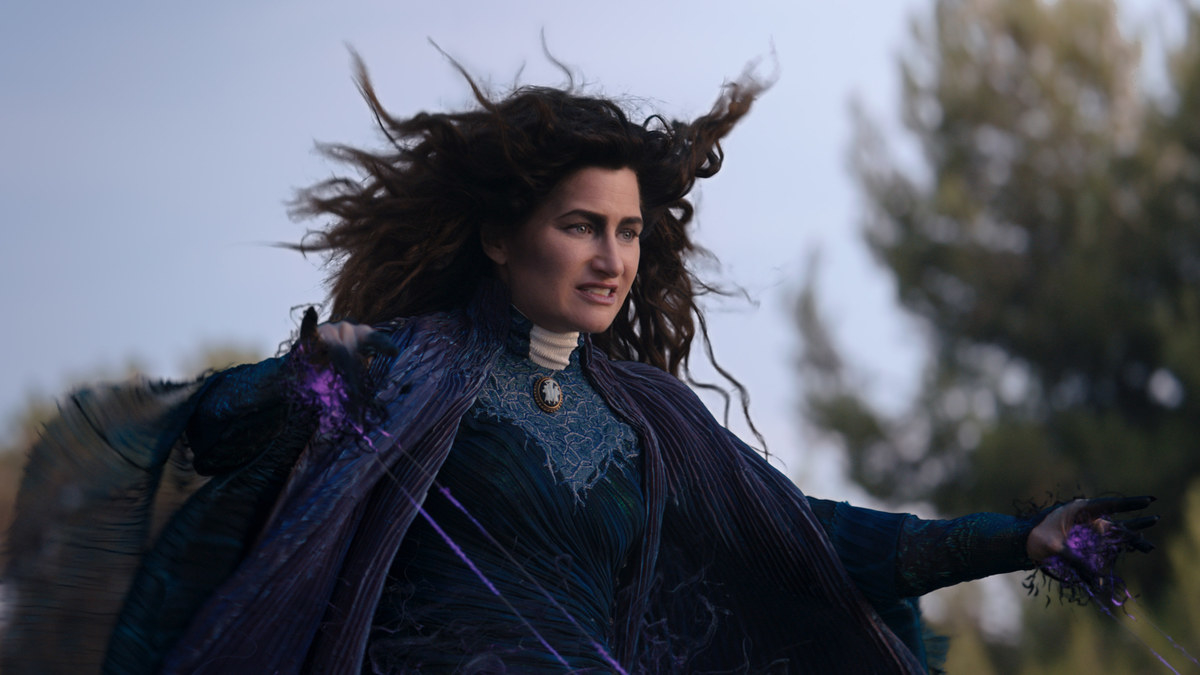 30.
Charlie Cox and Vincent D'Onofrio will officially be returning to the Marvel Cinematic Universe in a brand-new Daredevil-centered series called Daredevil: Born Again. It will be an 18-episode season on Disney+.
31.
Phase 5 of the Marvel Cinematic Universe will end with Thunderbolts in 2024, and we're still waiting on official casting for that one. In the comics, the group is formed by Baron Zemo and is made up of villains who masquerade as heroes. There are rumors this could be the movie where Florence Pugh returns as Yelena Belova.
32.
We also got our first glimpse of what Phase 6 of the Marvel Cinematic Universe will look like. This phase will kick off with the highly anticipated Fantastic Four film in 2024.
33.
And Phase 6 will end with two huge Avengers movies, titled Avengers: The Kang Dynasty and Avengers: Secret Wars. I'm already screaming and crying over these two films, which will be released in 2025.
34.
Just like how Phase 1, Phase 2, and Phase 3 made up "The Infinity Saga" of the Marvel Cinematic Universe, Phase 4, Phase 5, and Phase 6 will officially be called "The Multiverse Saga."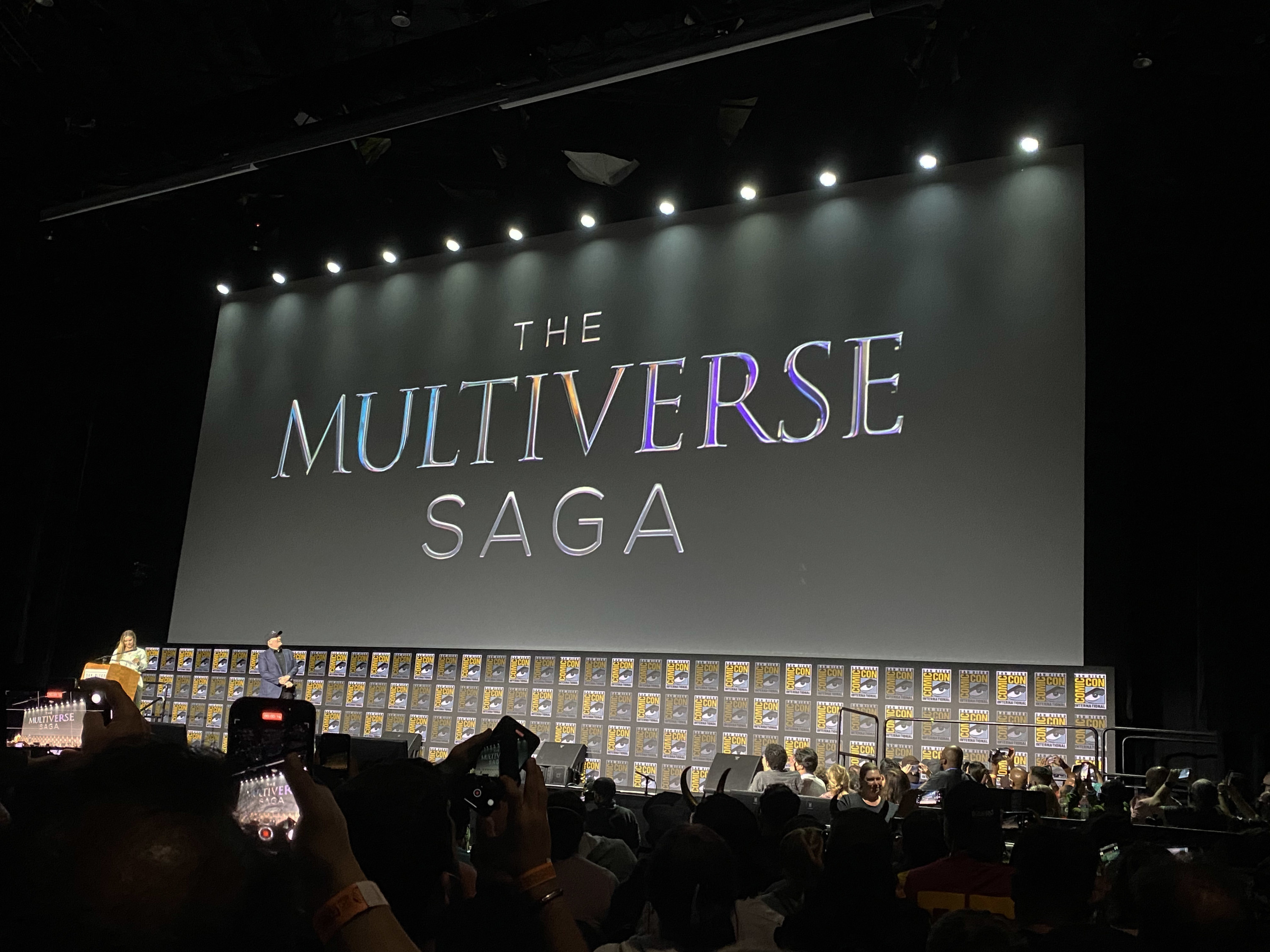 Now, as I mentioned up top, Marvel Studios had TWO panels at San Diego Comic-Con 2022. The second was the studio's first ever animation-only panel, which detailed all of the upcoming animated series. Here's everything we learned from that panel:
35.
What If...? Season 2 will drop on Disney+ in early 2023 and will feature episodes featuring Hela, Captain Carter, Scarlet Witch, Odin, Valkyrie, Hydra Stomper Steve, Natasha, Shang-Chi, Korg, The Grandmaster, Red Guardian, Ego, and many more.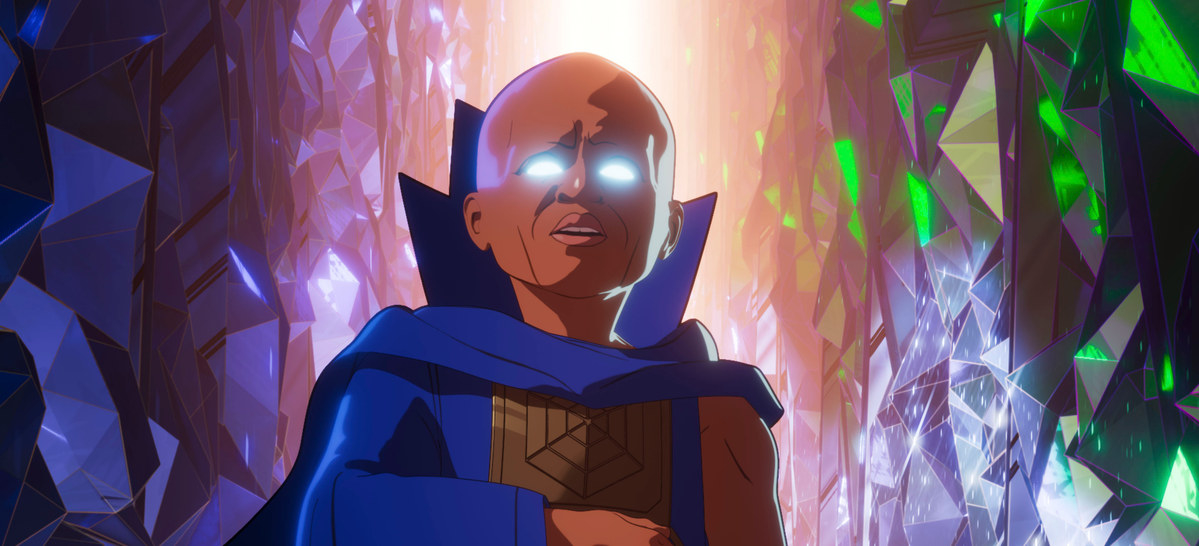 36.
The What If...? Season 2 creators also confirmed there will be an episode set in 1602, which brings to life a beloved comic book run. Marvel 1602 is an eight-issue comic book series that was written by Neil Gaiman. The series takes place in a timeline where all of our favorite Marvel superheroes exist in the Elizabethan era.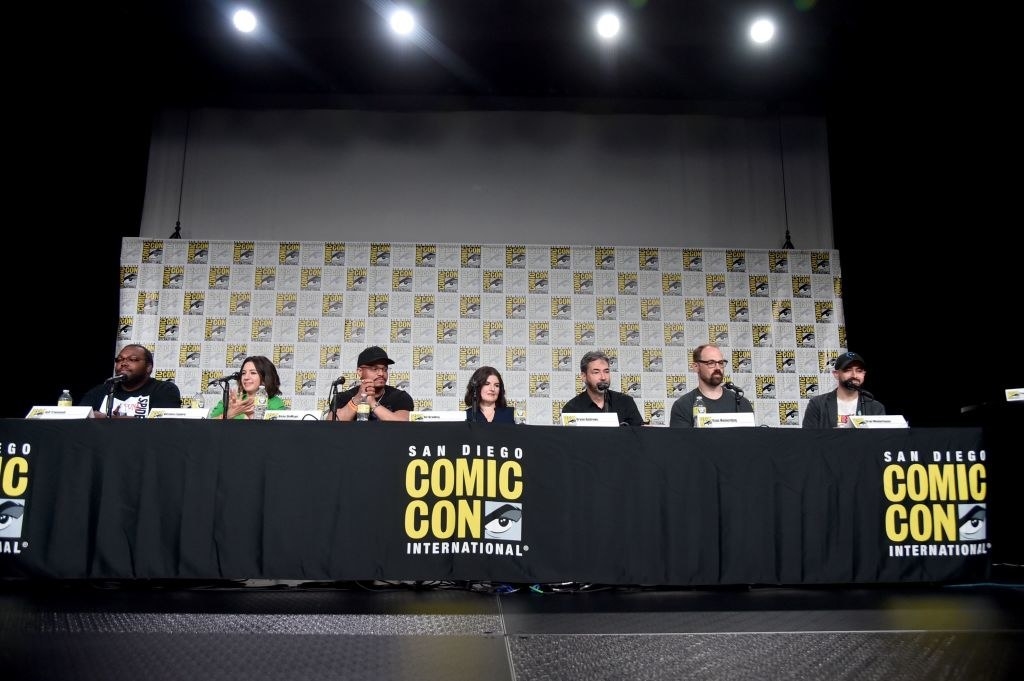 37.
What If...? director and executive producer Bryan Andrews revealed that the Captain Carter we saw in Doctor Strange in the Multiverse of Madness is NOT the same Captain Carter from What If...? Executive producer Brad Winderbaum added, "Our Captain Carter wouldn't have gone down like that."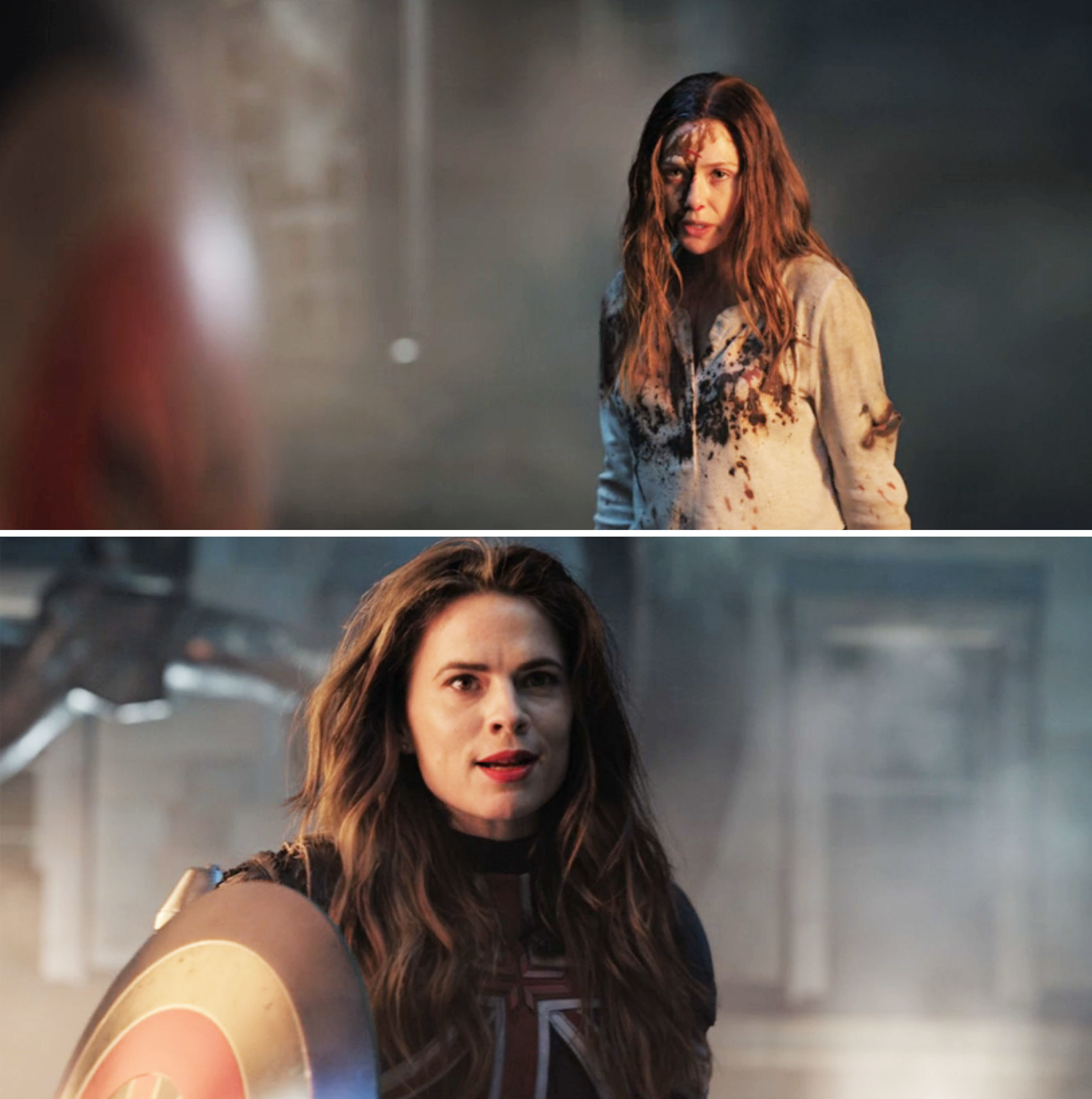 38.
Marvel Zombies will premiere in 2024 and feature some of the characters we saw in the What If...? Season 1 episode, as well as some new ones. Some of the new zombies we'll see will include Scarlet Witch, Captain Marvel, Ikaris, Ghost, Okoye, and more.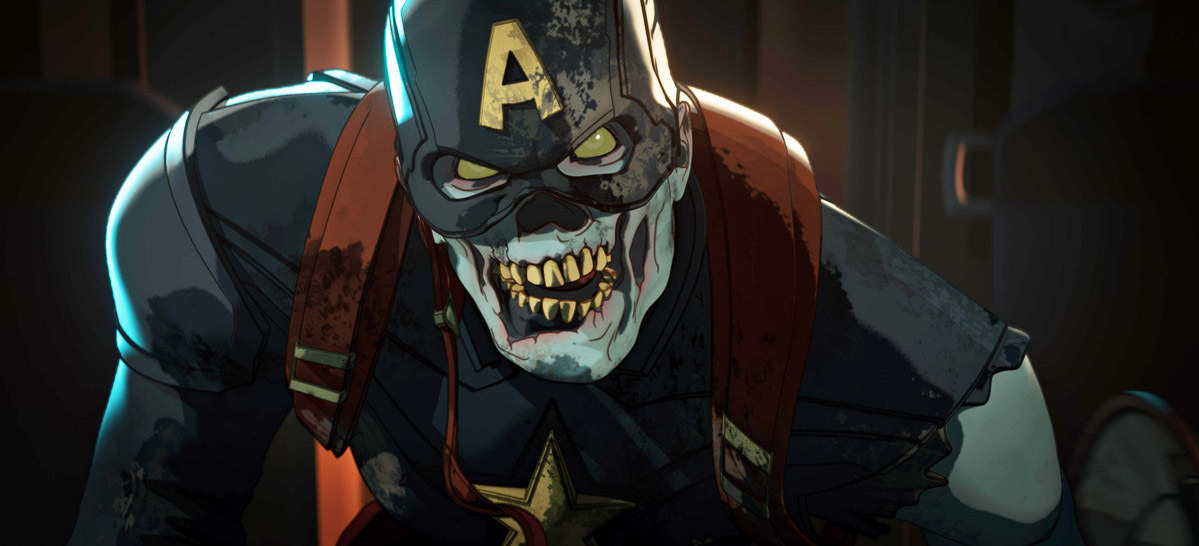 39.
Meanwhile, some of the heroes fighting the zombies that we'll see in Marvel Zombies include Yelena Belova, Kate Bishop, Shang-Chi, Red Guardian, Kamala Khan, Jimmy Woo, and many more.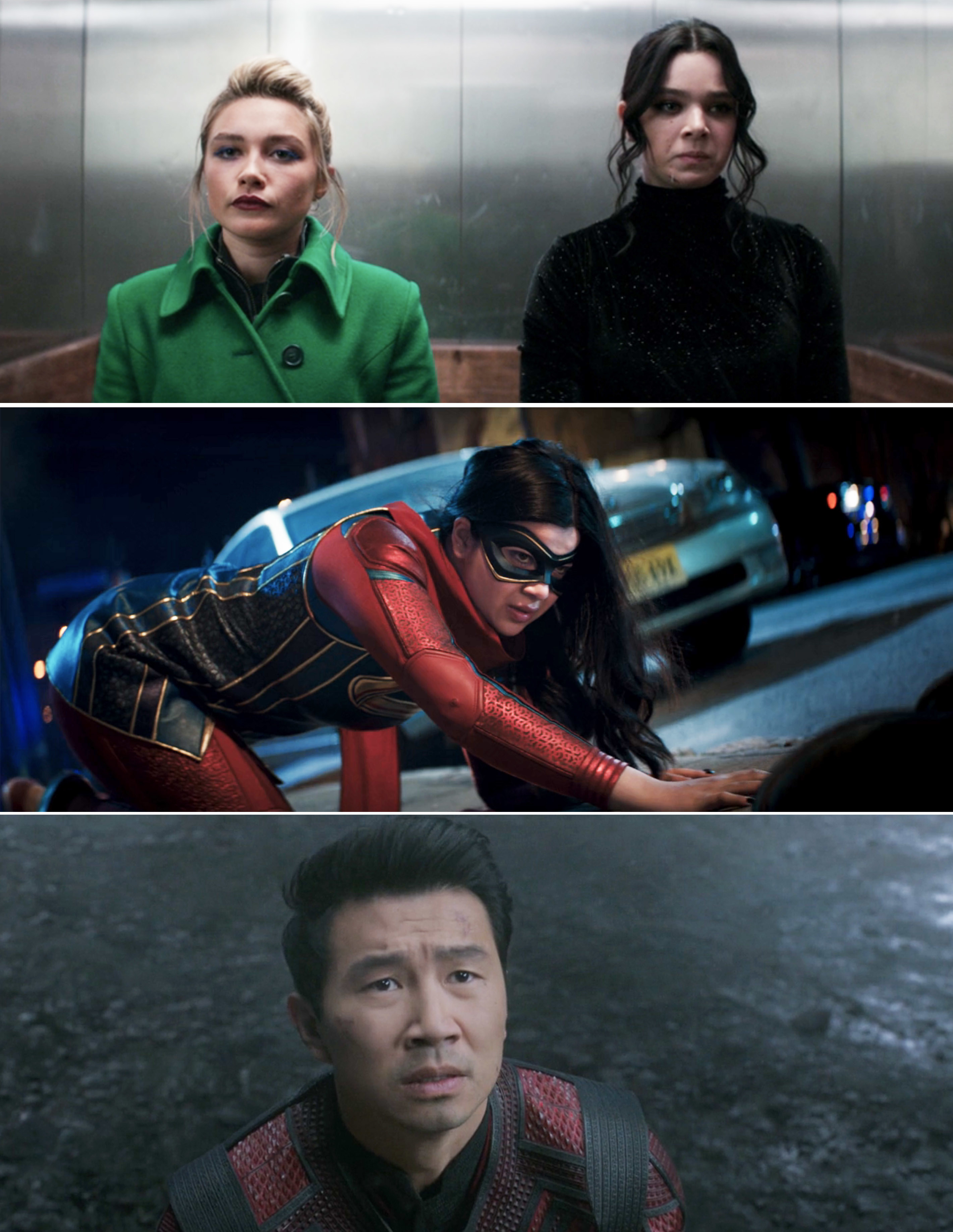 40.
I Am Groot is the first collection of shorts from Marvel Studios, and the idea came about because the team wanted to create "five standalone shorts that are dropping in at different points in Groot's childhood." The ideas started thanks to the writers and animators thinking about the "universal activities" we all do as children. The series has also already been renewed for Season 2.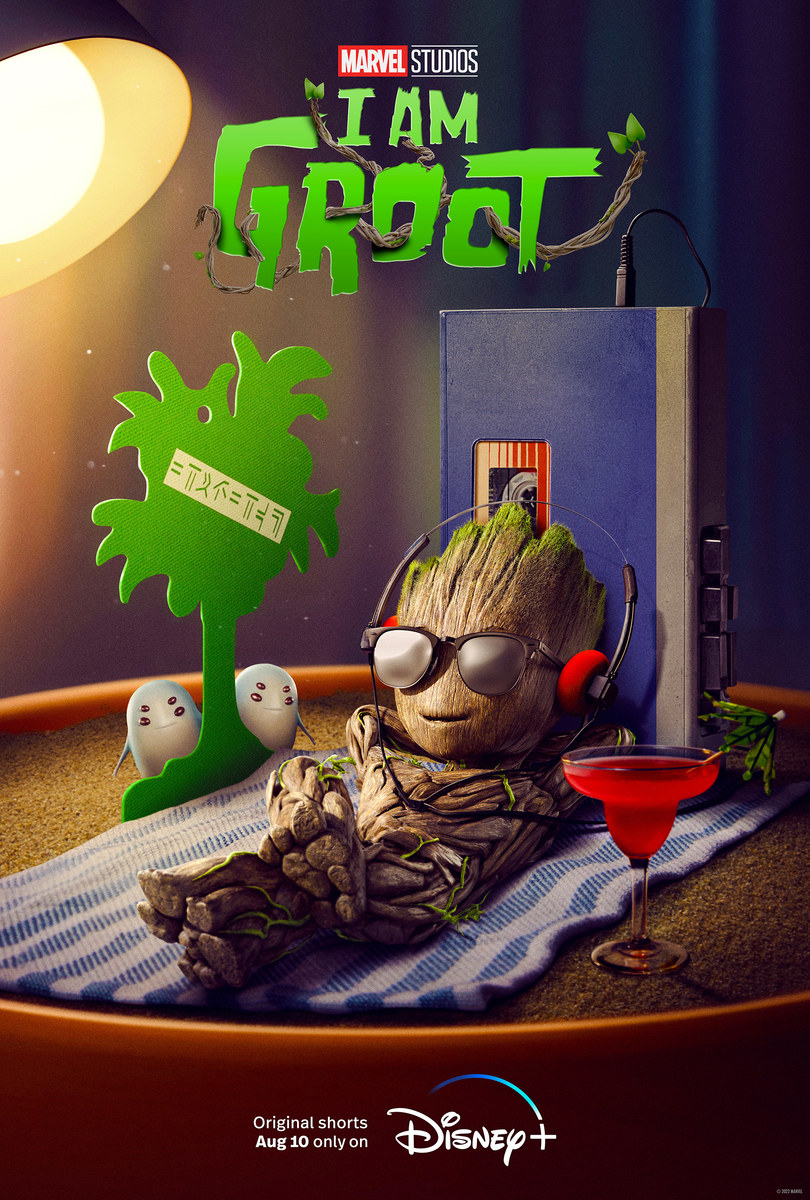 41.
I Am Groot director Kirsten Lepore revealed that Vin Diesel will reprise his role as Groot and Bradley Cooper does voice Rocket in the collection of animated shorts. There will also be some other "familiar faces" as well as the creation of "some cool creatures."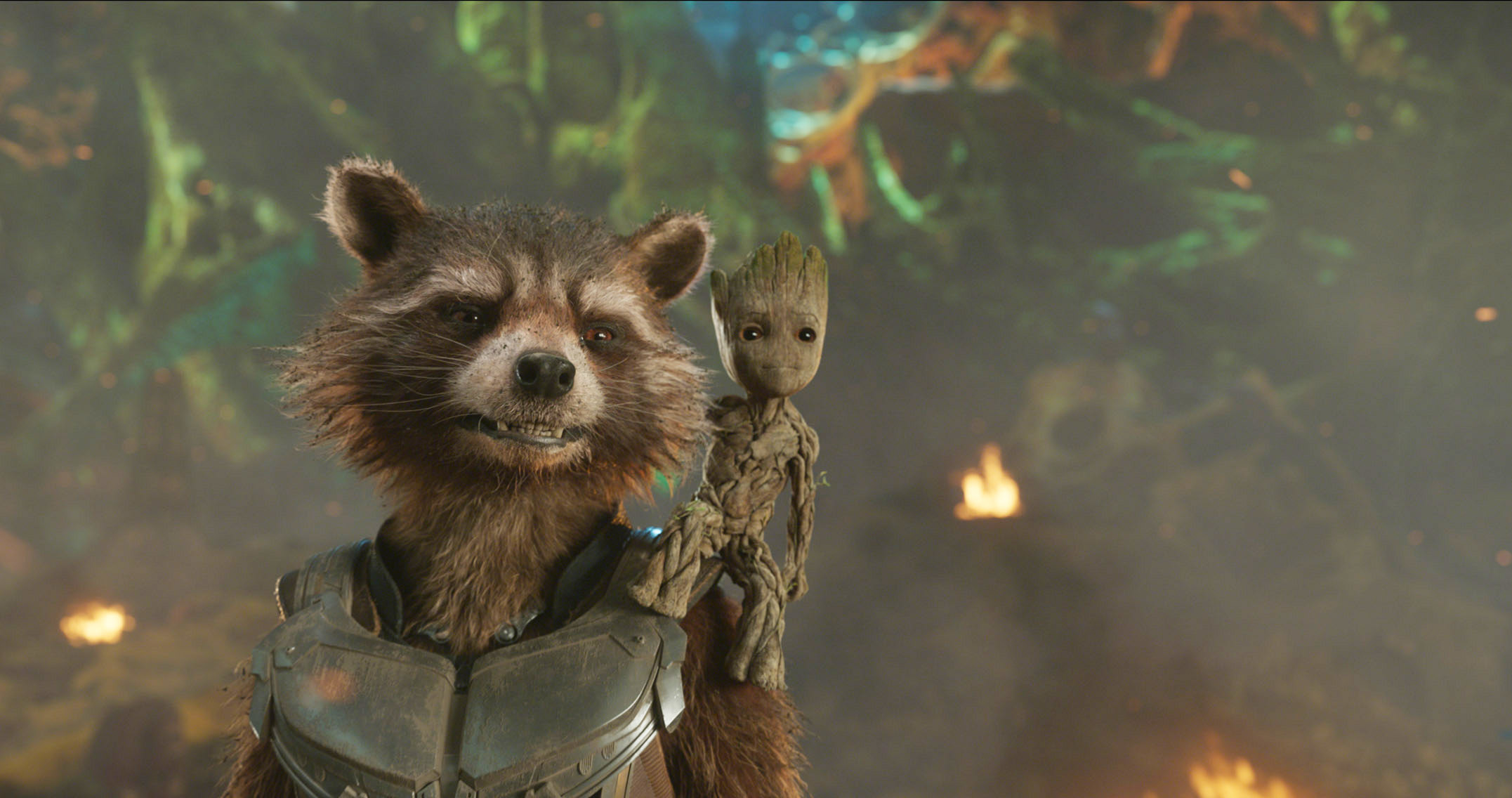 42.
For Spider-Man: Freshman Year, which will start streaming in 2024, Peter Parker's design was inspired by the "roots" of the character. They were inspired by Steve Ditko's original color schemes from the character's first comic book appearances. The series has also been renewed for a second season titled Spider-Man: Sophomore Year.
43.
Spider-Man: Freshman Year will follow Peter's life before Civil War, and his friends will be a huge part of the series, teased head writer Jeff Trammell. His BFFs will include Nico Minoru from the Runaways, Lonnie Lincoln, Amadeus Cho, Harry Osborn, and many more. Doctor Strange will also make an appearance as well as Daredevil, who will be voiced by Charlie Cox.
44.
And some of the villains Spider-Man will come face to face with in this new animated series will be Dr. Otto Octavius, Chameleon, Rhino, Carmilla Black, and more. It will also explore Norman Osborn's relationship with Peter and how he takes on a Tony Stark mentor role before everything goes downhill.
45.
X-Men '97 will debut in Fall 2023 and will continue the stories started by the beloved X-Men: The Animated Series. However, this time around, Magneto will be the leader of the X-Men after Professor X left. Alongside Magneto, a lot of original characters are returning — like Wolverine, Rogue, Beast, Jean Grey, Gambit, Storm, Nightcrawler, and more.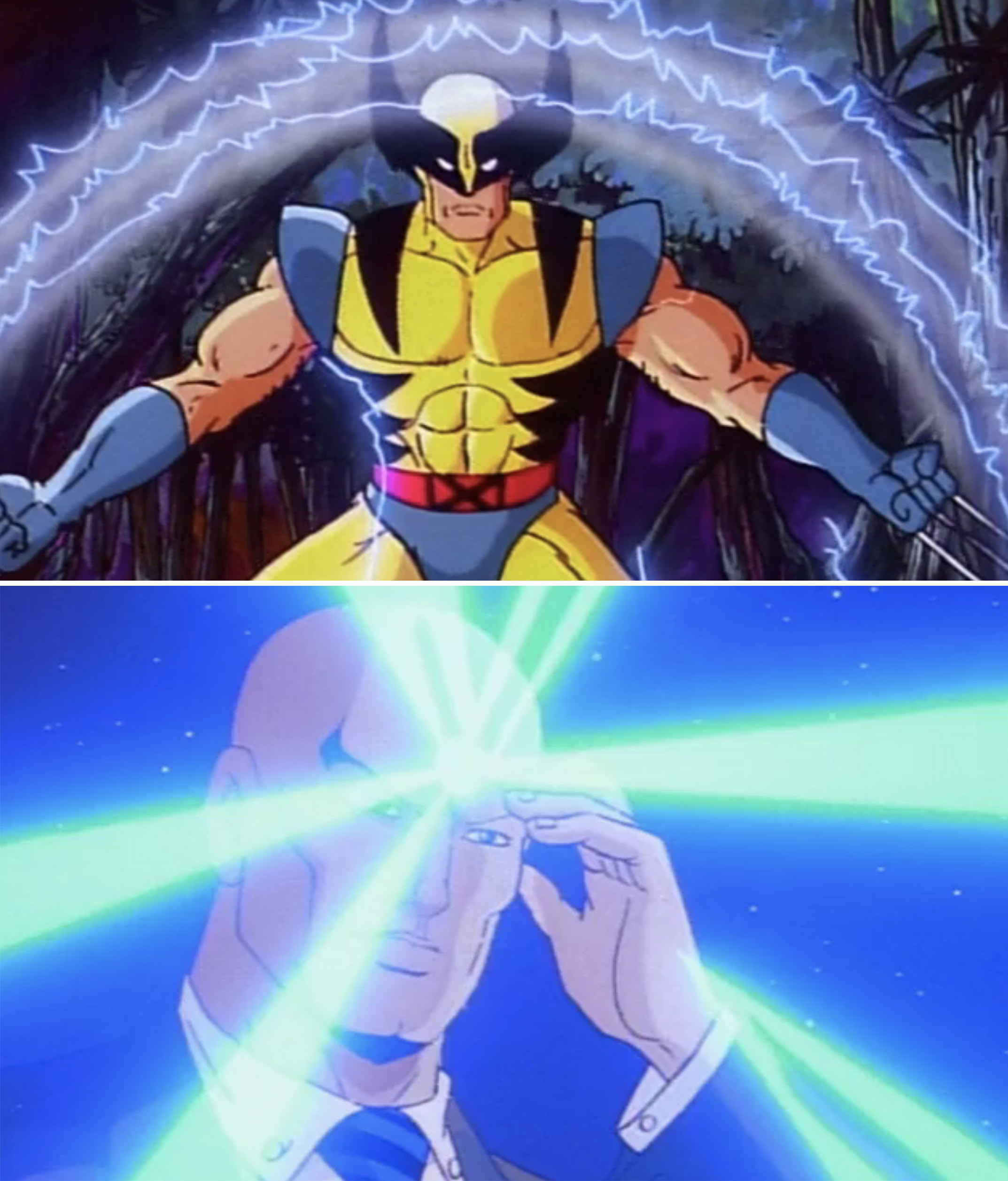 46.
Also, this new animated series will introduce some new characters that weren't seen in X-Men: The Animated Series, which is super exciting. With it being described as a "big soap opera."
47.
And finally, X-Men '97 will mark the X-Men's first appearance in the Marvel Cinematic Universe since Marvel Studios acquired the rights to these characters and their stories from 20th Century Fox. Beau DeMayo will serve as head writer and executive producer, and the series has already been renewed for Season 2.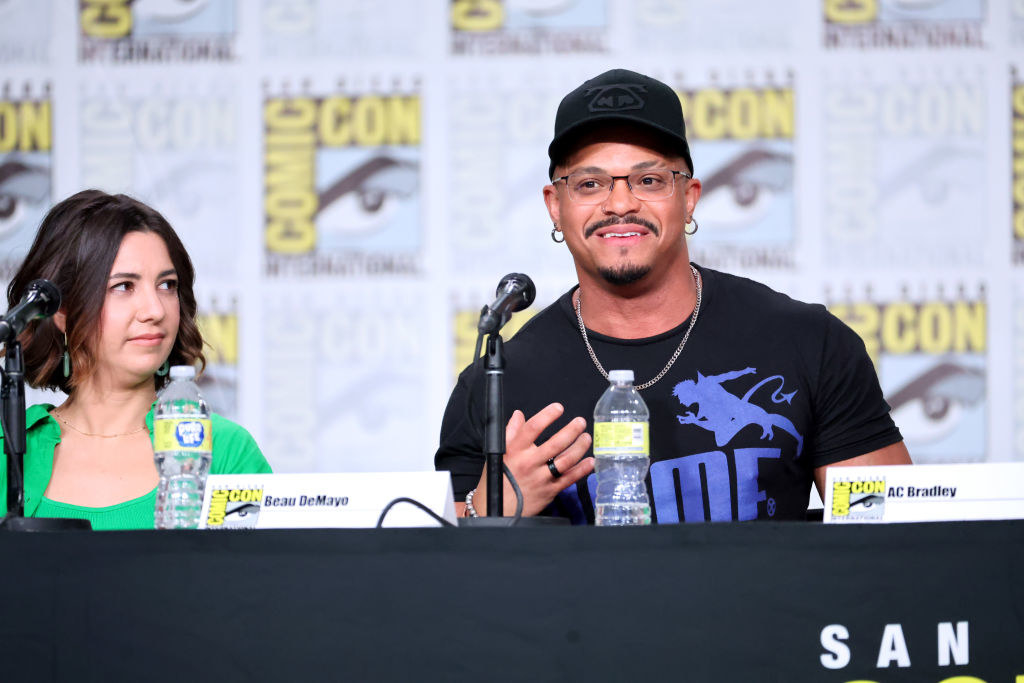 What are you most excited for coming up? Tell us everything in the comments below!