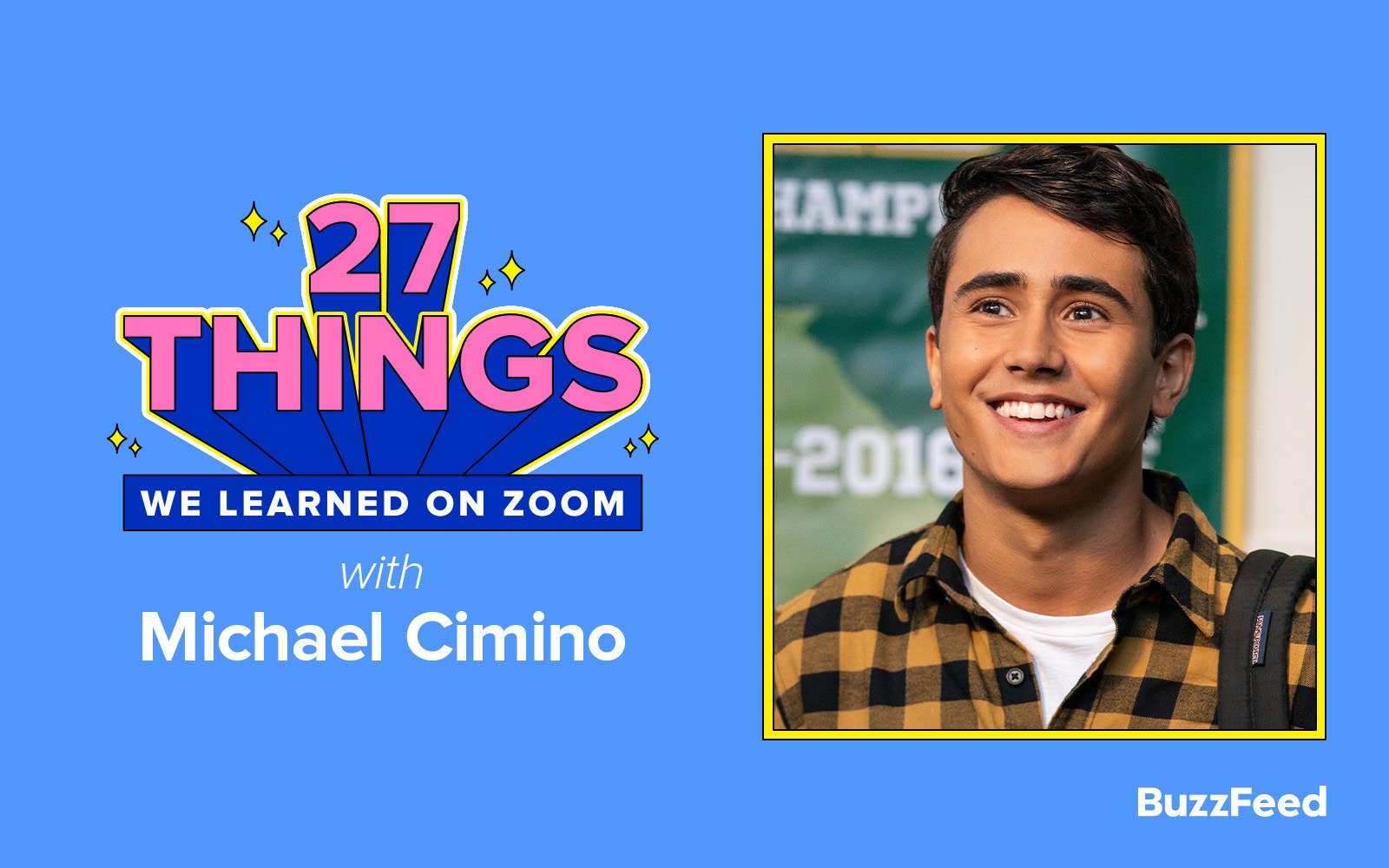 Love, Victor has finally returned for Season 2, and fans — myself included — are so excited to see where Victor's journey goes after an emotional Season 1 finale. With incredible characters and important LGBTQ+ stories, Love, Victor is one show you should add to your binge-watching list ASAP.
To celebrate Love, Victor Season 2, Michael Cimino sat down with us to chat about everything — like his favorite Victor and Benji scenes, the other roles he auditioned for (but didn't get), his favorite fan stories, and more. Here's everything we learned:
WARNING: There are spoilers ahead for Love, Victor Season 2!

1. First, do you remember what your original audition was like for Love, Victor?
We actually read some scenes from Love, Simon, but also just some mock scenes. They didn't really use any of the scenes that we actually had in the audition in the show. But it was just to give us some perspective on what was going on in the show and stuff like that.
2. Do you remember what your chemistry read was like with George Sear?
I actually read with a whole bunch of Benjis. I was always like, "George is our guy. George is our guy." I read with George and then he had to go back to the UK to film something, I'm pretty sure. So, we started meeting more people and stuff like that, but I always was like, "He's our guy." I just knew it. He ended up being the perfect Benji. He's phenomenal.
3. What's a role people will be surprised to find out you auditioned for, but you didn't get?
I don't think this is surprising now because I posted about it on Twitter, but I did audition for the role that Joshua Bassett now has in High School Musical: The Musical: The Series. Also, I auditioned for Mowgli in The Jungle Book. I was too old though. I've auditioned for a bunch of weird and random stuff.
4. Is there a movie or TV show that made you want to become an actor?
I always wanted to become an actor, but I think movies like Inception, Interstellar, 1917, and even Avatar, made me love movies even more. I love those movies. Oh my gosh, these movies leave you with an everlasting feeling. Like, I had to watch them over and over and over again. I think that's a really cool thing to happen where a movie leaves that kind of effect on people.
5. When you were growing up, were you aware of representation and how important it would be for you to lead a TV show someday?
I think those movies that made me want to be an actor really inspired me to push myself harder, to become a better artist, and to represent communities that aren't really seen in those big movies. I didn't really understand what representation was, and how important it was, when I was younger though.
6. What's something about Love, Victor that you're most proud of?
I think what's a really encouraging thing for me is that it's cool to think about executive producers and big networks seeing that there is a market for more LGBTQ stories because of Love, Victor. I think it encourages networks to think about telling more LGBTQ stories, especially after seeing the success of this.
7. What are some of the messages you've gotten from fans that really stand out to you?
I got a lot of really sweet messages about people relating to Victor and some people not relating to Victor, but just loving that there are LGBTQ stories being told. Even though maybe not every LGBTQ person relates to Love, Victor, it's really cool to see how important the reception was to Season 1.
8. And what are your favorite stories from meeting fans?
I was in New York City and this girl, she was so sweet, she came up to me and she was like, "Hi, I love the show!" She was so nervous too. I was like, "Oh, thank you so much. That's so sweet. Thank you for watching it." And then she goes, "You're pretty great in interviews too," and then she just left. It was so cute. She was so nervous and it was just so sweet.
Another one, which happened pretty recently, was this girl walked past me with her girlfriend, and she was like, "Oh my god! I love your show." And I said thank you and she just goes, "We're gay! That's why we saw the show! We're super gay." It was just so funny, and like the most New York thing ever. It was just so funny to me.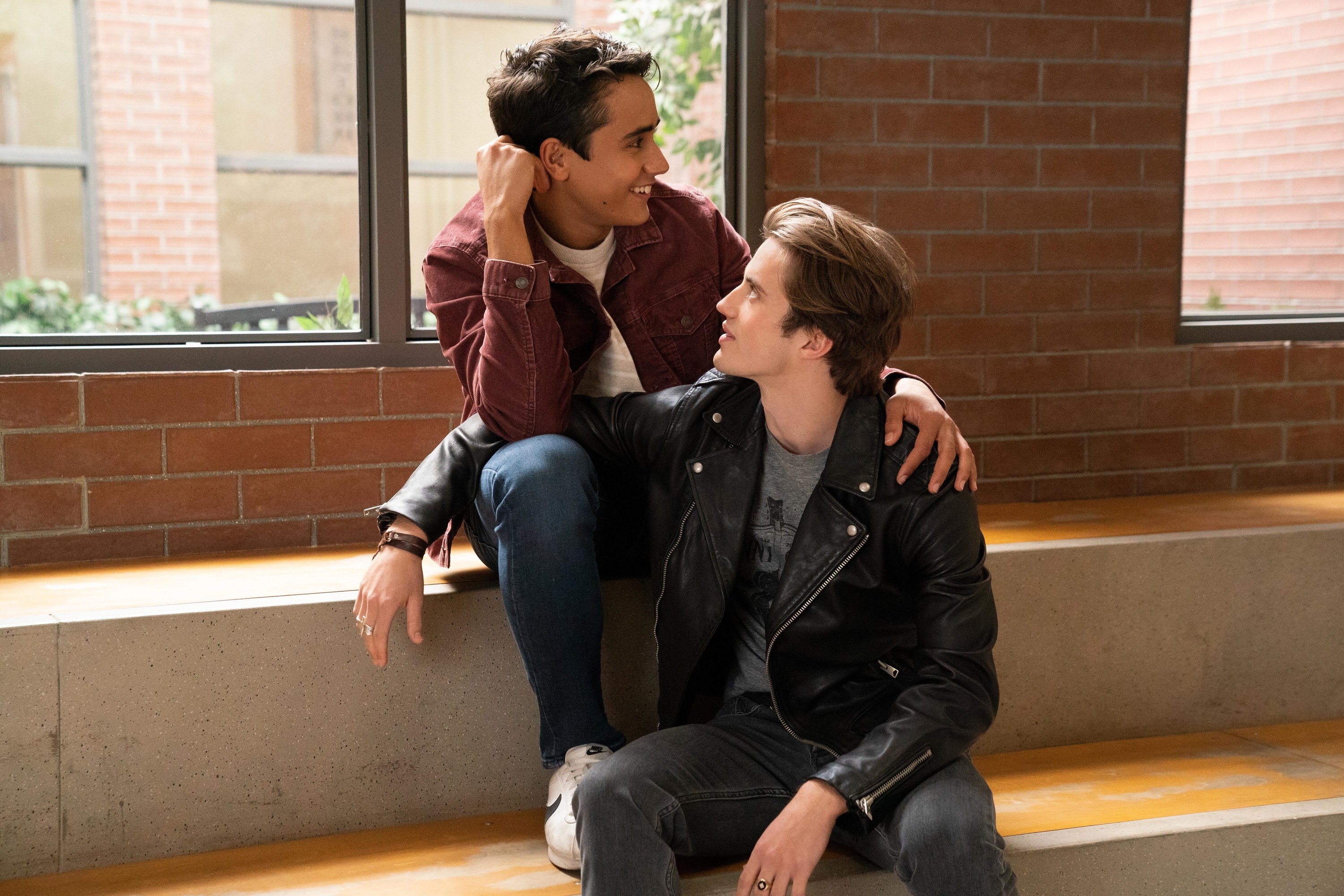 9. Who is your dream actor to work with?
Jake Gyllenhaal. I want to work with Jake Gyllenhaal so bad. He's so freakin' talented. Like in Nightcrawler and Brokeback Mountain, he's just so good in everything he does. Also, in Brothers. Tobey Maguire also killed it in that movie too.
10. The scene in the hallway when Victor finally comes out at school is so great. How was it filming that big moment?
It was honestly really cool! We filmed it during the pandemic so we couldn't have as many, like, background extras and stuff like that, so we had to shuffle it around a little bit. But it was still such a special moment. I never really got to have a very big declarative moment of love in high school because I didn't go to high school. I didn't get to have a promposal or homecoming. So, it's really cool to experience all of that through Victor. I felt like that scene was so sweet and honest, you know? It was a declaration of love, but it didn't feel theatrical.
11. Victor's big storyline in Season 2 deals with the aftermath of coming out to his parents and gaining their acceptance, especially from his mom. How was it playing that storyline with Ana Ortiz?
Honestly, it was really great. Ana is a phenomenal actress and she really kills it this season. She really gets to explore a different side that I think she hasn't gotten to explore with characters in the past. You know, she's always been a very supportive LGBTQ parent, like on Ugly Betty. Now, she's playing the complete opposite side of the spectrum, which I think was not only really fun for her, but really fun for me as an actor to watch her play because it's so against who she is as a person and other characters she's played. Ana is so accepting and loving and supportive of the LGBTQ community, so it was really cool to see everything she does this season.
12. What's your favorite Victor and Benji scene from Season 2?
Oh goodness! From an audience member point of view, I think my favorites are the sex scenes because I feel like it's gonna be important for LGBTQ teens to watch this and be like, "Oh my god, I'm not alone. The same thing happened to me."
13. Now, what's your favorite Victor and Rahim scene from Season 2?
AAHHH! Probably the karaoke scene. It was really, really fun to do. We got to go to the studio and record the song. It was really fun. Anthony [Keyvan] is freakin' phenomenal as an actor. He totally killed it.
14. What's your favorite thing to do in between scenes?
If we're in the Salazar apartment, I'll play the piano. They have the acoustic piano right there, so it's really fun to just sit down and play the piano between takes.
15. What was one of your favorite scenes to film during Season 2?
Okay, probably one of my favorite scenes is when Victor and Benji argue in Episode 8. I think it's really fun to act with George in an intense way. We did a whole bunch of different versions. I'm really curious to see which one made the final cut. It was really fun.
16. What's the last TV show you binge-watched?
Demon Slayer. I love that show.
17. What's your favorite food?
We only make it during Thanksgiving, but it's stuffing. The vegan stuffing that my mom makes is so fire, it's just like my grandma's. It's so amazing.

18. And what was your favorite meal your family made when you were growing up?
Ah, so I haven't been able to have this in a long time because I'm vegan now, but carne guisada is definitely one of my favorite things. It's like Puerto Rican beef stew. It's so freakin' good.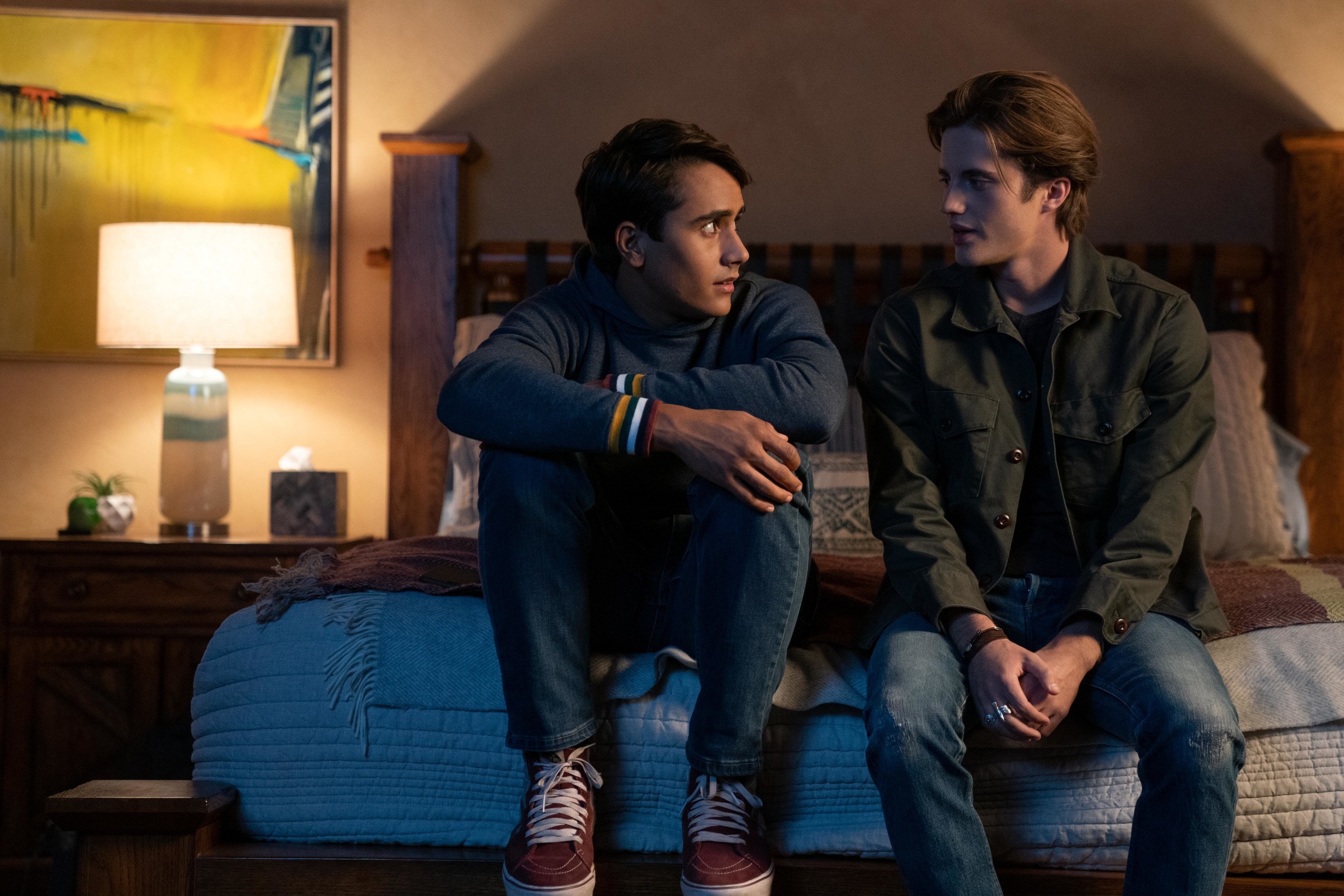 19. The cabin episode in Season 2 not only has some big moments for Victor and Benji, but you and Anthony Turpel are so funny together as Victor and Felix. How is it playing those comedic moments with Anthony?
Anthony is phenomenal as an actor. He's so great. It's always so fun to work with him because he always pushes the envelope and tries new things to see what works and what doesn't. I think that's the inner comedian in him. He's not afraid to really go there and try something new. It's really cool, as an actor, to work with somebody that does that because it makes me feel safe enough to play around as well.
20. Since you are all so close as a cast, do you ever get to do any improv while filming a scene?
Actually, on the day we were doing the scene with Victor and Felix in the bathroom, [Anthony and I] were playing at all these different heightened levels. We got a whole bunch of different takes of us just doing funny improv stuff and just making each other laugh. It was so fun.
21. What's your favorite behind-the-scenes memory from filming Love, Victor Season 2?
My favorite behind-the-scenes stuff I think happened at the cabin. We call Episode 4 "the episode that didn't die" because we had to keep going back because of COVID complications and just other stuff. We always had to keep going back to it. There was this one day where it started pouring rain, like so hard. So, Mason [Gooding] has a dog named Iggy and I was supposed to bring his dog food to set, and I forgot it. Mason was totally cool with it, but I felt bad. So, we were in the middle of a field, it was super muddy, and it was pouring rain, and I got off earlier than he did. So, I drove to like a Petco to get dog food, and on the way there, I slipped and fell inside the Petco. I hit the door, fell on the floor, and it was just embarrassing. So, I always think of that day when I think of filming the cabin stuff.
22. What's your favorite book-to-movie or book-to-TV adaptation?
Oooh, that's tough! I think The Martian was a really good movie. The book was so good too.
23. Which emoji do you use the most?
Either the heart emoji (❤️) or the poop emoji (💩).
24. What's something you love to do but wish you were better at?
Dance. I'm a horrible dancer, but I'll get up and dance in between takes on set.
25. What's your go-to coffee order?
Either a dirty chai or an iced latte. Honestly, even a hot latte. I'm pretty basic, but I love just the taste of coffee.
26. What do you think Victor's perfect day looks like?
It's probably just kickin' it with Benji, going to the coffee shop, then coming home, eating some arroz con pollo, and then going to sleep. Maybe some basketball in between there.
27. And finally, what's the biggest thing you've learned about yourself since you started playing Victor?
I think I realized how much of an impact that the arts can make on other people's lives. I've always been a big advocate for people trying to pursue what they are passionate about because I feel like you can make a difference. I just didn't realize to what scope that could be, you know? The show has really made an impact in so many people's lives and it's cool to know how big of an impact that it has made. It's such an honor to be part of something like this.
Be sure to watch Michael in Love, Victor Season 2, which is streaming now on Hulu.
Looking for more ways to get involved? Check out all of BuzzFeed's posts celebrating Pride 2021.