I Already Can't Stop Screaming About "Loki," So Here Are 30 Details I Noticed In Episode 1
The word "multiverse" was used, and I screamed.
Hi, hello, I hope you got some rest after WandaVision and The Falcon and the Winter Soldier before we dive into the next Marvel series. So, here are all the details I noticed in Loki Episode 1:
If you're new to these posts, welcome, and I apologize for all of my nerdy yelling! If you're returning after WandaVision AND Falcon and the Winter Soldier, thanks so much for coming back!
1.
First, we get a nice recap of what happened during Avengers: Endgame, and while most of the scenes are the same, the zoom in on Loki waving goodbye to Hulk is new.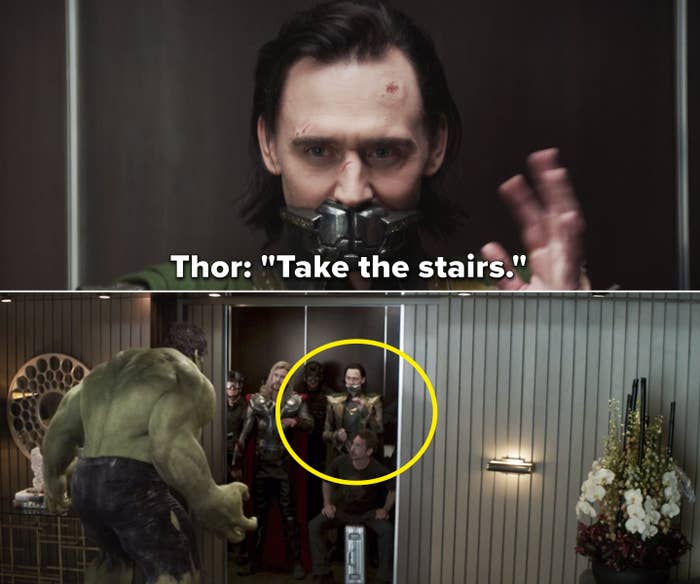 2.
This is an obvious detail, but the Marvel Studios logo is green and gold, which is a nod to Loki's signature colors — I just always get so HYPED when this happens.

3.
When Loki crashes in the Mongolian desert, it's reminiscent of when Tony crashed in the desert after escaping in Iron Man.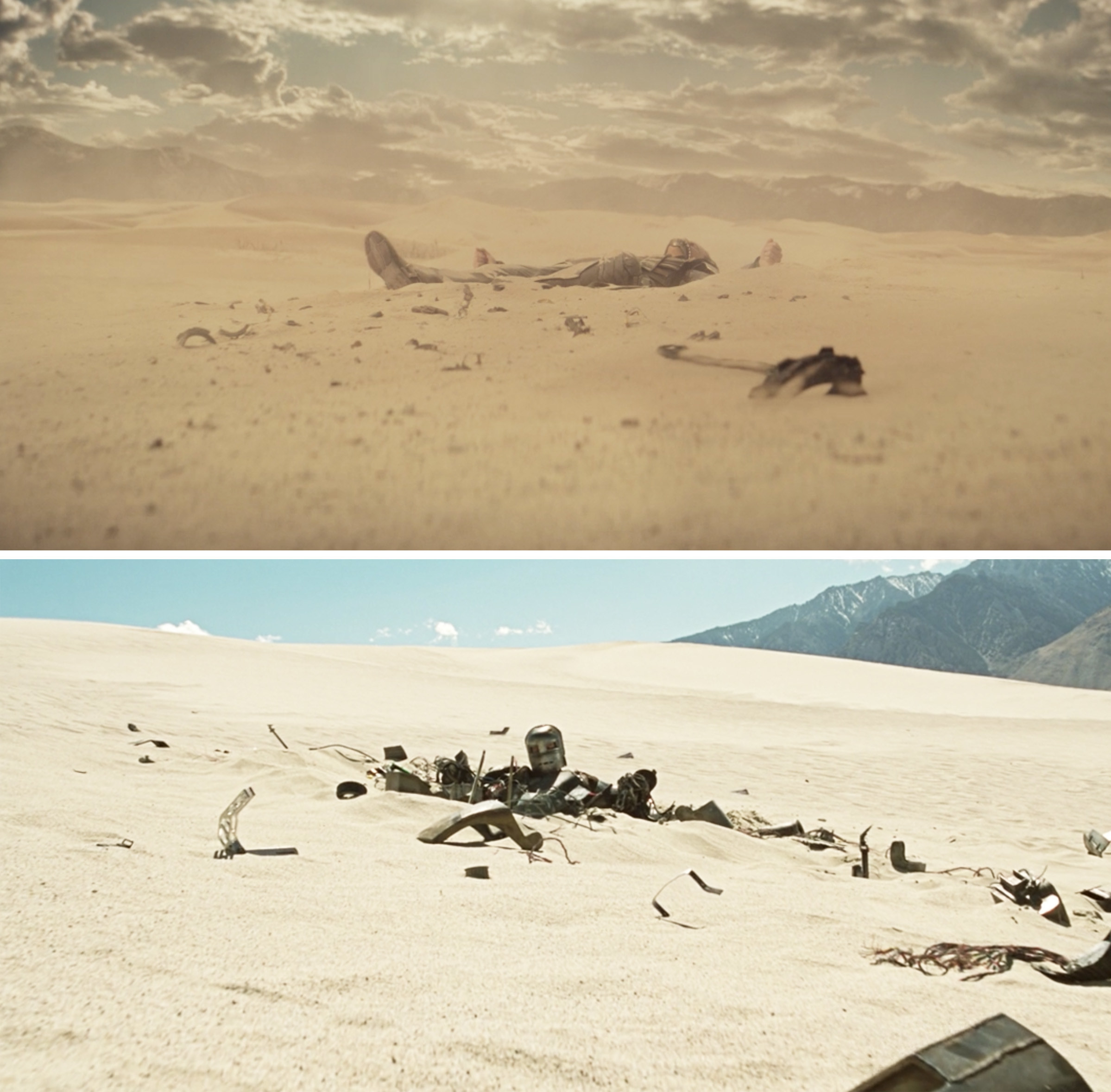 4.
Loki's speech features his iconic "burdened with glorious purpose" line, which is not only a nod to the title of Episode 1, but the first used the line in The Avengers.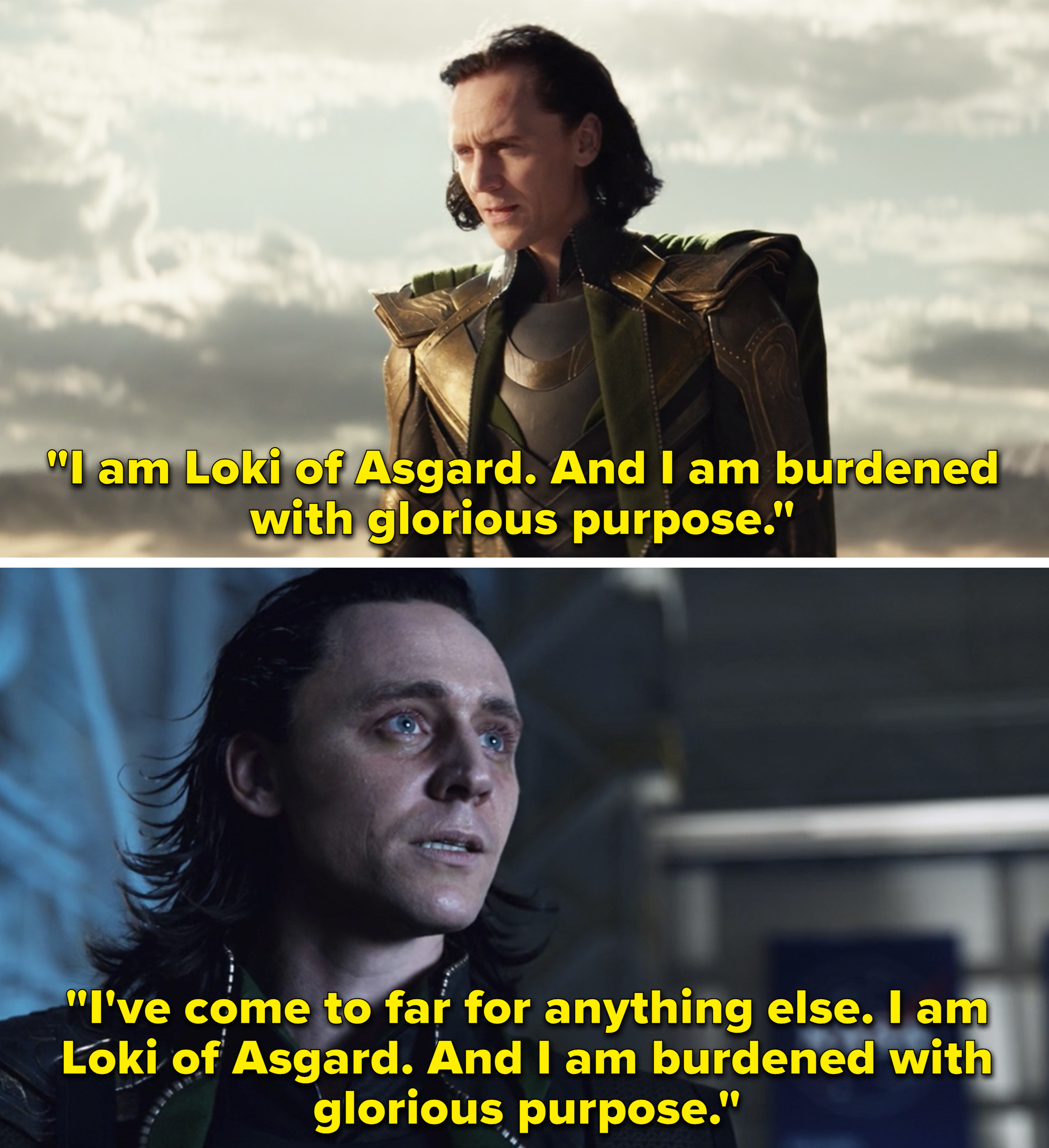 5.
When Loki is brought to the Time Variance Authority, you can spot a Skrull standing at the desk — a detail that was also visible in the trailer.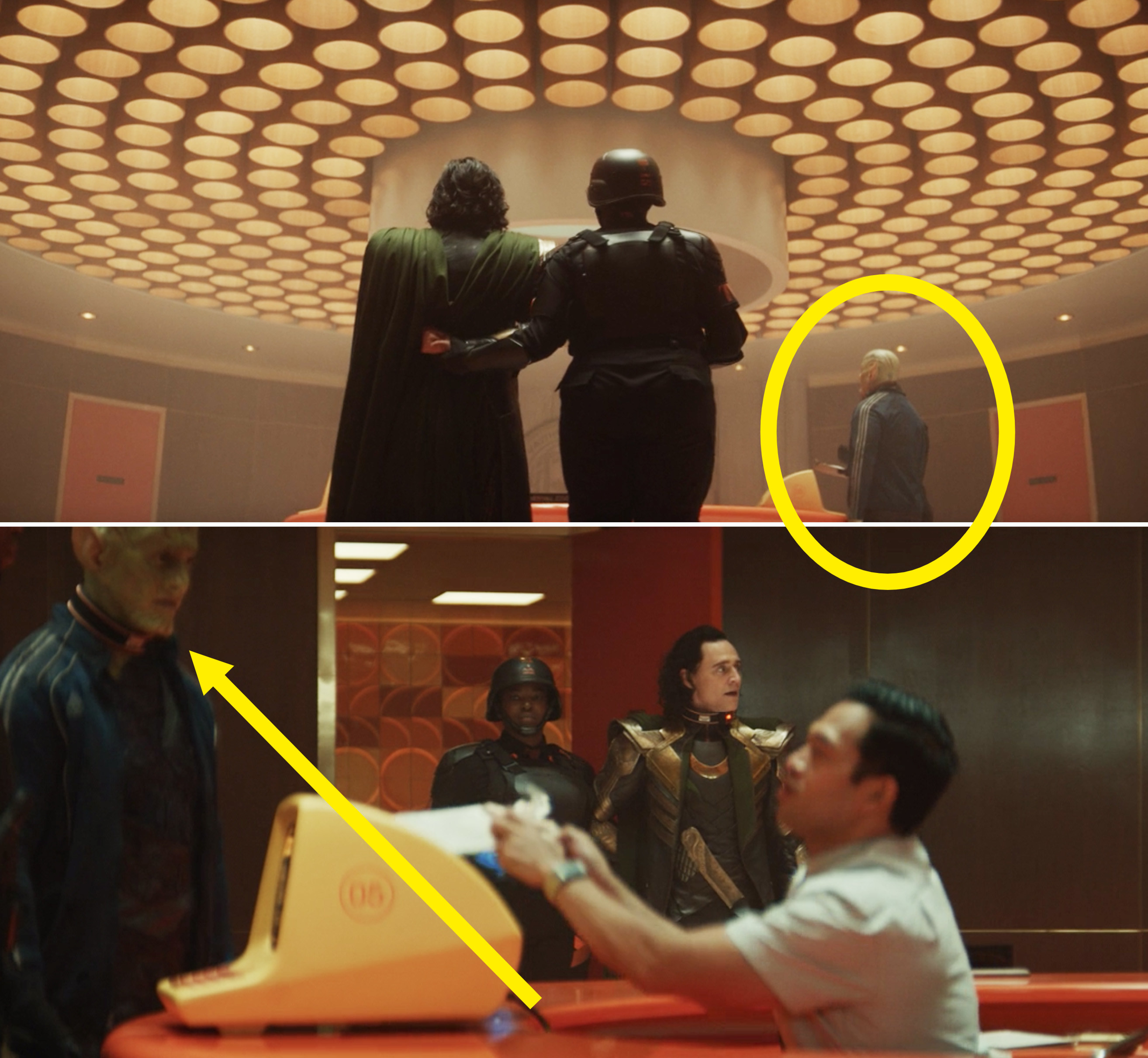 6.
If you look closely, you can see that Loki's Variant identification number is "L1130."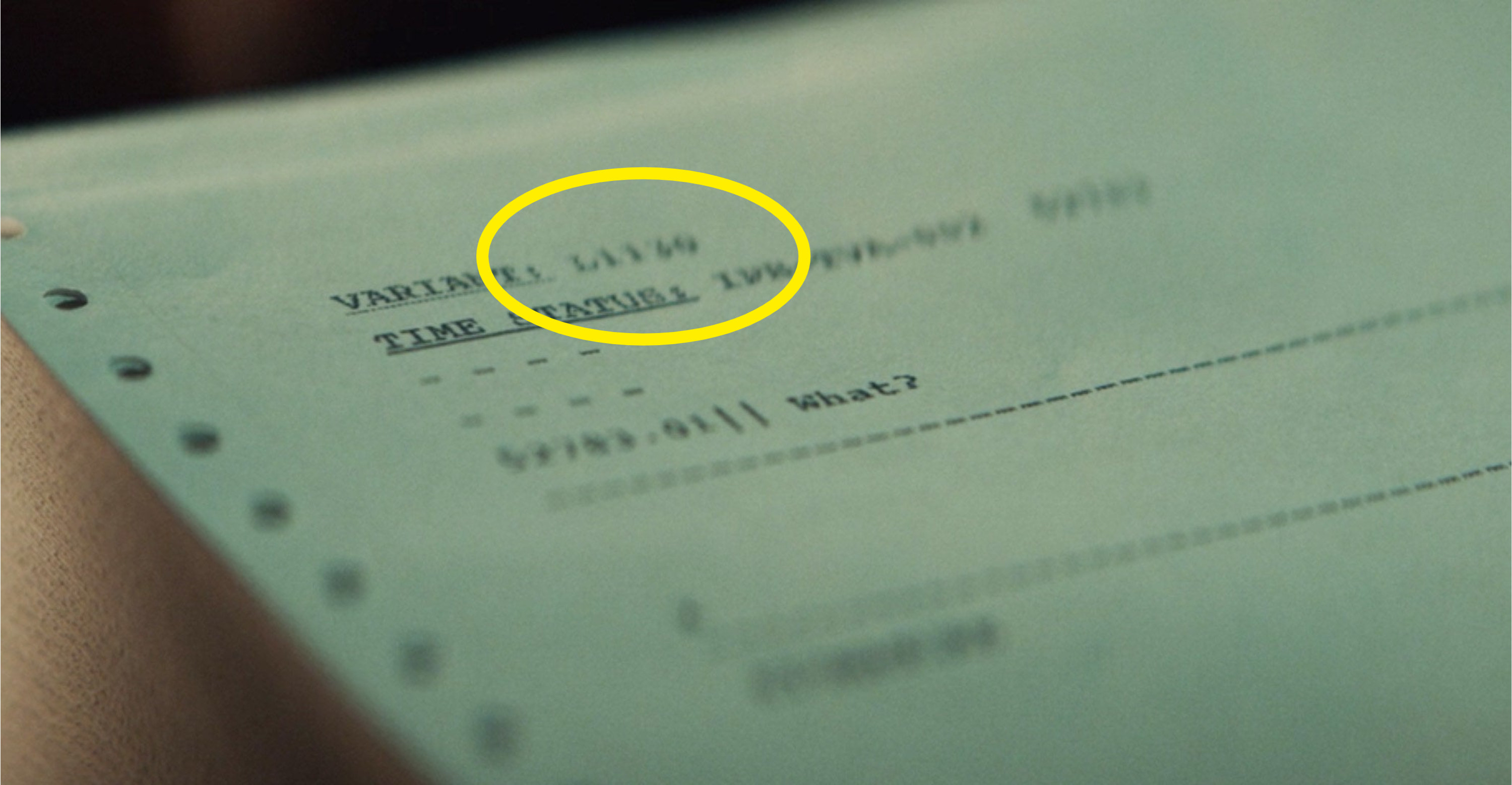 7.
When Loki is being processed at the TVA, Miss Minutes shows him a welcome video which mentions the Time Keepers. In the comics, the Time Keepers were created by He Who Remains, the last director of the Time Variance Authority.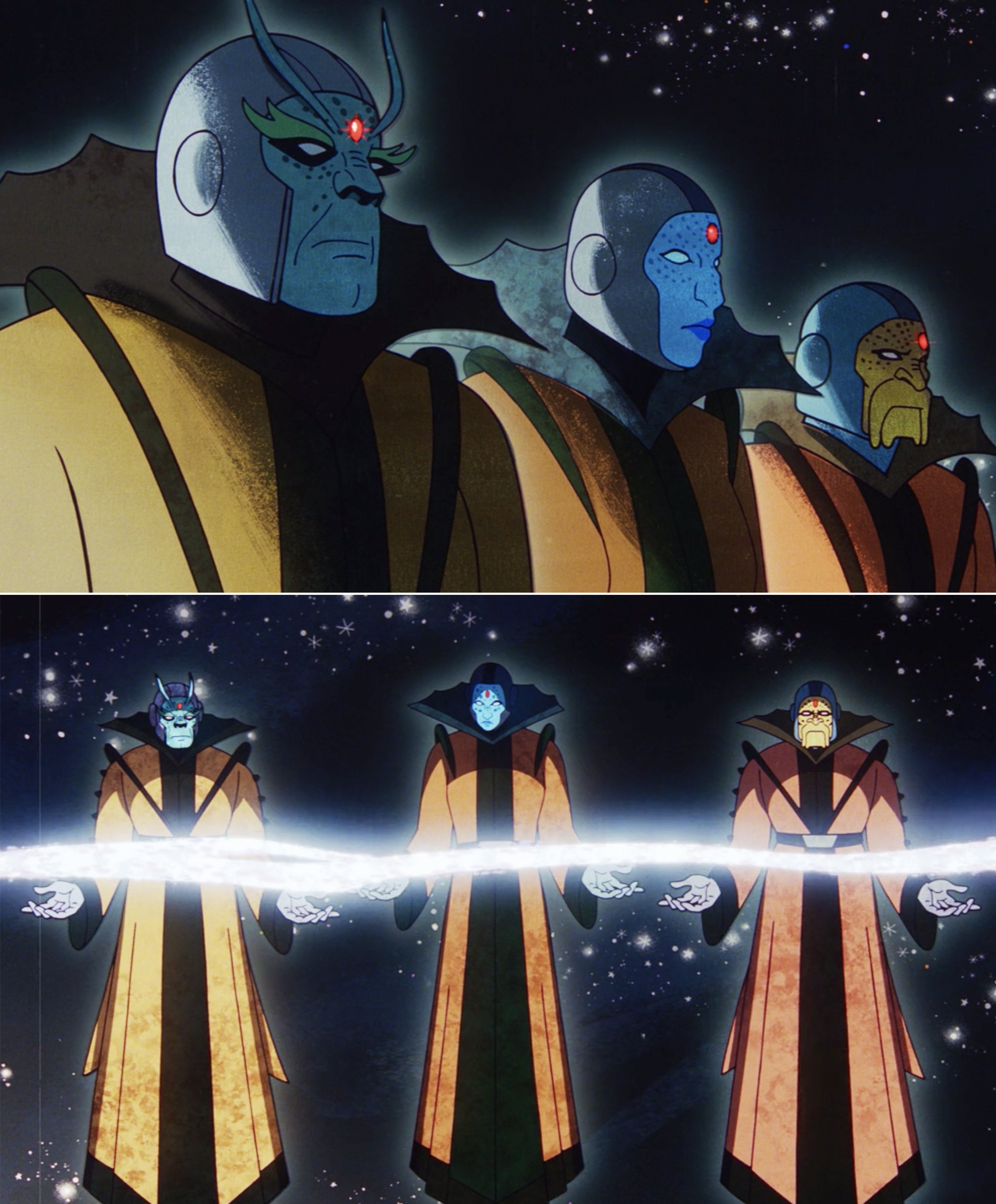 8.
The video mentions that when you step off your destined time path, it creates a "Nexus event." Nexus was previously mentioned in a commercial during WandaVision Episode 7.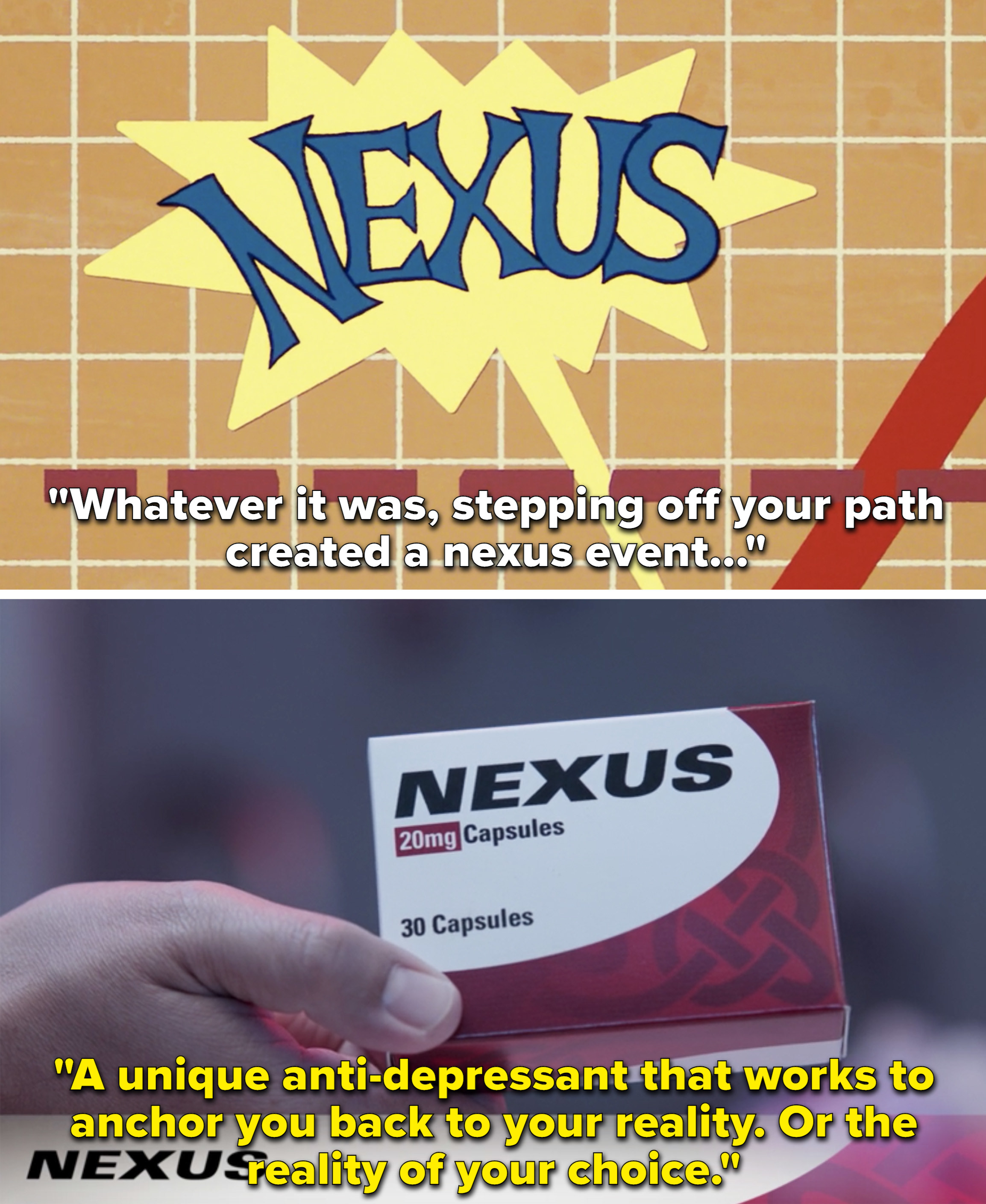 9.
Also, the intro video says that if a Nexus event is left "unchecked," things could branch off into "madness" for the multiverse. So, as a Wanda Maximoff stan, I immediately paused and yelled "Doctor Strange in the Multiverse of Madness."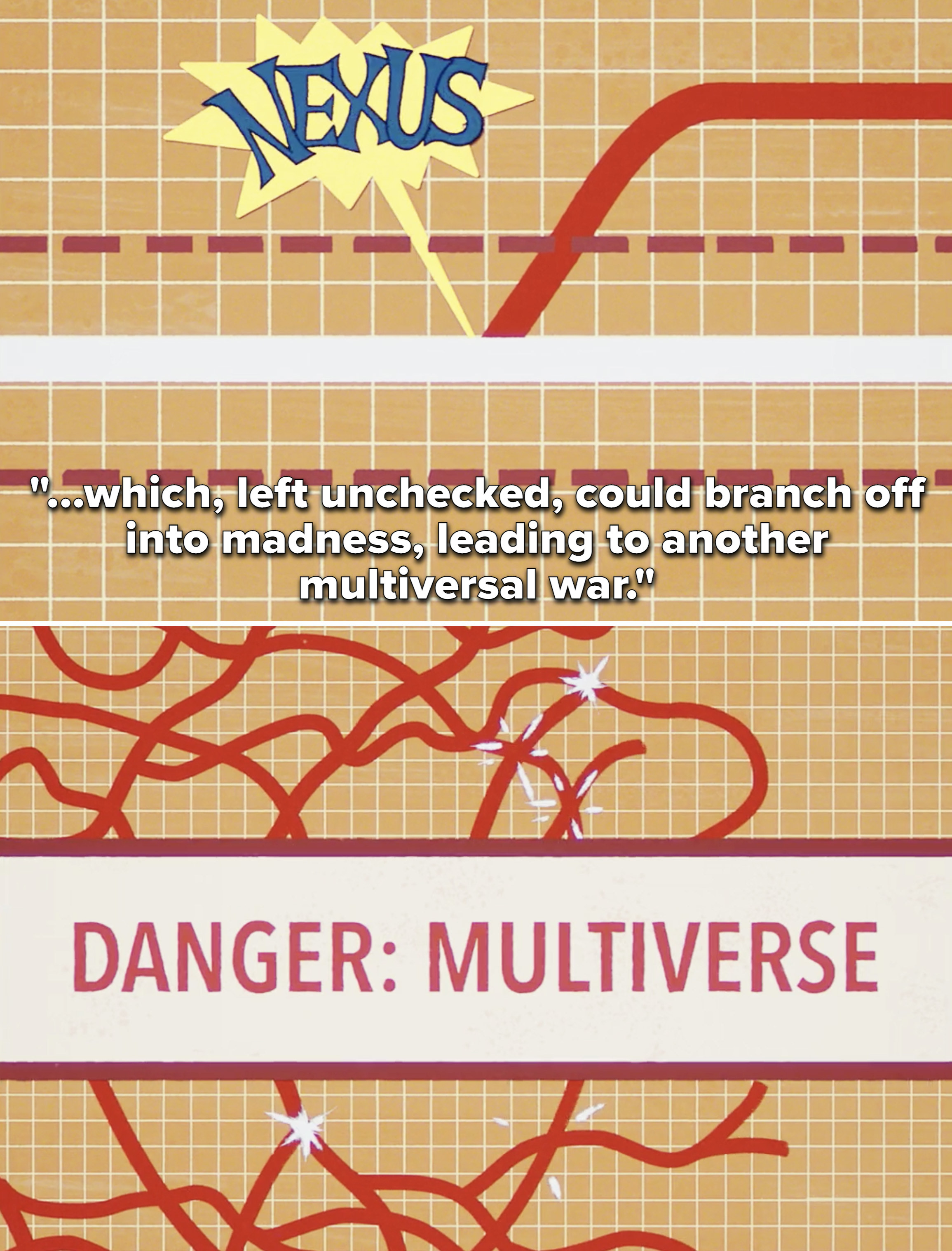 10.
Miss Minutes mentions a Nexus event involving an uprising, and we see what looks like the Kree fighting the Nova Corps. In Guardians of the Galaxy, Ronan mentions that the two fought in a war.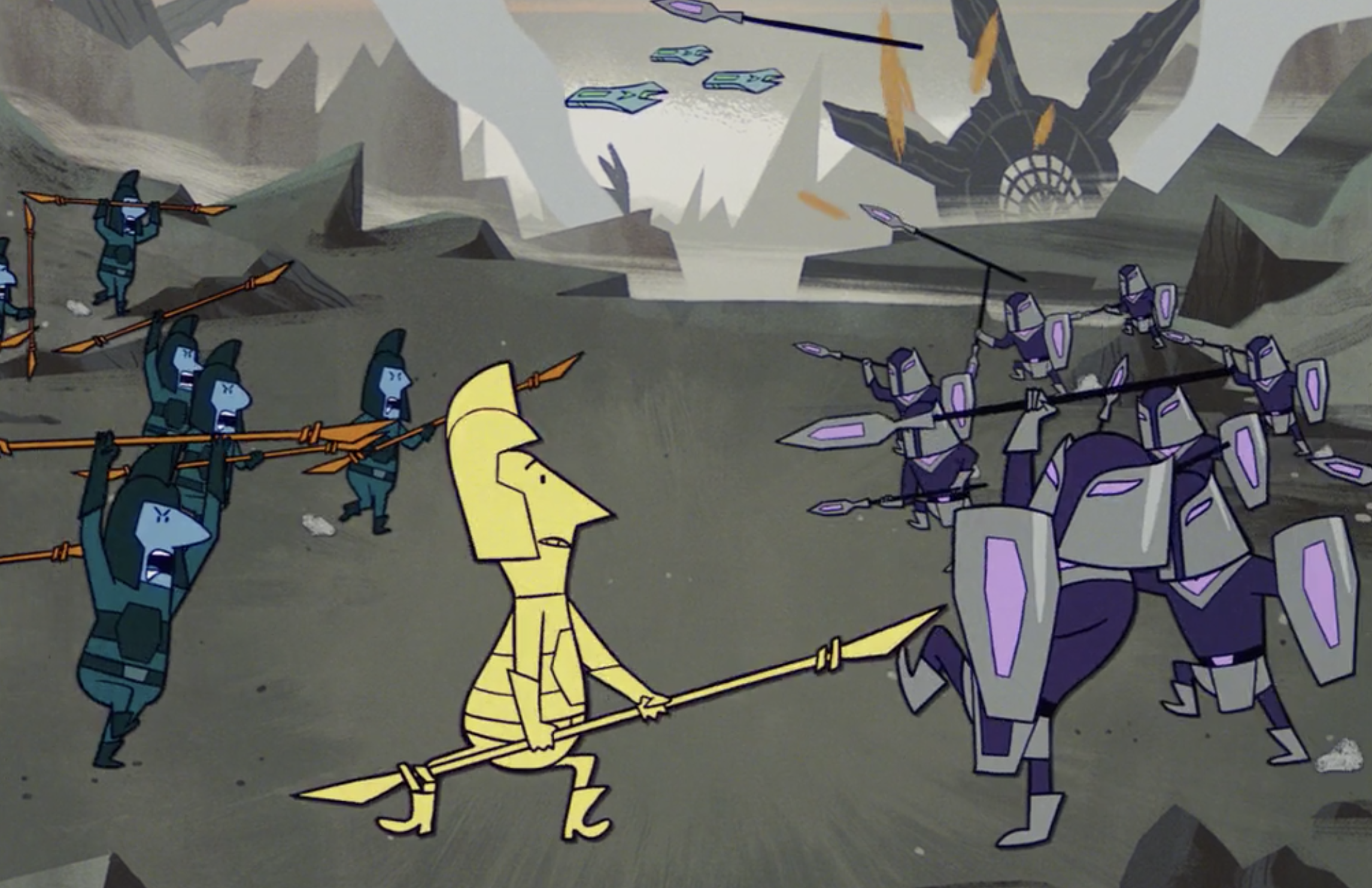 11.
Also, how the Sacred Timeline is described is similar to how the Ancient One explained it all to Bruce in Avengers: Endgame.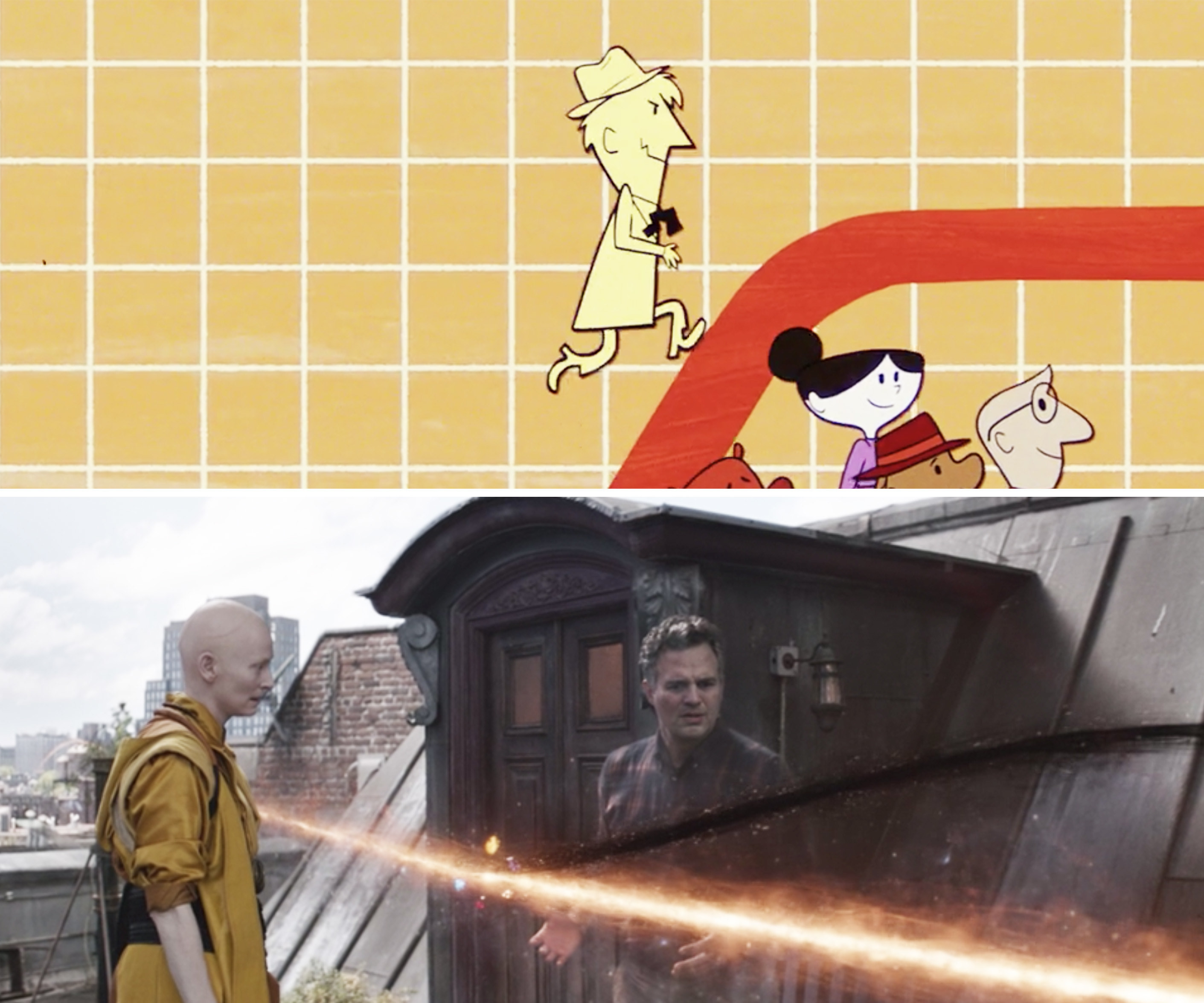 12.
Owen Wilson's Loki character is Mobius M. Mobius. In the comic books, Mobius is an original member of the TVA and has interacted with characters like the Fantastic Four, She-Hulk, and Hawkeye.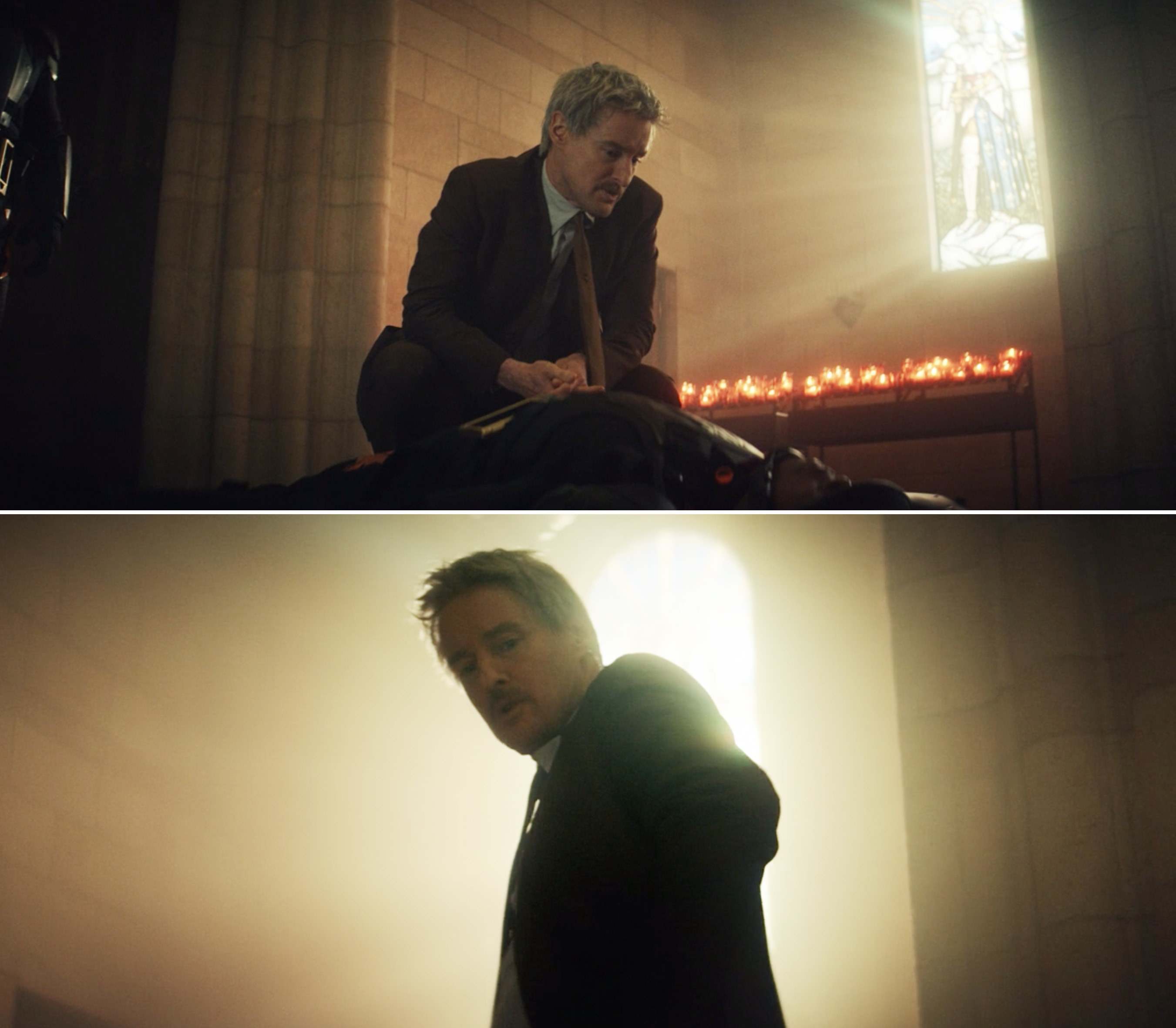 13.
When Mobius is in 1549, you can see a stained glass window with the devil. I'm gonna make a Mephisto joke here, but Loki director Kate Herron said this is "genuinely a reference to Loki — the horns, he was cast out of heaven."
14.
Also, Mobius is handed a pack of "Kablooie" gum, and I have no idea what it means — and I could be reaching — but the face on the gum looks a little like Nightmare, a comic book villain who often goes against Doctor Strange.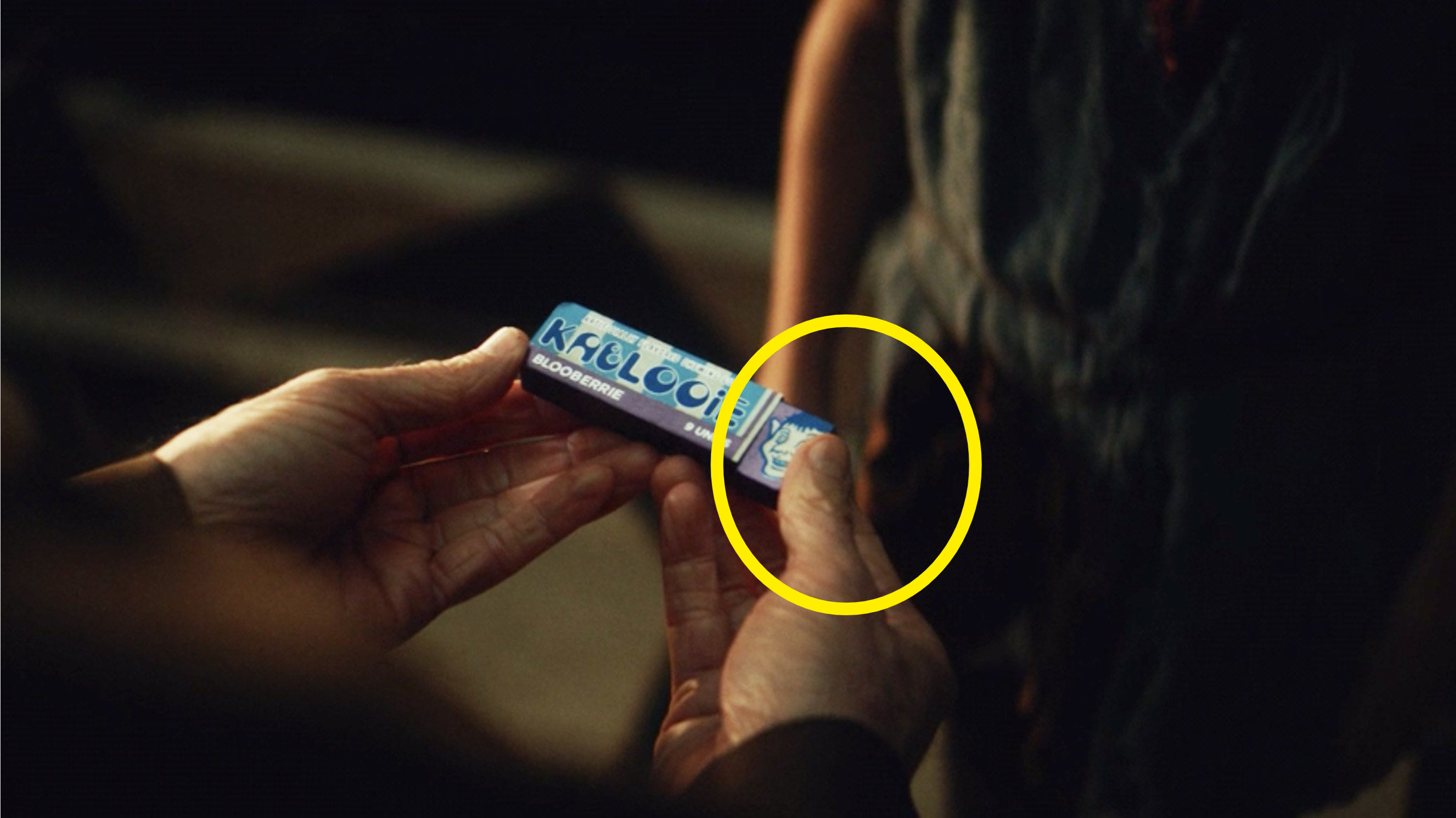 15.
If you look closely at Loki's TVA file, you can see that his sex is listed as "fluid." In the comics, Odin refers to Loki as both his son and daughter, too.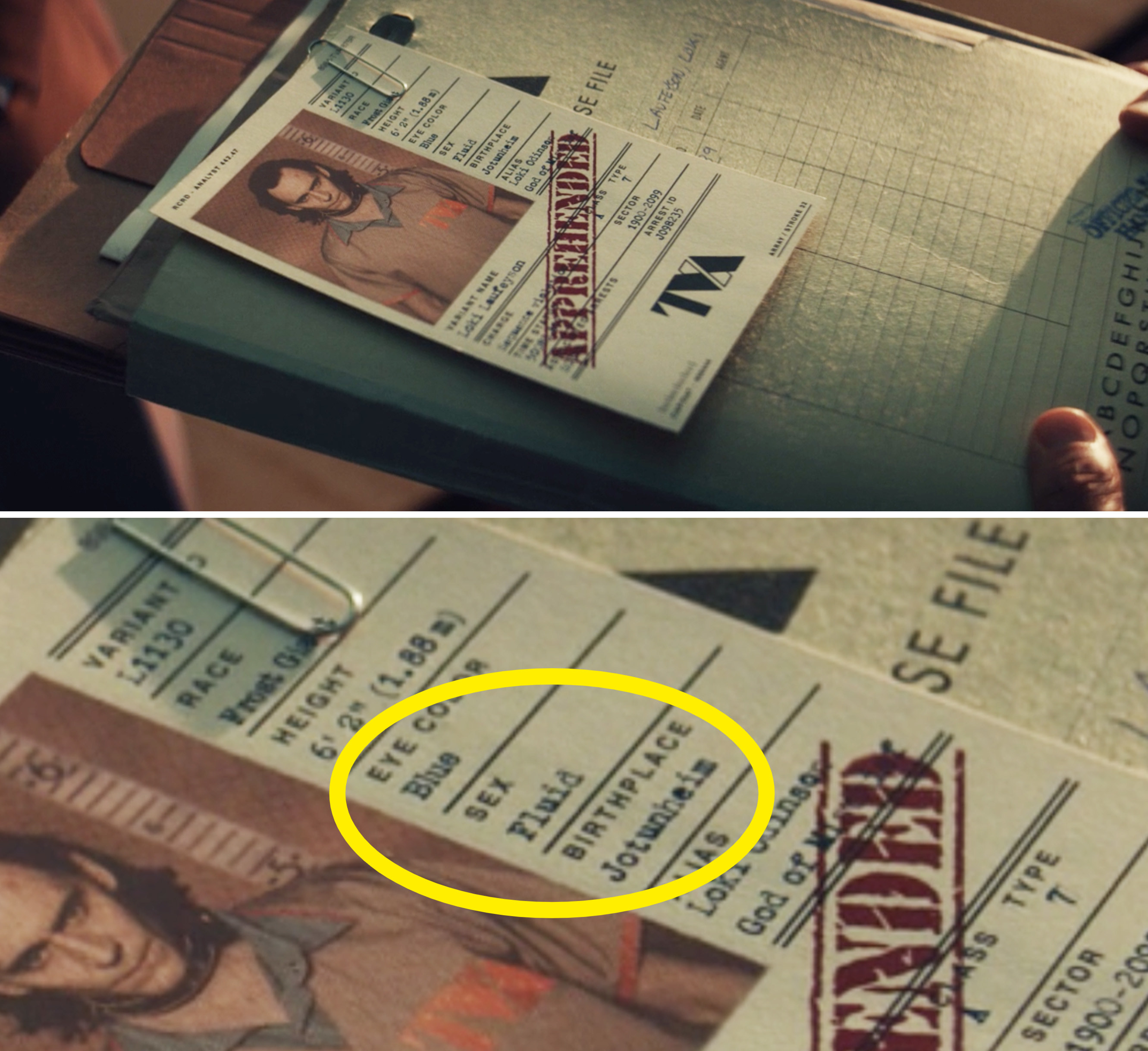 16.
Also in Loki's file, it says his sector is "1900–2099." Marvel 2099 was a batch of comics that featured futuristic takes on notable Marvel characters, like Spider-Man.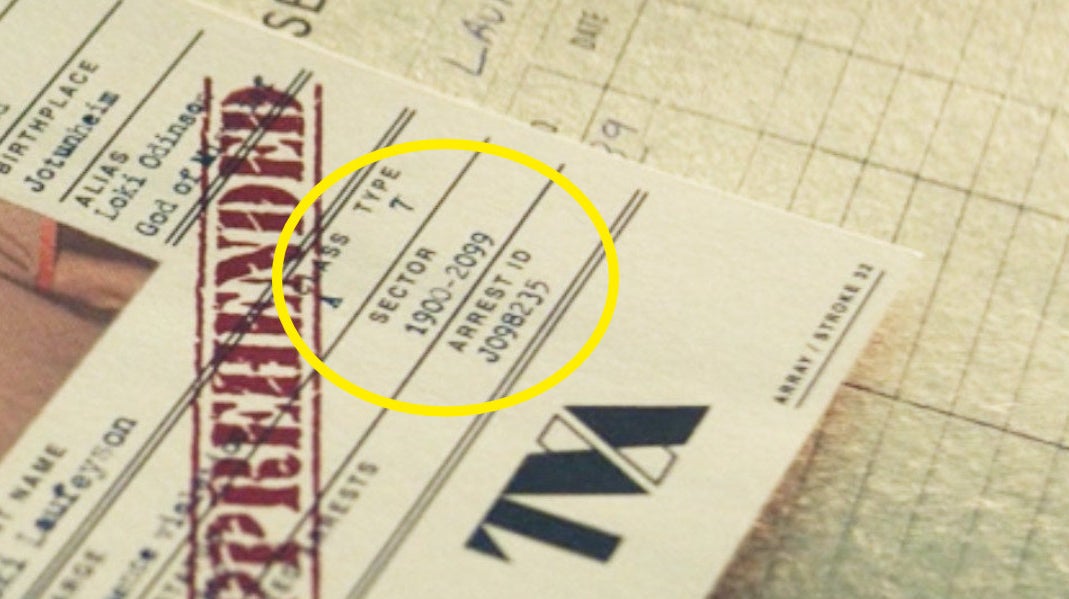 17.
Gugu Mbatha-Raw's character is introduced as Judge Renslayer. In the comics, Ravonna Renslayer falls in love with Kang the Conqueror, who is linked to the Time Keepers.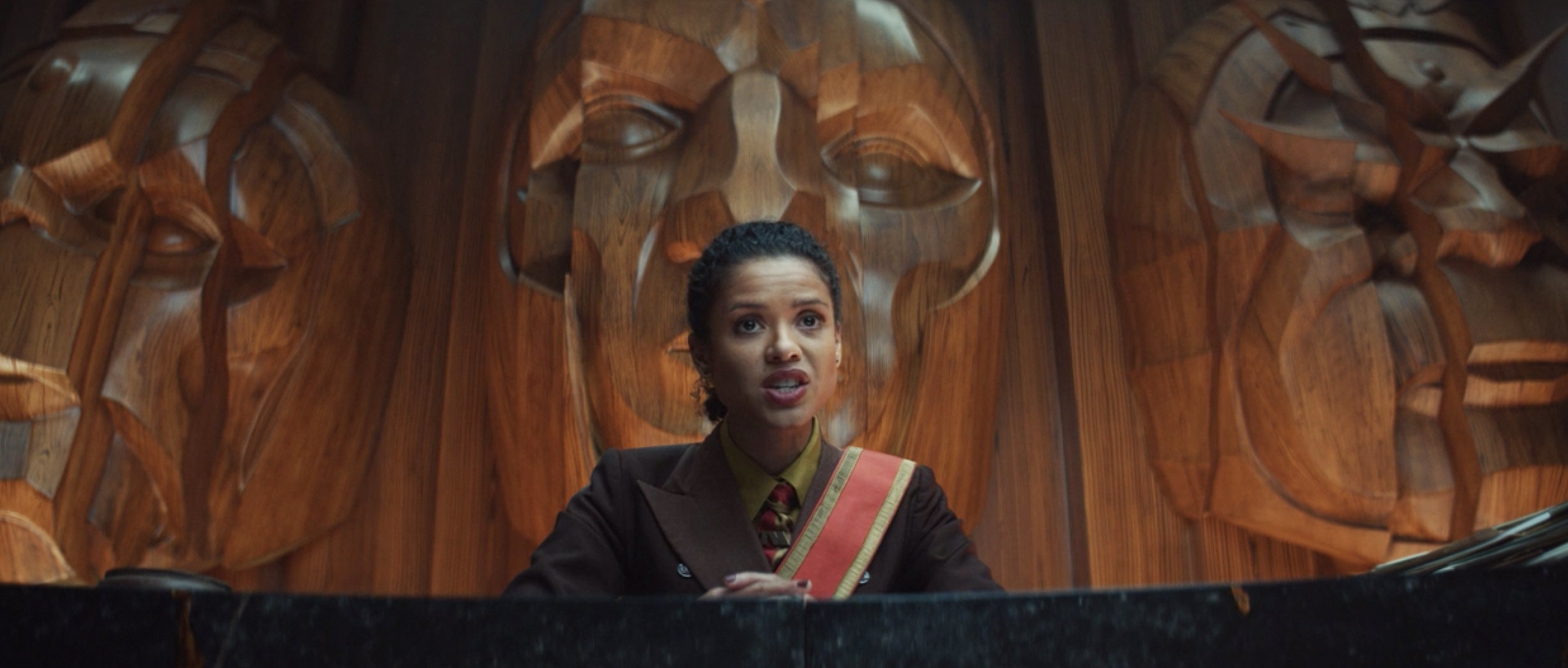 18.
When Loki is pleading his case, he says that you can always smell Tony Stark's cologne, and in Avengers: Endgame, Scott comments on this too.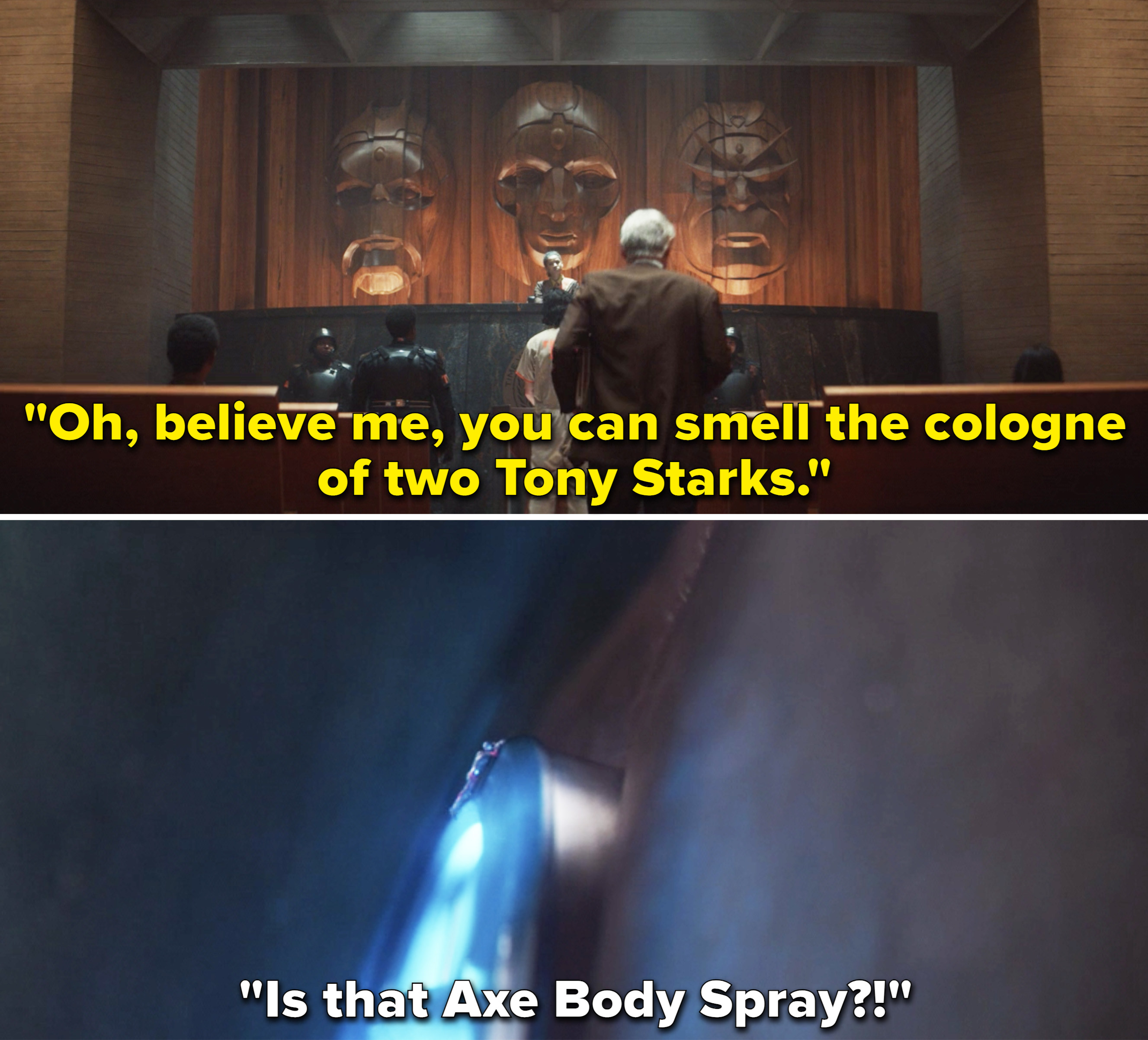 19.
When Loki looks out at the TVA, you can spot "T-282" on a building. I love Marvel numbers, so this could be a nod to Thor Issue #282, which features the first appearance of the Time Keepers.
20.
Mobius uses "holoprojector 35" to show Loki his "greatest hits." The number could reference the Marvel comic Journey Into Mystery Issue #35, which follows a man who is transported through time. This comic series eventually laid the groundwork for The Mighty Thor comics.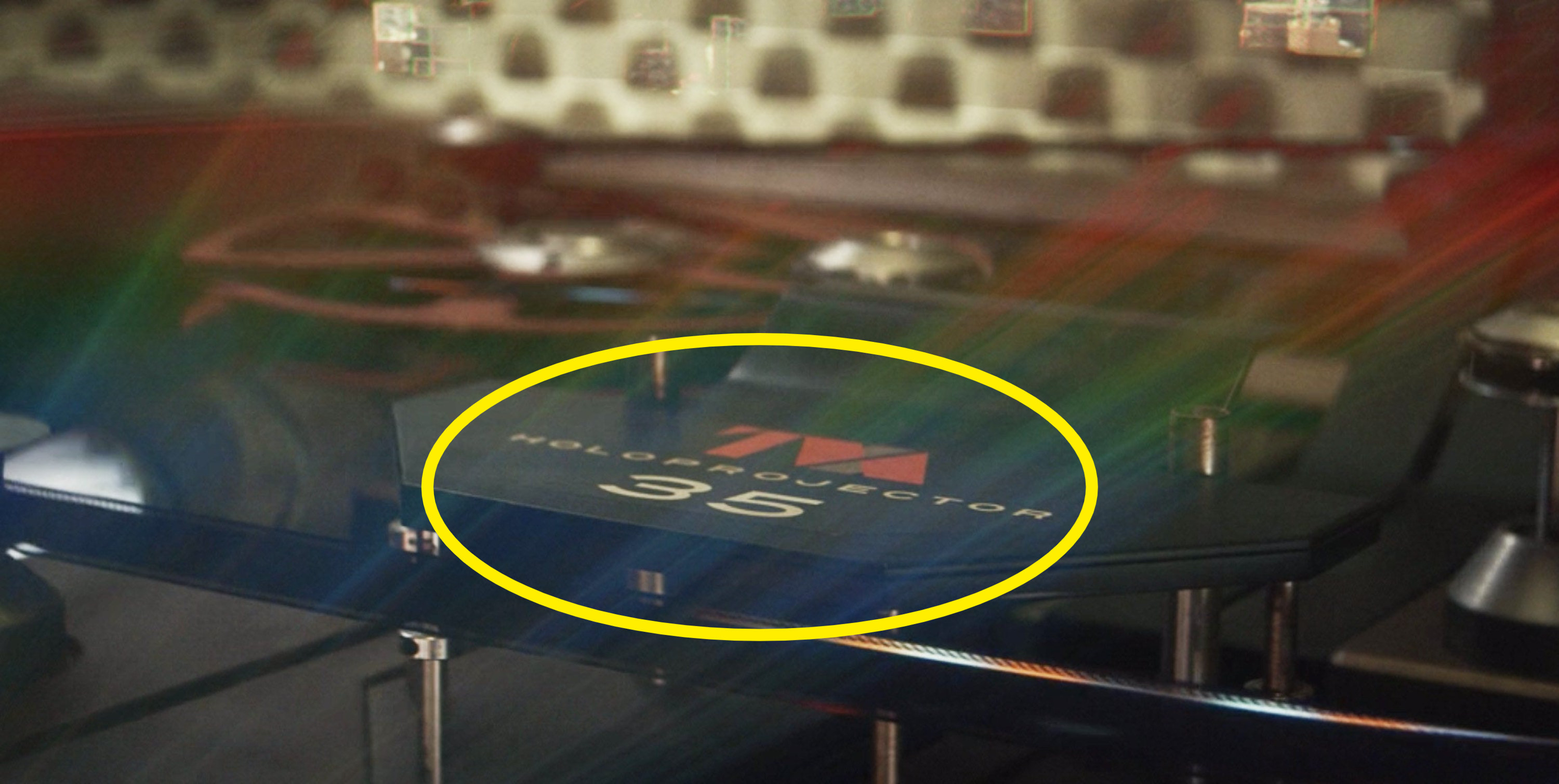 21.
Mobius drinks a lot of Josta while talking to Loki. Josta was the first energy drink marketed in the US during the '90s.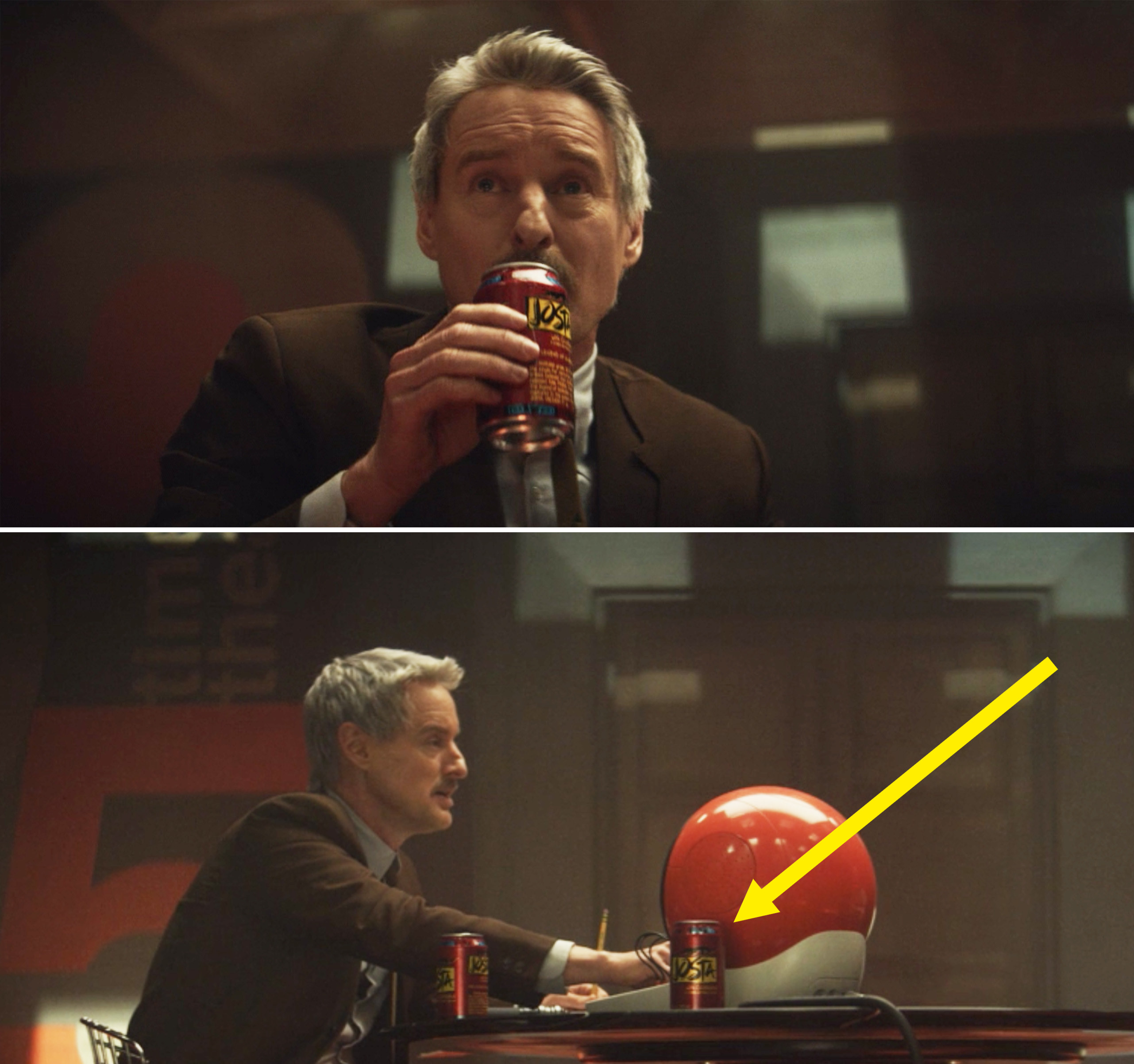 22.
Mobius mentions that Loki likes to "woo" people before he betrays them, which is exactly what he did to Thanos in Infinity War before he died.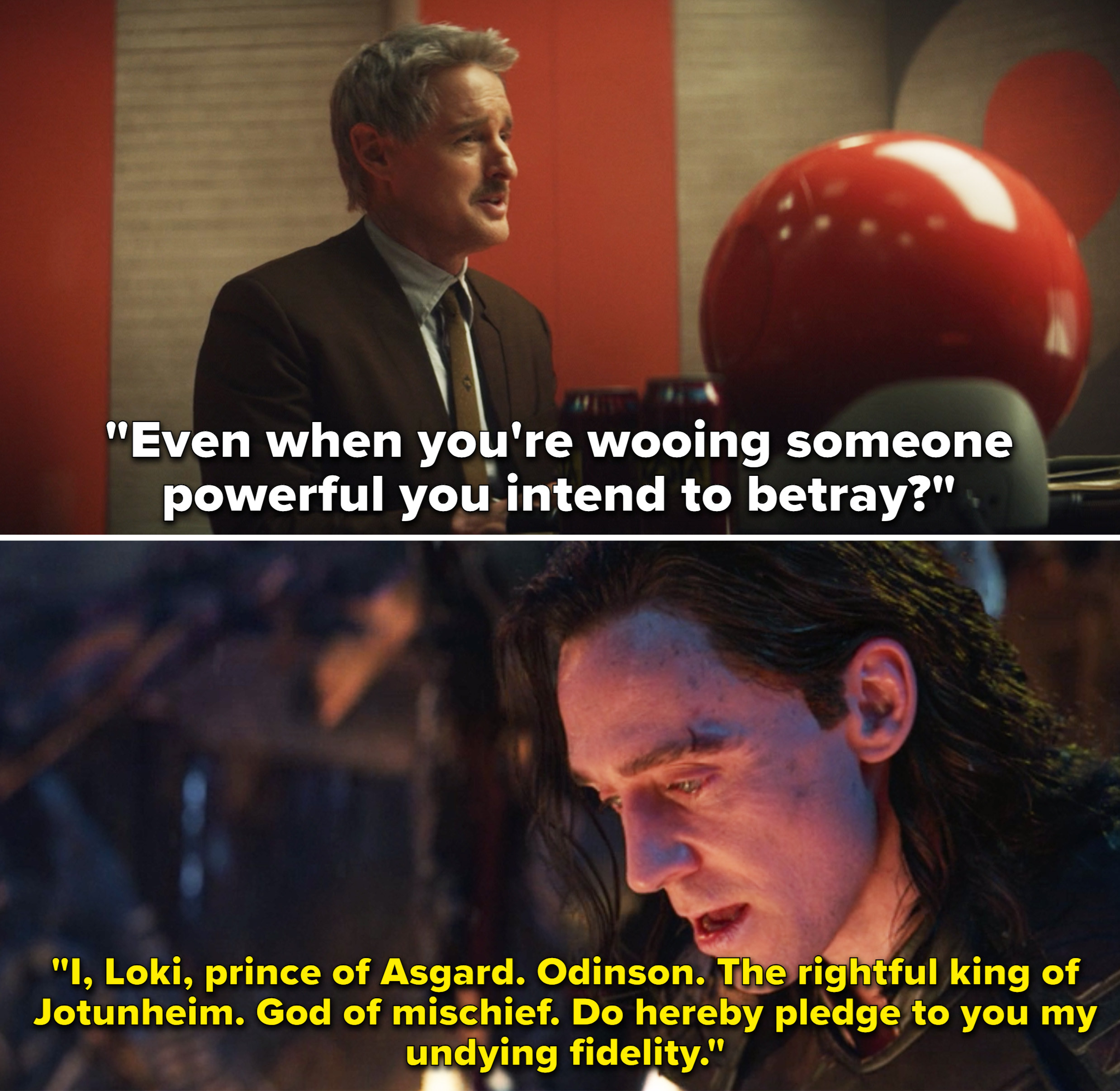 23.
Loki being D.B. Cooper might be one of my favorite things ever. If you need some background, D.B. Cooper was an unidentified man who hijacked a plane near Portland in 1971.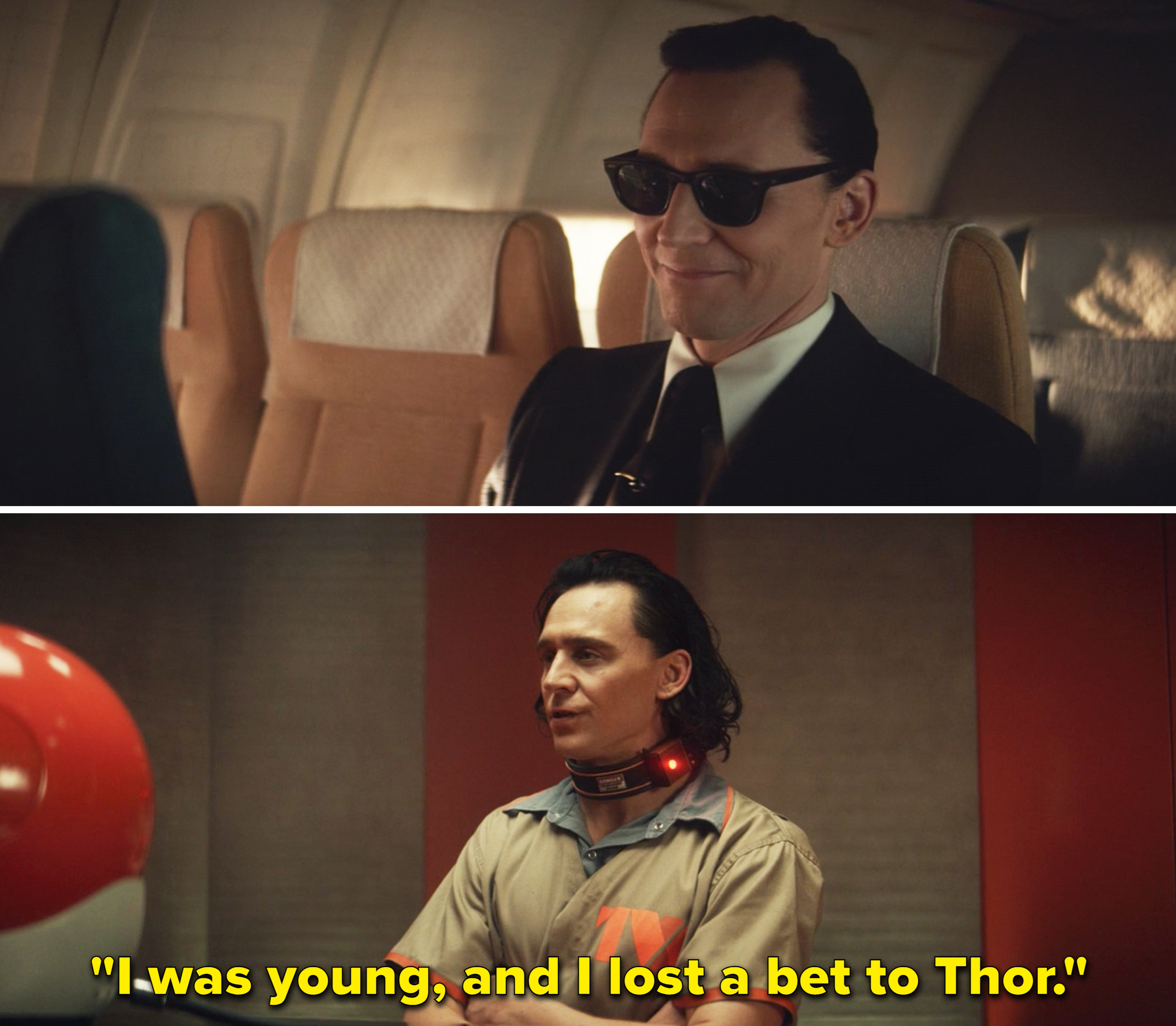 24.
The device Mobius (and other TVA members) use to move Loki slightly back in time is called a "Time Twister." In the comics, the Time Twisters were creatures who were created by the TVA in order to go forward in time, but instead they kept moving backward.
25.
Of course one of the biggest things in this episode is that Casey has spare Infinity Stones just lying in his desk, but if you look closely, he has all of them but the yellow Mind Stone, aka the stone that was in Vision's head.
26.
Also, Casey has other treasures in his desk's drawer, like a Honus Wagner baseball card, which is reportedly the most expensive card.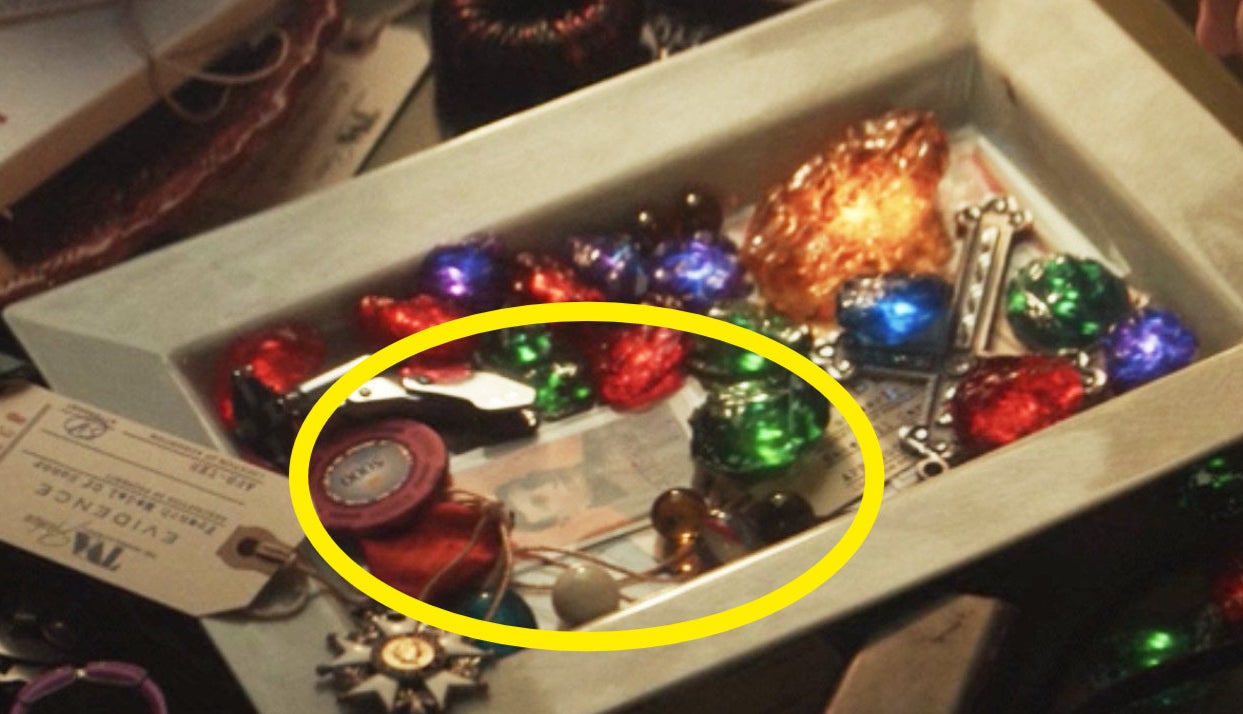 27.
After Loki watches his future, you can see that the film is labeled with "ETH-616," which I'm assuming is a reference to Earth-616, which is the main Earth in the Marvel comics.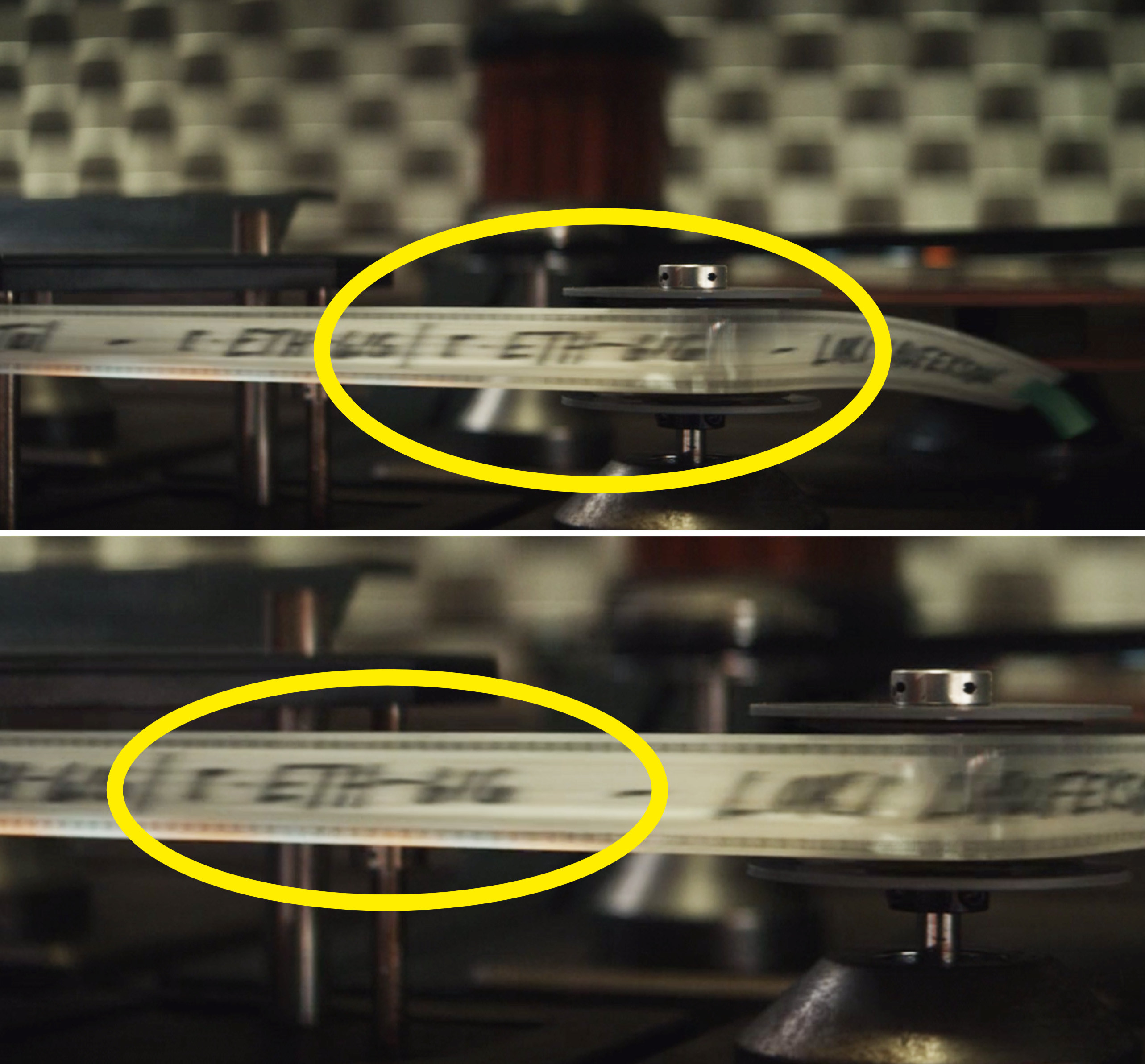 28.
A TVA Minutemen group tracks the other Loki Variant to Oklahoma. In the comics, Oklahoma plays a big role in Thor's story. It's actually where New Asgard is located after Ragnarok.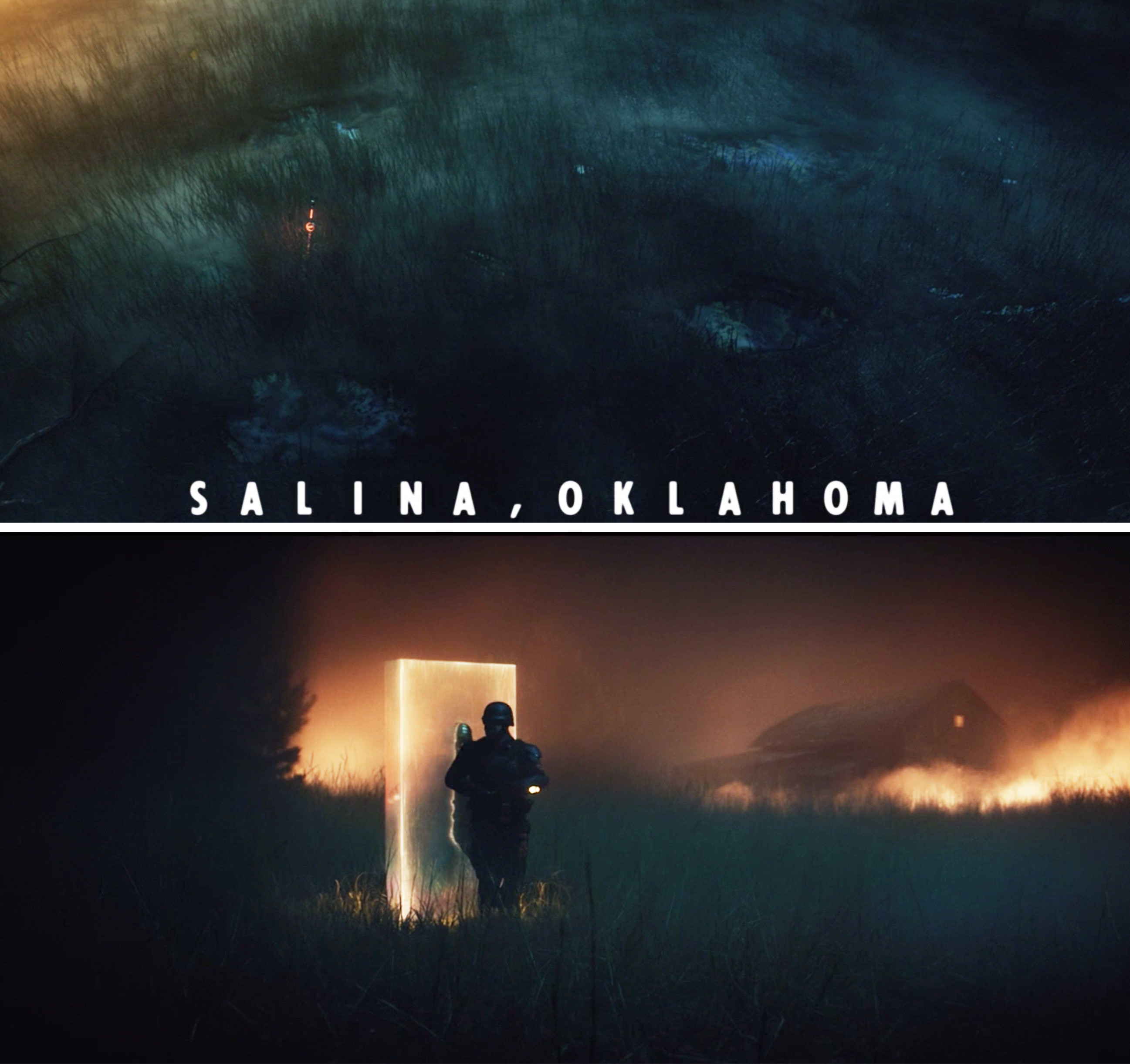 29.
The weapon the Minutemen find is from "early third millennium," and this is VERY IMPORTANT. In the Marvel comics, Kang the Conqueror is from that era, and, like I mentioned above, he's linked to the Time Keepers and Ravonna Renslayer.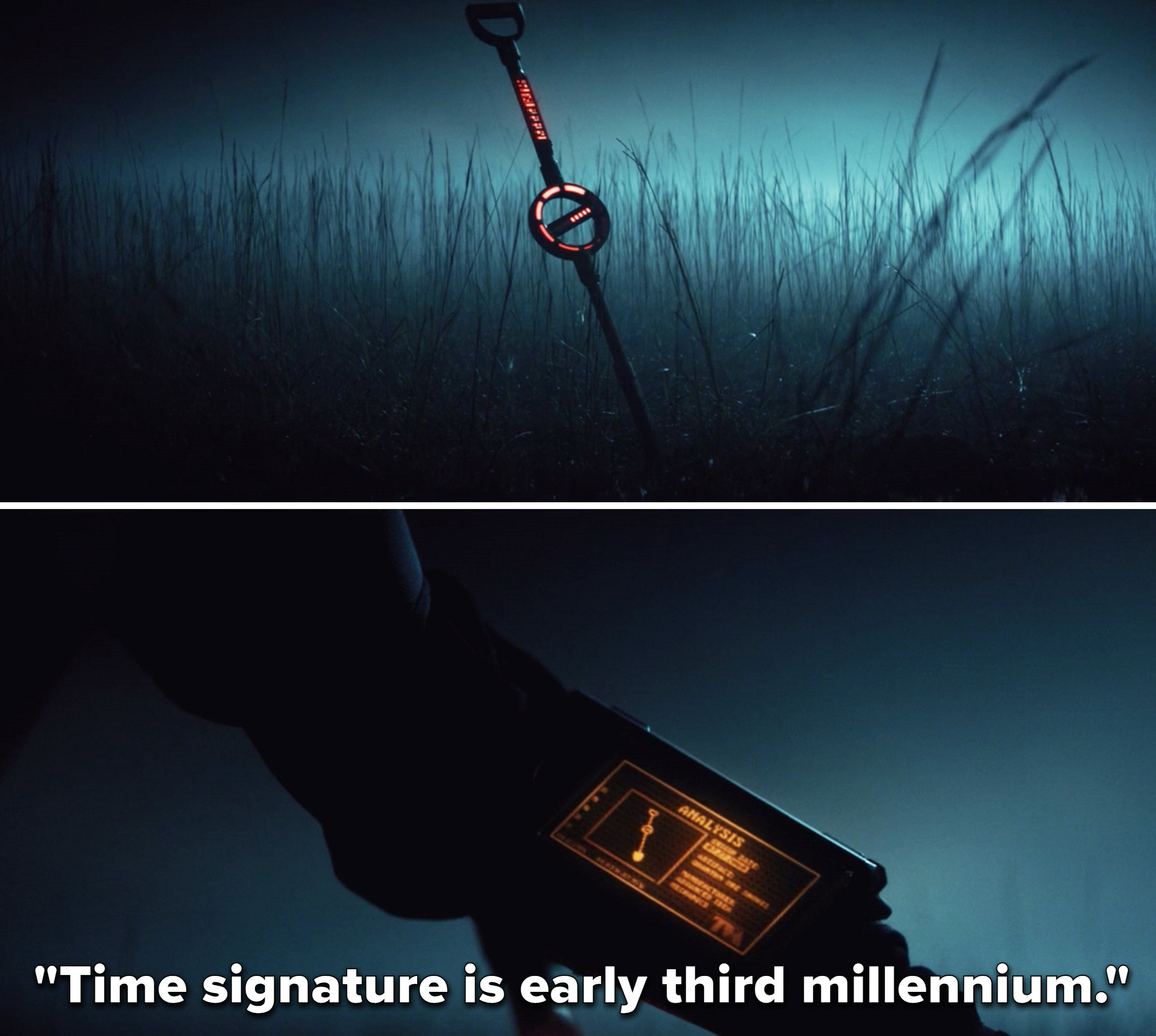 30.
And finally, this isn't really a detail, but should we start talking about who we think this Variant Loki is? Like, could it be Lady Loki?! And will I be able to HANDLE THAT?!
Did you catch any other Easter eggs or cool details? Have a better theory for one mentioned above? Tell me everything in the comments below!