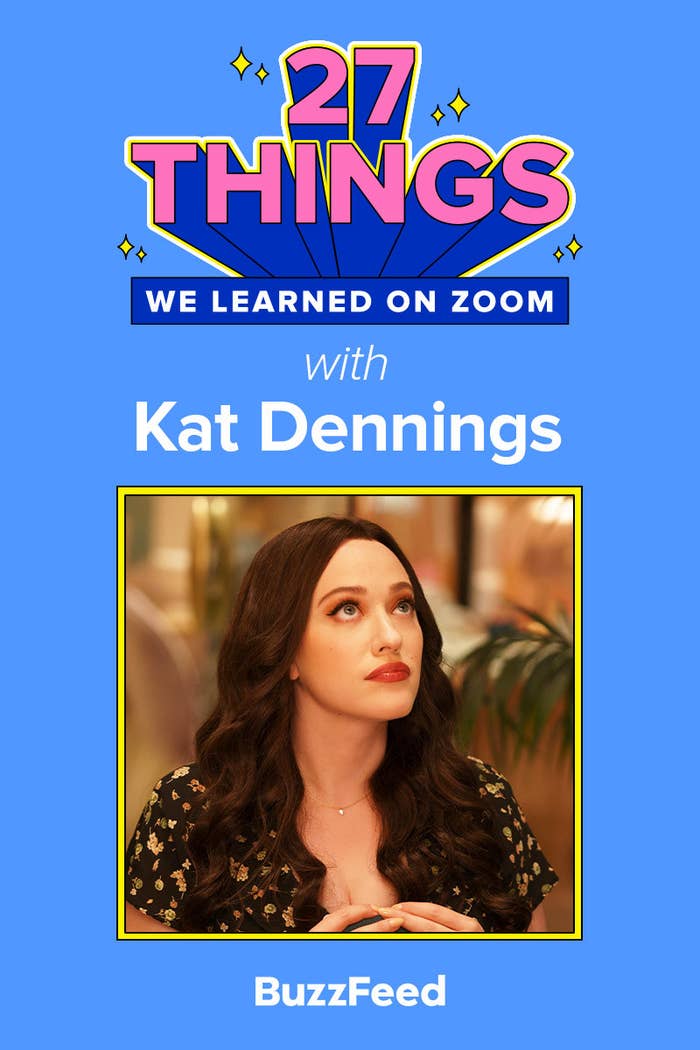 There are major spoilers ahead for Dollface Season 2
1.
How did you first get involved with Dollface?
After 2 Broke Girls ended, I was a little bit scared to do another TV show, just because I didn't even know what I wanted to do next. Then, I really loved the pilot script. Basically, my manager said, "Margot Robbie [who is an executive producer on Dollface] wants you to read a script." And I was like, "Okay! Sounds good! Whatever it is, I'll do." 
So, of course, having Margot Robbie involved was a no-brainer. It was such a good jumping off point. I could see so many seasons coming out of it. It just felt like the right thing. It has such a unique vibe. Yeah, that's how it happened: Margot Robbie wants you to read a script. That was it.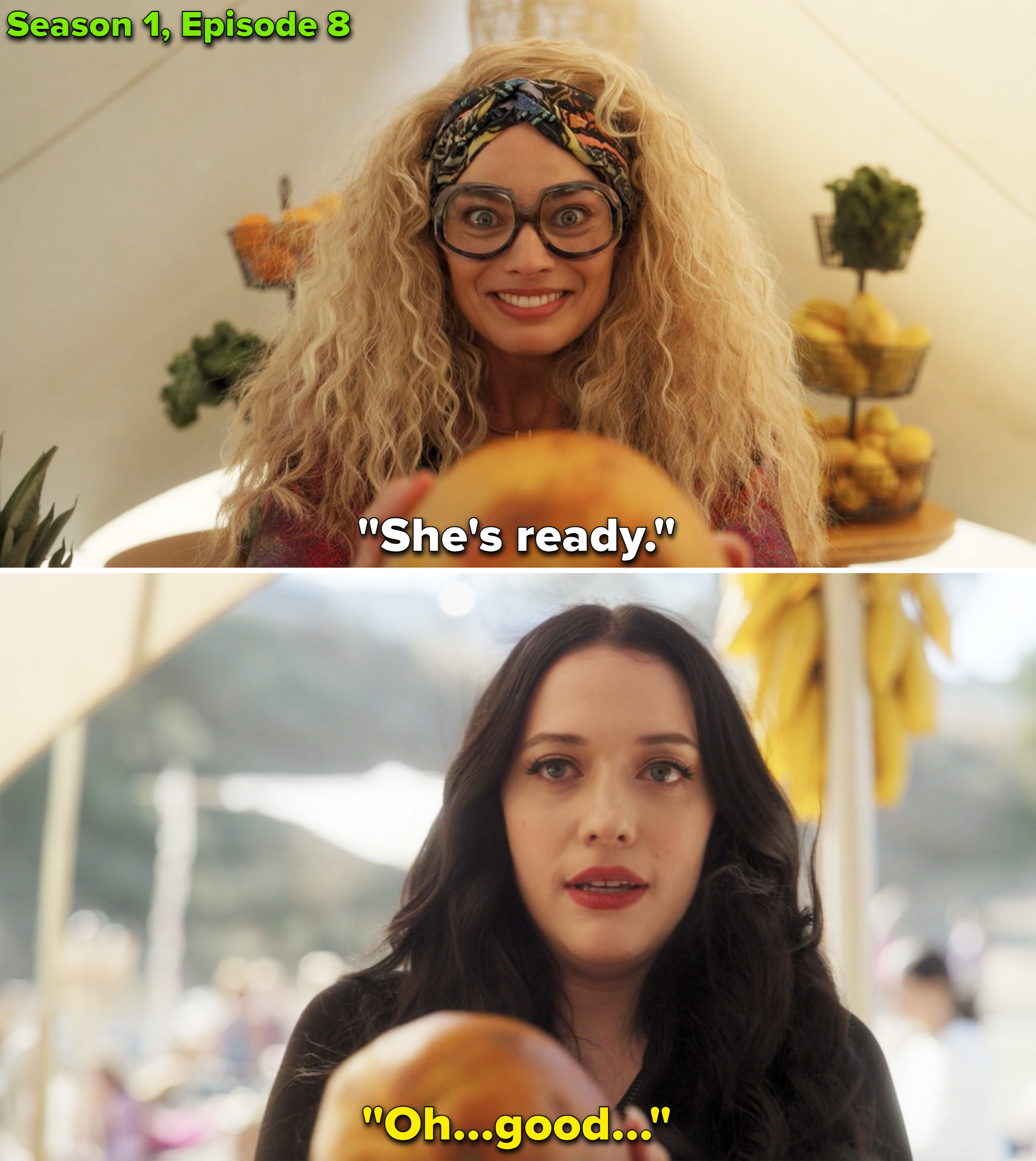 2.
And Dollface is also special because you're an executive producer on the show. How has it been stepping into that role too?
The executive producer thing was SO exciting for me. It felt very long earned because, you know, this is my 25th year of working — like, somehow that happened. You learn a lot as you go, just like in any job, but I felt really ready for that responsibility. I was very heavily involved and it felt really right. It's so much fun taking on this role too, and I really enjoy it.
3.
There was quite some time between Season 1 and Season 2 of Dollface. How was it jumping back into filming during the COVID-19 pandemic?
It was obviously anxiety filled because you go from, like, being home for a year and half to being back on a stage with hundreds of people. So, it's scary, but the best thing about this show is we have an amazing showrunner, Michelle Nader, who I worked with on 2 Broke Girls. I threw a net over Michelle and brought her in as soon as I could. I trust her with my life, and she cares so much. She wants everything to be as good as it can be and as safe as it can be. 
So I felt very safe. It really was done right. We could have started sooner and it might have been less of Dollface, so we really started filming at a time where we could have all the big scenes with all the extras and do everything safely. We were able to deliver the real season that we wanted to shoot.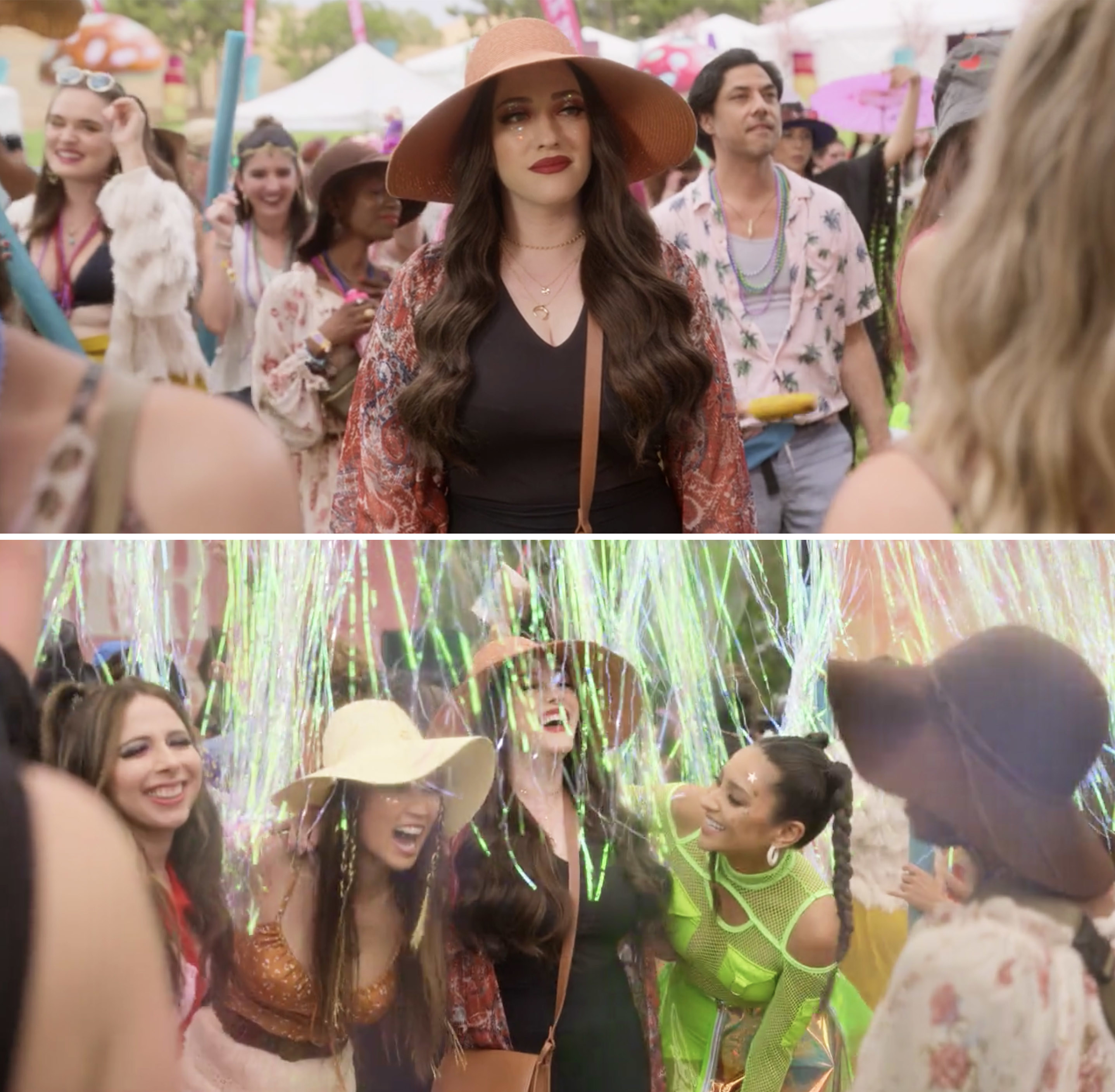 4.
In the last year, you also had WandaVision, which was a massive success. How was it watching that show become so beloved?
It was wild watching it just take over, all while we were stuck at home. It was incredible. I filmed that right before the pandemic started. My plan was to get home from shooting WandaVision and then go right into Season 2 of Dollface. Of course, it didn't happen like that. The beautiful thing that happened with WandaVision was everyone was home. Everybody watched it. 
That thing that Disney+ did with their Marvel shows being released once a week and making you wait for the next episode was so smart. Of course, we want to binge-watch everything, but what they did for WandaVision was a gift for everybody to have something they could talk about and look forward to. It gave everyone this incredible assignment at a point in life where we all needed something good to look forward to. It was a special kind of moment. I'm so proud of the show and it has been wonderful to see the show, Lizzie [Olsen], Paul [Bettany], and everyone get so much love. I can't believe I got to be in it. It's a gift.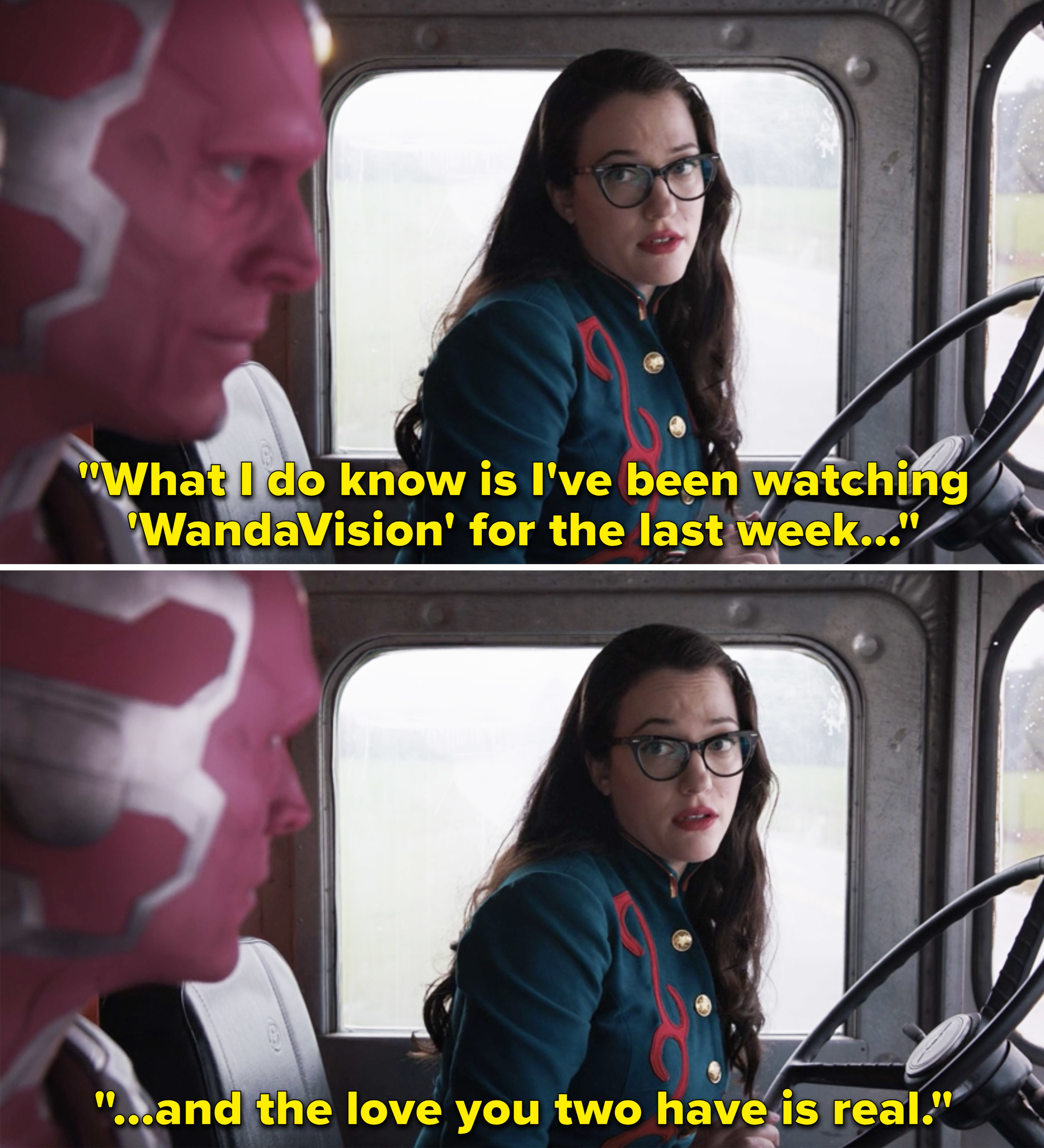 5.
Did you ever think you'd come back as Darcy after Thor: The Dark World?
Truly, I had no idea if we'd see Darcy again. The beauty of Marvel is, like, once you're in, you're in. You'll always be part of the Marvel family. So, I was always like, Maybe one day they'll have a use for Darcy. But I had no idea what they were going to do with her. It was very surreal.
6.
Have you ever taken anything from a TV show or movie after you finished filming?
Yes. Yes. Actually, somewhere in this very library where I am sitting, there's a book I stole from the Thor set. I might've asked permission, but I don't think I did...I took it. It's true.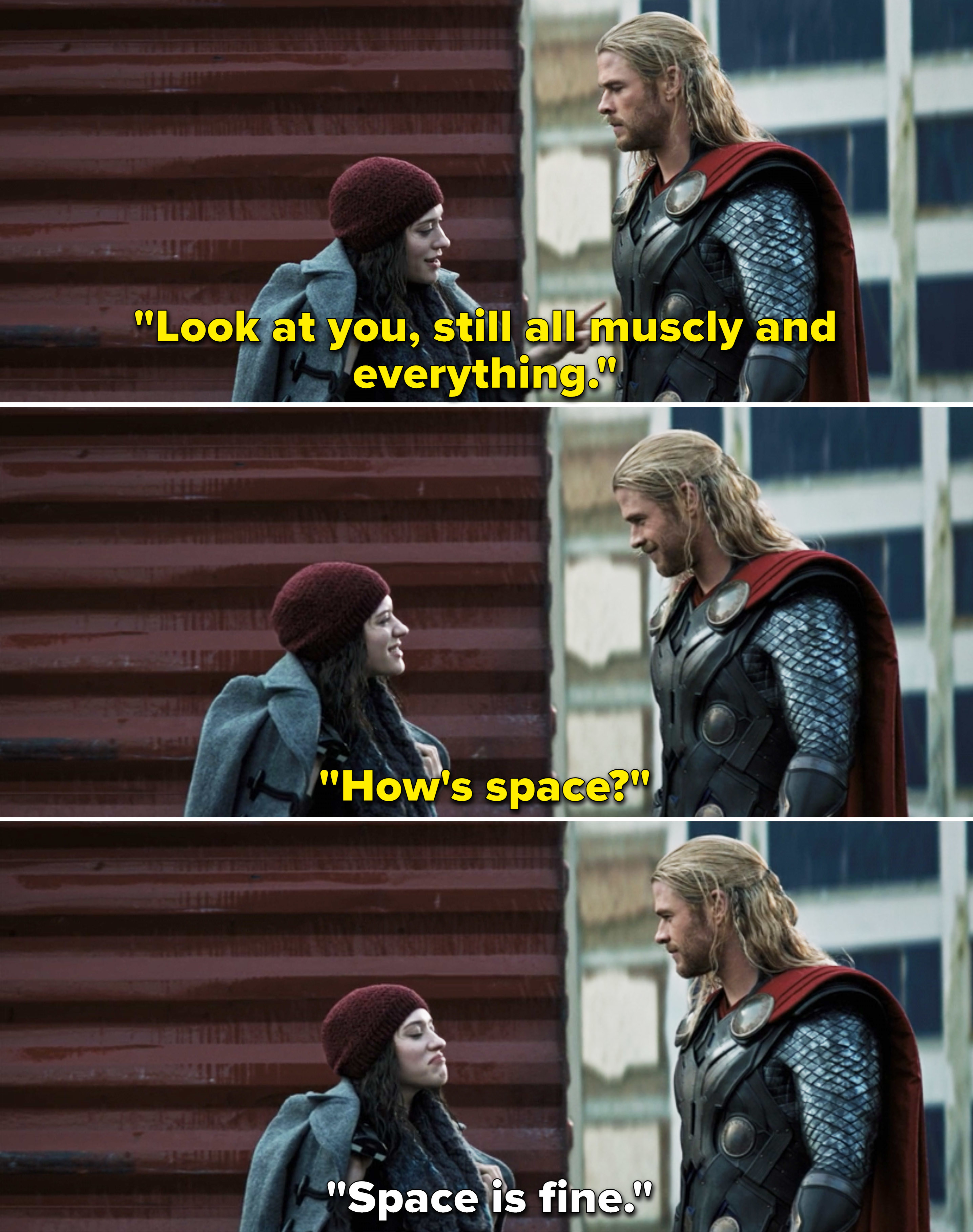 7.
What's a role people would be surprised to find out you auditioned for but didn't get?
I auditioned for everything and never got anything. I swear to god, everything you audition for is a rejection, so if you get like one job, it's a miracle. When I was little, I auditioned for one of The Exorcist remakes. 
BuzzFeed: No way!
Nora, it was horrible. I had to...ugh...do like a possession scene...you're never going to stop laughing over this. So, I brought in a feather boa to the audition. First of all, I was like 10. My mom was like, "You're not watching The Exorcist," and I was like, "I need to for WORK." I finally convinced her to let us rent it. So, I put in the tape back then because I'm 100 years old. We did VHS tapes from Blockbuster, kids. Anyway, the tape wasn't rewound, so it started right on the scene where her head spins around and I freaked out. 
I never watched it and to this day I've still never seen it because that scarred me for life. So, I went into the audition being like, I'm gonna do my own thing. It was...not good. If the tape exists, don't release it. Please.

8.
How was it transitioning from 2 Broke Girls, which was a very typical TV network comedy, to a streaming series like Dollface?
That was really exciting because I really wanted something different. Dollface is really interesting and it's very different from any other comedy I've worked on. It has this magical realism element that I haven't seen very much of. You know, the Cat Lady thing is so weirdly beautiful. It's been so great. Hulu has been such a great partner. They're so up for whatever.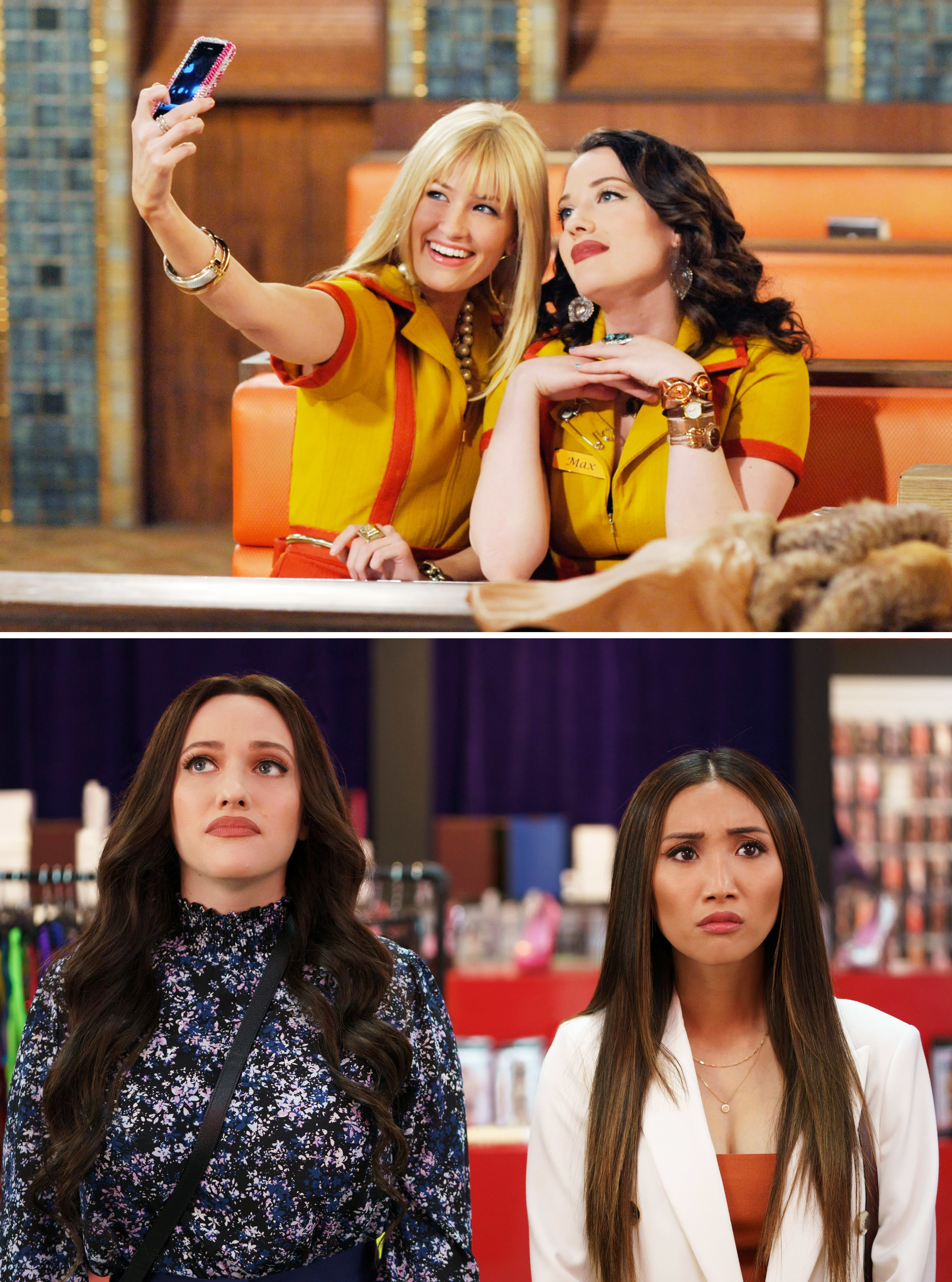 9.
How has it been building the friendships both on and off screen with Brenda Song, Shay Mitchell, and Esther Povitsky?
That's the best part of the show, in my opinion, because we got so close in Season 1. There's really no bonding activity quite like making a television show together for 15 to 16 hours a day where you're in weird situations. It's the most fun. You eat together, you nap together, I mean, within reason, do crazy stuff together. The things we do on the show are not normal. Like, we share these very special activities and it's sort of an irreplaceable bond that we all have. It's been awesome and so special.
10.
What's your best fan story?
Oh my god. I never leave the house, so I don't really meet that many people. But I remember a while ago, a really sweet woman came up to me once and she said her husband had passed recently and that she and her daughters watched 2 Broke Girls together in bed as their comfort show. For some reason, that story has always stuck with me and I thought it was so sweet.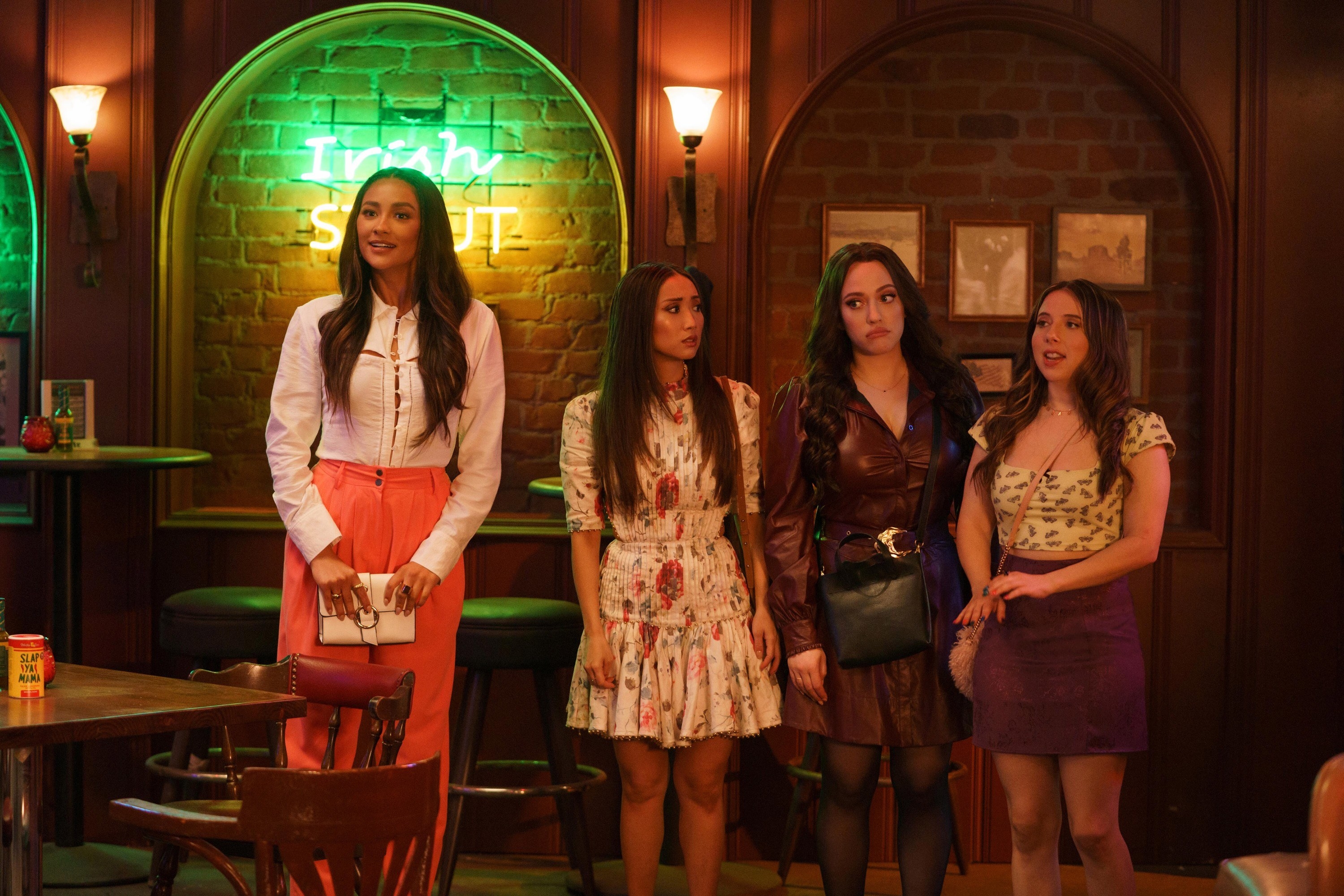 11.
Dollface Season 2 really explores a more independent side to Jules and she grows a lot in terms of knowing what she wants out of life and going for it. How was it exploring this side to her?
That's a really fun thing about this season because Season 1 was all about Jules begging her friends to take her back and essentially proving herself as a friend. Now, she's already done that. After Season 1, she feels much more confident having her friends behind her and being a good friend. She finally feels like she knows how to do that. Then, the surprise for Jules in Season 2 is instead of being fired from her job, she's promoted. She's suddenly thrust into a whole new thing of being a boss. Like, suddenly she's Izzy's boss and she has people working under her, and she has to make decisions. It's very scary for her. 
Jules kind of starts to find her groove. I think that's one of her main themes of this season, which is great. There's a very emotional episode where she goes back home to see her parents and that's a whole other side to Jules we haven't explored yet. You can see where her anxiety comes from. That's really interesting. To see why she's like this and then seeing her come into her own.
12.
Speaking of the Jules going home episode, Jennifer Grey guest stars as her mom, which is such a great surprise. How was it working with her?
Okay, well, Jennifer Grey is a dream. It was a dream come true and I'm a huge fan, obviously. Everyone loves Jennifer Grey. She's brilliant. She's like a ball of energy. She's magnificent. 
It's cool because it's unexpected because you would kind of think, Oh, Jules' mom must be like THIS way. But now she's this little energy-filled person who is very high strung. So that makes a lot of sense for why Jules is so....'AAAHH' about everything. Then her dad just seems more like a lovable guy just standing there. I think it's really cute and really revealing. It explains a lot about her.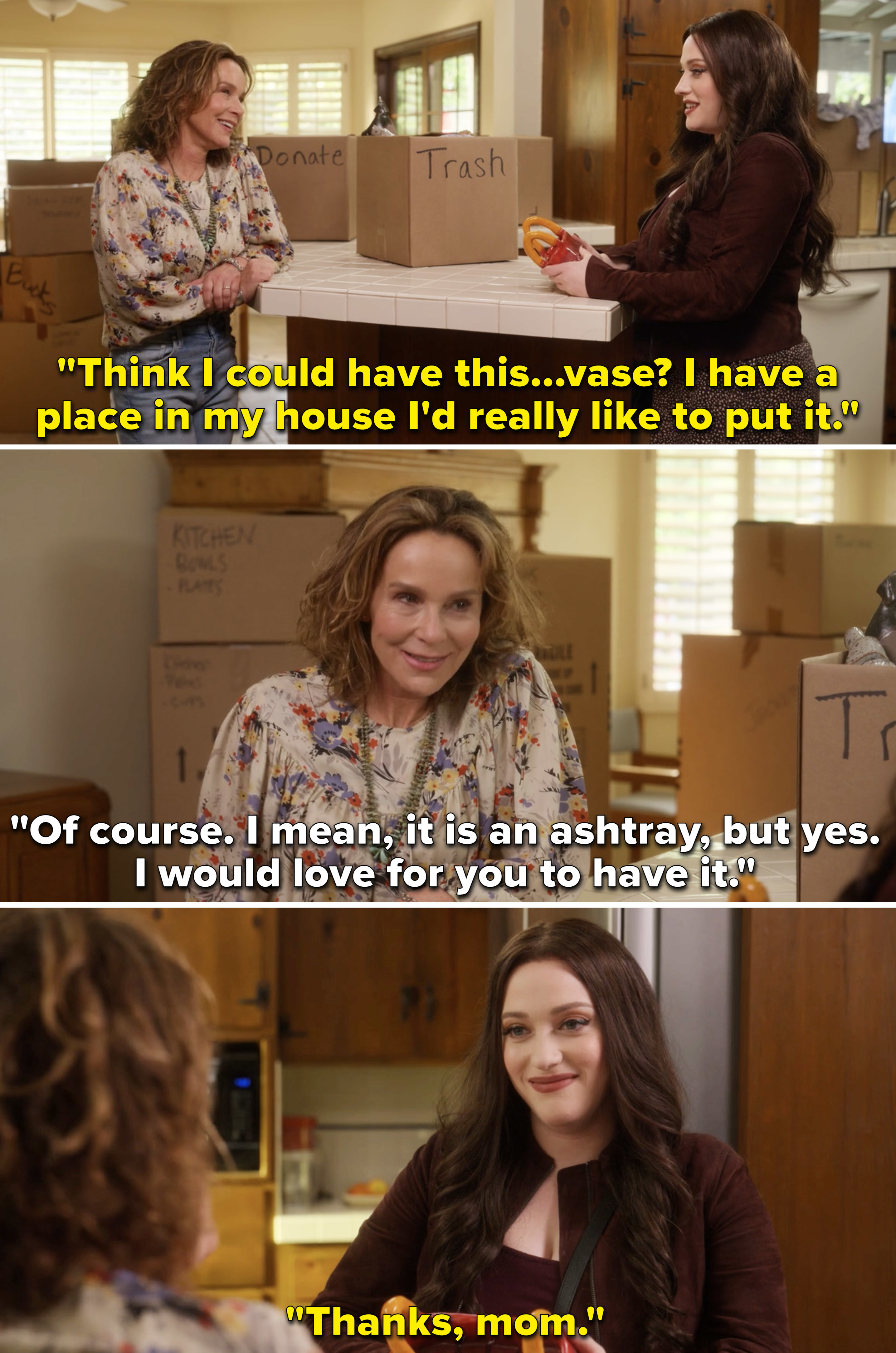 13.
In Season 2, Episode 8, there's also a great dream sequence that features your fiancé, Andrew W.K. How was it bringing him in to play on your show?
Incredible! A once-in-a-lifetime thing. It felt very special in the moment and like a very special thing for us to look back on, you know, when we're old. It was really, really wonderful. He was amazing, of course.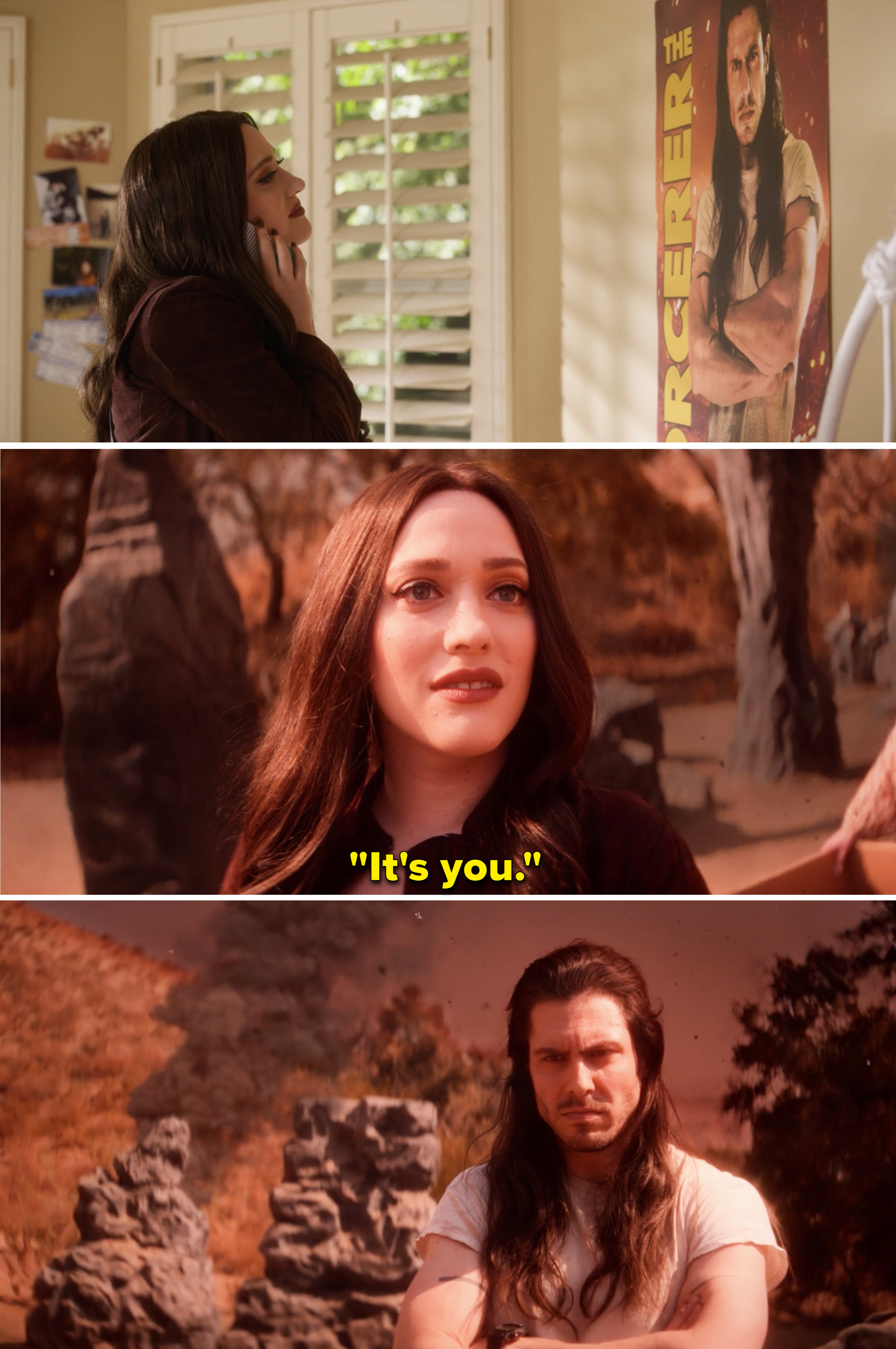 14.
Which emojis do you use the most?
[checks phone] It appears to be the heart emoji (❤️). Awwww. Followed by the crying one (😭). So, figure that one out.
15.
What's the last TV show you binge-watched?
Oh, okay. [Andrew and I] binge-watched Dopesick, which was incredible. And, we can't binge it because it's weekly, but The Righteous Gemstones Season 2. It's so good and hilarious.
16.
Is there a movie or TV show that made you want to become an actor?
Well, Steve Martin was the thing that happened to me as a kid that made me want to be whatever he does. Of course, I don't do what he does, but you know. I think I saw The Jerk when I was really young and it completely, like, changed my brain chemistry. I didn't know what was happening and I had never seen anything like that. I just kept getting his movies from the library and watching them over and over. Yeah, Steve Martin is the reason that I'm an actor.
17.
Who have you been the most starstruck by?
[laughs] Steve Martin. I met him once in passing and it was so embarrassing, and I didn't know what to say. I was like, If you don't say something, you're going to regret it! So, I was like, "Blah, blah, blah, blah," and he was like, "Really? Hahaha," and I was like, Oh god. For context, we were backstage somewhere and it was dark. He was about to go on stage, so it was a bad time. He was very polite, but I made no sense while talking to him. Hopefully one day I'll be able to make up for that.
18.
Do you have a favorite Jules moment from Dollface Season 2?
Oh man. There are so many great scenes this season. [laughs] I get a really fun little scene with Esther Povitsky, who plays Izzy. I think it was our first scene just the two of us, like away from everybody and not at work. We get to do a really fun scene together in a car and I really enjoyed that day just as a person because I love Esther so much. We got to just hang out in a car together the whole day. So that was a special memory from filming this season, but there are so many to choose from.
BuzzFeed: I also love the moment where Jules, Madison, and Stella road trip to go get Izzy back.
Yes! It's so good. I love all those kind of group scenes with us too. They are always a blast to film and are so funny.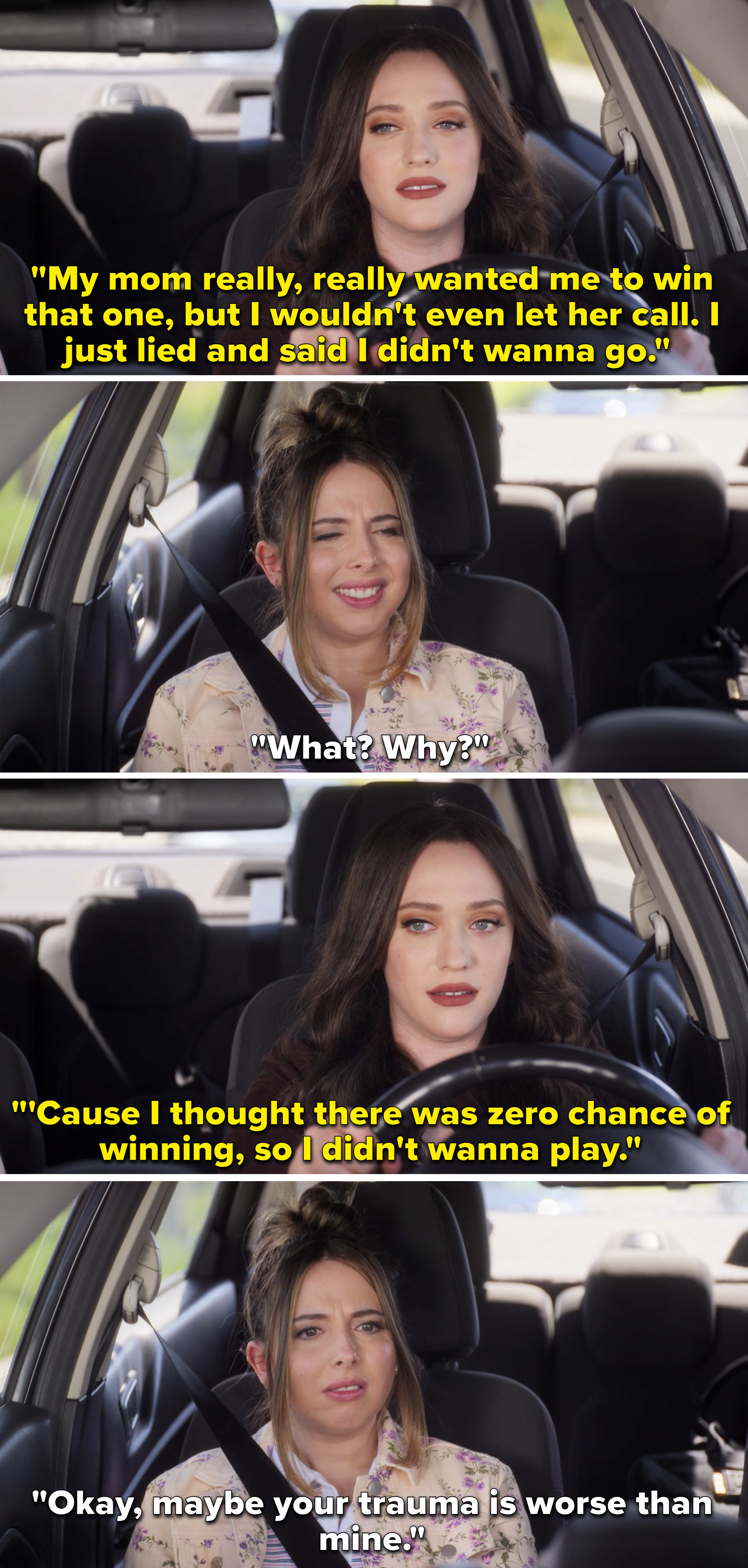 19.
Have you ever caught someone watching a TV show or movie you've been in on a flight or anywhere else?
Ah. Yes, I actually have. Somebody was watching 2 Broke Girls on a plane I was on once. I was like, Oh, god. Don't look at me. How am I supposed to pee? Guess I'm not getting up this flight. Like, I can't walk by this person. It's kind of embarrassing seeing other people watch something you're in, but obviously it's what I dreamed about as a little kid.
20.
Jules and Fender's relationship is such a great storyline in Dollface Season 2. How was it working with Luke Cook?
Luke Cook is the sweetest guy. So funny. I was actually a huge fan of his before Dollface. If you follow him on TikTok or Instagram, he's hilarious. Actually, he reached out to me on Instagram saying he thought he read for Dollface. I was like, "Hold, please." And I was like, "We have to hire Luke Cook now!" Of course, he got it on his own because he's brilliant. He's amazing. 
With Jules and Wes they have this like "Ehhh" vibe. She'll be like, "Okay, let's do this," and he's always hung up on something. Jules still isn't able to stand up for herself with Wes, and that's something she eventually does because she meets this great guy who actually seems to like her. It seems pretty straightforward. So then the question is, is she mature enough for this yet? The answer's no, but almost. She's getting there. 
21.
Who was your childhood celebrity crush?
Is it sad to say that it was King Arthur from The Sword in the Stone? It was him. He was a cute animated boy. He was age appropriate at least.
22.
What's your favorite behind-the-scenes memory from filming Dollface Season 2?
Oh my god, Nora, this is the hardest question. I'm not kidding that we made memories every step of the way. I think anytime where all the girls get to be together in a scene is always something really special. 
Like, we have a scene where all of us are in a restaurant and it's such a simple scene, but it was so much fun. Anytime we just get to hang out is the best. Like, we all got to spend the whole day together. That's my favorite, but I know that's everyone's favorite because we get to just take our shoes off, hang out, have some food, and show each other everything on our phones. It's the best.
23.
If you could guest-star on any TV show, either currently airing or not, what would it be?
The Righteous Gemstones. Or a season of American Horror Story.
BuzzFeed: You and Evan Peters can have a little WandaVision reunion on AHS.
Oh god. That's right! That would be funny.
24.
Do you ever listen to music in order to get into character?
Yeah, that's something I used to do a lot. I have playlists on my phone for previous characters. I used to do it a ton. It's a great way to set the tone for a character.
25.
Who has been your favorite Dollface guest star?
Oh my god. Owen Thiele. He's so great. 
26.
What's your dream for Dollface Season 3?
Oh my god. Well, the cool thing about Season 2 is that everybody gets their own show. Like, Stella and Liv have their own thing, Madison has her new career starting, and Izzy has her relationship and she's becoming more and more confident. Then, with Jules, it could kind of go anywhere. 
Personally, I would like to see Jules really understand herself and really decide what she wants, instead of just reacting to things happening to her, because that is Jules' pattern. I'm guilty of this, too. It's like things just occur and Jules reacts. It would be nice if she were able to take stock of her life and go for it. Go for what she wants, not just what's in front of her.
27.
And finally, what's something on your bucket list?
I've always wanted to see the bioluminescence plankton. You know, the beautiful glowing bioluminescence that you can see in some parts of the world. I've always wanted to see that. So wherever I can see that, I'd like to go there.
Be sure to check out Dollface Season 2, which is streaming now on Hulu.
This interview has been edited for length and/or clarity.