It's always hard to find a show to watch next because, let's be honest, there are SO many out there right now. So, as someone who watches WAY too much TV, I'm here to tell you that Ghosts should be next on your list.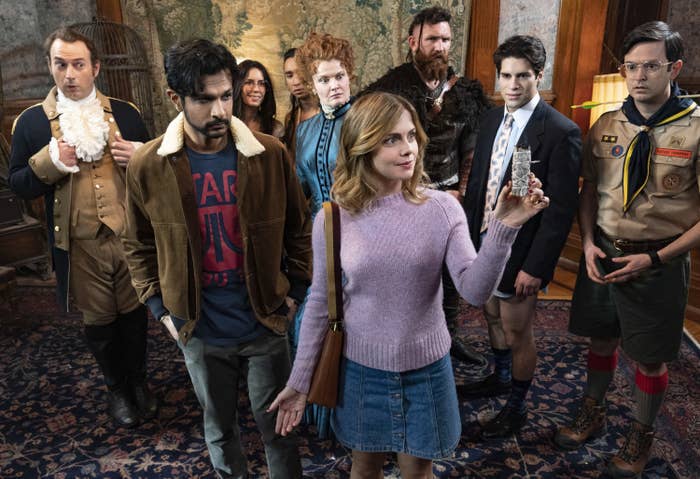 Ghosts is truly one of my favorite new comedy series and I'm not alone. Season 1 currently has a 95% on Rotten Tomatoes, and new fans are finding this show every week.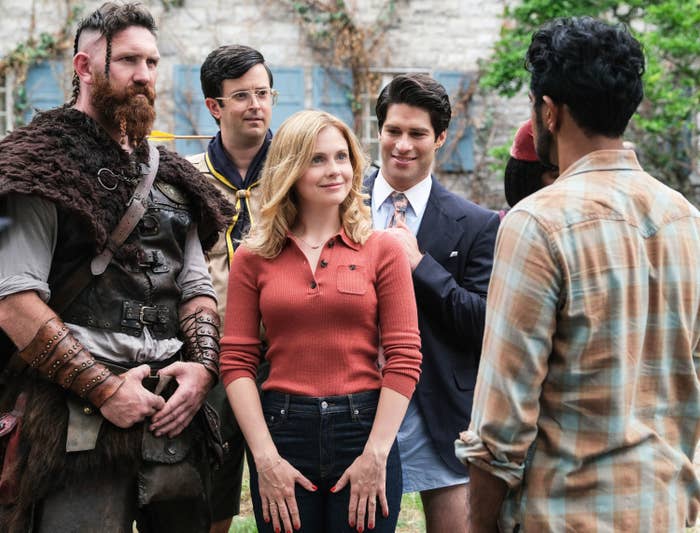 So, to celebrate Ghosts — and because I want more people to talk about it with — here are 17 reasons why it needs to be your next binge-watch:
1.
First, Ghosts follows Samantha and Jay, a couple from NYC who decide to risk it all and move to a beautiful country house that Sam just inherited from a distant relative. They soon realize their dream home needs a lot of work, and it's made even more complicated when an injury causes Sam to see the ghosts of people who have died on the mansion's grounds and who have not yet reached the afterlife.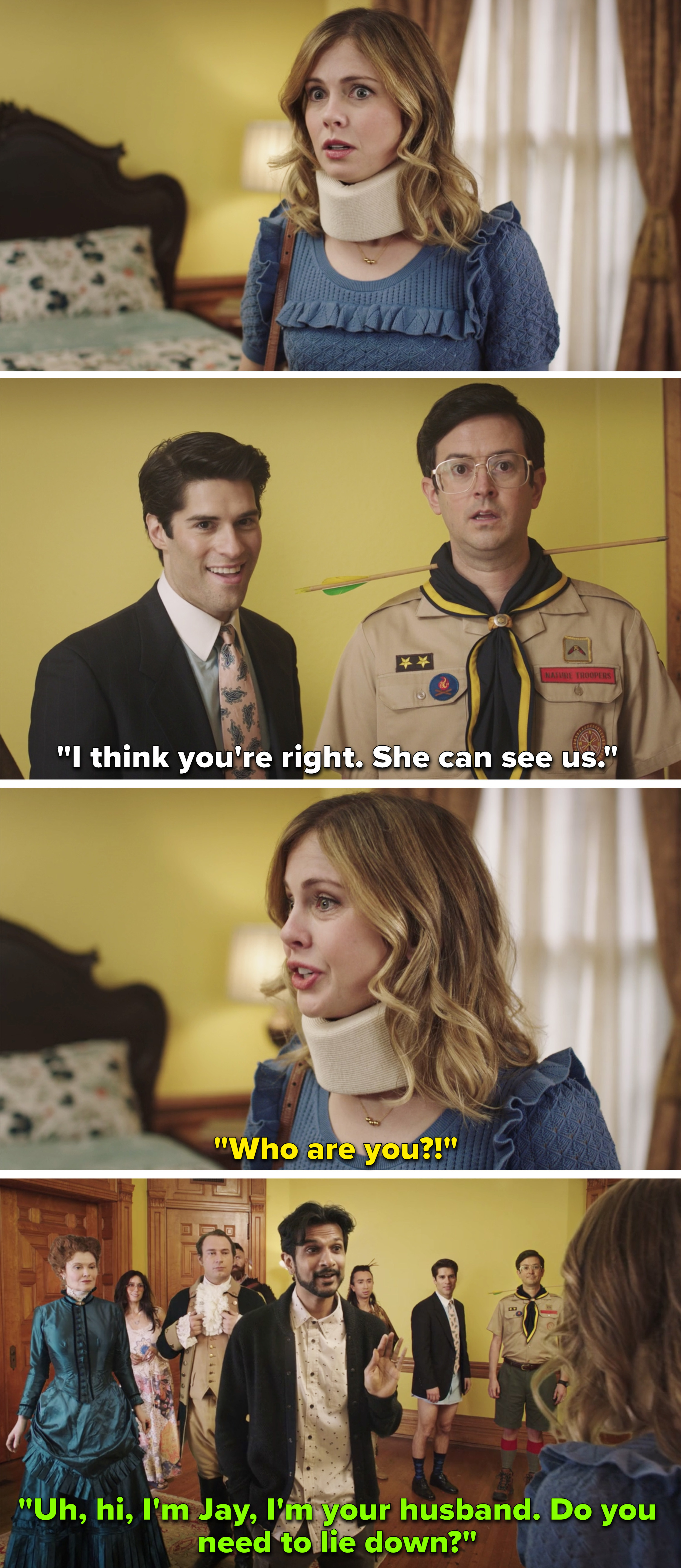 3.
Behind the scenes, Ghosts was adapted for US television by Joe Port and Joe Wiseman, who have produced and written for shows like New Girl, The Office, Zoey's Extraordinary Playlist, and the short-lived but amazing The Crazy Ones.
4.
The series also boasts an impressive list of writers and directors who've previously worked on shows like Brooklyn Nine-Nine, Fresh Off the Boat, A.P. Bio, Grown-ish, and more beloved comedy series we've all loved over the years.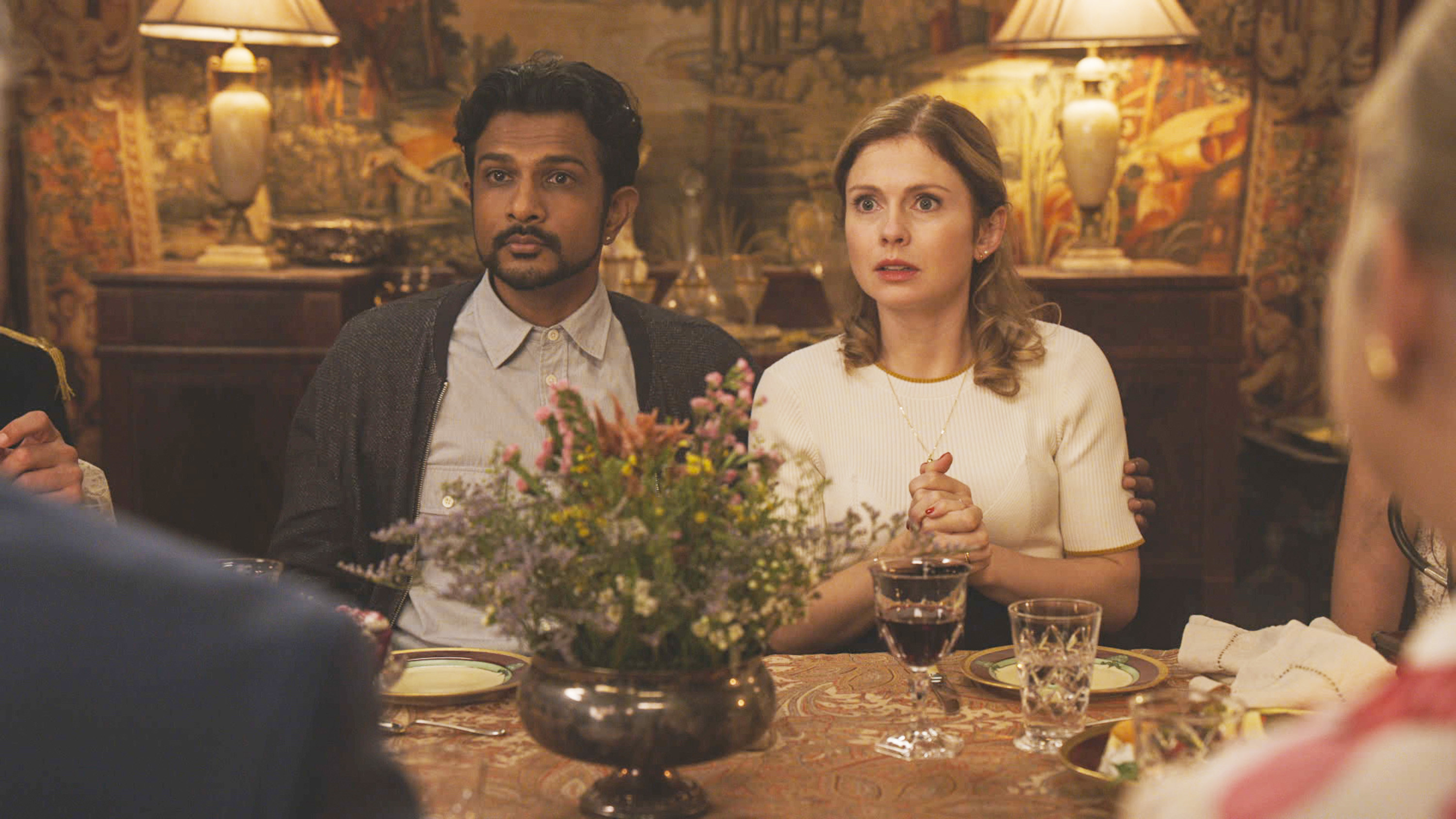 5.
In terms of cast, Rose McIver and Utkarsh Ambudkar lead an impressive ensemble of up-and-coming and diverse actors who you'll definitely adore minutes into the first episode.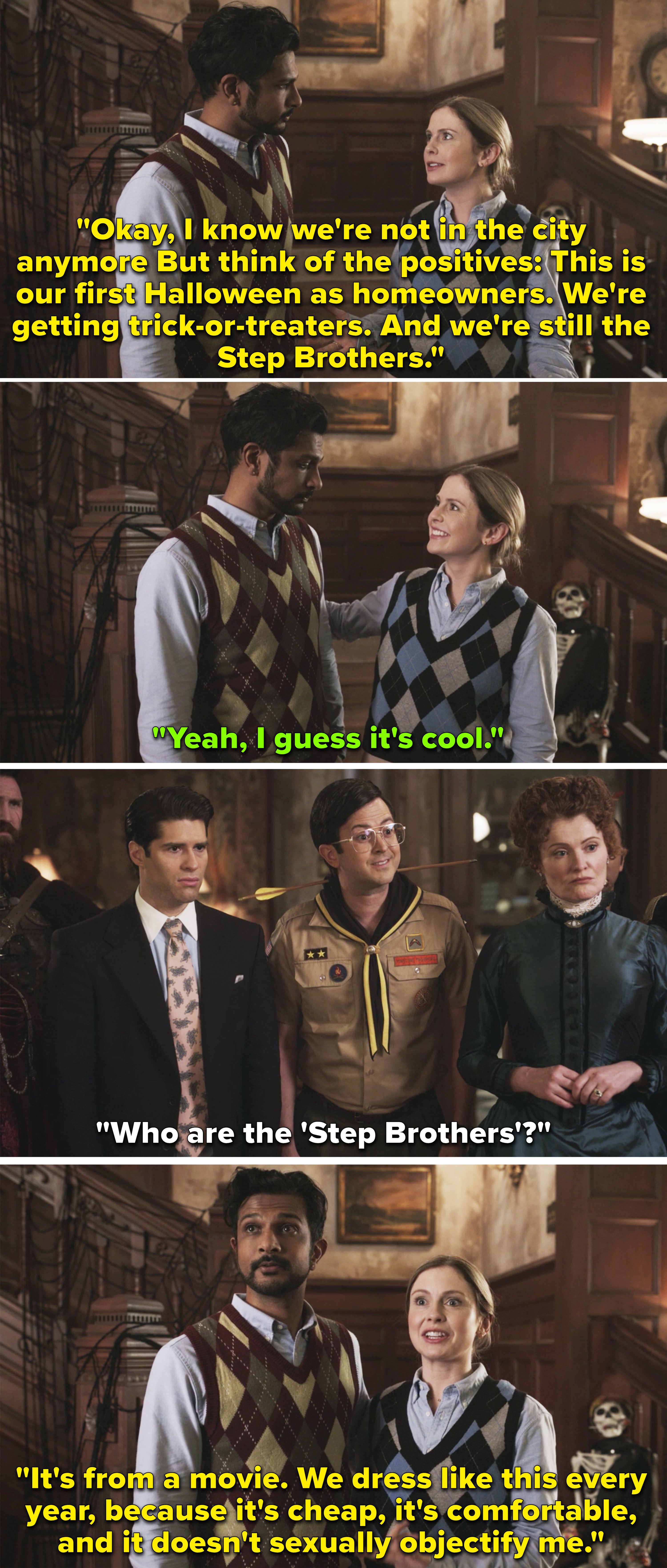 6.
Rose McIver's work on iZombie — another great show I could ramble about all day, just give me a time and a place — allows her to perfectly lead this series. On iZombie, Rose was able to switch seamlessly from comedic to dramatic moments, often within one episode, and Ghosts allows her to do the same.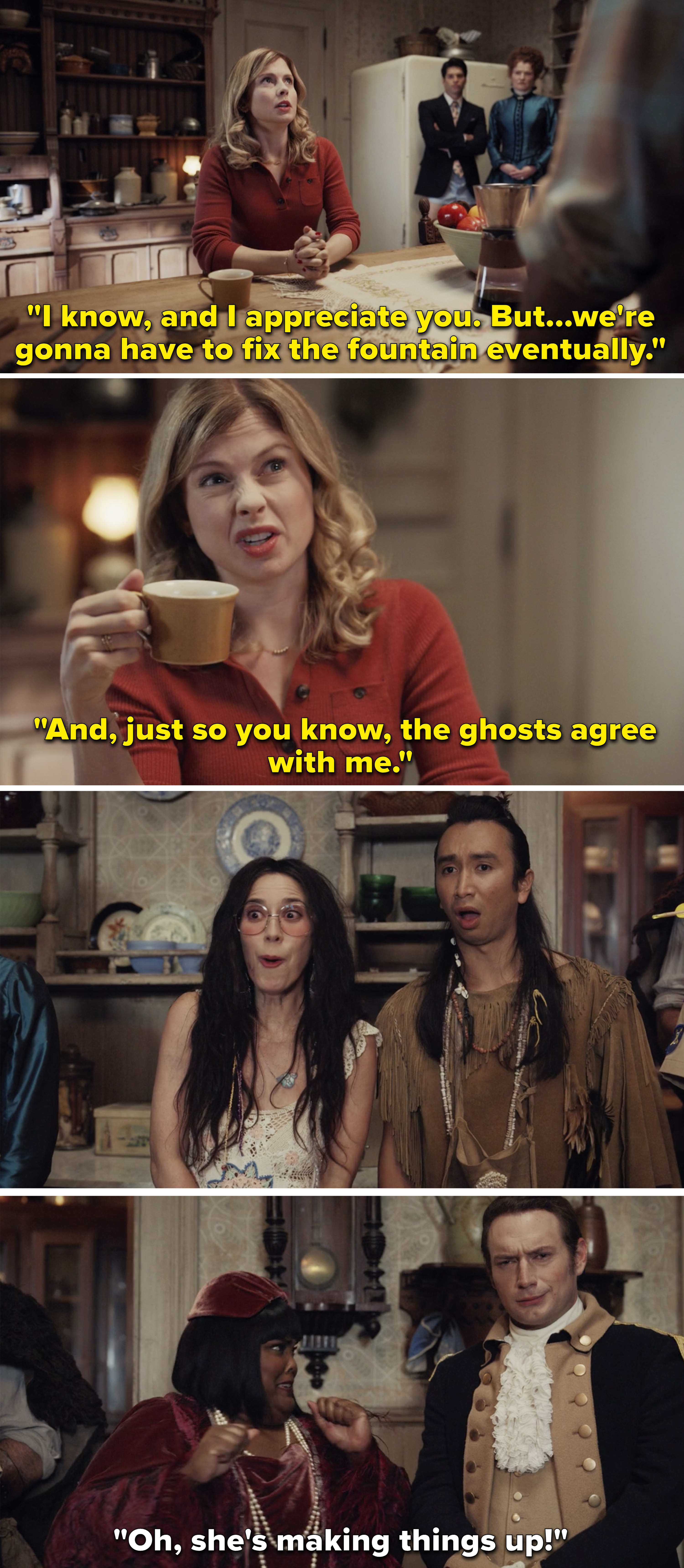 7.
And Utkarsh Ambudkar, who you've probably seen in Pitch Perfect, Never Have I Ever, The Dropout, or on Broadway in Freestyle Love Supreme, brings a wholesome brand of comedy to the show. Since Jay can't see the ghosts Sam is talking to, it makes for some earnest and hilarious moments throughout the season.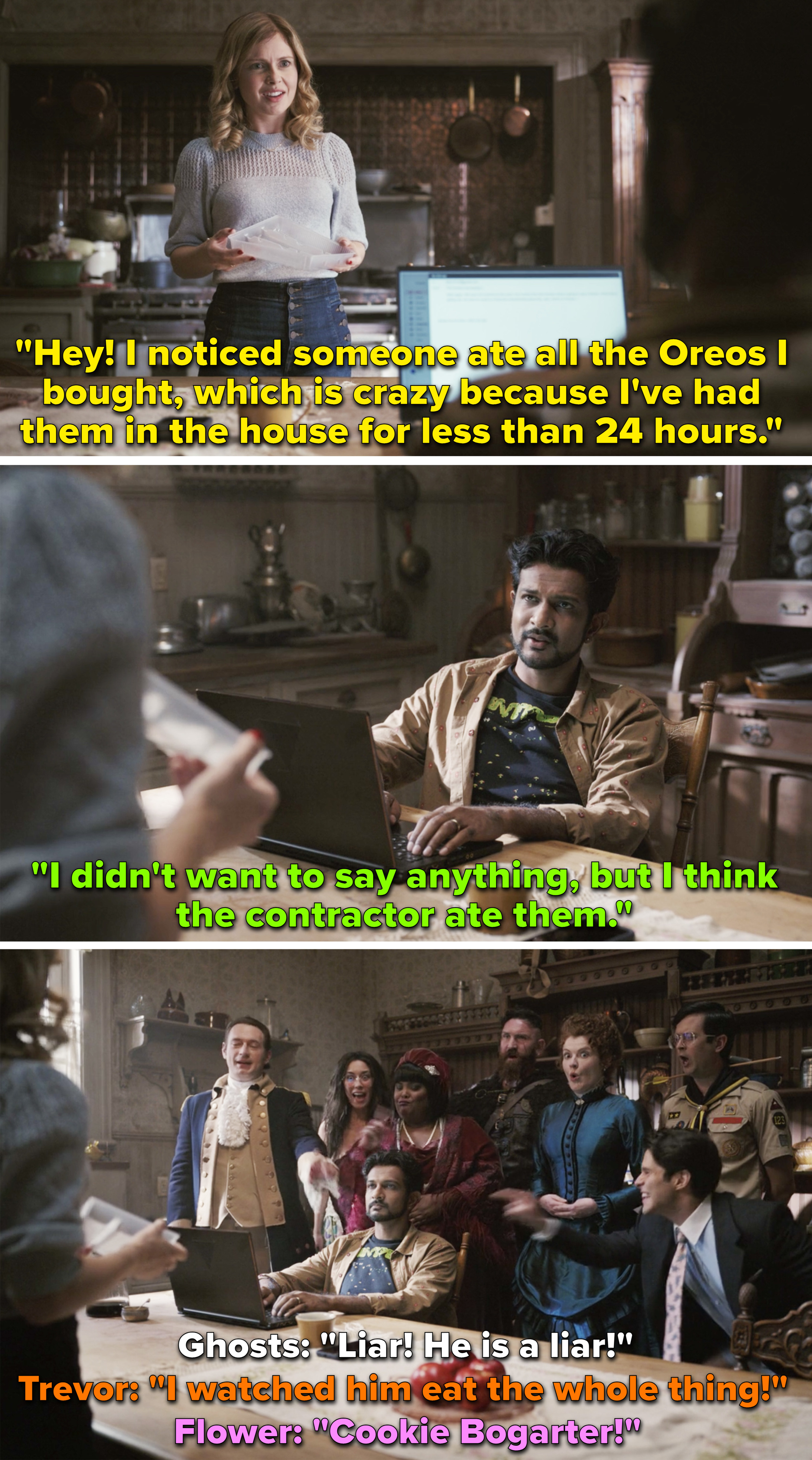 8.
Meanwhile, Asher Grodman, Richie Moriarty, Sheila Carrasco, Danielle Pinnock, Brandon Scott Jones, Rebecca Wisocky, Román Zaragoza, and Devan Chandler Long are simply mesmerizing as the ghosts who inhabit Woodstone. Each of them are so brilliantly cast, it's easy to fall in love with them instantaneously.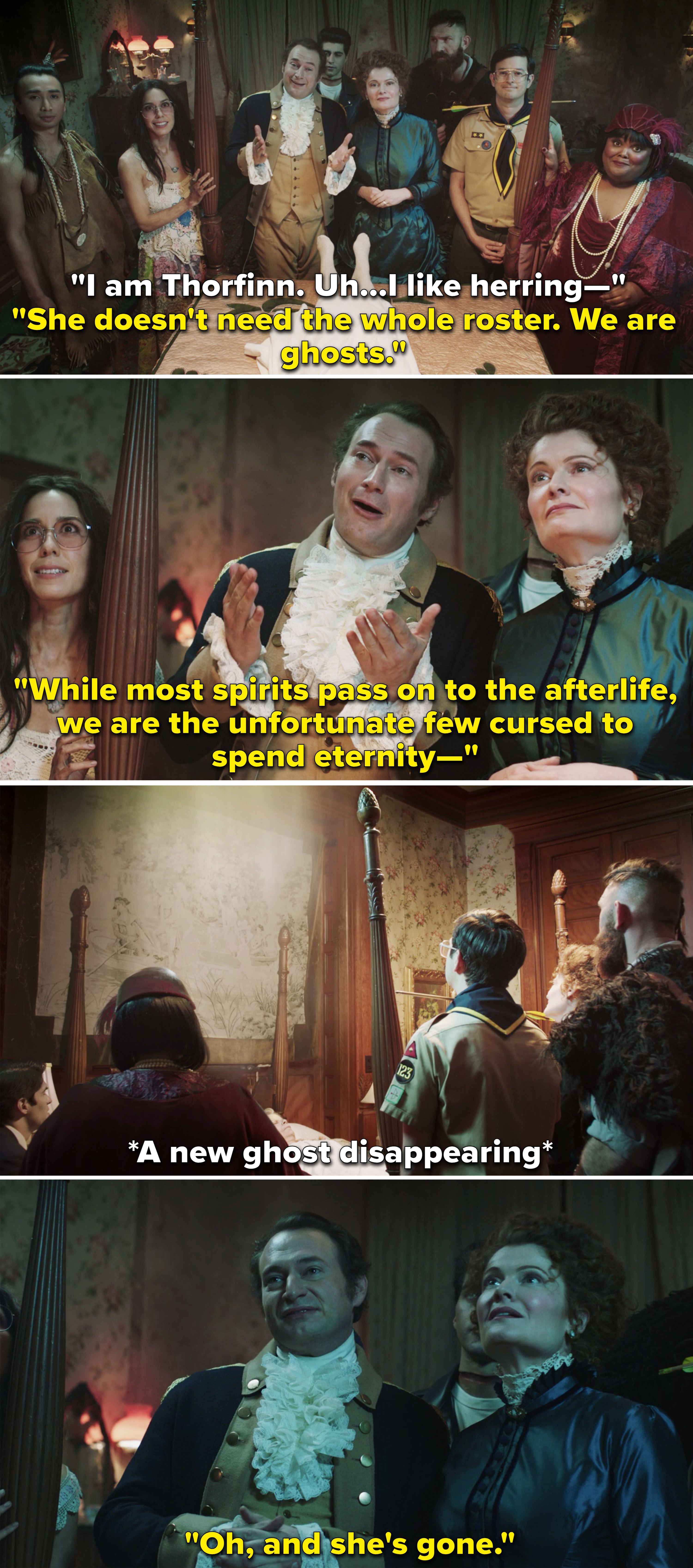 Like, fans already love these actors and characters so much, like this young trick-or-treater who dressed up as Pete and ironically showed up at Richie Moriarty's house.
9.
Ghosts' ensemble is what makes this series so special. Not only are they all great together, but each character has a unique and interesting backstory you're dying to learn more about — like how did famous jazz singer Alberta die in the house? Or why is Trevor missing his pants?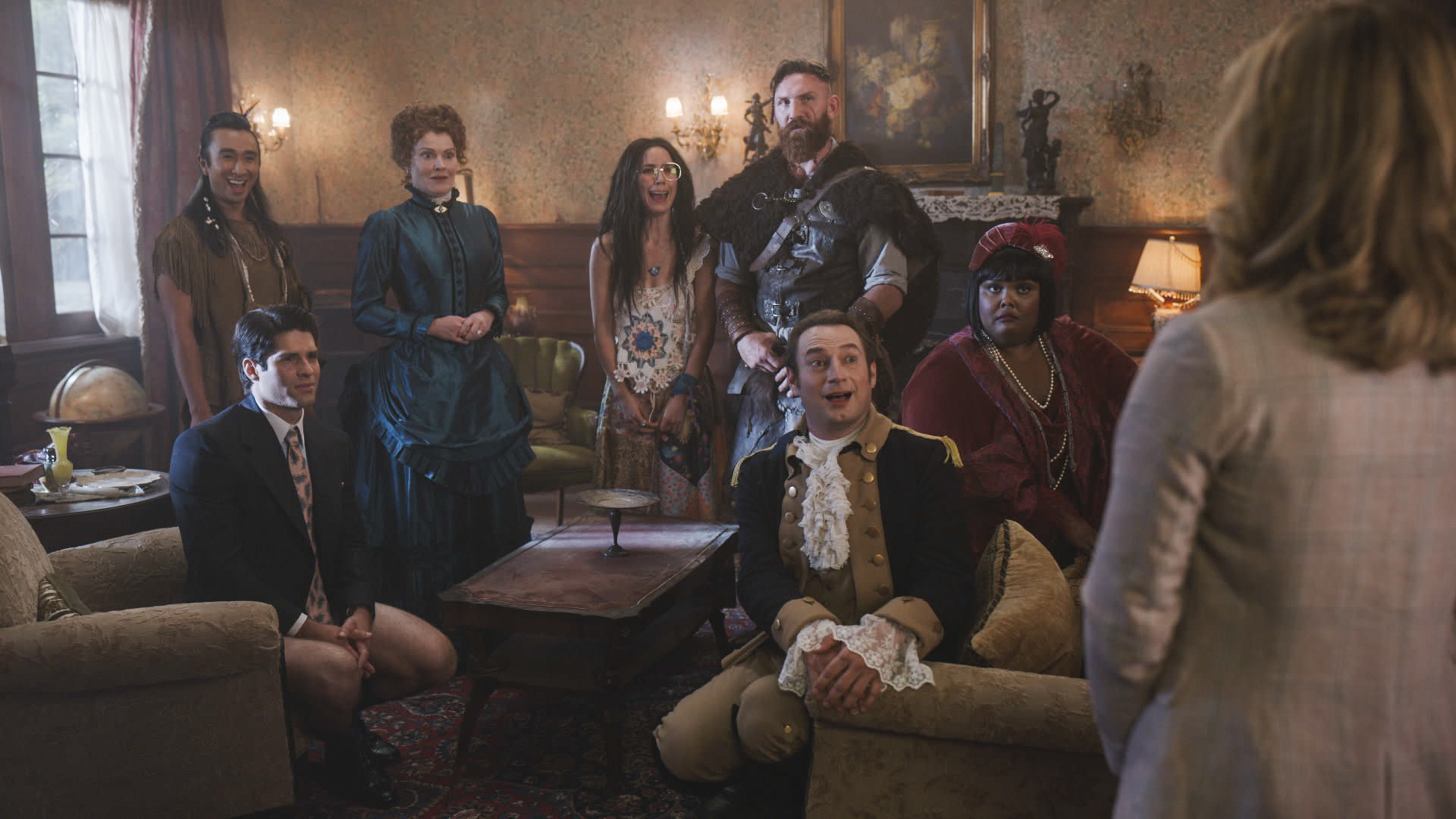 10.
And don't even get me started on the hilarious running bit about the various ghosts who died of cholera and just occupy the basement, or the British soldiers from the Revolutionary War who live in a shed.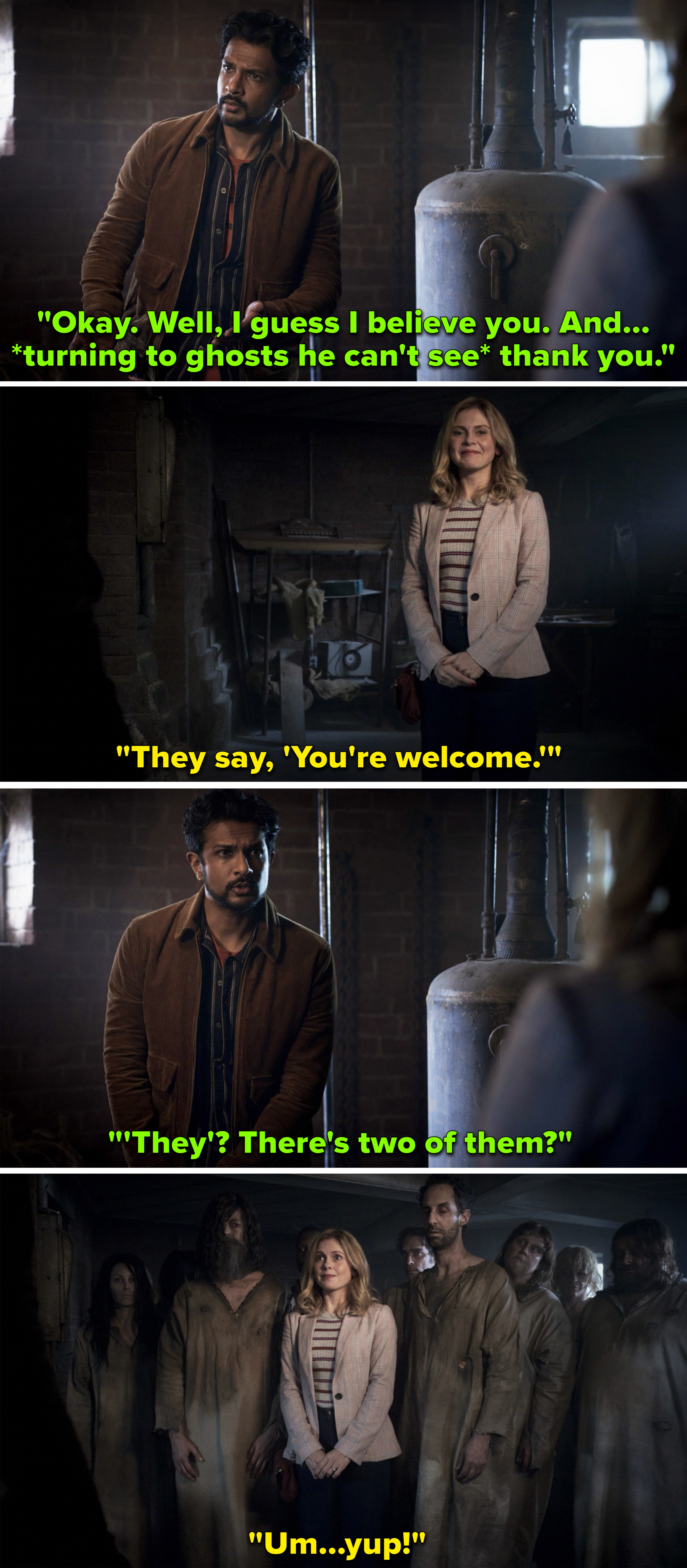 11.
Honestly, what I look for in a good ensemble show is that each character could be paired with another and it just instantly works. This is exactly what Ghosts has. Whether you're watching Sam and Jay or Alberta and Hetty or Thorfinn and Flower, every relationship feels authentic, and it's a joy to watch.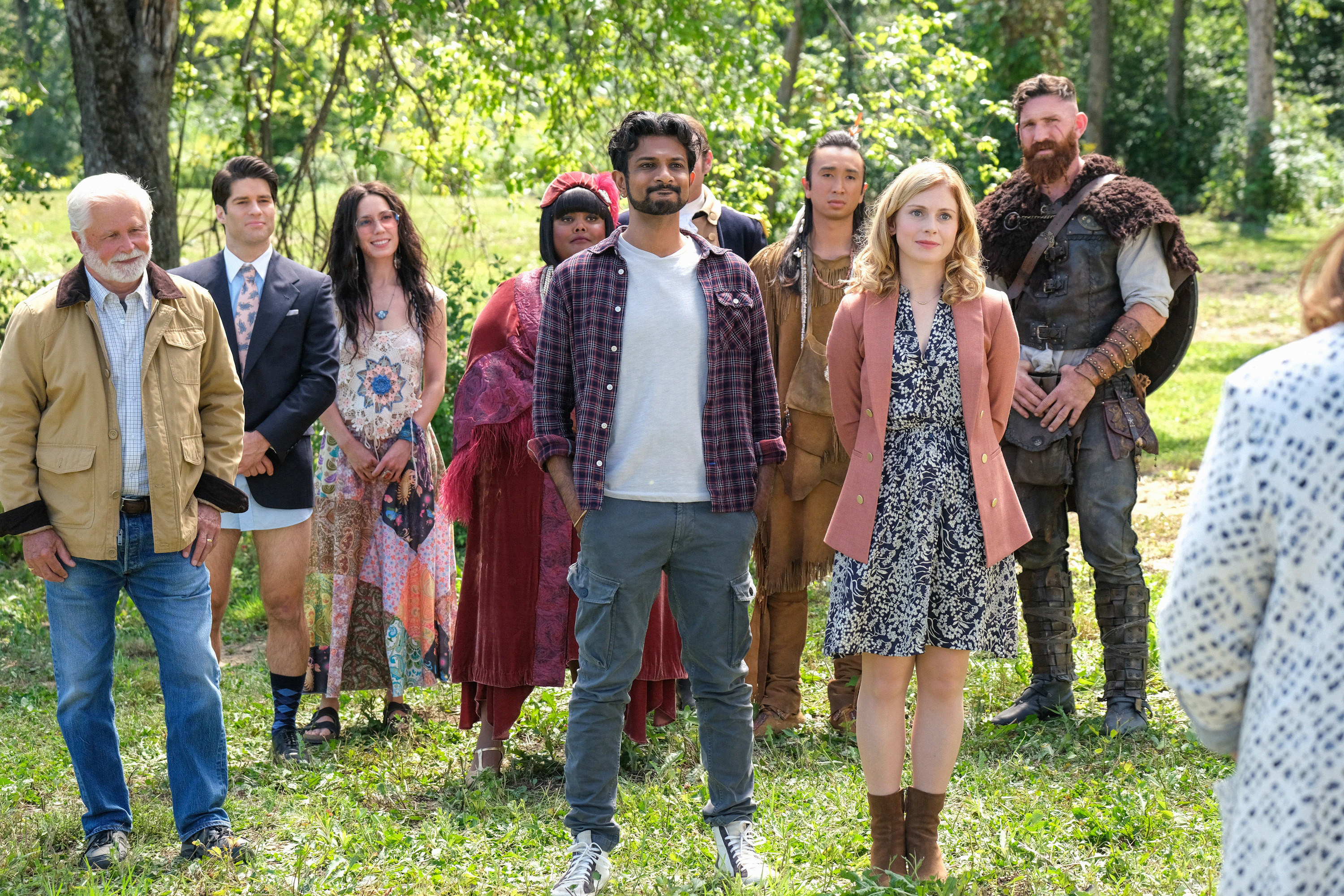 12.
And if guest stars are your thing, Ghosts has already had some great ones in Season 1 — like Rachael Harris, who notably starred on Suits and Lucifer, and Matt Walsh, who is probably best known for his work on Veep.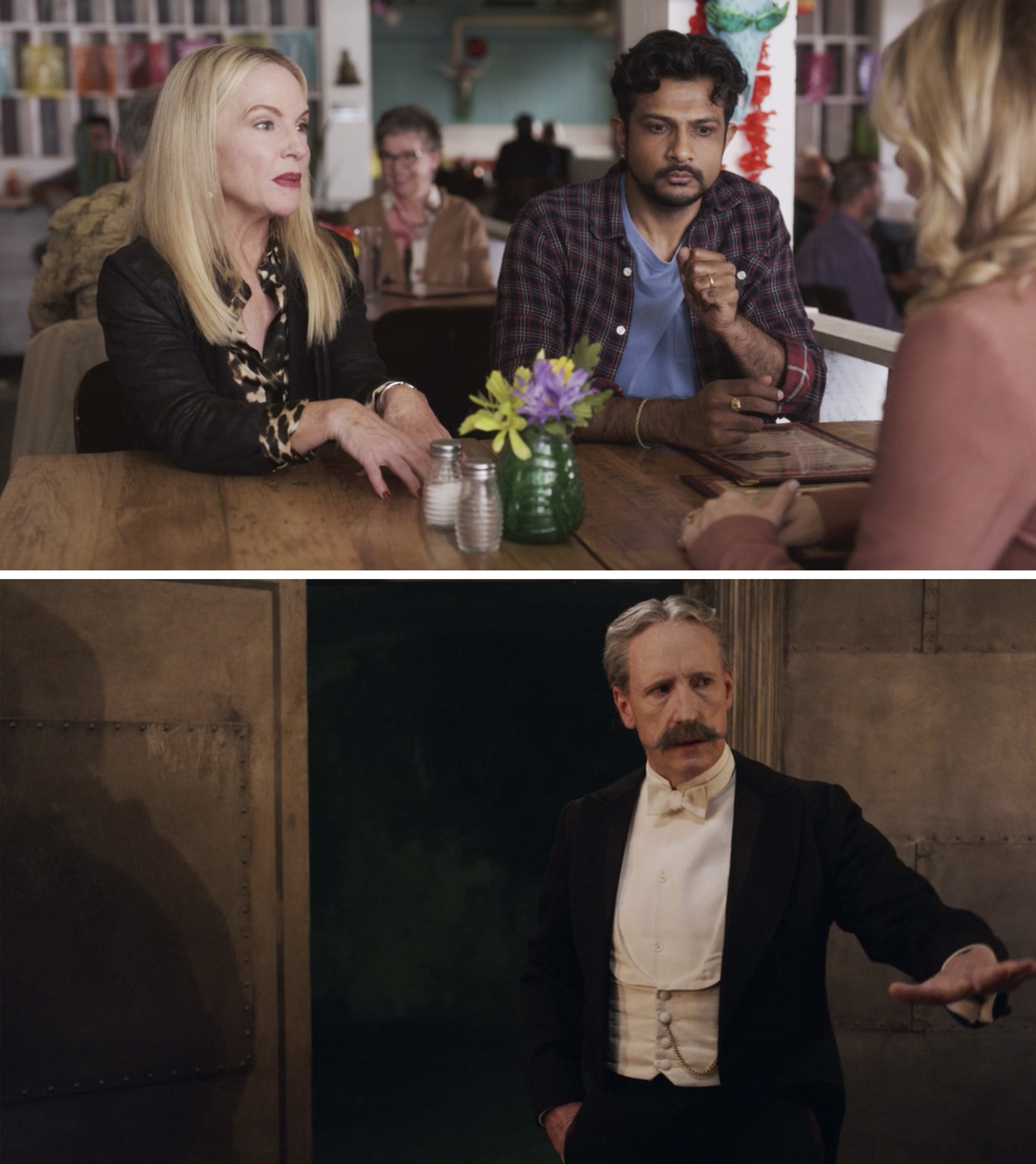 13.
While Ghosts thrives in the comedic moments, it's also not afraid to have heartfelt ones. I mean, I was not expecting to cry over Pete's origin story and him wanting to see his family again in Episode 6, but here we are.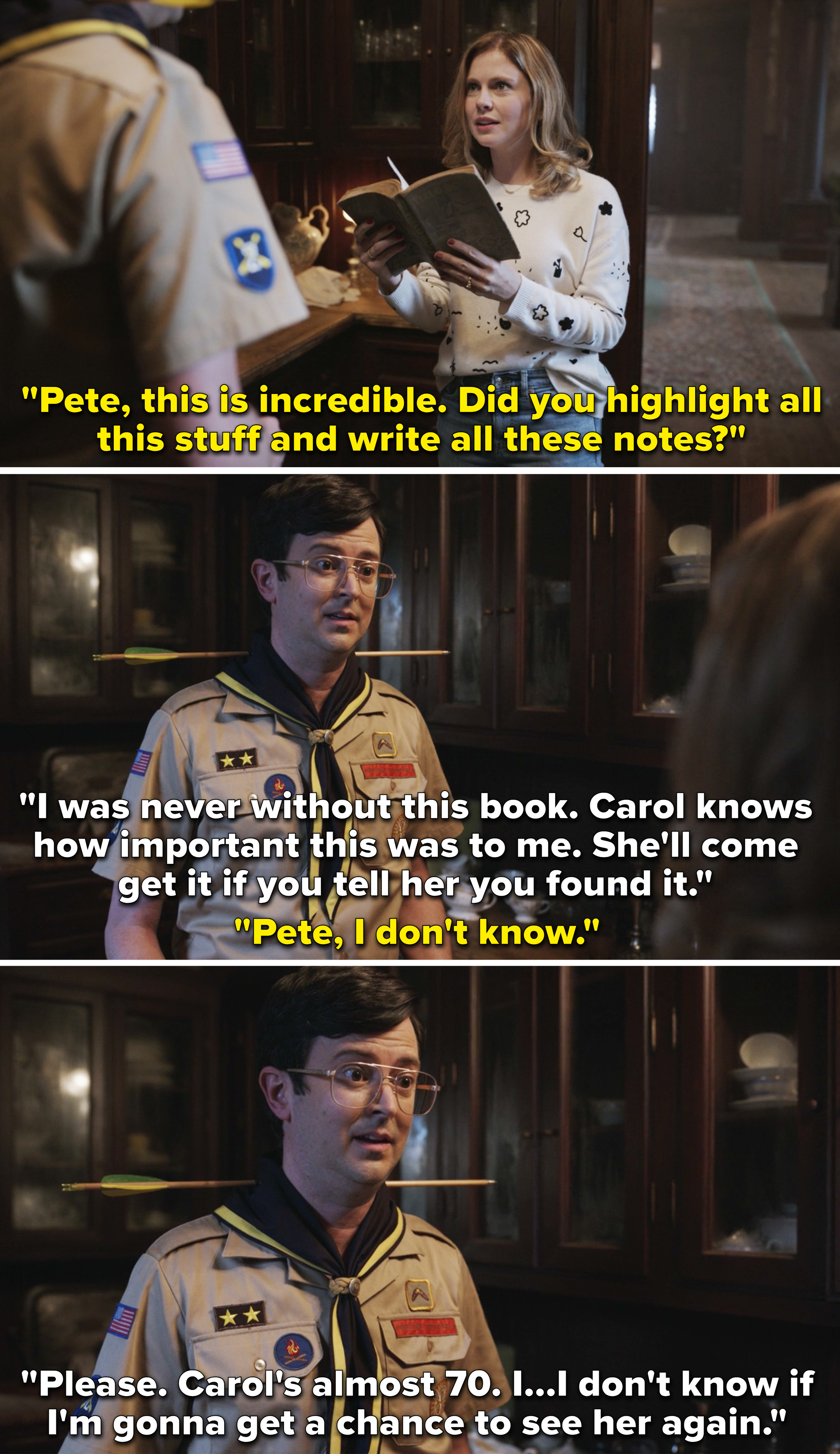 14.
There's even a very poignant coming out story with Isaac Higgintoot, an American Revolutionary officer, who is finally realizing that, in present day, it's okay to love whoever you want.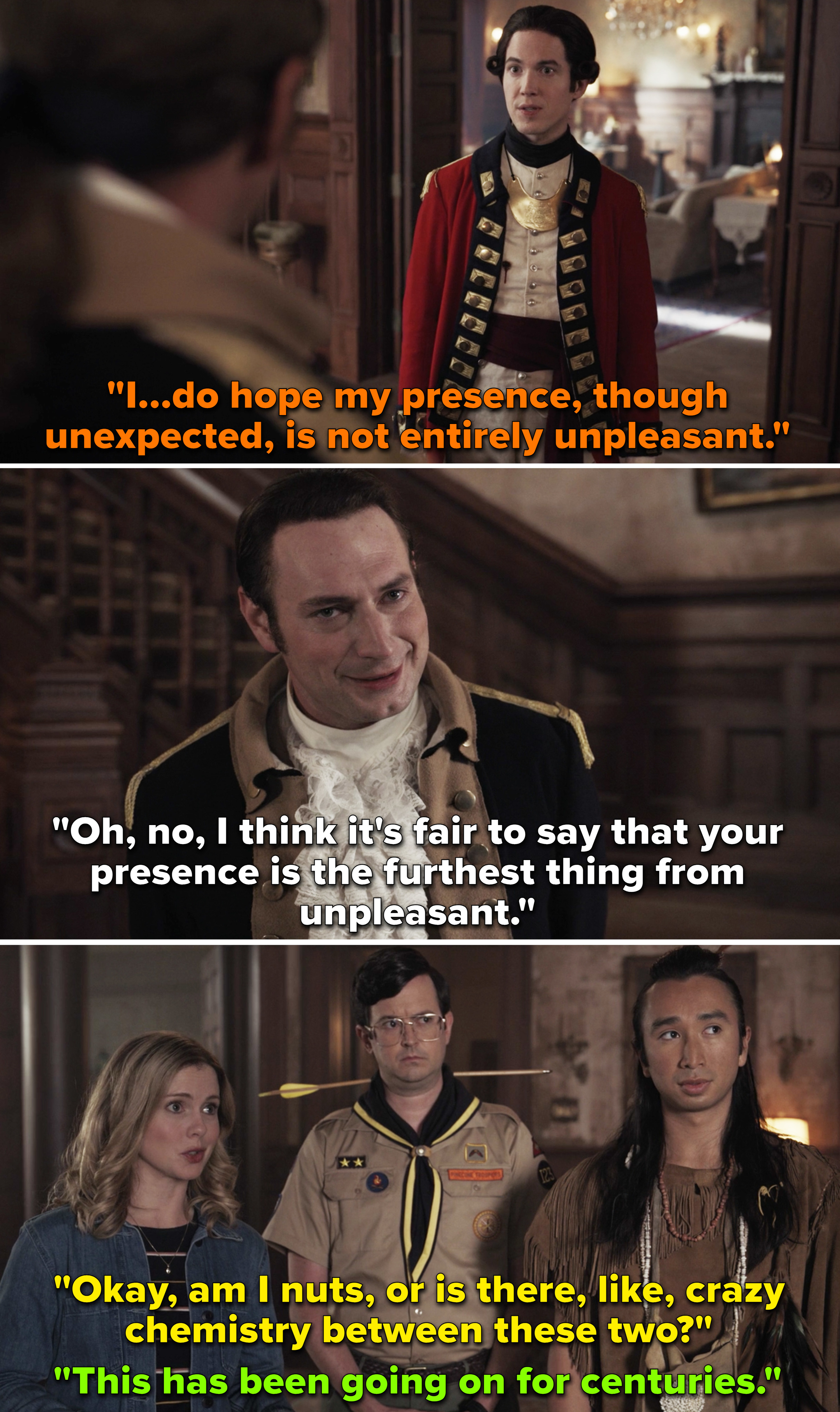 15.
While there is an overarching story in Season 1 — Sam and Jay are desperately trying to fix the house and turn it into a bed and breakfast — it's also structured like a serial TV series, with each episode focusing on a specific ghost.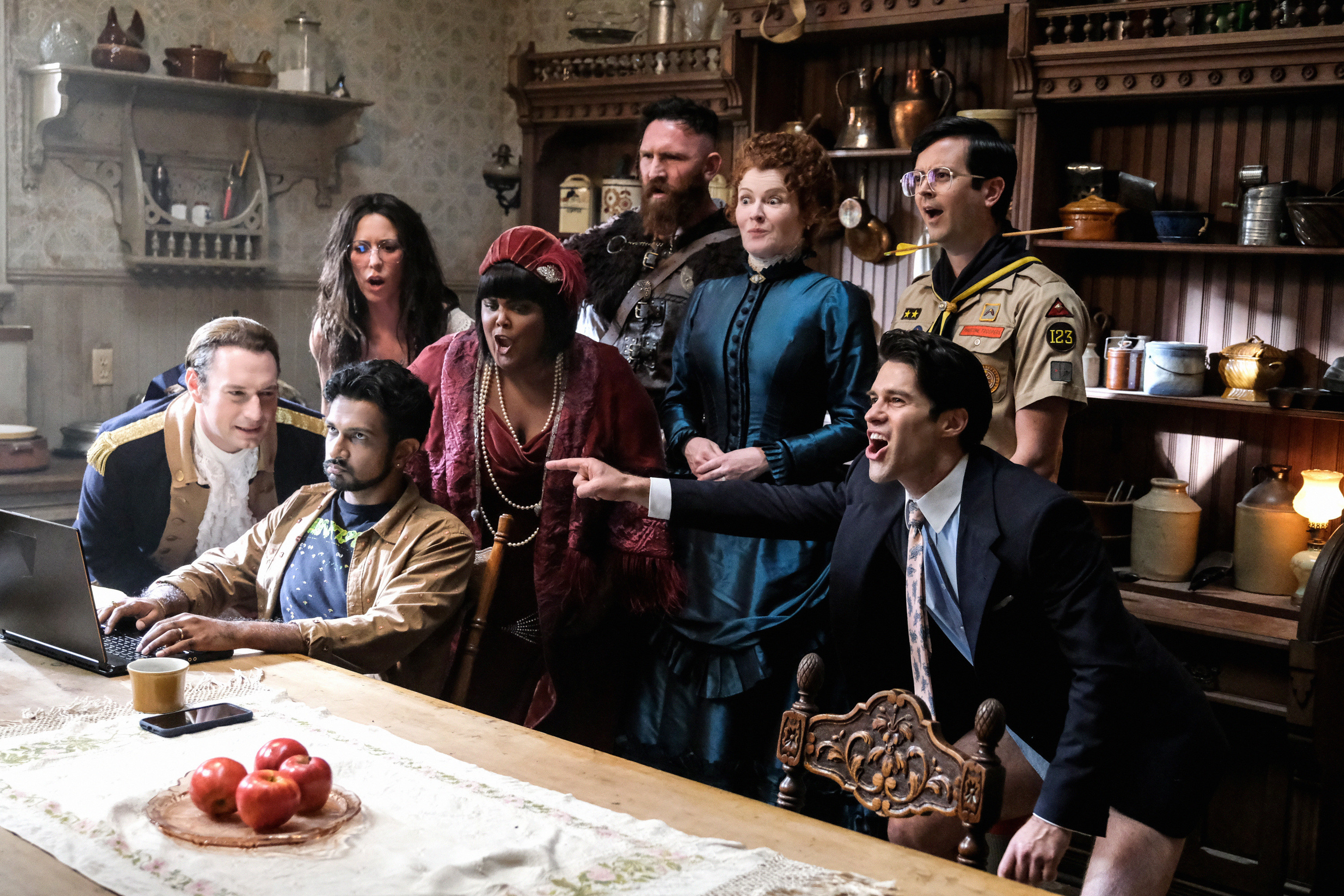 16.
Plus, I mean, you want to keep tuning in every week to see if any of the ghosts we've come to love make it to the afterlife (which they hilariously call getting "sucked off"), if Jay will ever be able to see ghosts like Sam, and just seeing the numerous new ghosts we haven't met yet.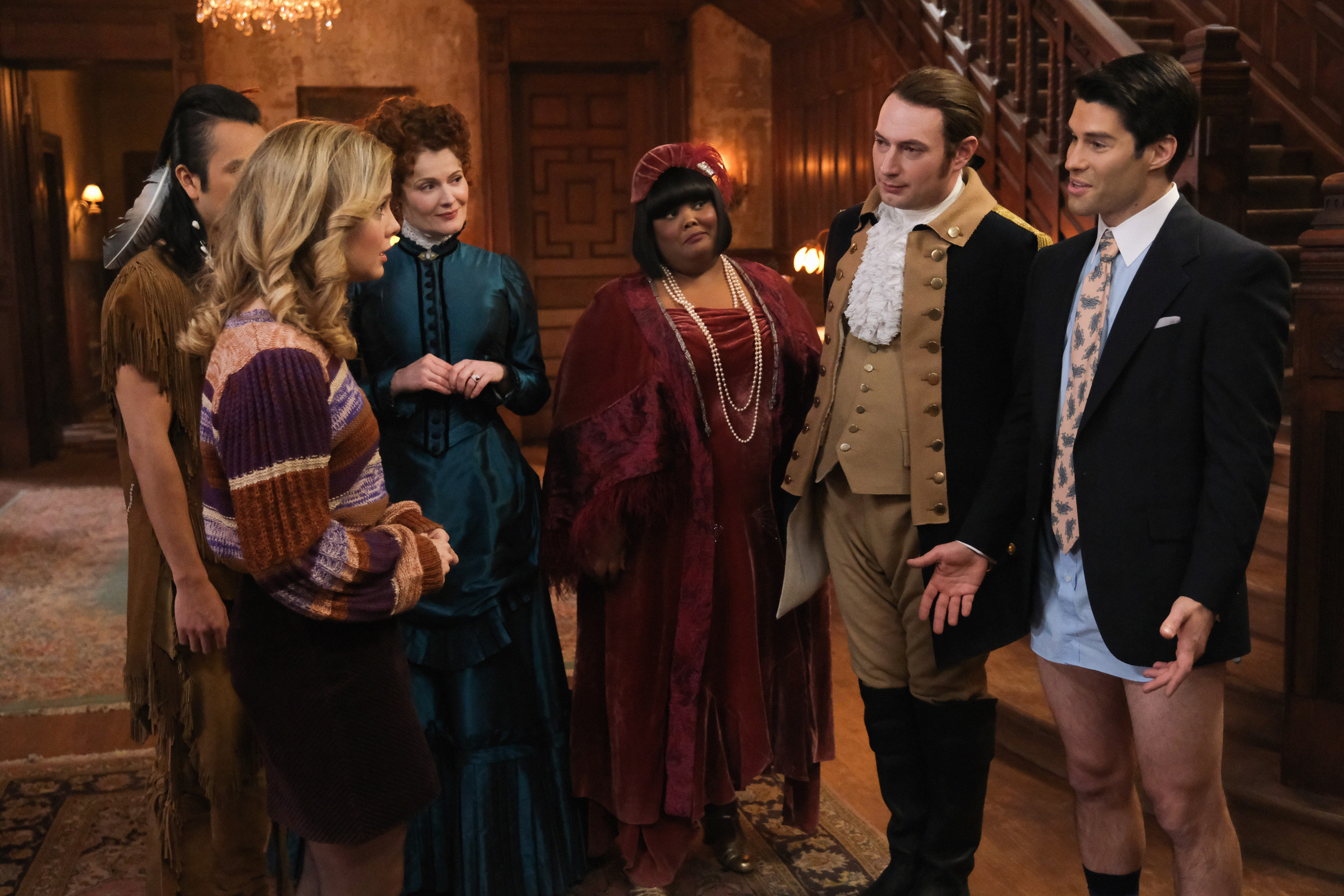 Also, the show has already been renewed for Season 2, so we'll hopefully be getting to see some of these moments soon. This was also an excuse for me to share this wholesome video of the cast's genuine reaction to the news:
17.
And finally, if you still aren't sold on Ghosts, I like to think it has the heart, humor, and amazing ensemble moments of shows like Brooklyn Nine-Nine, New Girl, Parks and Rec, and more.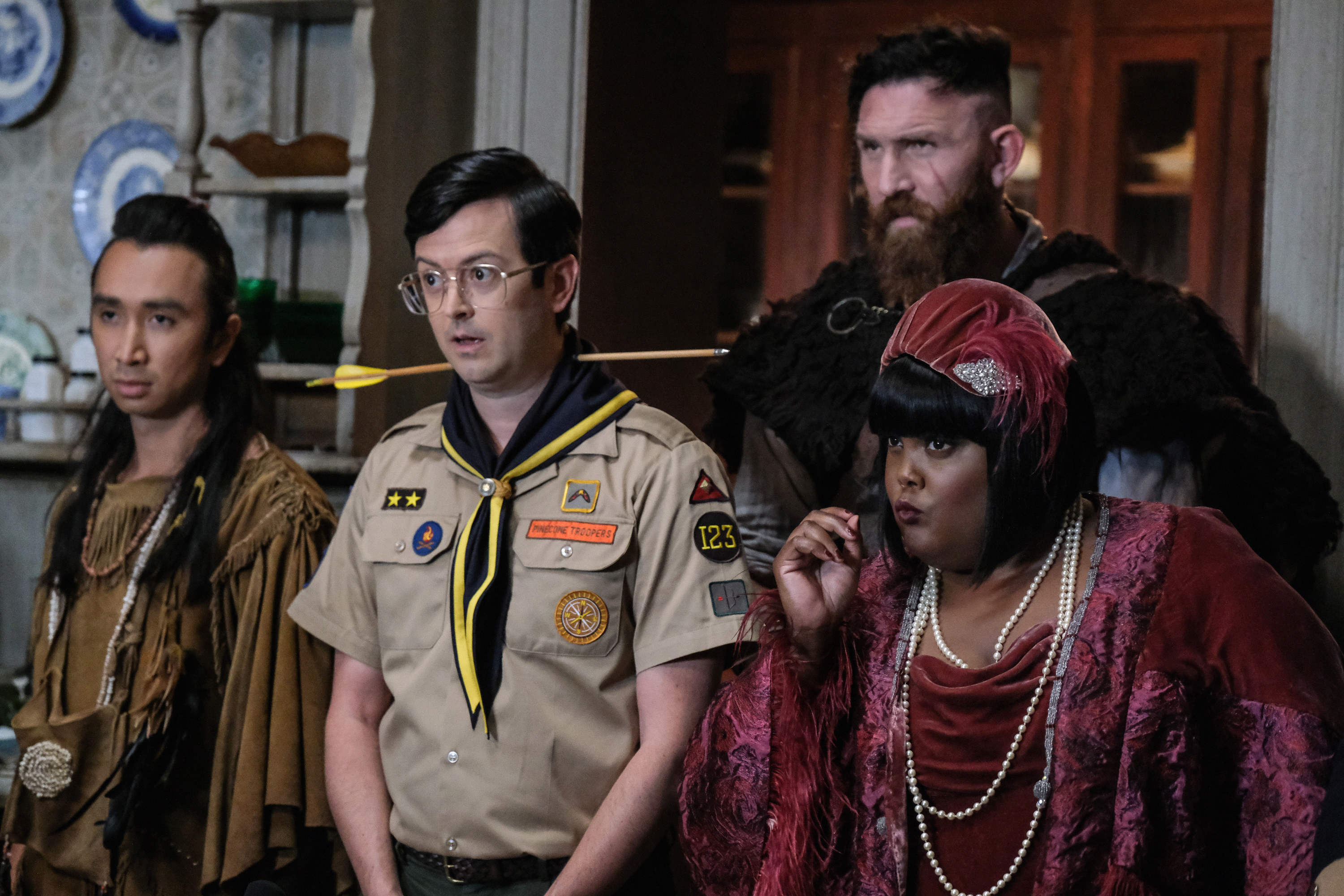 You can catch up on Ghosts anytime on Paramount+, and new episodes air Thursdays at 9 p.m. ET on CBS.