1.
First, here's Phoebe Dynevor filming the moment in the very first episode of Bridgerton when Daphne leaves home to be presented to Queen Charlotte: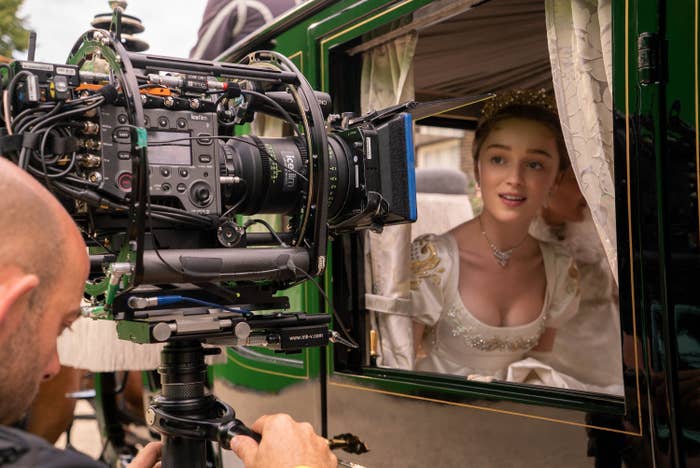 2.
Creator Chris Van Dusen shared this look at Regé-Jean Page and Phoebe Dynevor filming the memorable "Wildest Dreams" moment:
3.
Here's what Golda Rosheuvel looked like behind the scenes with one of Queen Charlotte's iconic wigs:
4.
And here's a video that shows how Nicola Coughlan got into Penelope's wig every day before filming:
5.
Jonathan Bailey, Luke Thompson, and Luke Newton singing together is something I needed, and I'd like to formally request a Bridgerton musical episode now:
6.
Here's truly my favorite photo of the Bridgertons hanging out in their carriage:
7.
Here's Phoebe Dynevor in a costume fitting for one of Daphne's beautiful gowns: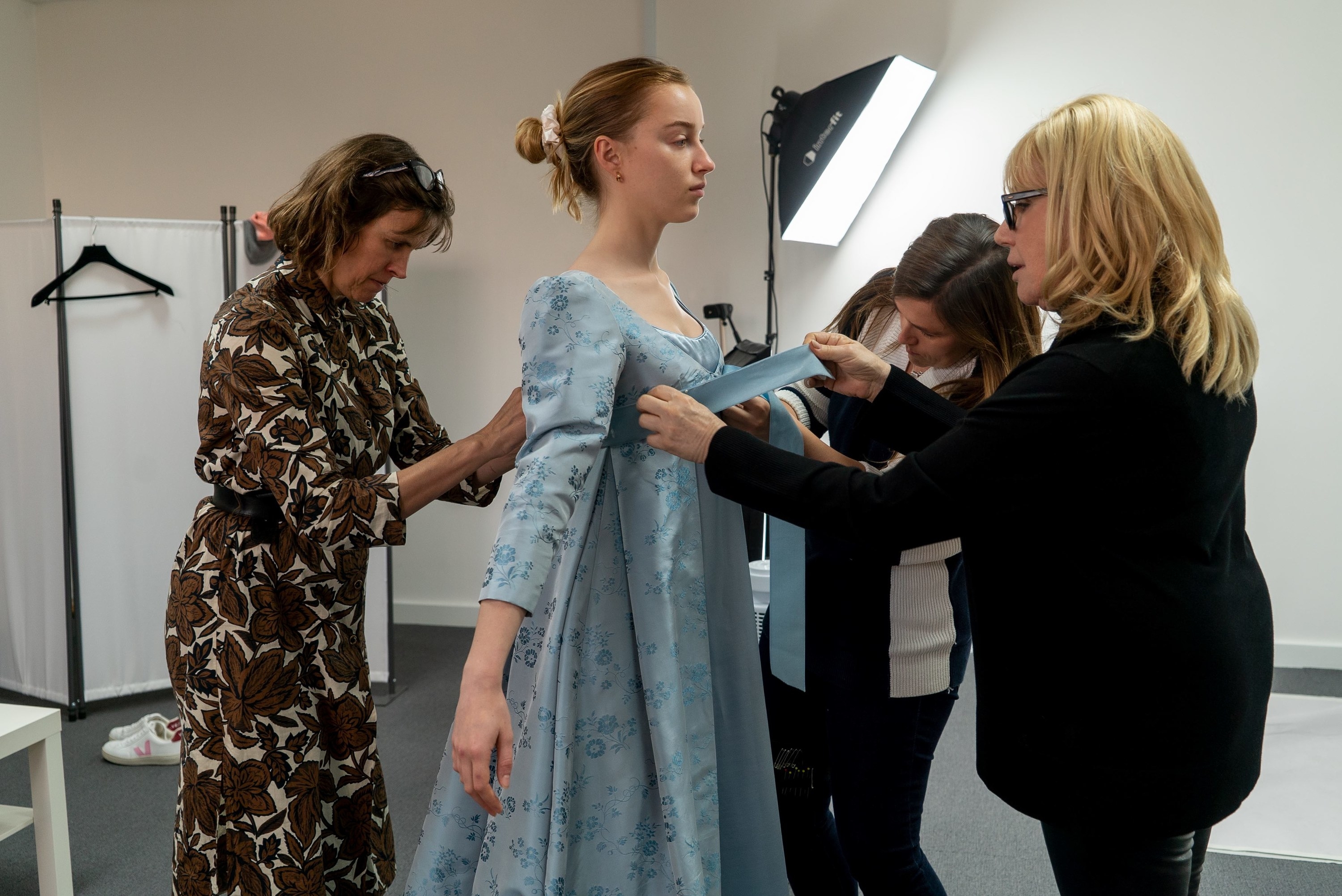 8.
Regé-Jean Page captured the first take from day one of filming Bridgerton:
9.
Creator Chris Van Dusen shared some set pieces, props, and inspirations vs. the final scenes in the show:
10.
Here's Nicola Coughlan and Claudia Jessie laughing hysterically because they really are Penelope and Eloise:
11.
Regé-Jean Page shared some of his favorite photos from filming, including a gorgeous portrait Luke Thompson drew:
12.
Luke Newton, Claudia Jessie, and Luke Thompson enjoying some ice cream between scenes:
13.
Ruby Barker, Jessica Madsen, and Luke Newton "pondering our Whistledown theories":
14.
Here's Luke Newton and Nicola Coughlan hiding behind some candlesticks and making me ship Colin and Penelope EVEN MORE:
15.
Here's Regé-Jean Page getting ready to film the duel in Episode 4: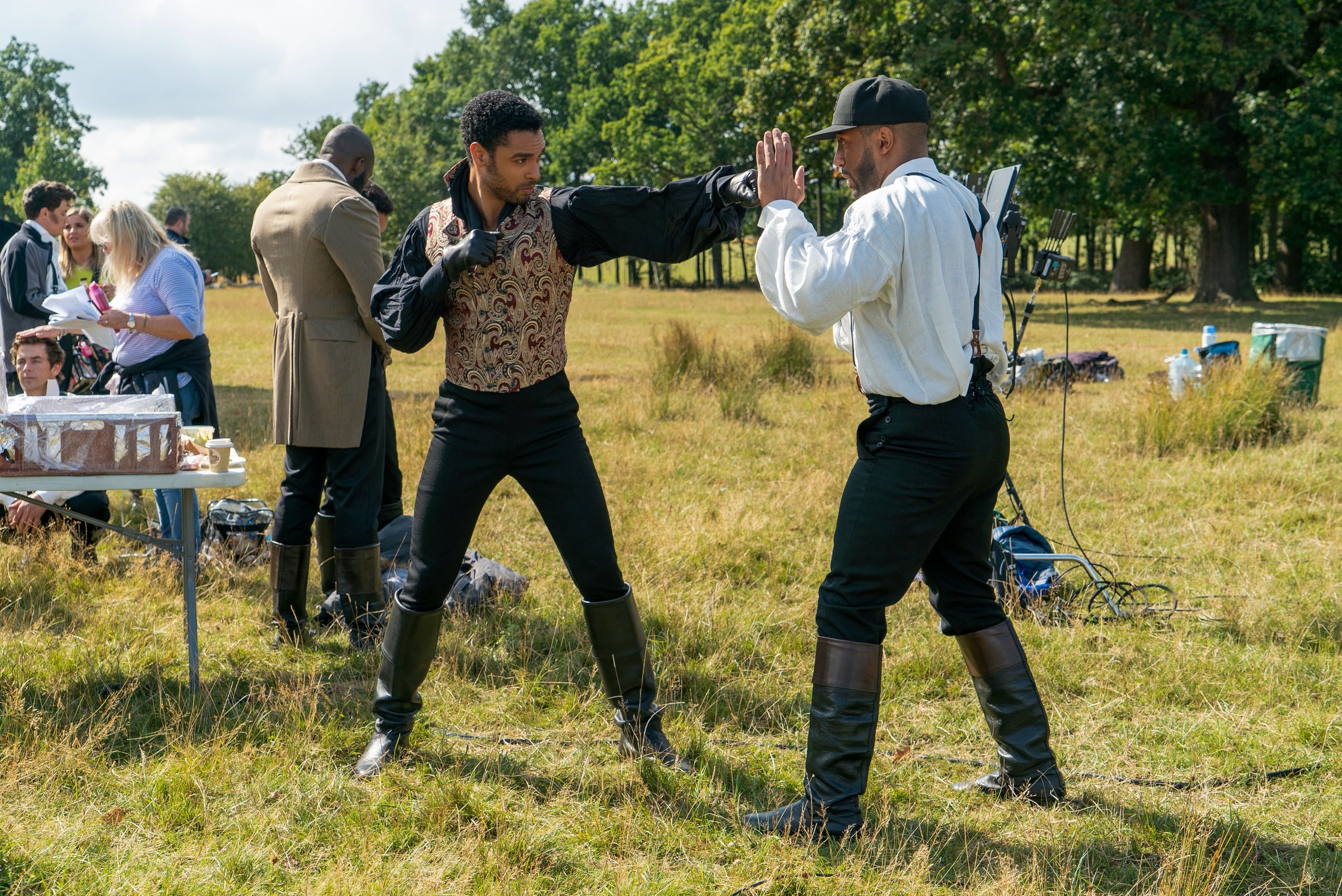 16.
Sabrina Bartlett and Jonathan Bailey running lines before filming a Siena and Anthony moment:
17.
Claudia Jessie, Molly McGlynn, and Phoebe Dynevor strike a pose:
18.
Here's a behind-the-scenes look at the Featheringtons getting ready to meet Queen Charlotte: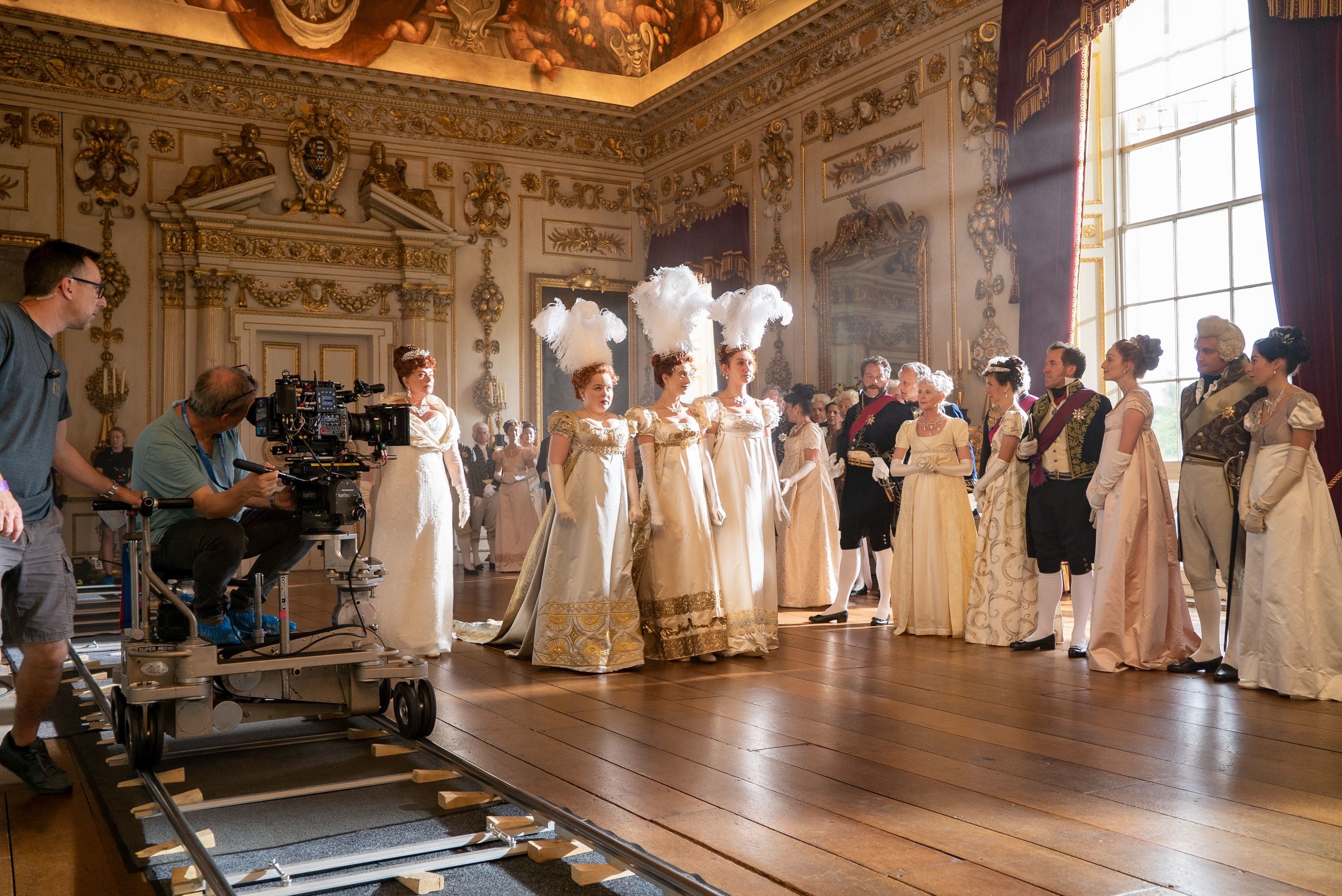 19.
Bessie Carter, Harriet Cains, and Nicola Coughlan, aka the Featherington sisters, hanging out in their matching jackets:
20.
Here are some of Phoebe Dynevor's happiest memories from filming Bridgerton:
21.
Regé-Jean Page shared this iconic photo with Adjoa Andoh, Martins Imhangbe, and Emma Naomi with the caption "The power that has":
22.
Luke Newton, Luke Thompson, and Jonathan Bailey — aka "C, B, and A" — rehearsing:
23.
Here's a behind-the-scenes look at a big family dinner at the Featherington house:
24.
Here's Golda Rosheuvel demonstrating how she got to set while wearing this massive wig:
25.
Here's Bridgerton author Julia Quinn meeting the real-life Eloise and Penelope, aka Claudia Jessie and Nicola Coughlan:
26.
I'm obsessed with this adorable photo of Adjoa Andoh and Phoebe Dynevor laughing behind the scenes: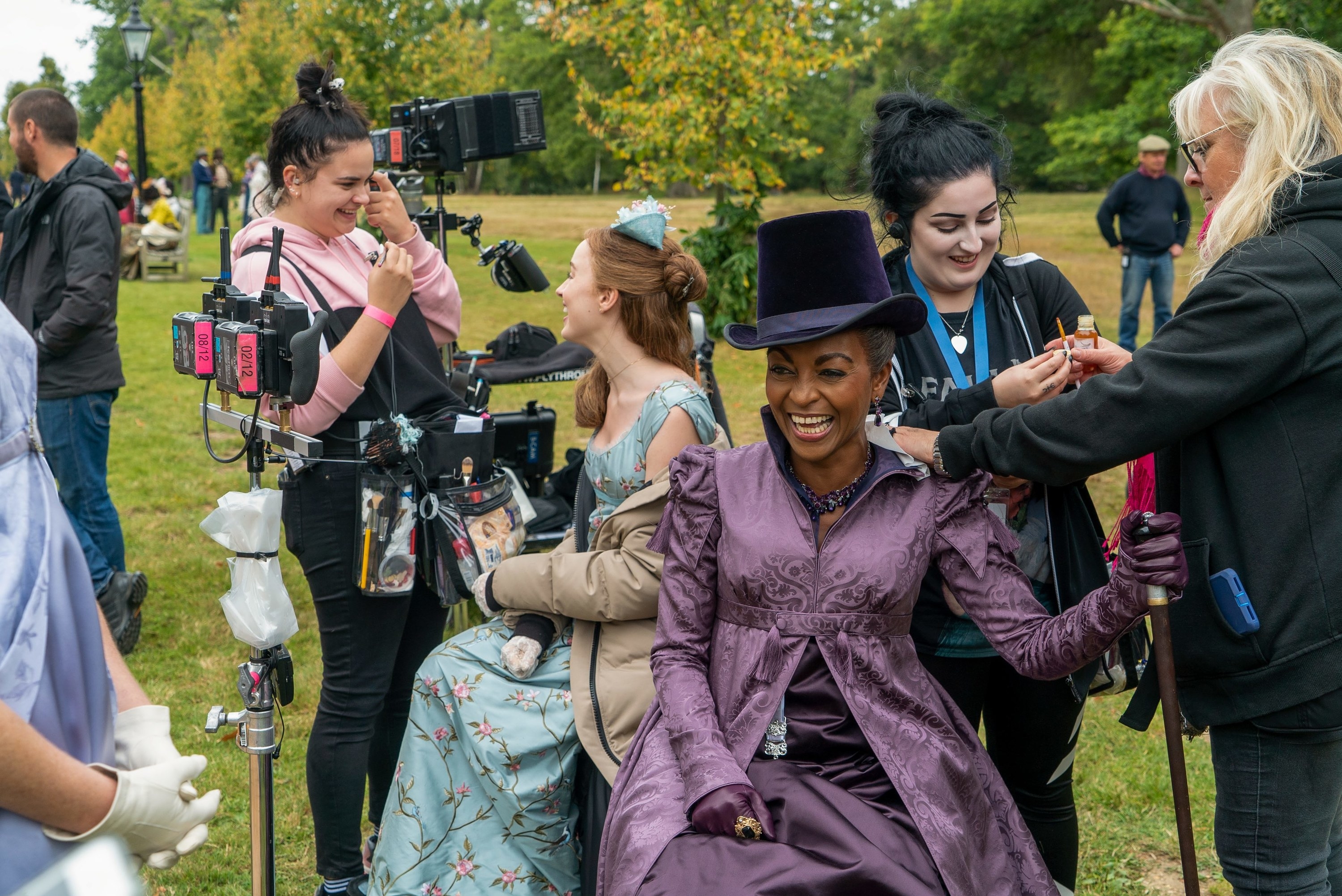 27.
And here's Jonathan Bailey, Luke Newton, and Luke Thompson cracking up at something while on a break:
28.
Kathryn Drysdale, aka Genevieve Delacroix, captured these iconic photos inside Delacroix's shop:
29.
And here's Kathryn Drysdale marveling at the fact that Madame Delacroix was absolutely thriving with her own business:
30.
Here's Jonathan Bailey looking amazing as Anthony:
31.
Nicola Coughlan and Luke Newton hanging out while getting their makeup done:
32.
Here's what it looked like behind the camera while Martins Imhangbe filmed Will's fight scenes:
33.
Here's Will Tilston and Florence Hunt, the youngest Bridgertons, having some fun together:
34.
Kathryn Drysdale captured this amazing photo of Luke Thompson inside Madame Delacroix's shop:
35.
Ruby Barker, who plays Marina Thompson, took a much-needed break while filming:
36.
Here's a behind-the-scenes look at Golda Rosheuvel and Freddie Stroma filming a scene as Queen Charlotte and Prince Frederick: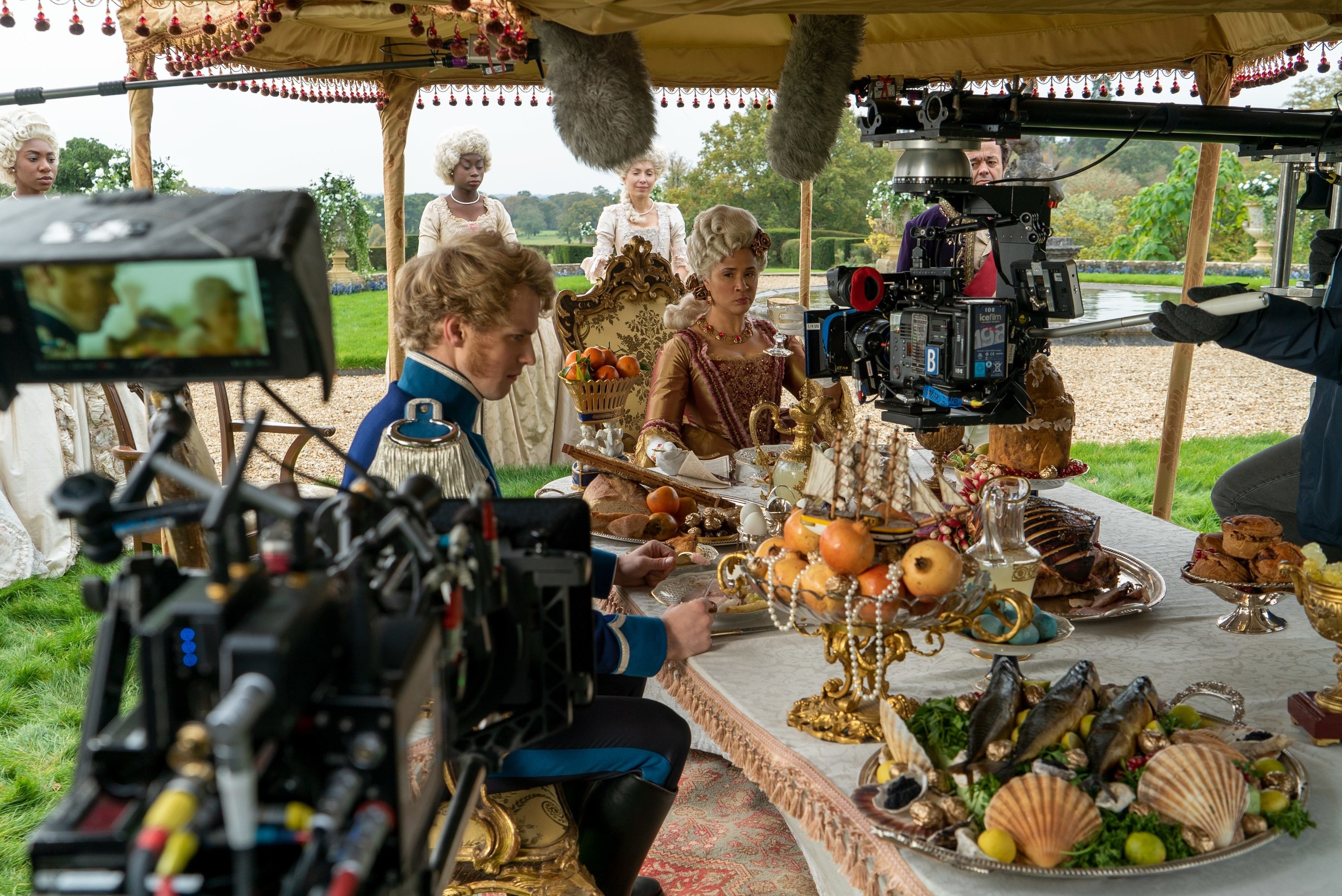 37.
Here's a great Featherington family photo minus Penelope but plus author Julia Quinn:
38.
Bessie Carter shared these great photos from behind the scenes of Season 1, and I am loving every single one:
39.
Here's Ruby Barker's favorite photo of Harriet Cains, who plays Philippa Featherington:
40.
Martins Imhangbe, Regé-Jean Page, Luke Thompson, and Luke Newton fanning themselves between scenes:
41.
Dee Koppang O'Leary, who was second unit director on Bridgerton, shared these great photos of the cast and crew:
42.
Here's Sabrina Bartlett hanging out with the cast and preparing for scenes:
43.
Here's Phoebe Dynevor, Will Tilston, Florence Hunt, and some of the other Bridgerton siblings striking poses:
44.
Luke Newton shared this bittersweet photo of the cast and crew at the final table read for Season 1:
45.
And finally, here are Luke Newton, Jonathan Bailey, and Luke Thompson celebrating wrapping Season 1: