Hi, yes, hello. As someone who watches WAY too much TV, I always find it necessary to let everyone know when I find a show I literally cannot stop thinking about, because I want everyone to enjoy it as much as I do. So, that brings me to this post, where I need to talk about how awesome Prime Video's A League of Their Own is.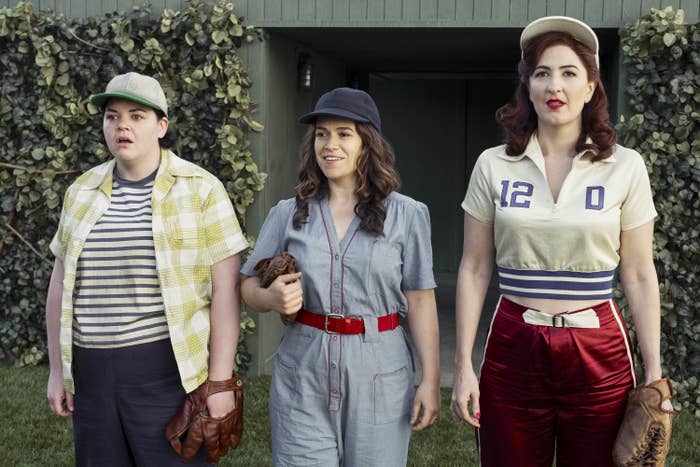 When I tell you all I've thought about for the last few days is how perfect this show is, I'm not exaggerating. And I'm not alone in thinking this is a nearly perfect show, with critics giving it glowing reviews across the board.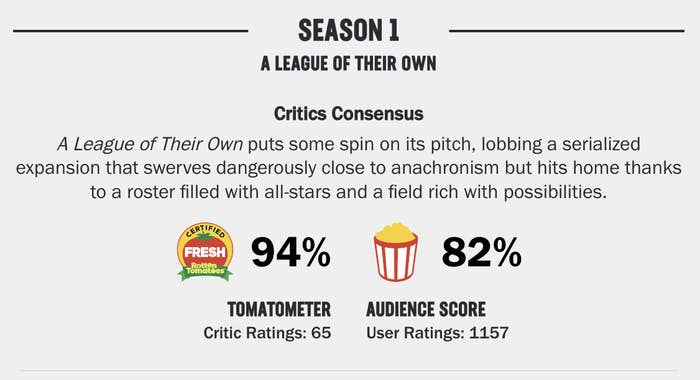 So, to celebrate this amazing new series, here are 17 reasons why A League of Their Own needs to be your next binge-watch:
1.
First, A League of Their Own follows the formation of the Rockford Peaches, a women's baseball team in the 1940s. At a time when men were being drafted for World War II, these women's baseball teams were created to keep the beloved game going.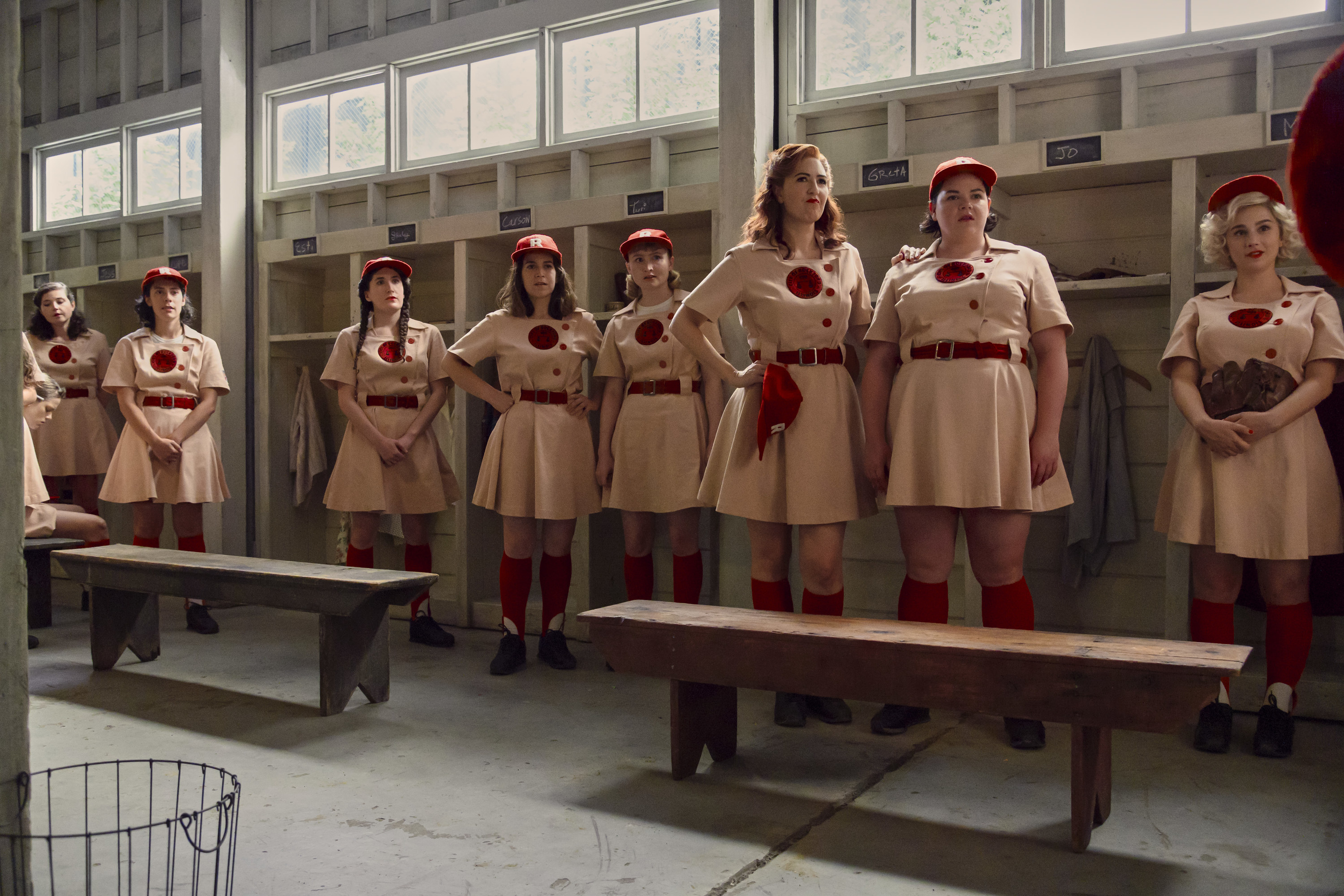 2.
And while some might quickly classify A League of Their Own as a "reboot" of the beloved 1992 movie, this show is so much more than that. It beautifully expands on the world while centering on LGBTQ+ and BIPOC stories that were often overlooked at the time.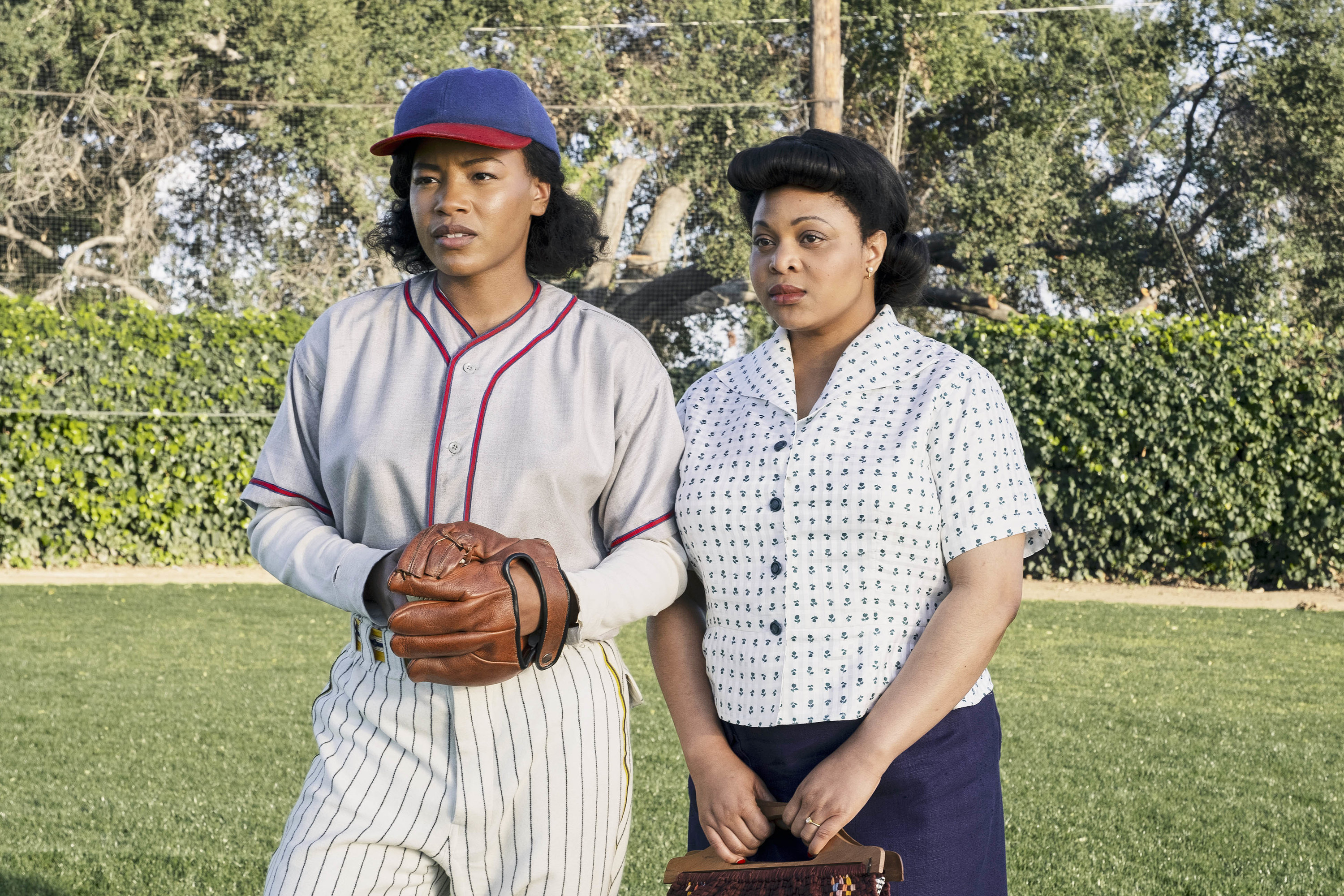 3.
Behind the scenes, the series was created by Abbi Jacobson, who you probably best know from Broad City, and Will Graham, who previously worked on Mozart in the Jungle and will be an executive producer on the upcoming Daisy Jones & the Six adaptation.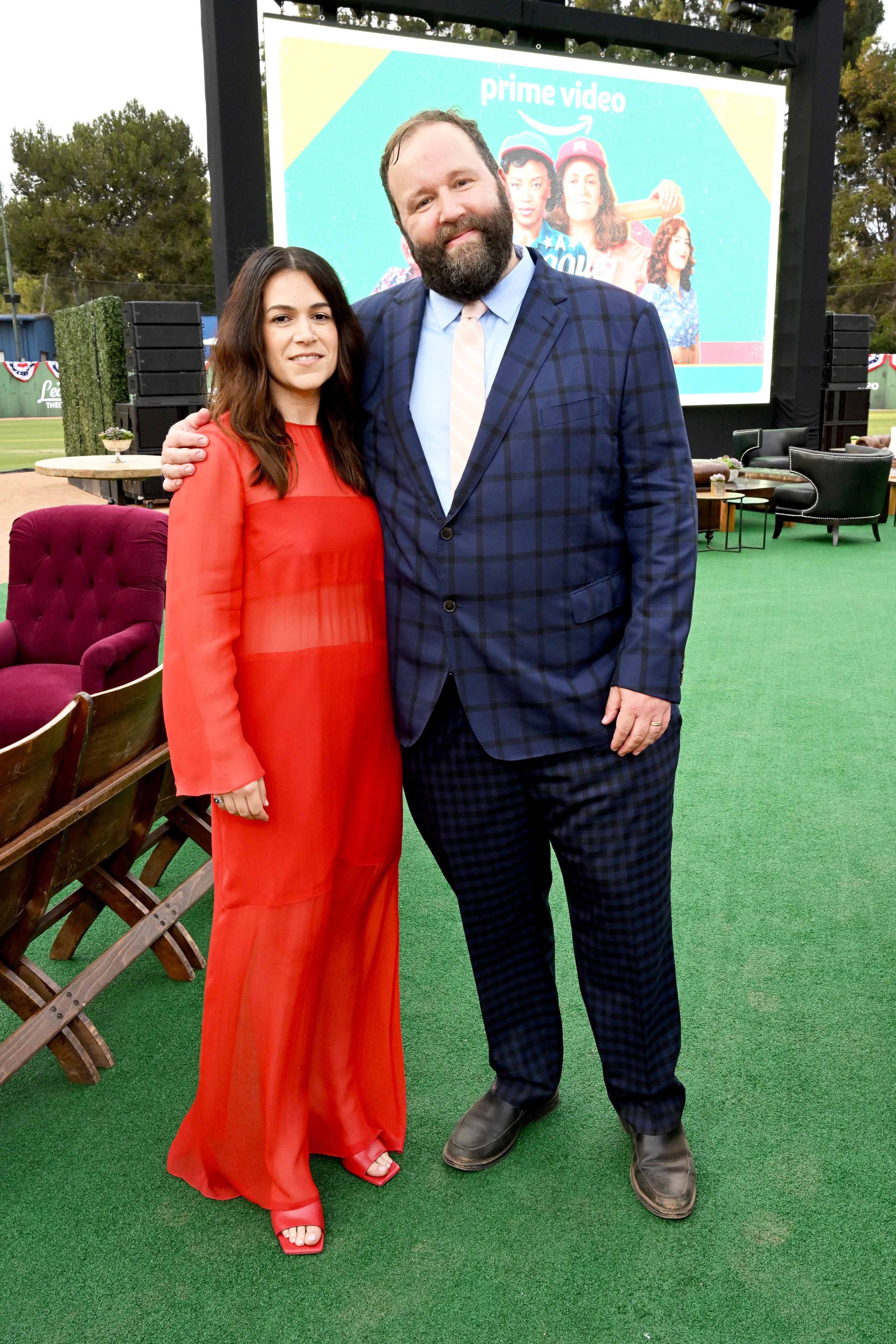 4.
Aside from Abbi and Will, the Season 1 writers room for A League of Their Own was filled with diverse talent that helped bring these stories to life, which only added to the authentic storytelling the show is so good at from minute one.
5.
The smart writing is one of A League of Their Own's many strengths. Its ability to make the series feel modern without losing the authenticity of the time period is so perfect — and reminds me a lot of another underrated series I love: Dickinson.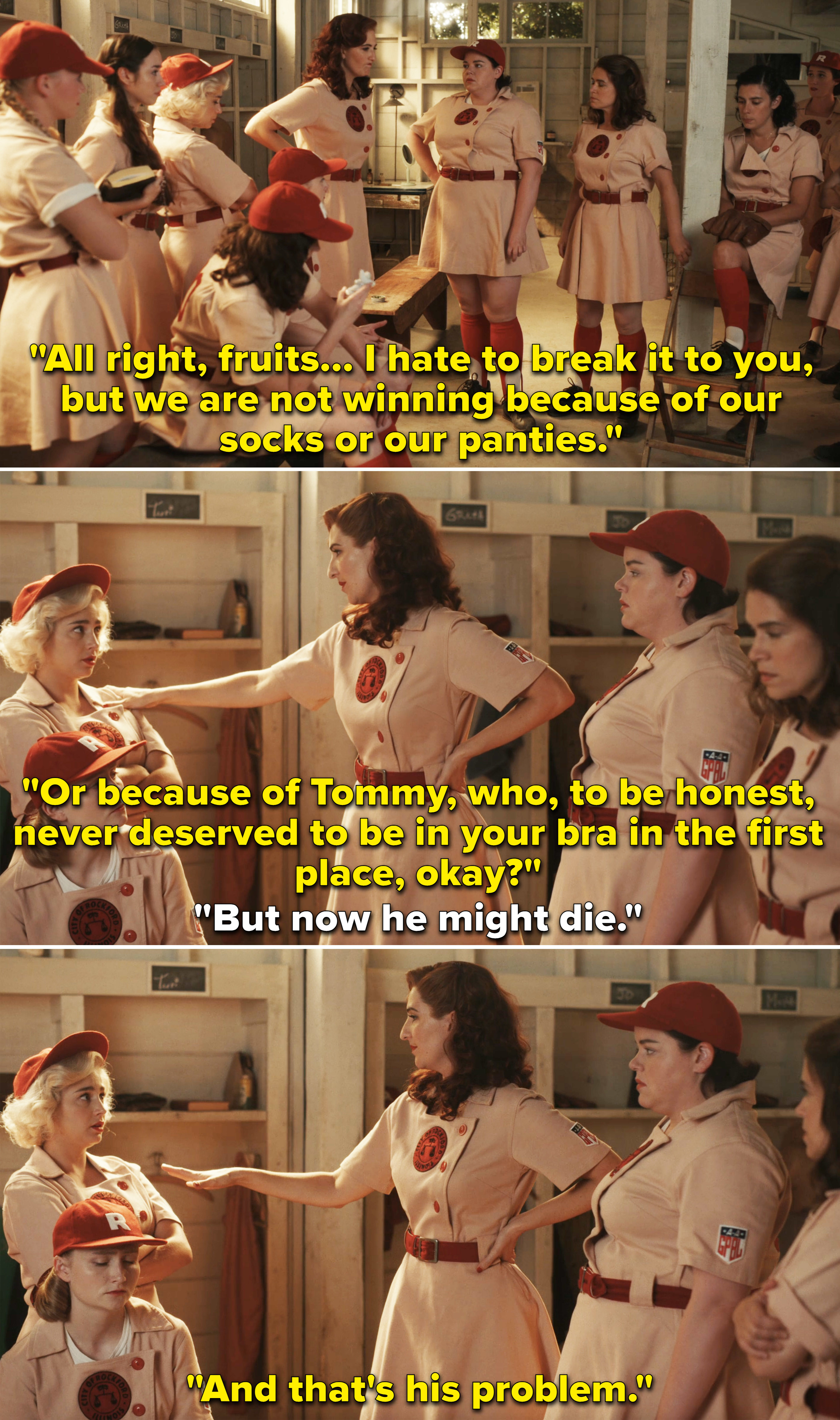 6.
The comedic moments in the show are top shelf, but the dramatic moments are equally as poignant and make the series shine. A League of Their Own touches on so many important topics — including LGBTQ+ rights, segregation, women's rights, and so much more.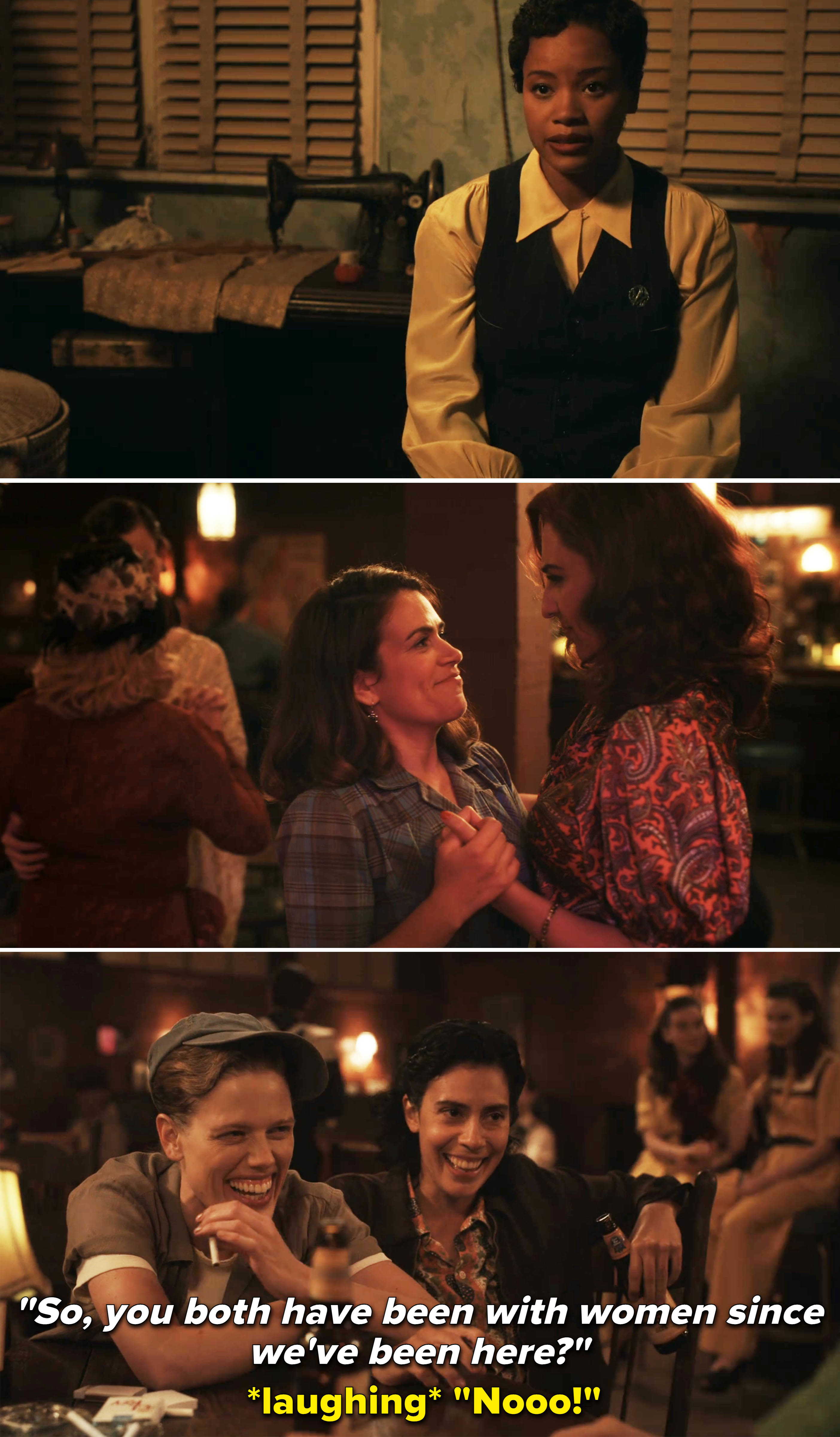 7.
Unlike Penny Marshall's film, this show doesn't just center on the stories of white women in the 1940s, but it includes a diverse scope of women's stories that are blended together effortlessly. One of the biggest storylines involves Max (Chanté Adams), a talented pitcher who isn't allowed to join the All-American League because she's Black. Max's storyline also details her struggle as a queer Black woman and how she leans on her Uncle Bertie, who is nonbinary, for support.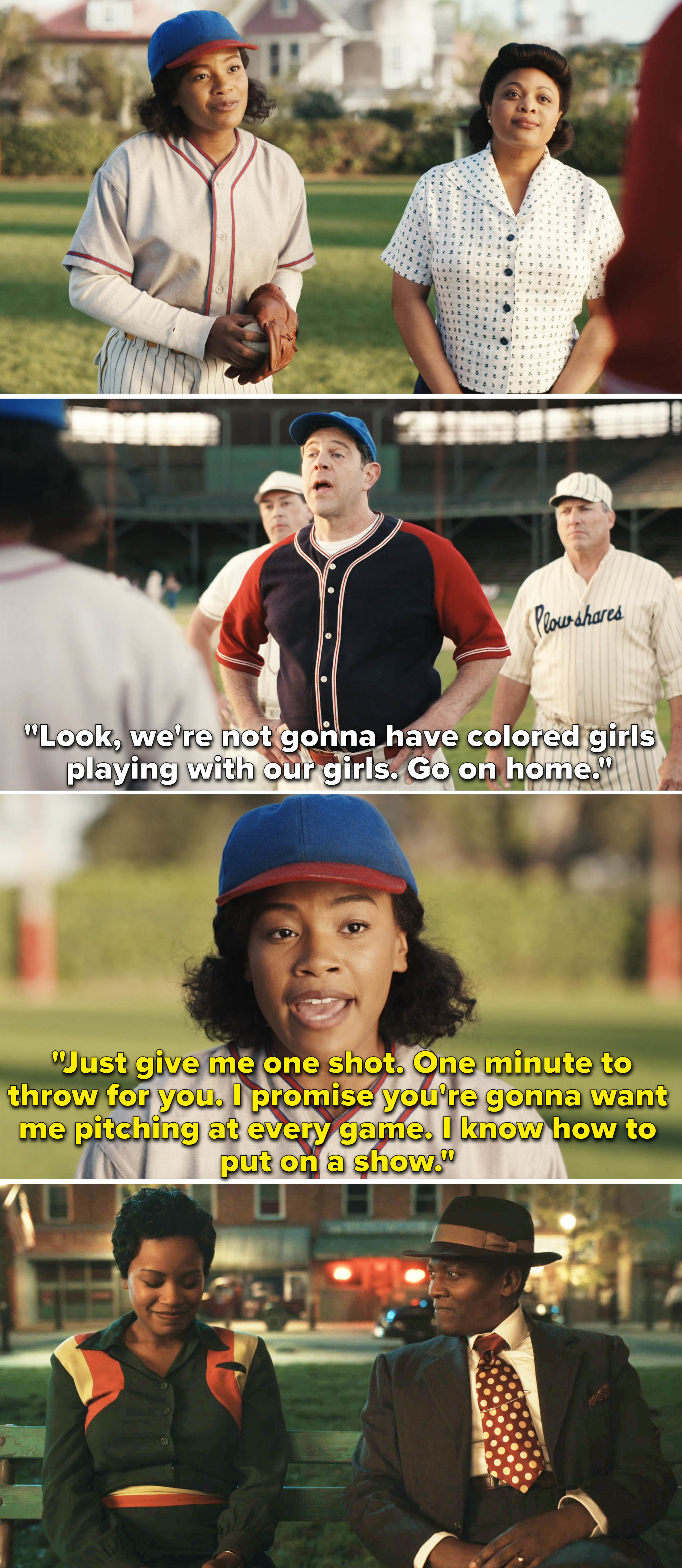 8.
In terms of cast, Abbi Jacobson leads an all-star one filled with some of the best talent on TV, including D'Arcy Carden, Chanté Adams, Gbemisola Ikumelo, Roberta Colindrez, Kelly McCormack, Priscilla Delgado, Molly Ephraim, Melanie Field, Kate Berlant, Nick Offerman, Patrick J. Adams, and more.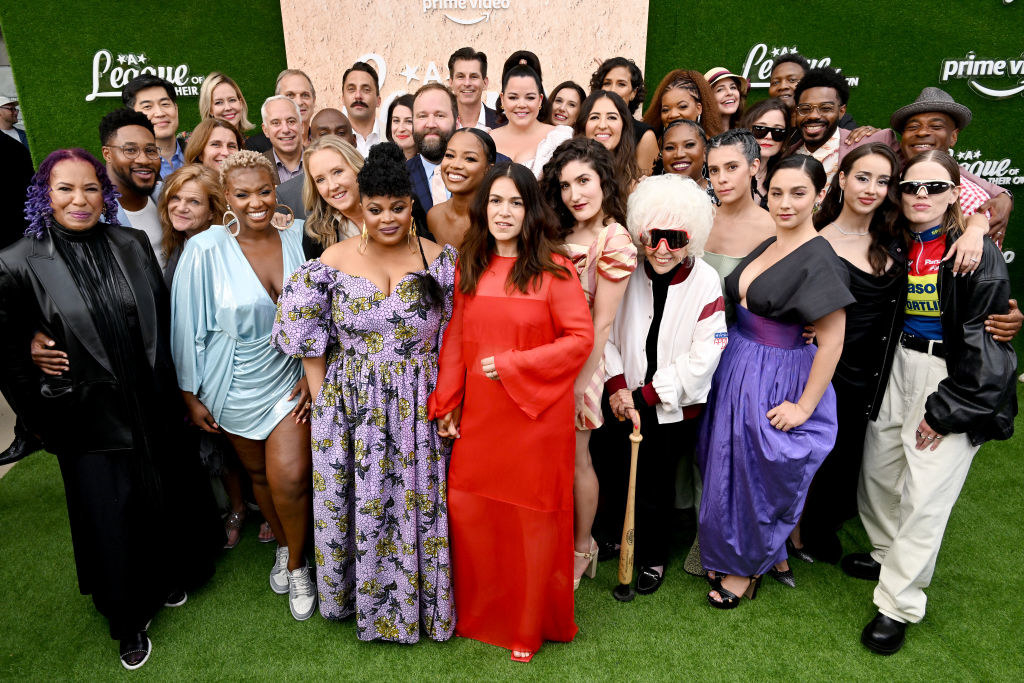 9.
I could really give an entire TED Talk on how amazing D'Arcy Carden is as Greta Gill on this show, but I'll keep things short and sweet here. For years, D'Arcy has been one of the best scene-stealing performers on shows like The Good Place and Barry, so to finally have her front and center in a role she feels born to play is amazing. She embodies Greta's confidence and comedic timing so perfectly, it's hard not to fall in love the second she steps on screen.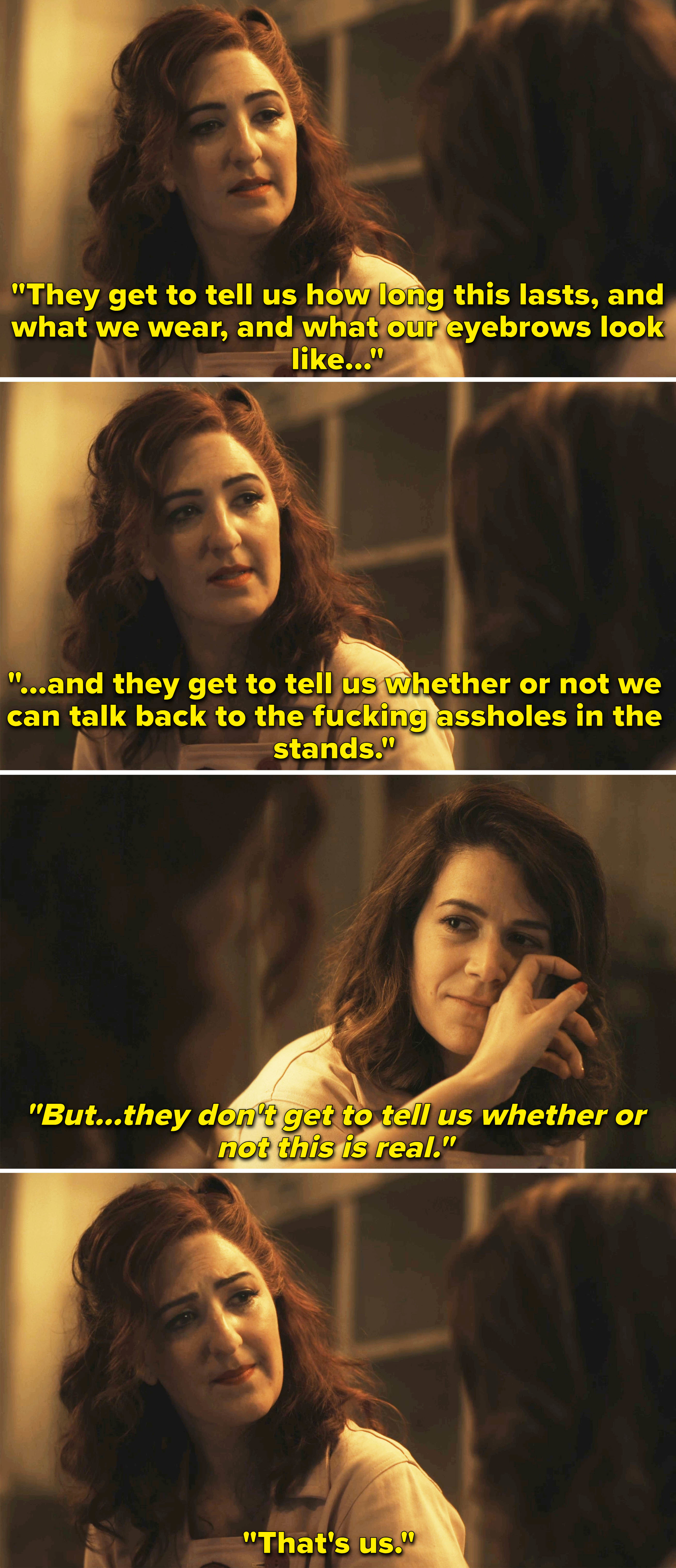 10.
Going hand-in-hand with D'Arcy's performance is her chemistry with Abbi Jacobson. When I tell you it's some of the best on TV, I'm not exaggerating. Their 15-year friendship off screen helps add to the magic on screen, as Greta and Carson embark on a romantic relationship that is one of the strongest storylines in Season 1.

11.
In fact, the chemistry between all of the actors is so good, it makes every pairing of characters perfect. Outside of the romantic relationships, A League of Their Own beautifully showcases the importance of platonic friendships. Most notably, the friendship between Max and Clance will make you emotional. They are each other's family, and it's so beautiful.
12.
If you didn't know who Gbemisola Ikumelo was before A League of Their Own, get ready to add her name to the list of your favorite actors. She gives one of my favorite performances on this show, and she's just so effortlessly funny as Clance. Plus, she was a writer for Season 1.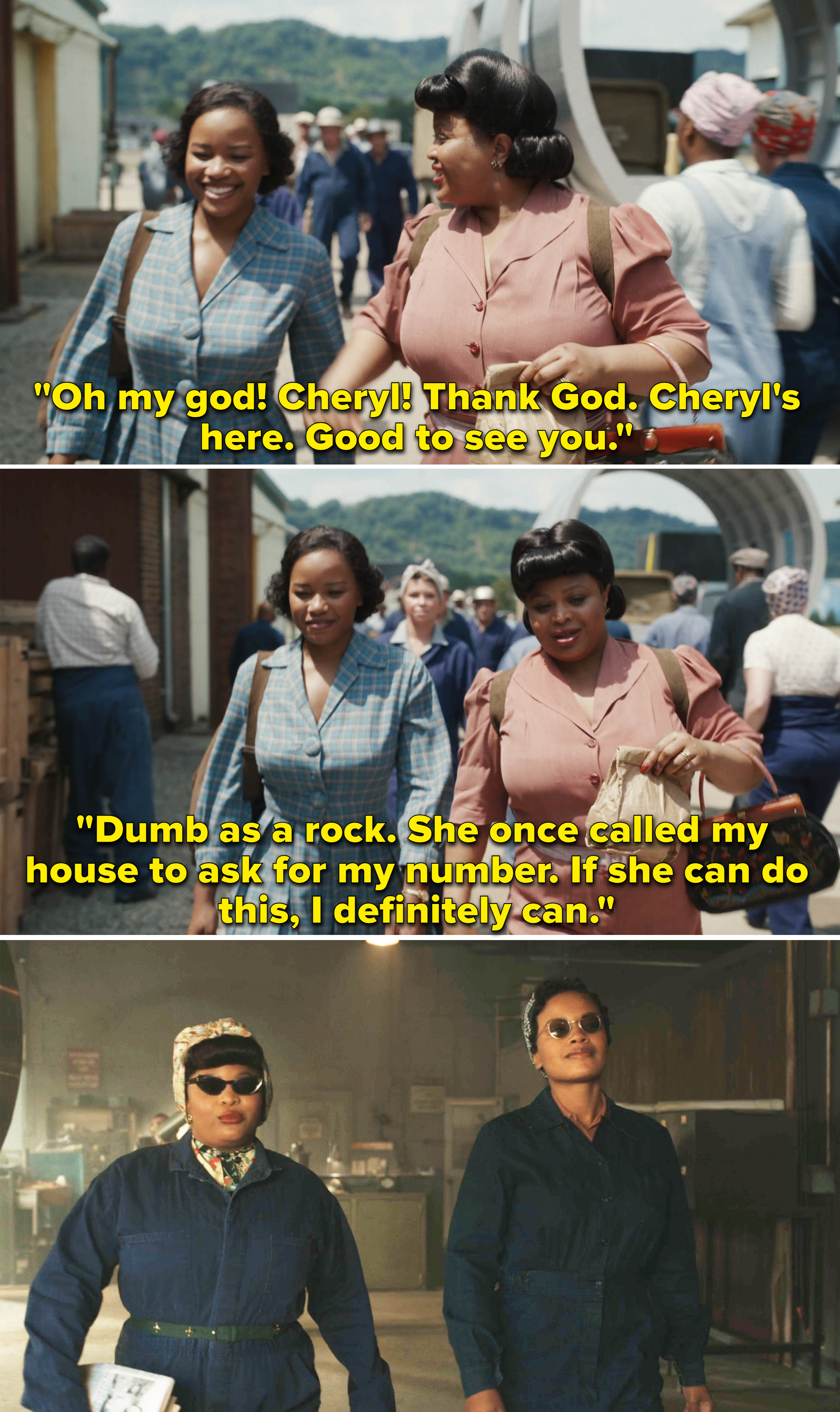 13.
Every single character on A League of Their Own feels incredibly fleshed out, and with a big ensemble, that's an amazing feat. Lupe, Esti, Jo, Maybelle, Shirley, Jess, and several others each get their own scenes to really shine, and it's great to have diverse and flawed characters make up the Rockford Peaches.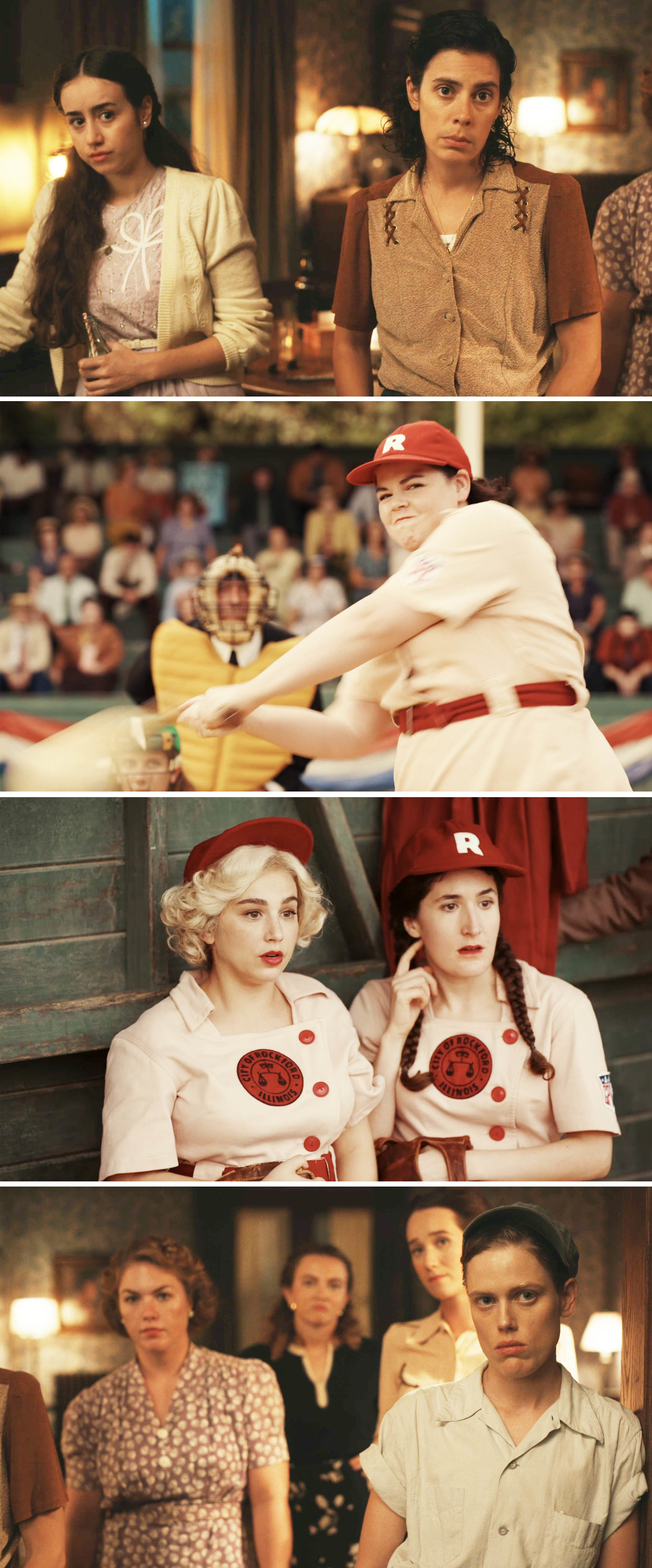 14.
In order to make the Rockford Peaches feel like an authentic team, the entire cast spent months prior to filming practicing baseball and training to make the baseball moments feel as authentic as possible. D'Arcy Carden even explained that they felt more like a team than a cast by the time they finished.
15.
Now, if you're a fan of the 1992 film, don't worry, the show honors the movie with subtle references throughout Season 1. From Carson re-creating Dottie and Kit's "late for the train" moment to Max catching a ball without a glove on, the show is filled with great Easter eggs for fans of the movie.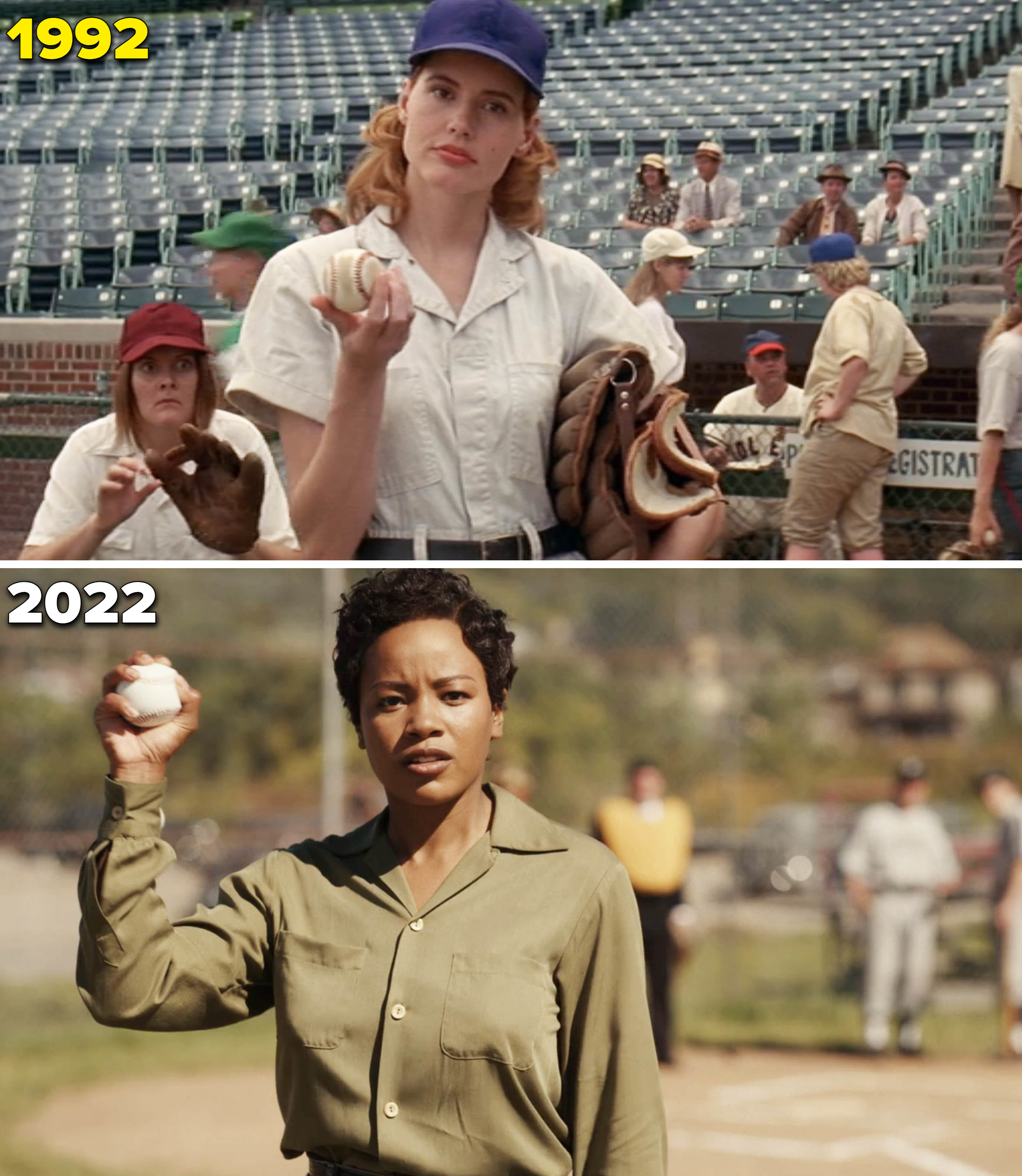 16.
Also, Rosie O'Donnell appears in A League of Their Own as Vi, the owner of a gay bar the Rockford Peaches frequent. Of course, Rosie starred in the original 1992 film as Doris, who played third base for the Peaches. Since the release of the film, Rosie has talked about how she wished the film explored some of the issues the TV show is now able to bring to the forefront.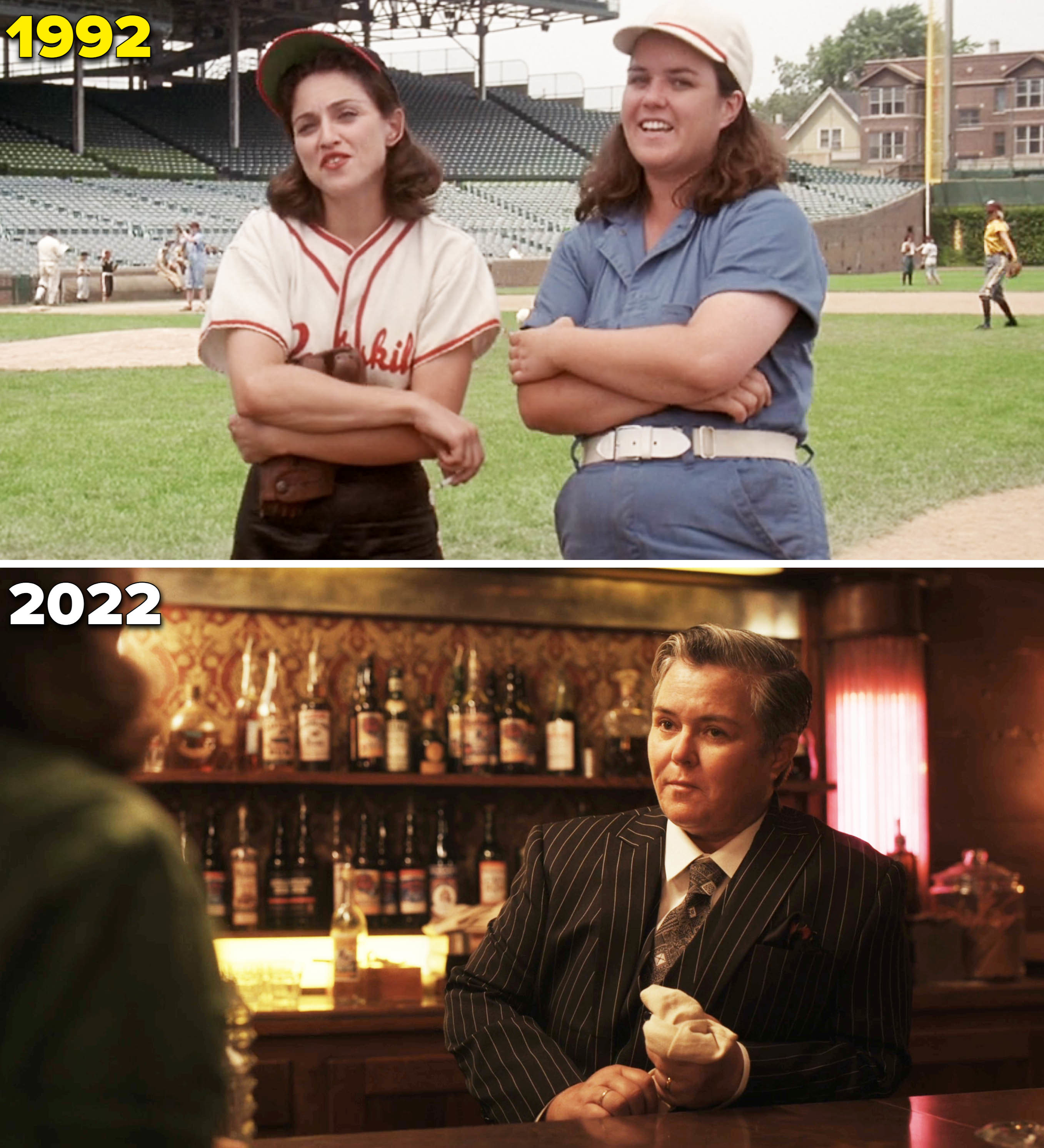 17.
And finally, like great TV shows before it, A League of Their Own isn't afraid to be funny when it needs to be, but also take viewers to more emotional places for the benefit of its complex characters. This all culminates in a season finale that'll have you crying because you've spent eight beautifully crafted episodes falling in love with these characters and their love of baseball.