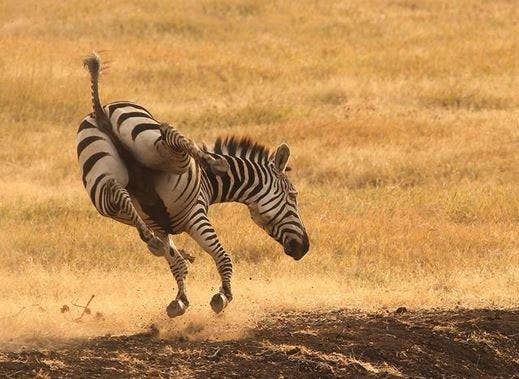 I don't really know why they say "stop your horsing around." Horses aren't really all that playful. Zebras are actually more playful than horses, but it sounds rather stupid to say, "Stop with the zebra play."
Sorry, I'm just monkeying around. Hey, that one works.
Although I do not have vast experience with horses, I think I probably have a bit more than your average, non-horse enthusiast. During my late adolescent years and for a few beyond, I did spend quite a bit of time riding and cleaning up after them. And, as a young child I spent every Saturday morning BEING a horse.
After my not-so-vast experience with horses, I always questioned those who would say that horses are really intelligent animals. From most of my personal experiences, I honestly didn't believe they were smart like a fox. Wait, are foxes even actually smart? See, there are all kinds of animal sayings that may not make sense.
As I mentioned, my earliest equestrian experiences were being a horse. You see, I was raised in a household which consisted of me, my Mom and Dad, an aunt and her two kids. My cousin Sandi, from a very early age was obsessed with horses.
So, every Saturday morning after watching the television shows "Fury" and/or "My Friend Flicka, Sandi would ride me bareback throughout the house. And, unlike a lot of kids who do not pursue their early passions, Sandi never lost hers for horses.
And yet I always questioned whether horses were really as smart as they were depicted on TV. I doubted it.
Jump forward about ten years. Aside from occasional horseback riding, my experience with horses was minimal. Until I got a job at a horseback riding ranch called the Double D. I was hoping that the name was in reference to the owner and that she would look a bit like Dolly Parton, but no. It referred to the first names of the husband and wife who owned the ranch.
Because my cousin never lost her love of horses, even though for many years it was just the horses she saw on TV, she made her way into the industry and was managing this ranch. So, thinking that was pretty cool, I offered my services. I don't actually recall if they even paid me, but I know I got some free food and could ride the horses whenever we weren't on the clock.
When I was on the clock, I was probably cleaning up horse poop in the barns. And that's when I got to know some of the horses better.
Even though I still don't think that they're brilliant animals, I learned that they were brighter than I thought and they definitely recognized people. They liked some, and despised others.
There was this one cocky guy who worked there, let's call him Bobby (because his name was Bobby). I think he was the owner's son or nephew or something. One afternoon he wanted a horse to do something. Probably just move from point A to point B, but the horse would have none of it. Stubborn.
So Bobby took a hammer and cracked the horse right on the snout. Not real hard, but any whack with a hammer is too hard. I wanted to take that hammer and crack his head open, but being the new kid at the ranch I just said "Hey, let me take care of it."
I moved in toward the horses head, stroked his snout, talked gently and pull on his reins to get him to move. He did.
From that time on, I swear his eyes lit up when I came into the barn. And I'm sure he cowered in fear when Bobby came in.
My relationship with this particular horse was only for that summer, but we became great friends and I learned that horses really are smarter than I had thought.
I guess you could say this is how I got some horse sense.