Mango season is the most sacred season in the Indian calendar and to pay our proper respects, we asked four famous Mumbai chefs for their favourite mango dishes.
Pooja Dhingra made a Caramel Chilli Tart.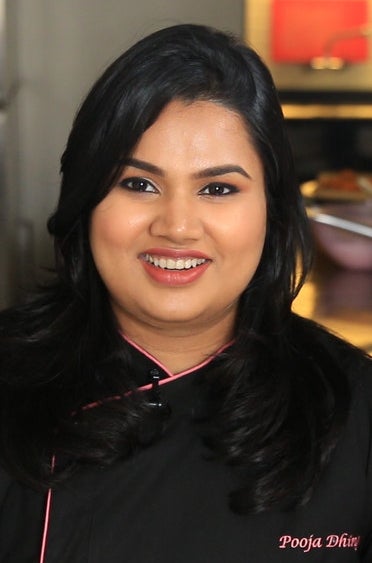 INGREDIENTS
For the crust:
300g flour
200g cold butter
100g icing sugar
3 tbsp milk
For the cream:
100ml cream
4 chopped chillies
For the caramel:
100g caster sugar
35ml water
To garnish:
2 mangoes
PREPARATION
For the crust:
Rub the cold butter cubes into the flour with your fingers until the mixture is even and resembles fine breadcrumbs.
Add sugar and milk.
Lightly knead until the dough comes together.
Do not overwork the dough or the pastry will be tough.
Refrigerate for a minimum of 2 hours.
Once cold, sprinkle flour on your work table and roll the dough out to the designed shape.
Butter your tart ring. With the help of a rolling pin, transfer the dough onto the tart ring.
For the salted caramel:
Heat the cream and chillies in a sauce pan. Strain.
In a saucepan, heat caster sugar and water till it caramelizes and then add the butter.
Add the cream and keep mixing till thick.
Assemble:
Chop one mango into small pieces and slice the other one finely.
Once the tart has cooled, spread the chilli caramel evenly across the base.
Add chopped mangoes.
Spread whipped cream and even it out with your spatula.
Arrange the sliced mangoes one by one and finish decorating your tart.
Kelvin Cheung made Mango Sticky Rice.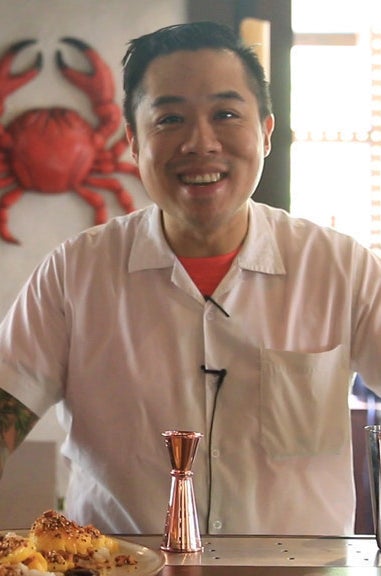 INGREDIENTS:
For the sticky rice:
1 cup water
2 cups sticky rice
For the miso caramel:
1.5 tbsp sugar
2 tbsp water
30g miso
Mango puree
For the nutty topping:
400g peanuts
400g cashew
400g almonds
400g sesame seeds
300g dessicated coconut
2 tbsp sesame oil
1/2 tsp sea salt
1/4 tsp cayenne pepper
1/4 tsp chili powder
For the white sauce:
2 cups coconut milk
1 stalk lemongrass
Grated ginger
1 vanilla pod
1 tsp salt
1/2 cup sugar
1 mango
PREPARATION:
For the sticky rice:
Bring a cup of water to boil.
Add 2 cups of sticky rice.
Cook till the rice is done.
For the miso caramel:
In a saucepan, add sugar, water, miso and mango purée.
Mix into a thick sauce.
For the nutty topping:
In a bowl add peanuts, cashews, almonds, sesame seeds, coconut, sesame oil, sea salt, cayenne pepper, chilli powder and mix it up.
Transfer to a baking tray and roast till golden brown.
For the white sauce:
In a saucepan add 2 cups coconut milk and bring to a boil.
Add a stalk of lemongrass, grated ginger, vanillla, salt and half cup of sugar.
Stir into a sauce.
Assemble:
Dice a mango.
In a plate, drop two dollops of the caramel.
Mix the white sauce in the sticky rice and mix.
Place the rice on the plate.
Add the diced mangoes on top.
Garnish with the nutty topping.
End with another helping of the white sauce.
Thomas Zacharias made Cheeseling Jhal Muri.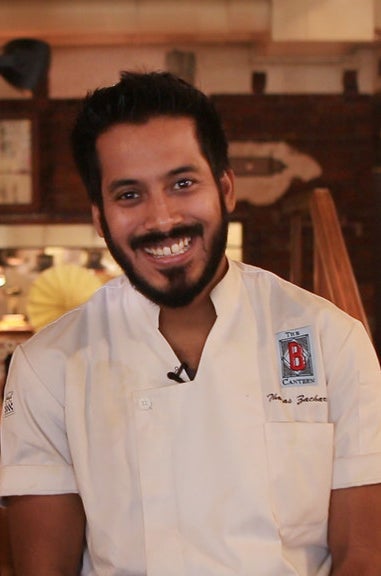 INGREDIENTS:
4 cups Cheeselings
1/2 cup potatoes, diced and boiled
2 tbsp apple, diced
1/4 cup raw mango, diced
½ tsp green chilli, finely chopped
2 tbsp cilantro, finely chopped
2 tbsp toasted peanuts, chopped
4 tbsp nylon sev
3 tbsp mustard oil
1 tbsp tamarind paste
½ tbsp honey
½ tbsp lime juice
Salt to taste
PREPARATION:
Mix the tamarind, honey, lime juice and salt in a bowl and then slowly add the mustard oil, whisking continuously.
In another bowl, mix all the ingredients together in a bowl except for the cheeselings.
Toss in the cheeselings last minute.
Check for seasoning and plate.
Garnish with sev.
Saransh Goila made Mango Curry.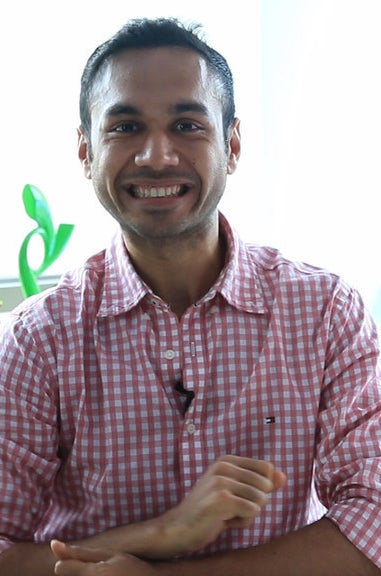 INGREDIENTS:
4 Mangoes (any variety that's more sweet than tart, preferable is Alphonso)
2 tbsp Ghee (Clarified Butter)
1 tsp whole cumin
1/2 tsp mustard seeds
1/4 tsp asafoetida powder
2 tsp coriander powder
1/4 tsp turmeric powder
1 tsp red chilli powder
1 tsp amchoor (dry mango powder) if not available, increase the lemon juice
1 glass water
1 cup coconut milk
1 tbsp lemon juice
8 – 10 curry leaves
Salt to taste
PREPARATION:
Scoop the mangoes out and blend them into a pulp.
Retain the pips and keep them aside.
Now heat ghee in a pan, splutter cumin & mustard seeds for a few seconds when the ghee is hot.
Add the coriander powder, amchoor powder, turmeric powder, red chilli powder and salt and stir-fry for a minute.
Sprinkle some water to avoid the spice from sticking to the base and getting burnt.
Now add the mango pips.
After two minutes add the mango pulp and stir for 5 minutes.
Finally add water and cook till it thickens a little.
Then add coconut milk. Let this simmer for 5 minutes.
Now take it of the heat, add lemon juice and finish it off by adding a tempering tadka of asafetida (hing) and curry leaves. Serve with rice or any bread you love eating.