First things first: this is actual angel-on-Earth Sana Bakkoush, the main character of season 4 of Skam.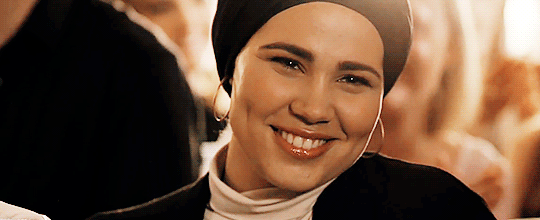 Regular viewers will be familiar with Sana because she was a recurrent character in the previous three seasons. Throughout them, she has been portrayed as a beautiful and fierce young woman.
Here she is, serving looks left and right.
Sana and Chris provided the best comic relief in the early days of the series.
At present, season 4 centers around her storyline, so we get to learn more about another big aspect of her personality: her religious beliefs.
This is only a portion of her whole speech, which was extraordinary, and you should definitely watch it.
As a Muslim teenage girl in Norway, her daily experiences are very different to those of her white friends, and so are the challenges that she must face.

Sana faces the ignorance and prejudice shown by randos and, at times, even by her own friends.
She also comes to confront the apparent contradictions between Western values and Islam...
It is impossible for Sana to unquestionably follow her religious beliefs in the same way that her parents do, as she was born and grew up in a different set of social circumstances to them.
I present to you Yousef Acar: incredibly good-looking, professional flirt, and part-time carrot peeler.
Their ship name is ~Yousana~ because, of course it is.
But not everything is always difficult for her!! Season 4 also gives us an insight into the beautiful relationship she has with her family, especially with her big brother Elias.
Hopefully, Sana will address and happily resolve all of these issues in the 5 episodes that are left. Meanwhile, most Western viewers may come to acknowledge their own assumptions about the lives led by girls like Sana all over the world.
Such as that time when she momentarily stepped out of a party and into a separate room to perform her prayers.
So, what are you waiting for???

Sana Bakkoush counts on you!
Skam episodes air on NRK weekly.
This post was created by a member of BuzzFeed Community, where anyone can post awesome lists and creations.
Learn more
or
post your buzz!