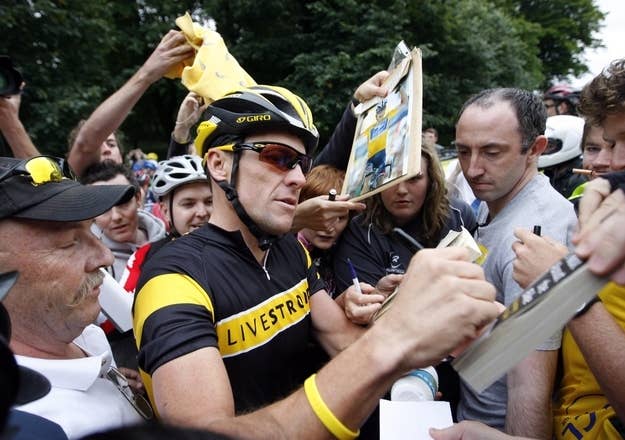 As soon as Lance Armstrong announced he was stepping down from his mostly-ceremonial chairman position at the Livestrong charity, a litany of companies announced they were ending their relationship with him. Nike, ever setting the trend, cut off their sponsorshop immediately. Anheuser-Busch said it would be over when their contract ran out. Radio Shack took its batteries and went home. And Oakley, the only sponsor that didn't definitively drop Armstrong, said it was "evaluating" their relationship.
But in many of these companies' stern press releases was an important caveat: the decisions won't affect their support of Livestrong.
None of Livestrong's corporate partners have wavered in their support of the cancer-battling group since the release of USADA's comprehensive report on the alleged performance-enhancing drug use of its founder. Nike and Anheuser-Busch statements noted specifically that they will still work with the organization.
Armstrong's reduced role, a spokeswoman for watchdog group Charity Navigator told BuzzFeed, is just a small hiccup for a well-run foundation.
"Unlike some of the other celebrity scandals, this has been going on for many years," said Sandra Miniutti. "The charity has a plan in place to deal with it, and we're seeing that plan in action with Lance stepping down."
The charity, she pointed out, has been moving away from Armstrong's image for years. It was founded as the Lance Armstrong Foundation in 1997 and still uses that name for legal purposes, but has increasingly adopted the Livestrong brand, which was introduced in 2003 as the name of the group's website, Livestrong.org. (Though it's associated with the charity, the Livestrong.com health site run by Demand Media is a separate for-profit endeavor.)
"I think they're doing the best they can to separate from him until they can rehabilitate his image," she said.
Last week Katherine McLane, Livestrong's spokeswoman expressed confidence in Armstrong's ability to continue his advocacy in Washington D.C., where the foundation has spent hundreds of thousands of dollars to lobby for cancer research.
But a source close to the cyclist said that Armstrong eventually decided to step down to try and keep his scandal from interfering with fundraising and day-to-day operations for Livestrong. "They were getting a million questions," the source said.
The truth is, sources close to the cyclist say, Armstrong never had much to do with the day-to-day operations of Livestrong anyways. The charity has run by President and CEO Doug Ulman since 2007.
However: Armstrong will still be on the board of what remains, officially, the Lance Armstrong Foundation. And a source close to him said he didn't believe Armstrong would be out of the motivational speaking and fundraising game forever: "I think it's too soon to make those kinds of judgments. I think people are enjoy making snap judgements but I think you have to look at American life, where things change pretty quickly."