If "The Simpsons" Were Set In Glasgow
Aye, Caramba!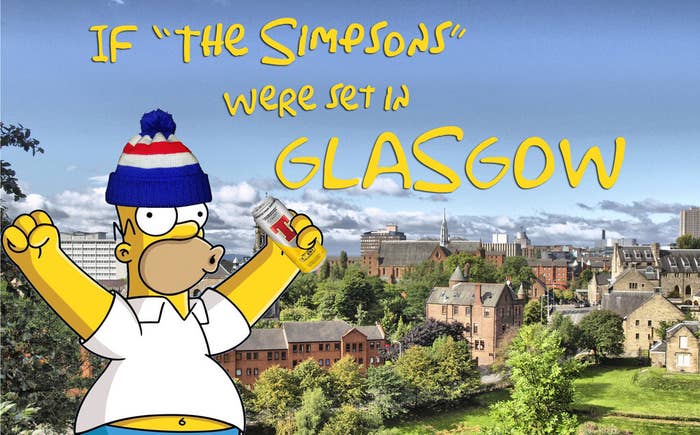 1. The Simpsons would live in Springburn.
2. Homer would be a safety inspector at the Ferguson shipyard.
3. Mr Burns would live it up in a Thorntonhall mansion after embezzling thousands from the shipbuilders' pension fund.
4. Mr Smithers would still be his trusty assistant, but he'd also be a local celebrity at Polo where he parties every weekend.
5. Homer would be a loyal Rangers fan who'd gladly stick the heid on anyone who insults his beloved team.
6. Marge would walk the the weans to school and nursery every day.
7. Then head to Ladbrokes for a sneaky flutter.
8. Bart would cut about in a knock off Lacoste trackie and Prada trainers his aunties Patty and Selma got him "doon the Barras".
9. He'd spend his days terrorising auld folks on a BMX he stole from some wean at Glesga Green.
10. Or spitting on cars from foot bridges over the M8.
11. Bart would get punnys so often he'd be able to recite them word for word. Not that he'd ever actually do them, of course.
12. He'll get them for writing things like "Skinner's a pure dobber," "Young Springburn Fleeto" and "Wee Barto wiz 'ere" on school walls.
13. Skinner would, in actual fact, be a pure dobber.
14. Milhouse would keep edgy for Bart, looking out for the heady and Martin Prince "cause he's a pure wee grass".
15. Bart would be the proud founder of the Springburn Young Team.
16. The SYT's arch rivals would be the Y-Springy Mad Squad, run by Nelson, Jimbo and Kearney.
17. Dolph would be kicked out of the Mad Squad after moving to Newton Mearns.
18. Lisa would long to be old enough to move to St Andrews and study Politics and International Relations.
19. Her ambition would be to become the next Nicola Sturgeon.
20. Maggie still wouldn't talk, but her middle finger would say it all.
21. Grampa Simpson would make the weans sit and listen to his stories from WWII, as well as giving them a skelp round the ear if they try to get away.
22. And then give them a few bob to spend on swadgers at the van.
23. Disco Stu would be Leo the Silent Raver's arch nemesis.
24. They would face off in incredibly intense Buchanan Street dance-offs.
25. Homer would head to Moe's after each shift, where he'd always be fondly greeted with a hearty: "Here, whit are you lookin' at?"
26. He'd enjoy a warm, flat pint of Tennent's or five, questionably "acquired" from an unknown acquaintance at the Wellpark Brewery.
27. Despite the crap lager Moe's would always be full, especially when the Old Firm were playing.
28. Not least because there would be 20 different Barney Gumble incarnations present at any one time.
28. Homer would go to see Still Game Live at the Hydro with Lenny and Carl.
29. And get escorted from the building by security staff after reacting badly to being charged nearly a tenner for his interval burger and pint.
30. Patti and Selma would work side by side at Govan's Jobcentre Plus.
31. They'd spend most of their evenings at the Springfield Quay Mecca Bingo hall, trying to win some cash for a cheeky wee holiday to Tenerife.
32. Fat Tony would often feature on the front cover of The Digger due to shady dealings at the Four Corners.
33. Chief Wiggum would definitely catch him if he wasn't tied up travelling to Edinburgh for his daily Double Dozen from Krispy Kreme.
34. Eddie and Lou would spend their evenings reminiscing about drug busts at The Arches, and how things just aren't the same without it. (R.I.P.)
35. Otto would work for First Buses, driving the number 38 through the East End.
36. But by night he'd be a regular at the Cathouse, Solid Rock, and Classic Grand, where he'd loudly mourn the loss of Rock Radio FM to anyone who'll listen.
37. Seeing Bon Jovi at Hampden made his entire life.
38. Apu would run the local Scotmid and spend his evenings Tipp-Exing the best before dates off Tunnocks Caramel Logs.
39. Dr Hibbert would be an NHS Scotland GP.
40. He would have nothing to laugh about.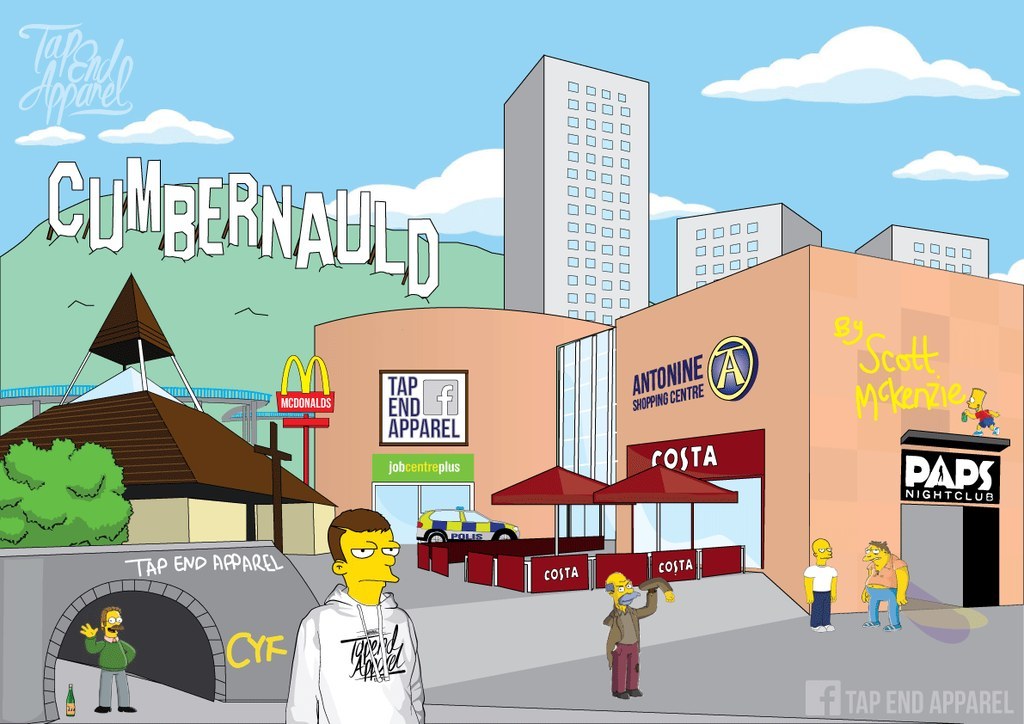 41. The Krusty the Clown Show would be part of the STV Glasgow line up.
42. Krusty would also regularly feature as a guest on The Riverside Show's "Tea For A Tenner" section.
43. But instead of cooking, he'd just bring in a Munchy Box from Magic Grill.
44. Krusty would regularly spend his DLA on illegal substances and hiring out Seventh Heaven for the night.
45. The Diddy & Doaty Show would be Bart and Lisa's TV programme of choice. Think Itchy & Scratchy with more swearing and square gos.
46. Comic Book Guy would own and work in A1 Comics.
47. He'd turn his nose up at any and all competition, especially Geekaboo.
48. He'd also be the first in line at the Glasgow Comic Con every year with a brand new handmade cosplay outfit painstakingly stitched by his wee maw.
49. Kirk Van Houten would usually be found in Maggie May's playing songs from his independently released debut record: "Any Spare Feelings, Pal?"
50. Or stumbling through Cumbernauld in four-day-old joggies, screaming: "She's turned the wean against us!" after Luann cancels Milhouse's weekend visit.
51. Quimby would insist everyone refers to him by his full title: The Right Honourable Lord Provost Diamond Joe Quimby.
52. But most people would simply refer to him as a dirty scumbag wanker.
53. Sideshow Bob would be locked up in Carstairs, and Bart's heart would skip a beat whenever he heard a patient had been released.
54. Groundskeeper Willie would be an American from the Deep South.
55. He'd be just as angry and incoherent.
56. Homer would kick back on the recliner sofa each evening, watching Sportscene with the family pit bull Santa's Wee Helper and a can of T.
57. Meanwhile, Marge would be on her phone in the kitchen playing Candy Crush Saga on her phone while the weans are upstairs on Facebook.
58. Ned Flanders would still be Homer's annoying neighbour.
59. He'd be a Celtic fan, and would pop round to visit every now and then.*
60. *Every time Celtic beat Rangers/Celtic win against anyone/Rangers lose against anyone.
61. Because of that, and with three mouths to feed, most episodes would revolve around Marge doing everything in her power to stop Homer ending up in the Bar-L for cold-blooded murder.