Red Velvet Cupcakes As Made By Kevin Durant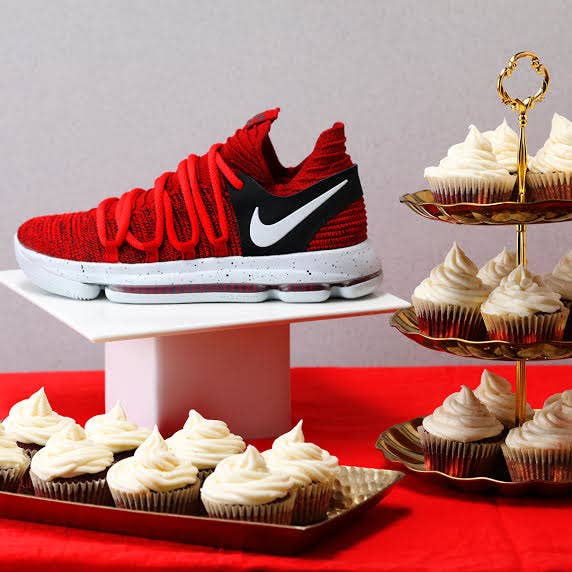 INGREDIENTS
Cupcakes
1/2 cup butter
1 1/2 cups white sugar
2 eggs
2 tablespoons cocoa
4 tablespoons red food coloring
1 teaspoon salt
1 teaspoon vanilla extract
1 cup buttermilk
2 1/2 cups sifted all-purpose flour
1 1/2 teaspoons baking soda
1 tablespoon distilled white vinegar
Icing
1/2 cup butter, softened
8 ounces cream cheese
4 cups confectioners' sugar
2 teaspoons vanilla extract
PREPARATION
1. Preheat oven to 350°F/175°C. Grease two muffin tins. Beat shortening and 1 1/2 cups sugar until very light and fluffy. Add eggs and beat well.
2. Make a paste of cocoa and red food coloring; add to creamed mixture. Add flour, salt, buttermilk, and vanilla extract. Mix soda and vinegar, add to batter.
3. Pour batter into cupcake tins. Bake in a preheated oven until a tester inserted into the cake comes out clean. Bake for about 30 minutes.
4. Beat softened butter and cream cheese until well blended.
5. Add powdered sugar and vanilla. Beat until creamy.
6. Frost cupcakes and enjoy!