No, I write with myself in mind and always have. The first, and I guess the most important thing for me, is to amuse and entertain myself. But then again, is my psyche that much different than the fans'? Who knows. I just think as an artist, one has to remain true to oneself, otherwise the whole enterprise is likely to start resembling a job with pandering and all sorts of unseemly vulgarities. Yikes!
Well, in The Dolls, I'm representing a group philosophy, nebulous as that may be. It's kind of like a speech writer for a party. As a solo performer, there is a certain nobility that I try to maintain. It may not be noticeable, but it's there, holding things together. Buster, on the other hand, is more about the imperfection of the human condition, the impossibility of creating superior art. Buster is like the lie that tells the truth.
Rebirth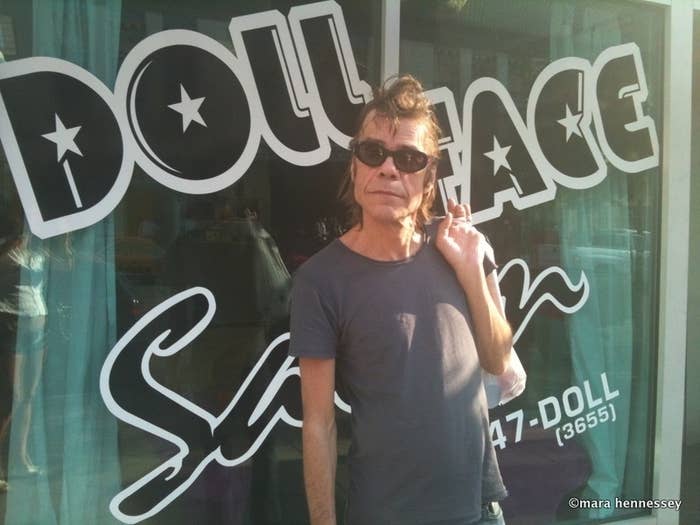 A while back, I stopped smoking, which is something I'd always assumed would be impossible for me to do. It's made a tremendous difference in my vitality and overall outlook. I don't normally eat junk, and I exercise moderately. A little qigong. Nothing fiendish.
Yeah, I guess I do. I'm the kind of person who takes everything to the N-th degree, yet I somehow manage to get some sense at the last minute and get to carry on with a newfound wisdom. With what happened to most of The Dolls and so many people in the business, I guess I'm kind of a miracle. I have a lot of gratitude for that.
It's possible, if you're an artist, if you don't follow the herd and you have your own opinions about things. It seems to me that a true artist is in it for the long run, and being able to live an artist's life is its own reward.
Well, a lot of people don't really like to think all that much and will pretty much go along with whatever the system hoists upon them, as far as entertainment and otherwise is concerned, but some have the capacity to think for themselves, and they seek out stuff that's got something more to it than mere consumerism.
Just dig yourself. Strike the right smart/stupid balance. People will dig it too.