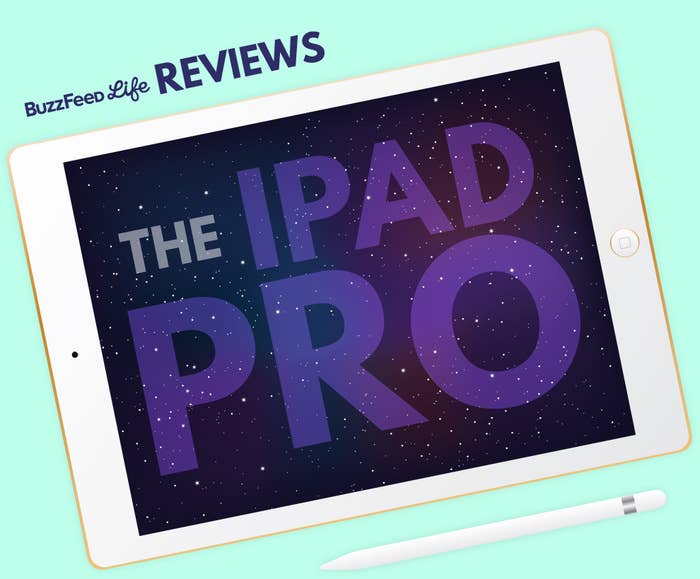 Day 1: Getting acquainted with the beast.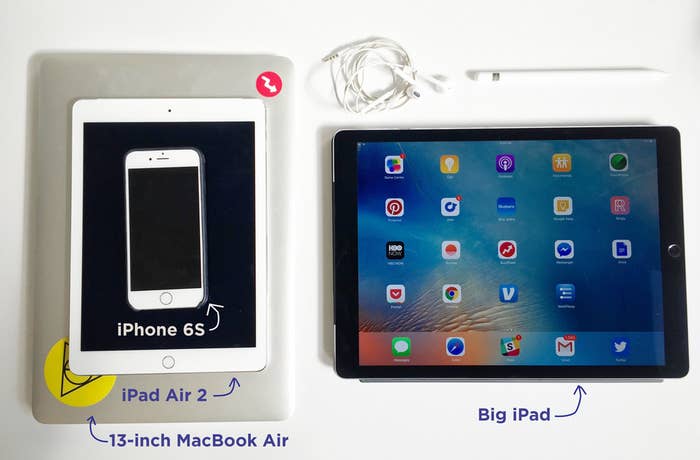 The iPad Pro looks comically large when I hold it.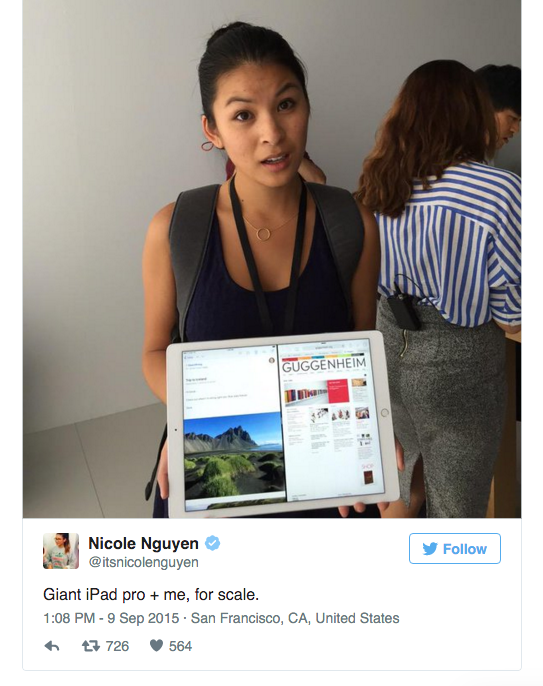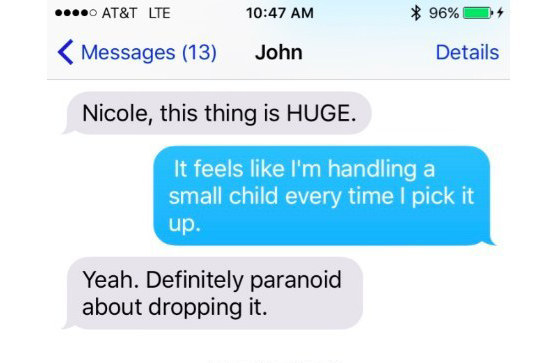 Nope. The setup screen *insisted* on being vertical – even with the keyboard plugged in.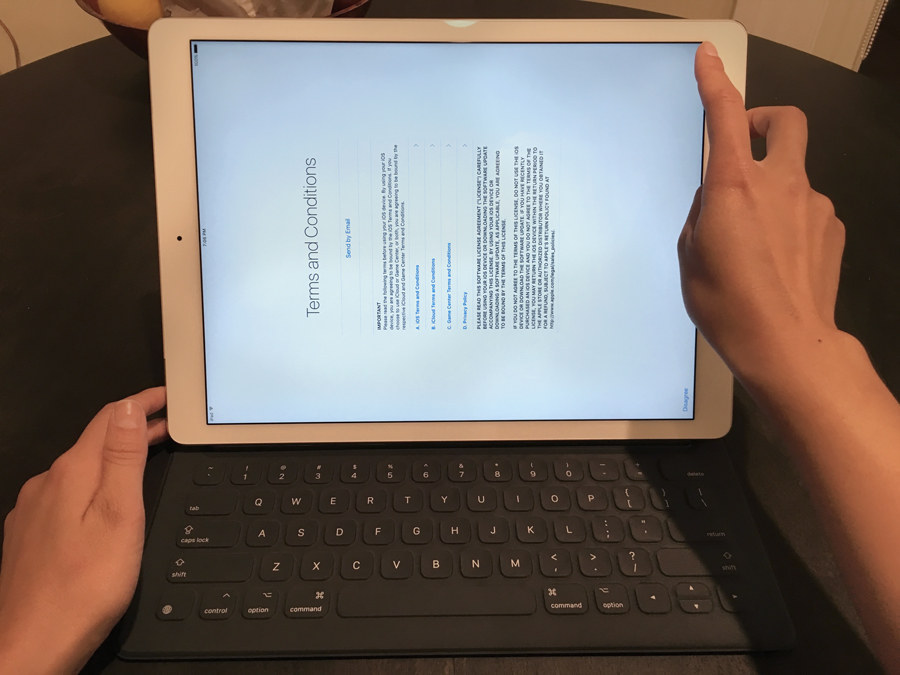 Day 2: My first day at work with the Pro.
Keyboard + keyboard shortcuts = Yaaasssssss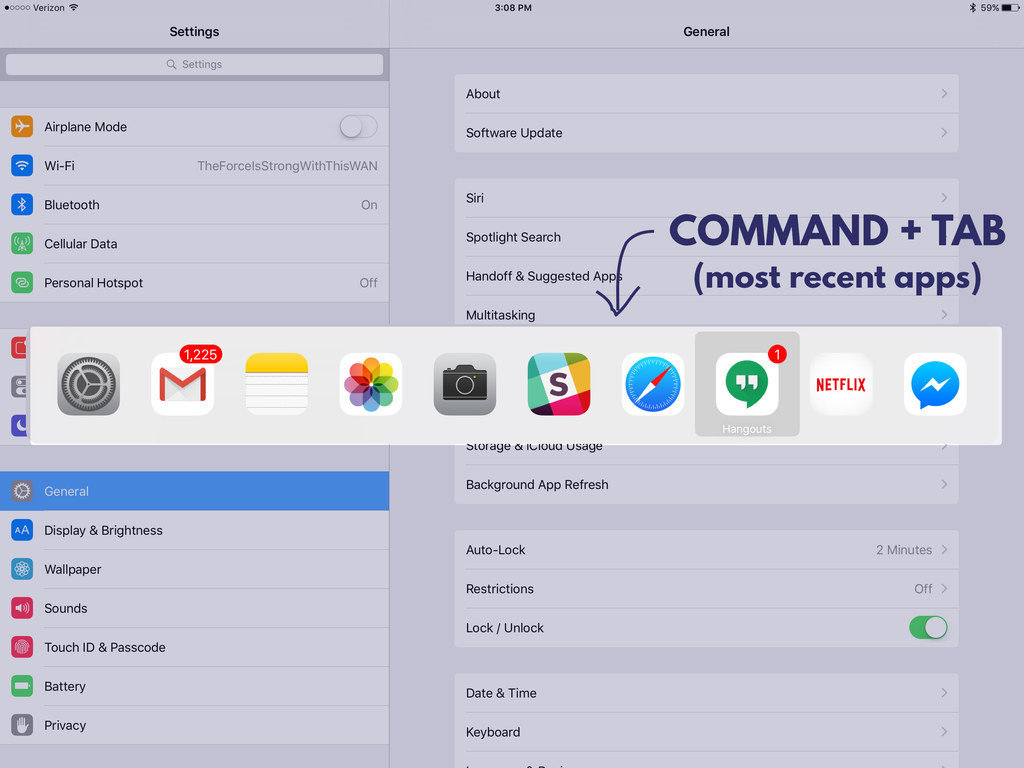 I uploaded some photos I took with the iPad* directly to my post and published my Apple TV review on a tablet. Neat.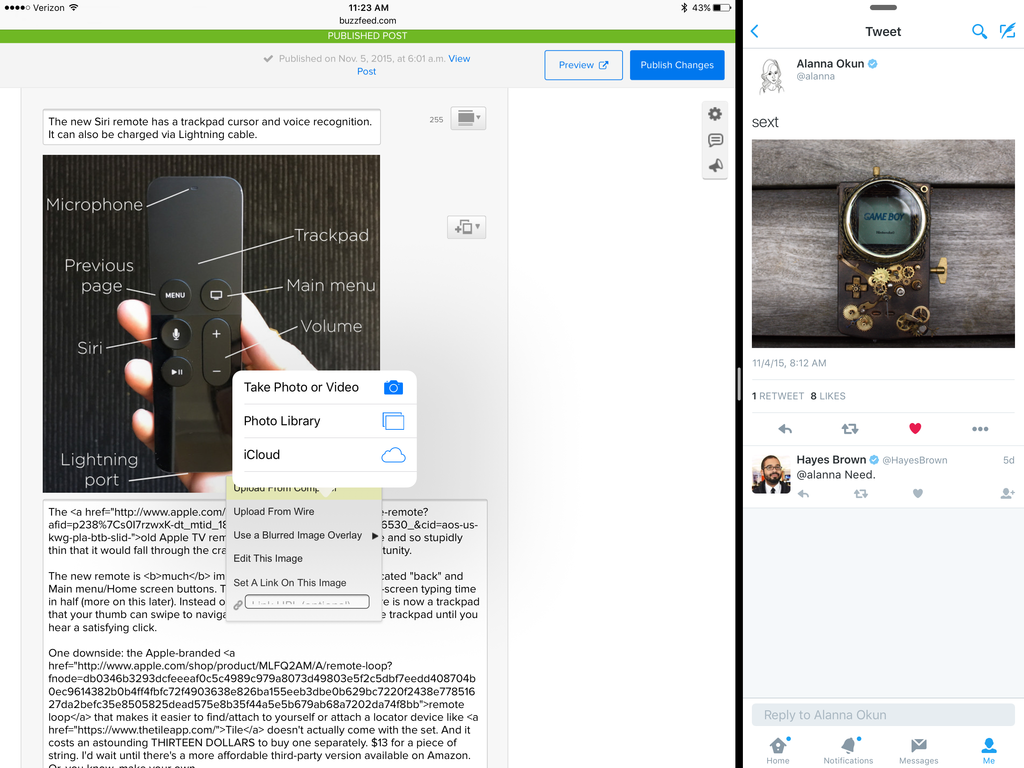 That night, I made some (i)pad Thai without getting anything disgusting on the display.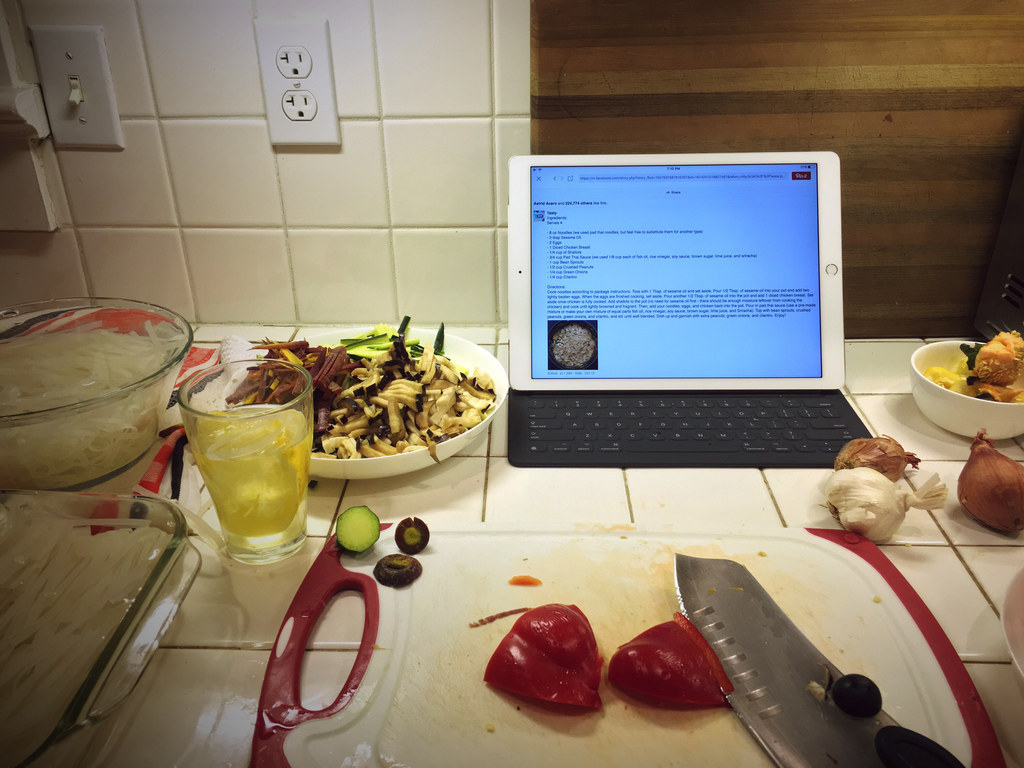 Every iteration of the iPad has been a fantastic bed device – except for this one.
The Apple Pencil sounds really dumb, but it's the best stylus I've ever used.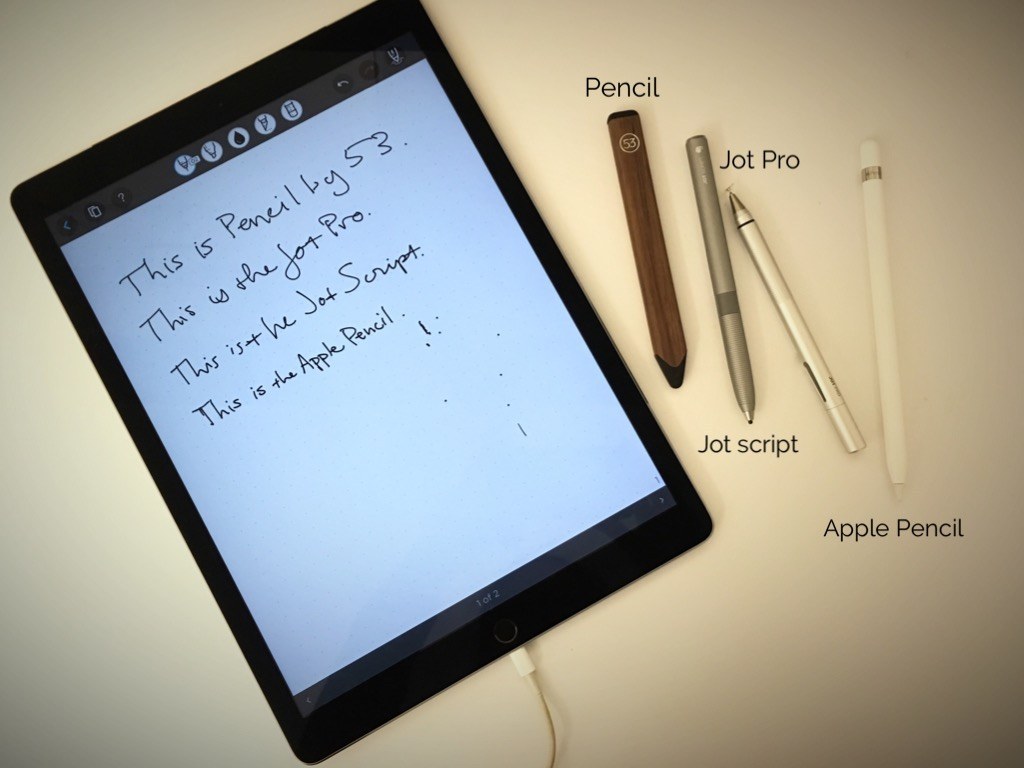 The display is even more responsive to the Apple Pencil than it is to your finger.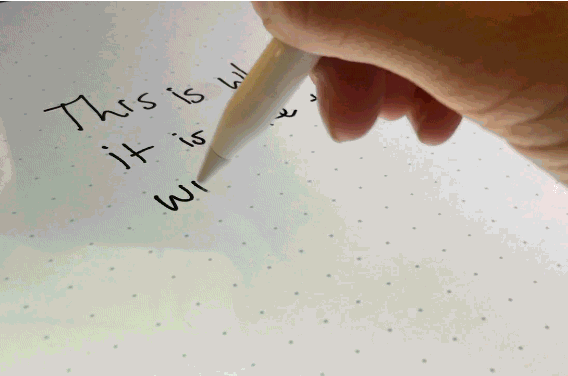 The iPad Pro scans for the Apple Pencil twice as much as it does when you use your finger. It writes like a real pencil. Strokes are darker when you press harder and lighter when you press lightly. Turn it on its side and you can shade in your drawing. Start scribbling notes and you'll be reminded of the tap tap tap of a silent classroom taking a spelling test with Ticonderoga No. 2 pencils.
There is seemingly no lag, which will impress anyone who has ever used a stylus. I tested the Apple Pencil against my former favorite, the Adonit Jot Pro, FifityThree's unfortunately named Pencil, and the Jot Script Evernote Edition. I found that the longer the delay between the stylus and app, the wider my handwriting appeared. In both Apple's Notes app and Penultimate (free, iOS), the Apple Pencil was the best stylus for note-taking in terms of speed and precision.
The Notes app is where the Apple Pencil shines. It'll work fine in other apps, but you won't be able to take advantage of its pressure-sensitivity and palm-rejection capabilities — features that will be integrated into more apps in the future. Right now, only a handful of offerings are Apple Pencil-optimized, including Photoshop Mix and Paper by FiftyThree (more on this below).
But it feels like something I will inevitably lose.
The Apple Pencil's battery lasts about 12 hours. Remove the end cap to reveal a Lightning charger bit that can be plugged right into the iPad Pro or with the included USB cable adapter. Steve was right: When I took the cap off for the first time, I thought, Oh, good, more things for me to lose.
The Apple Pencil is so slim and smooth that I can imagine it slipping right through my backpack's pocket mesh and into oblivion. Apple said that companies are already working on accessories to accommodate the Pencil, but it's a bummer that this pricey Pencil needs an accessory at all. Apple could have easily integrated something into the smart keyboard it's selling for $169 or via the iPad's magnet smart connector for covers. I mean, they did design it. Even Microsoft has come up with some elegant pen storage solutions for its Surface laptop hybrid. *nudge nudge*
At $99, the Apple Pencil is costly even for a professional stylus.
All of this to say that the Apple-branded stylus will set you back some serious cash. With the most affordable iPad Pro tier (32GB with Wi-Fi only), that means you could be spending $99 for the Pencil + $799 for the device + $169 for the keyboard = $1,067 for a tablet. Hot damn.

Apple doesn't make the best iPad Pro case. Logitech does.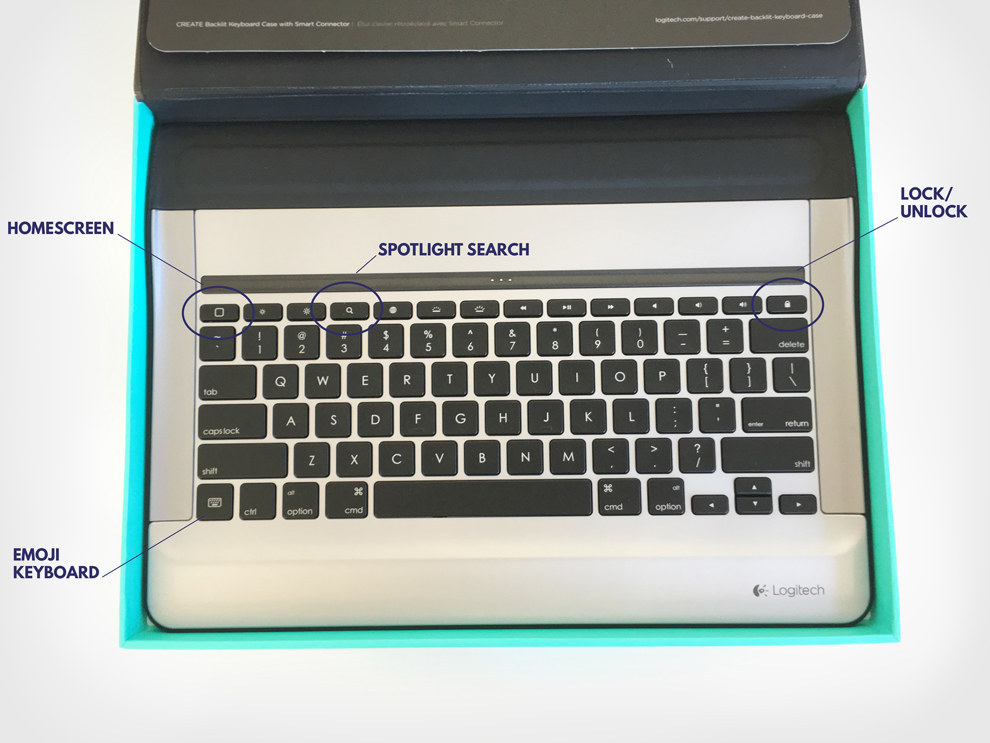 It's slightly less expensive than Apple's cover.
Logitech's offering is $150 (the Smart Keyboard is $169). I would absolutely recommend it to anyone who plans on using the Pro more as a computer than a tablet.

Drawing on the iPad Pro is really fun.
If you can't draw, that's OK – because Netflix and HBO Now have great iPad apps.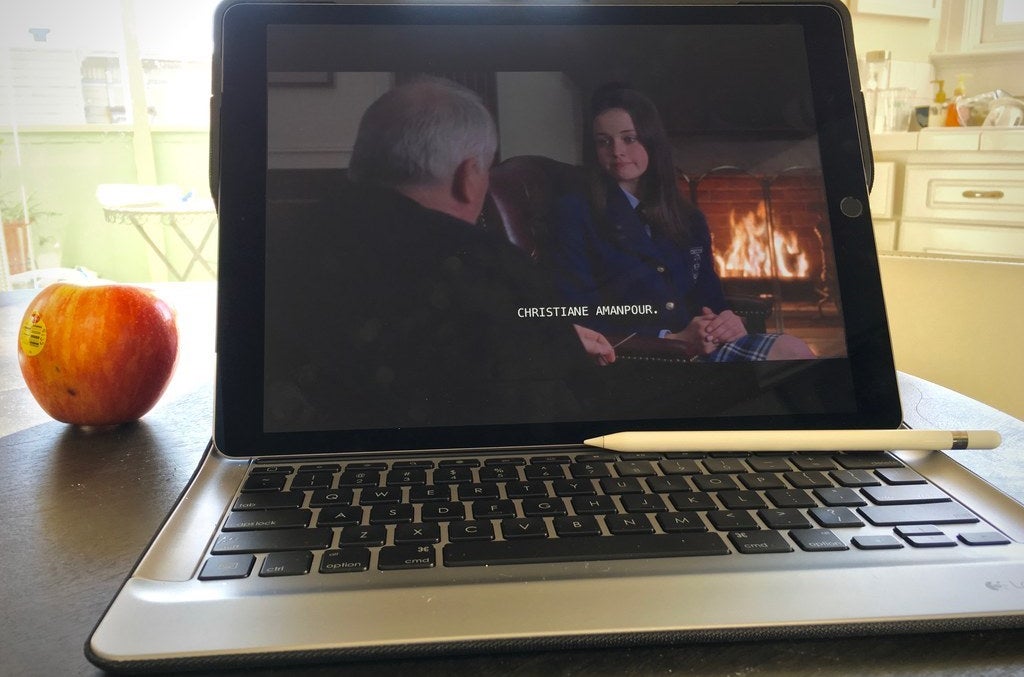 The iPad's prodigious amount of screen isn't just good for bad line drawings. It's a great TV for one (or two), too. The iPad Pro now has four speakers (instead of two), so you can blast TV or movie audio to a whole room if you wish. I've Netflixed Gilmore Girls while eating breakfast for the past two days. HBO Now (along with YouTube, FaceTime, and others) has a pop-out video feature so you can watch stuff while you work.
Designing is pretty sweet, too.

With full brightness and nonstop use, the iPad Pro's battery depletes at 10% per hour.


It's neither a true laptop nor a mobile device.
The iPad Pro is this weird hybrid tablet-laptop that, unlike your computer, has Siri but, like your computer, gives you access to the desktop version of nearly every webpage and allows you to work in multiple applications side by side. But it's not perfectly defined as either.
iOS will get better and better, and many people will, one day, be able to use the iPad Pro as a full replacement for a primary computer. But, in its current iteration, using a tablet is simply inferior to desktop computing. Mac OS X is, without question, more hackable, customizable, and powerful than a mobile operating system. I can't say that the iPad Pro is a true substitute for a computer.
That being said, the MacBook Air and iPad Pro are redundant in many ways.
If you're considering Apple's ultralight laptop, you're probably not editing an insane amount of video or doing a ton of processor-intensive gaming. You're probably looking at a lot of Facebook, watching a bunch of Netflix, checking email, and maybe occasionally editing some photos. In this case, the iPad Pro might be up your alley.
Above all, consider the cost. The iPad Pro is probably going to be the most expensive mobile device you own.
Pricing for the iPad Pro, available for preorder online starting today, is:
* Wi-Fi only: $799 for 32 GB and $949 for 128 GB
* Wi-Fi + Cellular: $1,079 for 128 GB
For comparison, the similarly sized 13-inch MacBook Air is $999.
Many people don't actually *need* a laptop. The iPad Pro is for them.
The iPad Pro offers something different to the hardcore designing crowd and to young adults who've just graduated from college and will never have to write a research paper again.
The tablet might also appeal to students (with very robust scholarships??) who gravitate more toward writing their notes rather than typing them, or math majors who want to jot down problem sets in a digital environment. One study shows that students who take longhand notes vs. students who type notes perform better on exams.
The iPad Pro isn't for me but it's still a fantastic tablet.
Arm fatigue is real. I started using the Apple Pencil as a selector because I was so tired of lifting my wrist. Apple founder Steve Jobs actually said it best in 2010: "After a certain amount of time, your arm wants to fall off ... it's ergonomically terrible. Touch surfaces are meant to be horizontal."
I write words for a living and so, I love keyboards. Unfortunately, long-term keyboard-iPad use makes me want to dunk my hand in an ice bucket. But as a digital notebook, the iPad Pro is amazing. I just don't need that right now. But you might.
**