Here's a screenshot of the actual madness required to put together my itinerary.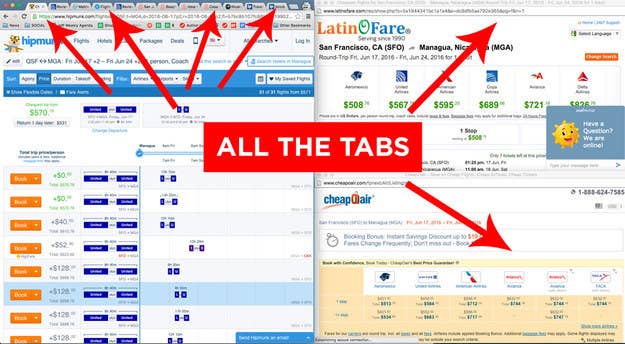 The "ALL THE TABS" stage of travel planning could really go on and on and on.
Well, Google recently introduced a new feature called "Destinations" that claims to make the entire research and booking process much easier – and you can do it all from your phone and only your phone.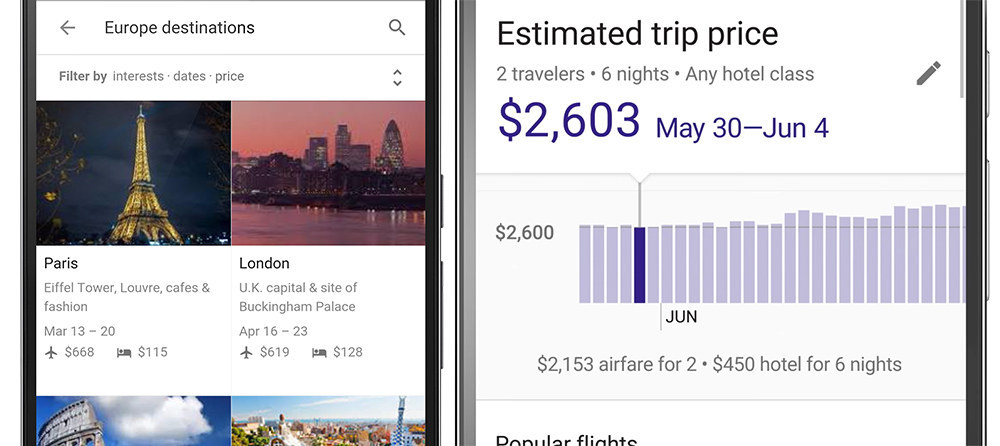 Here's how it works (and why it's kind of a travel game changer).
1.
In the app, simply add "destinations," "vacation," or "travel" to your search query.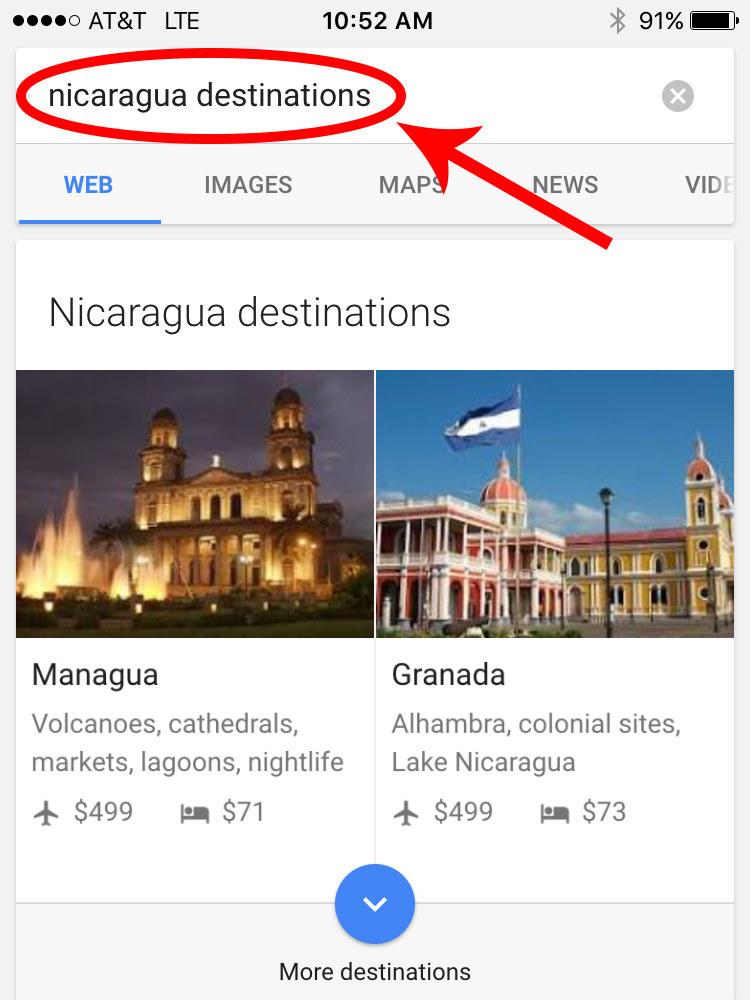 The feature's selection of travel locations does seem limited to just popular destinations for now.
California travel and Mallorca vacation didn't work, but Nicaragua destinations and Thailand vacation did. "Destinations" is a work in progress and Google reps say more destinations are on their way.
2.
If you search travel, the app offers PRE-PLANNED itineraries for stays of various lengths.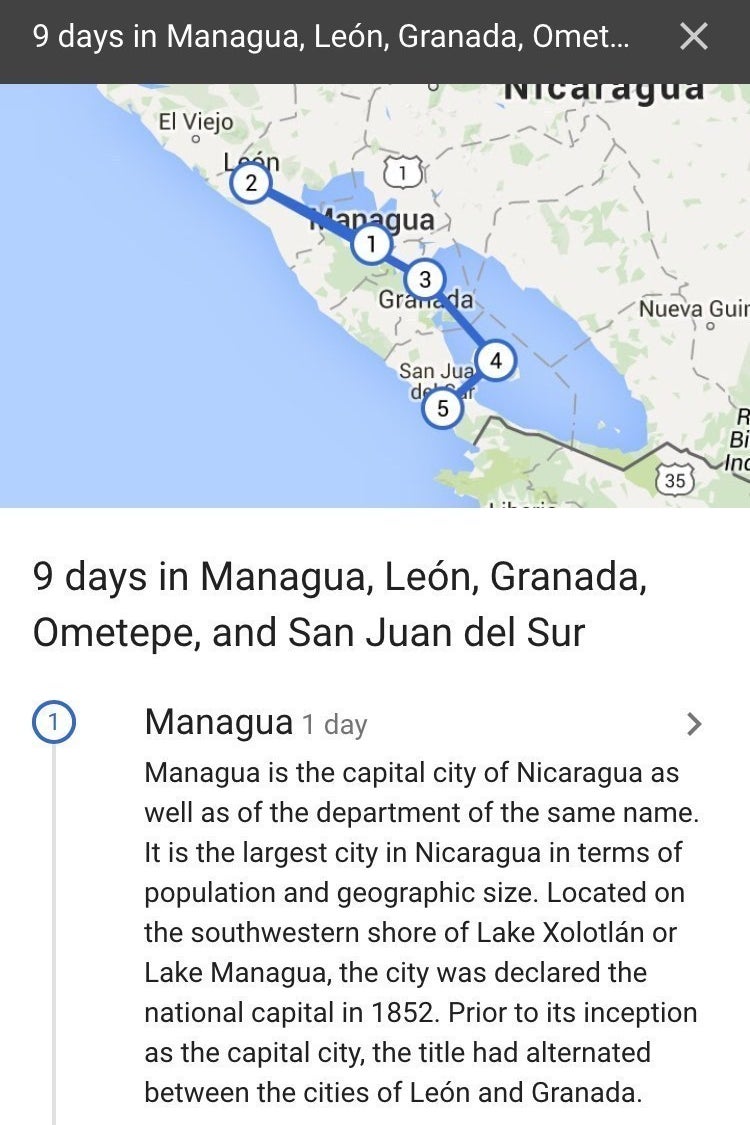 Google provides descriptions, driving times between destinations, and a map overview of the entire trip.
3.
If you search destination, you'll see a grid of cards with the city name, popular activities, and when to go to get the best deal.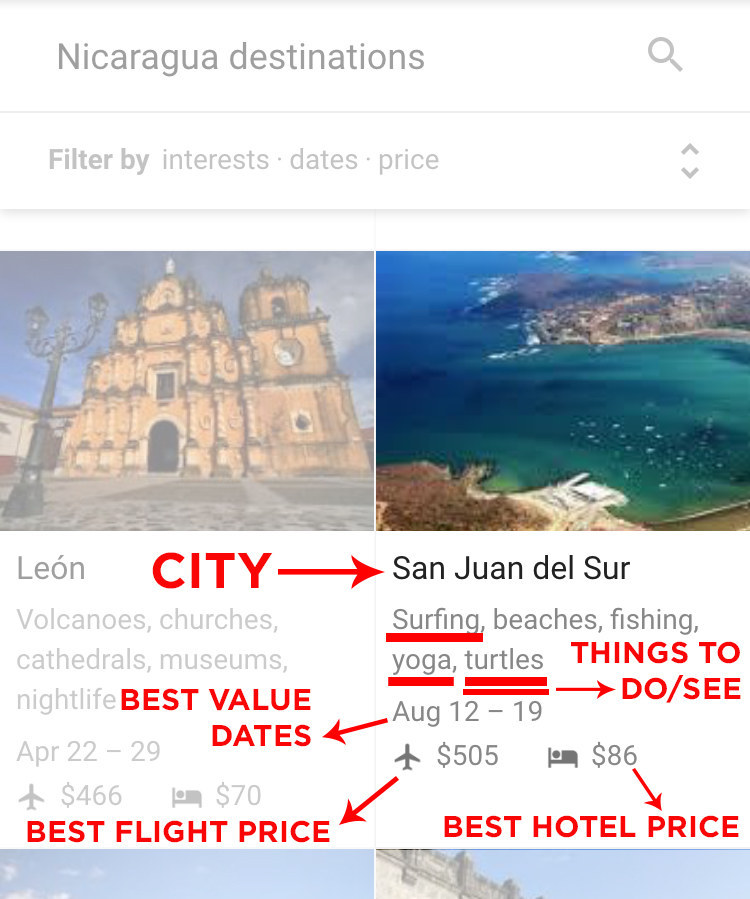 4.
You can filter results by prices for flexible or exact dates, and by interest.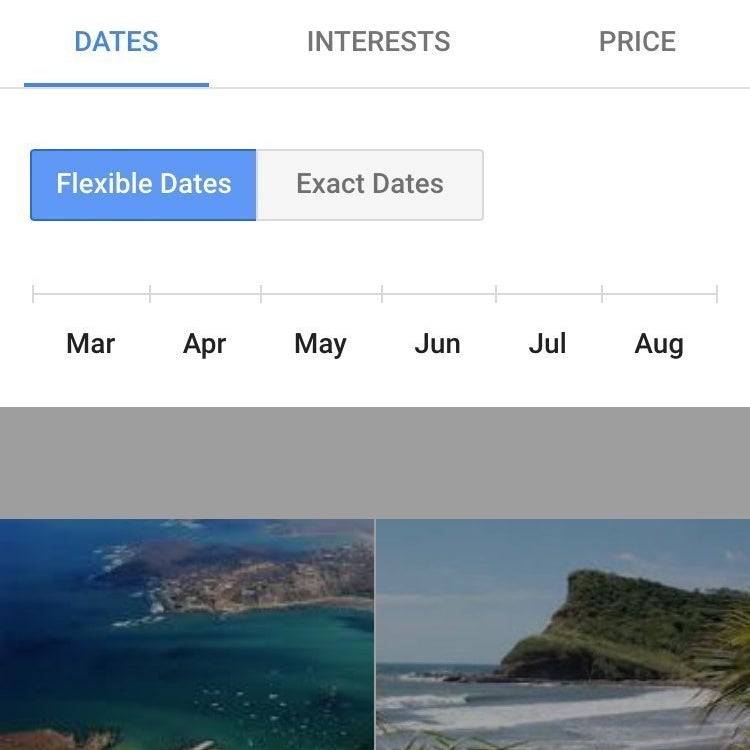 5.
Once you've chosen a destination, you can select "plan a trip" and start scrolling through the awesome estimated flight price calendar.
6.
The app will then take you to Google Flights, where you can browse departing and return options.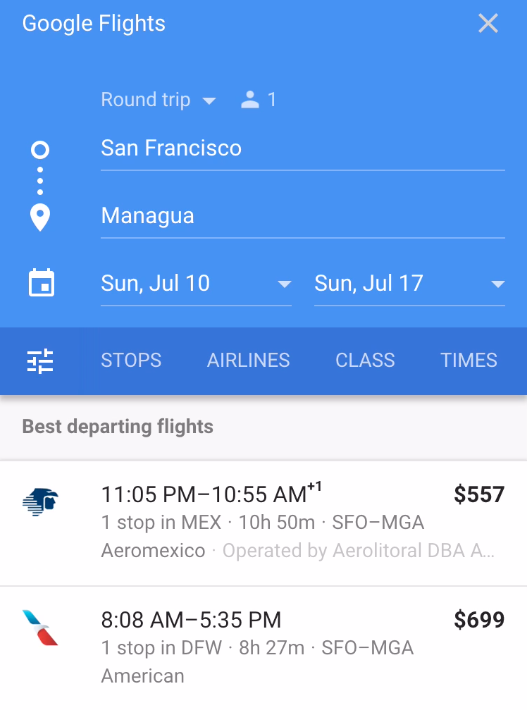 One thing I didn't like about this experience was being unable to sort flights by duration (or what Hipmunk calls "agony").
I could filter preferred number of stops (0 to 2+) and price, which was misleading because some of the cheapest flights took three times as long as slightly more expensive ones!
7.
You'll then book the flights from the airline directly.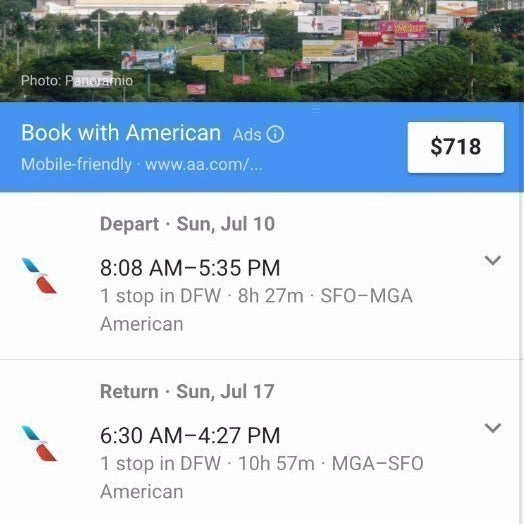 See where it says "Ads"? That's essentially how Google makes money from this feature. Every flight booked through the app earns revenue for Google. For the most part, I don't have a problem with it. The tool seems legitimately useful, and as long as it yields the most affordable price for my trip based on my preferences, it doesn't bother me that they get a cut of my flight price. ¯\_(ツ)_/¯
The experience of booking through Google's app depends widely on the airline.
American Airlines will take you right to the passenger detail page – all you have to do is enter your credit card information and check out.
For other companies, like United, you'll be taken to a results page filled with various flights departing on your preferred day (even if you already selected your flights in the Google app), which is a huge pain.
I think that Google's new travel planner is incredible for researching destinations and finding affordable flights from your phone, but less great for purchasing the actual flights.
I'm actually going to plan my trip based on the 9-day Nicaragua itinerary Google suggested. Ain't nobody got time for hours wasted on TripAdvisor and Lonely Planet forums.
BECAUSE ALL I WANT IS THIS: