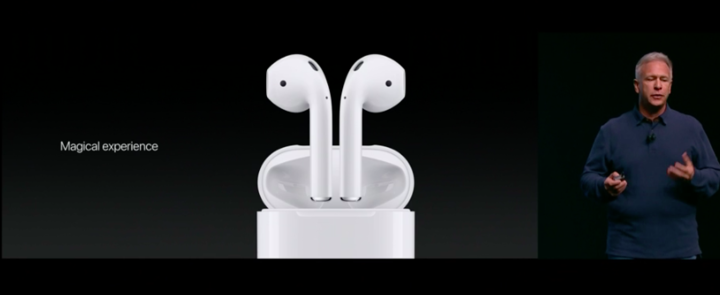 El iPhone 7 no ha sido la única gran revelación de Apple: no lanzaba auriculares nuevos desde 2012, pero hoy ha presentado un par de auriculares inalámbricos llamados "AirPods". Tienen el mismo aspecto que los auriculares insignia blancos de Apple, pero sin los cables - y no son mucho más grandes que los EarPods.
El nuevo headset inalámbrico de Apple fue anunciado junto con el iPhone 7 sin conexión para auriculares, pero se venderá por separado. El nuevo iPhone 7 y 7 Plus incluyen EarPods con conector Lightning y un adaptador para cables estándar de audio de 3.5 mm en el paquete.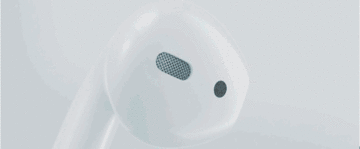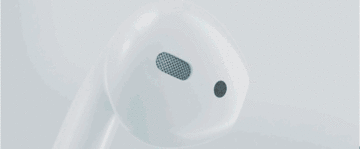 Los acelerómetros, sensores ópticos, micrófonos y antenas están encajados dentro de los diminutos auriculares. Cuando tu mandíbula se mueve, los AirPods optimizan los micrófonos para una llamada telefónica aislando el sonido de voz. Cuando te quitas un auricular de tus oídos, hace una pausa en el audio. Cuando usas dos auriculares, reproduce audio en estéreo, y cuando usas uno, reproduce el audio en mono. Para controlar la música o hacer llamadas, simplemente toca dos veces los AirPods para activar a Siri. Prácticamente no hay botones o interruptores en el dispositivo.
Los AirPods incluyen el primer chip inalámbrico de Apple, el W1, que fue diseñado para optimizar el rendimiento del audio y la duración de la batería en una conexión inalámbrica. La tecnología patentada de Bluetooth y Apple se utiliza para conectar instantáneamente los AirPods a los dispositivos. El estuche de los AirPods se conecta con el iPhone mediante iCloud, lo que ayuda a los usuarios a cambiar fácilmente entre diferentes dispositivos iOS.

En julio las ventas de auriculares Bluetooth, lideradas por Beats, superaron a las otras categorías por primera vez, según con un estudio realizado por NPD. Los nuevos auriculares Beats también incorporarán el chip inalámbrico W1, incluyendo el Solo 3 Wireless, Power Beats 3 Wireless, y Beats X, una nueva línea de "auriculares de cuello" de precio accesible.

La duración de la batería de cada AirPod es de cinco horas - pero su estuche de carga (no más grande que un paquete de hilo dental) puede almacenar hasta 24 horas de energía. Considera el estuche como una batería portátil. Una carga rápida de 15 minutos en el estuche ofrece tres horas de vida.
Looks like there are no comments yet.
Be the first to comment!