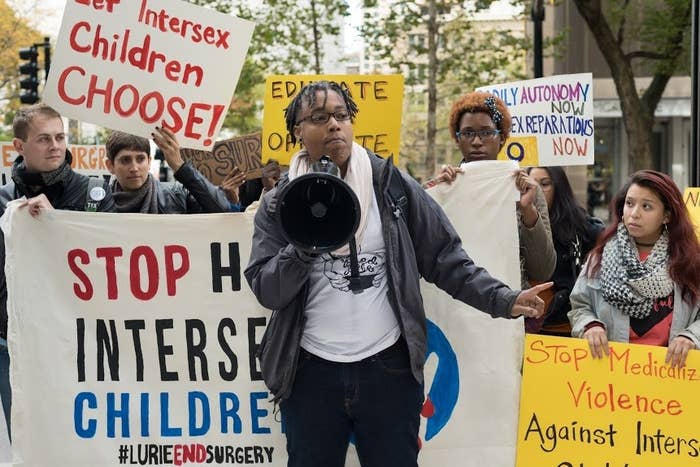 When Lurie Children's Hospital announced last Tuesday that the Chicago health center would no longer perform nonconsensual surgeries on intersex children, Pidgeon Pagonis was in disbelief. Pagonis, a cofounder of the Intersex Justice Project, found out about the news when they received a call from Illinois state Rep. Kelly Cassidy, who had backed a yearslong campaign urging Lurie to stop performing procedures that intersex activists say are destructive and unnecessary. "We did it," Cassidy told Pagonis over the phone. "They're ending the surgeries."

The milestone was a long time coming. In 2017, activists marched in front of Lurie — one of the first medical centers in the nation to open a clinic for young trans people — to oppose surgeries on intersex children. These operations, according to the advocacy organization interACT, include "reducing a clitoris, moving a working urethra, removing functional testes, and creating or extending a vagina." Although they have been performed since the 1960s, Human Rights Watch has claimed such procedures can lead to "nerve damage, incontinence, and sterilization." They have been condemned by Amnesty International and the ACLU and compared to "torture" by the United Nations.
The campaign was personal for Pagonis, who was operated on at Lurie when they were just 1 year old. In various interviews and press appearances over the years, they have described the experience as having their body "remanufactured" into what doctors "deemed more appropriate and normal." At the 2017 protest, Pagonis held up a sign asking, "Where's My Clitoris?"
Following that demonstration, Lurie released a statement saying its team "fully [respects] the diversity of opinions that exist in affected individuals," but it had never publicly apologized for the surgeries until last week. Pagonis said that Cassidy, who is a member of the LGBTQ caucus in the Illinois House, started to cry as she relayed a statement from Lurie admitting that the surgeries are "harmful and wrong," and they both began to forcefully sob into the phone. "I haven't cried like that in years," Pagonis told BuzzFeed LGBTQ. "We're not used to winning."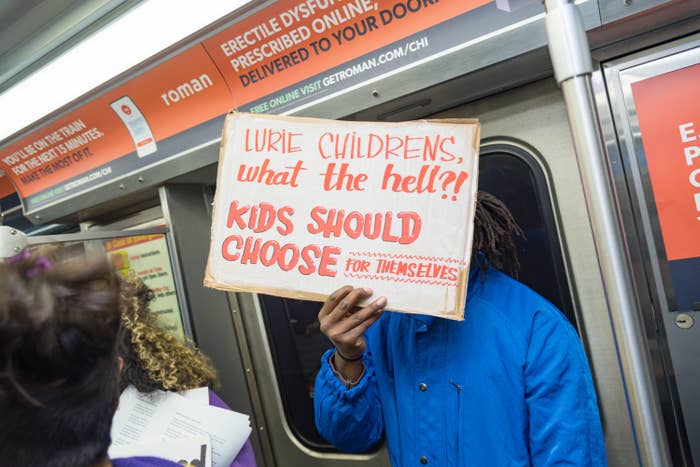 That declaration was historic, representing the first time a US medical center had committed to ending intersex surgeries, but activists hope that this groundbreaking victory can lay the foundation for other institutions to join them. Sean Saifa Wall, who cofounded Intersex Justice Project with Pagonis, was operated on as a teenager at NewYork–Presbyterian Hospital, where his parents were told Wall's undescended testes would turn cancerous if not removed. (Human Rights Watch would later cast doubt on that assertion, noting in an extensive 2017 report that "medical evidence regarding both cancer rates and cancer risks for specific intersex conditions … is sparse.")

Wall said that undergoing the procedure at such a young age, before he could make an informed decision, taught him that doctors "do not see intersex people as human." "Being African-American, especially on this soil, medicine didn't even recognize Black people as human," he told BuzzFeed LGBTQ. "When you dehumanize someone, it's very easy to commit acts of violence against them. This is what has happened. Because doctors do not see intersex people as normal and capable of having feeling, they're able to continue doing this."
NewYork–Presbyterian did not respond to questions about whether it intends to follow Lurie's lead in winding down intersex surgeries, and as of now, it remains unknown how many US medical centers continue to operate on intersex children. But Kyle Knight, a senior researcher in the LGBT rights program at Human Rights Watch, told BuzzFeed LGBTQ in an email that "evidence of the rate of surgeries and the hospitals performing them is hiding in plain sight." He cited a 2016 report published in the Journal of Pediatric Urology that found that 35 out of 37 parents of intersex children had "opted for cosmetic surgery on their children." A 2017 paper in the Journal of Urology reported nearly identical rates of operations.
"Very few intersex kids are escaping surgery still," said Knight, adding that a 2016 study from the Journal of Steroid Biochemistry and Molecular Biology found that the average patient was just 11 months old at the time of surgery.
Although these operations might appear to affect only a tiny percentage of the population, the United Nations has estimated that up to 1.7% of people have sex characteristics that do not adhere to classical definitions of male and female — making intersex people nearly as common as twins. That means there are roughly 5.5 million individuals living with intersex variation in the US, a population just slightly smaller than the state of Minnesota. Many of these people either do not know they are intersex or never come out due to decades of stigma perpetuated by the medical industry.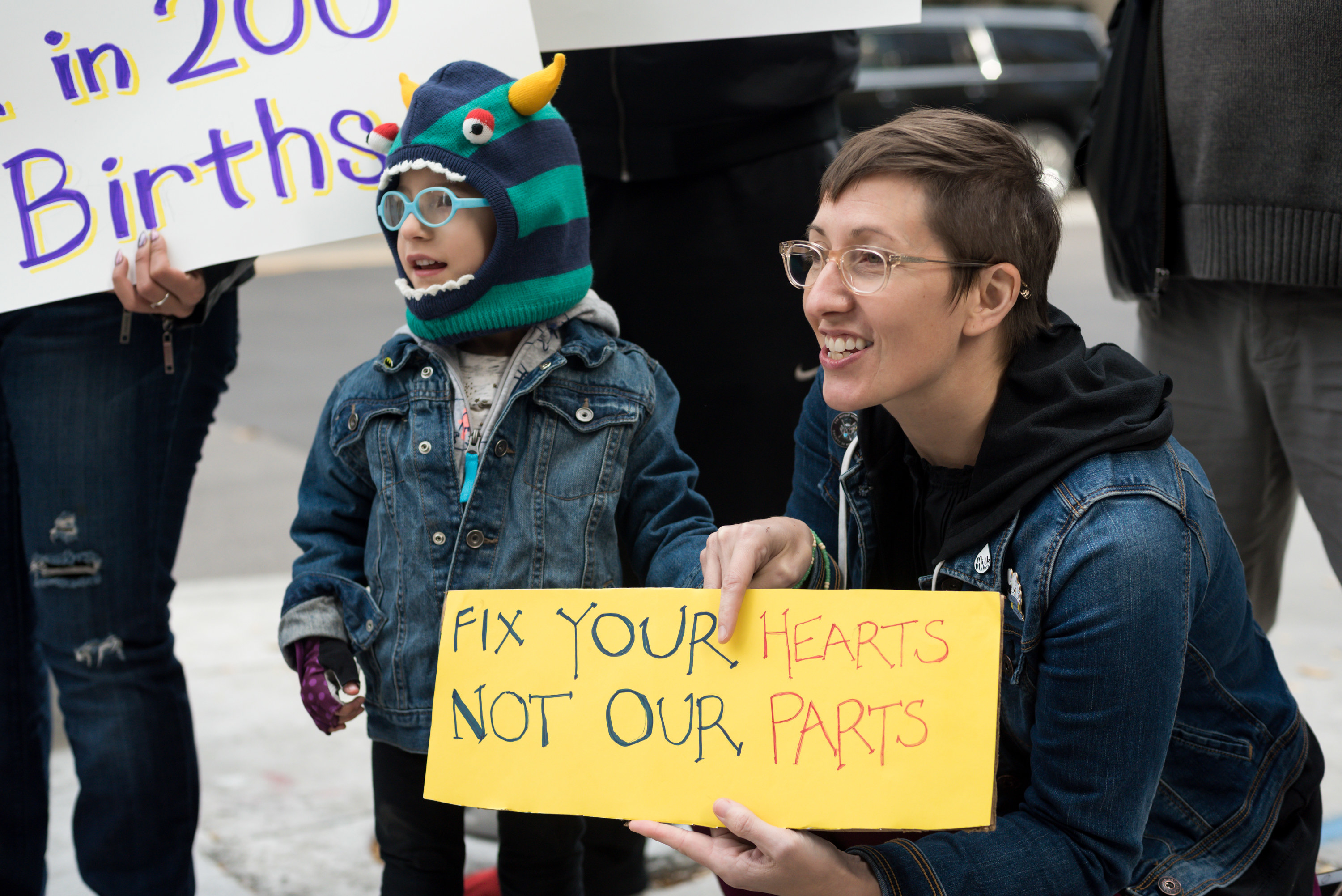 Activists believe the protests against Lurie can serve as a template to encourage other medical centers to stop these harmful practices that victimize an often invisible community. In addition to receiving the support of local lawmakers, the effort was backed by LGBTQ celebrities and allies like Indya Moore, Angelica Ross, and Gabrielle Union. On Twitter, Moore — who portrays Angel Evangelista on FX's Pose — described nonconsensual surgeries on intersex children as "a form of conversion therapy" and linked to a Change.org petition calling on Lurie to halt "early surgical interventions on intersex kids' genitalia and reproductive organs." The petition quickly went viral after Moore's tweets, garnering thousands of signatures within hours.

Pagonis knew the campaign was gaining real traction when employees who work at Lurie joined in denouncing surgeries on intersex children. Ellie Kim, a research coordinator for Lurie's Trans Youth Care Study, tweeted her support for the Intersex Justice Project on July 13, saying that she could no longer "stay silent on the matter until these mutilations [stop]." "Intersex bodies are beautiful and perfect the way they are and any medical interventions should be up to the individual," she wrote. Just two weeks after that tweet went live, Lurie agreed to revisit its practices.
"Every time we did something, every time we protested, I would think, This is it. They're going to end the surgery," Pagonis said. "But when people started talking from the inside, when they started coming out against Lurie, I thought, This is different."
But although Lurie took the first step toward meeting the demands of intersex activists, many maintain there remains work left to be done. The hospital, for instance, has not ruled out conducting surgeries on children born with congenital adrenal hyperplasia (CAH), one of the most common forms of intersex variation, in the future. In its 2020 statement, the hospital said it would conduct a six-month review to determine "whether the same policy requiring assent/consent from intersex and CAH patients should apply" and committed to hiring an intersex person to take part in those internal discussions.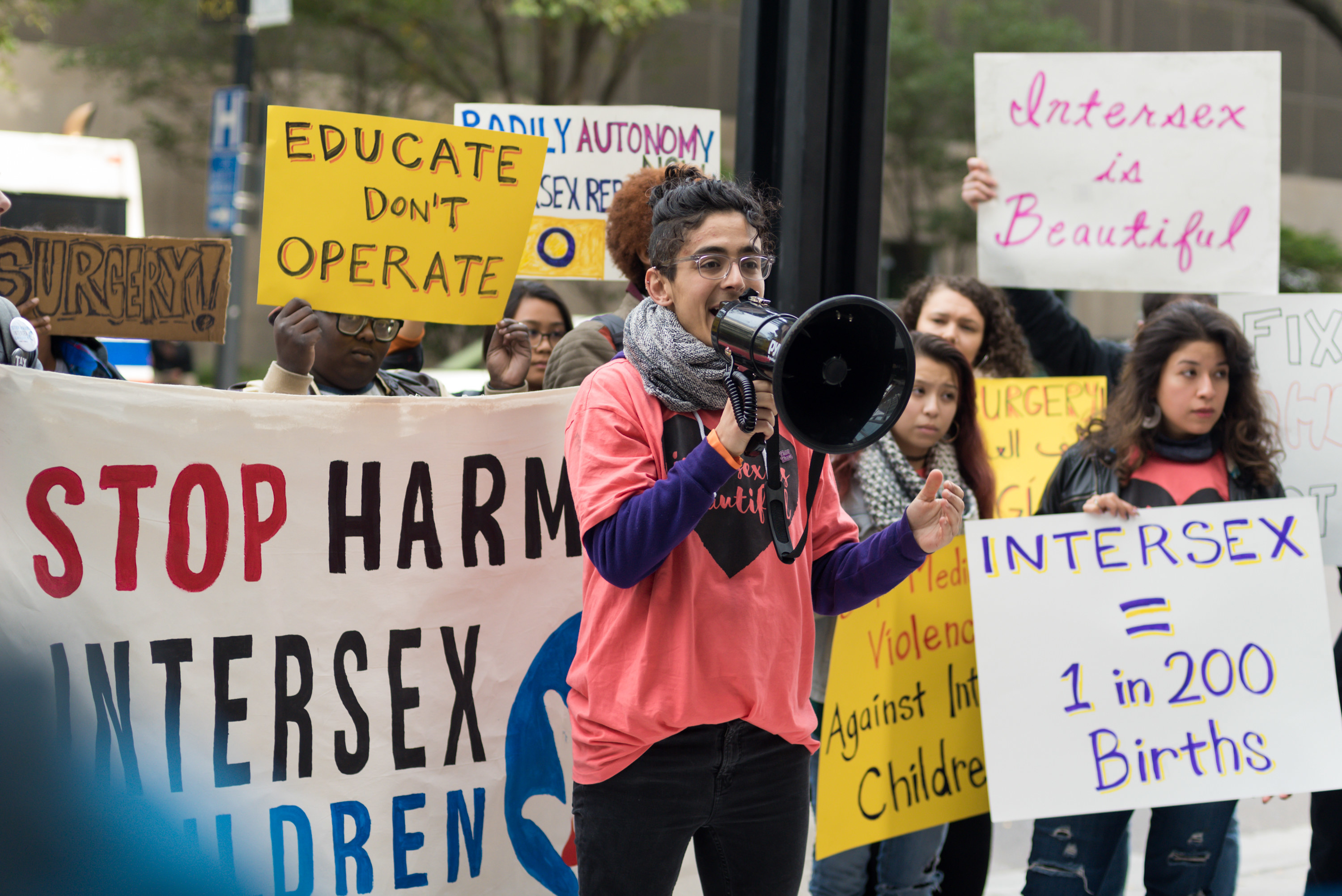 While advocacy groups say that bringing intersex people to the table is a start, interACT argued in a statement posted to its website that "at least two intersex people with backgrounds in intersex human rights advocacy" should participate in the dialogue. Hans Lindahl, the organization's communications director, also wants to see institutions like Lurie commit to reparations for generations of adults who have been irreparably harmed by these surgeries; that includes working to provide them with free or low-cost care that meets their particular needs.

"The massive amount of focus is on infants, which I think clouds the issue for people," Lindahl told BuzzFeed LGBTQ. "There's a population of decades' worth of damaged intersex adults who have nowhere to go. There's no adult intersex care specialty. Endocrinology or hormone doctors who can offer us knowledge and safety are truly rare. It often feels like there's nothing. We're left out to dry completely."
While activists say the ultimate goal is to encourage all medical centers to take proactive, comprehensive steps in support of their intersex patients, resources to staff a large-scale advocacy effort remain limited. Organizations like Intersex Justice Project and interACT are extremely small and predominantly volunteer-led, and Pagonis said the majority of donations that their group takes in go toward art supplies. To help fill that gap, Intersex Justice Project has provided toolkits, how-to guides, and even YouTube tutorials for activists who wish to start their own campaigns. That callout has led to protests in cities like London and Berlin in recent years.
Wall believes that empowering the next generation of intersex activists is critical for the movement to continue and hopes the recent victory against Lurie proves to them that change is possible. During a recent trip to the National Museum of African American History and Culture in Washington, DC, he was inspired by an exhibit on the Black Panther Party, the revolutionary political group that, like the Intersex Justice Project, was founded by just two people: Bobby Seale and Huey P. Newton.
"They inspired a generation of young Black people and really pushed an idea, an ethos, and a cultural stance of Black liberation," Wall said. "Their movement defined a generation. I think this is a lesson that we should never doubt the power of a few people making a difference."
Correction: A previous version stated that Lurie's committed to a six-month review process to determine "whether the same policy requiring assent/consent from intersex and CAH patients should apply" in 2017.
The correct year is 2020.