Courtney Barnett Won't Work With "Big Shot Wankers" On Second Album
Look who was backstage at Splendour In The Grass.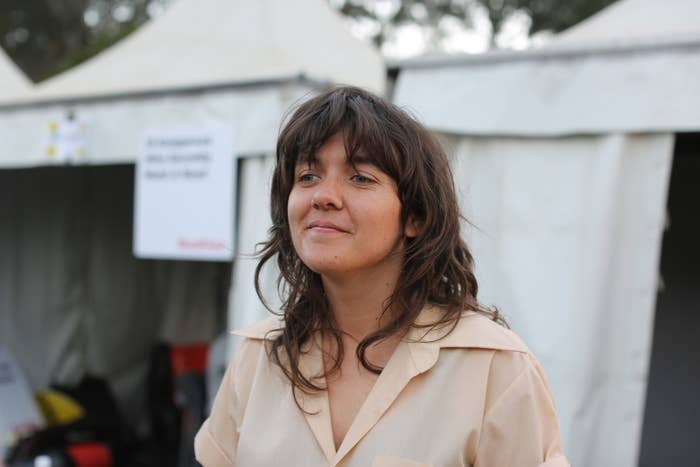 "I don't really like that much music," says Courtney Barnett. We're sitting backstage at Splendour In The Grass. The sun is dropping below the tree line and the fire pit next to us, which has remained unlit all weekend thanks to the unseasonable 26+ degree celsius weather, is starting to smoulder. It's day three of the music festival in Byron Bay and the temperature is dropping. Barnett is scheduled to play at 7:30pm on the main stage, a time that has become the unofficial headline slot for local bands. Violent Soho and Sticky Fingers pulled record crowds on the first two nights of the festival, and Courtney Barnett's not likely to let the local team down.
The singer-songwriter has had a huge year off the back of her 2015 debut album Sometimes I sit and think, and sometimes I just sit. She's played festivals and prestigious venues around the world, plus the coveted end of show slots on The Tonight Show Starring Jimmy Fallon and The Ellen Show. Her star is on the rise, and it's easy to forget that this in-demand artist is still, well, a fledgling studio musician.
"I haven't really recorded that much stuff in my life," she reminds me when I ask what her plans are for album number two. "I've always been of the idea that I like working with people I know and trust."
"Every time I go in the studio and do something, whether it's my stuff or Jen's [Jen Cloher, Courtney's partner and fellow musician] or whatever band, it's still like figuring it out and it's still kind of awkward."
Awkward is not how most fans would describe Courtney Barnett. She's a brilliant performer; a charismatic, quirky woman fronting a rock band that draws huge crowds around the world. She played Coachella again this year, and Lorraine Ali of the Los Angeles Times wrote of the performance: "The Australian singer and guitarist's far-from-airbrushed approach was at odds with the primped and fussy goddess aesthetic Coachella's now infamous for, and clearly that tension made her set one of the more interesting on the Empire polo field Saturday."
Performing live is not the same as recording in a studio, and while she's at the top of her game on stage, in the studio she's still finding her feet. Barnett worked with Australia/Canada-based producer Burke Reid and Dan Luscombe (also the drummer for The Drones) on her debut album. Recording with friends was key to the album's success. "We, like, did the record in 10 days. And that period of closeness, like you spend the first three days chatting." So, can Barnett only make music with people she trusts? "Yeah."

The album won four ARIA awards, and earned her a Best New Artist Grammy nomination, plus a nomination for International Female Solo Artist at the 2016 Brit Awards.
But with success comes attention, and the Melbourne-based independent artist admits she's had a lot of conversations with producers and music industry folks about her second album. Will she record it in Melbourne? "Don't know." Will she work with Reid and Luscombe again? She laughs. "Don't know."
When I ask Barnett if there's been moments when she wonders how the hell she got to the top of the music ladder so quickly, she replies again with laughter, and a Talking Heads lyric: "And you may ask yourself. Well ... How did I get here?" And then replies: "Yeah man, like fucking every day."
Courtney Barnett's first album was seeped in Melbourne references, but she's been writing the second on the road while touring. So there's a possibility she'll head abroad to record it, but she remains coy. "I haven't really been in the position of doing something with a total stranger. You know a big shot whatever, whatever. But also that doesn't really interest me. I don't really want to work with a big shot wanker."
What she does want to do is make art, it seems. Courtney Barnett is not an obsessive musician. She writes poetry and thoughts on scraps of paper. And then pairs that with a riff that she'll pluck out on her guitar. Then the two might come together: "Kind of like they're both at a different party and then sometimes meet."
What she does diligently though is write scripts. Yes, scripts. "When I did the album, when I was getting together all the lyrics and the pictures and artwork and stuff. I wrote a concept, or rather a script, for each song."
"And obviously they're not all going to be made, but it's really fun. I write so much poetry and short stories and stuff, it's just kind of fun to work my mind in a different way."
So does Barnett want to make films one day? "Yeah maybe."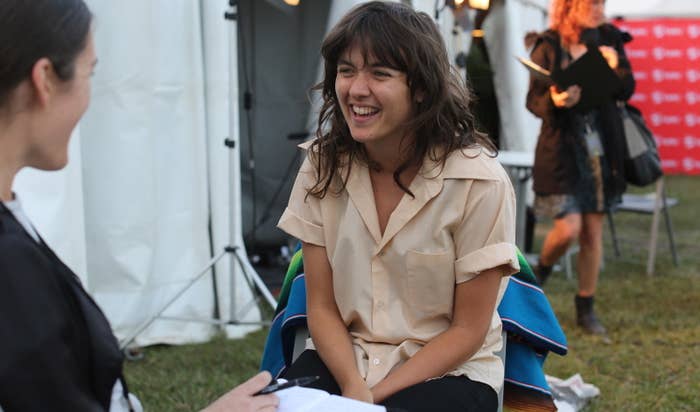 The video for her last release, Elevator Operator, was her idea. But she relies on director friends, in this case Sunny Leunig, to "talk film jargon and make it happen". The video includes appearances from a melting pot of indie talent. Jeff Tweedy of Wilco makes a cameo (he was in Melbourne performing and the two are friends) so too do Australian artists Paul Kelly, The Drones and Tim Rogers. And there are scenes with bands who are signed to Milk Records, the artist-run label Barnett helped found.

Barnett has done a lot to raise the profile of lesser known musicians simply by touring with them, but it's just a mate helping mates not a concerted effort to promote Australian music through her success. "I don't really feel like there's a responsibility," she says. "They're great bands and people are going to discover them regardless."
Before the end of the year Courtney Barnett will (probably) be back in a studio. Where, is still TBC. But one thing is for sure: whomever she picks as a producer will need to keep things interesting. "Otherwise it's boring and pointless," says Barnett.