This entire family huddled around Lake Michigan to watch Bill Devaney pop the question to Breanne Clark. The surprise proposal, seven years in the making, derailed when Breanne's mom, Eva, who didn't know he was going to propose, face-planted.
Bill wanted to propose on Lake Michigan because it was where they went on one of their first dates. After a quick couples photo, Bill said he wanted to get a family photo.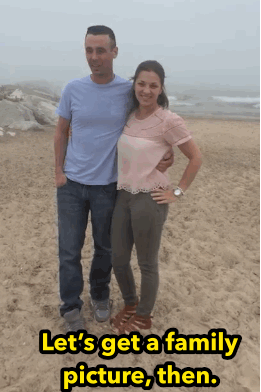 The plan was to somehow distract Breanne so he could get down on one knee. Breanne's sister, Bridgett, told BuzzFeed, "Little did we know my mom's clumsiness would do the distracting naturally!"
Said distraction went down like this...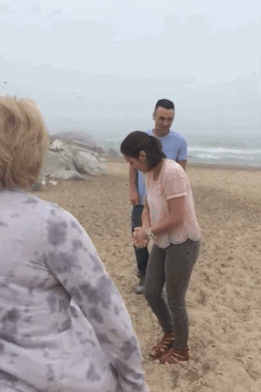 OOPS! Thankfully, Bridgett said, "Nothing got hurt on her except for maybe her ego."
One family member had this reaction and it was EVERYTHANG!
Randy, Breanne's dad, tended to the fallen Eva. Everyone was focused on her fall and Breanne was ~CLEARLY~ distracted!
Which allowed Randy to do the damn thing! He got on one knee...
Eva was missing the whole moment because she was face-deep in the sand. LOL LOL LOL.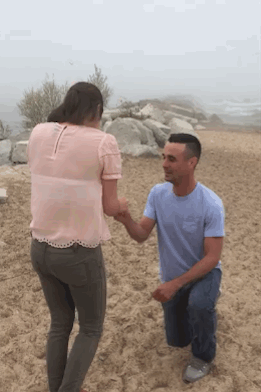 And an unforgettable proposal for obvious reasons.