This Guy Quit His Job So He Could Traveled The World Giving Out High Fives, Because YOLO
What an epic way to say, "F*ck it, I'm out!"
Twenty-six-year-old Craig Lewis, aka Lewie, was working as a marketing manager in Atlanta, until he decided he had had enough of the corporate world. After three years of saving money, he quit to travel the world... and it was beyond EPIC!
Lewie took on the world after quitting his job. He bought an around-the-world ticket with eight stops. He told BuzzFeed he "pretty much winged it through each section of the world."
He kicked things off by jumping off the world's tallest bridge in Millau, France. ALL BY HIMSELF!
He had the most epic safari in Tanzania, and jumped in the Atlantic Ocean off the coast of Namibia.
As if he hadn't already reached epic proportions of ballsy-ness, he even swam with SHARKS!
But it wasn't just all fun and games in Africa — he also took time out to volunteer.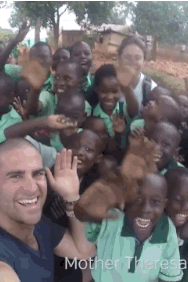 When BuzzFeed asked him what he learned the most from all of this, he said, "I've learned there are amazing people in this world, and that no place is ever as bad as anyone says it is."
Continuing his epic journey through our world, he left us all speechless with this selfie.
He topped it all off with a little partying in Hawaii, Belgium, and Australia.
Lewie is from Australia, but now he's in New York City figuring out what's next.