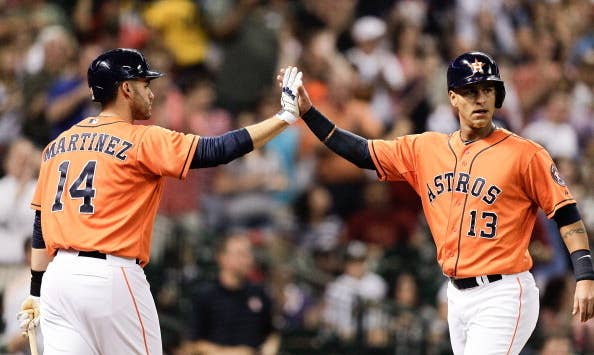 It takes a special type of owner to take a team, in a matter of years, from being a perennial playoff contender coming off a World Series berth to the point where a Chick-fil-A-branded "fowl" pole is the biggest draw in the ballpark. Unfortunately for Houston Astros fans, Drayton McClane was that owner. In 2005 they were in the franchise's first World Series; by 2011 they were 56-106 and McLane was selling the team to Jim Crane.
Rebuilding is nothing new in sports, but Crane and his new front office have set upon the most extreme method of doing it. They traded away every single veteran they had, a sell-off that made Jeffrey Loria, the owner responsible for various Marlins dismantlings, look like a hoarder by comparison. (Ex-Marlin closer Heath Bell plays the role of "dead cat at the bottom of the hoard" in this scenario.) ESPN The Magazine's Astros preview noted that the only suspense about the team's upcoming season was "whether [they] will finish fifth or...very fifth." The process was (and is) mesmerizing, an unprecedented level of bottoming out. And it's coupled with an extremely open PR strategy that's also unprecedented, especially for a team in a big-city market. The Astros are not merely admitting that they might lose some games while they plan for the future, they're guaranteeing it. They're promising that they're going to be awful this year and probably the next. And for now, this kind of "We're going to be terrible — REALLY TERRIBLE" marketing plan actually seems to be working in a way it almost certainly wouldn't have 20 or even 10 years ago.
Here's what general manager Jeff Luhnow told the Houston Chronicle's Ultimate Astros blog before the season, for example: "spending money sometimes can actually be detrimental to your organization. We don't have that as an objective." Luhnow has cut $42 million out of the team's player budget this year, giving the Astros the smallest Major League payroll in seven years. Team president George Postolos has said that while the size of the Houston market means the Astros have the potential to be one of the top five franchises in terms of revenue (and thus, presumably, payroll), he believes that to be "something we're going to have to grow into."
Not buying a new car/third baseman unless you absolutely need it may seem obvious for anyone on a budget, but for a professional baseball team in a huge city, it's a bold move. Most teams in markets this size can't help themselves, like this year's Los Angeles Dodgers "We Want To Win"-branded run toward third place in the NL West, or the New York Knicks' decade-long string of desperate Isiah Thomas spending sprees. Carefully constructed purges followed by the progressive use of talent evaluation, training, and development techniques are usually what happens after your team moves to Oklahoma City or is launched in Tampa, not when you're located in America's fourth-largest city.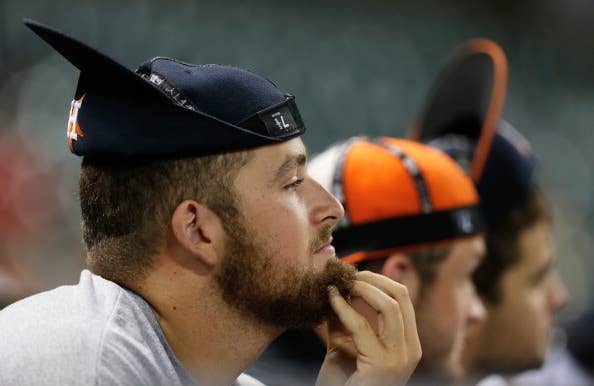 The reason usually given for not doing scorched-earth rebuilding in major markets is that the media and fans won't allow it. But the people of Houston seem to be on board. The Chronicle's Ultimate Astros blog named the team's "sold out commitment to the rebuild" their Best Astros Surprise for 2012. The articles, comments, and message boards of prominent fan blogs like SB Nation's The Crawfish Boxes — which, like all SB team sites, is run by seriously dedicated fans of the organization — either completely support what Luhnow and company are doing, or at the very least demonstrate understanding of the process. An indicative message-board thread title: "It'll all be worth it someday...until then, ignore the noise." Another: "What will you do when the Houston Astros win it all?" Even when you think you begin to see genuine vitriol toward the team, like a fan post called "A culture accepting and nurturing of failure," it'll contain a line like "Jeff Lunhow is a wizard." What we're seeing here is the power of the internet to give fans hope: Blogs and discussion boards and in-depth sites like FanGraphs make it easy to understand the big picture of salaries and prospects in a way that was much more difficult when the only sources of information were local newspapers and a maybe a weekly national publication.
Of course, to get fans of a losing team to appreciate a long-term plan, you have to have a long-term plan to begin with. Such is the lesson of the Miami Marlins, who have cultivated the exact opposite of the serene, hopeful Astros fan/media community. Like the 'Stros, the Marlins severely cut payroll after deciding their roster needed an overhaul. The big difference: The Marlins did so a year after hyping up a huge free-agent binge that they thought would make them World Series contenders, and their reversal of course was conducted without warning. Only well after it was over did owner Jeffrey Loria attempt to explain himself to fans. So over on Fish Stripes, the SB Nation Marlins blog, fans ask "What is Wrong With The Miami Marlins?" and debate whether their 2013 will just be really bad, or literally the worst Major League club ever. The average Marlins fan seems to regularly vent their anger in a way that even the most frustrated Astros fan is unwilling to engage. It's not just that they hate the rebuild, they hate the owners for doing it. This hopelessness has translated to massive drop in attendance, as the Marlins have went from having 73% of their new ballpark filled in 2012 to under 50% this season. They're averaging fewer fans than the Astros. In fact, so are the Rays and Indians.
Considering how bad the Astros have been and will continue to be, headed for their third straight season of 100-plus losses, this seems like a good sign. Pre-emptive counseling between owner and fans before a rebuild might be something we see more of if the 'Stros are able to continue not draw the ire, or worse the indifference, of the local media and fans. Of course, for this plan to really work they will, eventually, have to actually get better — but it's still a remarkable demonstration of the team's faith in the smarts of the modern fan that they may lose as many games this season as any team ever has and still be able to call it a successful one.