Alec Baldwin And Sarah Palin Met On The "SNL" Red Carpet And Tried Very Hard To Like Each Other
"I like your brother more."
Alec Baldwin and Sarah Palin met on the red carpet, and despite their differing political viewpoints, tried their best to like each other… but it didn't last long.
Baldwin, a Democrats supporter, tried his best to put politics aside for the night with Palin... but failed.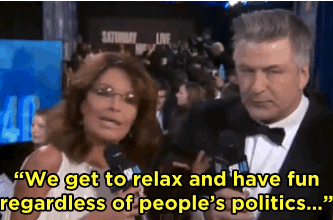 Maybe he should've whipped out this zinger from his SNL appearance a while back.