ESPN Parts With Commentator Who Questioned Robert Griffin III's "Blackness"
Rob Parker will not return to "First Take."
Rob Parker will not return to ESPN after calling Robert Griffin III a "cornball brother," and questioning his "blackness." ESPN did not fire Parker outright, but instead simply let his contract expire at the end of 2012 and decided not to renew it, according to a very short ESPN statement. Parker was formally suspended by ESPN on December 20th for 30 days after his controversial rant on the December 13th episode of ESPN's "First Take."
Evaluating our needs and his work, including his recent RG III comments, we decided not to renew his deal.
Parker tweeted this apology for the segment the day before he was suspended by ESPN.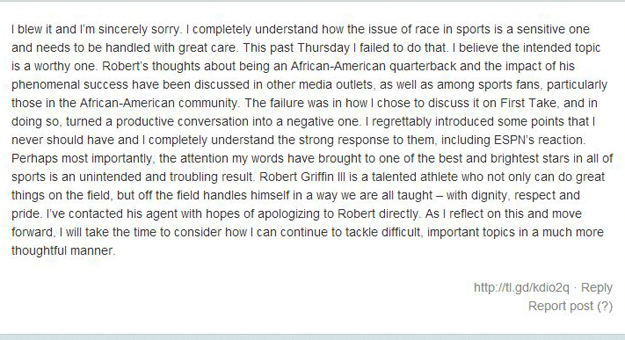 Parker has since been very quiet on his Twitter account, which is still registered as @RobParkerESPN, usually only tweeting thanks to followers who compliment him.