How One Athletic Director Screwed His Football Team Out Of A Bowl Game
Louisiana Tech has the most explosive offense in the country, but you won't be seeing them during bowl week.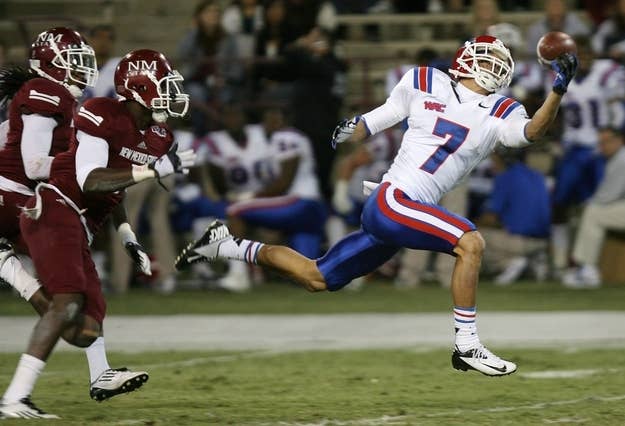 The Bulldogs of Louisiana Tech are 9-3, boast the most prolific scoring offense in the NCAA, and came within two points of upsetting SEC powerhouse Texas A&M in October. Tech scored 51.5 points per game in 2012, and racked up nearly 7,000 total yards. Yet, the Bulldogs won't be going to a bowl game — not because of any NCAA sanctions or bans — but because the athletic director gambled on getting Louisiana Tech into a better bowl and lost.
On Friday night, the Bulldogs were invited to participate in the Independence Bowl in Shreveport, Louisiana, in a proposed matchup against rival Louisiana-Monroe. Tech's AD, Bruce Van De Velde, thought the Bulldogs were worthy of a bigger bowl, so he told Independence Bowl representatives to give his school some time to test the waters.
According to CBS Sports, both the Heart of Dallas Bowl and the Liberty Bowl were possible choices. A representative from the Independence Bowl notified Van De Velde that a final decision needed to be made on Saturday, but he needed to wait until Sunday to hear back from the other bowls.
We had played [in the Independence Bowl] in 2008, and the sponsor is a graduate of Louisiana Tech, so I thought they would wait for us. We all agreed we wanted to wait, so we said to them, 'We don't want to turn it down, but we need time to see how this plays out.
Van De Velde rolled the dice and waited until Sunday, but no other bowls came calling. When Northern Illinois was selected for a BCS bowl over Oklahoma, it sparked a chain reaction which led to the selection of Big 12 school Iowa State over Louisiana Tech in the Liberty Bowl. Oklahoma had been projected to play in a BCS bowl as an at-large selection, which would've given the Big 12 two teams in BCS bowls (Oklahoma and Kansas State) and prevented them, for reasons too arcane to explain here, from playing in both the Heart of Dallas and Liberty Bowls. So when Northern Illinois bumped Oklahoma out of the BCS, it opened up an extra non-BCS slot for the Big 12. The Heart of Dallas Bowl snatched up the Big 12's Oklahoma State and the Liberty Bowl chose the Big 12's Iowa State, closing those spots off from Louisiana Tech. And when Van De Velde tried to go back to the Independence Bowl, he found that Lousiana Tech's spot had already been filled, by 8-4 Ohio University. And thus Louisiana Tech was left without a game to play in.
Louisiana Tech head coach Sonny Dykes and his players went from ecstatic to heartbroken in the span of a few hours Sunday.





Louisiana Tech alum Karl Malone had some harsh words for the athletic department on Twitter (and was maybe angling for a job).