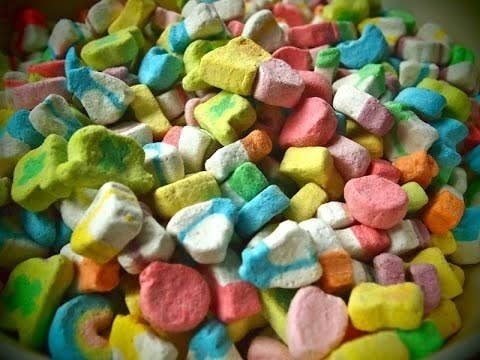 Get ready to read the greatest thing you will see all week.
Medley Hills Farms is offering Lucky Charms lovers a way of purchasing just the marshmallow portion of the famous cereal on Amazon. SAY WHAT?! That's right, you can now order those delicious and colorful dehydrated marshmallows on their own without the toasted oat pieces.
The marshmallows can be used in a variety of ways such as an ice cream topper, mixed into a nice cup of hot chocolate or you can just add milk and enjoy them that way.
Amazon user David Croach writes "I almost never write reviews, but this deserves one. It's probably the best thing I've ever purchased on Amazon, which is crazy since I'm a shopaholic."
The 1 pound bag of marshmallows are available now for a price of $11.49.
To purchase your own bag head here
Have you ordered your own bag of these marshmallows? Do you plan on doing so? Drop a comment below and let us know what you think. All in all I'm sure it can be said that this product is certainly magically delicious.