Warm Potato Salad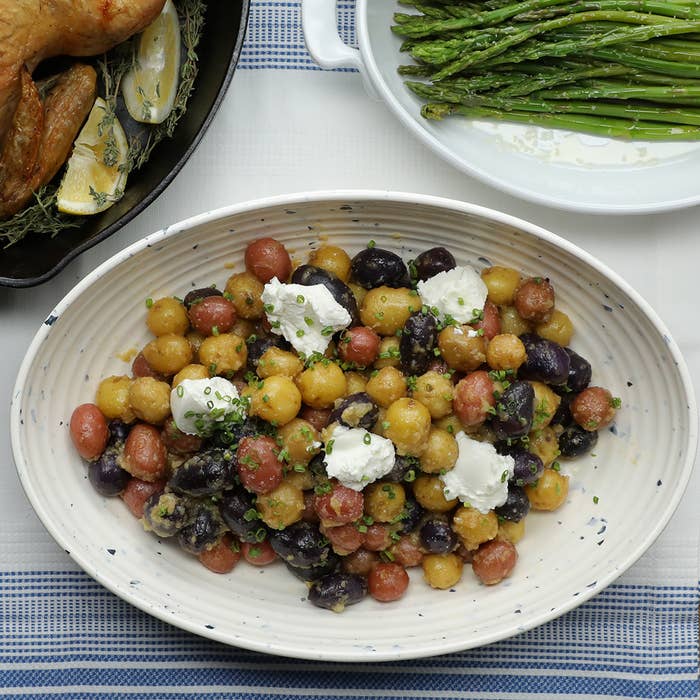 INGREDIENTS
Servings: 4-6
Caramelized Onion Vinaigrette
2 large yellow onions, thinly sliced
2 tablespoons unsalted butter
2 tablespoons olive oil
2 tablespoons sherry vinegar
2 teaspoons Dijon mustard
½ cup olive oil
Splash of lemon juice
Salt, to taste
Salad
2 pounds baby potatoes
2 ounces goat cheese
2 tablespoons chives, thinly sliced
Salt, to taste
Additional chives to garnish
PREPARATION
1. Heat a large skillet over medium heat. Add the butter and olive oil. Add the sliced onions, stir to coat. Maintain low-medium heat, stirring occasionally, until onions are golden brown. Season with salt and remove from heat.

2. Add ½ cup of the caramelized onions to a food processor, along with the sherry vinegar, Dijon, and lemon juice. Pulse until smooth.

3. Slowly add the olive oil while the machine is running in a thin stream. Season with salt.  

4. Add the potatoes to a large pot and cover with cold water. Bring up to a boil and cook until the potatoes are fork tender. Drain.

5. Pour the caramelized onion vinaigrette over the warm potatoes and add the chives.  Season with salt and fold together.  

6. Top with goat cheese and garnish with additional chives.