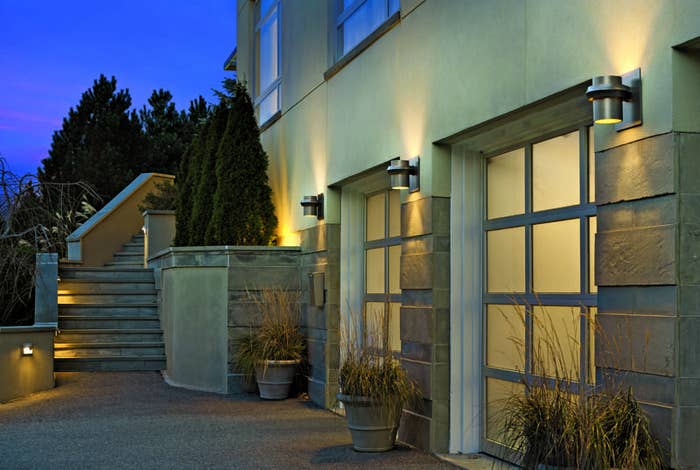 The holidays are just around the corner, which means that everyone is starting to spruce up their homes for entertaining. According to the American Lighting Association (ALA), it's simple to make your home warm and inviting by updating your ambient lighting.
Start with the exterior.
The holidays typically entail celebrating and hosting friends and family, which means your outside lighting plays an important part in giving your home an inviting feel.
"Landscape lighting can solve a lot of different problems," says Joe Rey-Barreau, education consultant for the ALA and associate professor at the University of Kentucky's School of Interior Design.
Rey-Barreau says this can include path lighting to direct guests to your home, and suggests LED lighting, which is energy efficient and has a long life span.
Brent Protzman, manager of energy information and analytics at Lutron Electronics, also offers some exterior lighting tips.
"To create a magnetic, inviting exterior, first provide general façade illumination to highlight the form of your home's exterior and avoid dark areas near the main entrance," Protzman says. "Adding landscape lighting to trees, shrubs, and walkways is also welcoming."
Welcome guests as they enter.
With colder weather and snow, guests will spend some time in your entryway to shed winter coats, boots, gloves, and hats. To this point, you don't want guests fumbling around in the dark.
Rick Wiedemer, president of Hinkley Lighting , says your foyer should always have a central fixture.
"For a two-story foyer, use a large hanging fixture," Wiedemer says. "A one-story foyer is going to have a nice flush or semi-flush decorative piece."
Protzman and Rey-Barreau both suggest installing dimmers as well.
"Having the entry lighting too intense can be uncomfortable after coming in from a dark exterior," Protzman says. "Consider using a dimmer in an entryway to cut the intensity at night and reduce potential glare and discomfort."
Create a warm ambience.
Your home heating system and a fire in the fireplace are not the only ways to keep freezing temperatures outside at bay. The color temperature of your lighting can also lend a warm atmosphere to your home.
"We believe 2700 Kelvin is the most used and most pleasant," Wiedemer explains. "It is most like normal outside lighting without looking into the sun."
LED light bulbs can enhance your ambient lighting as well. Some LEDs are tunable so you can adjust the color temperature with a built-in dial or a smartphone app. Additionally, you can find color-changing LED products if you want to alter the theme to match the holiday.
Visit a local ALA retailer or americanlightingassoc.com to learn more.