Marathons run: 1 full marathon, 2 half marathons

Best time: 3 hours 45 minutes
Go-to post-marathon meal: A roast dinner with all the trimmings, followed by a sticky toffee pudding
Gus Albuquerque, 39
Marathons run: 6
Best time: 2 hours 40 minutes
Go-to post-marathon meal: Sushi
Marcus Schodorf, 43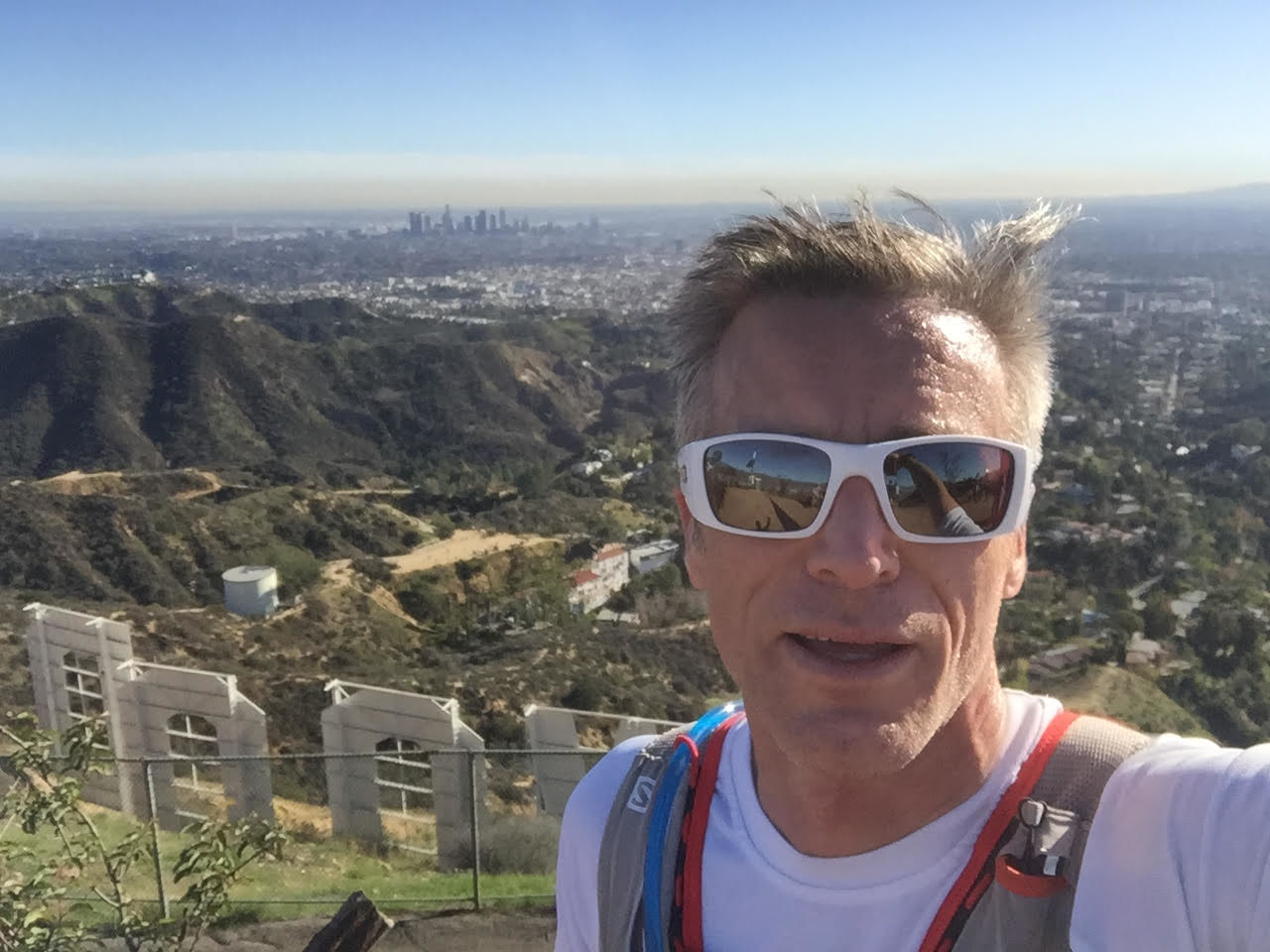 Marathons run: 8, plus several ultras from 50 kilometres to 50 miles and plenty of non-race marathons

Best time: 3 hours 4 minutes
Go-to post-marathon meal: Beer, and something salty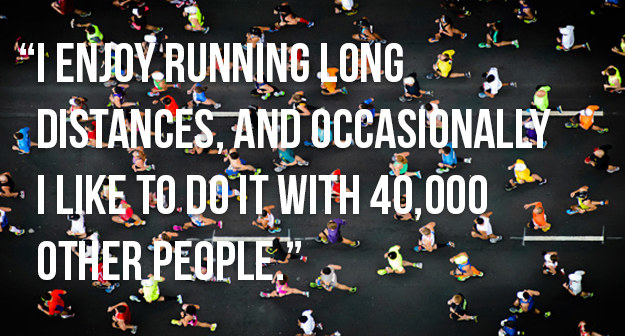 Why do you run marathons?
Marcus: I enjoy running long distances, and occasionally I like to do it with 40,000 other people.
Sarah: I run for peace of mind. Running helps clear my head if I've busy day and speeds up the relaxing process. I know when I get home I can sit down guilt free! Plus when you train for a marathon, it gives you goal to focus on. I find all other aspects of my life benefit from this sense of purpose.
Gus: To challenge myself.

What makes a marathon experience special, unique, and worthwhile compared to shorter races?
Sarah: For me, it was the build up to the marathon, increasing my distance and surprising myself with what I was capable of. Then, on the day, the atmosphere was overwhelming. It is the only time in my life I've felt like a celebrity!
Gus: Whether you're running a shorter or longer distance, you still get the same discomfort. For a marathon, you spend more time in the discomfort zone but also more time experiencing a heightened connection with nature and yourself.
Marcus: I did my first marathon because I got free entry from a friend. I was hooked by the crowds and enthusiasm but I also got hooked on the distance. I just love heading out in the woods for a few hours and hitting cruise control. The only time I've ever really reached anything approximating meditation or mindfulness was two hours into a trail run. I think the main difference between a short and run long is really just mental – not even conscious mental, but something a bit deeper and more primal. My first marathon was terribly painful, but by the fourth it was easy-peasy with essentially the same level of training (and 20 minutes faster). I think your body just adapts to the new reality.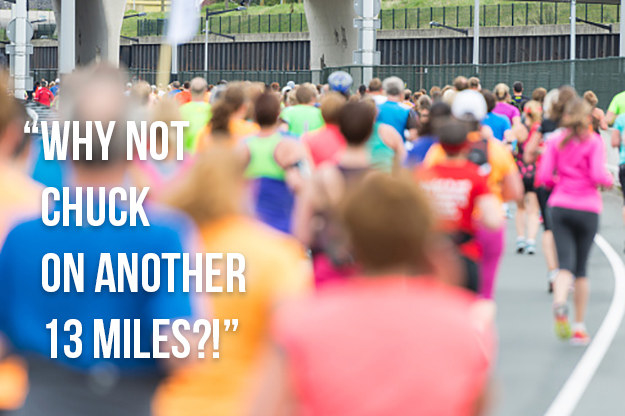 At what point did you think, "Damn, I'm going to be able to run 26 miles"?
Marcus: I never really doubted it. I just sort of went out and did it.
Sarah: I ran a half marathon six months prior to the marathon. I trained hard and never thought I would make the distance. Turns out that I loved the experience and still had extra energy in my legs by the end. That's when I thought, "Why not chuck on another 13 miles?!" So I signed myself up for the full distance.
What do you do if you need to pee?
Sarah: I made sure I was up early in the morning before my race so I could get my fluids in early and then stopped drinking an hour before. I only had to go once at the very beginning. Didn't want to do a Paula.
Gus: I've somehow never had this issue when running a marathon. I had it once during an ultra-marathon on a steep uphill climb in a forest so I just peed while I was running up the hill.
Marcus: I've only had to stop once! I just stopped at a Portaloo and didn't end up losing too much time.
What do you think about while you are running?
Sarah: In training, I think about my day; things I need to do at home and at work, plus planning my outfits for the week makes the times fly! When it's race day, I am a bundle of nerves before I start, and while running my thoughts are simply: "Hurry up – one foot in front of the other."
Marcus: Ideally, nothing. That is my goal, but most of the time I just have a song on a mental loop in my head.

Gus: I just think "keep pushing".
Have you ever experienced "the wall"?
Sarah: Mile 21. I had never run further than that before. My knee was in agony even with all the painkillers I was popping. It was tough. It was a moment in my life when I truly understood how determined I was. There was no way I was letting all the training and sacrifices I had made in the last six months go to waste. So I must have half four/five energy gels and powered on through – it did mean I felt very sick from all the sugar at the end.
Marcus: Yeah, there just comes a point where the legs feel more like concrete. Dig in, lower your speed, keep truckin'. The race always ends at some point.
Have you ever walked during a race?
Marcus: Pretty much every time I get to a water station. I don't like to swallow while running, I get air in my stomach. I'm crap at drinking out of those little cups on the go!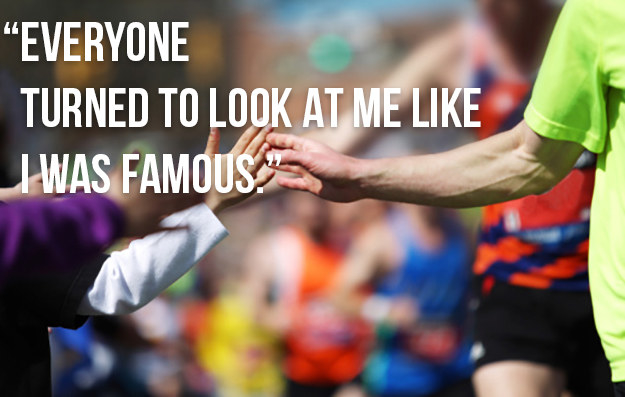 Do the crowds actually make a difference?
Sarah: Yes – they give you that extra boost when you are flagging. I remember at mile 14, all my girlfriends cheered and their screams were so loud, everyone turned to look at me like I was famous – I genuinely felt it. I think I beamed for the next 5 miles.
Gus: Definitely!
Marcus: Totally. NY is my favourite marathon because of the crowds. But then again, I had a dandy time in the Bear Mountain 50-miler, and there were very few people hanging about in the woods. You just have to enjoy running.
Do you think anyone can do it?
Sarah: Yes. Absolutely. Walk it if you can't run it. It's just a matter of building up the mileage – and giving up your social life while training.
Marcus: Anyone with a decent level of fitness. a commitment to training and or a bit of grit.
What did you have to give up when you were training?
Sarah: Wine. Very, very painful.
Gus: Things which quickly lost importance anyway.
Marcus: Not much, if anything!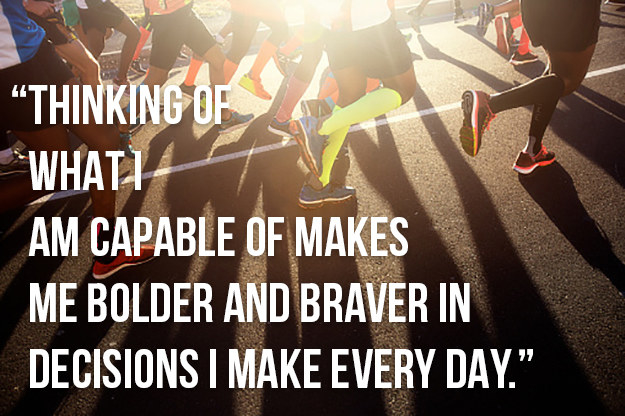 What is the worst bit about running a marathon?
Sarah: The pain. My body isn't built to run that far. My knee did not want to do it. I remember a hilly 17-mile training run, where I cried the last 10 miles because of the pain – and had to be scooped off the floor when I reached home. It made me really think whether I could do it. So, to give myself the best chance, I went and got my knee checked out, had regular physio, and changed my training runs to only flat routes. I worked around my weakness.
Gus: I'm prone to injuries because I find it difficult to accept that I need a good recovery period post-race, and I generally want to live the high of running again.
Marcus: Waking up early to get to the start. Also, not being in great shape because you got injured during training (unfortunately happens all too frequently).
And the best?
Sarah: Finishing – and thinking about it now. Thinking of what I am capable of makes me bolder and braver in decisions I make every day. I now think, if I did that, I can get through today, no problem.
Gus: Running gives you an opportunity to fight, become stronger, broaden your horizons on the finish line, and learn more about yourself.
Marcus: The crowds and the finish line, of course!
New Balance wants to help you conquer your own marathon this year. Check out their new My Future Self campaign.