I get emails from my high school pretty regularly. Sometimes, the info is important and I appreciate the update, but normally I scoff and go about my day. They're still throwing money at problems that don't exist? Word. This time, however? This time was different.
I read the first few sentences multiple times to make sure I fully understood what I was reading and let out an emphatic, "are you serious?" Of course, I kept reading when I knew I should have stopped.

First of all, I have no idea what Niche is, so there's that. As I continued reading, I continued to grow frustrated with the level of significance placed on a somewhat menial topic.

The message goes on to detail inquires made to the independent school associations of which the school is a member as well express doubts and concerns regarding the data collection methods used to establish the rankings. As a student currently enrolled in an education research course, I can respect and appreciate the need and desire to do some fact checking.

This still didn't take away from the fact that I was incredibly annoyed, frustrated, disappointed, and a little offended that my school cared this much about this ranking! I went on a twitter rant. I forwarded the email to a friend who graduated from the rival school across town. I sent texts to my college friends, a colleague, and of course one of my high school classmates.
Generally, we all agree, but my friends provided some context that I had overlooked in my emotional response. Yes, the email was excessive but shouldn't have been surprising.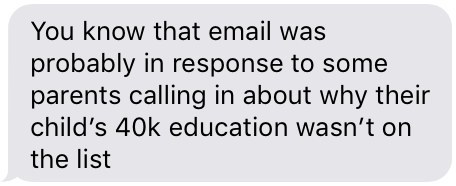 The school is in a wealthy town, and most of the students come from pretty well-off families. I mean, that makes sense for a $40K secondary (primary costs a tad less) education--duh! Parents and donors care and matter, and that's unfortunate. It's unfortunate in the context of the bigger picture.
I work with students from extremely different circumstances than the majority of the students at Sacred Heart Greenwich. I am committed to the betterment of our nation's public education system. I recognize that I was afforded opportunities to which people like me who come from places and circumstances like I come from don't readily have access. I see so much farther than Niche.com, and that sometimes puts me in a weird conflicted position.
To this day, my classmates and I affectionately refer to our graduating class as LOVE '09. That alone is enough to show how powerful and positive my seven years at CSH were. The true impact on my life is ultimately immeasurable, but I owe so much to those seven years:
* Ability to stand confidently in my leadership skills as a woman
* Understanding of the importance of learning both in and outside the classroom
* Solid foundation for my faith to flourish
* Value of service to others
(And even periodic motivational group text messages from a LOVE '09 dad. C'mon--that's pretty dope!)
The conflict is real and tangible for me. I struggle with feeling like a hypocrite in the college access work I do now and with potentially feeling the same way when I am an actual instructor in a school. Luckily, I have friends who care just as much about this work and help keep me grounded and focused on the real issues.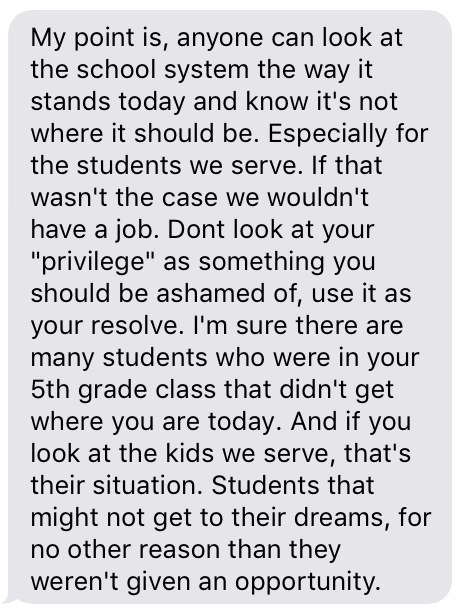 So, my goal isn't to drag the school through the mud. I want to hold its administration accountable. The email I received from the head of school and fellow alumna two days ago makes it hard to stay grateful. It makes it hard not to turn bitter and grow ashamed of my Sacred Heart roots.
Quite often (not to get full. blown. Sacred Heart on you), I think about how Madeleine Sophie Barat said she would have founded the network of Sacred Heart schools for the sake of one child. For the sake of one child. I don't know--Niche.com seems a ways off from that philosophy.