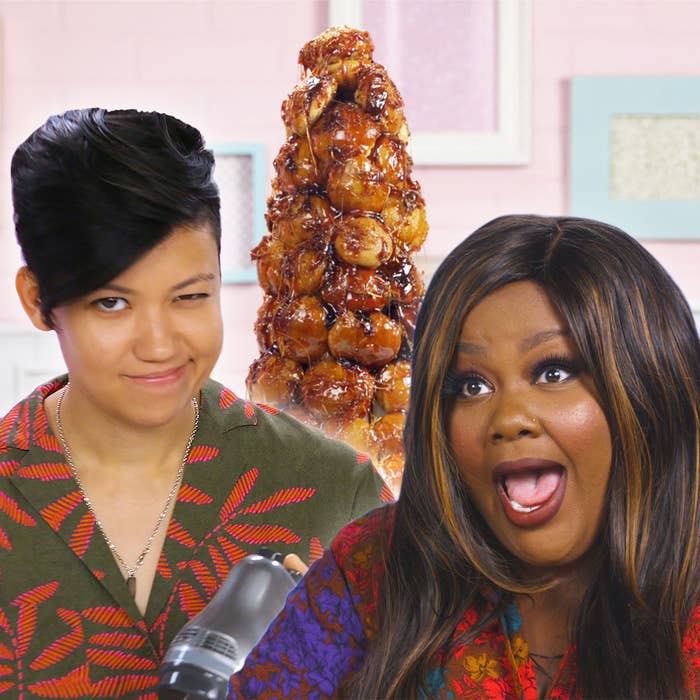 INGREDIENTS
PASTRY CREAM
* 6 cups milk, divided
* 1½ cups granulated sugar
* ½ cup cornstarch
* 15 egg yolks
* 1½ sticks butter
* 2 tablespoons of vanilla extract
PÂTE À CHOUX
* 1½ cups water
* 2 cups all-purpose flour
* 1 tablespoon sugar
* ½ teaspoon salt
* 1½ sticks butter
* 9 eggs
CARAMEL SAUCE
* 2 cups granulated sugar
* ½ cup water
PREPARATION
1. Preheat oven to 425°F/215°C.
2. Make the pastry cream: Combine 5 cups milk, vanilla, and salt in a heavy-bottom saucepan. Heat to scald. Remove from heat.
3. In a medium mixing bowl, combine egg yolks, 1 cup milk, and cornstarch, then mix until a slurry forms. Strain mixture.
4. Temper the egg mixture by quickly pouring 2 cups of the hot milk mixture into the egg mixture, stirring immediately to combine. Slowly pour warmed egg mixture back into the saucepan with the scalded milk and return to stovetop on medium heat. Continue to whisk mixture vigorously, making sure to not let the bottom burn. Mixture will thicken to a pudding consistency in about 10 minutes. Add butter and mix well, then strain pastry cream to eliminate any possible lumps. Set aside to cool.
5. Make the pâte à choux: Add water, butter, salt, and sugar to a medium heavy-bottomed pan. Heat until boiling, then remove from heat.
6. Sift flour and add all at once to the boiling mixture, stirring with a wooden spoon and mixing vigorously until all the flour has been hydrated. Put the pan back on stovetop and continue cooking while stirring, until dough forms into a ball and pulls away from the sides — and the excess water has evaporated. (About 5 minutes.)
7. In the bowl of a stand mixer (or hand mixer), carefully place the hot dough in a large heat-resistant bowl and begin mixing to help cool the dough down to just about body temperature.
8. Once mixture is cool enough, add eggs one at a time, waiting until the initial egg is fully incorporated before adding the next one. Scrape the sides of the bowl to make sure everything is fully mixed. Transfer to a pastry bag fitted with a ½-inch tip.
9. Pipe the dough (leaving 1 inch between puffs) onto parchment-lined baking trays. Brush with egg wash and bake for 15 minutes at 425°F and then 10 minutes at 350°F to finishing drying out the puffs.
10. Fill a piping bag with cooled pastry cream and fill puffs with cream. Set aside and prepare the caramel.
11. Make the caramel: In a small saucepan, combine sugar and water. Allow the water to hydrate the sugar completely, so the dry sugar doesn't burn. Place on high heat until the mixture turns light brown, then remove from heat.
12. Carefully dip the top half of the puff in the caramel, stacking on a plate in a circle with the top facing forward. Continue in a circular formation, making each layer smaller, until a cone is formed. Top with remaining caramel and enjoy!