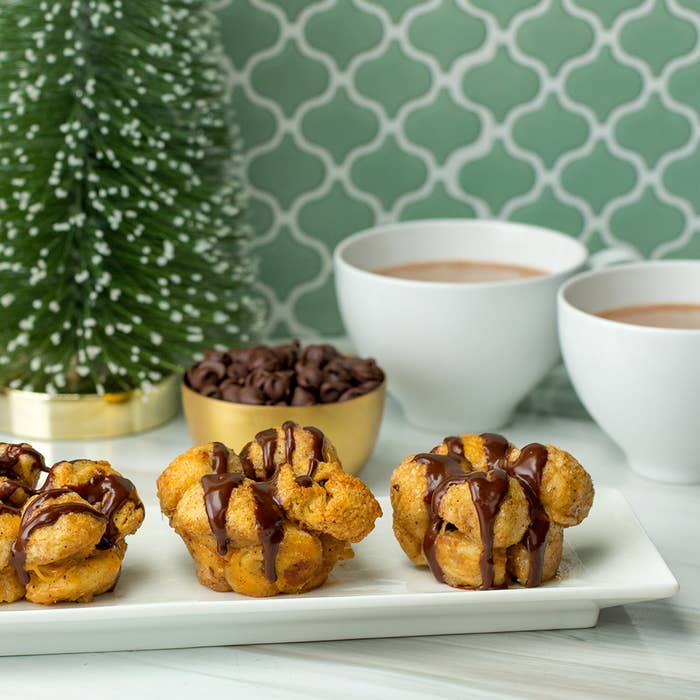 Ingredients
2 (16.3-ounce) cans refrigerated biscuits
1 cup Nestlé®Toll House® Semi-Sweet Chocolate Morsels
½ cup granulated sugar
2 teaspoons ground nutmeg, divided
½ teaspoon ground cinnamon
½ cup butter
¾ cup brown sugar
2 tablespoons Carnation® Evaporated Milk, plus extra for drizzling
1 teaspoon vanilla extract
½ teaspoon kosher salt
Chocolate Drizzle
½ cup Nestlé®Toll House® Semi-Sweet Chocolate Morsels
½ cup Carnation® Evaporated Milk
½ teaspoon ground nutmeg
½ teaspoon kosher salt
Preparation:
1. Preheat oven to 350ºF (325ºF for convection ovens). Grease a (12-hole) muffin tin and set aside.
2. Cut each biscuit into 6 pieces. Fold each piece around 3 Nestlé®Toll House® Semi-Sweet Chocolate Morsels.
3. Mix sugar, 1½ teaspoons nutmeg, and cinnamon together in a bowl. Toss biscuit pieces into the sugar-spice mixture to coat evenly.
4. Combine butter, brown sugar, Carnation® Evaporated Milk, vanilla extract, kosher salt, and ½ teaspoon nutmeg in a small pot. Place over low heat and stir occasionally until everything is melted. Remove from heat.
5. Place 4 biscuit pieces in each muffin-tin space. Pour a small spoonful of butter mixture over them, then add 4 more biscuit pieces and another spoonful of butter. Repeat until muffin tin is full (each muffin should have a total of 8 biscuit balls).
6. Bake for 12–14 minutes (placing a tray underneath to catch butter drips) until muffins are golden brown and dough is cooked through. Remove from oven.
7. Let cool in the muffin tin, then remove.
8. Chocolate drizzle: Place all ingredients in a small pot over low heat. Stir occasionally until chocolate melts into a sauce. Drizzle over muffins and serve!