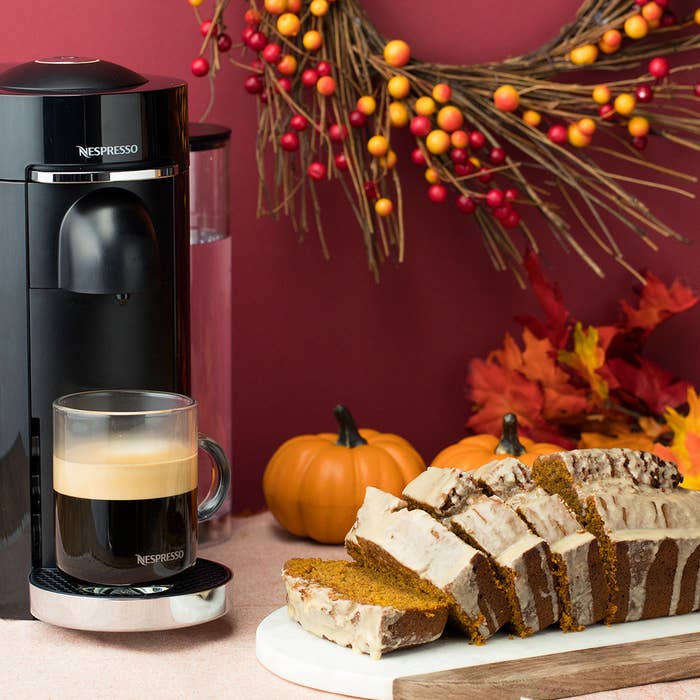 Servings: 8
Ingredients:
Bread
1¼ cups sugar
½ cup vegetable oil
⅓ cup (2.8 ounces) Nespresso Melozio coffee, cooled
8 ounces canned pumpkin purée
2 eggs
1¾ cups all-purpose flour
1 teaspoon salt
1 teaspoon baking soda
½ teaspoon baking powder
1½ teaspoons cinnamon
1 teaspoon ground ginger
½ teaspoon ground nutmeg
¼ teaspoon ground cloves
Latte Glaze
1 cup powdered sugar
½ teaspoon salt
2 tablespoons Nespresso Melozio coffee
½ tablespoon heavy cream
Preparation:
1. Preheat oven to 350ºF (325ºF for convection ovens). Grease a loaf pan and set aside.
2. In a medium bowl, whisk together sugar, vegetable oil, Nespresso Melozio coffee, pumpkin purée, and eggs.
3. In a separate bowl, whisk together flour, salt, baking soda, baking powder, and the spices.
4. Whisk the dry ingredients into the wet ingredients until just combined.
5. Pour batter into loaf pan.
6. Bake for 60 minutes or until a toothpick inserted into the center comes out clean.
7. Remove from oven and let cool for 15 minutes before removing bread from pan. Finish cooling loaf on a cooling rack.
8. Glaze: Whisk together ingredients until smooth.
9. Pour glaze over cooled loaf. Slice and serve.