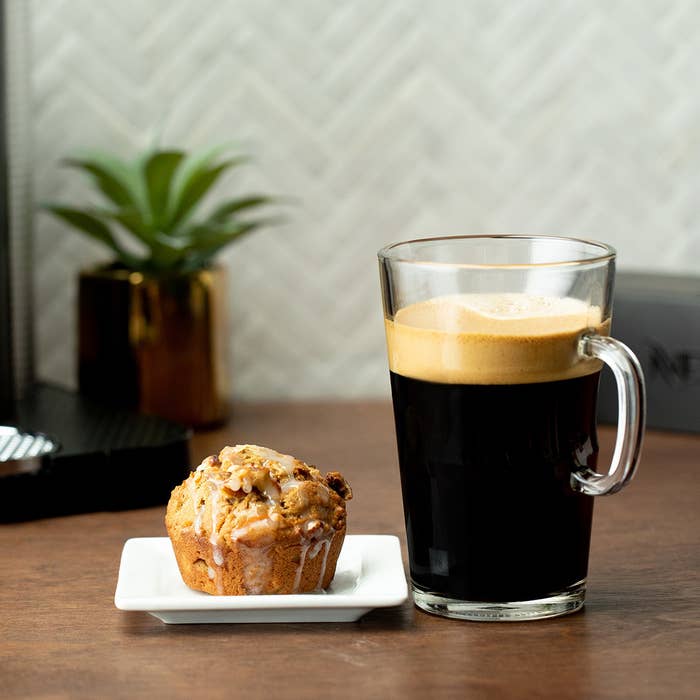 Servings: 14–16 muffins
Ingredients:
1 cup whole-wheat flour
1 cup all-purpose flour
2 teaspoons baking powder
1 teaspoon salt
2 teaspoons cinnamon
1 teaspoon ground ginger
1 cup brown sugar
⅔ cup melted coconut oil
¼ cup Greek yogurt
½ cup applesauce
3 eggs
2 teaspoons vanilla extract
2 cups shredded carrots
½ cup plus 2 tablespoons chopped walnuts, divided
¼ cup oats, divided
Glaze:
¼ cup Greek yogurt
Pinch of salt
1 cup powdered sugar
Nespresso:
1 cup of Nespresso Melozio coffee (230 ml / 7.7 oz)
Preparation:

1. Preheat oven to 350ºF.
2. Sift together whole-wheat flour, all-purpose flour, baking powder, salt, cinnamon, and ground ginger in a medium bowl. Set aside.
3. In a larger bowl, whisk together the brown sugar and the melted coconut oil. Whisk in the Greek yogurt and applesauce. Whisk in the eggs and vanilla extract.
4. Add the dry ingredients to the wet ingredients, mixing until only a few streaks of flour remain. Fold in the shredded carrots, ½ cup chopped walnuts, and 2 tablespoons oats.
5. Grease a muffin tin. Scoop about a ¼ cup of batter into each cup. Sprinkle the muffin tops with the remaining walnuts and oats.
6. Bake for 20–25 minutes or until a toothpick inserted into the centre of a muffin comes out clean. Remove from oven and let cool while making the glaze.
7. Glaze: Whisk the Greek yogurt and salt together. Gradually add in the powdered sugar, whisking until the glaze is smooth.
8. Let muffins cool for at least 10 minutes before drizzling with the glaze.
9. Serve with a cup of Nespresso Melozio coffee brewed in the Nespresso Vertuo machine.