This post has not been vetted or endorsed by BuzzFeed's editorial staff. BuzzFeed Community is a place where anyone can create a post or quiz.
Try making your own!
Guys In Wheelchairs Crowdsurfed At Lollapalooza Last Weekend
This guy is a legend. Period.
And that's not all. A guy in a wheelchair crowdsurfed during the Nine Inch Nails gig: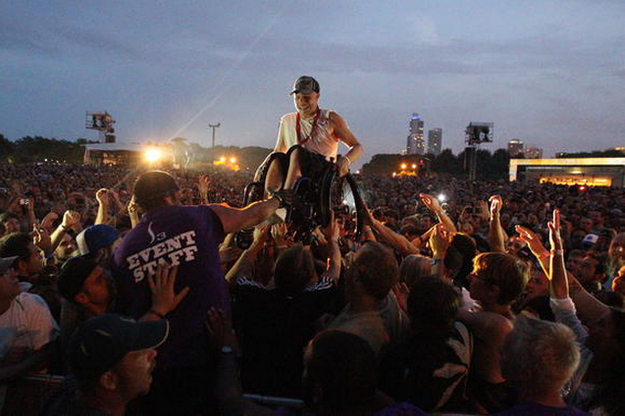 So who is it?
One of these guys is Chicagoan Rick Guardino. He and a friend, both in Wheelchairs, spent Lollapalooza crowdsurfing to the front of stages during their favourite gigs.
Story from the Chicago Tribune:
"He and another fan, both in wheelchairs, were hoisted up and crowd-surfed to the stage, where they watched the rest of the show in the pit directly beneath the rapper.

"It was exciting. It was amazing. It was thrilling. I was thinking, 'My life is crazy and fun at the same time,'" Guardino said in an interview at his downtown apartment. Born with cerebral palsy, Guardino has used a wheelchair most of his life and had neck surgery last fall.

Last year he watched the sold-out Chicago music festival from the handicapped platform. But this time he was determined to be part of the crowd and take in the sets with the throngs of other fans. "I see people crowd-surf all the time, but never nobody in a chair," Guardino said. "At first my other friends said, 'No, that's not a good idea,' but I only get to live once, so I said, 'Let's go.'"
Awesome.