1.
A double-ended glass dildo designed for thrusting with one extra thick end and one slim, so you can pick your preference and go to town.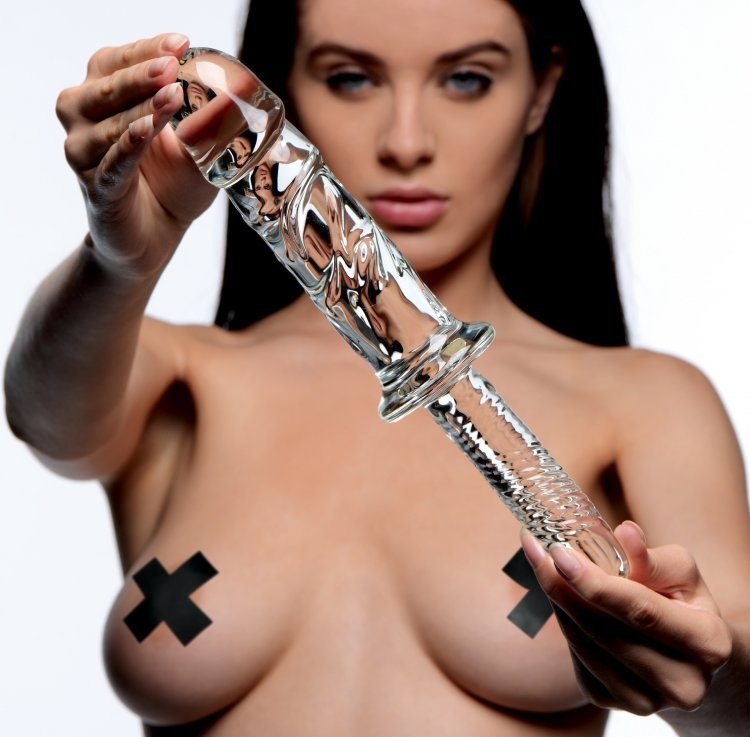 The larger end is 1.75 inches wide and the slimmer end is 1 inch wide. In total, the toy is 11.5 inches long. You ever fucked an icicle before? Now's your chance.
Promising reviews: "Wife wanted a glass dildo so we chose this one due to the variety of size. She loves being filled by the Brutus end and enjoyed the smaller end as well." —Pistol Pete
"I didn't think I'd get this inside me but it was easier than I thought because it's smooth glass and unlike anything I've ever tried. If you like girth, this is for you. It's heavy too, which adds to the amazing feeling. It retains heat while you're using it and feels like a warm hug. Longest orgasm ever with this one. Did not expect that. I would not recommend this for beginners. The smaller end would be suitable for beginners though. I'd definitely try this if I were you. :)" —FUW
2.
A powerful rabbit vibrator that delivers unique kneading and slipping external stimulation in case the rainy weather has you stuck inside and looking for something simple to spice things up.
This dual-stimulating silicone toy offers 10 powerful vibration modes and 5 inches of insertable length to reach that sweet spot.
Promising review: "The color is beautiful and the toy is so soft to the touch. The vibration and mode options make for different experiences and there is something for everyone. The charging is quick and simple so you can get to playing soon after un-boxing. This thing works AMAZING I was skeptical for 25 dollars but thought it was worth a shot. I am so glad I actually took a chance because this baby is the best thing I've ever owned. If you're thinking of giving it a chance do it! You won't be disappointed!" —Shelia
Get it from Amazon for $32.98 (available in purple and teal).
3.
A vibrating masturbator sleeve that does away with all the bulk of a classic masturbator but still delivers with 10 vibration settings and a customized snugness based on your (or a partner's) grip and rhythm.
There's a little bump at the top for an even more stimulating touch to the base of your tip, and ridges on the inside so that every movement offers stimulation.
I don't have a penis, but this looks incredible, and I want it.
Promising reviews: "Where do I start!!!!! This has brought so much more spice into the bedroom. My bf was a bit scared at first, but this has changed our sex life big time!!! It's a must, I don't use it often, but I love it and so does my bf." —Denise S.
"A fantastic masturbation product. All frequencies have a lot to offer. The frenulum tickler is the big plus. This product can make me come in seconds." —Dale
Get it from Amazon for $23.99.
Here's even more strokers that feel like the real thing.
4.
A set of three metal butt plugs in graduated sizes perfect for anal training and long-term play, whether you're new to butt stuff or an experienced pro. Also, they're decorated with a bit of bling to turn that booty into a true work of art. In all seriousness, 3.5K people have given this trio a 5-⭐️ rating, which I think speaks for itself.

Promising reviews: "Experienced user here so started with the largest, slipped right in with minimal effort, put on a thong to help keep it from popping out and have been rockin' it the past six hours, only wish they made a next size up set!" —RandomGuy
"Bought these for my girlfriend and she loves them! And so do I! They are very comfortable and come in the correct size for those that want to take their love life to a new level. If you are new, start with the small size and work your way up. This product is perfect as you can start small and move up as you become more comfortable." —Amazon Customer
Get it from Amazon for $15.88+ (available in 14 colors).

5.
A palm-sized vibrator that can also l-l-l-lick you from your head to your toes, but no really — this toy has a "tongue" that has nine vibrations and nine licking motions for dual stimulation.
Promising review: "After my first use (shoutout for arriving in the mail charged) I came like NO OTHER! I didn't know how I was going to feel about the tongue but it reminded me of the best head I've received so obviously I was in love. I mean it when I say my first immediate thought was, I will no longer need a man because I have this toy. 😂 So if you wanna ditch your man, woman, person, and whoever else, this toy will keep you satisfied probably better than they can. 12/10" —TJ
"With the price of this I didn't expect much...but WOW. I am shocked at how awesome this little gadget is; so awesome in fact I don't even get two minutes in using before it's game over for me (in a really good way). It's easy to use alone or during intercourse for extra intensity (good lordy), waterproof, soft/smooth and easy to clean, charged fast and holds the charge for a shockingly long time. It has more speed/intensity options than I need but having the option to go up is nice. Overall very very happy I stumbled across this little gem." —Kieley Sue
Get it from Amazon for $22.99+ (available in four colors).
6.
A girthy tentacle dildo with a length of 8.7 inches and a maximum diameter of 3.3 inches. Even if fantasy sex toys have never crossed your mind...this one is really pretty and rainy days are the perfect opportunity to mix things up by getting a little weird and off at the same time.
I'm sensing a theme here with sea monsters and sex toys, but this one has a suction base for hands-free play and a tapered design for easy insertion. Oh, can't neglect to mention that this dildo weights 1.1 pounds, so you're definitely going to feel it.
Promising reviews: "Bought this for the wife as the internet is full of people using similar ones on cam. Little did I know that I would become obsolete within minutes of opening the package. All I see now is a rainbow tentacle just hanging from her private part just like some sort of alien horror movie. She has good things to say all around about this thing, more so than my daily work efforts to provide food for the family." —R. Alpizar
"I am a straight guy and fly solo on stuff like this. Wow, what a rush! The suction cup is perfect, this thing won't fall off a good contact surface and you can keep coming back time and again. The 'user manual' says for your health please don't overuse this product. What? I'm going to wear the tentacles right off this baby, I assure you! Four thumbs up!" —Allan J.
Get it from Amazon for $28.99+ (available in four colors).
7.
The Ripple Deluxe Perfect Plug, which boasts a tapered, beaded design that offers a delectable stretch and full feeling during insertion (and removal). The T-shaped flared base makes sure things stay safe and satisfying for all participants.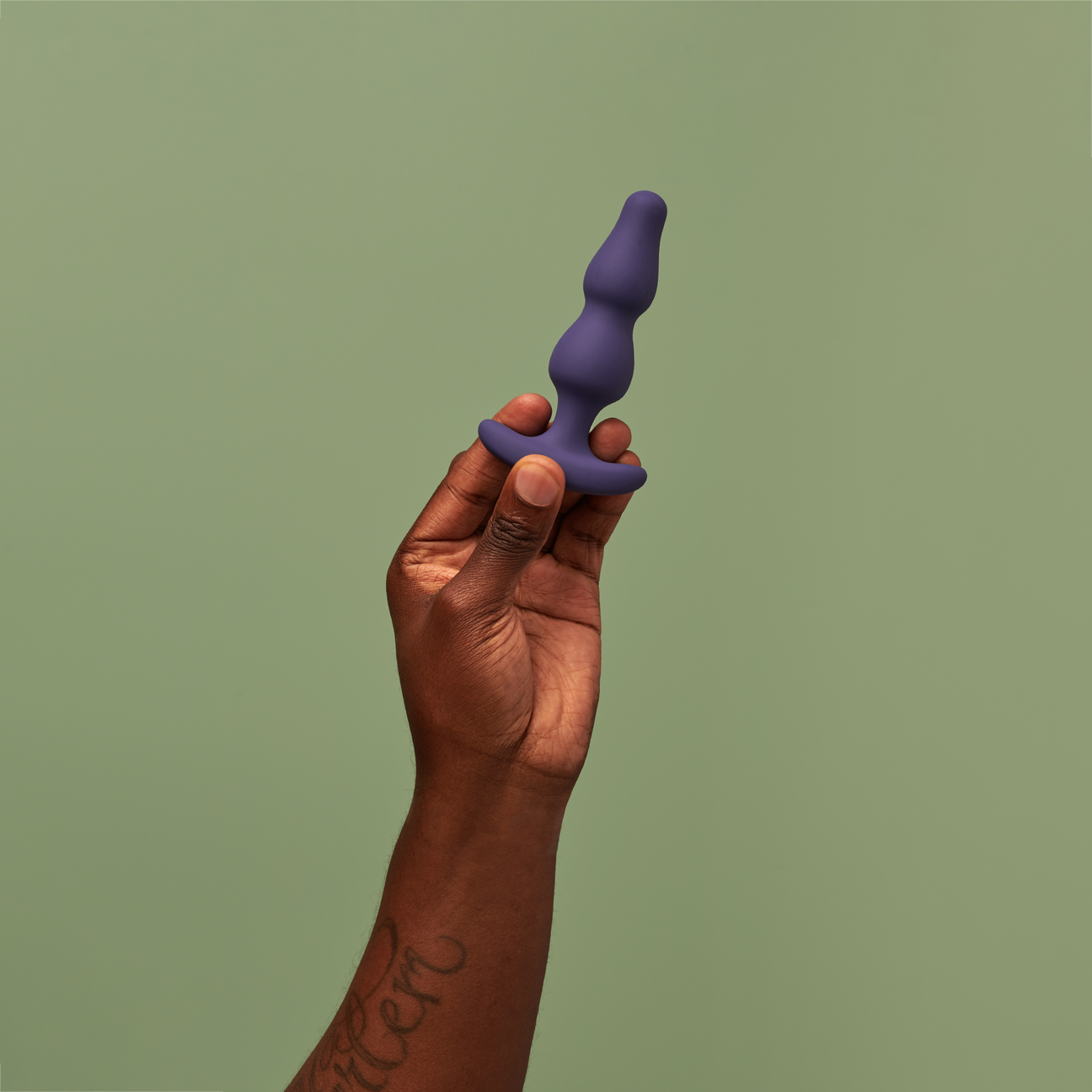 This plug is designed for anal use, waterproof, and created with body-safe silicone, so we recommend using a hybrid lubricant for anal play.
Get it from Hustler Hollywood or Goodful Wellness for $20.
8.
A stainless-steel dildo with curves that'll leave a permanent smile on your face. You can pop this metal toy in the fridge right between your favorite comfort foods and cooling eye mask, so it's nice and chilled when the weather calls for a self-care day.
At 7.5 inches long, this bulbous beauty steps into the ring and offers 2 pounds of weight for the full feeling your other toys might be missing.
Promising review: "Product will make your partner squirt. I would recommend pairing this with a magic wand as well. Problem my girlfriend and I encountered is it's actually too intense for her, and now she requires to be tied up, so I had to make a follow-up trip to Home Depot. Solid rating at 5/5, will spice up your intimacy time." —M. Allen
Get it from Amazon for $72.
9.
A customizable silicone grinder offered in whimsical color mixes and designed with silicone ridges created with over 80 individual nubs that stimulate external genitalia with ease.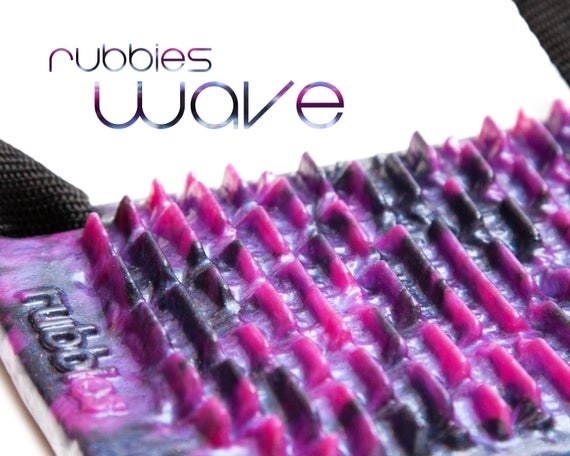 This unique grinder comes with two straps, so you can attach it to a pillow, bathtub ledge or even your lover's thigh or forearm. It can also be used as a sleeve when held in the hand.
Promising reviews: "I didn't know what to expect but I'm here to tell you guys... With plenty of lube it provides a TON-OF-FUN..! A nice addition to my toy box." —Warren Pouyer Jr.
"This is something totally different that I didn't know I needed in my life until I saw it. I've only tested it out for a small amount of time but I already tell it was a good buy. I am an extremely indecisive person so I said 'glow in the dark' and 'surprise me' and I received a beautiful purple pour. It matches well with other randomized colors I've received from this shop and purple happens to be one of my favorite colors. I would recommend this for people who want to try something new and / or dislike penetration. It has a good feel to it and it comes with straps for unlimited possibilities." —Quinten Forrest
Get it from Fantasticocks on Etsy for $54.
10.
An automatic masturbator designed with an actual handle for effortless stroking. Plus, this toy has seven vibration patterns and four thrusting patterns to deliver a sucking sensation during play. Legend goes that if you jack off with this toy during a thunderstorm, you basically become Thor. IDK, just what I heard on the streets.

Promising reviews: "I recently broke up with my partner and was getting sick of my left hand. I then found this gem, and WOW, is it like magic! It has just the right tempos to bring you to that point of no return and the right grip to push you over the edge. Now, I'm not even in a rush for a new partner! :D" —Matthew C.
"This is an easy masturbator to use; you just stick your member in, and the machine does all the work. The variation of speeds will make this work for anyone, whether you like it quick and sturdy or you like to go slow and steady. You surely will be happy with the outcome of this machine, and your member will thank you. The hammer shape makes you feel that you are holding the one and only but in sex toy form. You will truly feel like Thor when you use this masturbator, and feel the lightning-like feeling from your member to your toes. That ultimate tingling sensation when you release. Grab the hammer and just let it do its magic." —Alex
Get it from Honey Play Box for $89.99 (originally $113.99).
11.
A unique luxury vibrator designed for targeted clitoral stimulation with eight vibration modes and three interchangeable attachments: a slim one for G-spot stimulation, another petal-shaped one for tickling your favorite erogenous zones, and a ball-shaped one for play that gets right to the point.

Or grab the newer Bess 2 (also on Amazon), which includes an anal bead attachment and a heating element!
Promising reviews: "Beautiful, quality and you can't get bored with the different attachments. Very easy to keep clean which is high on my list. Perfect for multi-orgasmic people!" —Yvonne P.
"I already own the Hero from the Zalo Legends line and was so impressed with the overall quality and elegance of the toy I was dying to buy another Zalo product. I went with the Bess because I am familiar with this type of toy and love it. But I was a little concerned since I own one of the original direct pin point stimulation toys and was concerned that the Bess may not meet my expectations but was I ever wrong. I love the attachments which make this toy versatile and the two separate motor heads in both ends of the toy. The Bess is absolutely stunning. The quality and workmanship is unparalleled (and this is coming from someone who only buys luxury brand sex toys). So far the little silicone ball attachment is my favorite. What makes the Bess stand out to me beyond what I already mentioned was that not only does it offer numerous strong vibration speeds but the different patterns are to die for. I highly recommend trying this toy especially it really stands out and above its competitors. My only warning is start on the lowest setting its a big jump in strength to the next setting and learn the settings before you try it out." —S. L.
Get it from Zalo for $99 or Amazon for $94.05+ (available in three colors).

12.
A 4.6/5 ⭐️-rated dual stimulation rose vibrator affectionately referred to as the "Soul Snatcher" by reviewers. The egg lets you get a little internal action, while its nine-speed tongue petal can stimulate your clit, nipples, and soul (apparently).
Promising reviews: "I've seriously never had a partner that could perform better than this toy. A lot of settings and speeds. Love it." —Amazon Customer
"This is a really fun toy. Definitely more of a flicker instead of a licker, but intense nonetheless. It's a different feeling from a simple vibrator because of the flicking motion, and it feels amazing. I have zero complaints. The material is soft and easy to clean. The little buzzy bulb on the end is really powerful, too!" —T.D.H.

Get it from Amazon for $29.99.
13.
A vibrating anal plug, featuring graduated beads and 16 vibration modes, so you can feel every little thing as you explore the rear. Rainy days = perfect for anal play. (I don't make the rules!)
Promising reviews: "Feels amazing going in and even better once it's turned on, the vibrations are enough to hit that special spot and leave you begging for more!" —Anonymous
"If you're looking for a product to send shockwaves through your body, this is it! This toy will keep you excited and pleasured for hours. Try it with your partner or enjoyed by yourself. You will not be disappointed!" —Jerome Monegan
Get it from Amazon for $19.99 (available in three colors).
14.
A snail-shaped vibrator boasting a unique shape that's designed for simultaneous constant clitoral contact and internal stimulation. As in, it delivers multiple sensations that can take you to the edge real quick.
It thrusts and vibrates, combining the best parts of a clitoral stimulator, rabbit vibrator, and G-spot toy all in one, with two individually controlled motors that both have five vibration speeds and five modes for limitless combinations. TBH, I'm still not exactly sure how to describe this toy but it looks...awesome, and you should definitely try it out and then leave a review.
Promising review: "This thing is a dream. I was intimidated by it because it looks crazy, but it's super pliable and the silicone is the best texture. It works exactly as advertised. I love that the two vibrating areas are individually controllable because if you want to get done quick, you can use both, but if you want to stretch the whole event out, you can set the internal part to vibrate and just use the pressure of the external part. I own a lot of toys, and this one has become a fast favorite." —Wally
Get it from Babeland for $150 or Amazon for $149.99 (available in pink and purple).
If this one surprised you, don't miss this round-up of weird sex toys that work really well.