1.
A palm-sized vibrator boasting a "tongue" with nine vibrations and nine licking motions, meaning it can l-l-l-lick you from your head to your toes, but no really.
Promising reviews: "So, I bought this toy because the famous rose was sold out, and I wanted to try something out. The toy has nine different settings, each one better than the last! Alone, it's great, but babbyyyyy! Use this with your partner with penetration...I thought we was at Sea World 🤣lol. If you know, you knowwwww! So, if you want your soul snatched and your bed and ceiling wet, this is what you want! Get it, girl!!!" —Anna
"I bought this based on some random review on FB I saw. Also, free shipping. Holy hell! I squirted so quick. The orgasms came so quick and repeatedly. To the point my mind went numb. This little toy is amazing. So happy. Easy to clean because you need to. It was unbelievable. Your life will change." —Tiffany Bueno
Get it from Amazon for $35.99+ (available in four colors).
2.
A high-tech oral simulator with Airflow technology for stroking and sucking sensations at 10 different intensities. It's like a real mouth, minus all of the blah blah blah.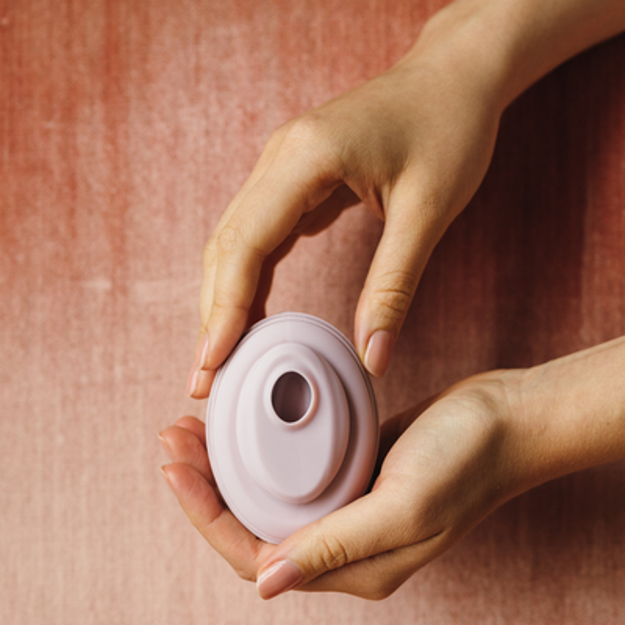 BTW, it's waterproof!
Promising review: "My wife and I have been married for nearly 17 years. We have had all kinds of toys and we have discovered that she gets off with clitoral stimulation. I had never seen anything like the Baci, so when I saw it I thought 'great Valentine's gift.'
In the 18 years we have been together, my wife has NEVER squirted... until tonight. She sprayed the ceiling. I'm not exaggerating, she squirted so hard that my ceiling (and my bed, and me) is wet. I was surprised that that much fluid could come out of a human. My wife started attempting to communicate with me in a language that I never heard before, but apparently she is fluent. We are probably going to be sleeping on the couch until the bed dries out. Great toy! Definitely recommend!" —William G.
Get it from Lora DiCarlo for $160.
3.
A bent glass pleasure wand boasting a dual-ended design for you to use solo or with a partner and bibbidi-boppity-BOOM.
Promising reviews: "You will need a towel or something to put down when using this. The gf surprised me with something I've never experienced before while having her orgasm. This one did it, I always thought it was a myth." —Windy City Transplant
"I was looking for an angled glass toy to perfectly stimulate my G-spot and I got it right on the first shot by purchasing this toy! This toy makes me squirt and come so fast and like never before. My boyfriend used it on me, and I had the best orgasm of my life! So so pleased with this purchase. The ribbed end is also great for anal stimulation. It's multipurpose and amazing!" —B.K.
Get it from Amazon for $17.99.
4.
A powerful rabbit vibrator that delivers unique kneading and slipping external stimulation in case you're looking for something simple to spice things up.
This dual-stimulating silicone toy offers 10 powerful vibration modes and 5 inches of insertable length to reach that sweet spot.
Promising review: "So I usually use toys with my husband. I've had a few of these and they just don't do the job, but this one is just perfection. It has me squirting and orgasming within minutes, especially when my husband is holding it for me. So cheap and the best one I've ever had with my husband. The only slight problem is that it's a bit loud so it's very hard to use when the children are around." —Angel
Get it from Amazon for $32.99 (available in purple and teal).
5.
The OG Magic Wand that's been delivering *relief* to loyal users for decades with two rumbly speeds and a simple single switch.
The OG Magic Wand is also formerly known as the Hitachi, just to avoid confusion. The same beloved classic is now available in Plus (an upgraded, corded version with multiple speeds), Rechargeable (cordless version with multiple speeds), and Mini (a travel-friendly, cordless version).
Promising reviews: ""Lets just say, use a towel under yourself if you're using it for 'personal' relief 😉. It also works for massaging out knots in other spots, too." —Kiri Minney
"So, bought it to use on my wife. Well, 30 seconds later, I realize that I'm gonna need a towel, and now, a new mattress." —Chris T.
Get it from Amazon $56.99+ (available in four styles).
Only want the best? Here are more top-rated sex toys for you to choose from!
6.
A flexible silicone dildo that allows for added stimulation with its unique texture — plus it has a suction cup base to help it stay put.
This 6.9-inch dildo offers just over 5 inches of insertable length above its realistic balls and is 1.81 inches wide.
Promising review: "Super LOVE! my new favorite toy! And I own a lot of toys n dildos. Love the thickness and the ridges. Feels different at first but absolutely love the feeling of the ridges and bumps as it goes in n out of me. Makes me orgasm extremely hard to the point of squirting uncontrollably! Best toy by far! And super affordable! Soft and flexible with a strong suction base!" —Ms.NylonMILF
"This toy is great! As my first dildo it's definitely a great starter. And the prostate orgasm you get from this thing is AMAZING!!! I don't know if it was the ribs on the toy or just how fast I was going but it definitely does not disappoint. Even though it is a bit small for my hole now it is still amazing!" —Johnny
Get it from Amazon for $13.99+ (available in nine colors and two sizes).
7.
A flexible rabbit-inspired vibrator that moves with you and keeps constant contact with your clit while still hitting your G-spot.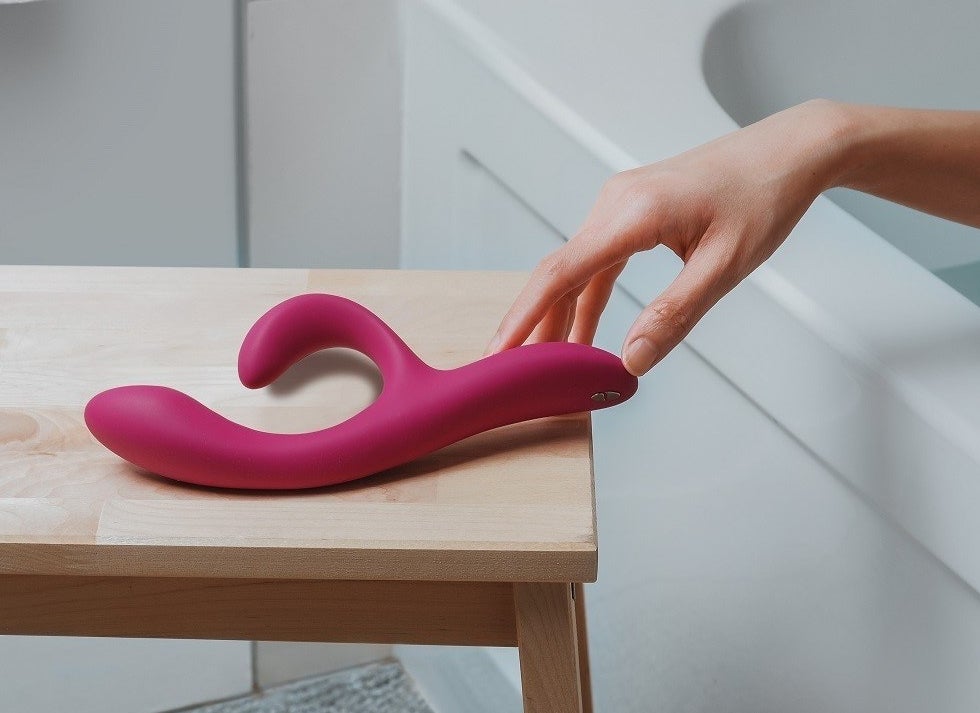 Promising reviews: "This soft velvet silicone vibrator, O.. M.. G!! This toy was the first to make me make MYSELF squirt! The curved made of this toy hits that GSpot with clitoral stimulation. I have actually used this until it GAVE OUT!! 😫 Love Love Love this ☝️!" —LoveDickson1203
"For years I've struggled with finding my own comfort for which stimulation was best for me and could never achieve the big O. The more time you spend with it the better you'll understand what works for you! I'm now at the point where this is my go to toy to reach my O's every time I use it!! Not loud but still some noise, charging doesn't take too long, and the Bluetooth connection makes it fun if you want to involve a partner in a session. Also make sure you have a towel when using it!" —Bex
Get it from Lovehoney for $149 (available in three colors).
8.
A transparent masturbator boasting a tight, convex, textured interior that you can twist, stroke, and watch through its case until you're finished.
Yes, it's waterproof, so go ahead and play with it in the shower.
Promising reviews: "Tight insert that's rigid inside and makes me blow so hard it shoots up in the air and across the bed. Feels like the real thing." —Schlabach Pam
"It was very satisfying, made me blow a nut in a big way. AWESOME." —Tho
Get it from Amazon for $26.99 (available in four colors).
Want to enjoy those good vibes in the tub? Here's a list of even more sex toys to use in the bath or shower.
9.
A dual-stimulating vibrator that boasts 10 vibration settings and 11 intensities, not to mention innovative suction technology that stimulates your clit all the way to nirvana.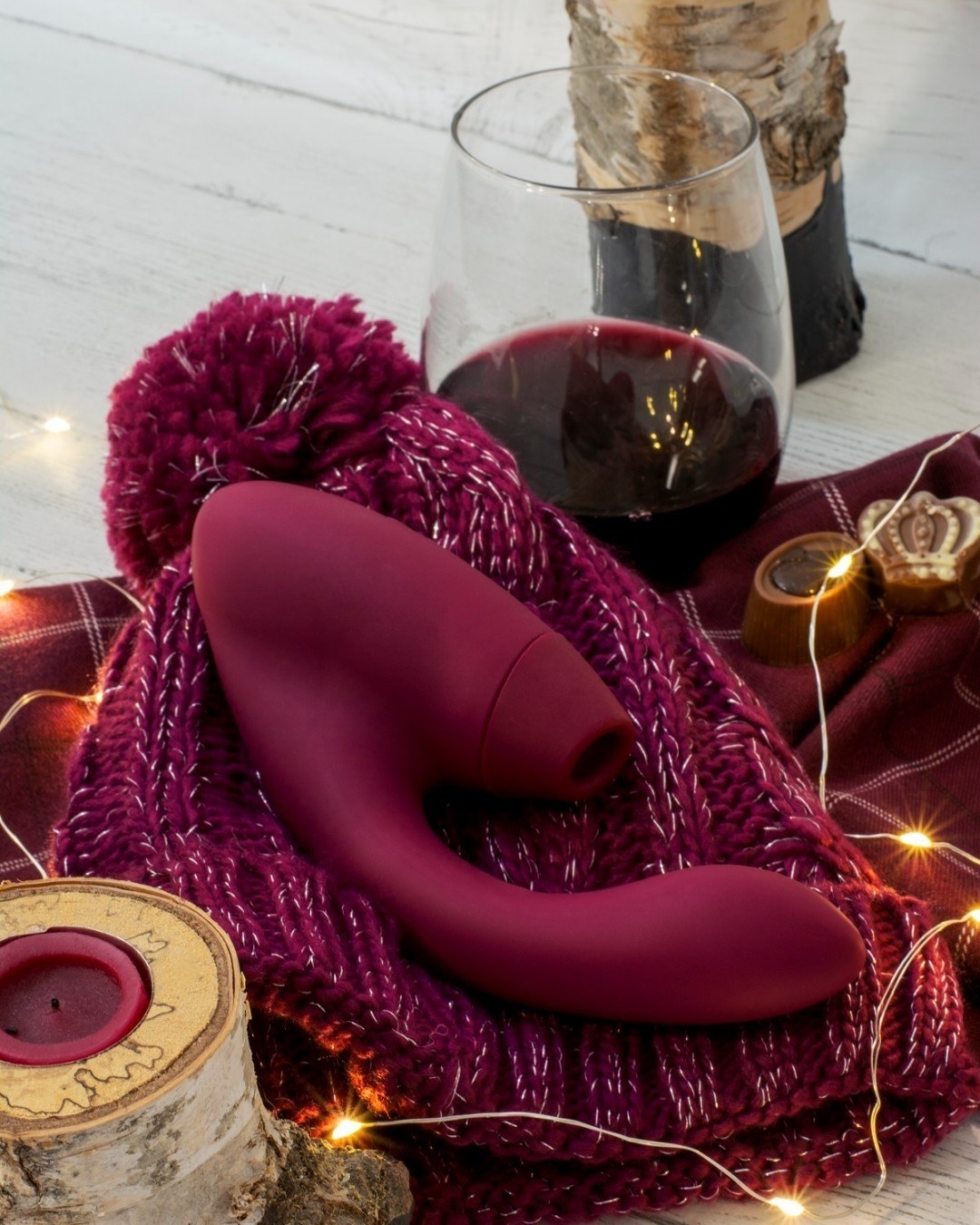 It also has Smart Silence technology, which means it turns itself off when not touching your body. And it includes a secondary suction tip, to make sure you have the perfect fit for a custom (kinda) blended orgasm. 
My colleague Taylor Steele owns this toy and loves it, saying it's definitely worth the price: "This is the toy that, if it somehow went missing, I'd probably die. I'm. Serious. I love the size and feel of the Duo. Its 12 pressure *and* vibration modes leave nothing to be desired...because everything you could want is right here in one luxurious package! And I love that it senses when it's no longer needed and goes into sleep mode (until I'm ready for more, of course)! Please treat yourself to this toy. It *will* make your life better."
Promising review: "I literally squirted. I've never have done that before in my life. This is a fantastic toy." —Lady
Get it from Amazon for $218.96+ (available in four colors).
10.
A curvaceous stainless-steel wand by Njoy boasting 8 inches and two bulbous ends to massage internally and externally.
Promising review: "Holy buckets of pussy juice! I had an experience with a lover who made me squirt. I was mortified! But then I began to think...what if I had been able to squirt my whole adult sexual life and never tapped into my own G-spot potentials?! I googled 'toys that make a woman squirt' and the Njoy wand rose like the Excaliber, shining and majestic. I read the reviews, clicked "buy now" and squealed with delight when it arrived. It's heavy...only downside. Other than that...it has really intensified my sexual experiences...mostly with myself. I recommend this toy to all women. Harness your inner flow ladies!" —River Luver
"Guaranteed to squirt with this thing. No other review needed!! I call it the THUNDER." —Heaven Sent
Get it from Amazon for $72.
11.
The Empress 2 clitoral suction vibrator by Vush boasting a waterproof design and 40 potential pulsation and vibration combinations to explore.
Promising reviews: "After years of trying every technique under the sun, it took this guy 3 mins 46 seconds to get me to the most intense orgasm of my life and made it possible to squirt (may I just add by myself and without penetration). As a side note it is also small enough to be used with a partner during sex." —Tamara G.
"I have been using this a few times as it only arrived the other day. And today I was soaked omg never had this happen before from a toy! It was the most intense amazing feeling too, like holy moly!! Def recommended. I'm obsessed never had a toy like this before!!! 100% recommend." —Beth
Get it from Vush for $160.
Vush is an Australia-based sexual wellness brand that's all about self-love and creating IG-worthy sex toys that'll rock your world and match your aesthetic.

12.
A powerful miniature wand vibrator created with supple silicone for a soft-touch feel and 20 functions to take you right to that blissful, blurry edge.
Promising reviews: "This thing made my gf squirt for the first time ever. Now, she can't stop. Great, now we can both come in 30 seconds, so I don't have to feel like an outcast. Thanks, Shibari." —Taylor Zero
"If you have ever wanted to know what it would feel like for your entire body to vibrate or what it's like for a toy to make your legs go numb? Then, this is the toy for you. I squirted for the first time ever. My husband loves when I use it. He ordered it for me as a surprise, and it turned into an amazing gift for me. I highly recommend this to any woman who wants that little extra vibrating fun in the bedroom." —Jayson Snyder
Get it from Amazon for $17.76+ (available in seven colors).
13.
A dual stimulation rose vibrator, affectionately referred to as the "Soul Snatcher" by TikTok. The egg lets you get a little internal action, while its nine-speed tongue petal can stimulate your clit, nipples, and soul (apparently).
Promising review: "This li'l thing was amazing! I really enjoyed it, and let me tell you, I was surprised, and totally not prepared. Sixty seconds and the third setting is all it took, and a waterfall erupted. 💦  Lol I was shocked, and most of all, ready for a challenge because I knew damn well I could do more than 60 seconds. Wrong again! Went down to setting 1, and still couldn't hang, 🥴 so I gave it rest that night, tried again the next day, and this time, I said let me play around with it. Baby, one towel is not enough... 💦💦💦💧get three lol! You gotta make sure that hole is completely covered, not a single crack, because of course, you won't feel a strong licking if there's a crack." —Funmilayo Akintunde
Get it from Amazon for $39.99.
Check out this round-up for more sex toys that simulate oral sex!

14.
A slim silicone vibrator, which is gently curved to specifically reach your G-spot and blow your mind with 25 vibration modes and frequencies.
Promising reviews: "So this arrived in the mail today and of course I cleaned it and tried it out right away. I was BLOWN AWAY, maybe because this is my first toy or maybe because it's just that amazing. I'm 24 and I squirted for the first time. I literally couldn't believe it so I went for a second round and I squirted again. It's been an hour and I'm still shocked hahaha. Please do yourself a favor and get this. I like that it fits nicely in my hand and all the different vibration patterns it is. It's pretty quiet, too!" —evs2468
Get it from Amazon for $49.99.
15.
A versatile glass dildo by Unbound named after everyone's favorite zodiac sign: Gemini.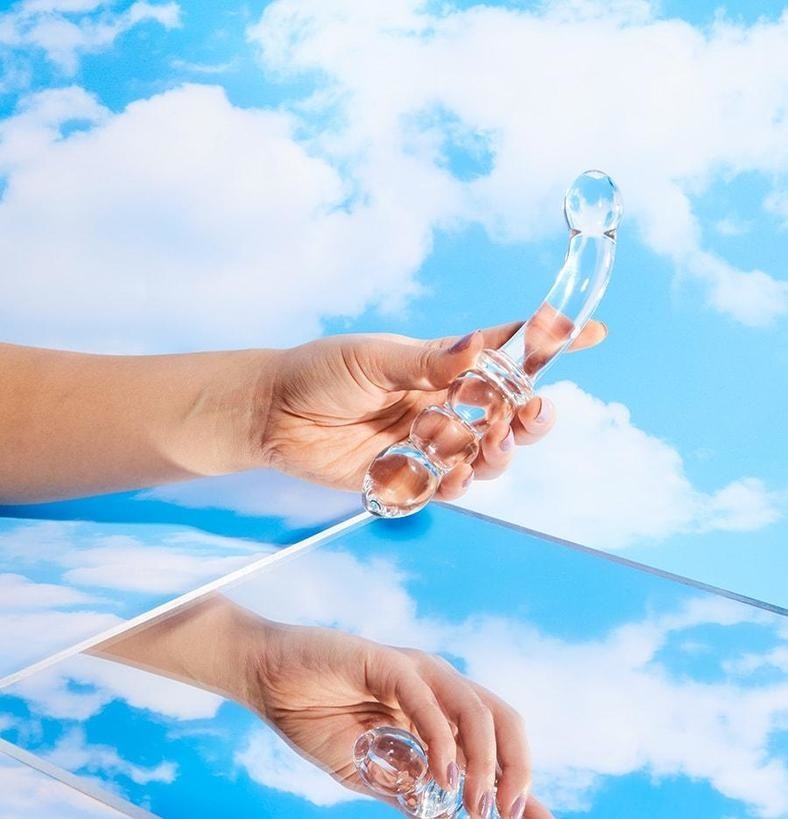 Truly a Gem, this toy has a curved end and a beaded end with a flared base in the middle for easy removal. Oh, and it's dishwasher-safe? Um, yes please!
Promising reviews: "I love this! It's beautiful, it's small, but it definitely gets the job done. I love how it is dual-purpose and easy to clean. Very well-made. Got me to squirt multiple times now when used in combination with a vibrator. Worth every penny!" —Tay
"I love that you could play with the temperature (bc usually, it's freezing, as it's glass lol). Felt really good by itself (as I like dual stimulation 😁). First toy I squirted with!!" —fig briar m.
"I was looking to replace a cheap plastic toy that I bought in my teens that I used for penetration/reaching the g-spot, and I was interested in Gem since I bought my first Unbound product about two years ago. Finally took the plunge, and oh my god, combined with a vibrator, I was literally DRIPPING after I was finished. It's not the girthiest, but the curve and the feel of the glass REALLLY does something. I highly suggest pairing this with a toy like Ollie, Bender, or Puff to get an amazing blended O that will have you squirting and shaking." —Natalia K.