1.
A flexible silicone sleeve boasting nine vibration patterns and an app-control function for remote or long-distance play. Its open design offers an option for play no matter your dick size!

Promising review: "Okay, so I'll admit I had no idea what to expect. I was leery at first and honestly didn't have much faith that it would do its job. I'm not an inexperienced man, and I was wondering what I would even get out of this thing just vibrating. I WAS DEAD WRONG! It's a great little toy. The remote access makes it even more fun. My wife and I like to 'zap' each other when we're cleaning the house or cooking and rarely finish what we set out to do, lol. Try it; you won't be sorry." —P.
Get it from Amazon for $24.99 (available in three colors).
2.
The We-Vibe Chorus vibrator that can be controlled remotely from the app or with the included wireless remote that responds to innovative pressure technology, so you can control the vibration intensity with your grip.
This toy can be used in closer quarters or from afar, stimulating the interior (and penis, if there's one in there!) and the external arm delivering intense vibes directly to the clit for a dually stimulating experience. Whether you and your lover choose to play with the grip technology or use the pre-set three speeds and seven vibration patterns, this waterproof wearable offers sensations only limited by the imagination (and definitely not distance).
Promising reviews: "It comes in a nice discreet charging case that you could leave on your night stand for ease of charging and also visitors wouldn't know inside is a sex toy. We gave it a quick try using it externally and internally on my wife before putting it on charge for a full tryout later once the kids were asleep. The adjustable internal is very well made and means you can adjust according to your partners body. Feels good for both partners when using during sex and easy to add or remove without ruining the moment. Working in the military I find myself away from home a lot and one of the reasons for buying this toy was the app and the ability to play when away from home. The app can disconnect you or your partner from the session sometimes but not enough to have an effect on things. With me currently deployed for four to five months we have had quite a few We-Vibe sessions and have even purchased another We-Vibe product to give my wife a bit of variety for our sessions." —Ooh No.
"How do I even start, let me just tell you this remote vibe is hands down the best. It fits to me so well, and it actually does what hubs wants, you can start and stop it with app or remote. Very comfortable too wear and walk around with too! OMG you need this toy in your life if you have a partner." —Tiffani J.
Get it from Lovehoney for $209 (available in four colors) or Amazon for $199 (available in three colors).
3.
A discreet wearable egg vibrator that won't clash with your favorite lingerie and will get you off with seven vibration modes and/or patterns you or your long-distance partner can personalize using the Bluetooth app.
The ergonomic egg shape means this discreet vibe stays put, so you can wear it out and about (if that's your thing) and control the vibrations effortlessly from your (or a partner's) phone. No one would suspect a thing, and with a five-hour battery life...this toy can probably outlast you.
Promising reviews: "App works great — super powerful and quiet. All I had to do was send an invite to my bf, and he instantly was able to connect and control this thing. AMAZING!!" —Rachael M.
"I use mine on Chaturbate mostly. Connects super easily, which was something I was worried about. The app is easy to use, and this device works great for me on Chaturbate. Super comfy — sometimes I forget I have it in." —Vallaria
Get it from Amazon for $129.
4.
An interactive vibrating anal plug with customizable settings that sync to your favorite songs, ambient sounds, or even your lover speaking. Smooth, ribbed silicone offers comfortable insertion and removal, all you need to do is bring the lube and download the app.

5.
An app-controlled masturbator sleeve, which will effortlessly get you off with a 360-degree rotation and multiple sensations on the interior of the sleeve. The Max 2 offers three different levels of "contractions," adjustable suction intensity, and seven vibration modes for an extra-stimulating experience.
If you and your partner both have penises and are interested in this toy, you could absolutely buy two of these strokers and each control the other's toy with the Lovense app!

Promising reviews: "My boyfriend and I are stationed across the country from each other, and thanks to the pandemic, haven't seen each other since October with no end in sight. I bought this and Nora. They work well together, and he said it was incredible when we tried them out for the first time yesterday. It definitely made us feel a little bit closer for a bit, since they mimic each other's movement." —Anonymous
"This is the most realistic toy I've ever used. The suction is excellent even though the air pump is on the loud side. The vibrations are a nice touch and make the experience even more pleasurable. The app works really well with easy control and a whole lot of patterns made by other people to try. Long-distance play works well, especially paired with the Nora. It's perfect for long-distance relationships but also amazing for solo enjoyment too." —Matt
Get it from Amazon for $129.
Want to enjoy those good vibes in the tub? Here's a list of even more sex toys to use in the bath or shower.

6.
And the Nora 8-inch splash-proof rabbit vibrator designed with a rotating head that has three speeds and a flexible clitoral arm offering seven different vibration modes for superior external stimulation. All you (and your lover) have to do is download the app to stay in ~touch~ from anywhere in the world.
Reviewers say that heterosexual couples should pair this toy with the above Max 2 for a reciprocal long-distance session.
But...if you and your partner both have vulvas and still want to enjoy some long-distance play, you could buy two of these and control each other's toy with the Lovense app.

Promising review: "At first I was worried about ordering this because of mixed reviews, as I wanted it specifically because I'm in a long-distance relationship and wanted my partner to be able to control it. For distance perspective, my boyfriend lives 1,252 miles away from me. We had no problems using it; we downloaded the app, and he was able to control it right away, and there was no disconnecting. As far as how good the product is, the clitoral stimulation is fantastic, but I couldn't feel the rotator on the inside as much, so it didn't have much stimulation there. If you're looking at this product for the same reason I was, I would definitely recommend it. My boyfriend and I had fun with it for hours." —DCN
Get it from Amazon for $119.
7.
A stretchy, but snug-fitting cock ring by We-Vibe constructed with supple silicone for comfort and 11 vibration modes delivering dual stimulation to the wearer and your lover when you're together or powerful solo vibes when apart.
You can control the vibrations of this waterproof wearable manually or from the convenient We-Connect app.
Promising review: "We (F/40) and my lover (M/55) have no issues with pleasure and orgasms, but I still purchased on a whim. I was concerned that the sleeve would be too tight for his shaft but happy that the extra tightness prolonged pleasure for both of us!!! I highly recommend that you use this ring in different positions!!!" —Annie
8.
A powerful suction vibrator boasting 12 pulsating intensities to rock your world whether you're playing solo, with a partner, or from a distance.
The slim, ergonomic design offers effortless handling on your own, but also easy fitting between you and a partner. And for more details on this suction vibe, see why it ranks as #1 in my personal ranked review of suction vibrators!
Promising reviews: "Very efficient! Love the interactive feature to use with my husband that works far from home. Works with both of our Apple phones fine. 10 and up. Sleek design easy to hold. Works quickly. My only small, menial complaint is that it is slightly loud and I worry about kids coming into my bedroom so I get caught! :) Not a big enough deal to stop me from loving it." —marybrnrd
"I don't write reviews but felt obliged too for any customers considering purchasing. Girlfriend loved it! It's a little sad to be jealous of a toy! The app is fine. Tried long distance, had some minor connection lags that could've likely been due to our own internets so I wouldn't hold it against them. Gf claims that it fits perfectly. Very silent on the lower intensities. Smooth nice texture. Didn't even have to go to the highest intensities to get her off. She wants to now gift it to all of her girlfriends! She literally just started using it, so we can't speak to longevity, but are very pleased with the purchase. :)" —Javier Perez
Get it from Amazon for $149 (available in dark blue and coral).
9.
A versatile panty vibrator designed to stay put while your lover controls its adjustable vibration modes and speeds at close-range or from afar.
Unlike most panty vibrators, this one is strictly external and has a magnetic cap to help it stay put as you walk, sit, lounge or whatever else you plan on doing.
Promising reviews: "This product is amazinggggg for long-distance relationships and even solo play. All different kinds of patterns, or you can make your own. Battery life lasts pretty well, and it's pretty discreet and stays in place well. I'd say that it is just a tad louder than what I expected, but I think that setting can be adjusted in the app. I'd definitely 100% recommend this — especially to long-distance couples." —Leah J.
"I'm not sure how people say this doesn't work from afar, because this works. My partner and I live a thousand miles away and we got this, and he controls it from a thousand miles apart. You have to learn how to actually use the app. I 10/10 recommend this." —maricelis torres
Get it from Amazon for $119.
10.
A flexible vibrating butt plug that'll sync to the beat of your favorite songs, mimic your own custom patterns, or buzz along to user-created vibration modes already on the app.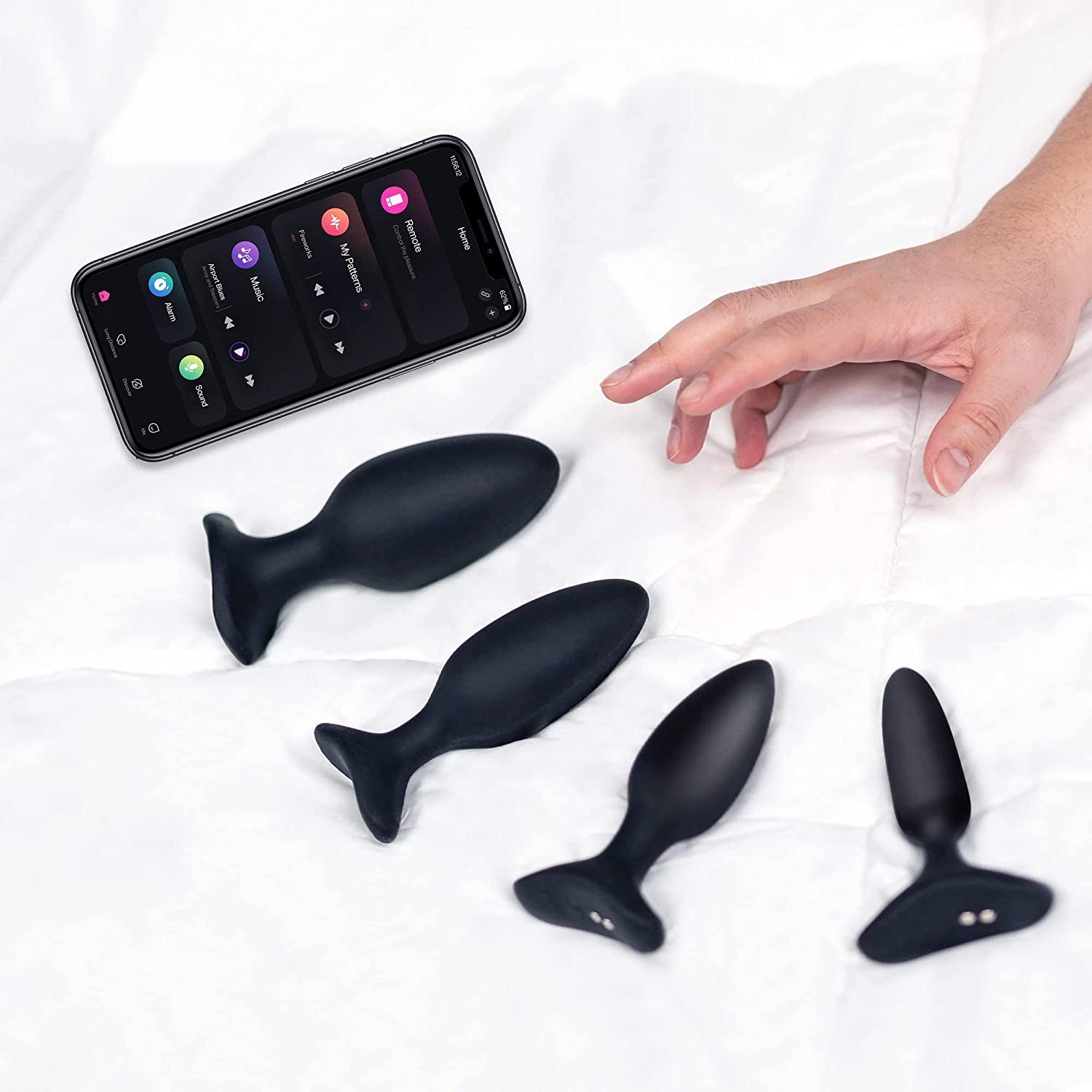 Supple, body-safe silicone offers a waterproof exterior and a flared base helps the plug stay put.
Promising review: "We have had a great time with this. I bought the largest and it took a bit to get used to it. We are a couple of states away from each other and he has had a great time setting me off while I'm at work or doing things around home. The vibration is very intense at the highest setting and at the lowest just keeps you on edge. Being made of the material that it is, you have to keep it clean and let it air out, so it doesn't smell if you get any fecal matter on it. Definitely recommend!" —JayyDee
Get it from Amazon for $89+ (available in four sizes).
Don't worry, we've rounded up the best anal vibrators if you wanna keep that booty buzzin'!
11.
A flexible rabbit-inspired vibrator that moves with you and keeps constant contact with your clit while still hitting your G-spot. Use the We-Vibe Connect app to engage with your partner over distances (be it the living room or state lines) and even create new vibrating patterns to play with.
Promising reviews: "Short and sweet: It's fantastic! Thanks for all the orgasms, Nova 2!" —Rosario Montez
"This is a great vibrator and has quickly become one of my favorites. As far as dual-action rabbit vibes go, this is by far the most comfortable as it is very bendy and adjustable and shows just how far this style of vibrator has come since those days where they were literally 'rabbit' vibrators with little bunnies as the clit stimulating part. The Nova 2 certainly is much easier on the eyes than those older versions and the quality is very apparent once you get it out of the packaging. The materials are very smooth and easy to clean between sessions and I suspect that this one will last me a fair few years to justify its higher price tag like other toys I own made by this company. Top marks from me, I love this vibe!" —Allie
Get it from We-Vibe or Amazon for $149 (available in pink and blue).
12.
The Keon interactive masturbator and Feel Stroker combine for a hands-free, fully automated stroking design that you can customize to your preferences. Long, short, fast, slow — this stroker is sure to blow your mind, and your load. 

This stroker connects to other Kiiroo or Feel Technology-enabled products (see the selection here), interactive webcams, 2-D or virtual reality pornography, and can reach up to 230 strokes a minute. 
This Keon masturbator includes a Feel Stroker; grab the individual masturbator here and check out the rest of the stroker selection!
Promising reviews: "I was a little skeptical at first, but this sex toy is amazing and very innovative. Takes a lot of the work out and the toy does it for you. When you are watching porn, it feels like you are there." —James S.
"So far I've used it twice. It's very self explanatory how to operate the machine. I use it with basic VR googles and it's been fun and satisfying. I'm sure it looks a little silly, but it's good being hands-free. Being able to adjust the stroke length is enjoyable. I'm happy with my purchase so far and would recommend the Keon. I think I'd also like to get the table clamp for a different position but I'll wait and see." —Vince C.
Get it from Kiiroo for $279 (available in four colors) or Lovehoney for $279.99 (only available in one style).

13.
A Bluetooth-enabled wand vibrator for lovers who want to spice up their long-distance trysts. Not to mention, a wand is versatile enough to use by any and everybody, so imagination and consent are key to enjoying this one to the fullest.
This wand offers three vibration speeds and up to 10 rumbly patterns for you to program and explore solo or with a partner. Or pair it with the Lovense app to sync the vibrations to your favorite music and create unlimited patterns. Elevate your wand with a compatible P-spot attachment or a G-spot attachment.
Promising review: "New favorite toy, love the fact that light can change colors, super strong. Really, I personally can't stand more than half the power. It's got a pretty good built quality, app receives updates constantly and keep device sharp. Really there's not much to say more than you NEED to get it." —Joey G. Manchego
Get it from Amazon for $119.
Here's even more wand vibrators if you're in the market right now!
14.
A vibrating cock ring designed to amplify partnered play with an ergonomic and adjustable design that's comfortable enough to wear under your clothes for discreet sensations. Plus, like many We-Vibe products, this ring includes a wireless remote and can be controlled using the We-Connect app.

This waterproof ring includes a custom fit link for adjusting the size (35 mm without) and has 10 preset vibration settings to explore. But definitely download the We-Connect App, so you can have an unlimited amount of vibes to play with!
Promising reviews: "I got this for my bf who never tried a ring before and he loved it. He wears it a lot in bed and we also tried it in public once it was really fun. He can also put this around his fingers when he's fingering me which is basically a mini vibrator that I don't have to hold." —Haley

"It's very comfortable and would fit a lot of different penis sizes. Not only great to wear yourself but it takes finger play to the next level too!" —Brandon