1.
A satin blindfold to elevate your solo or partnered sesh by heightening and relying on your other senses for some semi-mysterious sensation play.
Promising reviews: "Surprised my OH with this one date night. Haven't really tried bondage and stuff like that so this and some nipple clamps we got were a good start. Made the sensations more intense and the fact she didn't know what I was going to do drove her crazy. Fun, easy way to spice it up some!" —Colorado C.
"I love a blindfold so much but some let you down if they are uncomfortable. This one is so comfy to wear and when positioned right neither me or my husband could see a thing when wearing it. We both love to be blindfolded because it heightens the pleasure, I would always recommend using one." —TheaD
Get it from Lovehoney for $7.99 (available in three colors).
2.
A reversible satin blindfold you can neatly tie into a bow whenever you want to enjoy a little kinky sensory deprivation.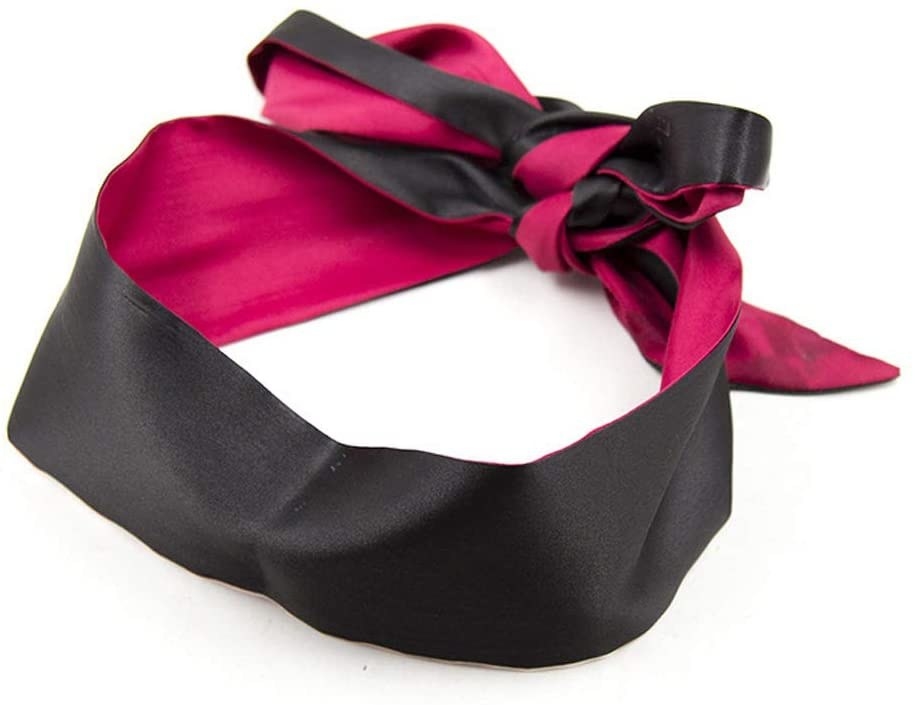 The tie is 59 inches long and 2.8 inches wide, allowing versatility as a blindfold or restraint.
Promising reviews: "Looking to spice things up a little bit? This will work: it's soft, easy to tie, hard to see through, and didn't bother anyone wearing it. Very sensual." —msaonika
"I wasn't holding my breath, but this is decent quality for $5, it's comfortable for both my partner and me. My partner's head is a bit larger than mine, so I was worried it wouldn't be big enough to wrap around. It's light enough that you won't get warm but accomplishes its purpose of not being able to see through it, for the most part. Getting more to use for restraints, since they're so long and comfortable 😏" —Peyton Cheyenne Fitzhugh
Get it from Amazon for $5.99.
3.
A 5-inch penis candle by Agreeable Agony created with blacklight wax, so you can enjoy some fluorescent wax play with your lover.
Sensation play that also allows me to burn a dick? Count me in. Remember, the closer it drips, the hotter the wax!
Not a fan of dicks? There's also a vulva version of the candle!
Get it from Agreeable Agony for $12.95+ (available in three styles and 15 color options).
Agreeable Agony is queer-owned and run by a group of kinksters and artisans who create handcrafted bondage gear and accessories, including floggers, sex toys, rope, wax candles, and more. Their mission is to further educate customers on kink and its communities.
4.
Or a pitcher of UV / blacklight reactive wax in rainbow colors that warms to the touch for a sensual and visually exciting massage or foreplay addition.
The wax in the pitcher melts at 124–126 degrees F, so it's recommended to increase or decrease the distance you pour from. A pour spout offers easy application, and pro-tip: let the wax melt and pool before blowing the candle out and then drip.
Get them from Agreeable Agony for $32.95 (available in standard and UV).
5.
A flexible vibrating butt plug that'll sync to the beat of your favorite songs, mimic your own custom patterns, or buzz along to user-created vibration modes already on the app.
Supple, body-safe silicone offers a waterproof exterior and the spiralized stem traps lube to help the plug stay put.
Promising reviews: "Exactly as described, and exceeded expectations. This is a great buy for individual's who seek self satisfaction. This (Multi Pattern Vibrating) plug is also a fantastic idea of fun for couples who look to spice things up a bit. Personal Care Products couldn't get any better. Extremely happy with this purchase, and look forward to purchasing more products by this brand." —William Gardener
"We have had a great time with this. I bought the largest and it took a bit to get used to it. We are a couple of states away from each other and he has had a great time setting me off while I'm at work or doing things around home. The vibration is very intense at the highest setting and at the lowest just keeps you on edge. Being made of the material that it is, you have to keep it clean and let it air out, so it doesn't smell if you get any fecal matter on it. Definitely recommend!" —JayyDee
Get it from Amazon for $94 (available in 1.5" W and 1.75" W).
6.
A pack of two cotton ropes, both 32 feet long. This rope is "multipurpose" so it's good for a lot of things, but many Amazon reviewers and I want you to know that it's a *great* alternative for shibari rope and tying up lovers.
Promising reviews: "As a dom, comfort for my sub is very important to me. These were very soft and easy to work with held knots well and looked amazing to boot. And best of all, they leave wonderful little rope kisses on my sub that allow the mind to wonder for hours after a session is over." —Jon
"For the amount of rope you get for this price, it's unbeatable. This rope was soft to the touch and during our session not once did she complain. I wouldn't recommend using this rope to hang off anything, but definitely good for wrapping around the body." —Mack
Get it from Amazon for $12.99+ (available in six color options).
7.
An ultra-soft bondage rope by Emojibator with Funfetti rainbow colors and 26 feet of length.
This rope is made of hypoallergenic and sustainable bamboo silk, so it's safe for anyone with allergies to jute or hemp. While this rope is sturdy and supportive...it's not recommended for suspension use.

Don't forget to grab a pair of bondage safety scissors to help you get out of those ropes when you need to.

Get it from Emojibator for $35 (also available in Unicorn).
Emojibator products are designed with love in Philadelphia and include novelty sex toys inspired by fruits and emojis.

8.
A pair of extra soft and sensual bondage restraints with pre-looped twists, so all you or your lover have to do is slip them on and start to play.
Promising reviews: "Bought these a while ago for tying up, obviously. They do the job well and can be used on both ankles and wrists as well as tying to other things.... like a bed. The perfect thing about these is that they are no clinky like cuffs and don't have noisy Velcro that could give away any goings-on..." —Explorer1
"I was hesitant to be tied up and was pleasantly surprised by these. We just tied my wrists to the bedposts on the headboard, and they worked well. They're soft and satiny enough that they are comfortable to have on and don't leave rough marks on your skin. Our bedpost is thicker which didn't work the best with them as they are kind of short. This wouldn't be an issue with a thinner post to tie them to though! Definitely a basic must have for the price." —Tayls
Get it from Lovehoney for $9.99 (available in three colors).
9.
A 75-foot roll of bondage tape to help you immobilize or restrain your lover — and the best part is that it only sticks to itself.
Promising reviews: "Only have used it once but was very fun when I did. I like that it only sticks to itself, so no pain if it touches hair. The bright color makes for nice photos if that's something you are interested in." —Stephanie
"This tape is a lot of fun. It adheres to itself but not to skin so you don't have to worry about having a bunch of tape residue stuck to your skin. Since you have to make sure the tape comes in contact with itself to stick, taping sometimes requires a few wraps. It could easily be used in place of a blindfold for example or to tie hands." —Sky Etkin
Get it from Amazon for $8.57+ (available in three colors).
10.
A convenient two-piece BDSM kit to get you started featuring Unbound's Tether tape and Orion cuffs. This petite pack offers two very dependable options for gift-wrapping your lover.
Promising reviews: "The tape was super easy to use! My partner really enjoyed themselves and stayed completely comfortable yet restrained the entire time. If you like using duct tape or other around the house items, switch to this! It's fantastic." —Lauryn A. (on Tether)
"Honestly, I didn't even realize orgasms could be altered by your position until these babies. Love the color, comfort and accessibility. I wish there was a longer extension for alliterative locations." —pame c. (on Orion cuffs)
Get it from Unbound for $42 (originally $52).
11.
A pair of bangle handcuffs in case you enjoy versatility and shiny things. These cuffs are beginner-friendly, lightweight and adjustable for comfort.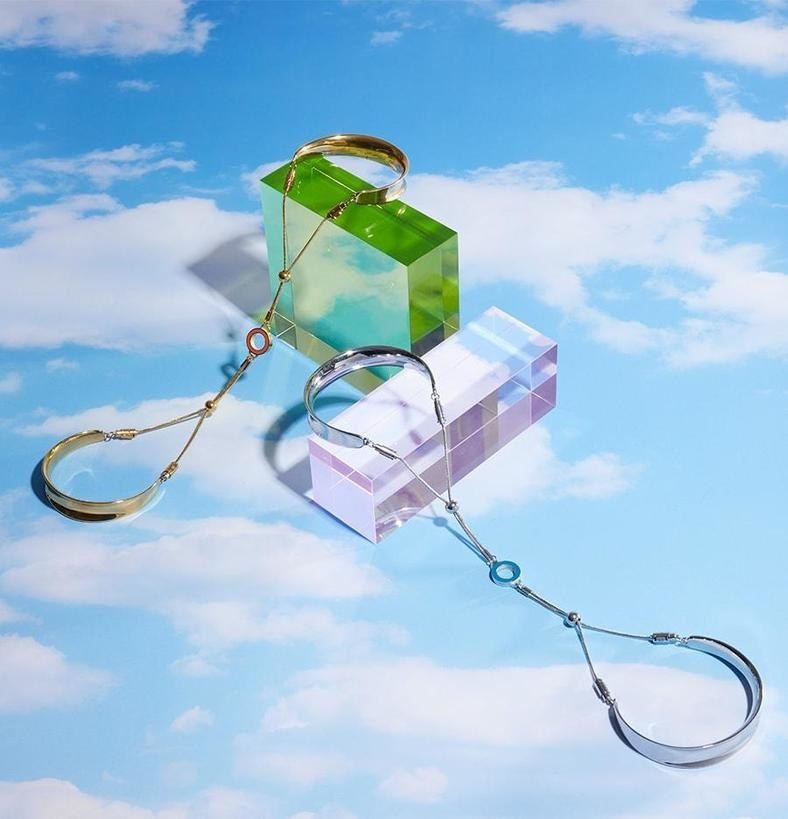 I've been wearing these cuffs as a bangle, just to make sure I don't lead you wrong and — I'm obsessed? Like, they aren't comfortable to type with, but I'm sure you won't be doing that while wearing these. The adjustable sliding knot is really convenient, the cuffs aren't heavy at all (even with both on one arm) and there's definitely enough room to be comfortable while restrained. They are definitely for light restraint play, but I'm literally going to keep wearing them and can't wait for someone to use them on me. 
The stainless steel bangles have a blue enamel accent and the 18K gold-plated ones have a coral accent.
Promising review: "My partner and I are new to restraint play, so we were super excited to ease in with the Bangle Handcuff. First of all, they are BEAUTIFUL and look super luxe. They jangle a lot, so I'd probably not wear them around too much in public (if I was trying to be discreet), but that wasn't a problem in the bedroom. They're easy for either me or my partner to put on, are adjustable and can be slid on an off, and have a clasp for removal as well. Would definitely recommend to other restraint newbies!!" —Kay
Get it from Unbound for $49 (available in small and large; stainless steel / blue and 18-karat gold-plated / coral).
12.
Orrr, a set of holographic faux leather cuffs that adds an intergalactic vibe to your NSFW apparel before you and your lover take things out of this world.
These lightweight cuffs are adjustable up to an 10" circumference and there's also a matching collar, leash, blindfold, ankle cuffs, hogtie, storage bag, flogger, and even pasties. See the entire collection here.
Get them from Spectrum Boutique for $22.
Spectrum Boutique is a sex-positive retailer run by self-proclaimed "Dildo Duchess" Zoe Ligon to provide customers with curated collections and resources.

13.
A versatile bed restraint system that includes four adjustable cuffs and restraint straps that fit underneath your mattress, so you can be immobilized by your lover with comfort.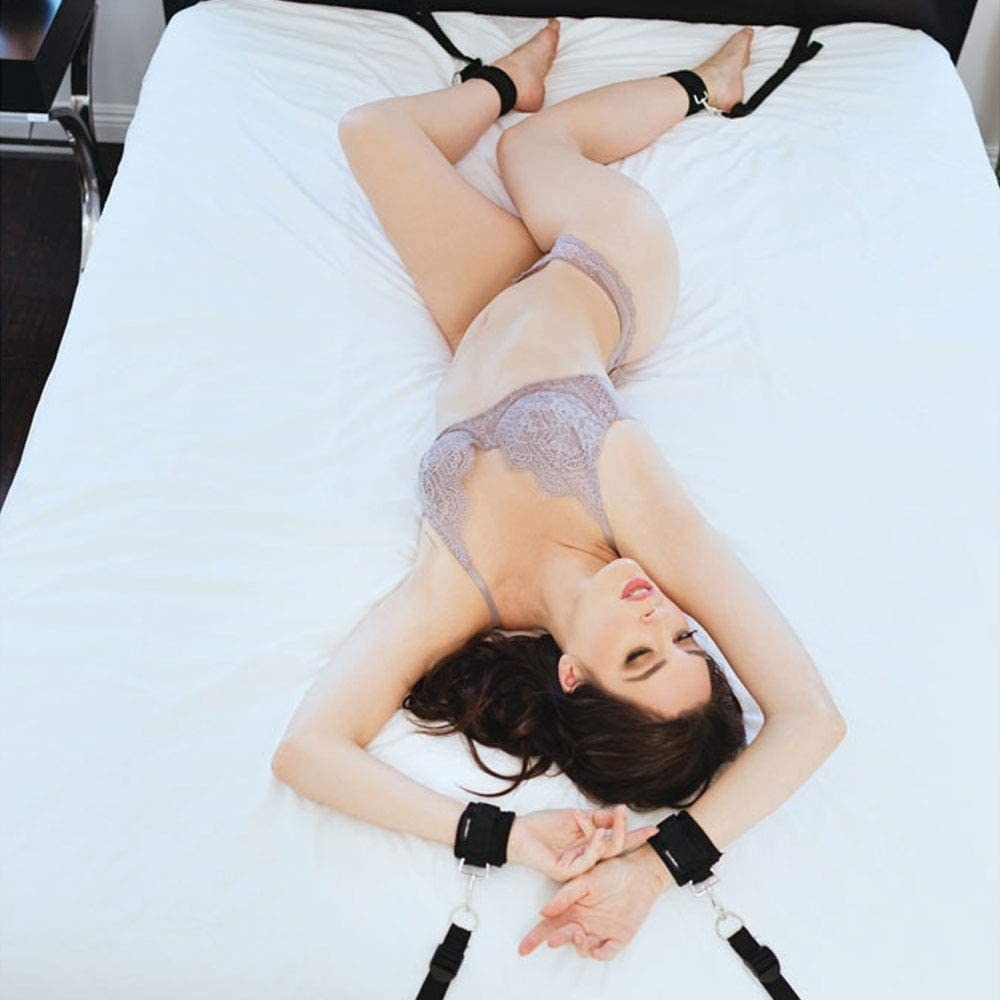 Promising reviews: "I absolutely cannot say enough great things about these straps. They are versatile, discreet, convenient, extremely durable, well-made, and a ton of fun. Highly recommended for anyone who loves to spice things up in the bedroom." —AB
"These are very good. Wasn't sure if the velcro would be strong enough, but it was! She loved them and I loved them. If you are looking for a great addition to fun in the bedroom I highly recommend getting these." —N. W.
Get it from Amazon for $47.91.