So, you want to spice things up with your partner (or yourself), huh? It's simple enough to get started, just remember that consent is a priority when it comes to enjoying and indulging in kink and BDSM play.
1.
A uniquely shaped vibrating cock ring by Fun Factory with rabbit ear attachments to stimulate your lover's clitoris with each stroke during PIV.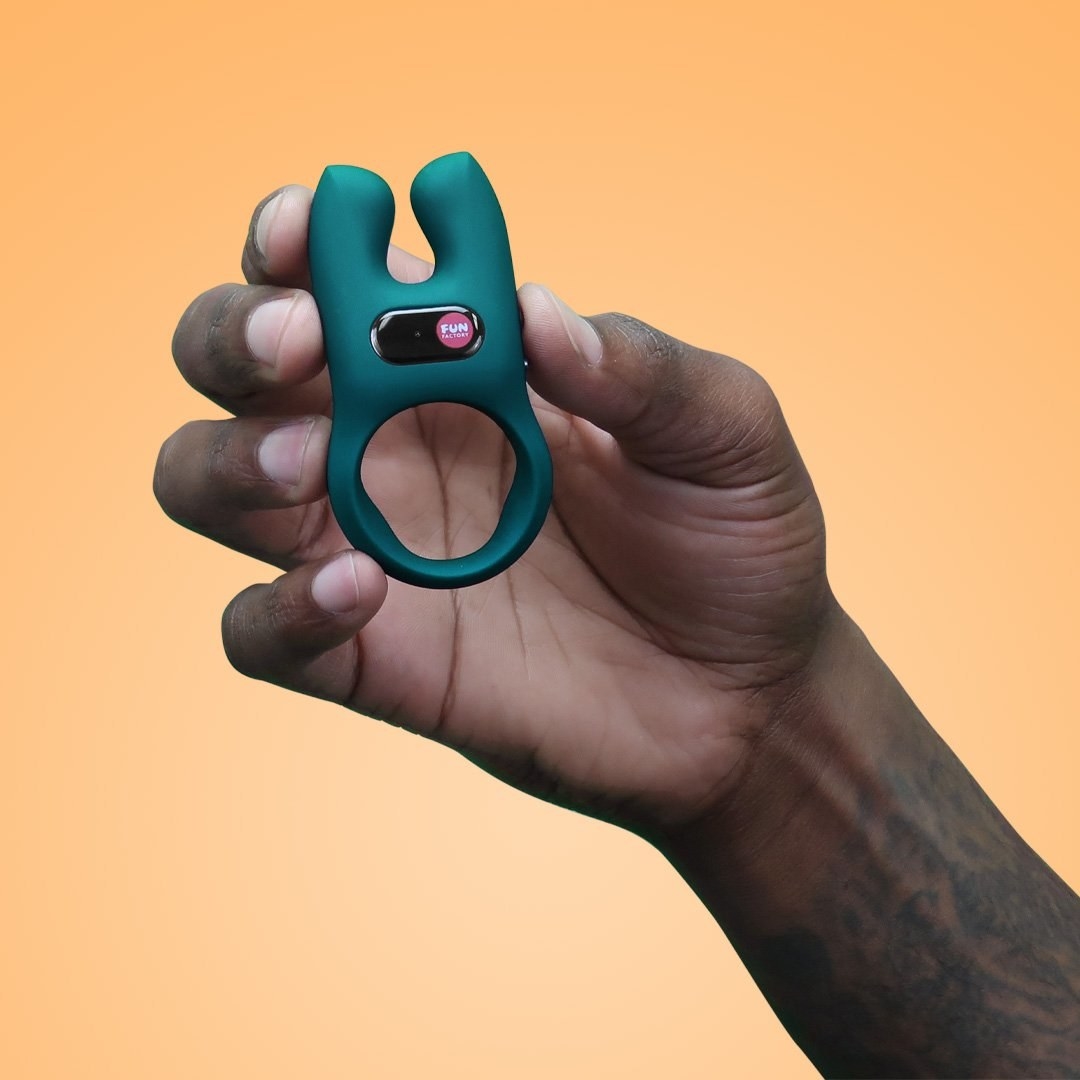 A cock ring is the simplest way to start introducing kink and BDSM to your partner with a penis (or you can use it on a dildo too). It's also versatile enough that if BDSM doesn't end up being your jam, you can still use it in typical PIV.
Or, use it with your fingers to finger your lover or wear it during a blowjob for added stimulation to the perineum during oral. The vibrating component boasts two motors with four settings and a "flirt" mode.
Promising review: "This is great for amping up intercourse for both the wearer and his partner. I definitely need lube to get it on and off as It is rather tight on me. Once on, it is comfortable and stays in place. We have several Fun Factory toys and while expensive, have always been impressed with their quality and functionality." —Anonymous
Get it from Lovehoney for $99.99.
2.
A discreet wearable egg vibrator that won't clash with your favorite lingerie and will get you off with seven vibration modes and or personalized patterns using the Bluetooth app. A wearable vibe is a great intro to mutual masturbation and even power play because doing chores and getting a little buzz in your vagina would be...startling to say the least.
The ergonomic egg shape means this discreet vibe stays put, so you can wear it out and about (if that's your thing) and control the vibrations effortlessly from your phone. No one would suspect a thing and with a five-hour battery life...this toy can probably outlast you.
Promising reviews: "App works great super powerful and quiet. All I had to do was send an invite to my bf and he instantly was able to connect and control this thing. AMAZING!!" —Rachael M.
"I use mine on Chaturbate mostly. Connects super easily, which was something I was worried about. The app is easy to use and this device works great for me on Chaturbate. Super comfy, sometimes I forget I have it in." —Vallaria
Get it from Amazon for $129.
3.
A very discreet submission collar that can also be worn as a chic necklace or choker.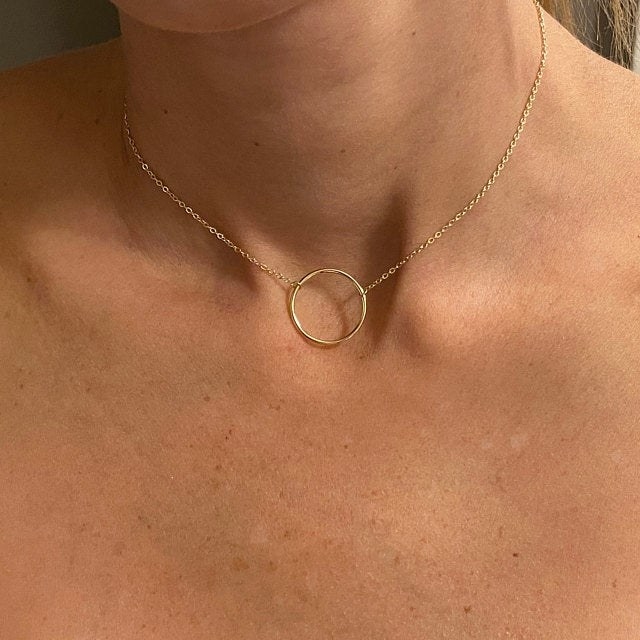 This delicate collar is created with sterling silver and also available in gold and rose gold finishes.

Promising review: "I LOVE this necklace. I've been wearing it nonstop the last few days. Collared myself and it feels so good! I love how dainty and discreet it is." —Sarah
Get it from Collar Amor on Etsy for $59.99 (originally $79.99; available in four lengths and three finishes).
Collar Amor is based in Rhode Island and designs discreet BDSM collars.
4.
An adjustable nipple clamp that'll tease and please you or your lover with a gentle bite sensation.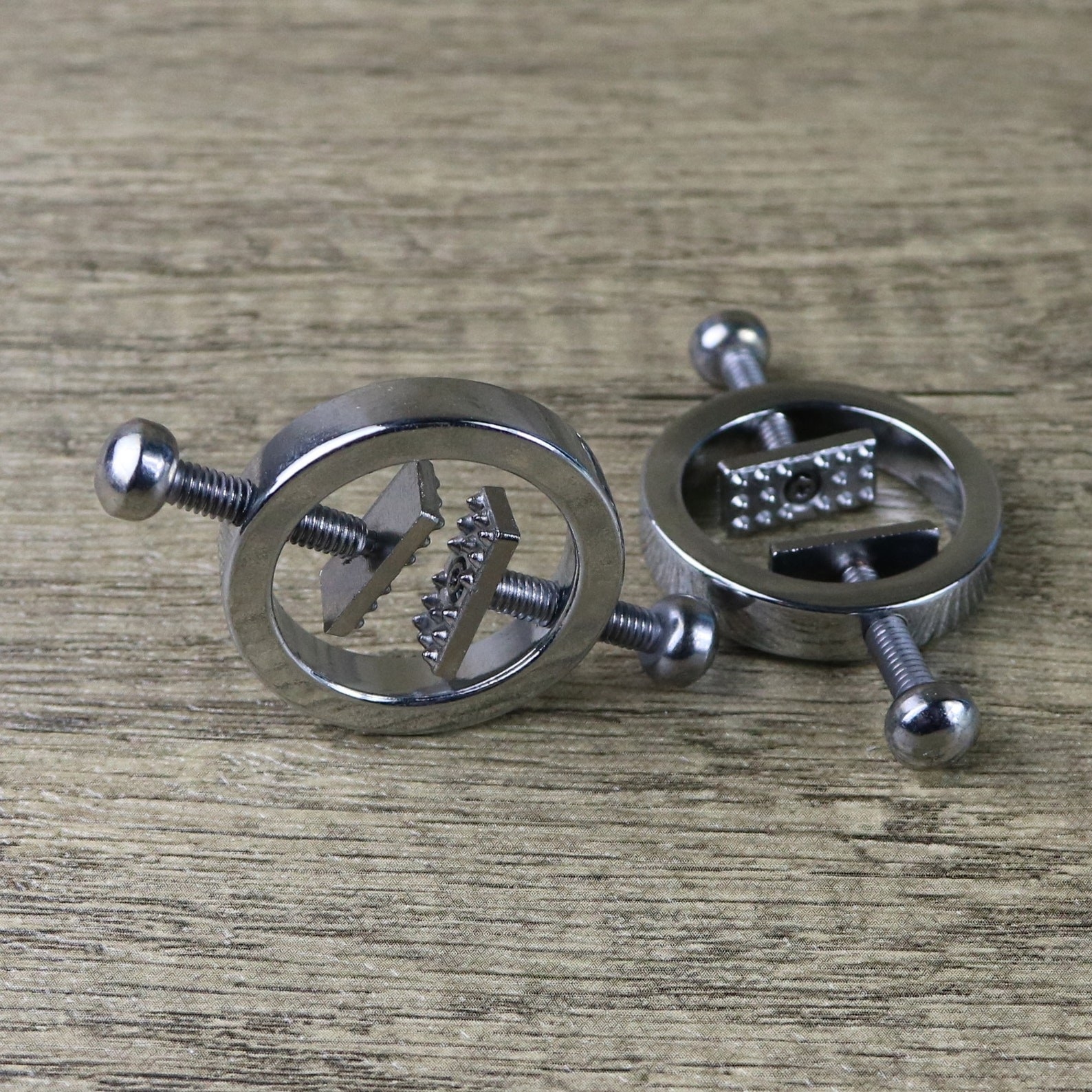 Promising reviews: "I love these clamps! Oh my god! The give me the feeling of my nipples being pierced w/o being pierced! So well made, and the packaging was nice! They come with a little red pouch! So cute!" —Presley Hays
"I actually love these more than I thought I would. The bite feels amazing and you can adjust it!!! ❤️❤️❤️❤️" —Teena
Get it from Homemade Sex Toys on Etsy for $18.
Homemade Sex Toys is a small business that specializes in metal BDSM accessories and gear.
5.
A 24-karat gold-plated nipple clamp that follows the happiest of trails down to the clitoris for an extra-stimulating squeeze.
Promising review: "I am just starting to experiment with nipple clamps, but I think I found my favorite. Honestly, other clamps looked a little intimidating but these look like a beautiful piece of jewelry. They're so easy to customize pressure (especially for a novice) and it's nice having the versatility to choose whether or not you want to use the clit clamp. I did notice that the clamp guard did stick to my skin when taking them off, but next time I will try using a little lube beforehand. Overall, I would definitely recommend. I am buying a second pair to give to my sex therapist so she can show them in her practice, especially for newbies exploring pleasure. :)" —L J.
Get it from Unbound for $34.
6.
A simple ball gag that gets the job done while providing a soft silicone material for you or your partner to sink your teeth in.
Promising reviews: "I'm currently wearing this thing. I always want to try things out before sharing. I can't say a word. Can't scream. Nothing! I do seem to be drooling a lot though." —Bob
"I love this gag! It's not hard like other gags but still firm enough. I like that the silicone extends to the sides of the mouth/connect to the straps, as ones I've had prior have the straps continue through a slit in the ball and skin often gets pinched by those designs...This one, however is phenomenal! Super comfy, the straps are good, quality, leather and strong buckles. The only con I have when cleaning it is trying not to get the soft suede on the interior of the straps wet, as it starts to damage them if not dried quickly." —Keg
Get it from Amazon for $8.99+ (available in two sizes and three colors).
7.
A breathable ball-gag designed with adjustable straps for comfort and...um, "communication" between partners.
Promising review: "It's a present sent by my boyfriend. I really like its size and function. Good quality overall! 5-star rated! Will consider purchasing it next time." —Pattie Z.

Get it from Honey Play Box for $11 (originally $13; available in black and pink).
Honey Play Box is a sexual wellness company in California run by a group of sex educators and self-proclaimed lesbian meme queens who are passionate about all things pleasure being positive, inclusive and accessible.

8.
A unique, soft and silicone gag designed to make you drool...literally. 🤤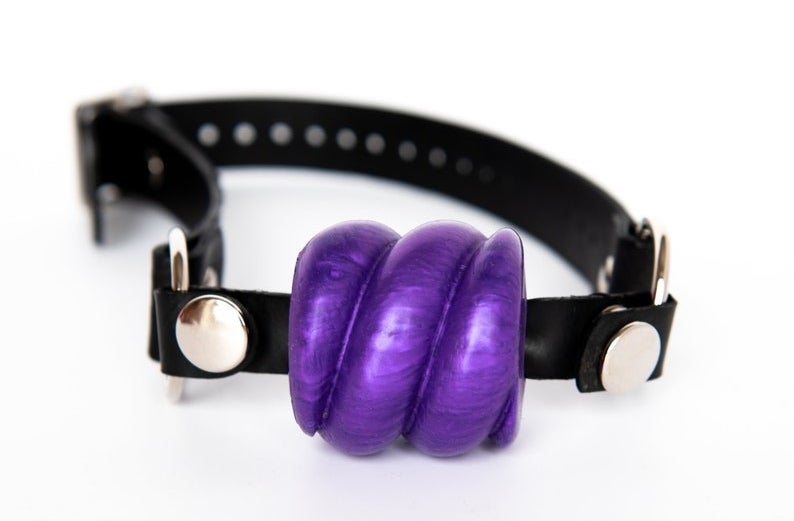 Promising reviews: "This gag blew me away. It is the perfect size, so beautiful and comfortable, and does exactly what it says it does :) I'm so thrilled with this and all of my purchases from this shop, will definitely order again!" —Hannah O' Connor
"This drool gag is so beautiful, both the gag itself and the leather strap. it feels so nice in your mouth and honestly can be worn as a cute accessory as well." —ramonasaurus rex
Get it from Godemiche on Etsy for $40.02 (available in 19 colors).
Godemiche is a UK-based, family-owned small business that specializes in vibrant handcrafted sex toys and BDSM products.

9.
A vibrant gag bar from Unbound just begging to be drooled on by anyone curious enough to dip their toes into restraint play. Gag bits or bars are less restrictive than ball gags and allow for easier breathing and speech, making them a great alternative for just getting started.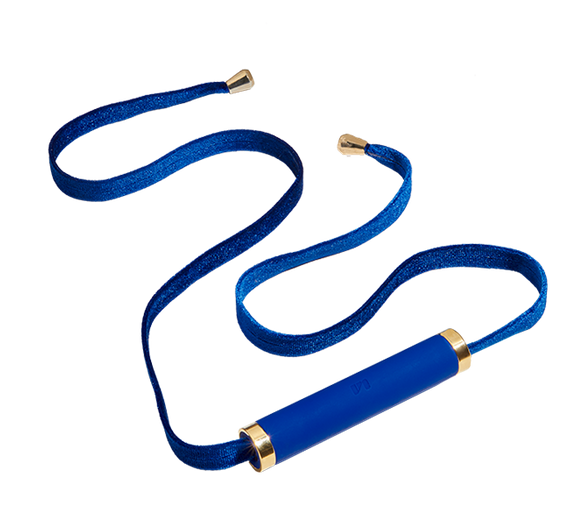 Promising reviews: "I got this with the matching handcuffs and I'm a fan! The silicone part is great given what it's used for, the velvet ties are nice and strong quality. The blue pops and looks just as good in person as it does online." —Bree
"This is amazing! Ball gags are always too big for me and metal ring gags hurt my teeth, this is perfect! I was afraid the silicone would be a thin layer over a metal bar but its not! The whole gag is silicone making it so soft and comfy. <3" —M
Get it from Unbound for $39.
10.
A flexible vibrating butt plug that'll sync to the beat of your favorite songs, mimic your own custom patterns, or buzz along to user-created vibration modes already on the app.
Supple, body-safe silicone offers a waterproof exterior and the spiralized stem traps lube to help the plug stay put.
Promising reviews: "Exactly as described, and exceeded expectations. This is a great buy for individual's who seek self satisfaction. This (Multi Pattern Vibrating) plug is also a fantastic idea of fun for couples who look to spice things up a bit. Personal Care Products couldn't get any better. Extremely happy with this purchase, and look forward to purchasing more products by this brand." —William Gardener
"We have had a great time with this. I bought the largest and it took a bit to get used to it. We are a couple of states away from each other and he has had a great time setting me off while I'm at work or doing things around home. The vibration is very intense at the highest setting and at the lowest just keeps you on edge. Being made of the material that it is, you have to keep it clean and let it air out, so it doesn't smell if you get any fecal matter on it. Definitely recommend!" —JayyDee
Get it from Amazon for $94 (available in 1.5" W and 1.75" W).
11.
A satin blindfold to deprive your sense of sight and help elevate your other senses for some semi-mysterious sensation play.
Promising reviews: "Surprised my OH with this one date night. Haven't really tried bondage and stuff like that so this and some nipple clamps we got were a good start. Made the sensations more intense and the fact she didn't know what I was going to do drove her crazy. Fun, easy way to spice it up some!" —Colorado C.
"I love a blindfold so much but some let you down it are uncomfortable. This one is so comfy to wear and when positioned right neither me or my husband could see a thing when wearing it. We both love to be blindfolded because it heightens the pleasure, I would always recommend using one." —TheaD
Get it from Lovehoney for $7.99 (available in three colors).
12.
A reversible satin blindfold you can neatly tie into a bow whenever you want to enjoy a little kinky sensory deprivation.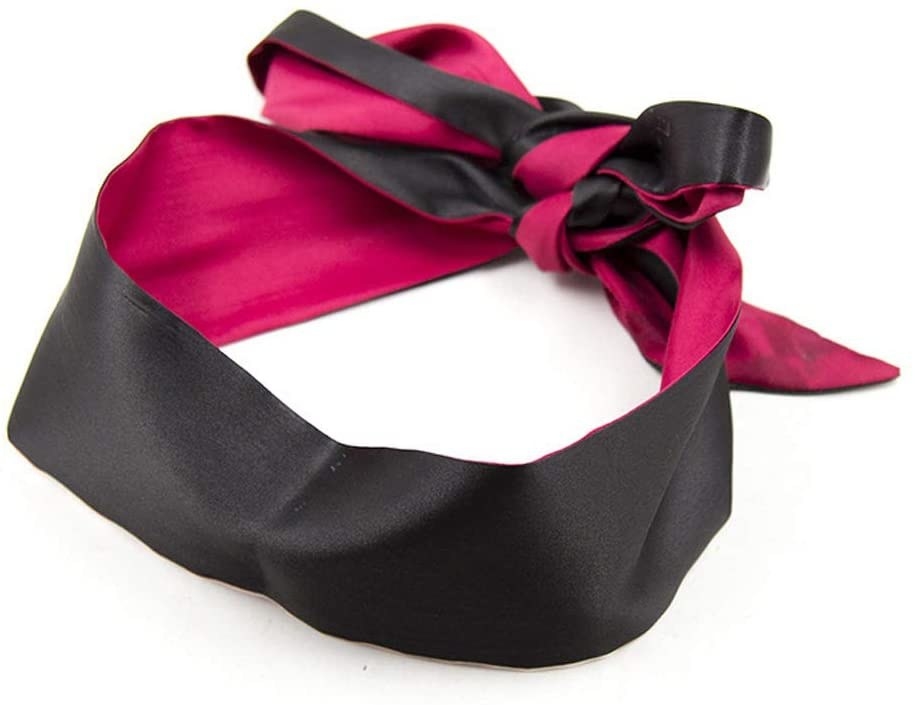 The tie is 59 inches long and 2.8 inches wide, allowing versatility as a blindfold or restraint.
Promising reviews: "Looking to spice things up a little bit? This will work: it's soft, easy to tie, hard to see through, and didn't bother anyone wearing it. Very sensual." —msaonika
"I wasn't holding my breath, but this is decent quality for $5, it's comfortable for both my partner and me. My partner's head is a bit larger than mine, so I was worried it wouldn't be big enough to wrap around. It's light enough that you won't get warm but accomplishes its purpose of not being able to see through it, for the most part. Getting more to use for restraints, since they're so long and comfortable 😏" —Peyton Cheyenne Fitzhugh
Get it from Amazon for $5.99.
13.
A 75-foot roll of bondage tape to help you immobilize or restrain your lover — and the best part is that it only sticks to itself.
Promising reviews: "Only have used it once but was very fun when I did. I like that it only sticks to itself, so no pain if it touches hair. The bright color makes for nice photos if that's something you are interested in." —Stephanie
"This tape is a lot of fun. It adheres to itself but not to skin so you don't have to worry about having a bunch of tape residue stuck to your skin. Since you have to make sure the tape comes in contact with itself to stick, taping sometimes requires a few wraps. It could easily be used in place of a blindfold for example or to tie hands." —Sky Etkin
Get it from Amazon for $8.57+ (available in three colors).
14.
A pack of two cotton ropes, both 32 feet long. This rope is "multipurpose" so it's good for a lot of things, but many Amazon reviewers and I want you to know that it's a *great* alternative for shibari rope and tying up lovers.
Promising reviews: "As a dom, comfort for my sub is very important to me. These were very soft and easy to work with held knots well and looked amazing to boot. And best of all, they leave wonderful little rope kisses on my sub that allow the mind to wonder for hours after a session is over." —Jon
"For the amount of rope you get for this price, it's unbeatable. This rope was soft to the touch and during our session not once did she complain. I wouldn't recommend using this rope to hang off anything, but definitely good for wrapping around the body." —Mack
Get it from Amazon for $12.99+ (available in six color options).